Traditional mopping remains the best way to clean your floors. While sweeping and Swiffer-type pads can be great for daily cleanup of light soil and dust, the only way to get a deep cleaning of your floors is with a mop. It's the only way that you can sanitize your floors while also getting rid of stuck-on messes.
Traditional mopping is by far the best way to clean porcelain or ceramic tile, vinyl tile, and vinyl sheet floor types. However, you shouldn't use traditional mopping methods on bamboo, cork, laminate, wood, or any other flooring type that the manufacturer discourages contact with water.
Properly sealed laminate and wood floors may be able to tolerate the occasional damp-wipe but mopping with water is not advised.
The Best Mop Options
1. Microfiber Wholesale Professional Microfiber Mop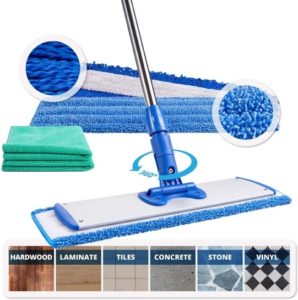 Suppose you're searching for a reliable floor mop that's made to deal with all sorts of messes. In that case, the Microfiber Wholesale Professional Microfiber Mop is an excellent option for you. It comes with a dust mop pad and two wet mop pads, so it's great for light and heavy-duty touch-ups. Additionally, the large 18-inch mop head can clean large floor areas in no time.
Reviewers of this mop are highly impressed with the durability of the mop itself. Unlike its competitors that use plastic parts, this mop uses a stainless-steel handle and aluminum frame that are both better able to withstand deep cleaning sessions and frequent use.
The handle can be adjusted to match any height from four to six feet. The head of the mop swivels a full 360 degrees for comfortable cleaning in hard-to-reach areas, such as under furniture and alongside cabinets.
The mop pads are machine washable and can be used on several different hard floors. The only downsides to this mop are that the size makes this mop heavy and difficult to use in small rooms.
Pros: 
Heavy-duty construction
Adjustable height
Comes with washable mop pads
Dusting mop and wet mop
Cons: 
Can be too large for small rooms
2. O-Cedar EasyWring Spin Mop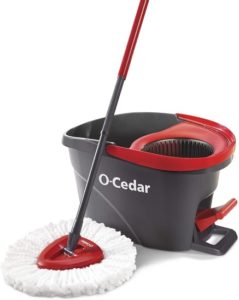 If you're looking for the best mop that spins, the O-Cedar Easy Wring Spin Mop is one that you'll want in your cleaning arsenal. It comes with a mop bucket that has a built-in wringer that's also hands-free.
The wringer is controlled by a foot pedal, which makes it easy to use. You can wring the mop head a couple of times to leave moisture in the mop for tough jobs or wring the mop mostly dry for a hint of moisture. You can use this floor mop on any hard flooring, including sealed wood.
The microfiber mop heads can be used dry or wet, and the triangular shape of the mop head makes cleaning corners an easy job. When you're done cleaning, you throw the mop head into the washer to clean it. You can even get replacement mop heads for a few dollars; O-Cedar recommends changing the mop head every three to six months.
The bucket comes with a built-in splash guard, and the mop handle can nearly lay flat on the ground to help you clean under furniture and cabinets. The handle can also be adjusted from 33 to 51 inches, which is a great feature for tall users.
While most claim that this is the best mop that spins, there are claims that the plastic that is used to make this mop is flimsy and will break down over time.
Pros:
Easy to assemble and use
Easy to spin with the foot pedal
You can easily determine how much moisture you want to be left in the mop head
Adjustable handle
Cons:
Very small mop, so cleaning large rooms can take a long time
3. Casabella Painted Steel Original Mop

If you're looking for the best mop that's a sponge, then this is the mop for you. This sponge mop is perfect for getting tough messes in areas that other mops have trouble reaching, including corners and tight edges.
Reviewers of this mop say that this is by far the best mop on the market because it's designed to be extremely durable and can withstand years of heavy-duty use. This sponge mop has a sturdy steel pull and a heavy-duty lever so you can wring out the sponge correctly. The mop head is made from a 10-inch reusable cellulose sponge, and you can easily purchase replacements as needed!
Pros: 
Great for all flooring types
Lightweight
Wrings out most of the water from the sponge
The sponge works get on tough messes
Cons:
The sponge can be fragile and break apart after only a few uses
4. O-Cedar Hardwood Floor 'N More Mop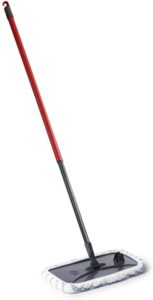 Hardwood floors can be extremely durable and gorgeous, but that's only if you take good care of them. This mop made by O-Cedar is the best mop for hardwood floors because it's designed specifically for hardwood floors. It can be used wet or damp to clean your hardwood floors, and you don't have to use harsh chemicals – you can use just water to clean your floors. You'll even find that the microfiber mop pad is gentle on wood, but tough on dirt, pet hair, and dust.
This mop features a swivel joint and is lightweight, so you won't have a hard time maneuvering this mop around your room. Additionally, it can get into even the tightest of crevices and corners.
Once you're done mopping your floors, simply throw the removable microfiber pad into the washing machine, so it's ready to go the next time you're ready to mop.
Reviewers give this mop high marks because it makes your life so much easier when you have hardwood floors.
Pros: 
You can use this mop to "sweep" your floors before mopping
Use water to clean floors
Adjustable handle
Cons:
The plastic can be flimsy and break
5. Gladwell Cordless Electric Mop

You might think that having a mop that requires power is a bit of an overkill, but you would be wrong. The only downside to this mop is that you have to plug it in for a few hours to charge before using it.
But once the Gladwell Cordless Electric Mop is charged and ready to go, you don't have to exert much energy to push it around your floor. It effortlessly glides across the floor, picking up any dirt on its way with its two spinning microfiber heads. The microfiber heads can be easily removed and washed in the washing machine after each use of this mop.
This mop is a great option for anyone who struggles to exert enough pressure on a manual mop to get rid of stuck-on messes. With this mop, little exertion is needed to clean those stuck on messes because the motorized heads do all the work. Plus, they will get rid of any leftover dirt from sweeping while sanitizing your floors.
Pros:
Adjustable handle
No harsh chemicals required to clean your floors
Motorized heads can clean up stuck on messes with no issue
Cons:
You might find that this mop doesn't exert enough power to clean your floors
6. Norwex Superior Mop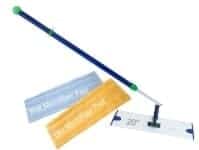 This is the best mop for protecting the environment from the use of harsh chemicals. This starter set comes with a microfiber pad for dusting and sweeping the dry floor first and a second microfiber pad that you get wet to mop the floors.
You don't need to do any research to find cleaning solutions that are environmentally friendly or non-toxic because the Norwex mop doesn't need anything but water to clean. Thanks to Norwex's patented microfiber technology, this mop will pick up all germs and dirt without having to use any antibacterial cleansers.
Putting this mop together is so simple. The only work required with this mop is to remove the dry duster head and replace it with the wet mop head after getting it damp with hot water.
To get the best results using this mop, you need to move the mop in a figure-8 pattern. If you find that the mop head gets extremely dirty during use, simply remove it, run it under hot water, and continue mopping. When you're done, remove the mop head and throw it into your washing machine – avoid using fabric softener, however, because it can damage the microfibers and make them less effective.
The only downside of this mop is that you have to wring the head out by hand before you attach it because there's no built-in wringer.
Pros:
No harsh chemicals needed
Comes with a dusting/sweeping head and a mop head
Easy to assemble and use
Cons:
No wringing mechanism
The starter kit is more expensive than other mops
7. Mopnado Walkable Spin Mop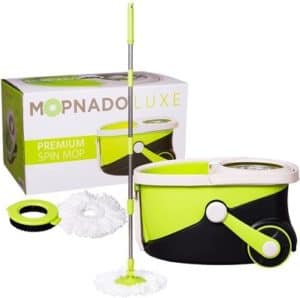 The most innovative feature about this mop has nothing to do with its cleaning power and everything to do with convenience – this is a bucket on wheels. No longer will you have to drag heavy buckets filled with water across the floor when you have this mop.
It also comes with a soap dispenser on the edge of the bucket, which makes it easier to add your favorite floor cleaner into the hot water. You'll also find that the microfiber mop heads are made from high-quality materials that will pick up any dirt that's left on your floor.
The downside is that the wringer doesn't get rid of as much water from the mop head as you might like, which can leave your floors wetter than you might want. To spin the mop in the bucket, you have to push down on the mop to remove the water. Additionally, the assembly of this mop can be confusing because the instructions are poorly written.
Pros:
Durable
Comes with a bucket on wheels
Made from high-quality materials
Cons:
Can be confusing to put together
Doesn't wring out as much water as you might expect
Can leave floors too wet
Factors to Consider When Purchasing the Best Mop
There are some things that you should think about before purchasing the best mop, including:
Price. You want to make sure that you're spending enough money, so you're getting a mop that is durable, long-lasting, and performs better than other mops. Remember that cheaper isn't better when it comes to finding the best mop.
Machine washable mop heads. Think about how you're going to clean your mop after using it on your dirty floors. If you can remove the mop head and throw it in your washing machine, the mop head will be much cleaner the next time you wash your floors.
Size. Think about how much room you have to store a mop. If you don't have much space, stay away from mop packages that come buckets. Also, consider if the handle can be adjusted to fit in tiny spaces.
Durability. A cheap mop isn't going to last for very long and is more prone to breaking right after you start using them. You want to buy a mop that will last for months or years, not just weeks.
Toxicity. Suppose someone in your home is allergic to cleaning products or highly sensitive to chemicals. In that case, you might want to consider purchasing a mop that doesn't require the use of much cleaning solution if it involves a cleaning solution at all.
Keep these things in mind when shopping for the best mop for your home. Knowing what you need and how much space you have for a mop will help you pick a great mop for your floors.