Who doesn't love some of the best homemade espresso? 
Nobody, that's who! If you're looking to make your own cappuccinos, lattes, or other gourmet drinks at home, you've got to invest in the right gear. A Nespresso machine is the best place to start, but what are you going to fill it with?
You need to invest in a few of the best Nespresso pods. There are plenty of options you can choose from, and truth be told, the best option for you will vary depending on your needs and flavor preferences. Here are some quick tips on what you should be looking for. 
Wake Up With the 8 Best Nespresso Pods
1. Nespresso Capsules OriginalLine, Ispirazione Ristretto Italiano, Dark Roast Espresso Coffee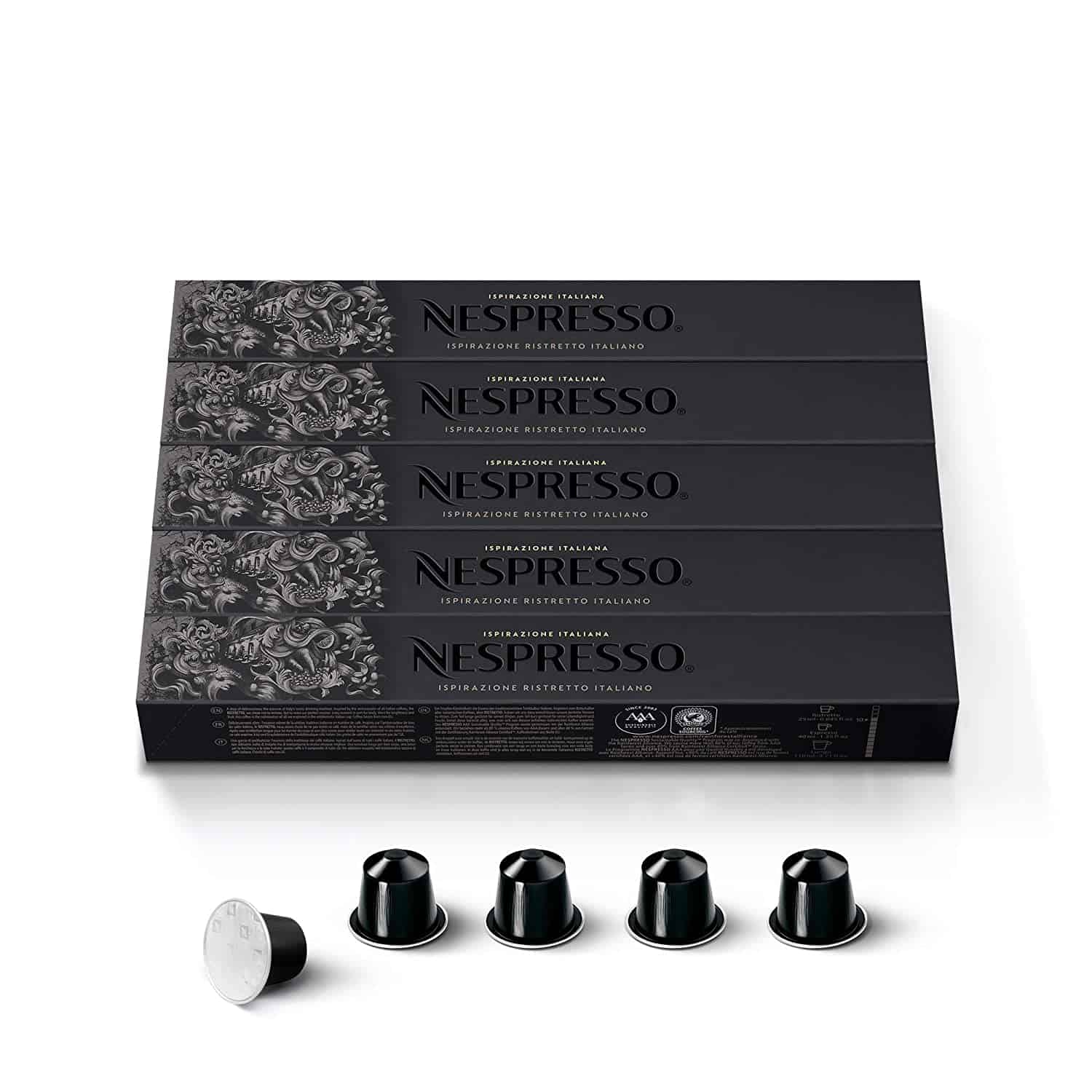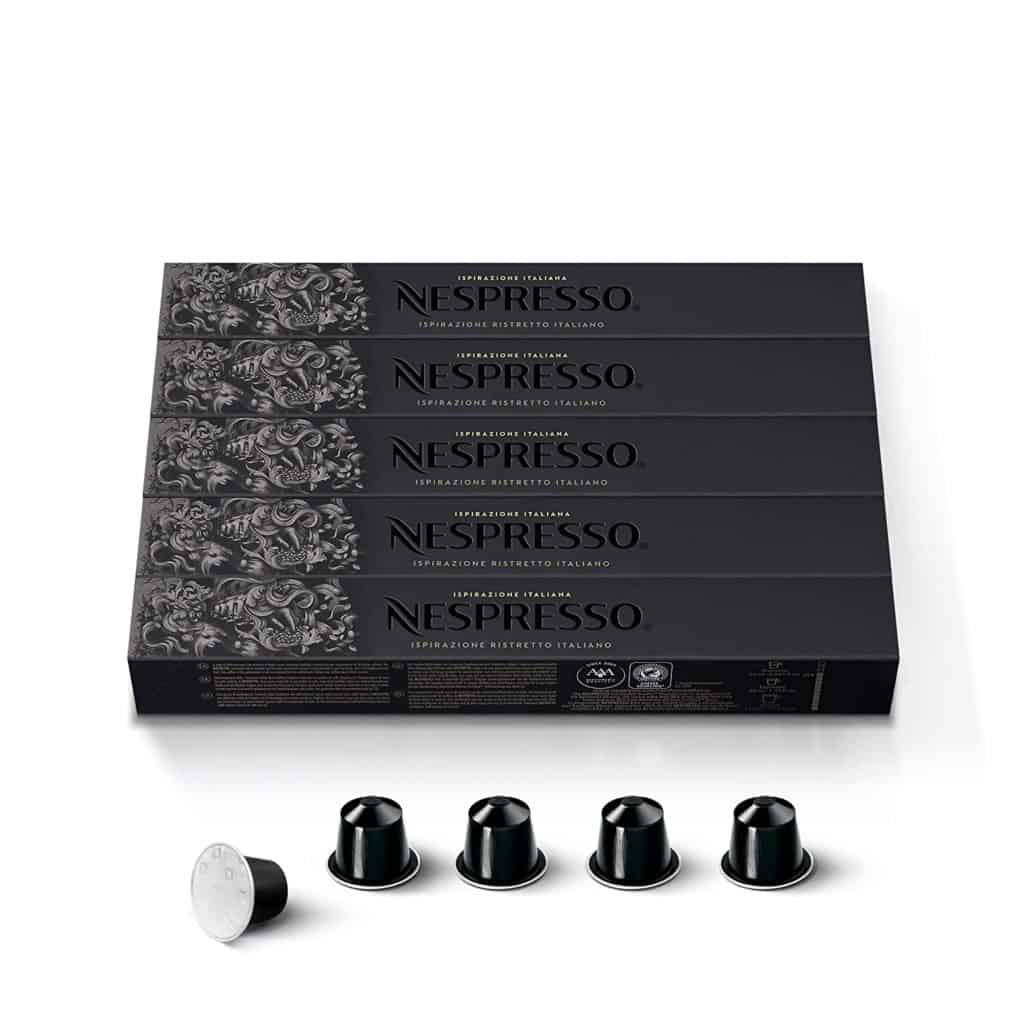 These best Nespresso pods are made and manufactured with the same best flavor, intensity, and look you'd expect from Italy's best coffee-drinking tradition. The capsules pay homage to regional blends and roasting techniques, offering intense flavors that balance strength and bitterness nicely. 
Each pod provides you with a 1.35 oz serving of traditional espresso. Made out of aluminum, they are fully recyclable and offer the ideal level of freshness so that you don't have to worry about your Nespresso capsules losing their flavor even when placed in long term storage. These full-bodied best Nespresso capsules are mild and fruity while also being full-bodied so you can create drinks both with and without milk. 
Strong in flavor and boy, the coffee combines the best of Central and South American Arabica beans and Robusta beans. The coffee you brew from these pros will have a unique citrus aroma along with notes of chocolates. 
What We Liked: 
Consistent flavors and best aromas with Arabica beans and more

Perfect size for making traditional espresso beverages

Aluminum capsules are fully recyclable 
What We Didn't Like: 
Some reviewers say that these best Nespresso capsules are just a bit too strong-tasting for their liking  
2. Starbucks by Nespresso, Favorites Variety Pack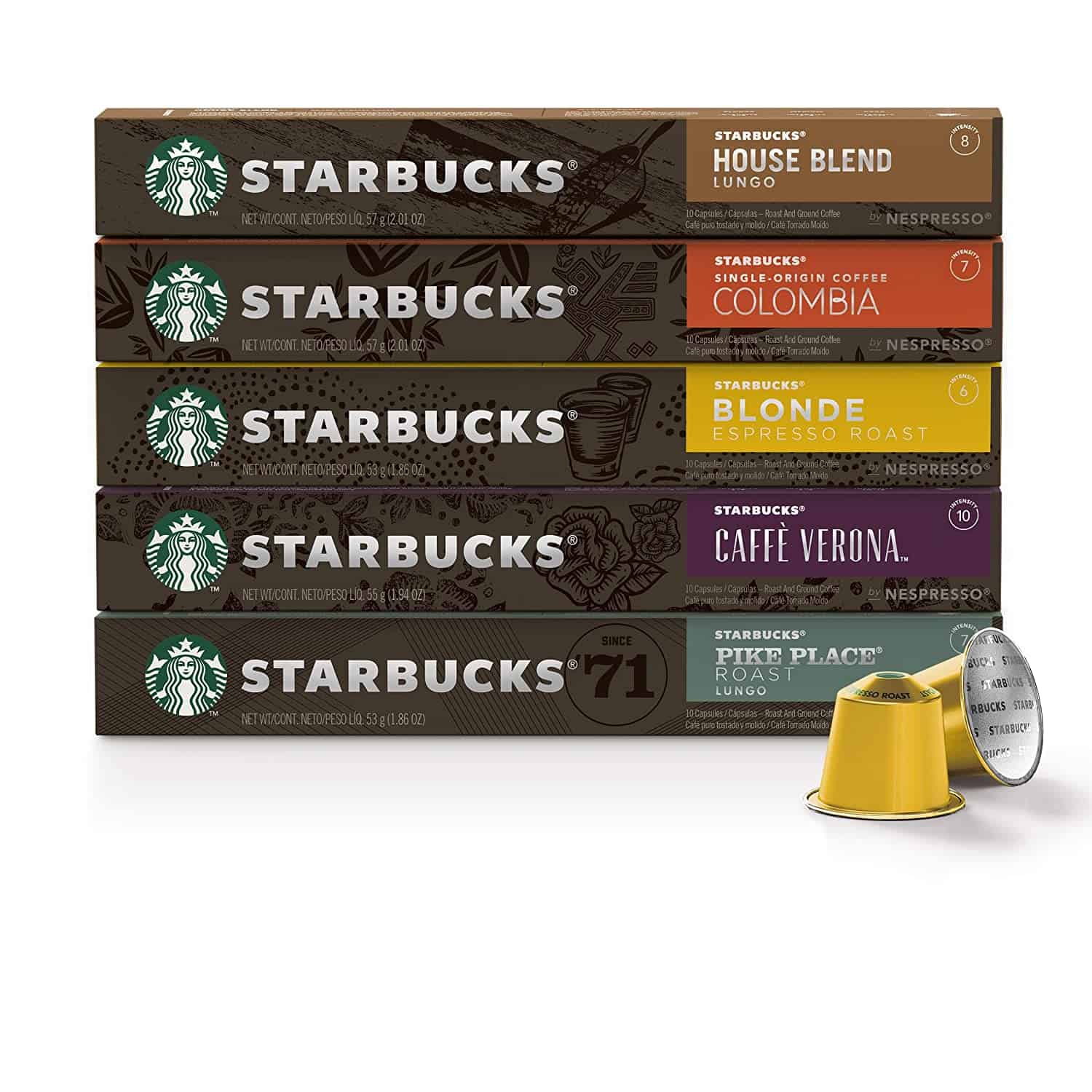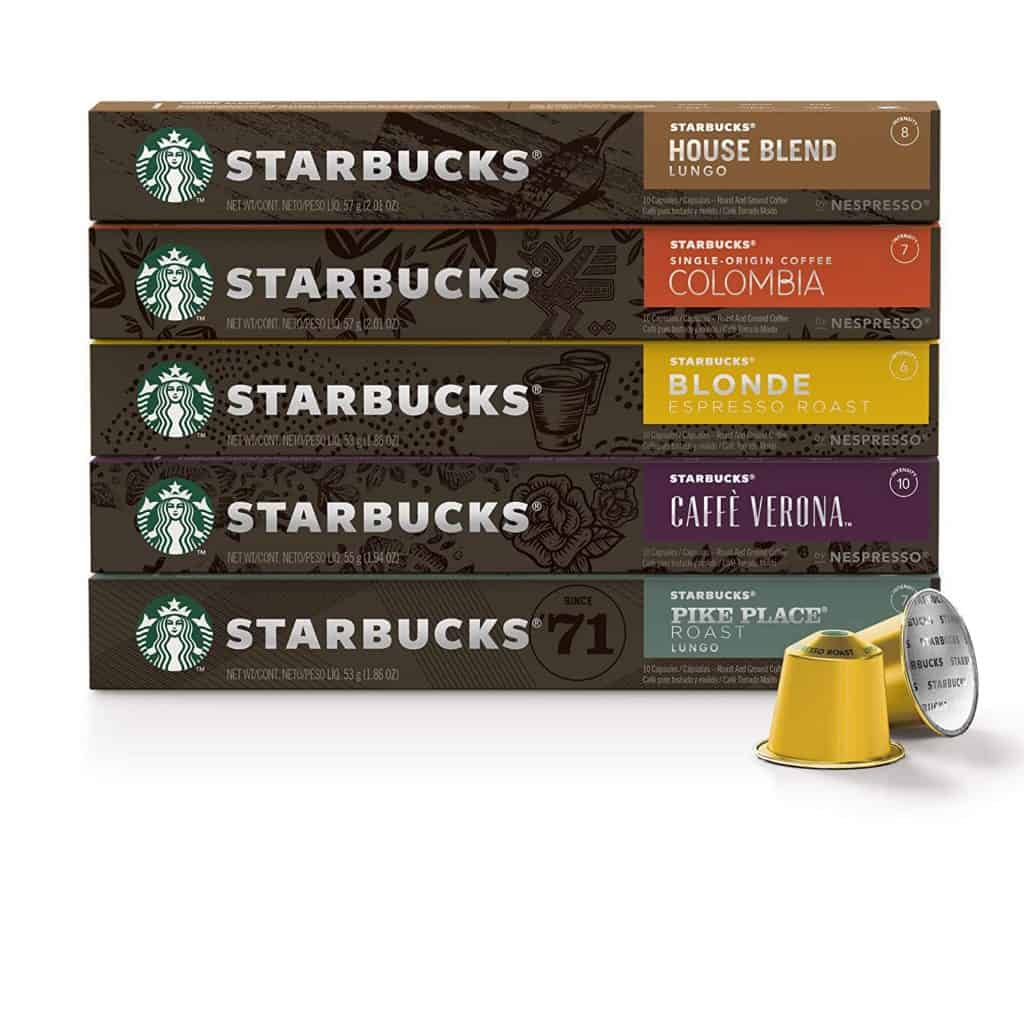 This variety pack by Nespresso is best for the Starbucks-lover in your life. Ti works the best with all kinds of OriginalLine Nespresso machines including the KitchenAid, Lattisssima, Creatista, Essenza Mini, CitiZ, Pixie, and Expert. 
You can choose between three different variety packs - the favorites, intense, and mild. With Starbucks favorites included like the Single Origin Colombia, Caffe Verona, Pike Place Roast, Espresso Roast, and House Blend, you'll feel like you're sitting right in a Starbucks coffee shop! 
Not only that, but you'll be able to choose between several of the best sizes. These best Nespresso capsules can brew 0.85, 1.35, and 3.7-ounce servings. All you have to do is pop the capsule into your machine and choose the lungo, ristretto, or espresso brew size. You'll enjoy an incredibly full-bodied cup of coffee. 
When you buy one of these variety packs, you'll get five boxes of ten capsules each. That's an impressive 50 cups of Nespresso coffee to enjoy! You'll find a roast intensity for everyone to love, from blonde (level 6) to dark (level 11). All of these capsules are made with 100% Arabica beans and robusta beans grown and harvested with sustainable practices. 
What We Liked:
Can be used to make all kinds of the best espresso drinks like lattes, mochas, affogatos, macchiatos, and cappuccinos

These pods offer the best Starbucks experience with Arabica beans and other flavors

Compatible with most OriginalLine  machines
What We Didn't Like: 
Does not work with Verismo or Keurig K-Cup machines
3. Barista Moments - 60 Nespresso Coffee Pods Compatible with Nespr
esso Machines


Bargain shoppers will love this variety pack from Barista Moments. These Nespresso pods can be purchased in sizes of 60 or 120 capsules. You'll find all kinds of flavors and sizes, including Lungo, Nespresso, and Restretto - or you can choose a combination of all three for a true "mix and match' ' variety pack.
Each pod offers some of the best and most exceptional flavor and intensity, with bittersweet aromas and rich, fruity flavors. The pods are made out of BPA-free food-grade plastic and are always preservative-free. These best Nespresso capsules contain lightly roasted beans that are full bodied and make for the perfect cup of coffee. 
The full-bodied pods are compatible with the best Nespresso OriginalLine machines like Lattisima, Essenza, Pixie, and Creatista. They come with a satisfaction guarantee that will ensure you enjoy your pods for years to come. 
What We Liked:
Aluminum foil seal locks in freshness

Made with BPA-free food-grade plastic

Bittersweet Nespresso coffee with a delicate (yet rich!) finish 
What We Didn't Like: 
Some users report that these pods take a  bit longer to make your Nespresso coffee
4. Lavazza Espresso Capsules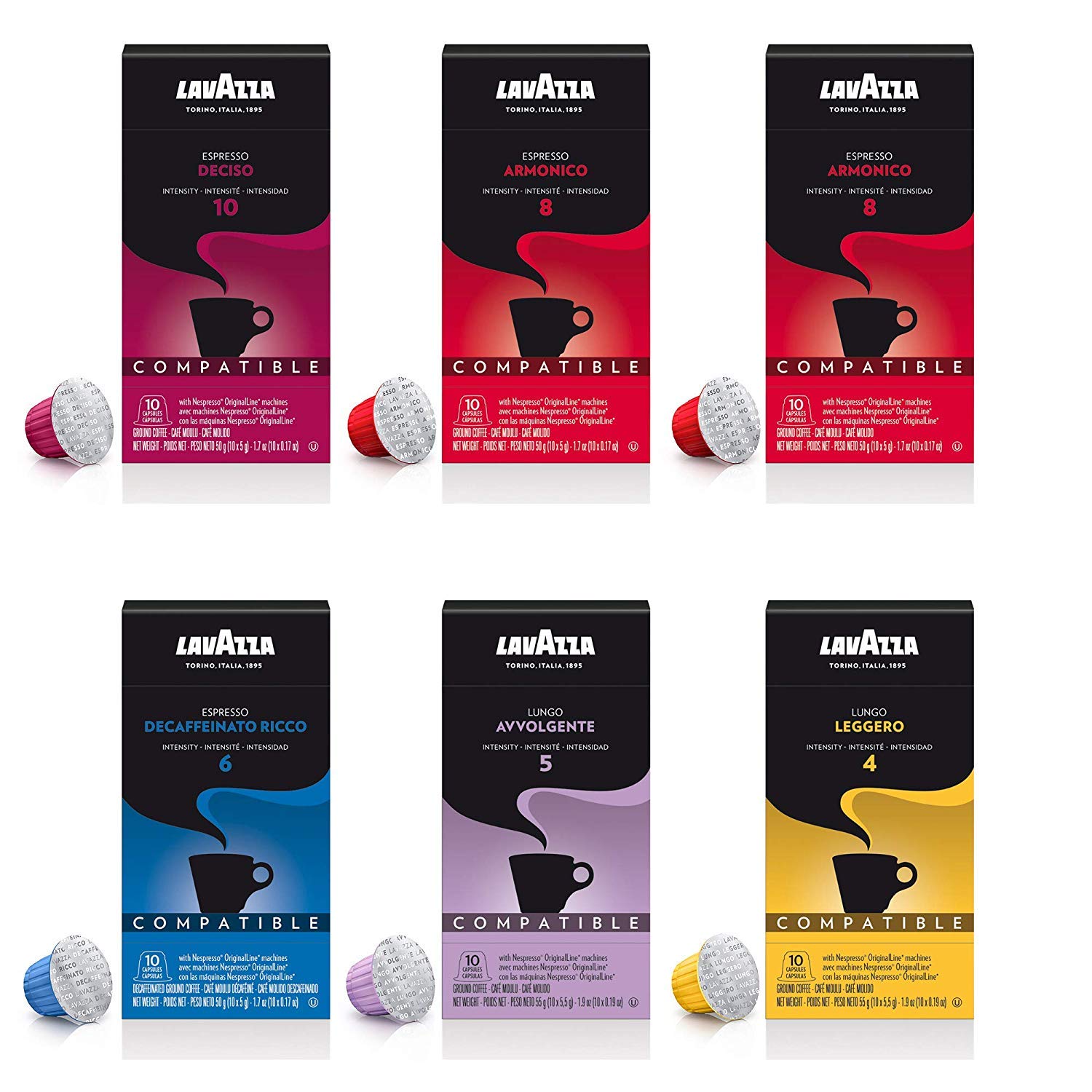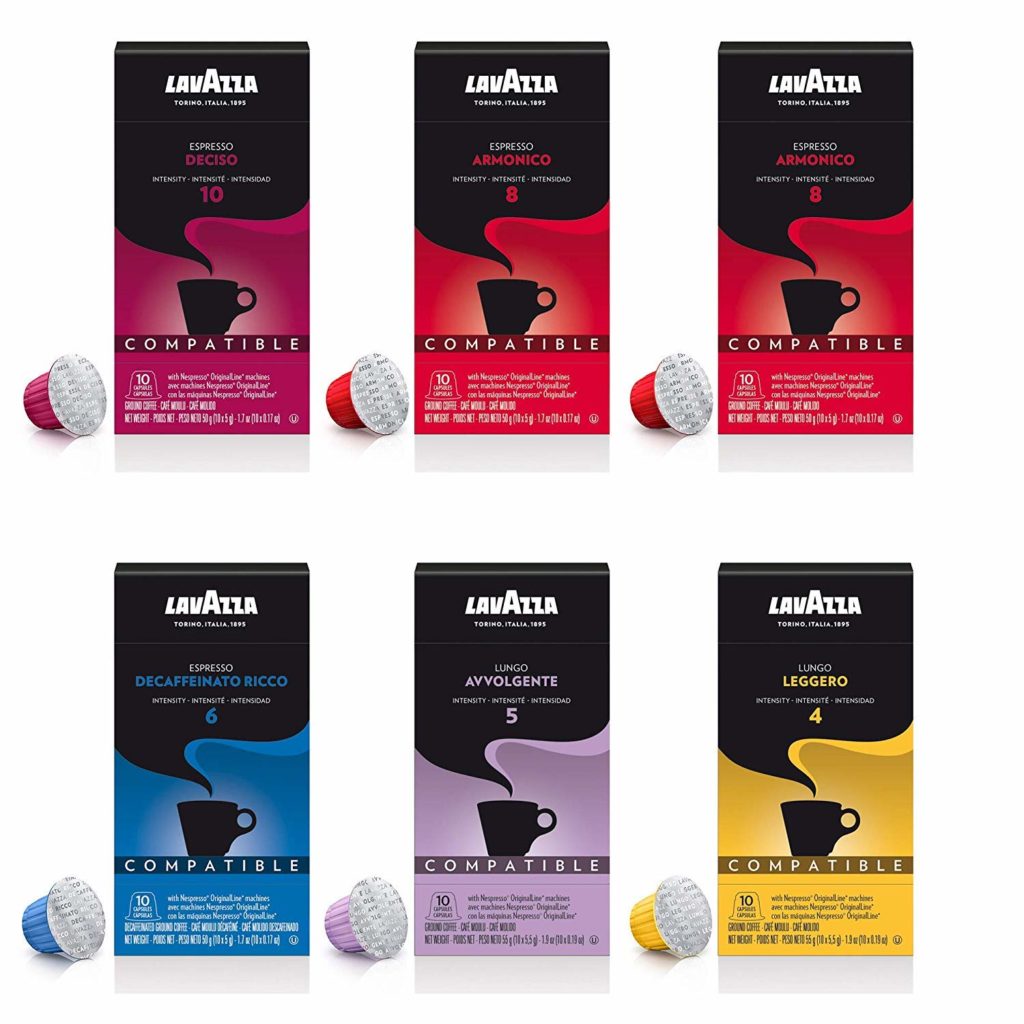 If true variety is what you are after when you're shopping for Nespresso pods, you'll find what you are looking for with these espresso capsules from Lavazza. There are all kinds of flavors available, including Armonico, Avvolgente, Decaffeinato, Decaffeinato Ricco, Deciso, Delicato, Leggero, and Ristretto.
Can't decide? Go with the 120 capsule variety pack instead! It's best for those of us who are indecisive about the desired flavor and intensity of our espresso brews. 
Depending on which option you choose, you'll find blends ranging from medium roast to dark roast. There are also espresso roasts. All of these vary in their intensity from 4 to 10. Each capsule is blended and lightly roasted in Italy and meant to be used with a Nespresso OriginalLine machine.
What We Liked:
Wide range of intensities and the best flavors, from full bodied beans to mild beans

Variety pack comes with 60 capsules of 5 popular Nespresso coffee varieties

Blended and brewed in Italy 
What We Didn't Like: 
Not compatible with all Nespresso OriginalLine machines
5. Mixed Variety Pack: 100 Nespresso Compatible Capsules. Organic/Fairtrade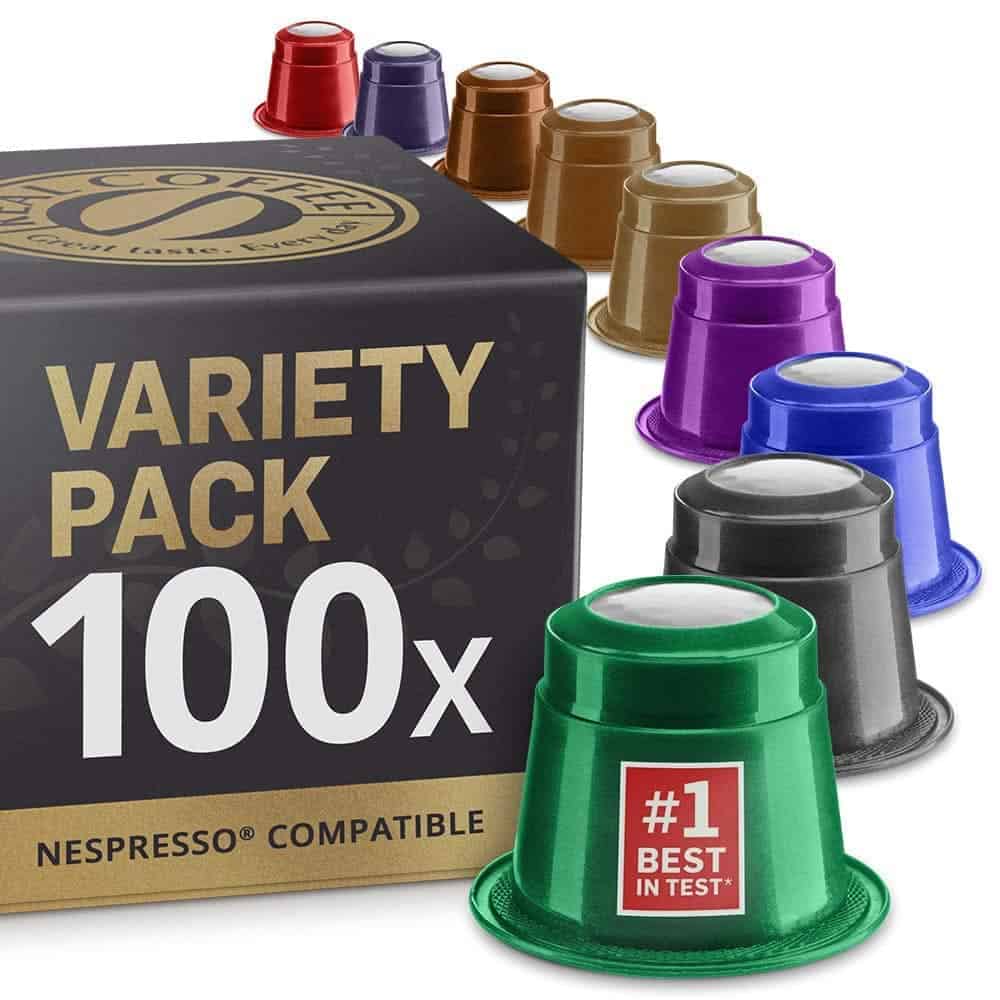 When you're ready to make the switch to organic, fair-trade coffee, you might be hesitant to do so if you can't find the best Nespresso pods. While many coffee companies have made the transition to organic, fair-trade growing and harvesting processes, that isn't always the case for espresso. These pods are made according to the strictest standards - without compromising the flavor or intensity of your Nespresso coffee capsules.
You'll have several varieties to choose from, including Espresso Bologna, Milano, Sumatra, and Roma. There are decaf, full-bodied, strong, and organic variety packs available, too. These capsules were rated as "best Nespresso in test" by several different magazines and are 100% compatible with all OriginalLine Nespresso machines. 
What We Liked:
9 different varieties with 100 Nespresso coffee capsules

Beans are made in accordance with the best organic and fair trade practices

100% airtight Nespresso capsules mean the coffee stays fresher for longer
What We Didn't Like: 
Decaf is not available in an organic option
6. Don Francisco's & Café La Llave Espresso Capsules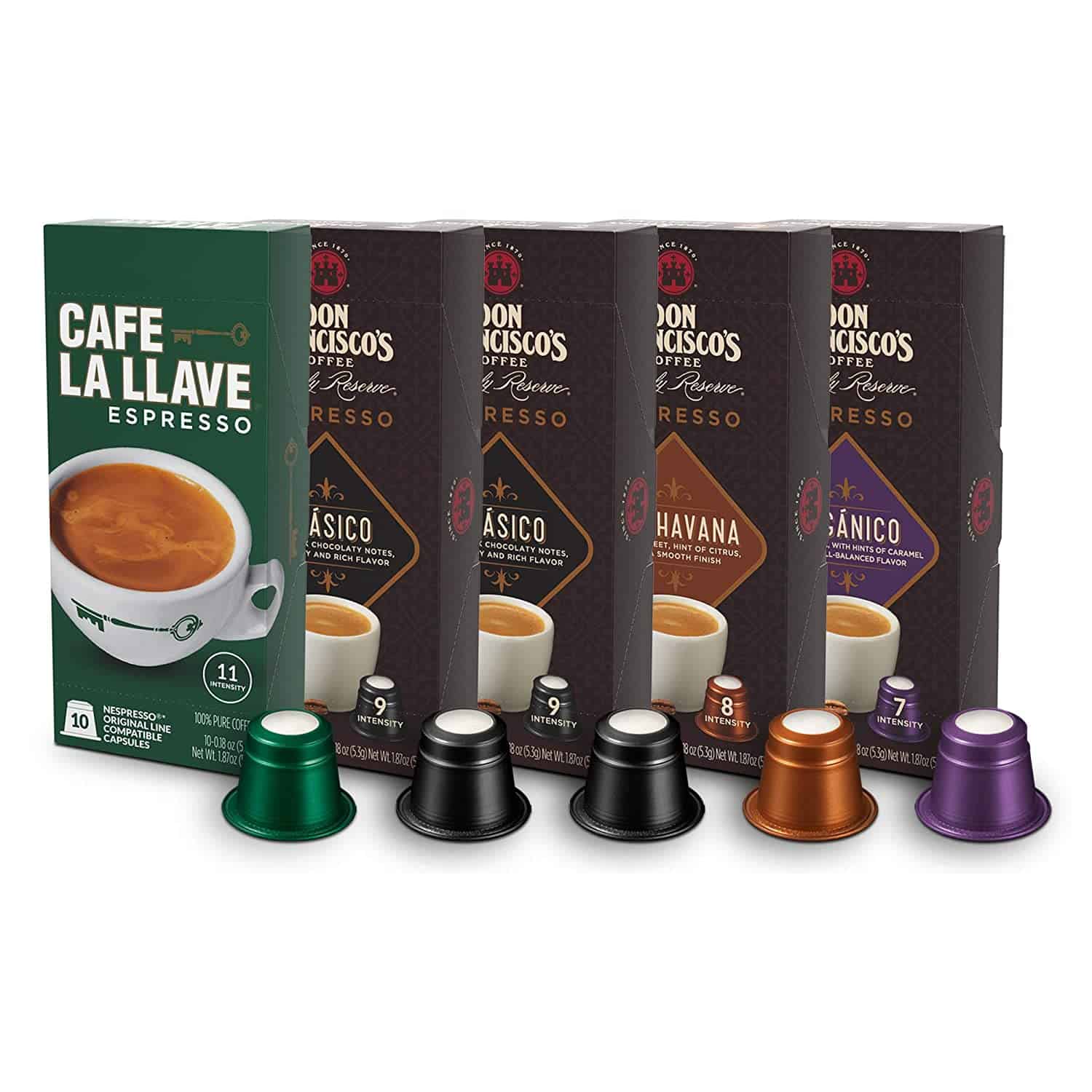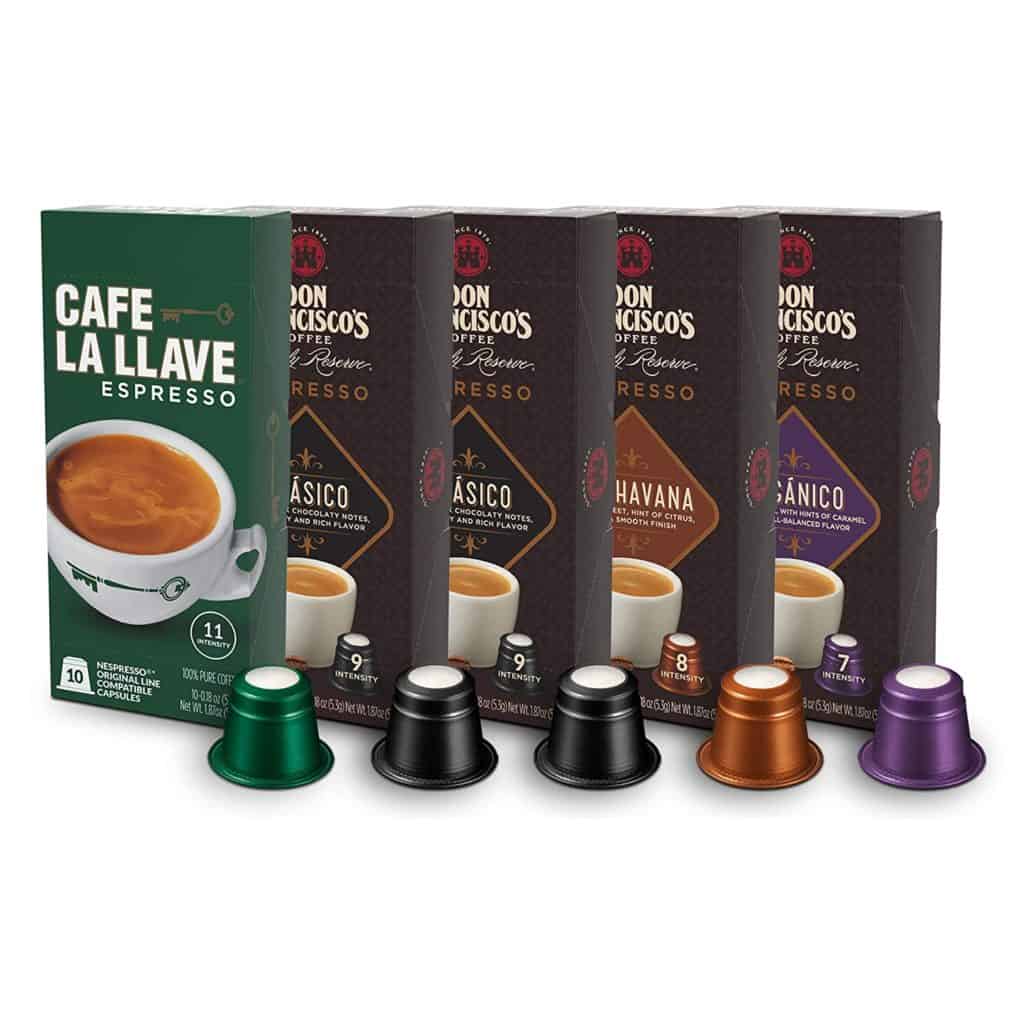 When you buy these Nespresso pods, you'll have plenty to choose from. You can purchase Organico, Old Havana, Nuevo Mundo, or Clasico coffees. Each flavor is available in a 40- and 80-count. If you can't decide what kind you want, don't fret! You can also opt for a variety pack.
The pods are fully recyclable, as the company partners with TerraCycle to reuse the pods in sustainable ways. You can enjoy any kind of Nespresso coffee you want with these Nespresso pods, from Latin-style espresso to European-style dark roast to traditional Cuban coffees that offer a more medium roast. 
Whatever you choose, you'll be investing in pods that are environmentally sustainable and compatible with all Nespresso OriginalLine machines.
What We Liked:
Truly sustainable pods 

Can fit any Nespresso OriginalLine machine

Unique flavors and variety packs available 
What We Didn't Like: 
Capsules don't fit well into some of the best OriginalLine models
7. Nespresso Capsules VertuoLine, Elvazio, Mild Roast Coffee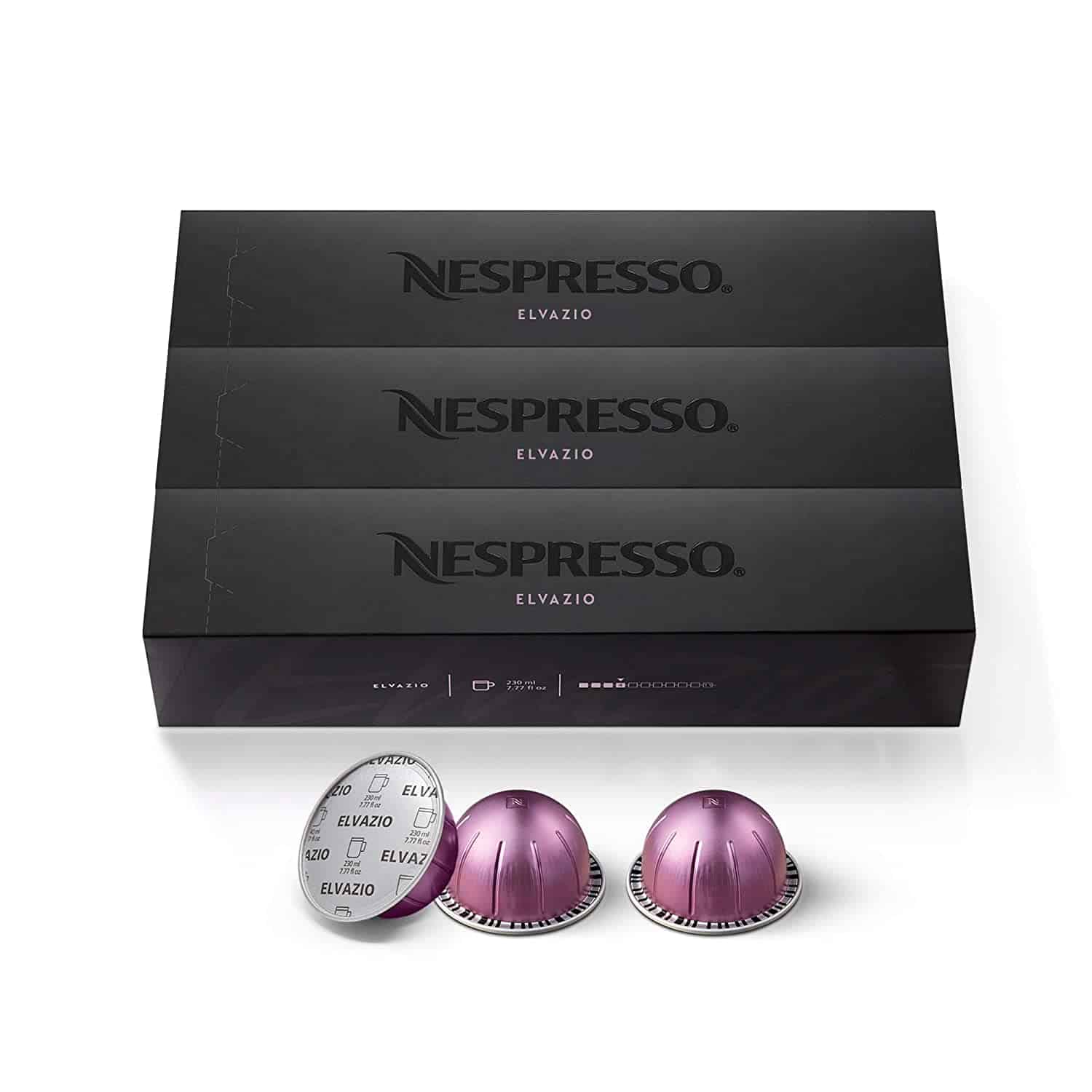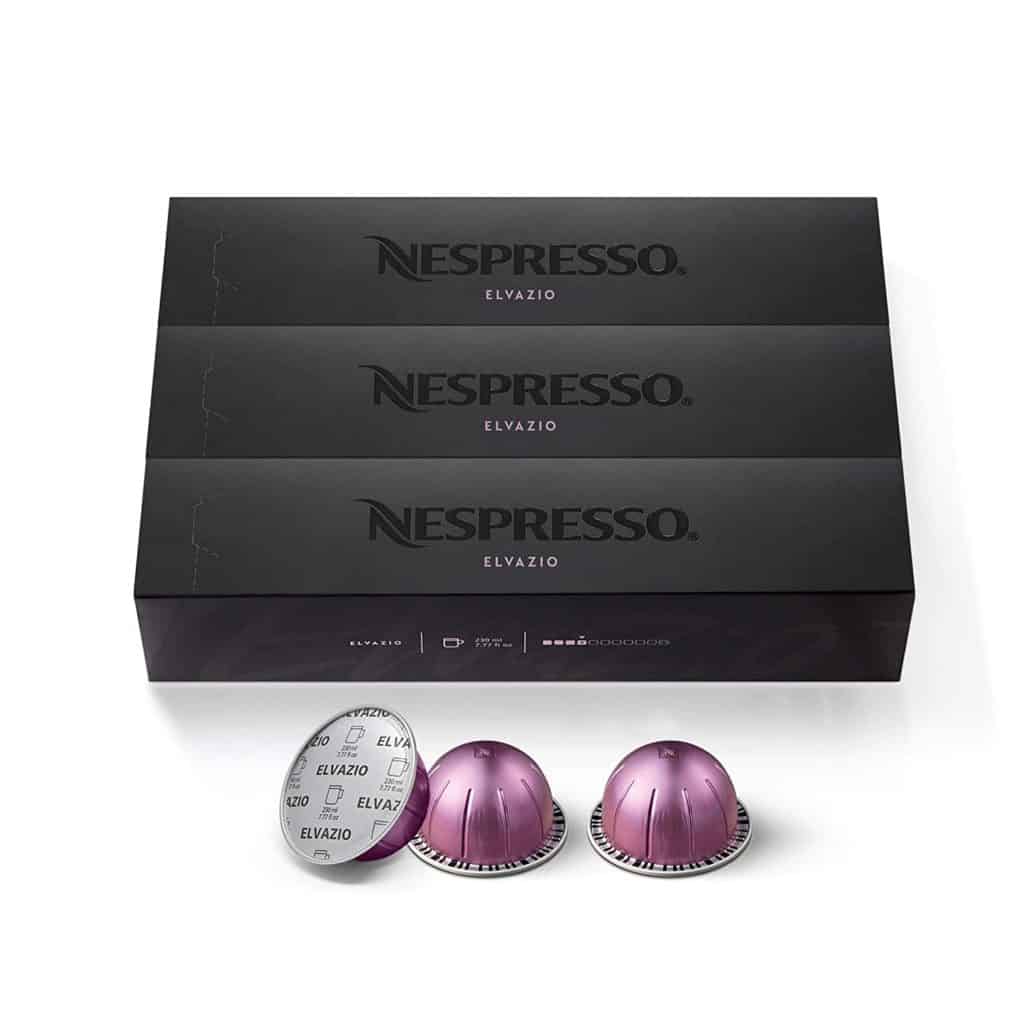 These best Nespresso capsules are not only fragrant, but they're also lightly fruity and delicious. Made out of Central and South American Arabica beans, these pods offer a fragrant, refreshing flavor with a lightly roasted body and mild intensity.
You'll get a 7.8 oz serving of Nespresso coffee with these pods, perfect for a long-lasting drinking experience. All of the capsules are fully recyclable and easy to use. Enjoy them hot or iced - whether you choose, you're sure to be satisfied. These pods are light-bodied and light in intensity, making for a rich, refreshing, and fragrant brew. 
What We Liked:
Pods are recyclable

Light-bodied, low-intensity Nespresso coffee

Brews a larger serving of coffee 
What We Didn't Like: 
Pack only comes with 30 capsules (10 capsules per sleeve)
8. Nespresso Capsules VertuoLine, Decaffeinato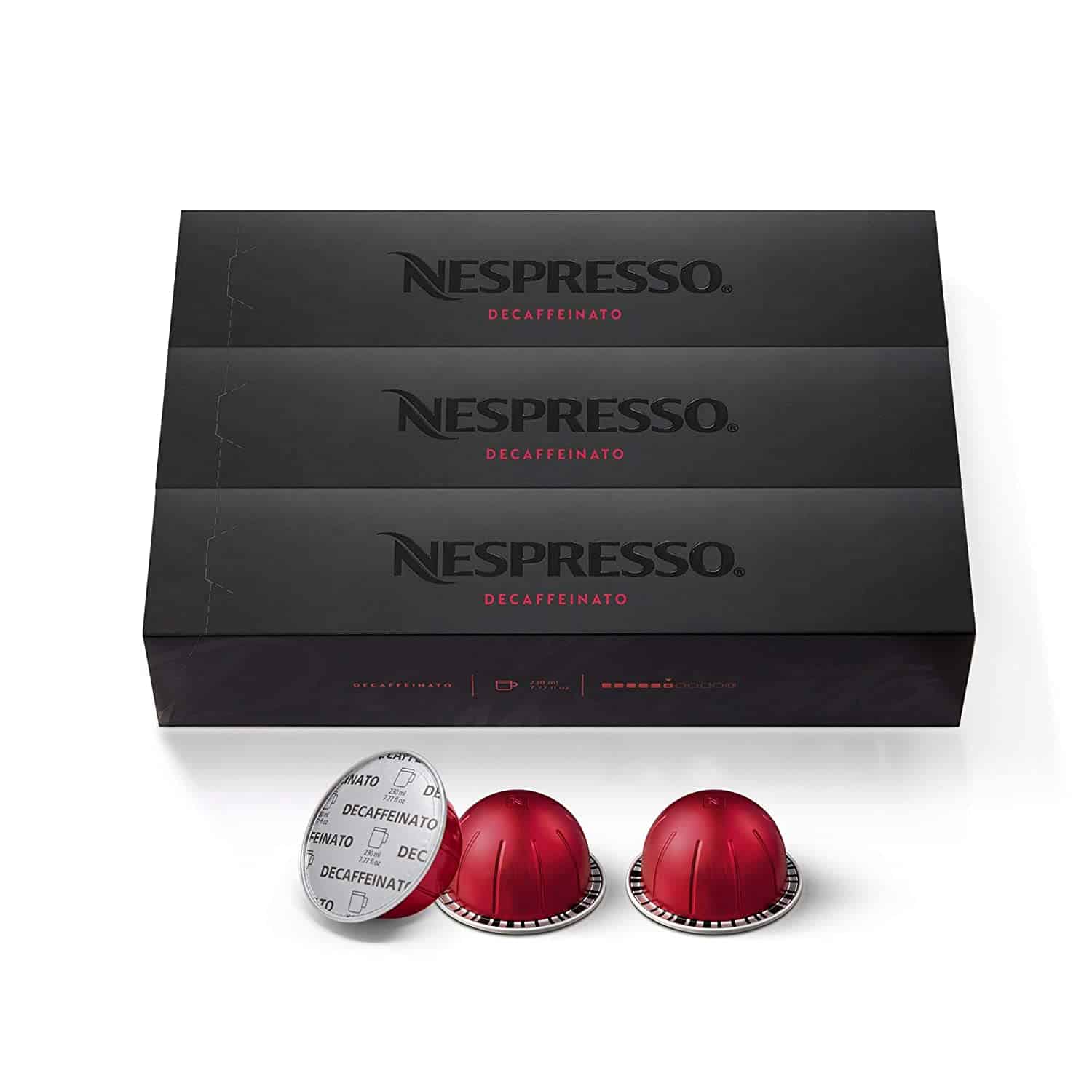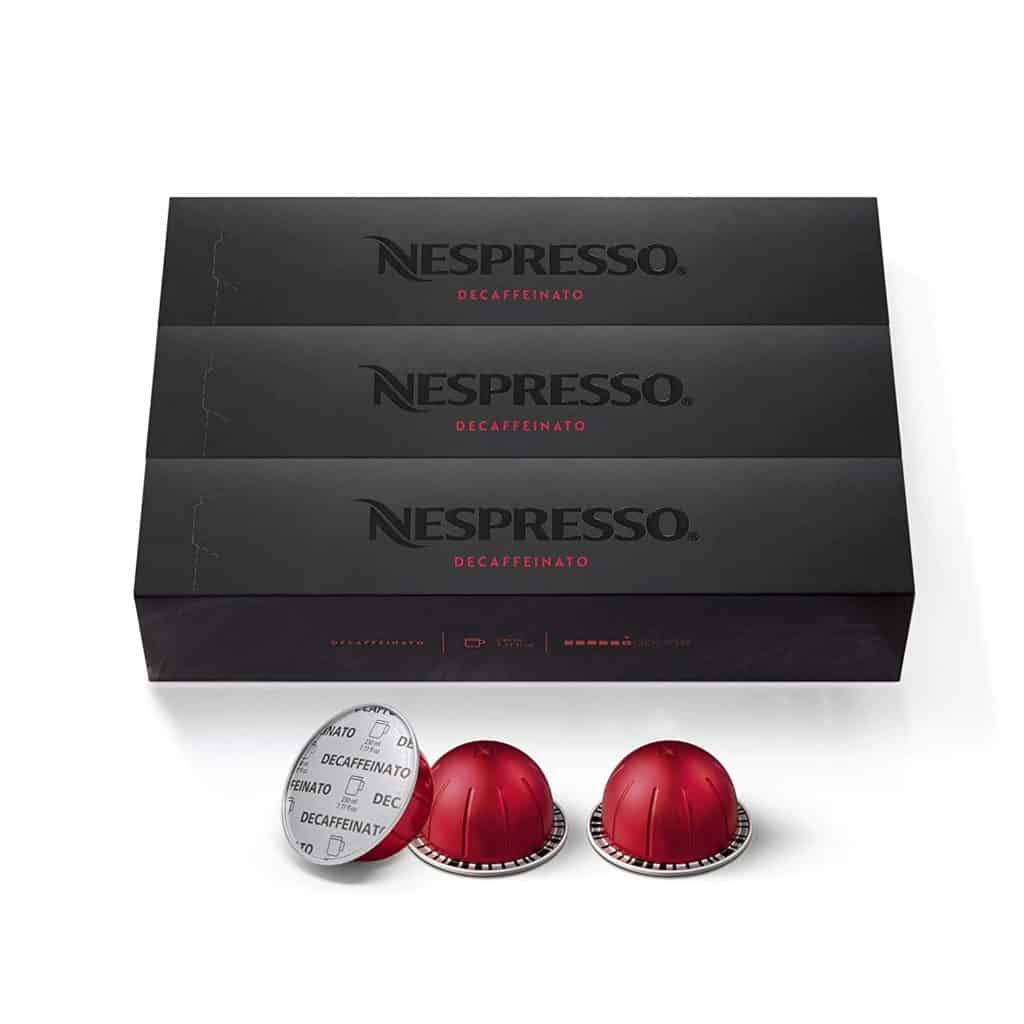 When you love the flavor of espresso but just can't handle the caffeine jitters, these Decaffeinato capsules by Nespresso might just be the way to go. With a well-rounded, malty flavor, they are made out of Costa Rican and South American Arabica beans for a gentle malted flavor with hints of milk, cereal, and nuts. 
This variety pack comes with 30 separate Nespresso pods that can each brew 7.8 oz. They are delicious and all come in easy-to-use, fully recyclable pods. You can enjoy these brews hot or over ice!
What We Liked:
Available in several of the best Nespresso pod options

Decaffeinated for people who can't tolerate (or dislike) caffeine

Rates high on the intensity scale 
What We Didn't Like: 
Some users report that the Nespresso pod are faulty and don't work well in some machines
Buying Guide: How to Find the Best Nespresso Pod 
Type of Nespresso Capsule
There are essential 16 different types of the best Nespresso capsules you can choose from, each of which has a varying flavor, intensity, and caffeine content. You'll find that the most common are Pure Genesis, Decaffeinato, Lungo, and espresso. 
Pure Genesis Nespresso capsules are known as a more premium, higher-end product. These are some of the best Nespresso capsules that are known for their long-lasting flavor and intense aromas. 
Decaffeinato Nespresso capsules, as you might expect from the name alone, are 95% caffeine-free. These capsules are the best Nespresso pods if you want a beverage with minimal caffeine. There are three different types of Decaffeinato capsules, each of which varies in its intensity. 
Lungo capsules use a bit more water than typical espresso - up to twice as much water, in fact. The beans tend to be bitter and contain more caffeine as a result. Lungo is known for being a tall product, so you'll get larger portions with these pods, too.
Finally, espresso. The espresso capsule is the first Nespresso capsule ever developed by Nestle. It can have varying strength and caffeine content depending on the capsule. 
Type of Nespresso Machine
You will want to get a Nespresso pod that matches with your Nespresso machine. There are basically two main types of  machines - OriginalLine and VertuoLine. Only two of the best Nespresso capsules are compatible with OriginalLine - Espresso and Lungo. That said, you'll still have plenty to choose from, since both types are common and come with many regular packages and limited edition choices. 
However, if you drink other kinds of coffee, VertuoLine is the way to go. This kind of machine is much more versatile and can brew lungo, Espresso, and even straight coffee. It's important to note that most VertuoLine machines do not brew caffeine-free Nespresso capsules, though. 
The "Notes"
Coffee beans are a lot like wines, in a sense! When you're selecting the best Nespresso pod to use in your machine, you're going to find lots of different descriptors that companies might use to give you an idea of what the flavor and intensity of each capsule will be like. 
You are probably already familiar with Colombian coffees. These tend to have strong caramel undertones and are somewhat nutty. Brazilian coffees tend to have varying flavor and intensity more like peanuts and cacao and longer much longer. 
Ethiopian coffee is known for being more floral (somewhat like a tea). There are plenty of other "notes" you'll find, too. To pick a perfect coffee for you, look at what customers say about each pod's flavors in the reviews. 
Flavor Preferences
You will want to consider how intense you want your pod to be, as well as the flavors that you prefer. The most common kinds of flavors include chocolate, light, wood, intense roast, and sweet porridge. Play around with the many flavors to find one that works well for you.
In terms of intensity, you'll find options varying from 1 to 13. 13 is the highest intensity, while 1 is the weakest. This is usually determined by the caffeine content, country of origin, and overall flavor and intensity.  
Choose Nespresso for Perfectly Customized Beverages
There are plenty of reasons to go with Nespresso if you're in the market for excellent flavor and a customized blend in your capsule. 
First, Nespresso pods have some seriously awesome flavors. Because each container is individually sealed, it will store the flavors of your coffee and won't let the storage conditions wear away at your pods. Since the pods are so tightly sealed, you'll enjoy a rich aroma and a great flavor even years after you purchased the pods. You won't experience a loss of intensity in the pods, either. 
Each capsule is a complete serving that is designed for the perfect amount of water. You don't have to worry about measuring or planning—everything is already pre-measured for you. Your flavor-filled drink will be brewed in less than one minute (often, 30 seconds or so) so that you don't have to waste time brewing coffee at home or waiting in line at your local coffee shop.
There are so many reasons to consider giving Nespresso a try - just make sure you pick up a few of these best Nespresso pods so that you finally can!