Are you hoping to smoke like the pitmasters on TV? Do you dream of coming out on top of a barbeque competition? Chances are, you're lusting over an offset smoker.
However, purchasing the best offset smoker can prove to be a risky business. This is because cheap, poorly made models are leaky and unreliable, while an expensive model can cost you thousands of dollars.
To help you find the best offset smoker, we've put together a list of some of the best models on the market today. All of these offset smokers will work with any budget and experience level.
Best Overall Offset Smoker – Oklahoma Joe's Highland
For most people, spending thousands of dollars on the best offset smoker is not possible. Unless you've decided to mortgage your home to purchase a smoker, probably not the best idea, you need the best offset smoker to be budget-friendly.
However, the budget side of offset smokers is inundated with poorly insulated, cheaply made smokers that draw in buyers because of their authentic stylings. Then they leave them full of frustration and poor smoking results.
This is the best offset smoker for anyone who has a budget of less than $500. Unlike the rest of the cheaper offset smokers, this one uses heavy-gauge steel to provide you with better stability and heat retention.
The grates are coated in porcelain and give you 619 square inches of space in the main cooking chamber and another 281 square inches in the firebox chamber used for grilling. This Highland Offset Smoker allows you to configure the smoker as a reverse flow offset smoker.
This means that the firebox heat will have to travel under a baffled flue to the end before it's reversed and drafts through the main cooking chamber. This helps cook your food evenly and produces a more delicious product.
Pros:
Great value for the money spent
Great heat distribution
There is more versatility with the firebox grill
Features a traditional look
Cons:
The Highland leaks without the use of a sealant
The heat distribution can be imperfect
Best Premium Offset Smoker – Yonder Wichita Loaded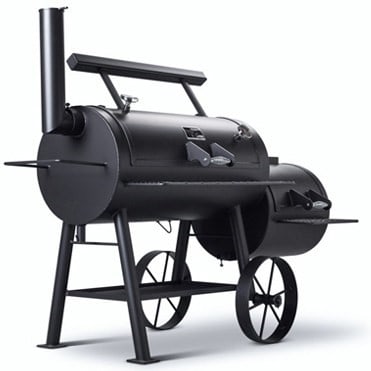 This is the best offset smoker if you have a big budget because the Yonder brand produces exceptional offset smokers in the thousand-dollar range. That being said, this is one of the best offset smokers you'll find in the premium budget range.
It has 1,600 square inches of space for cooking, making it the best offset smoker for the backyard, and is still able to cater for large events or competitions. It's split into two 19.75"x19" cooking grates in the main chamber, there's a second slide-out shelf that's 14.5" x 36.5", and also has a cooking grate that's 19" x 18" in the firebox.
This offset smoker is constructed in the United States from ¼" plate and pipe steel. Yonder is known for making great products, so you know you're getting the best offset smoker when you buy this unit.
It weighs 591 pounds, but it does have wagon wheels that make it easy to move it around when needed.
Pros:
High-quality and durable build
Lots of cooking area
Even temperature distribution
Cons:
Best Budget – Char-Griller Smokin Pro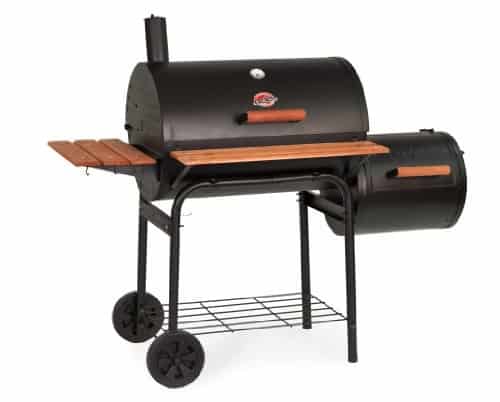 If you ask any BBQ expert, they'll inform you that you should stay away from cheap offset smokers like the Char-Griller Smokin Pro. In fact, you should probably ignore the "pro" part of the name of this offset smoker because it's hasn't been designed to be used by professionals.
This smoker doesn't tightly seal, the construction could be better, and the materials could be thicker. But if you aren't shy of making a couple of modifications, this could be the best offset smoker for you.
With this offset smoker, you get 580 square inches of cooking space with another 250 square inches of warming or grilling space in the firebox. The things that you'll need to do to modify this unit may include using barbeque silicone to seal the inside of the grill, particularly where the grill and firebox are joined.
You'll also find that the built-in thermometer is extremely bad on this offset smoker, so you should forget about them and get a proper meat thermometer.
Pros:
Cheap offset smoker
You can use this as a charcoal grill
Cons:
Must be modified
The built-in thermometers are very inaccurate
Poorly constructed
Royal Gourmet CC1830F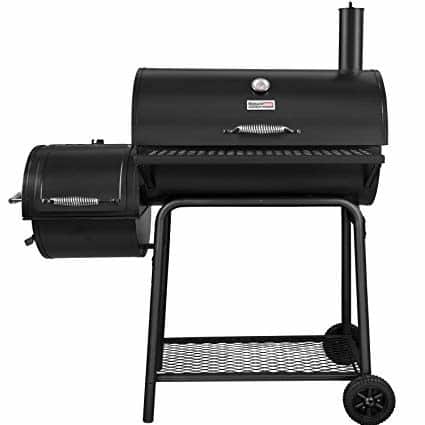 This is a very small and cheap charcoal grill with an offset smoker. It weighs less than 60 pounds, so you won't have any problems moving this around. What's even better is that this is a smoker and grill combo, making it easy for you to switch from grilling and smoking seamlessly.
This might not be the best offset smoker, but it will work for the short-term if you're just starting with an offset smoker. Don't let the size of this offset smoker fool you either. It can pack a punch and deliver high-quality meats as a result.
The Royal Gourmet is best used for tailgaters and campers, especially since it's so easy to move around.
Finally, the cooking space in this unit is relatively small and won't give you much room for more than one kind of food at a single time.
Pros:
Great price
Grill and smoker combo
Portable
Cons:
Limited cooking space
Poor reviews
Best for short-term use
Dyna-Glo Wide Body Vertical Offset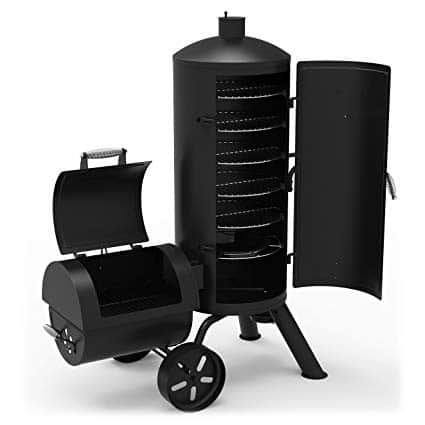 This offset smoker offers a large cooking area with 1,890 square inches, making it the largest on this list. This is a heavy-duty vertical offset smoker that will give the meat you're smoking the most flavor as the smoke rises to all of the meat inside the smoker.
It features a wide base, which means that you can smoke several different types of meat simultaneously. It is a charcoal smoker, so it will require a lot of charcoal to run through an entire smoking session.
However, this is a tradeoff that you might be willing to make considering how flavorful this makes your meat. It comes with adjustable cooking grates, a preinstalled thermometer, and a stainless-steel ash pan.
The Dyna-Glo Wide Body is recommended for those who have prior smoking experience and won't need to move this unit around a lot. This is because there are no wheels on this smoker and because the design of the vertical smoker is more difficult to cook with if you have no smoking experience.
It weighs 83 pounds, and while it isn't the heaviest offset smoker on this list, it's still something that you can't move on your own.
Pros:
Spacious
Space-saving vertical design
Several cooking racks
Cons:
No wheels
Requires a lot of charcoal and fuel
Dyna-Glo Signature Series Vertical Offset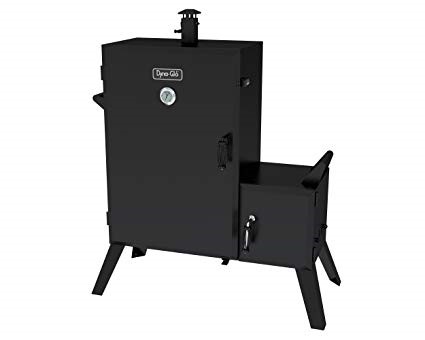 This is a very skinny and tall offset smoker. It's uniquely designed to sit on the left side of the firebox, whereas most other models sit to the right of the firebox. It's a charcoal-based grill and is 59 inches tall and weighs 125 pounds.
It does come with two wagon wheels, but it can be hard to move around because of the design of this unit. It does offer a large cooking area, coming in at 1,400 square inches. With this much space, you shouldn't have any problems cooking large meals for your family.
You'll find that this smoker has limited features, but it does come with a removable ash pan and charcoal grate.
Pros:
Smoker and grill combo
Large cooking area
Has wagon wheels
Cons:
Oklahoma Joe's Bandera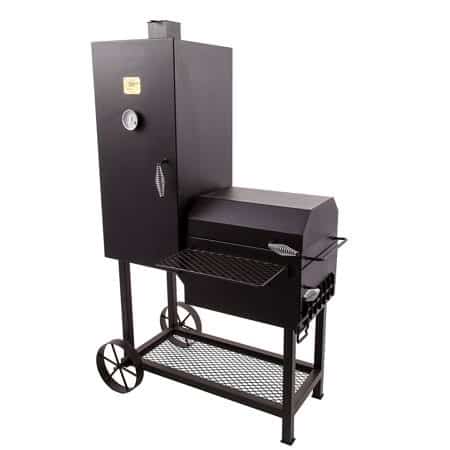 The design of the Oklahoma Joe's Bandera allows you to cook large amounts of food at a single time with its nearly 1,000 square inches spread out over four cooking grates. This unit's vertical design allows the smoke to naturally float up the chimney and onto your meats.
It features a temperature gauge, meat hooks, removable ash pan, and a few more features that you would expect an offset smoker of this size to have. It's 63 inches tall and weighs almost 200 pounds, so you might think that the Bandera would take up a lot of space in your backyard. But because of the unique vertical design, it takes up less room than a normal horizontal offset smoker would.
Oklahoma Joe's is a well-known brand in the smoking industry, and they make their products to last. So, when you purchase the Bandera from Oklahoma Joe's, you can feel assured that you're getting an amazing product.
Pros:
Large cooking area
Space-saving vertical design
Meat hooks
Cons:
Uses a lot of charcoal and fuel
The paint doesn't hold up well
Oklahoma Joe's Longhorn Offset Smoker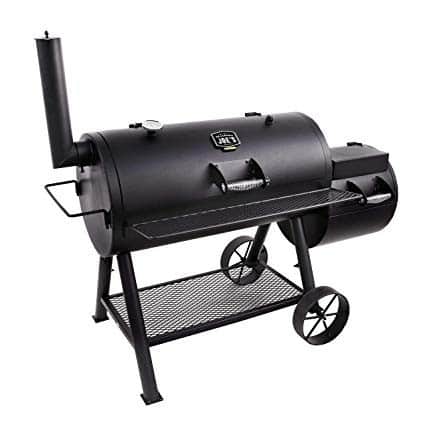 This is the most expensive offset smoker that Oklahoma Joe's offers. The Longhorn gives consistent results by giving adjustable dampers that will help you control your smoker's temperature and smoke levels.
A common complaint is that the vent stack is too high, which lets out more heat than you want. However, this isn't a huge drawback.
Some of the additional features on this unit include cool-touch handles, a front shelf for cooking utensils, and rust-resistant cooking grates. You might notice that the features on this offset smoker are very similar to the other Oklahoma Joe's smokers' features.
This is one of the best offset smokers because it can use both charcoal and wood, so if you're feeling adventurous, you might even consider using a charcoal/wood combination.
Pros:
Consistently gives great results
Easy temperature and smoke level control
Can burn both wood and charcoal
Cons:
Horizon 16" Classic Smoker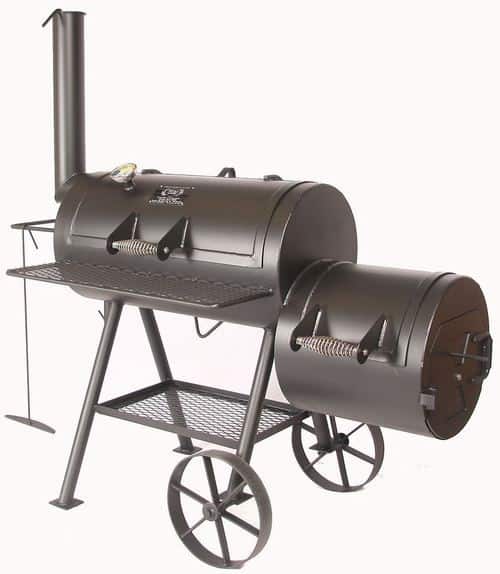 This the best offset smoker that's diverse. It can handle temperatures ranging from 160 degrees F to 325 degrees F, depending on what you're trying to make. A downside to this unit is that there is only 680 square inches of cooking space.
Obviously, you can increase the size of the cooking area by upgrading to more expensive models. But you would expect an offset smoker being offered at this price would have more cooking space.
Despite lacking cooking space, there are some other notable features. For example, this unit has a side firebox door that allows for easy ash removal, meat hooks, and grease drains, but it doesn't come with a smoker box to add more smoke to your meat.
The Horizon Classic Smoker can burn charcoal and wood and can even burn both at the same time. At 380 pounds, this unit can still be easily moved thanks to the two heavy-duty wheels. It comes with a lifetime warranty against burnouts, so this unit should last you for years to come.
Pros:
Diverse
Lifetime warranty
Has many great features
Cons:
How Does the Best Offset Smoker Work?
The best offset smoker has a large main chamber where you cook the food and has a small firebox for burning charcoal or wood. The firebox is typically attached to the back or side and below the main cooking chamber. This is why it's called an offset smoker.
The fire built inside the firebox produces smoke and heat, which adds flavor to your food and cooks it by utilizing indirect heat.
To regulate the heat and smoke levels in the main chamber, the best offset smoker typically has a chimney, which is usually attached to the other end of the smoker from where the firebox is and has a vent on the firebox side.
The chimney and vent can be opened and closed to maintain control in the smoking atmosphere in the main chamber. The main cooking chamber of the best offset smoker looks like an oil drum; this is because that's what the original chambers were made from.
The Difference Between Horizontal and Vertical Offset Smokers
A vertical offset smoker has the source of heat situated right below the food that's being cooked. A horizontal offset smoker has the source of heat situated directly to the side of the main cooking chamber.
Vertical offset smokers tend to give your food a more flavorful taste; this is because the juices from the cooking meat drips down into the flames and creates a vapor that will rise to the meat. This is very similar to pit barrel smokers. However, it's much harder to cook with a vertical offset smoker because you're cooking directly over the heat.
Using a horizontal offset smoker, you won't get the same flavorful taste, but they're much easier to cook with, and you're less likely to burn your food.
Which one you go with is up to personal preference and your smoking experience level.
Who Should Invest in the Best Offset Smoker?
Purchasing the best offset smoker is a dream for the average grill expert. Why? Because offset smokers are the image of traditional smokers, and they have the volume to smoke meat for the whole neighborhood.
However, as with any expensive cooking equipment units, you need to get a smoker that conforms to your cooking needs and offset cookers do have drawbacks that you need to consider.
To guide your decision on if an offset cooker is the best choice for you, here are some of the biggest pros and cons of owning and using one:
The Pros
The huge main cooking chamber is what makes these smokers great for cooking huge quantities of food.
You'll find that the firebox isn't made to be part of the main chamber, so you can easily open it and add some more wood or charcoal without letting the smoke or heat escape while doing so.
Despite offset smokers being referred to as stick burners, they can be fueled using charcoal and wood. Cooking with this combination of charcoal and wood is less nit-picky than cooking with just wood. Plus, you can get that smoky flavor without having any creosote, soot, or ash getting on the meat.
Some models of offset smokers come with a grill grate that's fitted over the firebox, which provides you with a direct smoking and grilling option.
The Cons
These units aren't portable or lightweight. They can weigh in at over a hundred pounds. It isn't impossible to move an offset smoker, but it's highly impractical.
They are large, so if your backyard or garage isn't large enough to use and store the offset smoker, then you would be better off getting a compact smoker.
Smoking and cooking on one of these smokers aren't a fast process. This is because some models can take about one hour for preheating, and they're only suited for the slow and low style of cooking.
You have to take into consideration the climate you live in. Offset smokers don't function well in cold climates, and the performance of the best offset smoker can suffer from heavy rain and high winds unless you go with one of the more expensive, well-built models.
Getting some of the best smoking results from an offset smoker takes patience and practice. The main reason offset smokers appeal to grill enthusiasts is because getting the perfect smoke is an art form. When an offset smoker works well, it works great, but you'll have to work very hard to get the best smoke from one.
To summarize what you've just read, the best offset smoker is a good choice for those who have enough space for such a heavy and large piece of cooking equipment, coupled with patience and time to learn how to get the best smoke from a unit that's not novice-friendly.
Be Careful of Cheap and Useless Offset Smokers
The biggest issue with offset smokers is that the market is full of poorly made and cheap models.
The biggest problem with purchasing a cheap offset smoker is that the construction quality is key to getting the best results from an offset smoker. Poorly designed and built smokers have terrible heat retention, faulty main cooking chamber doors that will leave your food dry, and badly sealed fireboxes that will leak oxygen.
The core of the issue is physics: smoke and heat want to move upwards, not to the side. So, when the smoke and heat leave the firebox on one side and tries to go up, it makes the side of the main chamber that's near the firebox hotter than the other side.
This means that your meat closer to the firebox will cook faster than the others unless you rotate them during the smoking process.
A well-built offset smoker will force hot air to travel the length of the main chamber, evenly distribute heat, and keep heat and oxygen levels stable.
What Should I Search for in the Best Offset Smoker?
It doesn't matter what model you decide to purchase. The best offset smokers will share similar traits. When you purchase the best offset smoker, here is a list of things to search for and some questions you need to consider.
Questions
How sturdy does it feel?
Does it feel like it gives when you push on certain parts of the grill?
Does the material flex?
Are you going to be leaving this smoker outside?
Will the materials used to build the smoker rust easily?
What do the wheels look like?
Will the wheels help you move the unit around easily?
You have to ask yourself these questions before deciding on an offset smoker to make sure that you're getting one that's designed to be durable and will fit your needs.
Insulation and Build Quality
As mentioned earlier, purchasing a low-quality offset smoker that's made from thin metal will leave you with no control over how much smoke, heat, and oxygen are in the main chamber.
When you buy an offset smoker, make sure that you're purchasing one that's constructed with a minimum of ¼" thick steel, with excellent quality food chamber doors and vents. The downside to this is that it won't come cheap.
When searching for the best offset smoker, weight is an important thing to consider. This is because the heavier the unit is, the more likely the materials used to make that model better.
Something else to consider is the wheels on the unit. You want a unit with large wheels because the offset smokers with big wheels are typically heavier.
Is a Reverse Flow Smoker Better?
Regular flow smokers draw smoke and heat from the firebox and over the cooking meat one time: when it's coming from the chimney.
In a reverse flow smoker, they use a baffle system that draws the smoke and heat under the main chamber before it's brought back over the cooking meat again on its way out of the chimney.
This reverse system uses smoke and heat twice. Grilling enthusiasts claim that this method of smoking meat makes it more flavorful and tender.
If you aren't sure which one you should go with, just keep in mind that in a regular setup, the smokestack or chimney will be on the other end of the firebox, and on a reverse set up, it the chimney will be located at the same end as the firebox.
Price
A great way to avoid falling into the trap of purchasing a useless and cheap offset smoker is to use the price as a buying guide.
The best offset smoker will typically cost around $800 - $1,000 for a beginner unit. While this isn't cheap, that extra money you're spending is being spent on a higher-quality build, which we explained earlier, is crucial to getting your offset smoker to work properly.
Think of the extra money being spent as a way to ensure that your frustration level is much lower going forward. If you think that the $250 offset smoker for sale at the local hardware store is too good of a deal, it is probably too good to be real.
Size
This is a key thing to take into consideration. Before you go out to purchase an offset smoker, make sure that you measure the space where you're planning on putting the smoker.
Keep in mind that the reason it's called "offset" is because the potential grill grate and firebox jut out from the back or side of the main cooking chamber, so you need to take this into account.
Accessories
Think about the accessories and features that the offset smoker has to offer. Ask yourself:
Is there a locking mechanism on the wheels?
Is it portable?
Is there a cover included?
Does it come with any cooking utensils?
Does it have a front shelf?
Some of these features and accessories might not be important for you, but some might. This is especially true for the locking mechanism on the wheels because the last thing you want to have happen is for your offset smoker to move on its own.
Cooking Area
The last thing to consider is how large the cooking area is. You want to have enough space to cook all the food that you need to cook at a single time. Ask yourself:
Is there only one cooking grate? Or does the unit have multiple?
How much food can you cook at a single time?
While you might be fine with a smaller cooking area, there are many reasons why you might want something a little bigger. Therefore, you must think about how much cooking space you need before purchasing the best offset smoker.
Using Your Offset Smoker
To help you get started on using your offset smoker, below, you'll find some tips that are extremely helpful when you're just starting out.
Use a Wood/Charcoal Combination to Cook
Just because offset smokers are commonly referred to as "stick burners" doesn't mean that you can only cook using wood. Instead, you can use a combination of wood and charcoal to get that smoky flavor from the wood while also taking advantage of the easy temperature control of charcoal.
To get started with this method, fill the smoker's firebox with fully lit charcoal from a chimney starter, and periodically add wood to keep a steady temperature.
Use a Meat Thermometer
You'll find that even the best offset smoker's temperature can be off by up to 75 degrees F on one side of the cooking area to the other.
To ensure that the meat inside your smoker is evenly cooking and to prevent any issues from arising in the firebox, you need to check the internal temperature on both sides of the smoker in 20-minute intervals.
The best method for doing this is to drill holes, one on each end of the pellet smokers' cooking chamber, and then stick the meat thermometer into those holes.
Take it Easy with the Smoke Levels
If you're using the wood/charcoal combination in your offset smoker, you should take on the "less is more" approach when it comes to how much smoke your smoker is making inside the main chamber for cooking.
You don't have to soak the wood chunks, only about four ounces of wood chunks in ten-minute intervals after the temperature reaches 200 degrees F.
Final Thoughts
The best offset smoker will take effort and time to learn how to properly use it, which means that you'll have a couple of practice runs before making the perfect meal.
When searching for the best offset smoker, remember to stay away from the cheap models that aren't going to give you the results you want. You can go with a cheaper model, but you'll end up having to do modifications to make it work correctly.
You don't have to spend thousands of dollars to get the best offset cooker, as you can see from this article's choices. But be prepared to drop a couple hundred dollars on the best offset smoker.