Olive oil is no doubt one of the most versatile cooking ingredients in existence. Not only is it chock-full of amino acids, polyphenols, and healthy monounsaturated fats, it adds amazing flavor and depth to almost any meal under the sun. We can't think of a single recipe that isn't instantly elevated by drizzling a little olive oil on it.
Grilling, baking, and even frying with it is a total game-changer. Nothing else delivers the same level of intense flavor and complexity the way it does. To get the best results, however, you need to make sure you're using the best olive oil for your recipes if you want to reap the full range of benefits it has to offer.
We've compiled the top extra virgin olive oil (EVOO) brands that deliver exceptional results in the kitchen, as reviewed by highly-acclaimed chefs and respected food critics in the culinary world.
1. Best Overall – Pompeian Smooth Extra Virgin Olive Oil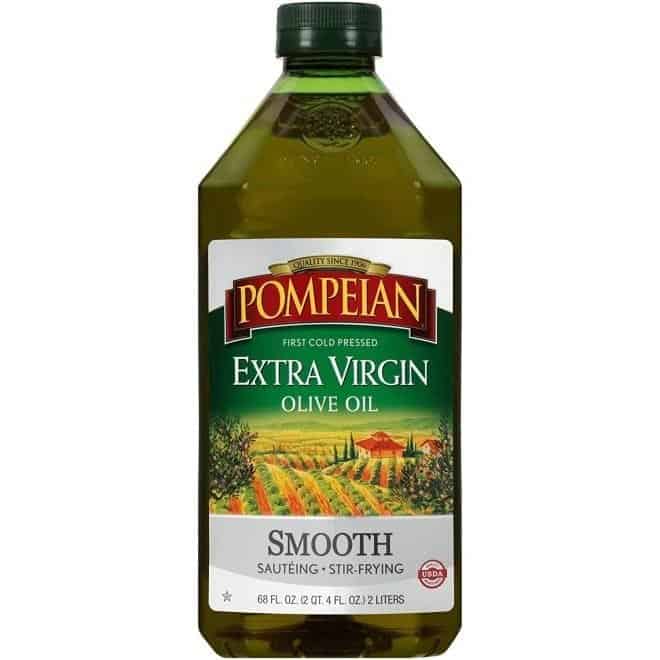 Check Latest Price
The Pompeian Extra Virgin Olive Oil is arguably one of the most versatile, flavorful brands we've come across. If you're the sort of person who loves to cook everything in butter but wants to switch to a healthier alternative without sacrificing the full-bodied flavor it renders to food, then you love what Pompeian olive oil brings to the table.
It is perfect for sautéing and stir-frying and gives food a smooth peppery finish. All the olives used in the making of this oil are nurtured under carefully-monitored conditions to preserve their antioxidant properties, as well as deliver the freshness and flavor you would expect from an everyday EVOO.
Key Features
Smooth flavor
First cold-pressed
Available in 16, 24, 32, 48, and 68 fl. oz. containers
Pros 
Can be used in soups, stir-fries, marinades, and salads
Delicious smooth flavor
Affordable price-point
Cons
The bottle cap is a little difficult to remove
2. Best Budget Choice – AmazonFresh Mediterranean Extra Virgin Olive Oil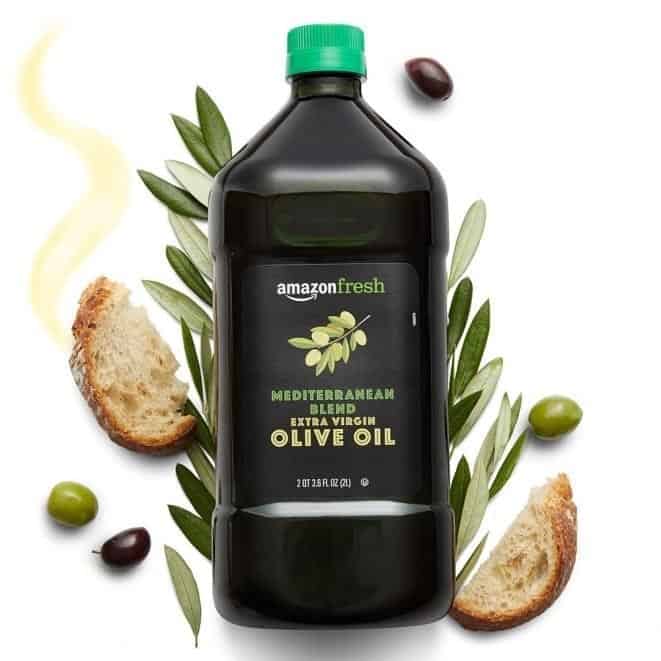 Check Latest Price
If you're in the market for a great-tasting budget-friendly olive oil, then you'll love the AmazonFresh Mediterranean EVOO. Retailing at just under $19 for a 68 fl. oz. bottle, this particular brand delivers amazing value for money. Its characteristic mild buttery notes make it ideal for everyday use in cooking and finishing dishes.
The olives used in making this oil are sourced from farmers in the Mediterranean region, which is known to grow some of the most delicious olives in the world. If you enjoy Colavita EVOO, then you will love this blend from AmazonFresh. It is backed by a 1-year money-back guarantee.
Key Features
Olives are sourced from the Mediterranean region
Mild buttery flavor
Comes in a 68 fl. oz. bottle
Pros 
Great value for the money
Backed by a money-back guarantee
It is highly versatile
Cons
It has a slight after taste
3. Best Premium Choice – The Governor Premium Extra Virgin Olive Oil

Check Latest Price
As far as premium olive oil brands go, it doesn't get any better than The Governor Premium Extra Virgin Olive Oil. First off, the packaging it comes in and the unique design of the limited-edition bottle is simply stunning. It is 100% raw and unfiltered, not to mention that it has an impressively low acidity level of 0.17%.
It is sourced entirely from Corfu, Greece. It has bagged a wide range of industry awards including, the Aristolio High Phenolic Awards, the Athena International Olive Oil competition, the Los Angeles International Extra Virgin Olive Oil Competition, among several others.
It has a robust, full-bodied flavor profile with unique spicy and fruity notes in addition to an exceptionally smooth texture. The Governor instantly adds a layer of sophistication to any meat, vegan, or vegetarian dish. It boasts one of the highest levels of polyphenols thanks in large part to the superior milling technique employed.
Key Features
Very low acidity
Raw and unfiltered
Comes in a 16.9 fl. oz. bottle
Pros 
It is rich in polyphenols
Its robust flavor and aroma is simply mouthwatering
Comes in a stunning limited-edition bottle
Cons
The flavor might be too bold for some recipes
4. Best for Dressing – Filippo Berio Extra Virgin Olive Oil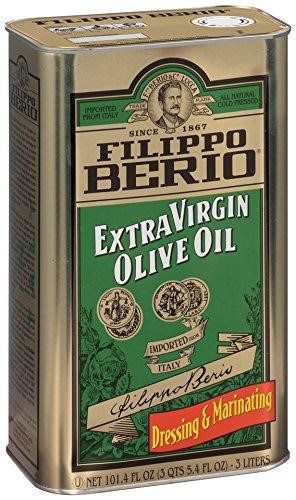 Check Latest Price
The Filippo Berio range of Extra Virgin Olive Oils has one of the best flavor profiles bar-none. Its rich taste and fragrant notes make it perfect for salad dressings, marinades, gravies, sauces, and drizzling over pasta. You can even use it to sauté vegetables or meat.
It is 100% gluten-free, cholesterol-free, and contains no traces of GMO or trans-fat. We particularly love the rich yet well-balanced taste it adds to dishes. The fresh and fragrant aroma of Filippo Berio EVOO marries well with several different recipes. You can even bake it into the crust of your favorite pizza if you want to add a little oomph to it. The taste is simply out of this world.
Key Features
Has a high smoke point
Distinctly rich taste
Available in 8.4, 25.3, 50.7, and 101.4 fl. oz. containers
Pros 
Delivers outstanding value for the money
It is highly-versatile
Deliciously fragrant with olive notes
Cons
The tin can makes it a little difficult to pour without making a mess
5. Best Full Bodied – ZOE Extra Virgin Olive Oil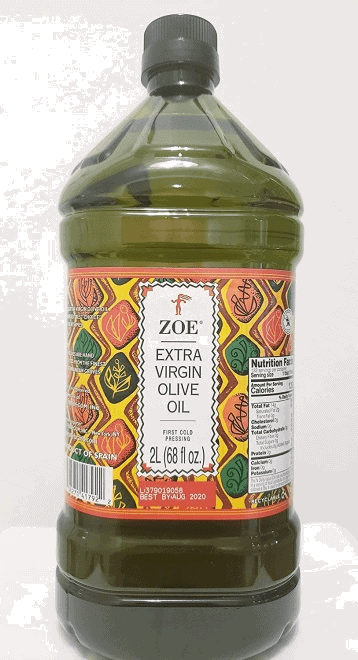 Check Latest Price
When it comes to full-bodied EVOOs, the ZOE Extra Virgin Olive Oil is hard to beat. From its sensuous fruity and buttery notes to its aromatic blend of almond, fresh basil, and pepper; it elevates every single dish to Michelin-level status.
The olives used to make this oil are sourced exclusively from the southern Portuguese region of Alentejo. It is home to native varieties like Arbequina, Picual, Arbosana, and Carrasquena olives that render an herbal and buttery flavor guaranteed to tantalize your taste buds.
It pairs magnificently with wine, balsamic vinegar and is the perfect ingredient for crafting delicious marinades, basting sauces, and sautéing vegetables and meat. It's the perfect complement to every meal.
Key Features
It's flavor profile consists of fruity, herbal, buttery, and peppery notes
Sourced from Portugal
Available in 33.8 and 68 fl. oz. containers
Pros 
Pairs well with virtually every kind of dish
Kids love it
It is cholesterol- and sodium-free
Cons
The flavor might be a little overbearing for certain dishes
6. Best Kosher – Colavita Extra Virgin Olive Oil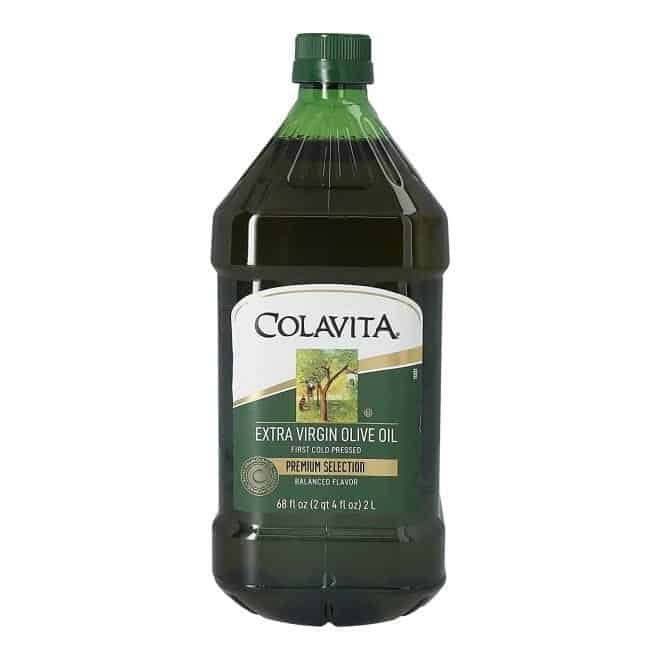 Check Latest Price
If you're looking for kosher olive oil, you'll love Colavita's Premium Selection EVOO. It is made from a blend of Koroneiki, Picual, and Arbequina olives, harvested from the best groves in Portugal, Spain, Greece, and Italy, using cold-press extraction methods. It has a well-balanced flavor profile that consists primarily of fruity and spicy notes, making it ideal for dressings, marinades, roasting, and even baking.
It has been named the two-time winner of the "Best Everyday Cooking Oil" in the annual Men's Health Magazine's Nutrition Awards. It also bears a quality seal from the North American Olive Oil Association.
Colavita is by far one of the healthiest high-quality EVOOs in the market right now, with an acidity level that falls well below the 0.4% threshold. It doesn't get any better than that.
Key Features
Fruity and spicy notes
100% certified kosher
Available in 17, 25.5, 34, and 68 fl. oz. containers
Pros 
It is highly-versatile making it ideal for everyday use
It has low-acidity levels
Tastes amazing
Cons
The bottle cap is difficult to remove
7. Best for Cooking – La Tourangelle Extra Virgin Olive Oil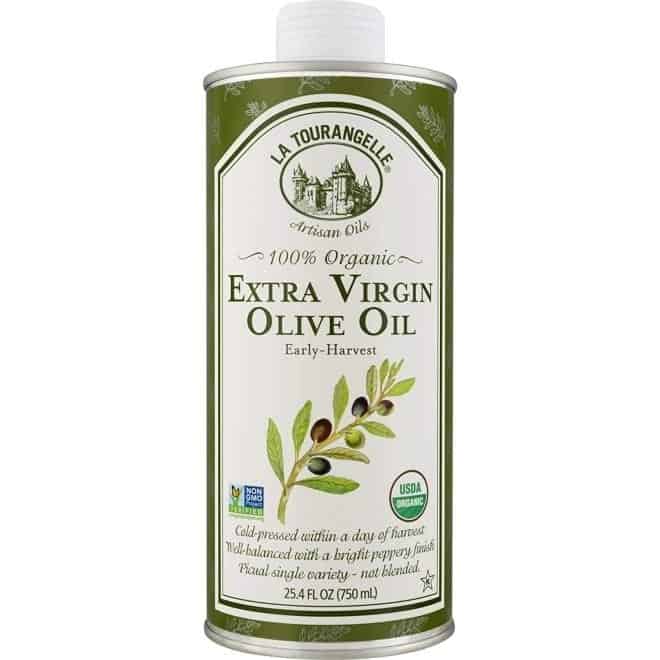 Check Latest Price
Most EVOOs are not usually cut out for high-heat cooking. La Tourangelle olive oil is the exception to the rule. It is cold-pressed from Spanish single-variety Picual olives and perfect for medium-high heat cooking.
Its flavor profile consists of a rich, well-balanced combination of fresh olive leaves, almond, and freshly cut grass, with a bright, peppery finish. La Tourangelle pairs well with most wine, balsamic vinaigrette and is the perfect ingredient for marinades and gourmet dishes.
It is kosher-certified, gluten-free, and has no GMO or chemical additives. It is also a rich source of antioxidants, as well as Omega-6 and 9.
Key Features
Nutty and peppery notes
Ideal for meats, salads, pasta, vinaigrettes, and marinades
Available in 5, 16.9, and 25.4 fl. oz. containers
Pros 
Made from single-variety olives
Excellent for cooking
It has a rich, intense flavor, which makes it highly versatile
Cons
8. Best Everyday Use – Lucini Italia Olive Oil


Check Latest Price
Lucini Italia EVOO has a smooth flavor that makes it the perfect everyday oil for your cooking and dressing needs. It consistently surpasses the testing standards set by the International Olive Oil Council, so you know you're buying the good stuff.
The olives used to make it are sourced from the rich soil of the Andean foothills, a temperate region in Argentina that's home to a wide variety of olives.
Lucini olive oil embodies a well-balanced combination of fruity, peppery, and nutty notes, which effortlessly complement fresh vegetable dishes and salad dressings. It is also a great base for making your favorite basting sauce and marinade when grilling meats.
Key Features
It has a fruity, peppery, and nutty flavor
Vegan, certified kosher, and gluten-free
Available in 17 fl. oz. containers
Pros 
It's smooth and delicious flavor isn't overpowering
Ideal for cooking, marinating, and dressing salads
Great value for the money
Cons
The flavor might be too mild for recipes that call for a full-bodied EVOO
Key Considerations When Choosing the Best Olive Oil – Buying Guide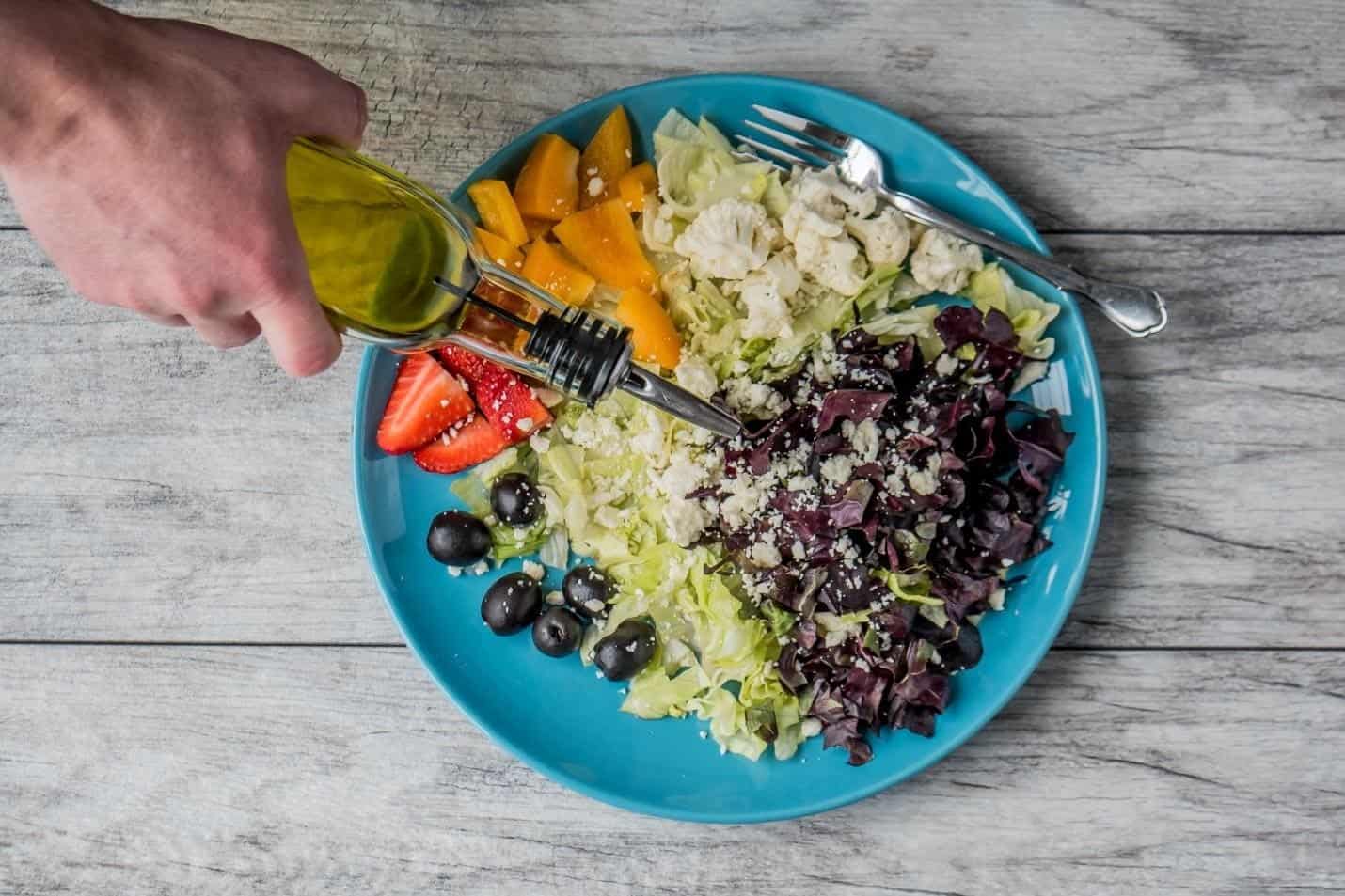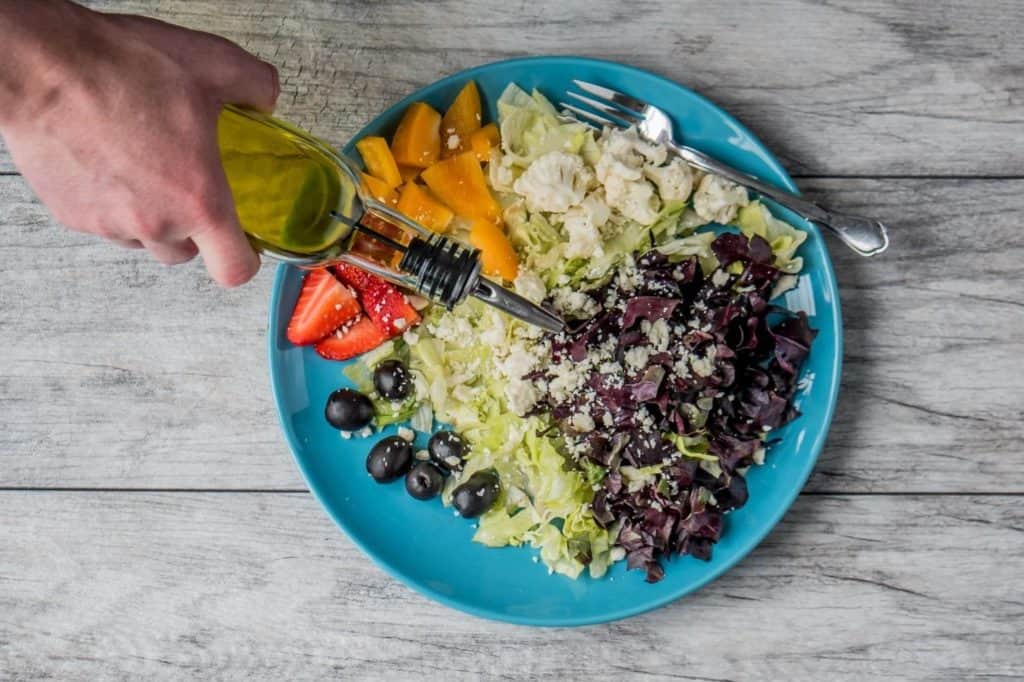 "Extra-light," "extra-virgin," "pure," "pure-virgin,"...how do you know if you're using the right one with so many different types of olive oil in the market?
If you've adopted a healthy lifestyle and have taken to cooking with olive oil, the question you need to be asking is – Are you reaping the full range of health benefits from the specific type of oil you're using?
We've put together some key considerations to keep in mind when choosing the best olive oil for your cooking needs.
Understand What the Words on the Label Mean
If you're like most people, you probably buy olive oil based on words on the label that sound good. You likely get drawn in by phrases like "first cold press" or "extra-virgin," but do you understand what they mean?
If this describes you perfectly, don't worry. You're in good company. Most people have no idea what they're doing when it comes to buying the best olive oil. Instead of carelessly adding a random bottle of the stuff to your shopping cart, here's what those pesky labels mean.
1. Extra-Virgin Olive Oil
Extra-virgin olive oil, or EVOO for short, is a name used to denote the highest standard for olive oil as regulated by various organizations such as the International Olive Council (IOC). EVOO is unrefined, meaning it has never been chemical or heat-treated and contains no more than 0.8 percent free acidity.
It is considered by most food connoisseurs to have a superior flavor and aroma compared to other varieties. The color, price, and precise health benefits you derive from it vary by brand. While you can use EVOO for cooking, it is always better to use it as a light and tasty dressing in salads.
2. Virgin Olive Oil
Virgin olive oil is slightly lower in quality compared to EVOO and contains between 1.5 and 2 percent free acidity. It works well when used for sautéing and frying.
Keep in mind that while it might be slightly lower in quality compared to its extra-virgin counterparts, it is still a hundred times healthier than any other cooking oil you might use, plus it tastes better. It is also less expensive than EVOO, making it the next best alternative if extra-virgin brands are a little out of your price range but still want to eat healthy on a budget.
3. Cold-Pressed Olive Oil
The term "cold-pressed" simply refers to the extraction method used to derive the oil. Historically, oil was extracted using presses and stone mills. After the first press, whatever was left behind was heat-treated to make lower grades of oil.
In reality, the phrase "cold-pressed olive oil" doesn't mean much. Most oil is extracted through press and centrifuge, which is, by definition, a "cold" extraction process since no heat is applied at any point.
EVOO is cold-extracted, which is precisely what makes it "extra-virgin." Adding the phrase "cold-pressed" or "first cold-pressed" is just redundant when using it to describe EVOO. If you come across two extra virgin olive oil brands – one with any of the aforementioned terms on the label and another without – rest assured that they're both the same.
4. Refined Olive Oil
If you come across olive oil brands labeled "pure olive oil" or simply "olive oil," those usually refer to the refined variety. It is derived from virgin olive oil using refining methods that don't typically modify its original glyceride structure.
It has a maximum free acidity level of 3.3 percent, which is expressed as oleic acid. In terms of its flavor profile, refined olive oil generally doesn't taste like anything. It has no color or aroma, either. It may be infused with stronger oils to overcome its blandness.
5. Extra-Light Olive Oil
When the term "extra-light" is used anywhere in the culinary world, most people tend to associate it with "low-fat" or "low-calorie." While this may be true for beverages, the same cannot be said when it comes to olive oil.
Oil – whether you're referring to olive oil, coconut oil, canola, or any other kind of oil – is 100 percent fat. Therefore, there's no such thing as a "low-fat" or "light" olive oil. Several brands use the term as a marketing ploy.
This means that the oil has been refined to strip away all flavor and odor, so it doesn't taste or smell like anything. That doesn't in any way make it healthier. This type of oil is excellent for baking, where using oil with a rich flavor profile would be intrusive.
6. Filtered/Unfiltered
You'll also come across oils labeled "filtered" or "unfiltered." The choice of one over the other is a matter of preference. Unfiltered oil is often cloudier, purer, and rawer. It's a lot closer to what the product in its natural form should be.
On the other hand, filtered olive oil is cleaner and considered to be more superior and longer-lasting than its unfiltered counterpart. The sediments in unfiltered oil make it more volatile, which significantly shortens its shelf life.
Both types of oil, however, offer the same range of health benefits.
7. "Nocellara del Belice"
Just like the grapes used in making wine, olives come in several different varieties, each of which renders its unique flavor to the final product. For instance, the Arbequina olive has a delicious buttery taste compared to the Nocellara del Belice olive from Sicily, which lends a bright, fruity flavor to the oil.
8. Product of Italy
All olive oil labels have to display their source. Remember, just because the label reads "Bottled in Italy" or "Product of Sicily" doesn't necessarily mean that that's where the oil came from. You'll need to read the fine print to find out the true source of the oil.
The initials of the actual country of origin will usually feature somewhere on the back label. You might see something like IT for Italy, GR for Greece, PT for Portugal, TN for Tunisia, and so forth. The best olive oil brands usually have a single-source origin that you can sometimes trace back to the original farm.
Color
Light makes olive oil spoil faster. You want to go for oils packaged in tinted bottles or opaque tins to extend their shelf life.
The idea that the color of the olive oil itself matters is nothing more than a glorified myth. The specific color of the oil is determined by how ripe the olives were when they were harvested. It is not in any way, an indicator of quality.
If the olives weren't completely ripe at the point of harvesting, the oil derived from them will have a greenish hue to it. If, on the other hand, the harvested olives were purplish-black, the oil extracted from them will have a golden hue to it.
Several factors determine the flavor of the olive oil itself. The milling technique used, cultivation and irrigation practices, the climate of the region they were grown in, quality of the soil, how ripe the harvested olives were, and even the specific variety all have a bearing on the flavor of the final product.
Flavor
Speaking of flavor, green olive oil, with some exceptions, tends to have a robust and somewhat peppery flavor. It pairs well with fattier meats like pork and beef. You can even use it on hearty greens like kale and roasted root vegetables.
If you have a recipe that calls for heirloom tomatoes, for instance, try adding a little green EVOO to it. You'll be pleasantly surprised by the results.
Golden-colored olive oil, on the other hand, tends to have a mild buttery flavor. This makes it perfect for making pesto and pairs quite well with poultry and fish.
You can even drizzle it on vanilla ice cream or chocolate for a powerful flavor explosion in your mouth. The secret to flavor layering using olive oil lies in using the same bottle for cooking and finishing, regardless of the brand you're using.
You should, however, avoid buying oil that has little to no color, which suggests that it may be refined. Steer clear of copper-colored olive oil as well, which is an indication of oxidation exposure.
Value
Sometimes, a measly 500-ml or 750-ml bottle of EVOO just won't cut it. You save more bucks when you get deals that offer up to 5-liter bottles or tins of olive oil.
These come in pretty handy, particularly around the holidays or if your family drizzles olive oil on virtually everything, including healthy vegetable pies. Who can blame them, though? The stuff is delicious.
Time to Get Reacquainted
Now that you know what to look for when choosing the best olive oil, we recommend trying out the brands we've reviewed in this guide. A little drizzle of it has the uncanny ability to elevate even the simplest of vegetables to superstar status.
Go on – get reacquainted with this liquid gold.
In the meantime, check out our blog for a comprehensive guide on how to oil a cutting board. You might be doing it wrong.