In the game of food preparation, having the right tools can truly make all the difference. Whether you're cooking for one or you're feeding a whole crew of hungry mouths, preparing fresh meals is a time consuming task. Sometimes there are simply just not enough hours in the day to be slicing onions and chopping vegetables in an attempt to get dinner on the table.
Enter: the onion chopper.
Why do you need an onion chopper when you already have your trusty knife and cutting board? It's true that those two tools will accomplish all of the same tasks as a good onion and vegetable chopper. However, the best onion choppers actually tackle many more tasks beyond chopping onions alone.
It's all about efficiency and convenience. With their specially designed sharp blades and convenient storage container attachments, the right unit will quickly chop onions and process a whole host of other ingredients, helping you to easily prepare meals in no time flat.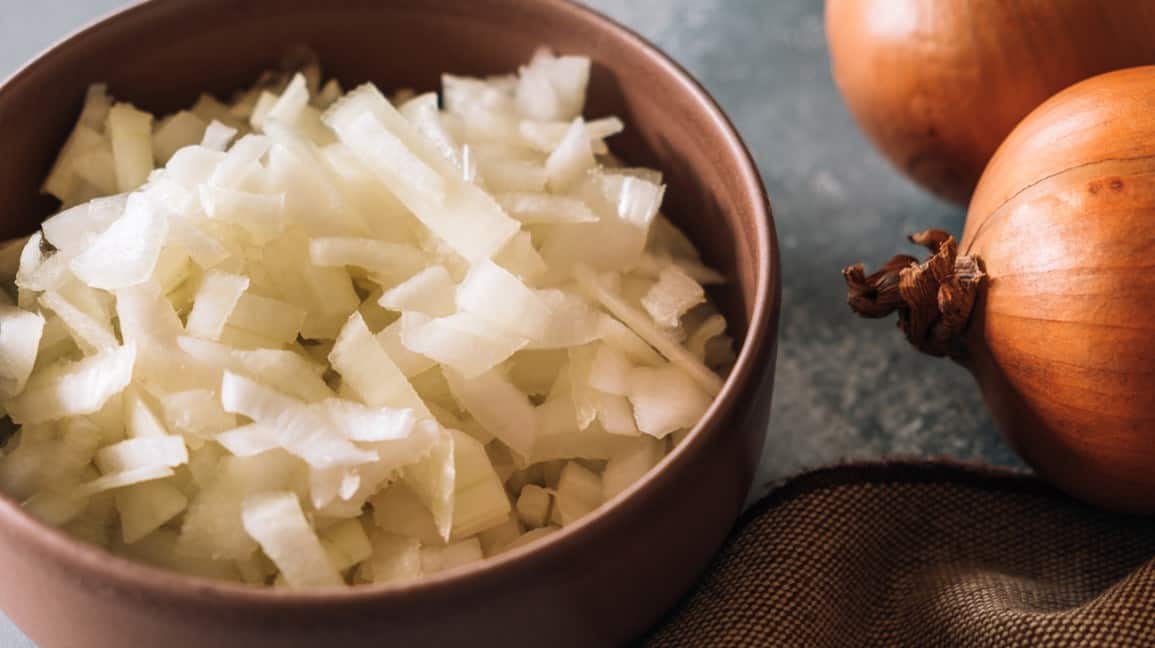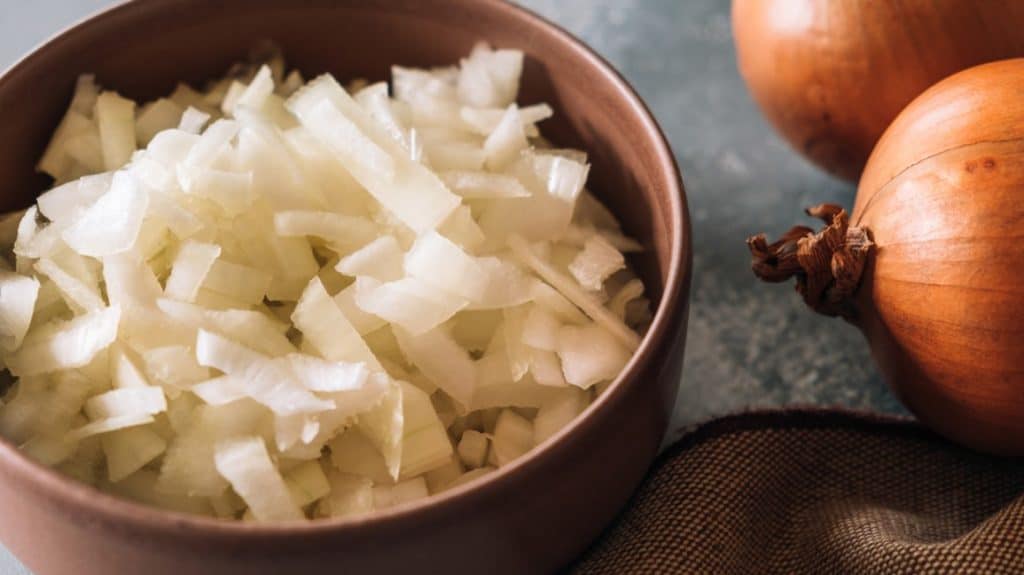 7 Best Onion Choppers
1. Best Basic Onion Chopper: Original Vidalia Chop Wizard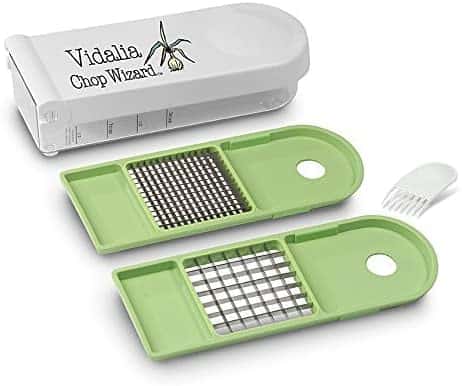 Type: Manual
In the case of the Original Vidalia Chop Wizard, the name says it all! This vegetable chopper is the best onion dicer in town as it was specifically designed to effectively tackle the tough task of chopping onions. The Original Vidalia Chop Wizard is no uni-tasker though. Simply place any item you wish to chop on the stainless steel blades, press down on the lid, and perfectly diced ingredients will fall into the catch container below. This unit chops not only onions, but can take on other vegetables, fruits, cheeses, and more.
Features of the Original Vidalia Chop Wizard
The Original Vidalia Chop Wizard features two interchangeable chopping blades, each with a different size stainless steel slicing grid. The larger blade will produce ½ inch cuts while the smaller of the two will produce ¼ inch cuts. The catch container has a 2 cup capacity with convenient measuring cup markings on the side and is entirely dishwasher safe. The base also has non-skid rubber feet, keeping things nice and sturdy as you work. The sharp blades are easily removed, transforming the unit into a storage container, no transferring of ingredients needed.
Aside from being limited to just 2 chopping sizes, you also need to be mindful of the size of the food you are placing in the chop wizard to start with. The chopping process relies on a hinge mechanism, and if the food is too large or too hard, this hinge can be prone to breakage.
Pros:
includes 2 different size chopping grids
easily removable stainless steel blades
entire unit is dishwasher safe
base has non-skid rubber feet for stability while working
chopping unit doubles as a storage container
cleaning tool included for tough to reach areas in the chopping grid
Cons:
limited to just 2 different size dices with no way to cut ingredients any smaller or larger
the design causes a point of weakness at the hinge
2. Best Automatic Onion Chopper: Ninja Food Chopper Express Chop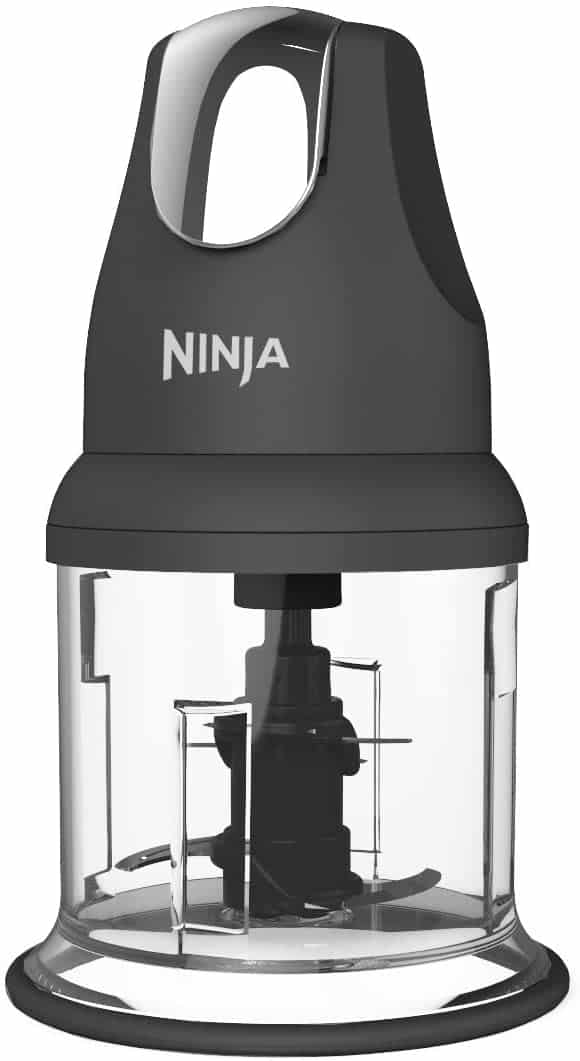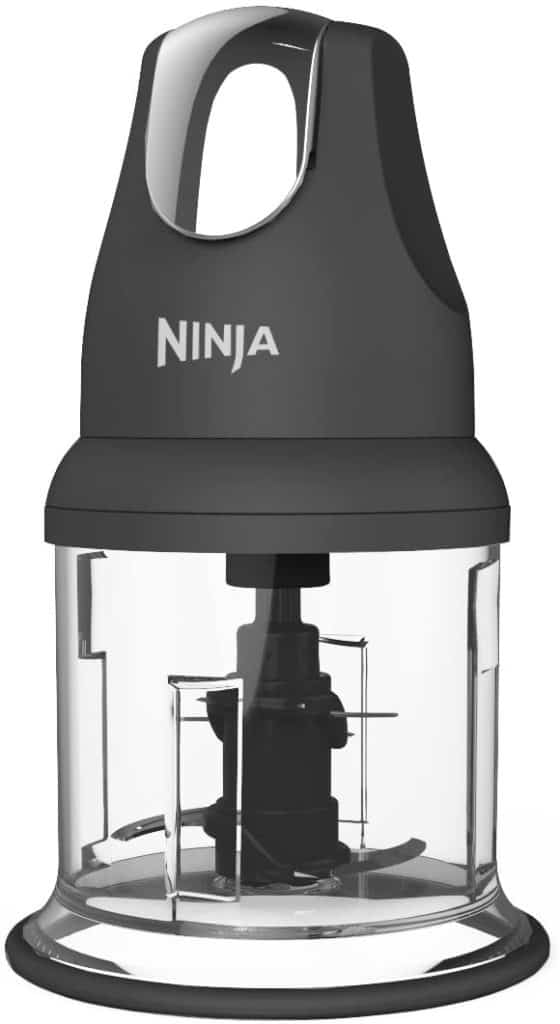 Type: Electric
From the trusted Ninja line of kitchen tools comes one of the best onion choppers available! The Ninja Food Chopper Express Chop is a super-efficient electric onion chopper, bringing the lengthy process of chopping onions and other vegetables to its knees with the press of a button. Just press the easy to operate button to roughly chop your desired ingredients and keep pressing it to dice, mince, and even puree! The Ninja Food Chopper Express basically does the work of a small food processor, without the complexity of swapping blades, changing speeds, or alternating programs.
Features of the Ninja Food Chopper Express Chop:
The device has 4 stainless steel blades and uses the power of stacked blade technology to chop, dice, mince, puree, and blend just about anything you can think of. The chopper bowl of the Ninja Food Chopper Express has a 2 cup capacity and a non-slip base, which is key for keeping you steady and stable as you quickly plow through all of your prep work. The included splash guard protects the motor head as you work, and then doubles as a storage lid.
Even though all of the removable parts of the Ninja Food Chopper are dishwasher safe, the motor head is sensitive to water and therefore must be cleaned and handled with care.
Pros:
simple technology, no complex buttons or programming!
pulse button is ergonomically designed for ease of use
super powerful stacked blade technology
non-slip base
splash guard and storage lid are included
removable plastic components and stainless steel blades are dishwasher safe
Cons:
motor head is not dishwasher safe and must be carefully rinsed by hand
3. Most Versatile Onion Chopper: Mueller Austria Pro Series Onion Chopper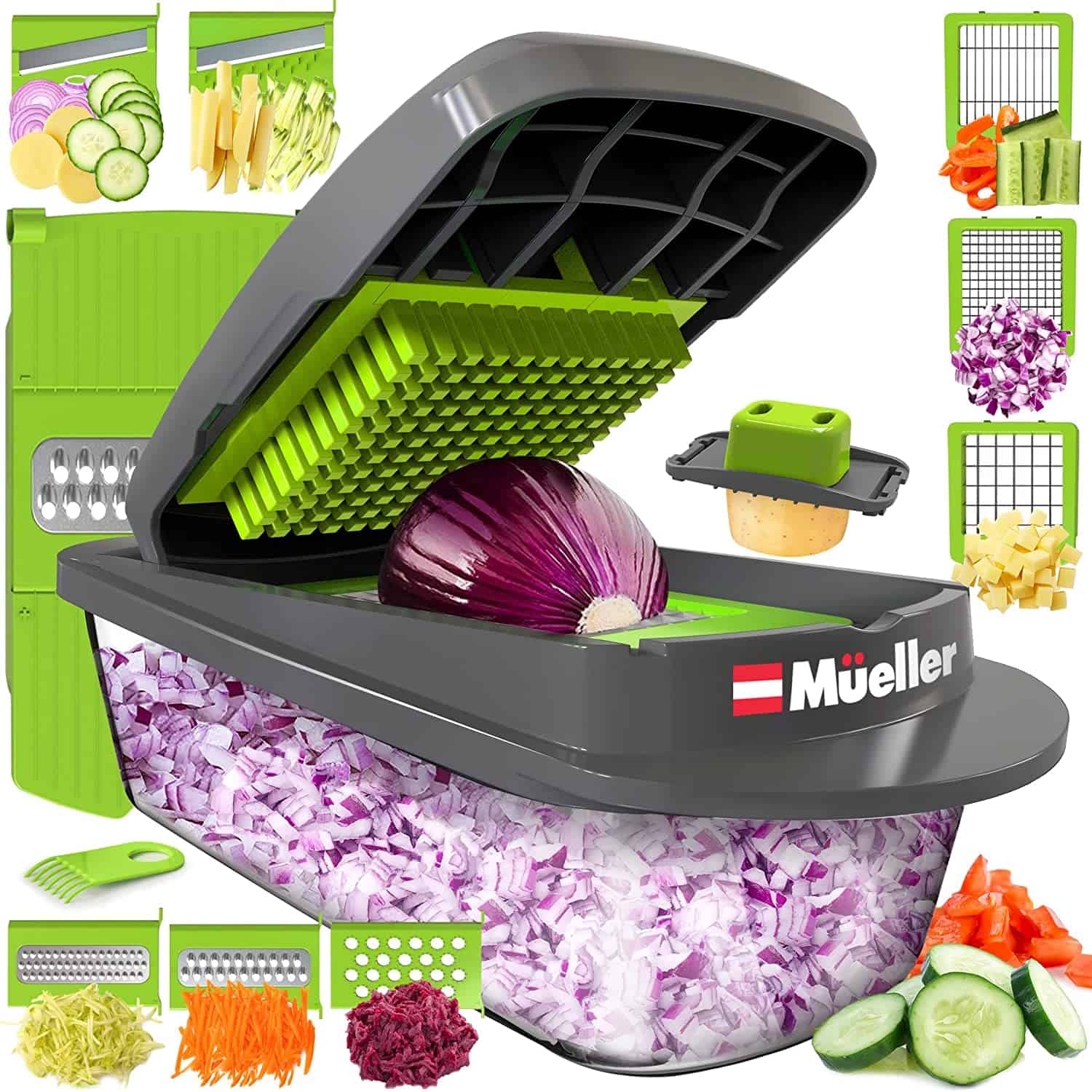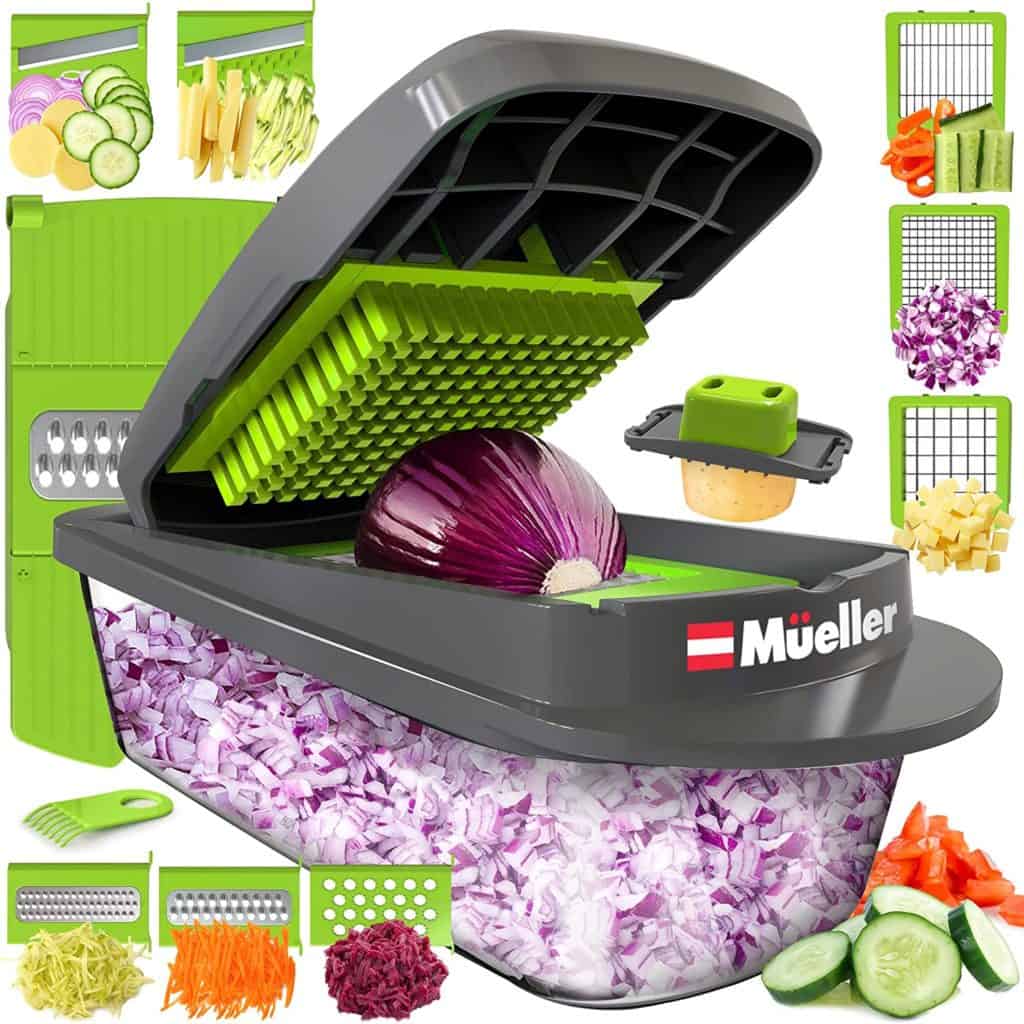 Type: Manual
If your goal is to chop many different ingredients in a wide variety of shapes and sizes, then the Mueller Austria Onion Chopper is most certainly for you. This unit takes the cake as the best onion slicer and it can also easily dice fruits, slice vegetables, grate cheese, and so much more! The Mueller Austria Pro is a manual vegetable chopper that truly can take on the workload of a large capacity food processor.
Features of the Mueller Austria Pro Series Onion Chopper:
The chopping base has a 4 cup capacity, meaning you can easily dice multiple onions before needing to empty the catch. This professional grade chopper comes with eight, you heard it EIGHT, different stainless steel chopping blades that perform the following cuts: small dice, large dice, standard slicer, fine slicer, garnish slicer, julienne, fine julienne, and grater. In addition to the chopper base with chopping lid, the set also comes with 2 blade storage holders, 1 lid cleaning tool, and 1 safety guard. Phew!
The downside to such a versatile vegetable chopper is that it takes up a lot of counter or cabinet space. The blades and storage holders unfortunately do not fit inside the Mueller Austria Onion Chopper base during storage. In addition, the chopping lid is a bit bulky and there is no separate lid included, which would be very handy for storing chopped ingredients in the refrigerator.
Pros:
4 cup capacity is one of the biggest on the market
comes with 8 different blades for a vast range of knife cuts
includes holders for blade storage, safety guard, and lid cleaning tool
the unit is fully dismantlable and dishwasher safe
Mueller offers 24/7 customer support via phone or live chat
Cons:
lots of different parts and bulky design takes up a lot of space
-container doesn't have a separate lid for storage
4. Best Compact Onion Chopper: Fullstar Onion Chopper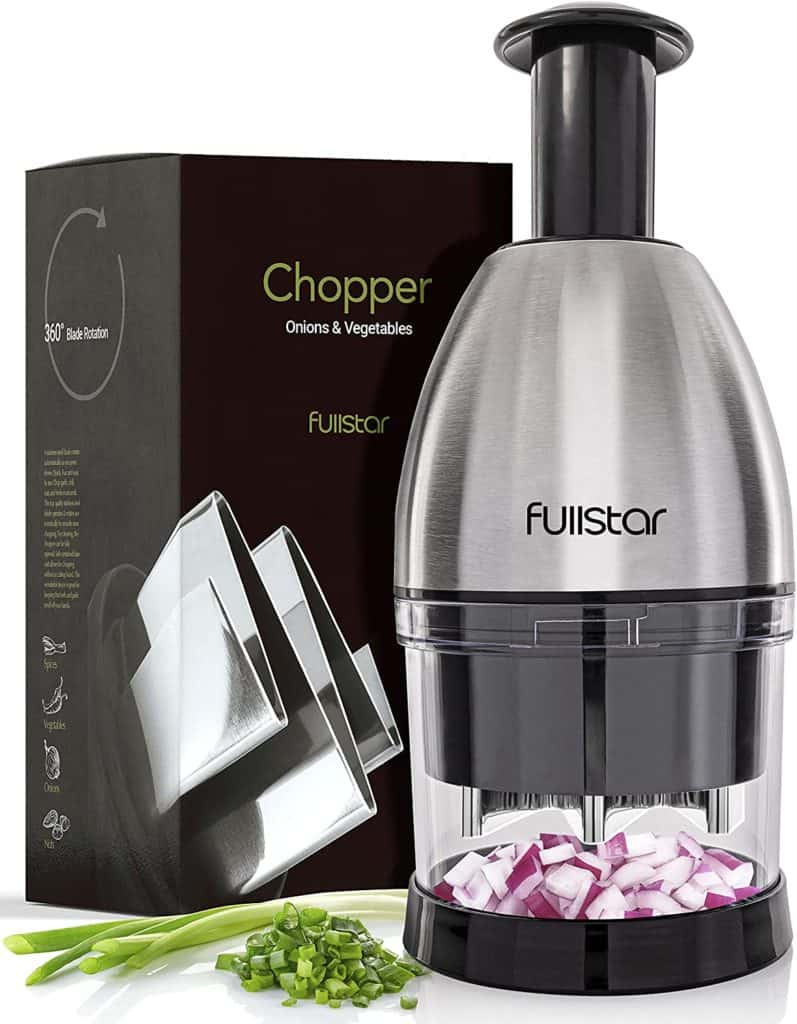 Type: Manual
We've all seen the infomercials for choppers like this, where all it takes is a few smacks and suddenly you have a pile of perfectly cut veggies! This food chopper, brought to you by Fullstar, includes some additional helpful features, improving upon the simple fact that using this chopper is entirely FUN!
The nice part about this onion chopper is that you are in full control of how small your ingredients are getting chopped. Only want a rough cut? Just hit the plunger a couple times. Want to finely mince everything? Just keep on plunging until the vegetables are at your desired texture, no need to change any blades or settings.
Features of the Fullstar Onion Chopper:
The Fullstar Vegetable Chopper has a zig-zag style stainless steel blade, which actually rotates with each depression of the plunger. This helps to chop onions and other ingredients evenly with no twisting or turning needed on your part. The blade is also encased in a housing which protects fingers during use. The exterior has a durable stainless steel finish, giving a modern look and ease of cleaning and the entire chopper disassembles and can be placed in the dishwasher.
At only ½ cup, the capacity of the Fullstar Vegetable Chopper is rather small, meaning you'll likely have to transfer your ingredients to a larger vessel as you work. The unit can be used directly on a cutting board, or you can attach the included bottom lid to the chopping base. However, the lid is not perfect in its seal, and therefore could be a bit messy for chopping soft vegetables such as tomatoes.
Pros:
full control over chopping size, no need to stop and swap blades or change settings
zig-zag blade makes a complete rotation during chopping, ensuring even cuts
housing protects hands from sharp blades as you chop
entire unit disassembles and is dishwasher-safe
stainless steel finish on the exterior
chopping base has included bottom lid
Cons:
overall small capacity as compared to other choppers
bottom lid does not create a perfect seal, making it less ideal for wet ingredients
5. Best Multi-Tasking Onion Chopper: KitchenAid Food Chopper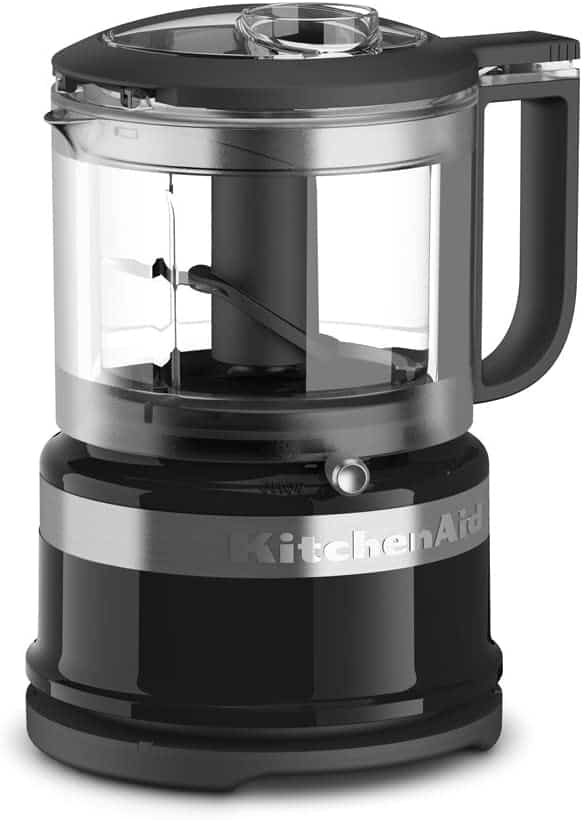 Type: Electric
Looking for an onion chopper that's not JUST an onion chopper? The KitchenAid Food Chopper might be just the ticket. This food chopper functions more like a mini food processor, meaning you can expand your food prep goals from chopping fruits and vegetables to making sauces and purees, pesto, and salad dressing!
Features of the KitchenAid Food Chopper
The KitchenAid Food Chopper has a compact size that fits nicely on a countertop, plus it comes in a range of fun colors to match your decor scheme! It features a locking stainless steel blade for added security when assembling and disassembling, and all parts (excluding the motor base) are dishwasher-safe. The chopping container is designed with convenience in mind, with an easy grip handle and convenient pour spout.
This electric chopper has a 3.5 cup capacity, but it's important to note that you cannot fill this unit to capacity with liquids as it will cause an overflow. Also, the plastic container is more prone to scratches than some other models, so take care when cleaning the unit and avoid any scrubbing pads that may cause scuffing.
Pros:
easily tackles wide range of tasks in addition to basic chopping functions
compact size, great for small kitchens
bunch of fun colors to choose from!
locking stainless steel blade
dishwasher-safe
conveniently designed with handle and pour spout
Cons:
unable to fill to full capacity with liquid ingredients
chopping bowl is more prone to scratches and scuffs
6. Best Low Maintenance Onion Chopper: Oxo Good Grips Vegetable and Onion Chopper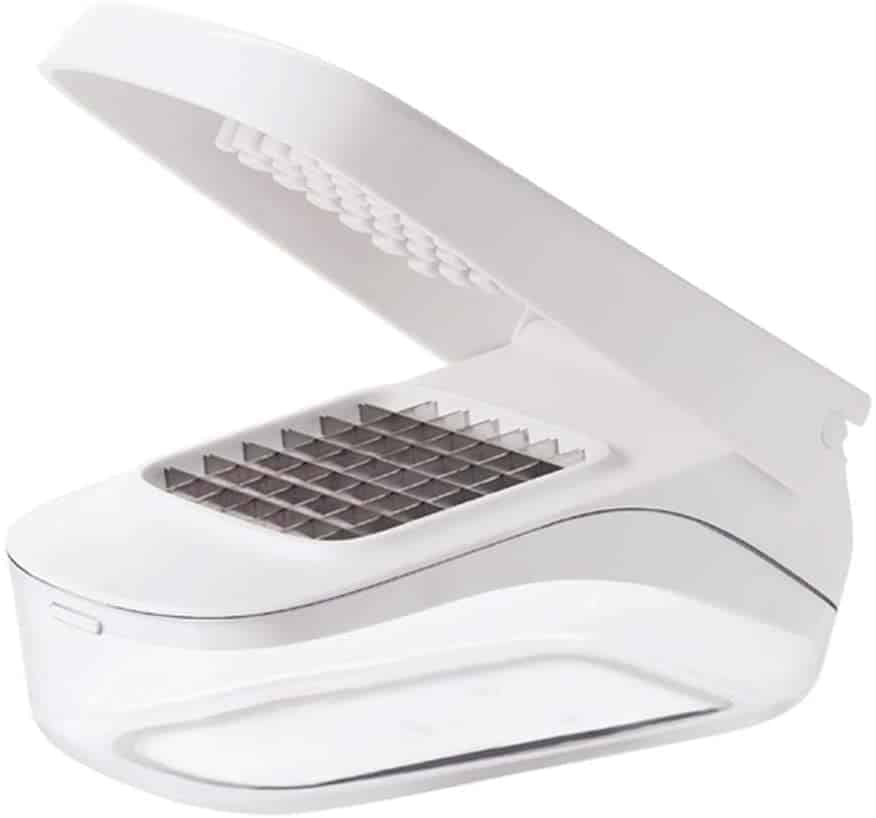 Type: Manual
Leave it to the folks at Oxo Good Grips to produce a reliable and straightforward food chopper like this one. The Oxo Good Grips Vegetable and Onion Chopper sets out to accomplish one task and accomplish it well: chopping onions! No blades to change out, no moving parts, no gimmicks, just perfectly diced vegetables every time.
Once you place the ingredient to be chopped on the blade grid, you just close the lid over and press down firmly and evenly. The force of your push causes the food to pass through the sharp knife grid and fall into the container below. The simplicity and effectiveness of this device earns it a well-deserved spot on our list of best onion choppers.
Features of the Oxo Good Grips Vegetable and Onion Chopper:
This Oxo Good Grips has a respectable 2.5 cup capacity and a stainless steel slicing grid which is perfect for producing diced vegetables of all types, fruits, meats, cheeses--you name it!
The best little feature about the Oxo Good Grips Vegetable Chopper is that it has a handy opening at the back so you can easily dump the contents from the chopper base without needing to remove the blades and lid. There is also a small silicone mat tucked between the teeth of the chopping grid, which allows you to simply lift any food particles out from in between the nooks and crannies. The bottom container has a rubber grip to hold fast to any countertop and when your work is done, the whole unit disassembles and can be washed in the top rack of the dishwasher.
The simplicity of the Oxo Good Grips Vegetable Chopper is simultaneously its best asset and biggest drawback. This food chopper does not have any other blades, meaning it will not function as an onion slicer or vegetable grater. This also poses a problem if you need to chop items such as nuts or garlic cloves, which may be too small and end up falling through the holes of the knife grid.
Pros:
2.5 cup capacity
rear opening in the chopping base allows you to easily empty contents
silicone mat lifts from between the chopping to remove any stuck pieces
rubber grip on the bottom adheres to your working surface
easy to take apart and toss in the dishwasher
Cons:
does not come with other blades or slicing options
size of chopping grid not suitable for small ingredients
7. Most Ingenious Onion Chopper: Kuhn Rikon Swiss Pull Chop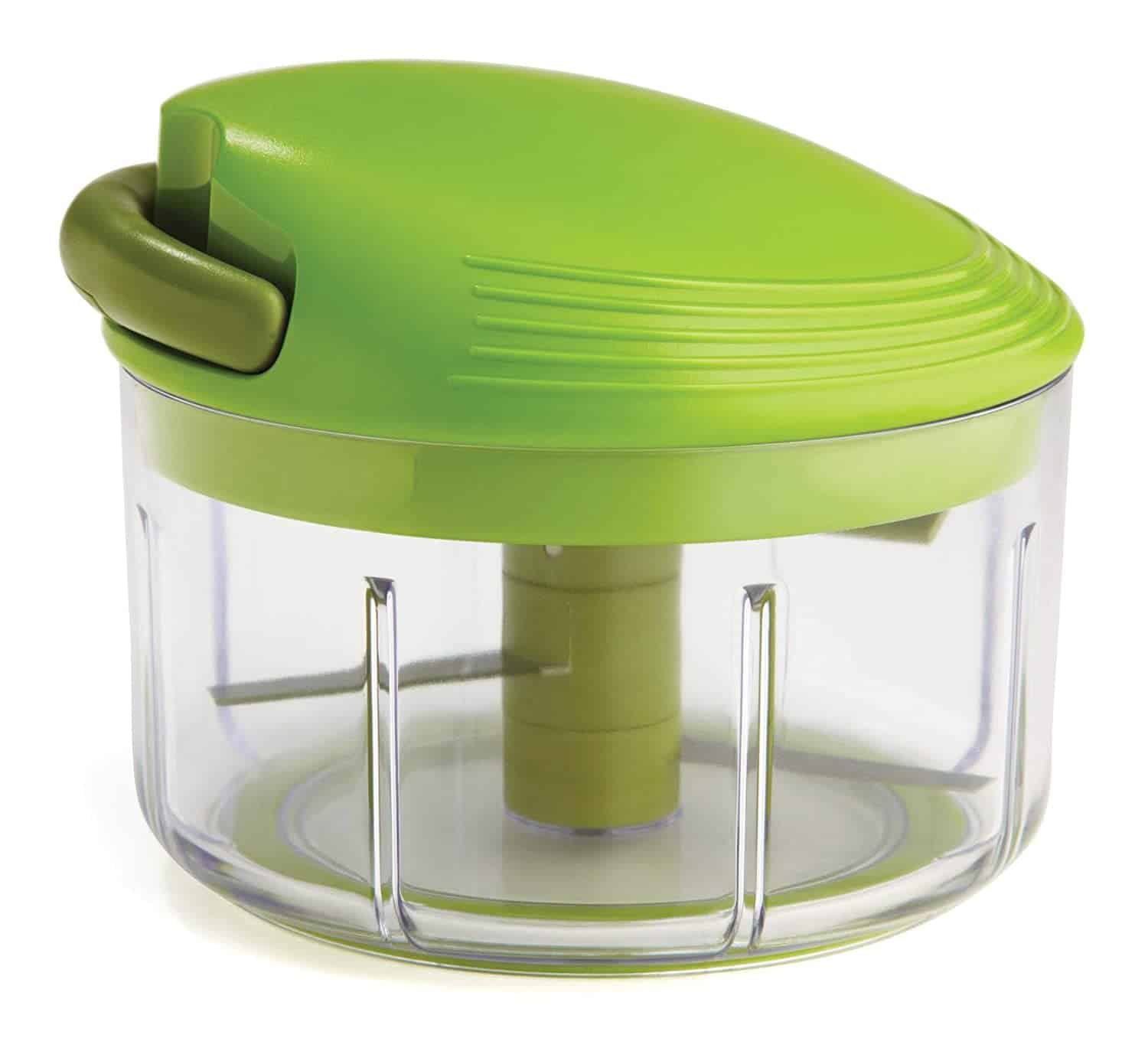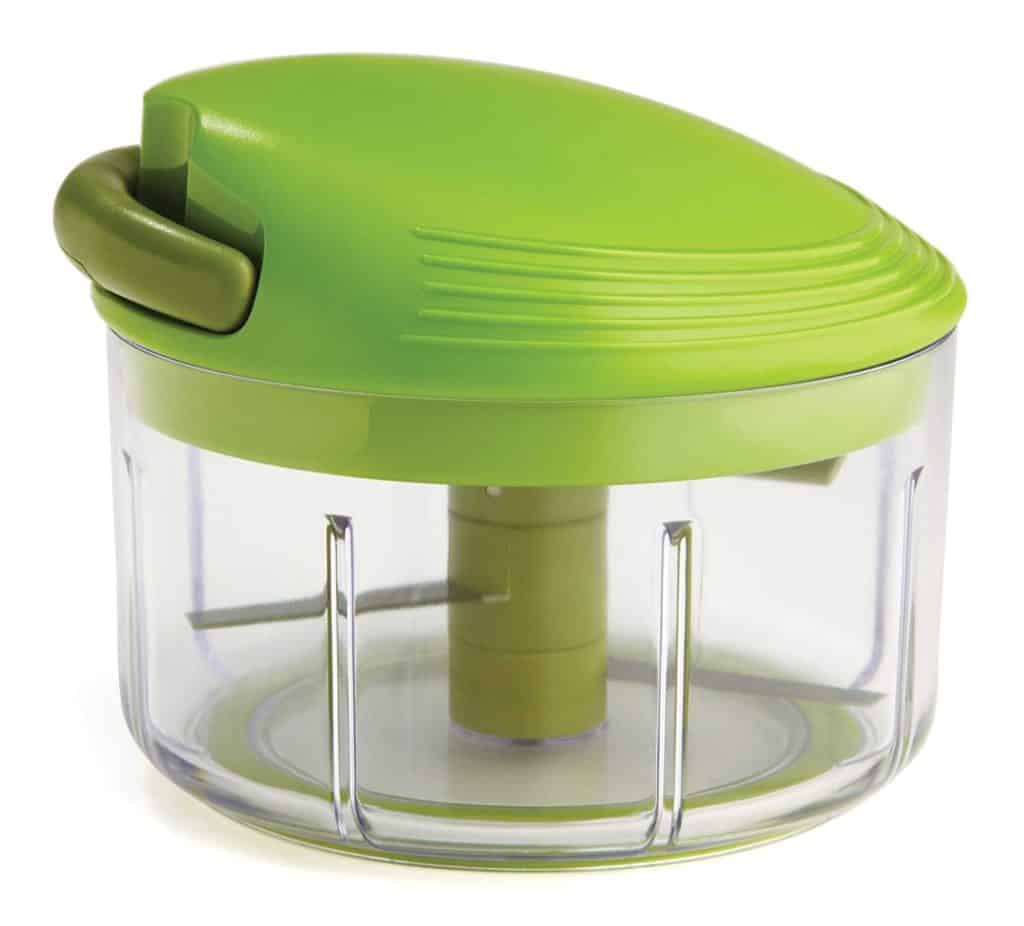 Type: Manual
This clever onion chopper from Kuhn Rikon is quite the piece of engineering! This unit functions in the same way as an electric food processor, but without the electricity. A pull cord in the lid masterfully transforms the power of your hands into the spinning action of 2 independently moving stainless steel blades within the chopping container.
The size of the chop is entirely dependent on how many times you pull the cord. Just a few pulls will result in a rough chop, while a few more will nicely dice your ingredients. Keep on pulling to make salsas, sauces, or purees!
Features of the Kuhn Rikon Swiss Pull Chop:
This vegetable chopper has a 2 cup capacity and a non-slip bottom that holds fast to counter tops or any work surface. The Swiss Pull Chop manages to convert the power of each pull into chopping action efficiently, meaning you get more cutting done than other types of manual choppers.
If you're a crier when it comes to chopping onions (hey, no shame!) this food chopper is a great option for you. Unlike most of the other best onion choppers out there, this unit stays completely sealed when in use, giving you some sweet relief from those burning onion vapors.
Unlike most manual choppers, this unit is not entirely dishwasher safe as the pull cord must be handled with care. The chopping base and blade can be placed in the dishwasher, however the lid should only be wiped clean, and care must be taken not to get any moisture into the housing of the cord as this will cause it to deteriorate.
Pros:
efficient pulling mechanism chops a lot of product with less effort required
stainless steel blades move independently for more even chopping
able to produce a range of cuts and products with the same set of blades
super grippy non-slip bottom
unit is completely sealed while in use, good for sensitive eyes
Cons:
entire unit is not dishwasher safe
pull cord and housing are very sensitive to moisture
Choosing the Best Onion Chopper
As you're about to discover, there are a wide range of vegetable chopper styles out there. When shopping around to find the best new onion chopper for you, it's helpful to consider the following features of each unit:
Capacity
The capacity of an onion chopper directly affects the number of delicious meals you are able to prepare, and the speed with which you can prepare them. Choppers on the smaller size are super-efficient as well as nice and compact for small kitchens, while units with smaller capacity will be full of chopped onions or other ingredients before you know it!
Versatility
Each vegetable chopper has a different range of tasks it can accomplish. Some choppers are designed quite specifically to chop onions and other veggies, while others come with interchangeable parts that make them well suited to take on sliced foods, sauces, purees, and more.
Cleanup
Ease of cleanup is an important factor when it comes to onion choppers. After all, the purpose of this tool is to make your time in the kitchen quicker, not to have you save time on chopping only to make up for it with a lengthy cleaning process. Many vegetable choppers are fully dishwasher safe while others require a bit more attention.
Stainless Steel Blades
You'd be hard pressed to find a food chopper that doesn't have stainless steel blades, but if somehow you do and are considering it as an option, don't. Stainless steel is the cream of the crop for the way it maintains its finish and prevents rust, vital for keeping those sharp blades sharp!
Manual vs. Electric Onion Choppers
Onion choppers fall into 2 main categories: manual and electric. Both of these types will efficiently produce plenty of chopped onions or veggies, and many of them will also accomplish a wide range of other kitchen tasks.
Manual Onion Choppers
Manual onion choppers rely on good ol' muscle power to carry out the chopping process. Some manual choppers operate their stainless steel blades via plunger, hinge, or even pull cord, but the common thread remains that you must use your hands and force to accomplish the task.
These types of food choppers are typically more compact, budget-friendly, and easier to clean than electric choppers. However, as you might expect, they do require some effort on your part to chop food. Therefore, they may not be ideal for extra-heavy food preparation needs or for certain mobility issues.
Electric Onion Choppers
Electric onion choppers harness the power of electricity to chop onions, dice veggies, blend ingredients, and carry out various other mixing tasks. An electric food chopper will typically be operated at the push of a single button, but there are certain models which offer many different programs and options.
The motorization factor means that electric choppers can move their stainless steel blades at a higher speed than manual options, resulting in more output and higher efficiency. But often these machines are larger, more costly, and require more effort to clean and maintain than their simple manual counterparts.
Choosing the Best Onion Chopper: The Takeaway
When it comes to selecting the best onion chopper, remember, it's all about finding one that has the specific features that best fit your needs! Each of these choppers makes the cut in our list of Best Onion Choppers for distinct reasons, but the bottom line is that your vegetable chopper should be making your life easier, not adding more work for you to do.
If you routinely prepare food for a large crowd or if you like to cook large batches of your favorite meals, be sure to choose a food chopper that has a large capacity. Versatility is an important consideration if you would like your onion chopper to be able to accomplish other tasks aside from dicing and slicing onions. And be sure that the blades of your unit, whether manual or electric, are made of good quality stainless steel so that your chopper stays sharp and reliable for many years to come.
If you're looking to make your kitchen tasks more efficient and enjoyable, any of these vegetable choppers would be a wonderful addition into your toolkit. We hope that this article helps you to find the onion chopper of your dreams!