Coffee is a hug in a mug. And sometimes, having a lazy morning while enjoying a slow coffee ritual with the chicest manual pour over is just what the doctor ordered. But, how many times can you show you up to work late with the excuse that you needed to weigh your coffee grounds and keep pulse pouring?
Well, practical and fast single serve coffee makers are your saving grace, more so, on weekdays, during the morning rush. They'll ensure you get to your destination on time.
To help you find the best unit that perfectly suits your needs, we've compiled a handy buying guide. We've chosen the top single serve coffee makers on the market that will give you a bang for your buck. Given that speed is of the essence, let's get right to it, shall we? Here is our guide to the best single serve coffee maker and everything you need to know.
1. Keurig K45 Elite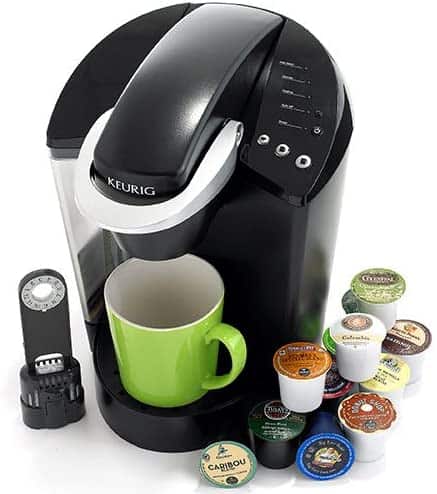 Are you on the quest for a product that's not only stylish but also gets the job done in a jiffy? Then the Keurig K45 Elite single serve coffee maker is just what the doctor ordered. Its excellent brewing system whips up tea, hot chocolate, coffee (better than the best instant coffee), or an iced beverage in less than a minute.
This makes it quicker than waiting in line at your local coffee shop, more so, during the morning rush. Why fight the crowds in the morning when you can delight in coffee that's equally as flavorful without the hassle and frustration?
And yes, with the Keurig K45 Elite, you get all those fancy drinks as well without putting in any extra effort into creating them from scratch. They come readily available in K-Cups.
For traditionalists, the best thing about this coffee maker is that it has a K-Cup reusable filter that comes in handy for housing your preferred loose leaf tea or coffee. With unmatched flexibility, it comes as no surprise that this unit is a lifesaver for even the most discerning coffee enthusiasts.
The Keurig K45 Elite features three different brew sizes ranging from 10 and 6 to 8 fl oz. With the large 48 fl oz water tank, refills after each cup you brew are a thing of the past. Moreover, the unit has a detachable drip tray along with a power-saving mode that automatically switches it off after 2 hours of inactivity. With the Quiet-Brew technology included, the Keurig K45 Elite is one of the least noisy devices in the market.
Despite its compact nature, this single serve coffee maker has the uncanny ability to produce more than 500 different beverages from 75 various brands. In turn, this guarantees you and the members of your household will find exactly what they want.
Pros
Uses freshly ground tea or coffee leaves
Produces over 500 beverages
Reusable filter basket
Compatible with more than 75 brands
Easy to clean
Large water tank that reduces the hassle of frequent refills
Quick brewing
Uses all types of K-Cups
Cons
The interior and exterior need frequent cleaning
Coffee strength cannot be adjusted
2. Best Premium: Bunn MCU
Are you on the quest for a single serve coffee maker that's pretty much a gourmet coffee shop bundled into a powerful and compact unit? Then the Bunn MCU is right up your alley.
You can delight in the freedom of selecting a vast assortment of options, including loose tea, ground coffee, tea, bags, and K-cups, to mention a few. It's the ideal option if you want to have a wealth of flexible beverage options.
Given that Bunn centers on the production of commercial coffee makers, it should therefore come as no surprise then that this unit has a relatively industrial appearance while being eye-catching in its own right. Furthermore, it doesn't compromise on functionality and durability.
As a single serve coffee maker, you can fill the pour-in bowl with your preferred quantity of water and brew anywhere between 4 and 14 ounces. Remember that this unit lacks a water reservoir, which means you'll need to add water with every brew. The silver lining to this is that you'll use fresh water every time you brew a beverage.
The Bunn MCU is armed with a Pulse Brew feature that provides the epitome of convenience when stopping and starting the flow of water during the brew cycle to extract and more flavorful and bolder beverage. The detachable tray catches all drops, making the cleanup process a walk in the park. Furthermore, the drip tray cover, drawers, and drip tray are dishwasher-friendly.
Pros
Built with versatile use in mind
Components are dishwasher safe
Produces stronger and more flavorful drinks
Efficient cleanup
Robust and compact
Dispenses hot water for other uses
Works with K-cups, pods, and fresh coffee grounds
Cons
Extra drawers must be stored separately
Lack of a power-saving feature
3. Best Budget: Hamilton Beach Scoop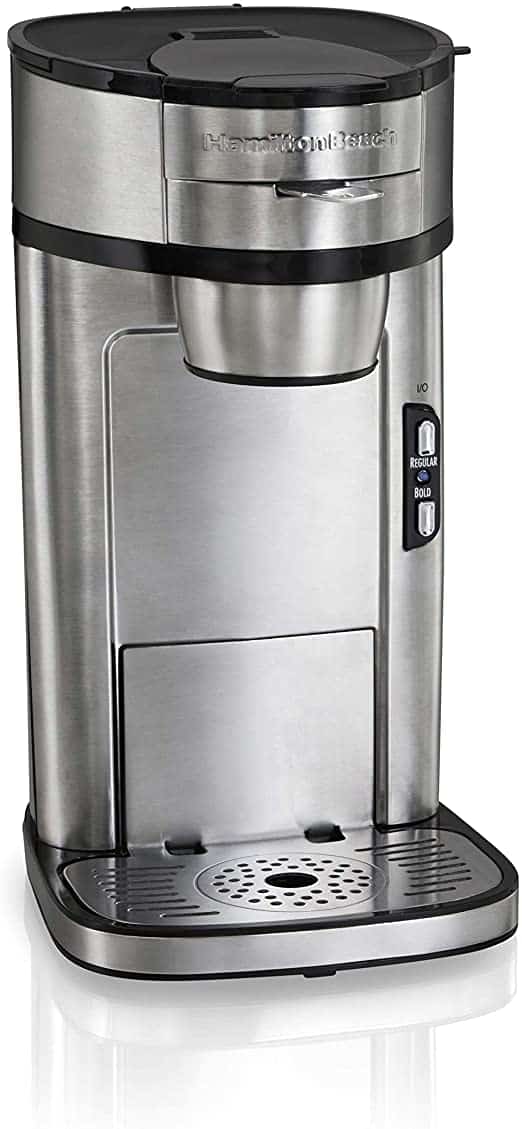 If you're looking for an aesthetically-pleasing single serve coffee maker, then the Hamilton Beach Scoop is your Holy Grail. Pairing well with regular ground coffee courtesy of its mesh scoop filter, this unit doesn't require K-cups or pods compared to its rivals in the market. You can use a broad range of coffee grinding types, giving you free rein to brew your preferred brand and flavor.
With two brewing alternatives (Bold and Regular), you can alternate between more flavorful and stronger coffee and a standard cup. Bear in mind that the standard cup is a misnomer as it still ushers in a burst of flavor with one sip but isn't as strong as the coffee you get from the Bold option.
The Hamilton Beach Scoop has the uncanny ability to brew up to 14 fl ounces of coffee concurrently. Courtesy of the vertically adjustable cup rest, you can use the travel or regular coffee mugs. It also ensures that generic coffee cups are as close as possible to the dispenser to prevent splashing or spillage. The unit comes with an automatic shut-off after brewing and a spill-resistant drip spray.
Pros
Robust and stylish design
Two brew-strength features
No filter paper required
Produces impressively hot drinks
Compact
Suitable for tall and short cups
Cons
Requires a bit of fiddling to get the ideal brew for you
Takes longer to clean up
4. Nespresso Pixie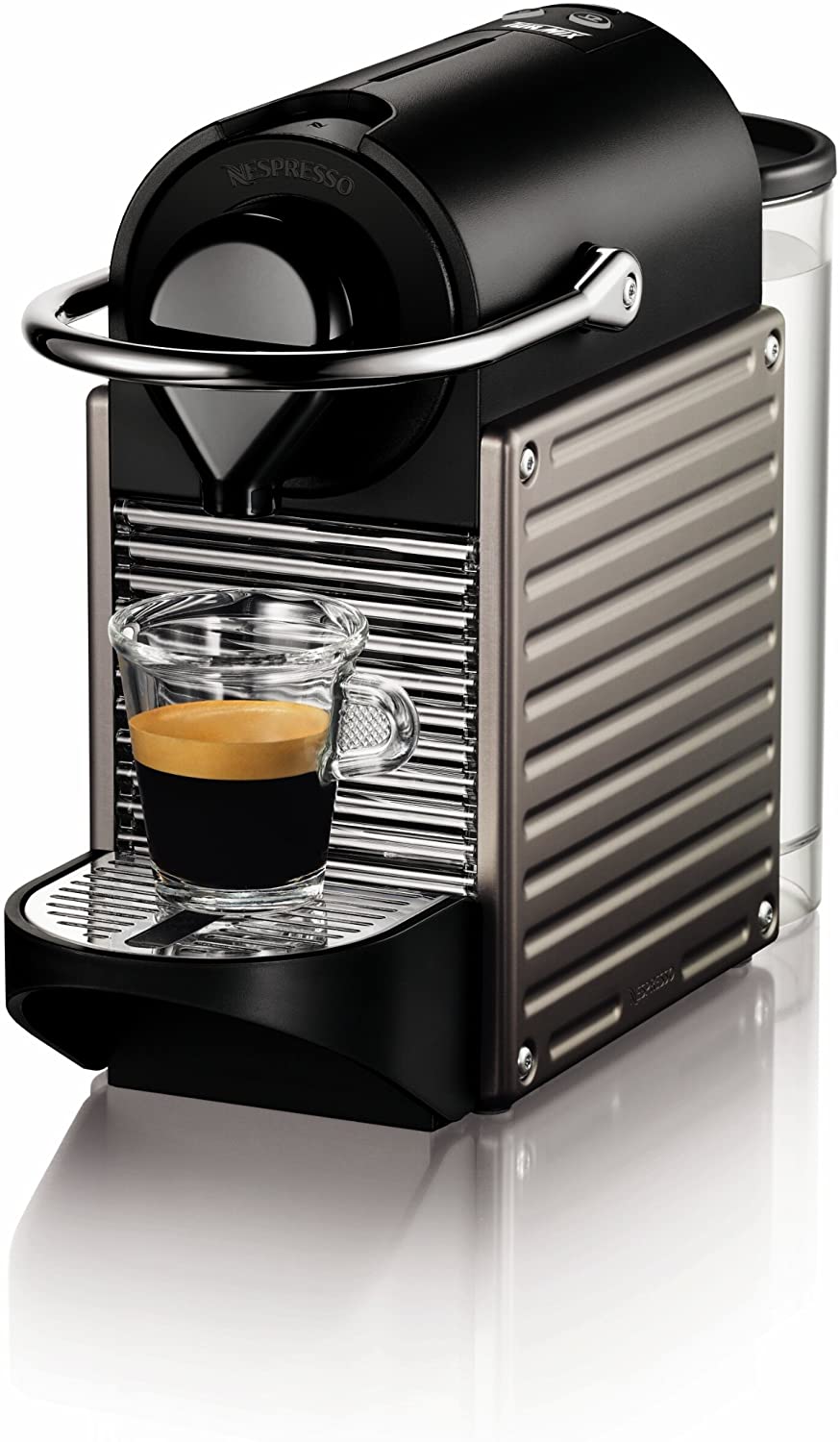 Granted, it's the smallest unit in the vast assortment of Nespresso machines. But as they say, looks can be deceiving. Regardless of its compact nature, this stylish single serve coffee maker can brew one of the most flavorful cups of espresso that'll knock your socks off.
If you gravitate more towards espresso than other beverages, then the Pixie was built with you in mind. It utilizes Nespresso capsules to brew an array of espresso flavors, ranging from Rich and Distinctive Capriccio and Creamy Arpeggio to Full and Balanced Roma. Regardless of being dedicated to brewing espresso, users are still spoilt for choice.
One of the perks that set the Nespresso Pixie unit apart from the pack is that it eliminates the need for guesswork. Simply pop in a coffee pod and let the device do what it does best. Keep in mind that you can also relish in an espresso Americano or Lungo.
It's a cup of espresso to which extra hot water has been added with one touch of the brew button. In just 25 seconds, the unit gets to optimum brewing temperature, making it one of the quickest in its class. It has the uncanny ability to achieve this thanks to the built-in Thermo-block heating feature.
Its power-saving mode feature gives the Nespresso Pixie the ability to automatically turn off after 9 minutes of inactivity. Moreover, the cleanup process is a breeze as the capsules are ejected into a unique receptacle inside the unit. Simply empty it once in a while, and you're good to go.
Pros
Power-saving mode included
Water level detection
Stylish design
Duration of the Brew cycle can be timed
Handy ejection system
Pleasantly compact
Suitable for small spaces
Heats water in a jiffy
Cons
Noisier than other models
Only makes espresso
5. Best Overall: Cuisinart SS-10P1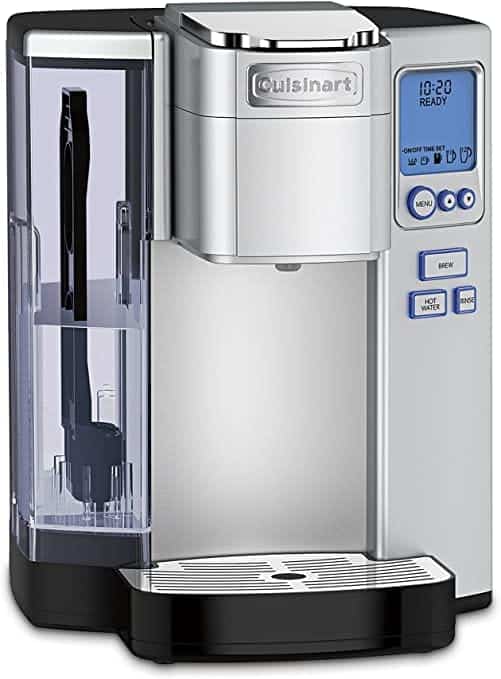 Where practicality meets versatility, the Cuisinart SS-10P1 single serve coffee maker brews in 5 varying cup sizes. Its versatile nature allows it pair with all types of coffee capsules, including K-cups. What's even better is that it has a reusable filter that allows you to use fresh grounds.
The hot water button provides a one-touch convenience for your cocoa, tea, coffee, and other beverages. With a rinse feature, you can conveniently get the inside of the brew chamber between the brews, spick-and-span in an instant. Aside from the practical hot water dispenser, the unit also comes with a detachable drip tray that makes brewing directly into a mug a breeze.
Do other members of your household gravitate more towards flavored K-cups? Then you'll be pleasantly surprised to discover that the rinse feature of this unit gets rid of any taste residue.
With an intuitive and programmable LCD screen, selecting the handy auto-off and on functions is a walk in the park. Featuring a large 72-ounce removable water reservoir with an effective charcoal filter, frequently refilling the Cuisinart SS-10P1 becomes the least of your worries.
Pros
Large water reservoir for fewer refills
Reusable filter cup included
No heating time required
Brews in less than 1 minute
Rinse feature for instant cleaning
Charcoal filter for better flavor
Backlit blue LCD screen
Intuitive controls
Cons
Bad environmental footprint if used with K-cups
Spillages onto the back of the unit with each use
6. Nespresso VertuoPlus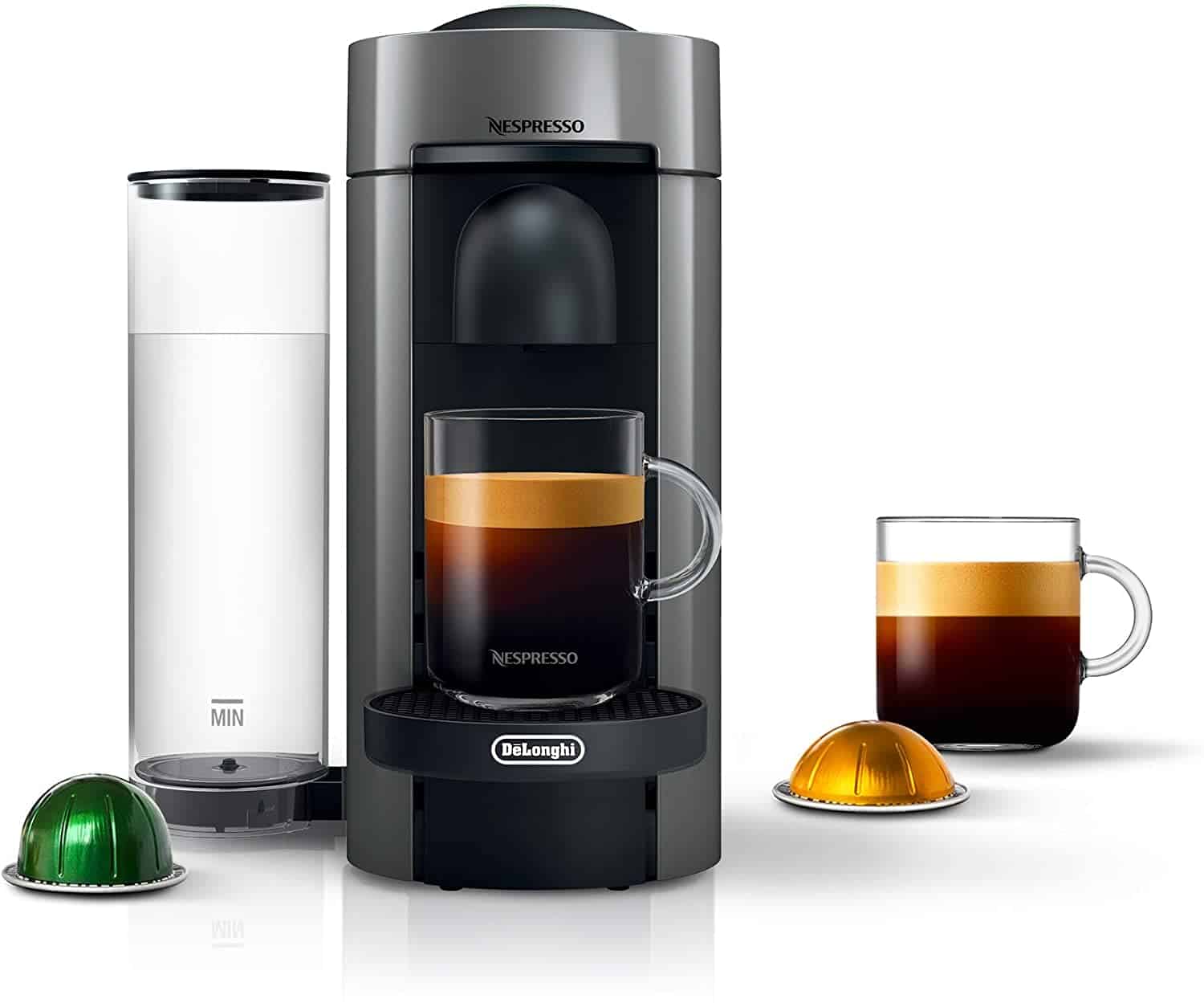 Are you torn between the conventional single serve coffee makers and a Nespresso machine? Then the fancy VertuoPlus gives you the best of both worlds. You can take your pick from double espresso alto, Gran Lungo, and espresso to coffee and alto. These options are available from 1.35 to 14 oz.
Courtesy of the unit's smart centrifusion and barcode reading technology, you can brew the ideal single serve espresso one cup at a time and get the best outcome. With automatic blend recognition, you can get an aesthetically-pleasing layer of cream for large coffee cup sizes. Simply insert the capsule and delight in authentic and freshly-brewed espresso.
Nespresso VertuoPlus has an intuitive, single-button design that makes it easy to operate. And, you won't struggle to find a place on your countertop courtesy of its portable reservoir. You'll stumble upon a welcome kit that contains a myriad of Vertuo capsules that have exceptional aroma profiles.
With a cable length of 29.13 inches, the Nespresso VertuoPlus has an impressive power rating of 1300 watts. Featuring a movable 60-ounce water reservoir and motorized head, the tank can remain behind or swivel out depending on your counter space's configuration. And, with a fast heat-up duration of anywhere between 20 and 25 seconds, what more could you ask for?
Pros
Available in an all-new design and colors for memorable brewing
Capsule spins up to 7000 rotations per minute
Unique aroma profiles available
Makes 2 cup sizes (1.35 oz and 8 oz) with one touch of a button
Moveable water reservoir
Brews regular coffee and espresso
Uses smart patented centrifusion technology
Cons
Non-programmable
Only compatible with Nespresso capsules
7. Nespresso A+GCC1-US-BK-NE Evoluo Deluxe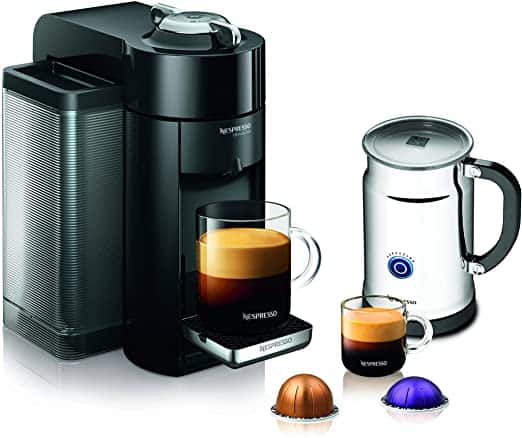 As an upgrade of the VertuoLine model, Nespresso Evoluo Deluxe took the market by storm. It has unmatched efficiency in brewing a flavorful cup of java at the ideal temperature in less than 60 seconds, and more importantly, with no fuss and mess.
With this model, you don't need to deal with high-tech controls or fancy push buttons as its one-press button gets the job done in a jiffy. So, if you want to brew your favorite drink, simply press the button once at a time and switch off the unit by lightly pressing for 3 seconds.
After 9 minutes of inactivity, the Nespresso Evoluo Deluxe automatically goes off. The uncertainty as to whether or not you forgot to switch off the machine before heading out is the least of your concerns. It has two types of capsules right at your disposal: the larger ones for coffee and the smaller espresso options. Both types have a vast assortment of specialties from which you can take your pick.
You can alter the drip tray to produce three drinks that vary in size. The tray is also detachable for brewing large-sized travel mugs. The unit has a well-crafted milk frother, which means the world is indeed your oyster. You have free rein to customize your beverage by brewing frothy and creamy caffeinated drinks.
As a compact footprint, the Nespresso Evoluo Deluxe can accommodate a multitude of used capsules in its container before they need to be emptied. For parametric brewing specific to brands, this single serve coffee maker has code reading and capsule recognition technology.
Pros
Facilitates easy capsule ejection and insertion
Chic and compact design
Can produce 3 different-sized drinks
Auto-off feature
Quicker and non-messy brewing
Unique Aeroccino Plus milk frother included
Detachable 54-ounce water tank
Cons
Only compatible with Nespresso VertuoLine capsules
Pricier than other models
8. Mueller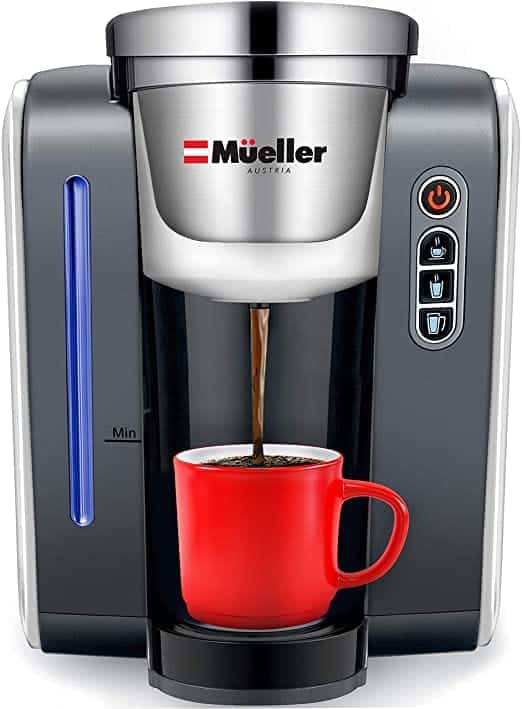 Are you on the quest for a sophisticated machine that provides a vast assortment of coffee specialties at a fraction of the price? Then the Mueller single serve coffee pod was built with you in mind. It fits most coffee makers using pods. You can have an unarguably flavorful cup of coffee exactly how you like it.
Other than Mueller pods, you have free rein to test out many Keurig 2.0 and 1.0 flavors, ranging from cinnamon, hazelnut, and chocolate to coffee. You can select your preferred strength with four brew sizes (12, 6, 10, and 8 ounces).
Using state-of-the-art heating technology, the Mueller single cup coffee maker ensures that the days of cold coffee are long gone. It brews drinks in an instant and at just the right temperature. Armed with a large 48-ounce water tank, you can brew one cup after another without the hassle of frequent refills, adding a layer of convenience when there are at least four people to serve.
Designed from excellent quality material that's BPA-free, this single serve coffee maker guarantees safe drinks that are free from toxins and chemical residue. The large opening makes it a breeze to clean the Mueller and refill it with water.
Pros
Pocket-friendly
Quickly brews great quality coffee
Eye-catching, modern design
Compatible with Keurig 2.0 and 1.0 pods
Smaller footprint
Large, removable water tank
Four programmable cup sizes
Cons
Not large enough to accommodate travel mugs
Pricier than other models
9. Coffee Gator all-in-one Travel Coffee Maker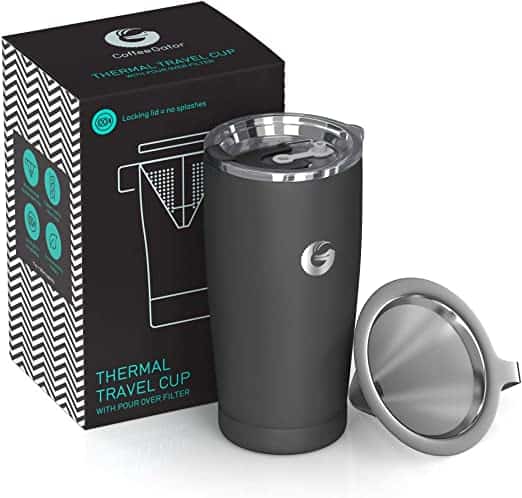 Wouldn't it be amazing if you could combine pleasure and practicality? Well, Coffee Gator turns this dream into a pleasant reality. You get to enjoy the burst of flavor that comes from freshly-brewed coffee and the practicality that a travel mug brings.
Shaped like a travel mug that's a snug fit for nearly any cup holder, this personal pour-over brewer allows you to make and move around with hot and fresh delicious coffee as you go about your day-to-day. With an ace up its sleeve, this model has a stainless steel filter that allows you to brew up to 12 ounces of coffee right into it.
Other brewers limit you to the house or cool in an instant. However, with the Coffee Gator, this is the least of your worries. It's built from military-grade, durable stainless steel, vacuum-layered, and has a smart copper lining that traps heat for extended durations.
Your brew will be piping hot for up to 6-7 hours or ice-cold for 20. Either way, the aroma of free coffee will lure you into drinking it much sooner than that. With the metal filter that provides a cleaner flavor and saves trees, you can say goodbye to paper filters. It's not only eco-friendly but also goes easy on your pocket.
With Coffee Gator being BPA-free, easy to clean, and perfect for travel, you're guaranteed of more smiles with each cup.
Pros
Full-spectrum of aromas and flavors
Manual hand drip
Keeps coffee piping hot for up to 6-7 hours
Inexpensive
Ideal for travel
BPA-free
Cons
Filter can't be stored inside the mug after brewing
Lacks paper filters
10. Best Compact: AdirChef Grab N' Go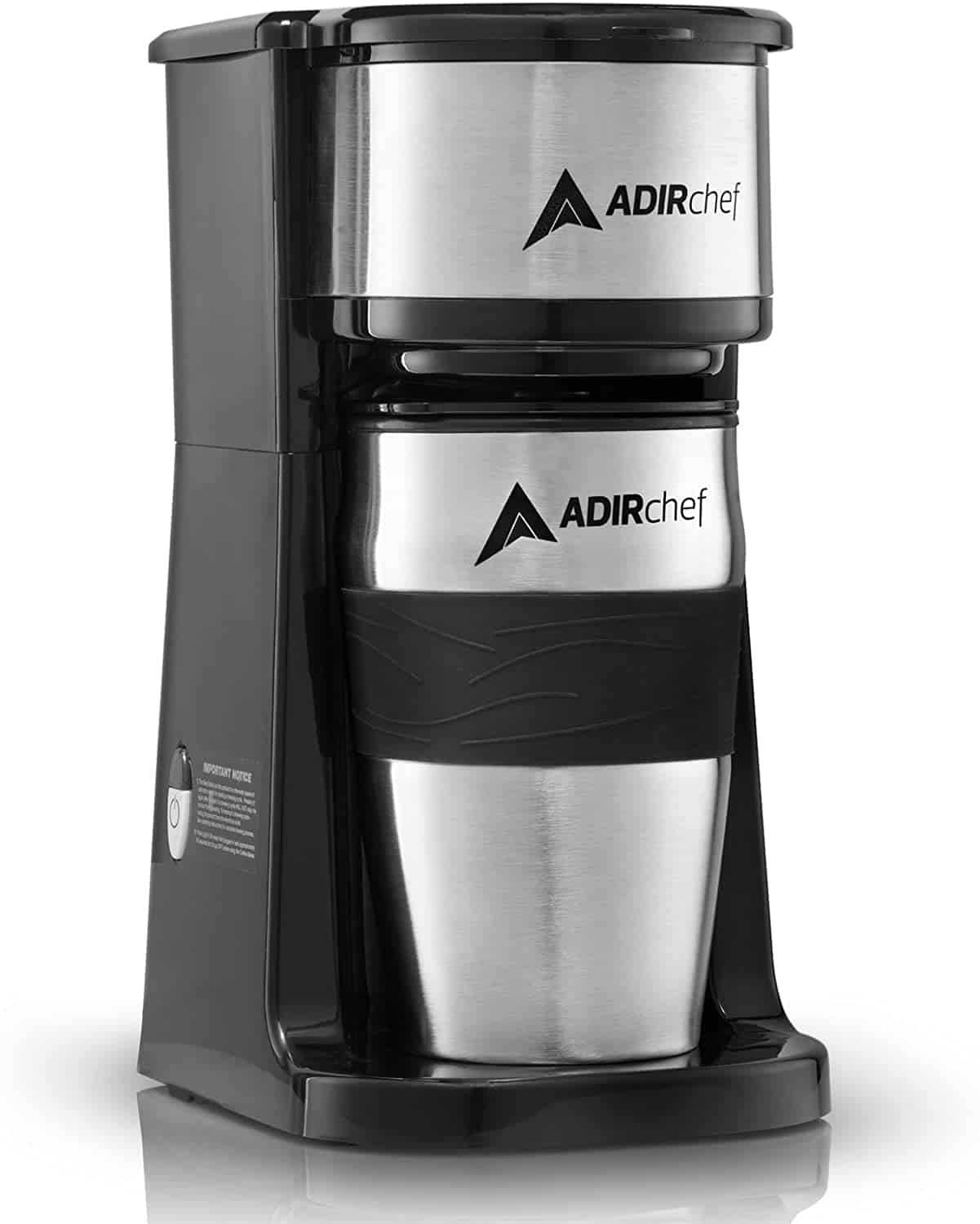 Armed with a permanent filter, the AdirChef Grab N' Go eco-friendly single serve coffee maker allows you to save extra bucks and cut out waste. With the absence of paper filters, you don't require spending cash, purchasing them, or filling up your garage or attic when you need to dispose of them.
This travel mug is a snug fit in nearly all drink vessels and cup-holders at just the ideal size. It's perfect for anyone who delights in bringing a cup of coffee with them as they go about their day-to-day. The mug is properly insulated to keep your coffee warm for extended durations, making a lifesaver for the long morning commutes.
Constructed from durable and sturdy plastic, you can revel in a personal cup of coffee from this product every morning for years down the road. It brews directly into the 15-ounce stainless steel travel mug, and once it is filled to the brim, the maker instantly goes off to save power.
As a lightweight and compact product, the AdirChef Grab N' Go is ideal for small cubicles and counter spaces in the workspace. And, transporting it from one place to another is a walk in the park.
Moreover, the mug has a band that offers a firm and comfortable grip and fits most car cup-holders. If you opt to set up the unit permanently in your kitchen, then simply grab the mug and have your coffee to go.
A lid, holding basket, travel mug, and internal filter are included in the package. The ball is in your court to set it up, plug it in, and start brewing your much-needed cup of coffee to liven up your day.
Pros
Universal design
Eco-friendly
Affordable
Eliminates the use of paper filters
Built from sturdy and durable materials
Portable and lightweight
Comes with everything you require
Permanent filter for added convenience
Cons
Slow response at times
Not as long-lasting as other models
Buying Guide: How to Choose the Best Single serve Coffee Maker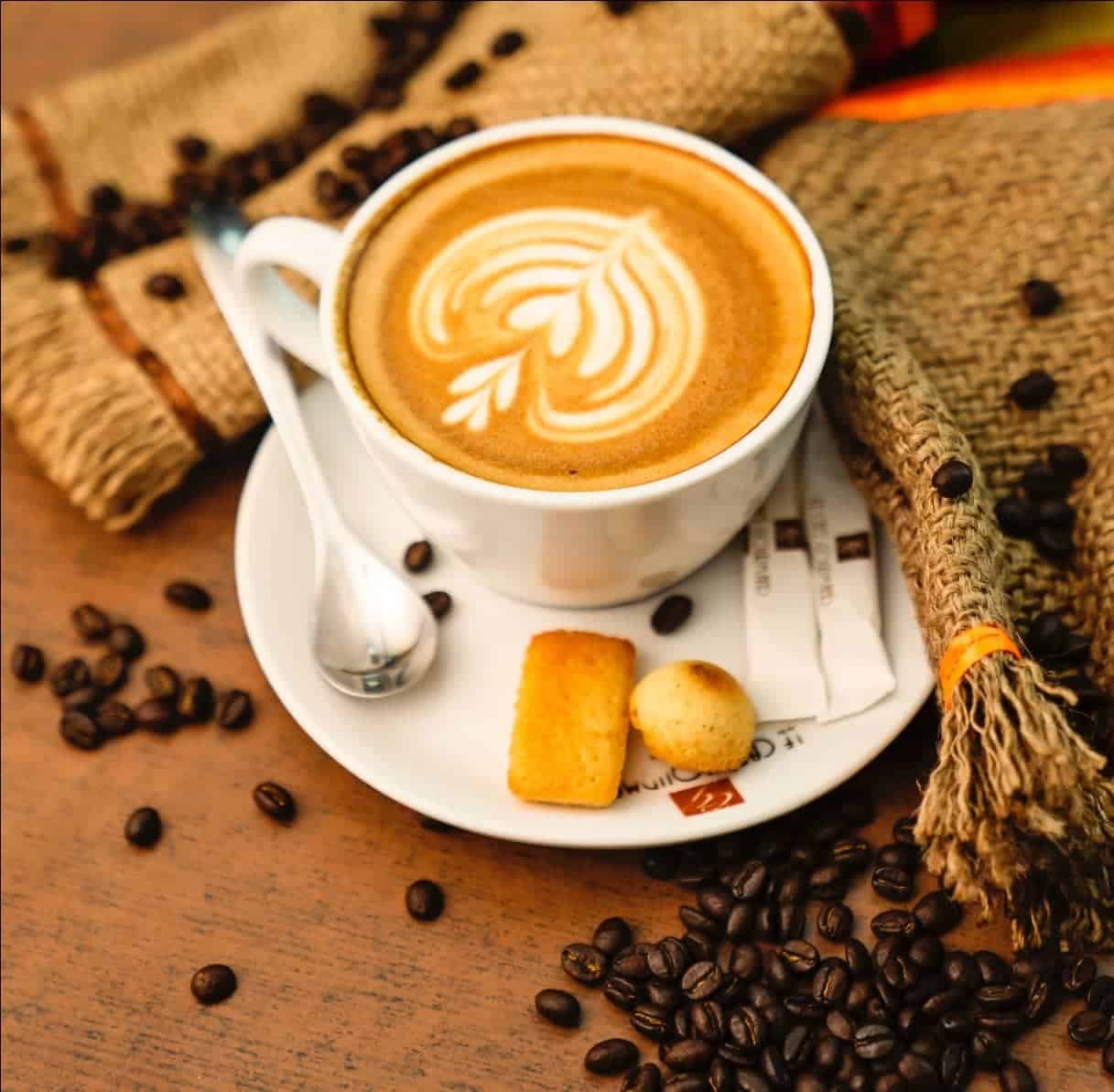 Granted, this handy device ushers in the same enjoyable experiences as a gourmet coffee shop at a fraction of the price. With the wealth of options available, finding the best single serve coffee maker that can usher in the most memorable experiences as your local coffee shop, and more importantly, suits your needs can be challenging.
After all, there are countless products with an array of prices, features, and designs. Keeping that in mind, we've rounded up a few buying factors to consider that will steer you on the right path towards finding the product you need.
Power and Performance
Power plays a major role in the speed, temperature, and performance of a single serve coffee maker. Ensure that you can safely plug in a 1300 to 1400W unit without overloading the electrical system. The noise level during operation is also a factor to consider. Select a model with quieter features.
Counter Space
Each kitchen has a limit on the number of appliances it can accommodate on the counter. Given that some single serve coffee makers will occupy more room than others, it's essential to weigh what you want versus how much it's worth compromising on the countertop space.
During the purchasing process, consider the dimensions of each of your prospects. You'll then have a clearer picture of where it will go and the exact space it'll occupy. Remember, if your unit has to be tucked away after each use, then chances are, you'll use it less frequently as time goes by. Ensure you have the required space for the model you want before you buy it.
Convenience
If you're like most people that make the most of their coffee in the morning, you may want to steer clear of single serve coffee makers that are complicated to use. Popping in a pod and pressing a button is probably the most you want to deal with moments after getting out of bed. You know your routine better than anyone.
Will you need to spare a few more minutes into making your morning cup of coffee, making it a deterrent to using the unit you purchase? Consider the time it takes from when you wake up to when you're ready to start your day.
Another key factor to consider is purchasing a unit that'll automatically brew coffee at a specified time. There's a barrage of programmable models that can brew a few cups and have them waiting for you when you roll out of bed. Keep in mind that these models take a larger bite out of your budget.
Price
It's a no-brainer that if the coffee you gravitate towards the most requires shelling out extra bucks on an espresso unit and you can't afford to, then you'll need to make a few compromises. Alternatively, keep your eyes peeled for a machine that's within your price range but is missing a couple of the bells and whistles that the pricier single serve coffee makers have.
Regardless of your decision, consider the long-term and upfront costs of the type of machine you opt for. It may be worth coming out of pocket today if it'll save you hundreds of bucks over months or years down the road, or if it means you'll use the coffee maker you purchase.
Brewing Temperature
The perfect brewing temperature for coffee is anywhere between 196°F and 205°F. Therefore, if flavorful coffee is enough to liven up your day, you'll want to invest in a unit that can brew at high heat in a jiffy.
Most top of the range single serve coffee makers usually list their brewing temperature among their specs. If you stumble upon a unit that lacks this info, then steer clear of it.
Grinder
Choose a coffee maker that comes with a built-in grinder. It saves you the hassle of having a grinder on the counter or cupboard, saving space. Many smaller single serve coffee makers use pre-packaged packets or pods that free you from the need to pour out or measure loose coffee grounds.
Special Features
Do you need a cup of coffee to get your feet on the ground? If so, then an auto-start unit you can set the previous night is right up your alley. Are you entirely frazzled as you make your way out the door during the morning rush? Then it's worth choosing a single serve coffee maker that automatically goes off after a certain period of inactivity. After all, the last thing you need is to worry about one more thing as you're rushing to work.
Ease of Cleaning and Accessibility
If you have to flip open a lid to add the brew, and the lid hits the floor of your upper cabinets before it can open all the way, then such a machine isn't an ideal fit. Ensure the kitchen can comfortably house all the pieces and that they fit blend well into your lifestyle.
Therefore, if you're on the quest for a single serve coffee maker with a carafe that isn't dishwasher-friendly and requires hand-washing and you don't have the time to spare every day, then it's time to move on to a unit that can go in the dishwasher.
To Wrap It Up
Without a doubt, nothing beats starting your mornings with an aromatic and quick brew. By investing in one of these bad boys, not only will your days liven up, but they'll also be more productive. And, showing up to your destination late will become the least of your worries. Order yours today!