The last few years have been interesting ones when it comes to cuisine - particularly when it comes to the healthy eating revolution.
There's never been a question that diet and exercise are important when it comes to overall health and weight loss. However, the last few years have brought about a true revolution as it relates to the kitchen - and one example of that is in how we are incorporating vegetables into our daily dishes.
Use the word "zoodle" in the 1990s, and you definitely would have gotten a few strange looks! Today, however, zoodles are synonymous with healthy eating, and you can't make them without having one of the best spiralizers.
What is a spiralizer, you might ask? Thanks to a spiralizer, you can twist all kinds of vegetables into unique new pasta-like shapes. From spirals to spaghetti, twists to tagliatelle, a spiralizer will turn your vegetables into continuous strands so that you can use them easily in any recipe.
Not all spiralizers are built alike, however. If you're on the hunt for the best spiralizer, you've come to the right place. Here's what you need to know.
Swap Out the Pasta By Using One of the Best Spiralizers
1.
KitchenAid Spiralizer Attachment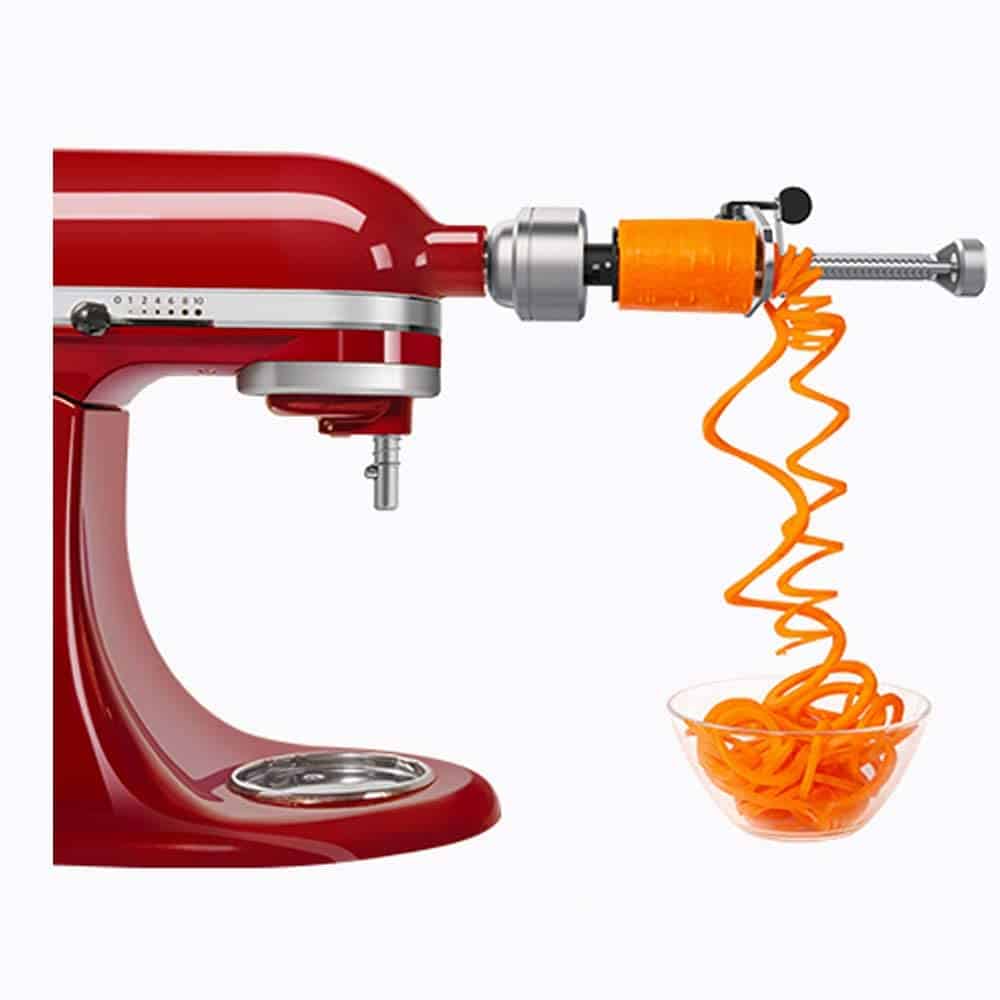 If you have a KitchenAid stand mixer, you'll want to consider investing in this best spiralizer attachment, referred to often as the "noodles tool". It's a bit pricier than some of the other alternatives we'll tell you about, but it's one of the best performing. 
This kit comes with three separate spiralizing blades along with three slicing blades, a slicing, and a peeling blade. You can use it to core and peel apples, spiralize your zucchini, and perform a  whole host of other functions.
It has a premium metal construction for durable performance. When you attach this product to your stand mixer, you'll find that it's stable and easy to use. 
What We Liked:
Has five separate interchangeable blades

Made out of premium metal

Comes with the best one-year replacement warranty
What We Didn't Like: 
Only works with KitchenAid mixers
2.
Zalik 5-Blade Spiralizer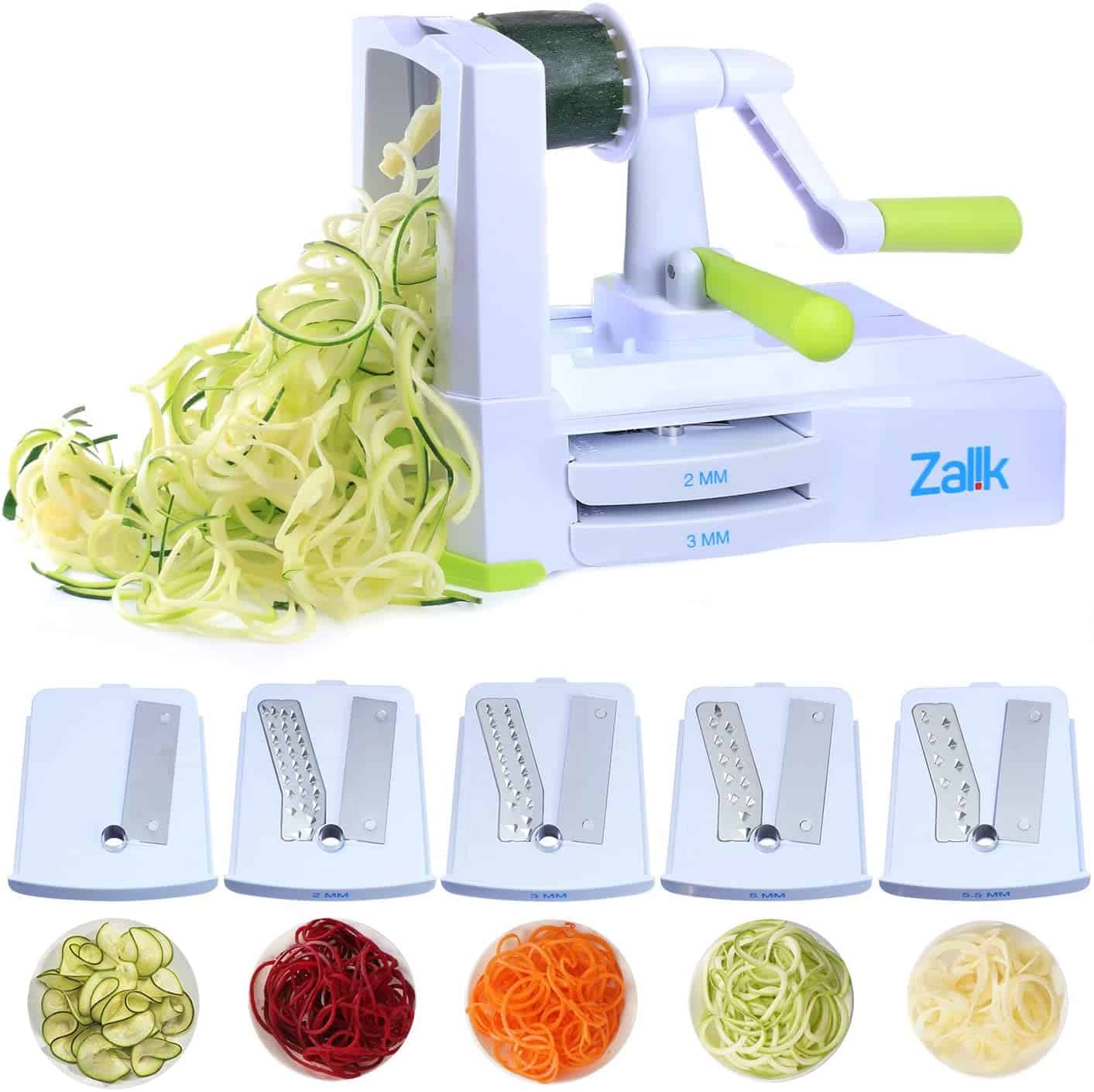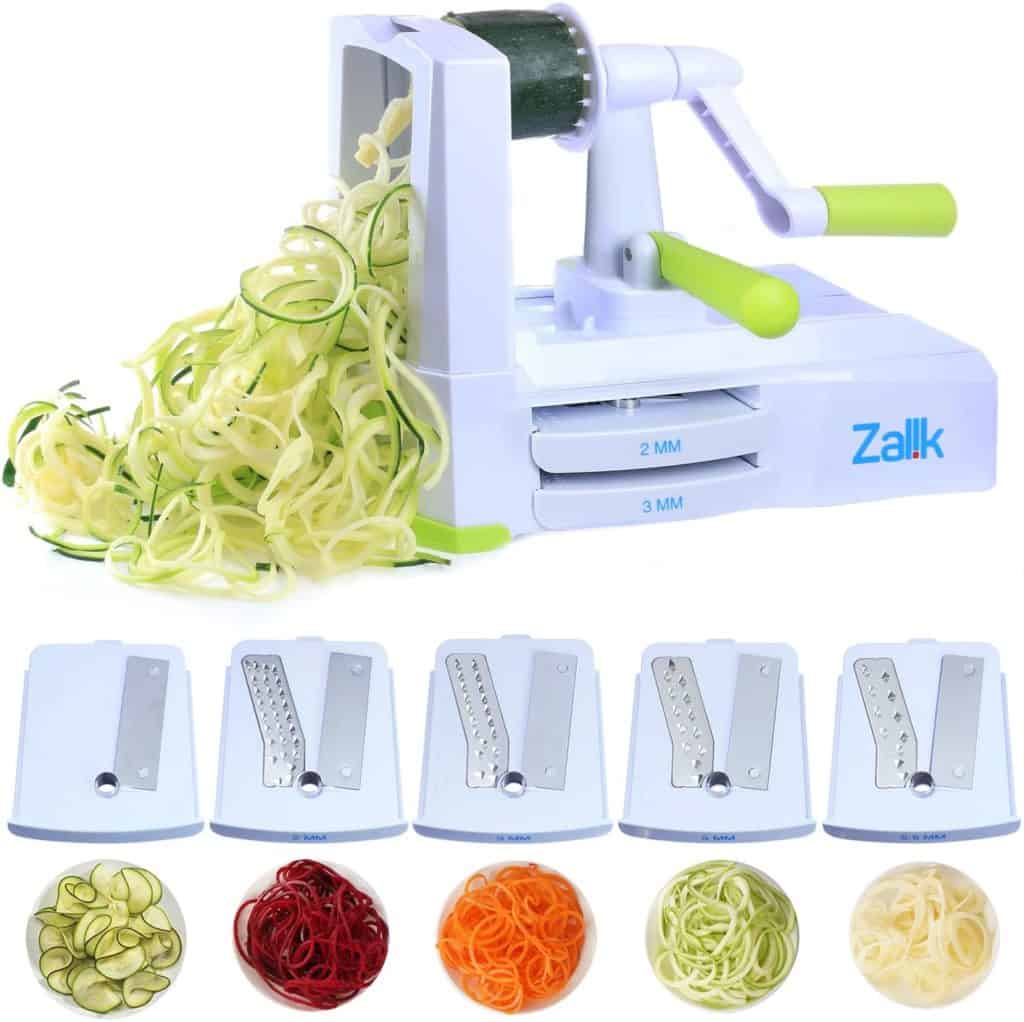 Zalik makes another one of the world's best spiralizer. This product is equipped with five blades and weighs in at less than three pounds, making it an economical and convenient option for most kitchens. You can use it to spiralize just about any kind of vegetables including potatoes and cucumbers. You can make straight, curly, or even angel-hair cuts, depending on your preferences.
Not only that, but this spiralizer comes with blades made out of 100% stainless steel and other components that are made out of 100% BPA-free, food-grade plastic. These spiralizers are easy to operate manually and also easy to take apart.
What We Liked:
Comes in two separate colors and has five interchangeable blades

Has a large suction base

Comes with a blade caddy for extra blades
What We Didn't Like: 
Multiple parts makes it tough to clean 
3.
Paderno World Cuisine 3-Blade Vegetable Slicer / Spiralizer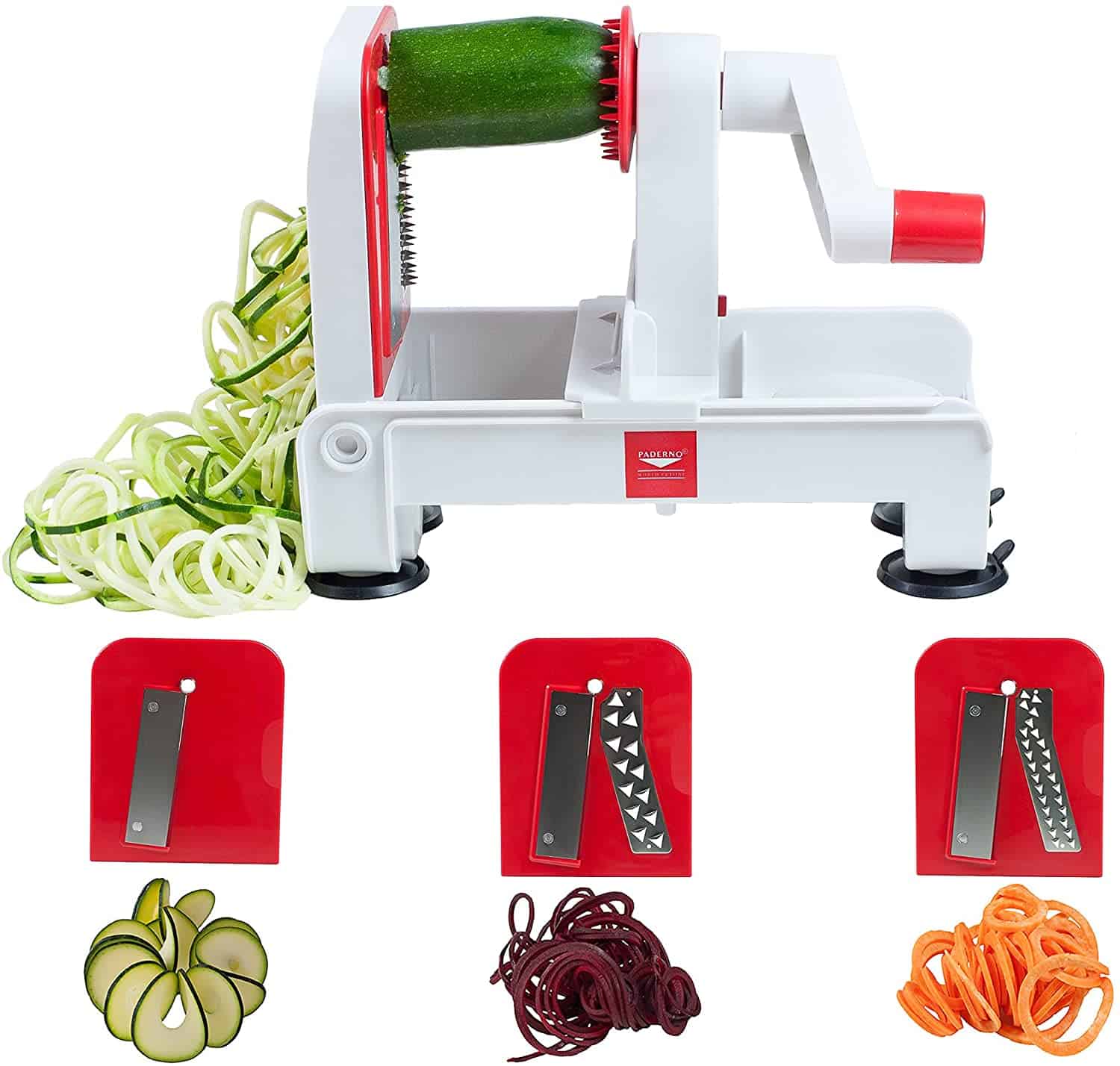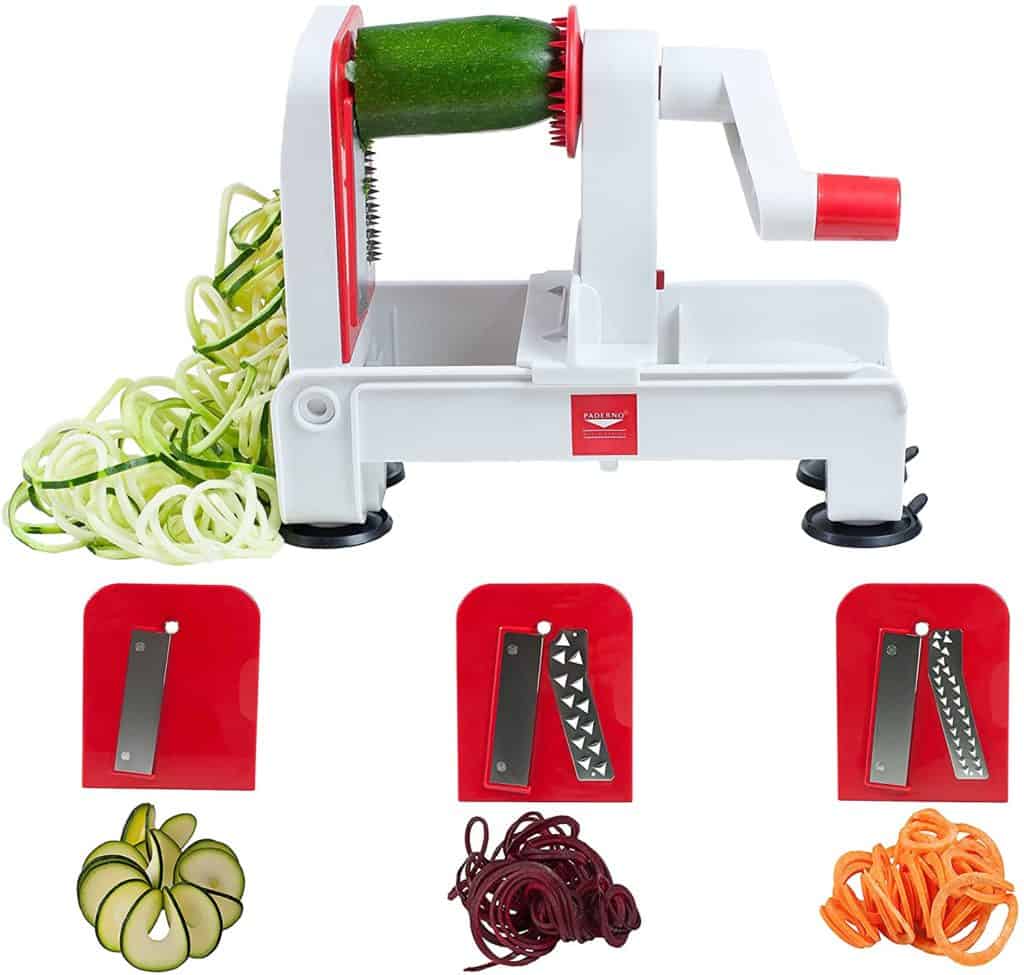 This vegetable spiralizer by Paderno is one of the best spiralizers for you to consider if you're in the market for a product that is stylish and can be customized to just about any kitchen.
When you buy, you'll get a slicer - which can be purchased in white, black, or red - with your choice of blades. All blades fold, but you can choose between a product with a three-, four-, or seven-blade design. It's up to you!
Not only that, but this spiralizer can be mounted to just about any clean, non-porous surface with its suction base. It has a durable design that is dishwasher safe on the top shelf.
What We Liked:
Spiralizers are available with several colors and designs

Has various blade numbers so you can customize the best fit depending on your needs

Easy to take apart and dishwasher safe
What We Didn't Like: 
Suction cups tend to be faulty when you are cutting harder vegetables
4.
Spiralizer 5-Blade Vegetable Slicer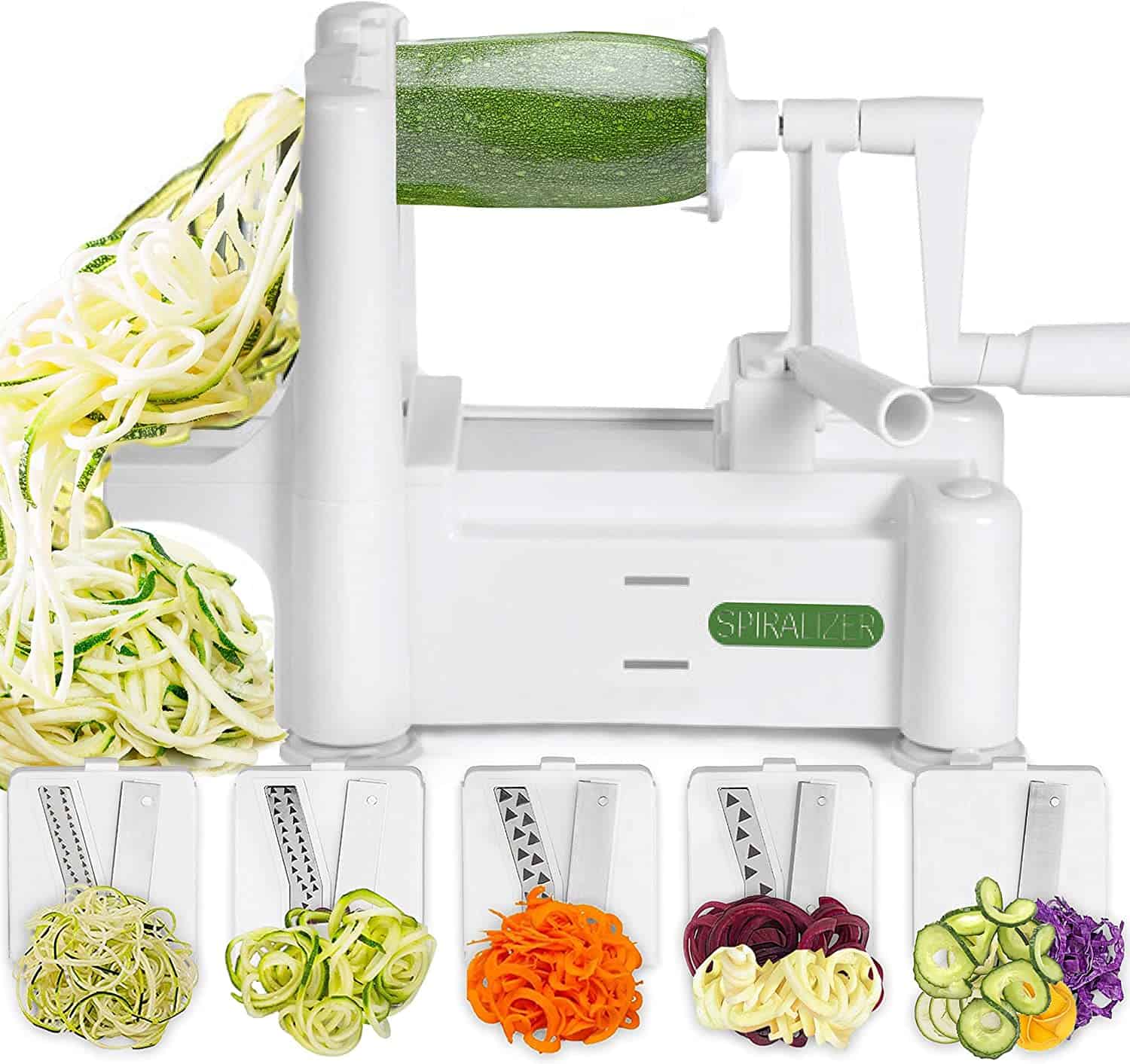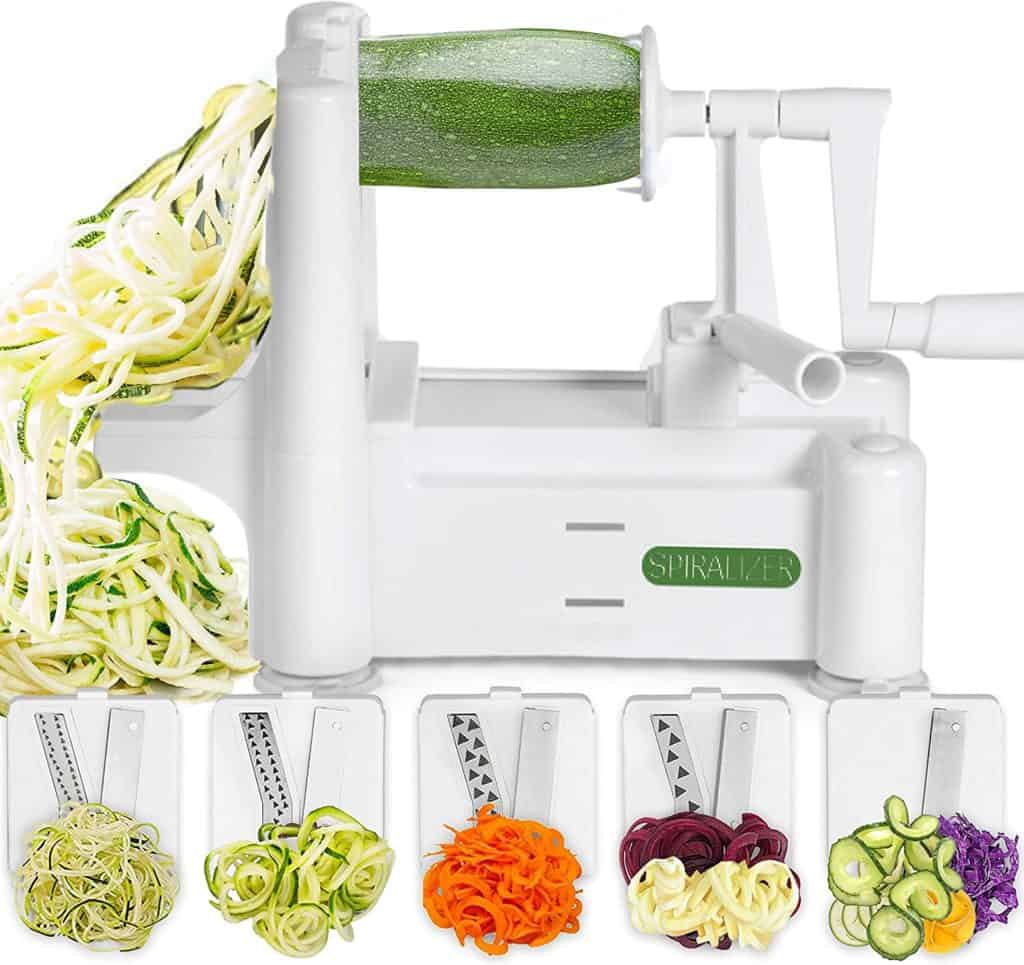 This five-blade spiralizer is another one of the best. It is strong, made out of 420 high carbon cutlery grade stainless steel blades and ultra-reinforced BPA free ABS plastic. You can spiralize all kinds of soft and hard vegetables alike.
This spiralizer also comes with a helpful eBook that includes a variety of recipes to give you new ideas for dinner time. It's a great spiralizer for zucchini noodles! 
What We Liked:
Dishwasher-safe and BPA-free

Comes with helpful free eBooks

Manufacturer includes a lifetime replacement warranty 
What We Didn't Like: 
Includes suction cups but they tend to slide all over and don't work the best
5.
Brieftons 5-Blade Spiralizer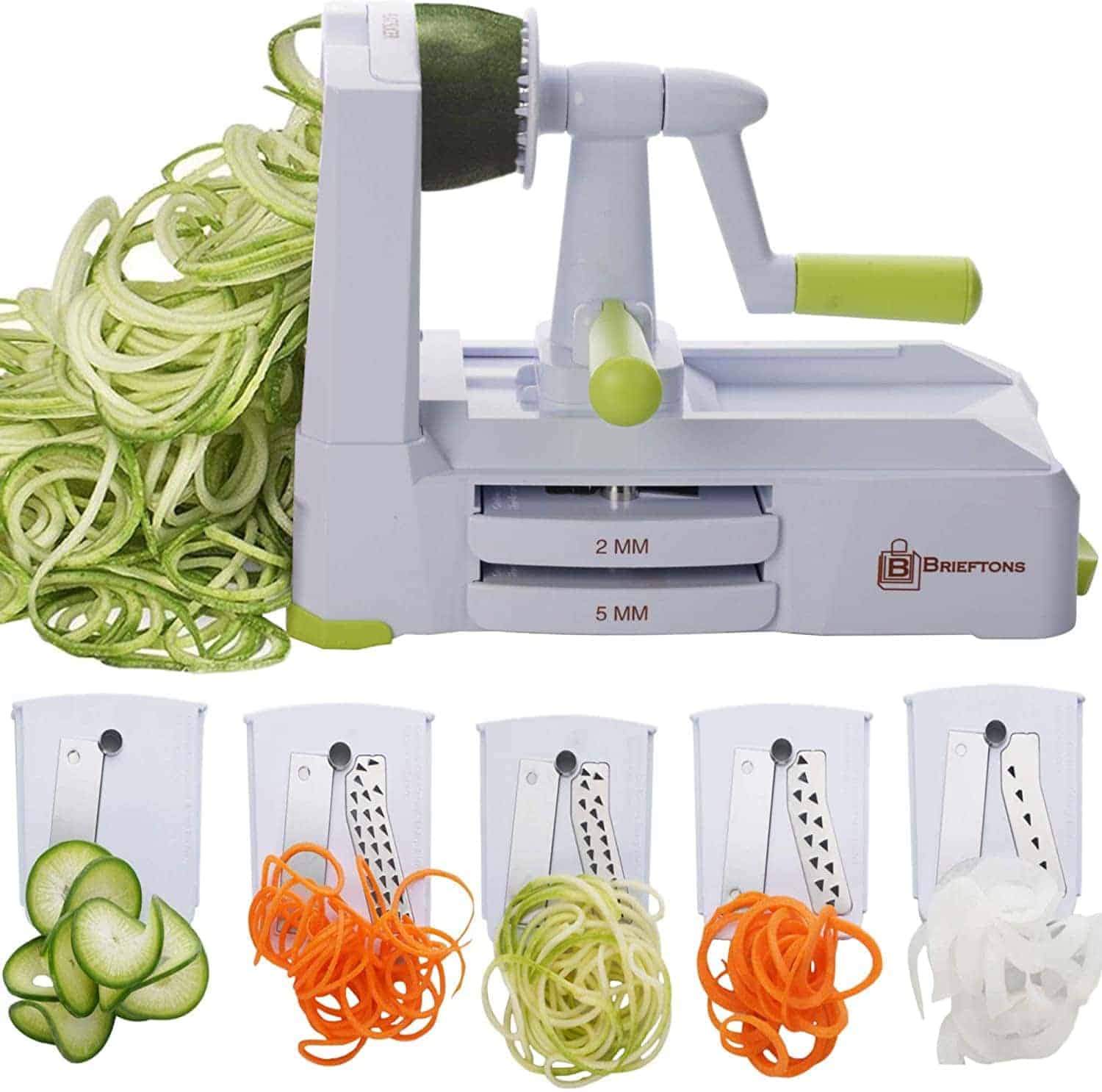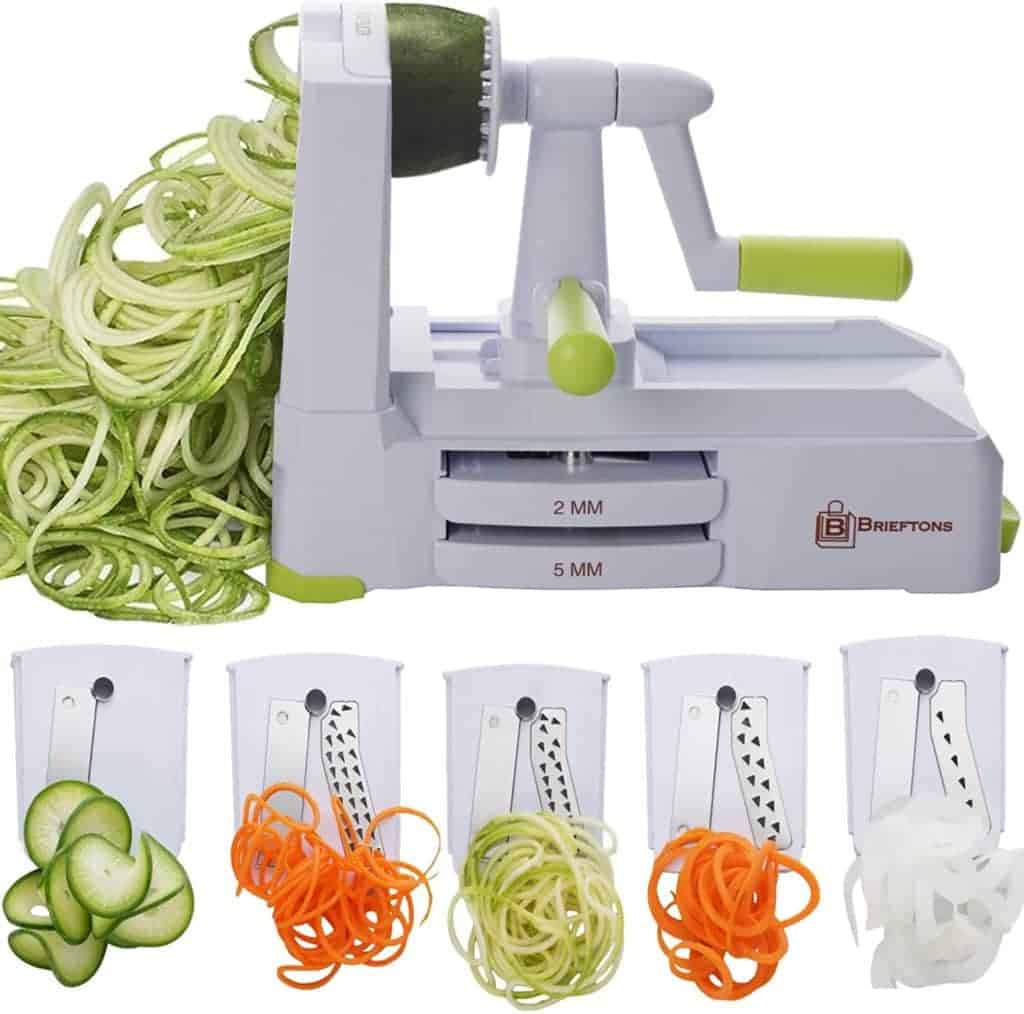 Brieftons makes a variety of spiralizers, including a five- and even-blade product. We like the five blade spiralizer as it's strong enough and durable enough to get the job done, without being on the overkill side of things. It's another one of the best zucchini spiralizer options out there. 
It has stainless steel blades that are made out of 420 hardened stainless steel. They'll stay ultra-sharp longer than you could ever imagine. Plus, with this spiralizer's supersized foolproof suction pad, you'll find that the product stays locked on to your countertop for hours.
Made out of 100% BPA-free reinforced BS plastic, this spiralizer can spiralize up soft veggies with ease, along with most of your harder ones like butternut squash and beets, too.
What We Liked:
Comes with five separate interchangeable blades

Has a blade caddy for easy and safe storage

Comes with large suction cups to prevent the spiralizer from sliding around
What We Didn't Like: 
You can only store two blades at once
6.
The Original Zoodle Slicer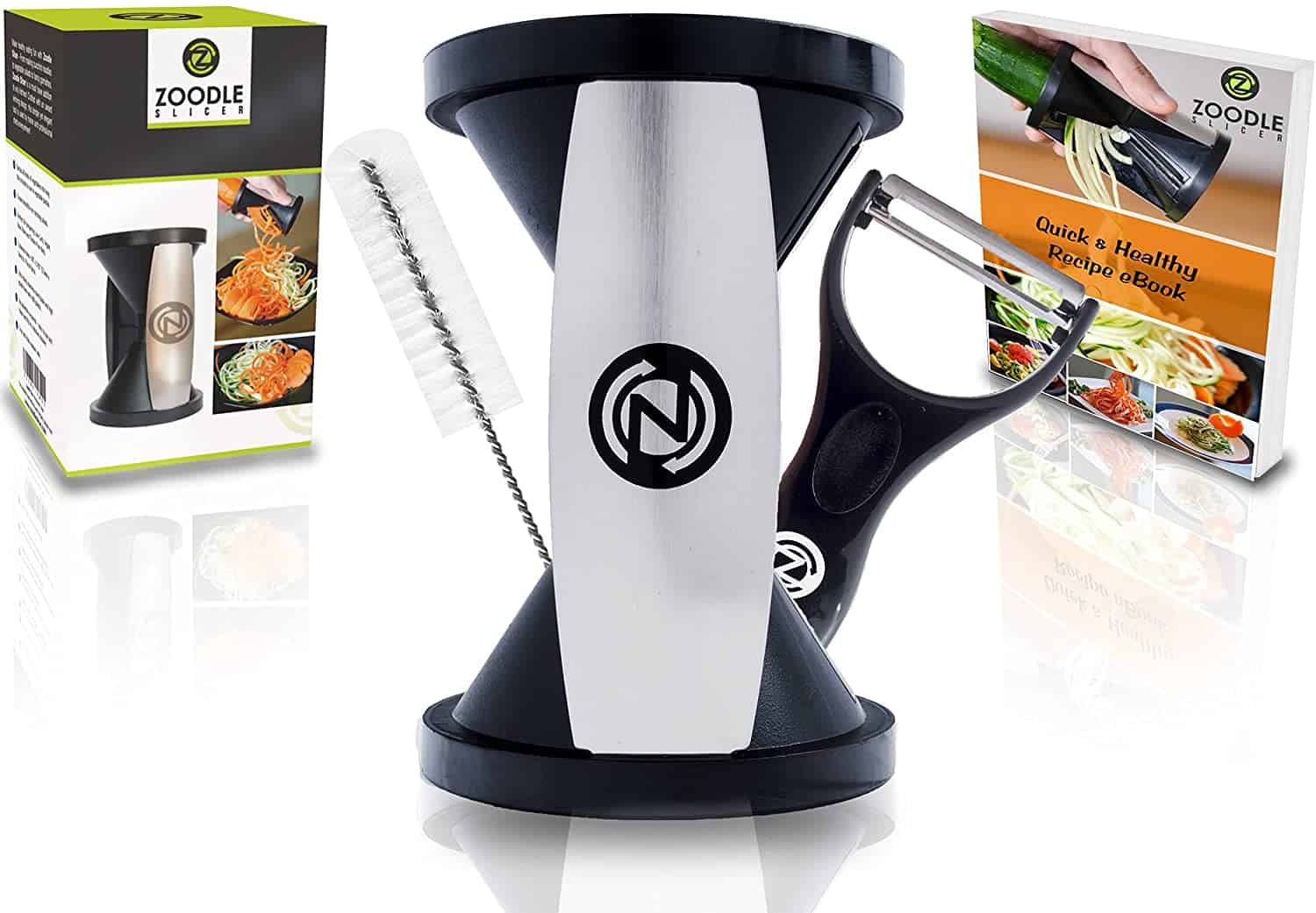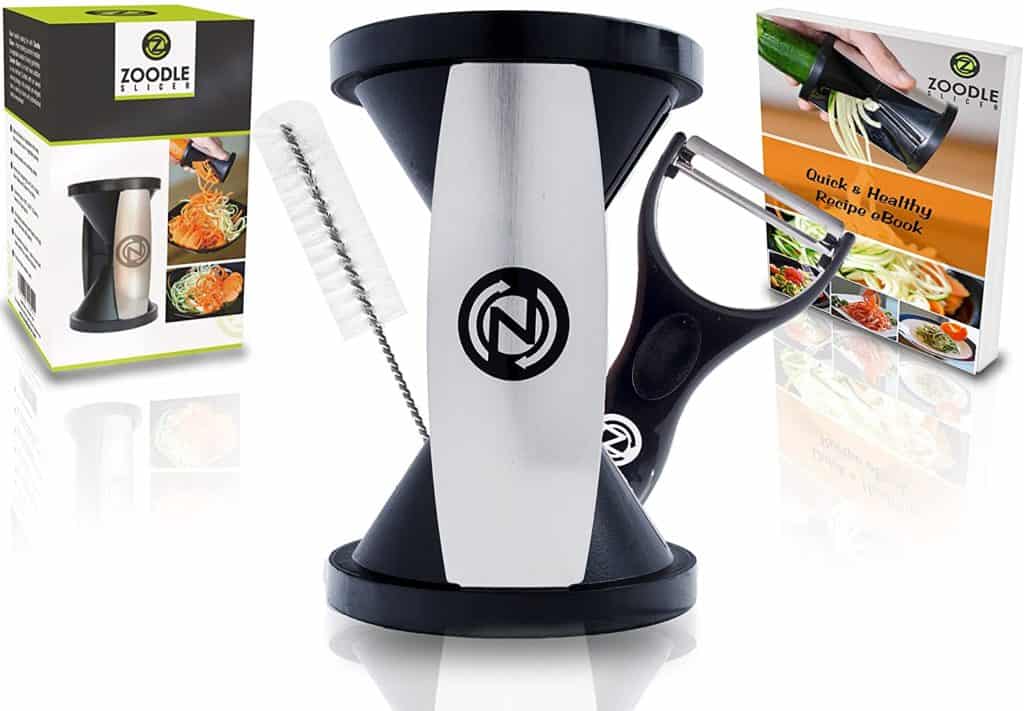 Love making zoodles? This hand held spiralizer is the original zoodle slicer, complete with everything you need for a healthier diet. It's a hand held unit, meaning it's one of the cheapest products you can buy. You can use it on all kinds of vegetables, including zucchini, carrots, sweet potatoes and more. It offers just two cuts - julienne spirals and fettuccine floral. You can make just about any recipe, from plain noodles to curly fries to this delicious peanut sauce zucchini noodles meal.
Backed by a lifetime warranty, this hand held spiralizer is one of the best for chefs seeking simplistic solutions to common dinnertime boredom issues! 
What We Liked:
One-piece hand held spiralizer design is easy to use and clean

Dishwasher-safe and rustproof blades

Comes with free peeler and cleaning brush
What We Didn't Like: 
Not the most versatile unit you will find
7.
Mueller Spiral-Ultra Multi-Blade Spiralizer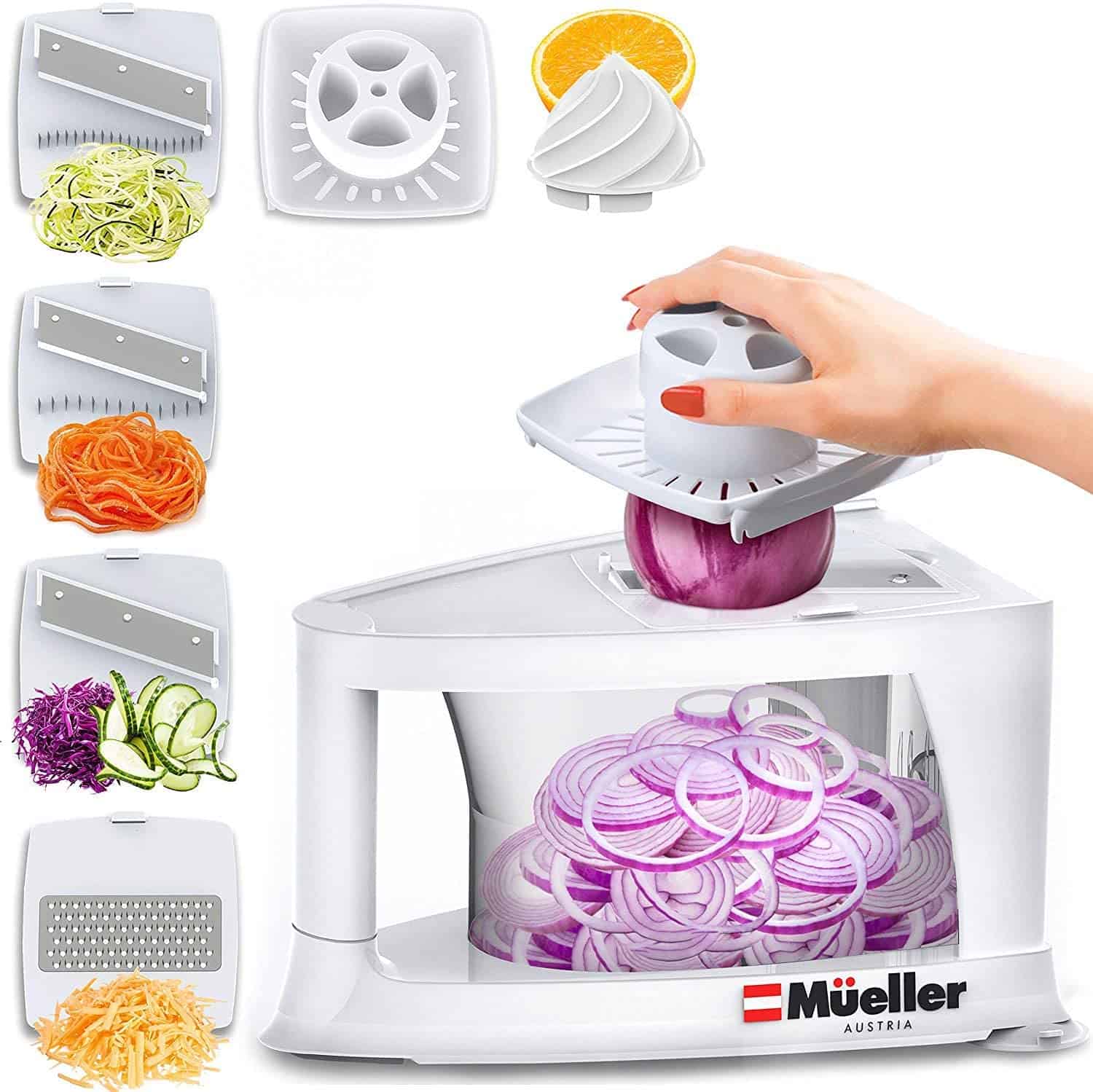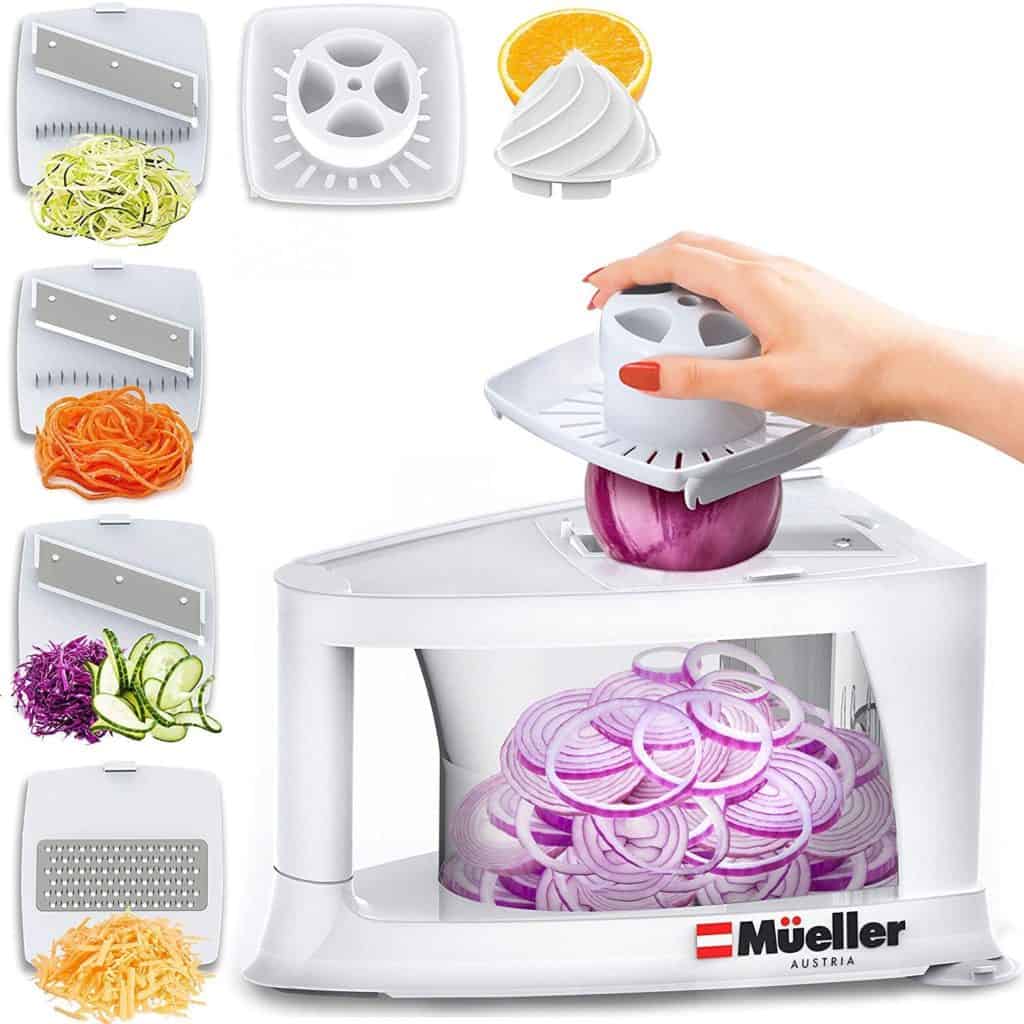 The Mueller Spiral-Ultra Multi-Blade Spiralizer is another easy spiralizer to use. Gravity will do all the work for you, so you won't have to put added strain on your wrists to get a delicious vegetable noodles or curly fries. 
It's made out of ultra-strong, BPA-free plastic. It is food-grade and reinforced to resist damages. It's also incredibly versatile, equipped with four super-sharp 420 grade hardened stainless steel blades.
It has all the benefits of a tri-blade and four-blade spiralizer but is also considered an eight-in-one device. It can be used as juicer, mandoline, and grater, too! 
What We Liked:
Interchangeable blades allow for various sizes and shapes

Can also be used as a juicer, mandoline slicer, or grater

Chemical-free and safe for the dishwasher
What We Didn't Like: 
Instructions aren't that clear
8.
OXO Good Grips 3-Blade Tabletop Spiralizer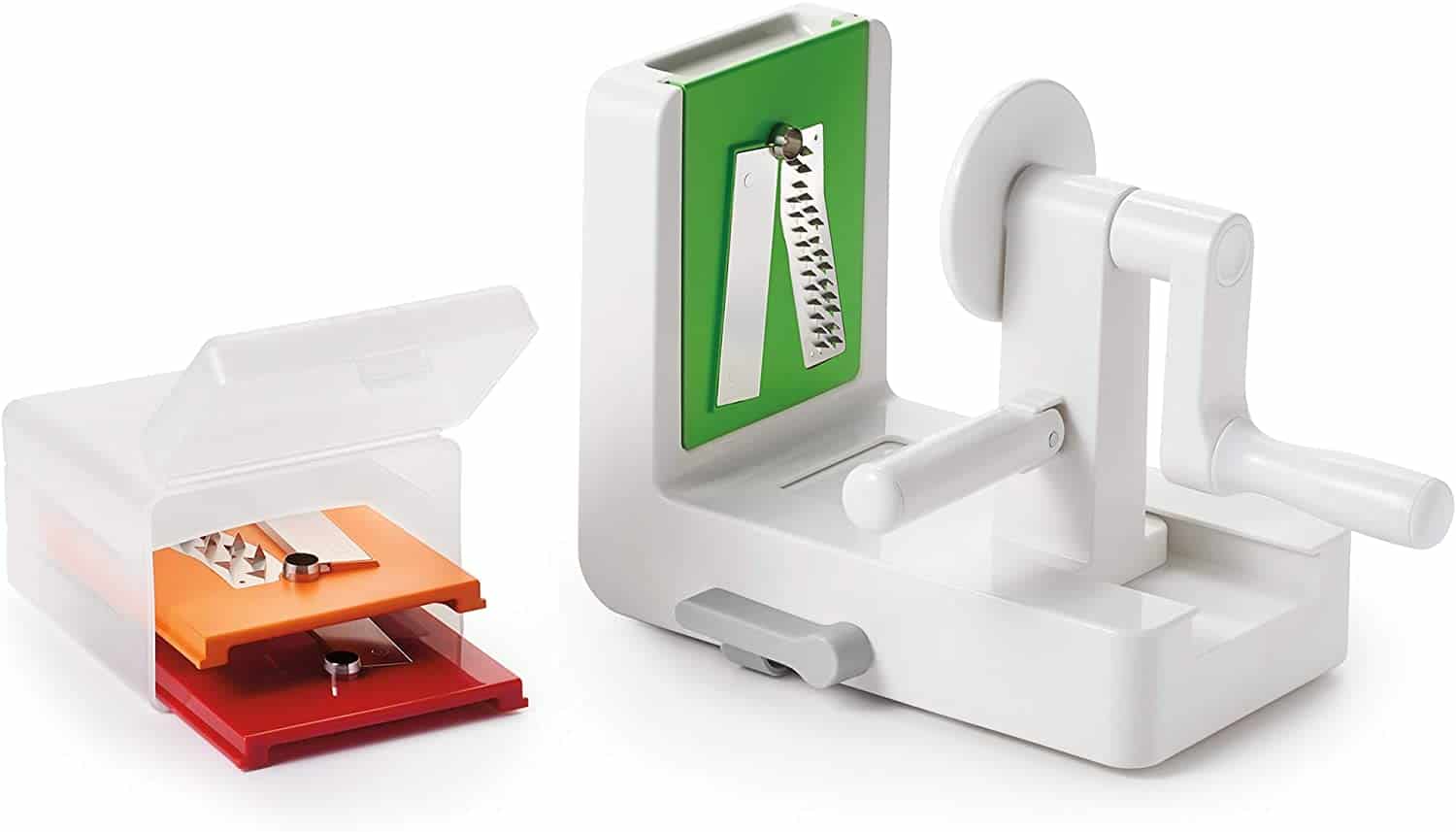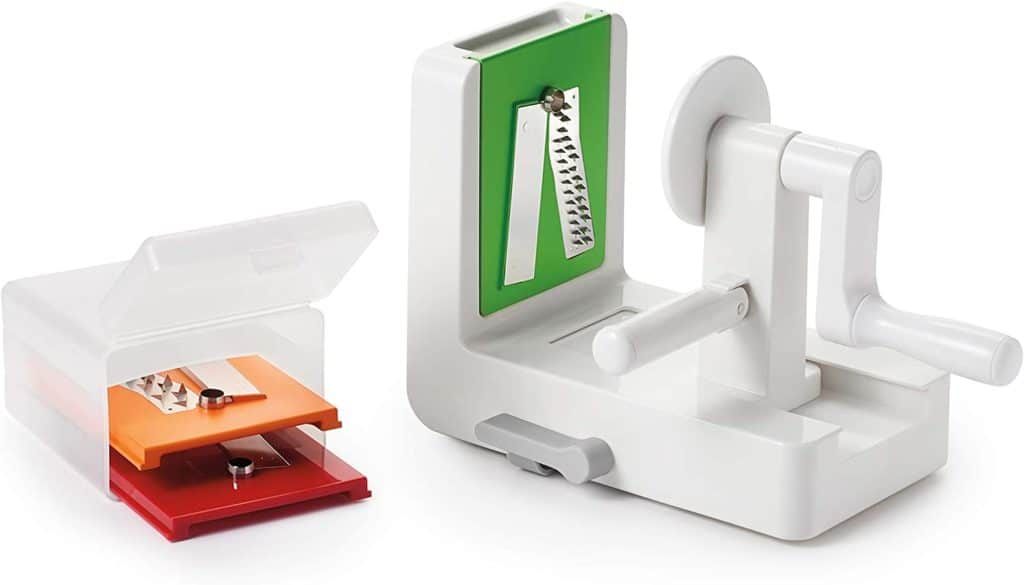 OXO Good Grips offers a variety of uniform, easy-to-use and easy-to-clean products for the kitchen. This tabletop spiralizer is no exception. You can cut all kinds of vegetables, including hard potatoes and softer zucchinis. 
It comes with three separate stainless steel blades that can be used for fettuccine, ribbon, or spaghetti cut noodles. The removable blade box will help keep your blades safe, easy to clean, and organized when they aren't in use, and all storage can be done onboard to minimize wasted kitchen space.
Not only that, but the food holder has exceptionally sharp teeth - giving credence to that "Oxo good grips" name! It will hang on to your food tightly as you spiralize it so you don't have to get your fingers in the way.
It has other features to maximize its safety and convenience, too, including suction cups for stability and a dishwasher-safe design that makes it easy to clean.
What We Liked:
Has two separate handles 

Comes with three interchangeable blades

Dishwasher-safe
What We Didn't Like: 
Not the most versatile spiralizer you can buy
What to Look for in a Spiralizer: A Buying Guide for Pasta Night
There are several things you should look for when you are shopping for a new spiralizer - here are some of the most important features to consider. 
Ease of Operation 
You aren't going to use your spiralizer nearly as often as you should if it's complicated to use. You're going to want to choose a spiralizer that's easy to install with minimal setup. Even if there's only a small amount of setup required, you will want to make sure your spiralizer comes with instructional videos or guides, too. 
Be sure to take a close look at the functions that your spiralizer can perform, too. While some spiralizers can only perform certain cuts, others can complete those same cuts in more unique ways. Some spiralizers only work on soft vegetables, like zucchini, while others do quite the number of hard vegetables for noodles, too, like carrots and potatoes. 
Sometimes, spiralizers even come with included peelers and additional blades, making them easier to use and to set up in a pinch, too.
Cleaning and Storage 
Again, if your spiralizer is a pain to clean and even more complicated to store, you probably aren't going to use it all that often to make vegetable noodles, no matter how much you love the taste. Therefore, you will want to choose a product that has features to help you stay safe and keep your product clean.
All spiralizers have some features that are innately unsafe, but the best spiralizers will include protective features to make the unit easier to clean while staying safe. Some come with special brushes while others are dishwasher safe so you don't have to do much handling when it comes to cleaning your spiralizer. 
You may also want to invest in a spiralizer that comes with a built-in storage system. Holders to store various accessories and blades need to be compact so that they are easier to store. 
Blade Quality 
Don't invest in a spiralizer with a cheap blade! This is the easiest way to hurt yourself and it also will make for a spiralizer that is not comfortable to use.
The blade needs to be razor-sharp so that it can cut all of your vegetables. However that cut needs to be able to be completed in a seamless, comfortable way. If your blade isn't sharp enough or easy to handle, you're going to be shedding your vegetables instead of spiralizing them.
Look for a spiralizer with a stainless steel blade. The best spiralizer will have three sizes, including the fettuccine, flat/ribbon, and spaghetti cut. Some come with more blades than this - but ideally, you should look for a product that has those three basic blades for the best results. 
Practicality and Stability '
You'll find all kinds of spiralizers on the market, from those with fancy bells and whistles to those that are pretty basic and less expensive. Don't spring for the more expensive model just because it seems like it will be better. Instead, make sure the spiralizer you choose is practical for you to use - and that it will be comfortable.
There are certain features that some spiralizers possess that make them infinitely easier to handle - and often, safer, too. For example, some spiralizers come with feet that make them easier to handle on a tabletop, while others have bonus features for added stability. 
Whatever you choose, make sure you invest in a product that will work well for you.
Bonus Accessories
The word "bonus" is key here - obviously, you shouldn't spring for a ton of extra features you don't need or want just because you can. However, if you have the option to do so, you may want to concede investing in a spiralizer that comes with helpful bonus features.
For example, some have their own peelers or cleaning brushes. Others come with helpful eBooks or recipe guides, while many spiralizer come with vegetable plates, too. You may also want to consider investing in a spiralizer with a product warranty - that way, you won't have to worry about any kind of damage to your machine. 
Eat More Veggies by Investing in the Best Spiralizer
Vegetables are delicious, healthy, and easy to prepare. Unfortunately, the same old vegetable recipes can get boring after a while.
That's why it's so important to invest in a spiralizer that will help you whip up brand new recipes each and every night of the week. You can make your dinner look more attractive and taste better by turning your favorite vegetables (from zucchini to carrots to potatoes) into artistic little circles. Meatless Monday has a new player!
Upgrade your meal plan game and invest in one of these best spiralizers - you won't regret it.