From sponge mops to steam mops to even robot mops, there are tons of great mops out there to help you keep your space looking pristine. However, a tried and true mop loved by many home cleaners is the handy and efficient spray mop, which we'll be diving into today.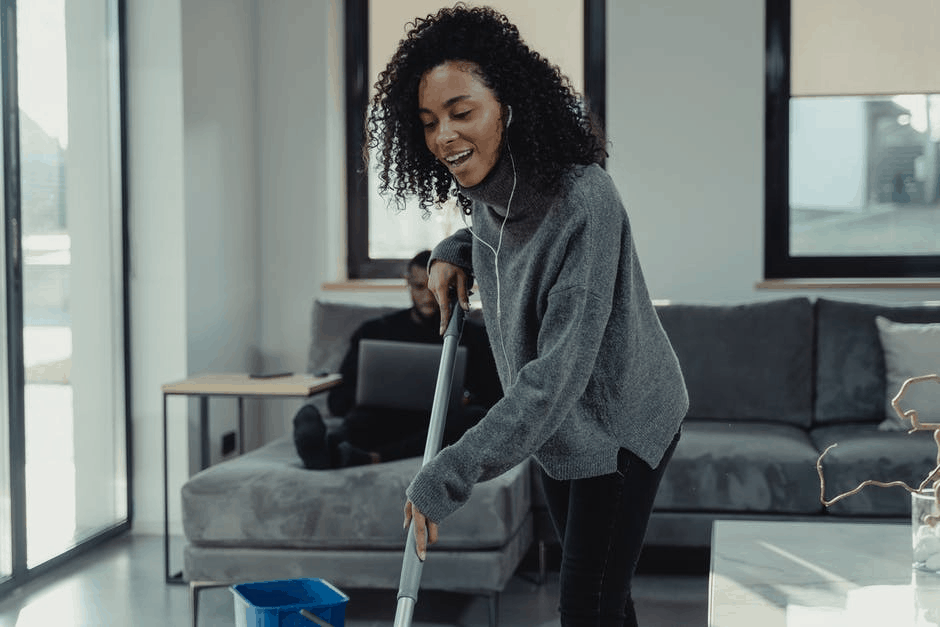 A spray mop is a great tool to keep your house nice and clean! With these handy tools, you can get all the same benefits of a more traditional mop and bucket in a much easier way.
It's a common misconception that these mops aren't as good as their traditional counterparts, but that is not the truth. A spray mop can be as clean, if not cleaner, than a traditional mop and bucket. If you invest in a spray mop, it's sure to become a go-to choice as a part of your usual cleaning routine.
With its ease of use and strong cleaning power, there's no reason not to invest in this handy cleaning tool. In this article, we're going to deep-dive into everything you need to know about spray mops.
By the end of this article, you'll know everything you need to know to get the most out of your spray mop. Plus, we're recommending some of the best spray mop models available on the market today. Let's dive in!
Our Top Spray Mop Picks
1. MEXERRIS Microfiber Spray Mop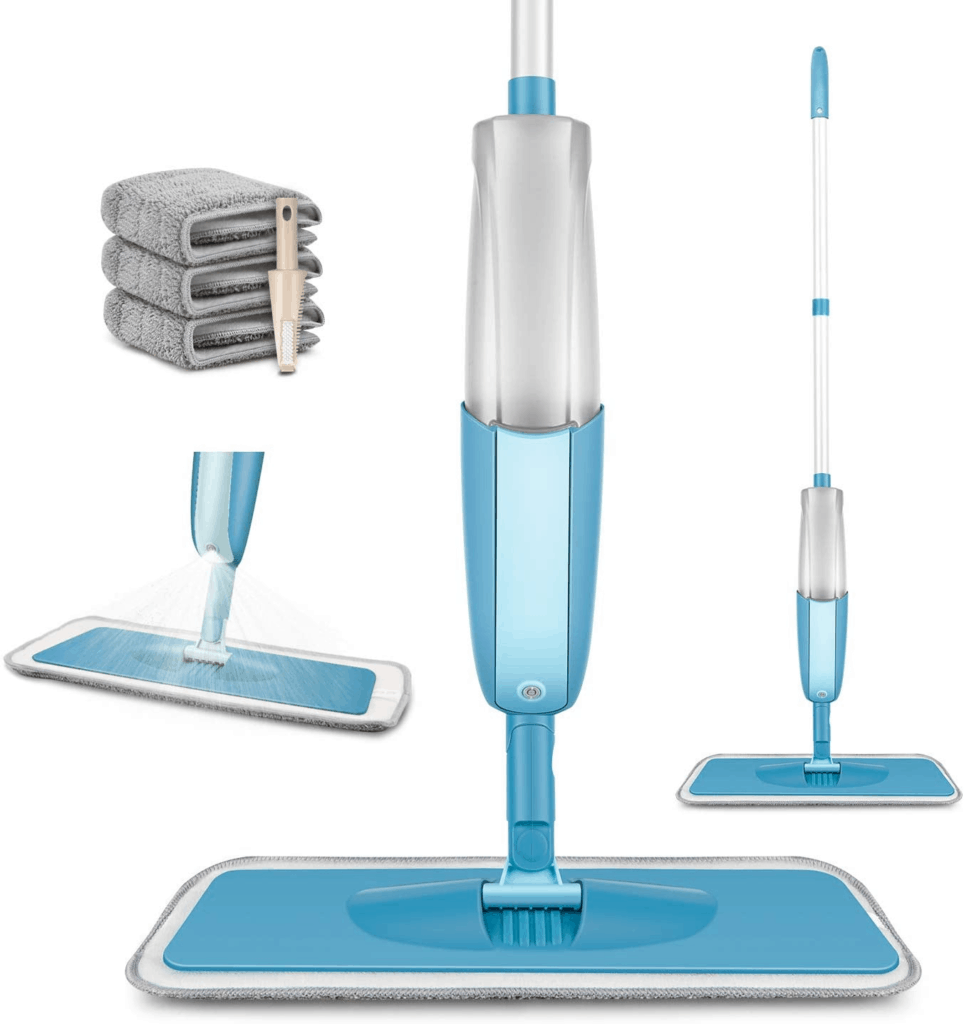 This spray mop from MEXERRIS is a great choice for anyone looking to buy their first spray mop. This mop has some great features that really make it shine.
Here you'll find a large, 410ml leak-proof refillable container perfect for most commercial cleaners or even DIY cleaning solutions.
The dispenser here is manually operated with a simple squeeze trigger on the handle and disperses in a wide fan shape for good coverage. It also features a 360-degree head so you can reach every corner you need to clean.
This mop comes with a pack of three reusable microfiber mop pads that are great for both wet and dry use. It also comes with a scrubber to easily remove dirt and debris from the microfiber cloths for easy reuse!
2. HOMTOYOU Microfiber Spray Mop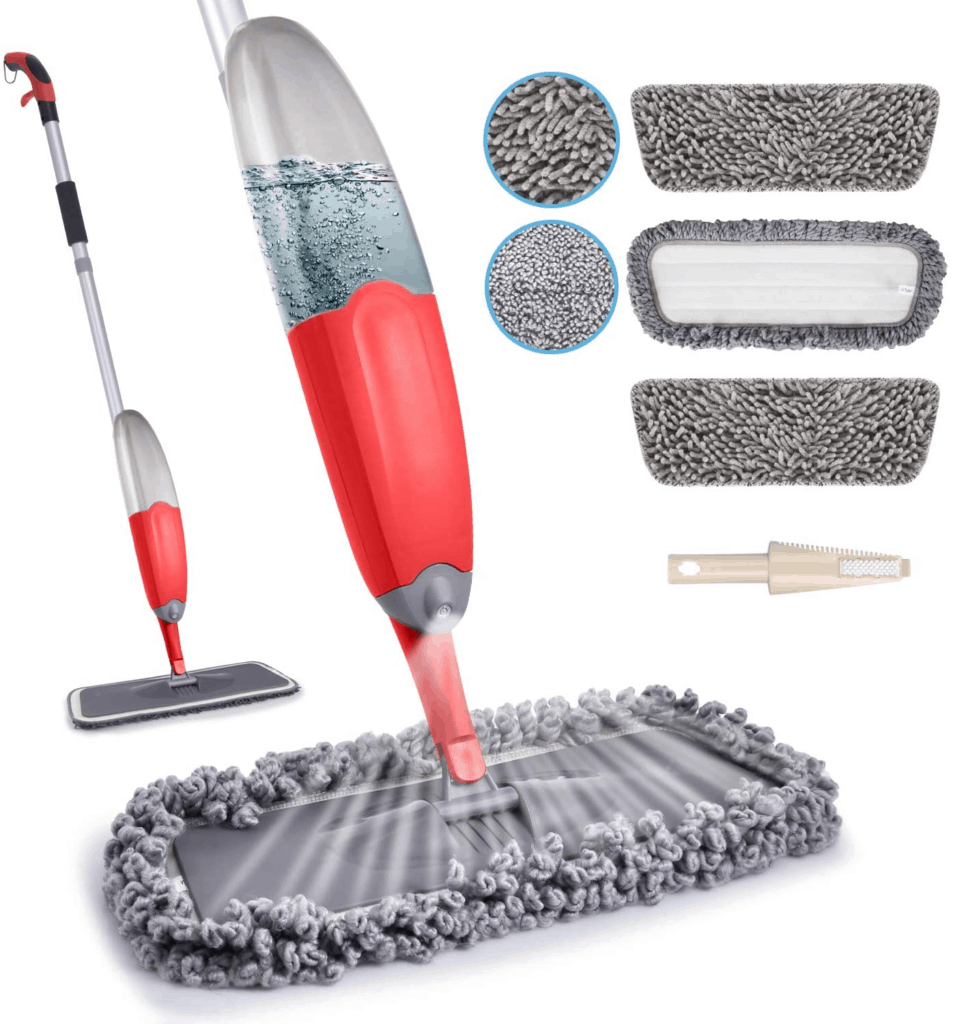 This spray mop from HOMTOYOU can get your home clean with ease. Here you'll find a large tank capacity that is easily refillable and compatible with commercial and homemade floor cleaners. You should be able to clean your whole home without needing to refill the tank.
The body of this mop is made with sturdy aluminum, and its three poles can be adjusted to suit the height of its user. Cushioned pads on the handles also make it comfortable to hold. It also has a 360-degree rotating mop head to allow it to get to hard to reach places.
The real stand out here are the included chenille reusable mop pads. These mop pads boast a higher rate of water absorption and better-capturing quality for dry mopping.
The brand suggests using the microfiber pads for wet mopping and the chenille pads for quick drying. It also comes with a cleaning scraper to make cleaning debris off of the pads between washes fast and easy.
3. Rejuvenate Click N Clean Multi-Surface Spray Mop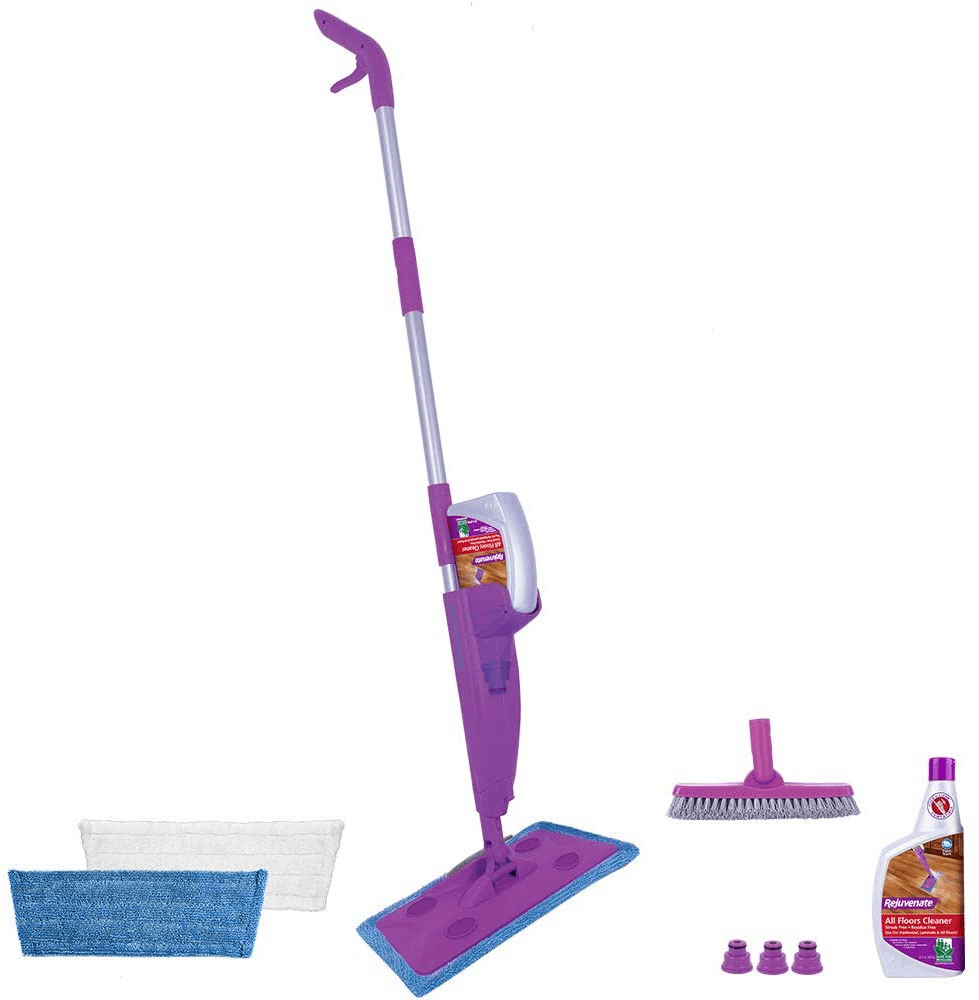 Rejuvenate's spray mop system is a complete bundle, including a spray mop, three bottle adapters, a reusable scrub pad, microfiber pad, drying pad, grout cleaning brush, and a bottle of floor cleaner. Everything you'd need to get the job done!
The bottle adapters are useful for turning any Rejuvenate floor cleaner product into an easy to install cartridge designed to fit the spray mop body.
Though this means you can't use other cleaners or DIY products, you have a wide range to choose from with Rejuvenate. They have cleaners specifically designed for different surfaces, including general floor cleaning and vinyl, marble, granite, stone, tile, and much more.
The wide variety of cleaning head products are also a stand out here. The included scrub pad is great for sticky, hard to lift messes.
Two kinds of microfiber pads are great for alternating between wet mopping and dry dusting. Plus, the grout brush makes cleaning floor tiles or stubborn dirt incredibly easy.
4. MARRAYLA Microfiber Spray Mop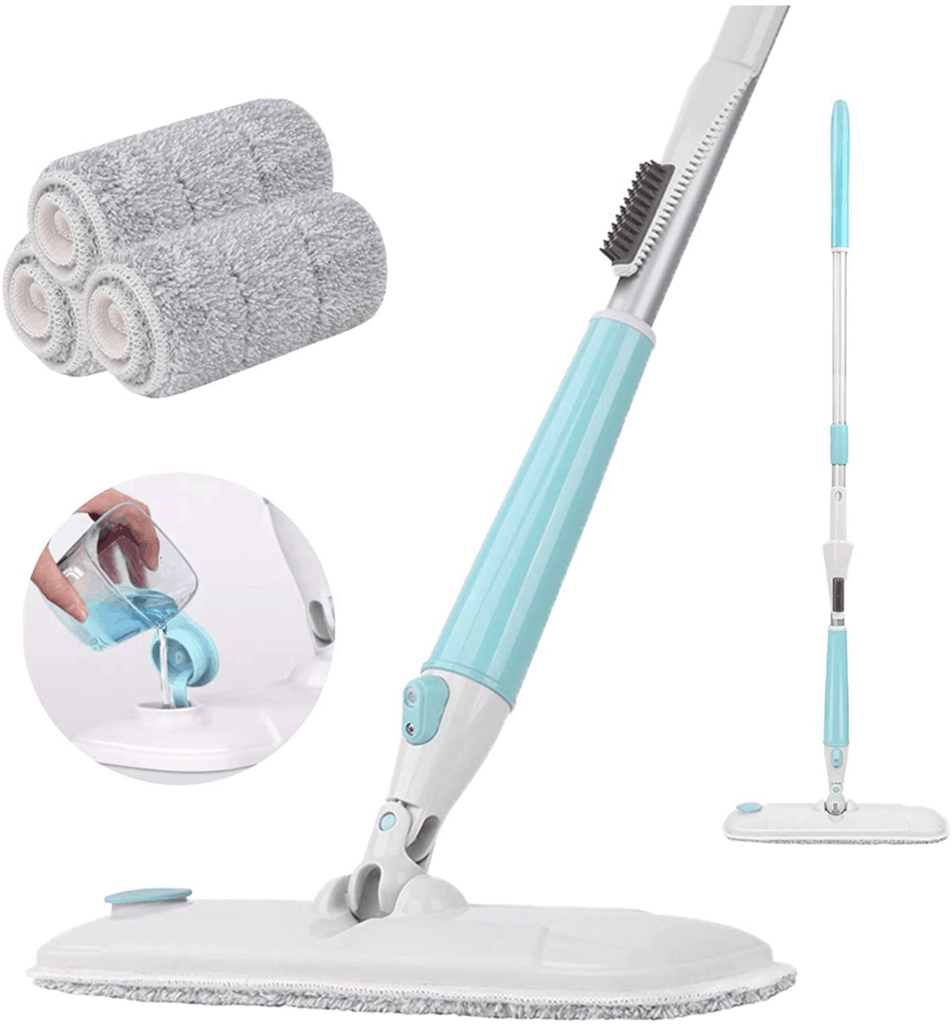 The thing that really makes this spray mop from MARRAYLA stand out is its uniquely small, slim design. This model is absent from the typical bottle tanks found on spray mops.
Instead, this mop stores all of its water in its head. While this means it cannot hold as much cleaning liquid as other spray mops on the market, it does lend to a smaller design and easier storage between uses.
Filling the tank is still easy enough, as you simply have to pour the cleaner of your choice into the tank located on the mop head. This design also leads to fewer leaking issues. The mop head rotates 360 degrees for easy cleaning.
This mop also comes with three microfiber reusable mop pads, useful for both wet and dry mopping. It also comes with a scraper comb to help with cleaning the mop heads between uses.
Spray Mop Buying Guide
Why Buy a Spray Mop?
Efficient Cleaning
If efficiency is of any importance to you, a spray mop will bring you nothing but joy. Spray mops can get you the same level of clean as a traditional mop, but much faster, and often with much better results.
In fact, a spray mop can get rid of 50% more dirt than traditional mops and remove 50% more dust and dirt with each swipe. This not only means a cleaner floor but a cleaner floor in half the time. This efficiency is upped even further depending on the features of your mop. For example, spray mops with microfiber heads tend to pick up 20% more dirt than a standard cotton mop head.
Lightweight & Easy
Many people know the dreaded task of having to fill up and lug around a heavy bucket of water to utilize a traditional mop and bucket. All of that heavy lifting is eliminated with the use of a spray mop, making it a much easier product to move around.
No more fear of spills and huge messes. Once you fill your spray mop tank, it is good to go! These mops can be easily transported around the house, up and downstairs, making it no fuss to bring throughout the home. You also eliminate the use of old, stale water that can build up in your mop bucket as you spray your floor with the fresh, clean product before each wipe.
Cleaning with a spray mop is an easy process, making it a perfect tool for those with mobility issues. It's also an easy enough tool for younger children if you're trying to get them involved in the cleaning process.
Save on Water
The loss of a traditional mop bucket isn't just efficient- it will also help you save on your water usage while you clean! The tanks on spray mops require way less water than filling a traditional bucket for the same, if not better, cleaning ability.
Plus, the lack of excess water usage can also help you save on time. You won't have to worry about filling, draining, and refilling your mop bucket as you move from room to room. You also won't have to wait as long for your floors to dry, preventing messes and even slippages due to wet floors.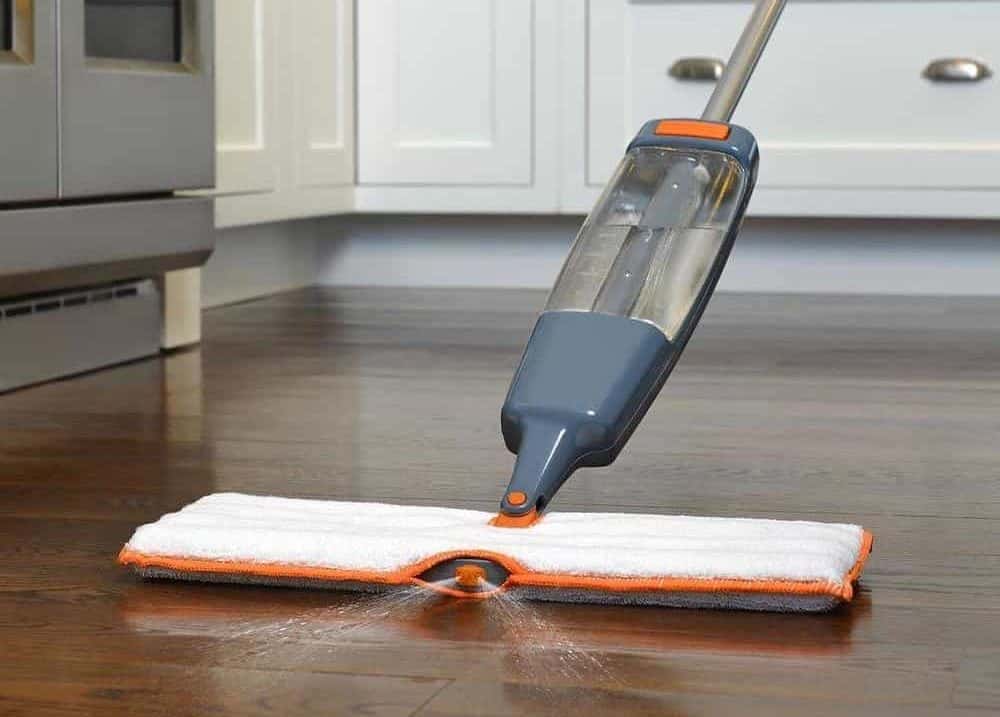 What to Consider When Choosing a Spray Mop
As you can see, there are many benefits to investing in a spray mop! Before you buy, there are a few features you should keep in mind to make sure you buy the right mop for you.
Flooring Type
Different mops work better, or worse, depending on the flooring they're being used on. You'll want to keep the kinds of floors your household has in mind before you purchase a new spray mop.
In general, you can use spray maps on most tile, stone, and hardwood flooring. However, older hardwood, especially untreated, non-laminated floors, can experience water damage from both spry and traditional mops. Be sure to look at your floors before using a spray mop to avoid water damage.
Laminate flooring is another flooring type that can struggle with the use of spray mops. Though usually water-resistant, older or improperly installed laminate struggles when it comes in contact with moisture and is prone to warping damage. The use of a microfiber head can help to reduce the risk here.
Corded vs Cordless
Spray mops can often be found in both corded and cordless models.
Cordless mops are great for their ease of use around the house. You won't have to factor in being near an outlet to use there. Most of these mops are either battery-powered or require charging between uses. This makes them quite easy to take throughout your home or space you're cleaning, letting you easily plug it back in between uses.
Alternatively, corded spray mops do need to be plugged in for use. Some users don't like the dependency on being near an outlet or the way cords can get in the way while cleaning. However, corded models tend to feature additional high-end features due to the extra boost of power, making it worth it for some users.
Manual vs Electric
Another minor point of distinction between mop models is whether they are manual or electric.
Manual spray mops tend to run less expensive, as the water needs to be dispersed manually by a trigger controlled by the user. These can be great for those who want more control over the amount of product they're using, as the product is not dispensed automatically.
In comparison, electric spray mops have an electric motor that automatically projects cleaning solutions as you go. This feature tends to show up on pricier models.
Pad Types
The type of pad used on your spray mops will depend on your model. Typically, these pads are either single-use disposable pads or reusable ones.
Reusable pads are better for the environment, and they can help you save money in the long run! These pads can be removed to be washed between uses and are often made of microfiber materials, though some may come in cotton or other materials.
Disposable pads are single-use pads that you throw away after use. Though some disposable pads can be used multiple times, most are meant to be used only once. While some may prefer these pads for ease of use, they will cost you more in the long run and create more waste than reusable pads.
Spray Mop FAQs
How often should I mop my floors?
How often you should mop your floors will depend on a variety of factors. The easiest answer would be to mop your floors any time they appear dirty, especially if they are in typically dirty areas like a bathroom or kitchen.
As a good rule of thumb, mopping your floors should be a weekly occurrence if you want to keep them as clean as possible. If you have a house full of children and pets, your floors may become dirtier faster. If you live alone or with one other adult, your flooring may not require such constant cleaning.
What cleaning solutions can I use in a spray mop?
Some popular cleaning product brands also create spray mops and will have compatible cleaners for use! However, if you aren't buying solutions made for your own mop specifically, you'll have to do it yourself.
If you're looking to fill your spray mop tank yourself, it's easy enough to combine any commercially sold floor cleaning liquid with some water to dilute it.
Typically you only need to add 3-4 tablespoon of cleaner to 2 cups of water. You can also look into creating your own DIY floor cleaning solutions if you want to avoid using store-bought cleaners.
Should I use hot or cold water?
You might assume that hot water would be ideal for cleaning with spray mops, but it's actually the opposite! Boiling water can indeed help fight bacteria, but it can also lead to warping on certain flooring types.
Hot water can also negatively affect certain cleaning products once combined. Because of this, the use of cold water is often preferred when it comes to cleaning the floor with a spray mop.