Caesar himself may not have been king for very long, but among salad dressings, Caesar dressing continues to reign supreme. From its humble beginnings in a family restaurant (more on that in a moment!), Caesar dressing has now become an institution--with Caesar salad as a staple item in restaurants everywhere and bottled Caesar dressing options lining the shelves of most supermarkets.
With all of this history and variety, it can be tough to know where to begin when shopping for this tasty dressing. That's where we come in! Rome may not have been built in a day, but thankfully, it will only take you a few minutes to get to the bottom of our top 5 picks for the best Caesar salad dressings.
What is Caesar Dressing?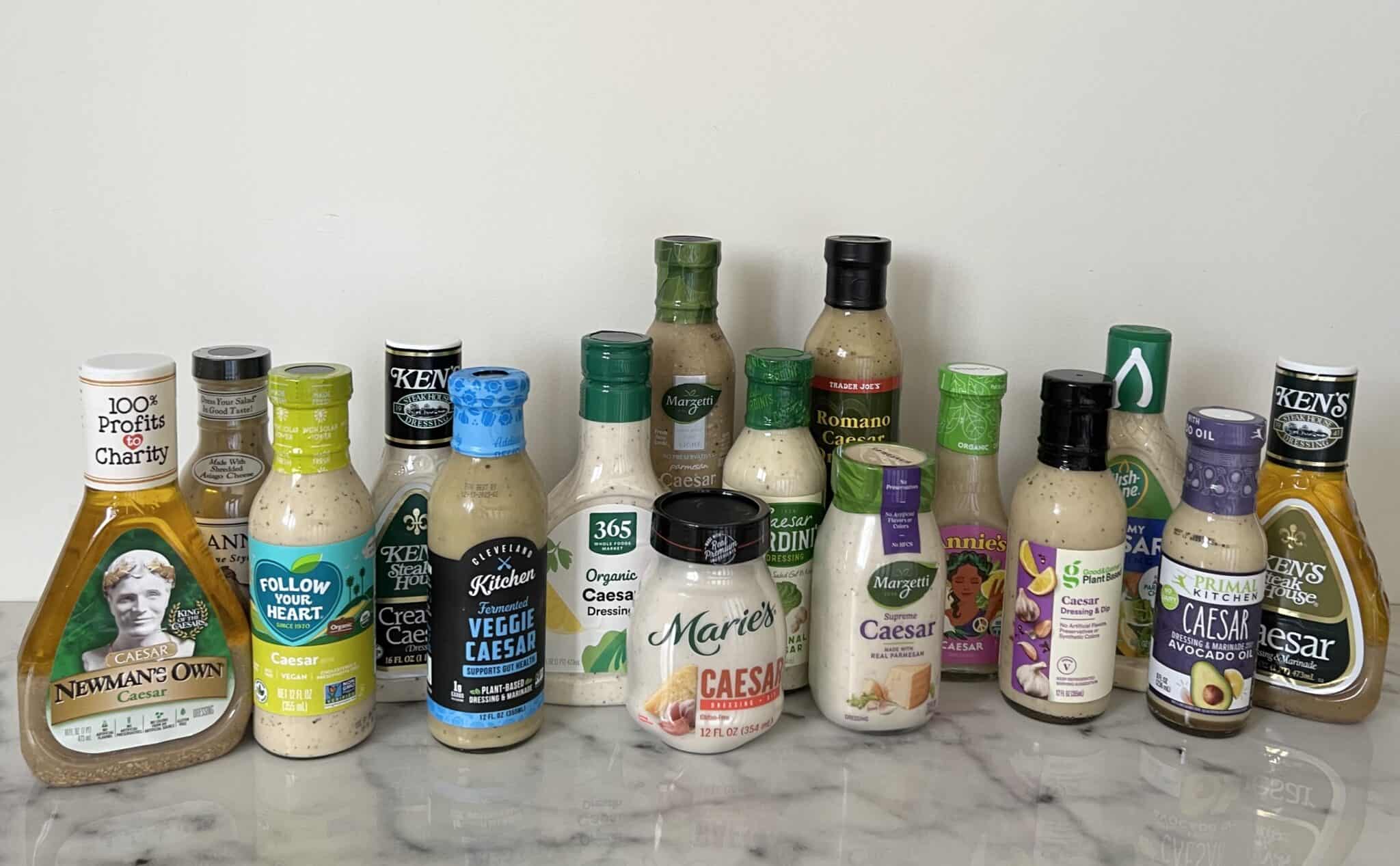 Despite its strong ties in Italian cuisine, Caesar salad dressing was actually invented in a rather surprising location: Mexico! Legend goes that Caesar Cardini, an Italian immigrant and restaurateur, was making a salad one night in the busy kitchen of his Tijuana restaurant, but the stock of typical ingredients was greatly depleted. This led him to assemble the now famous combination of romaine lettuce, parmesan cheese, and croutons, tossing it all together with a simple dressing of egg yolk, olive oil, lemon juice, plenty of roasted garlic, and black pepper.
From there, Caesar salad dressing took on many forms, shifting into both creamy and vinaigrette based versions, refrigerated as well as shelf-stable options, and dressings made from a wide range of ingredients.
Ranking the Best Store Bought Caesar Salad Dressing
In the search for the best Caesar dressing, we dipped our romaine leaves (and spoons, in some cases!) into the following 17 brands and varieties of store bought Caesar:
365 Whole Foods Market Organic Caesar Dressing
Annie's Caesar Dressing
Brianna's Home Style Asiago Caesar Dressing
Caesar Cardini's Original Caesar Dressing
Cleveland Kitchen Fermented Veggie Caesar 
Follow Your Heart Organic Vegan Caesar 
Good & Gather Plant Based Caesar Dressing and Dip
Ken's Steak House Caesar Dressing and Marinade
Ken's Steak House Creamy Caesar Dressing
Marie's Creamy Caesar Dressing + Dip
Marzetti Light Parmesan Caesar Vinaigrette
Marzetti Supreme Caesar Dressing
Newman's Own Caesar Dressing
Primal Kitchen Caesar Dressing and Marinade
Trader Joe's Romano Caesar Dressing
Wish-Bone Creamy Caesar Dressing
How We Tasted and Reviewed These Products
Since trying to compare the different types of Caesar dressing might as well be comparing apples to oranges, we broke down our dressings into these 5 different categories: Best Creamy-Style Caesar Dressing, Best Vinaigrette-Style Caesar Dressing, Best Plant-Based Caesar Dressing, Best Specialty Caesar Dressing, and Best All-Around Caesar Dressing.
In addition to the all-important (and most enjoyable!) taste test, we took careful notes on each of the following categories of measure:
Taste: the balance of flavor in each dressing as well the experience of the overall consistency.
Appearance: how the dressing looks in terms of color and texture.
Nutrition Content: including calorie content, sodium level, and any additional nutrient content based on a standard serving size of 2 tablespoons.
Unique Characteristics: such as additional product qualities or specifics about the producer.
Value: price per ounce.
Production & Availability: where the product is made and whether or not it is readily available in most areas.
Packaging: including container type, labeling, and inclusion (or lack!) of additional helpful information.
1. Best Creamy-Style Caesar Dressing:
Marzetti Supreme Caesar Dressing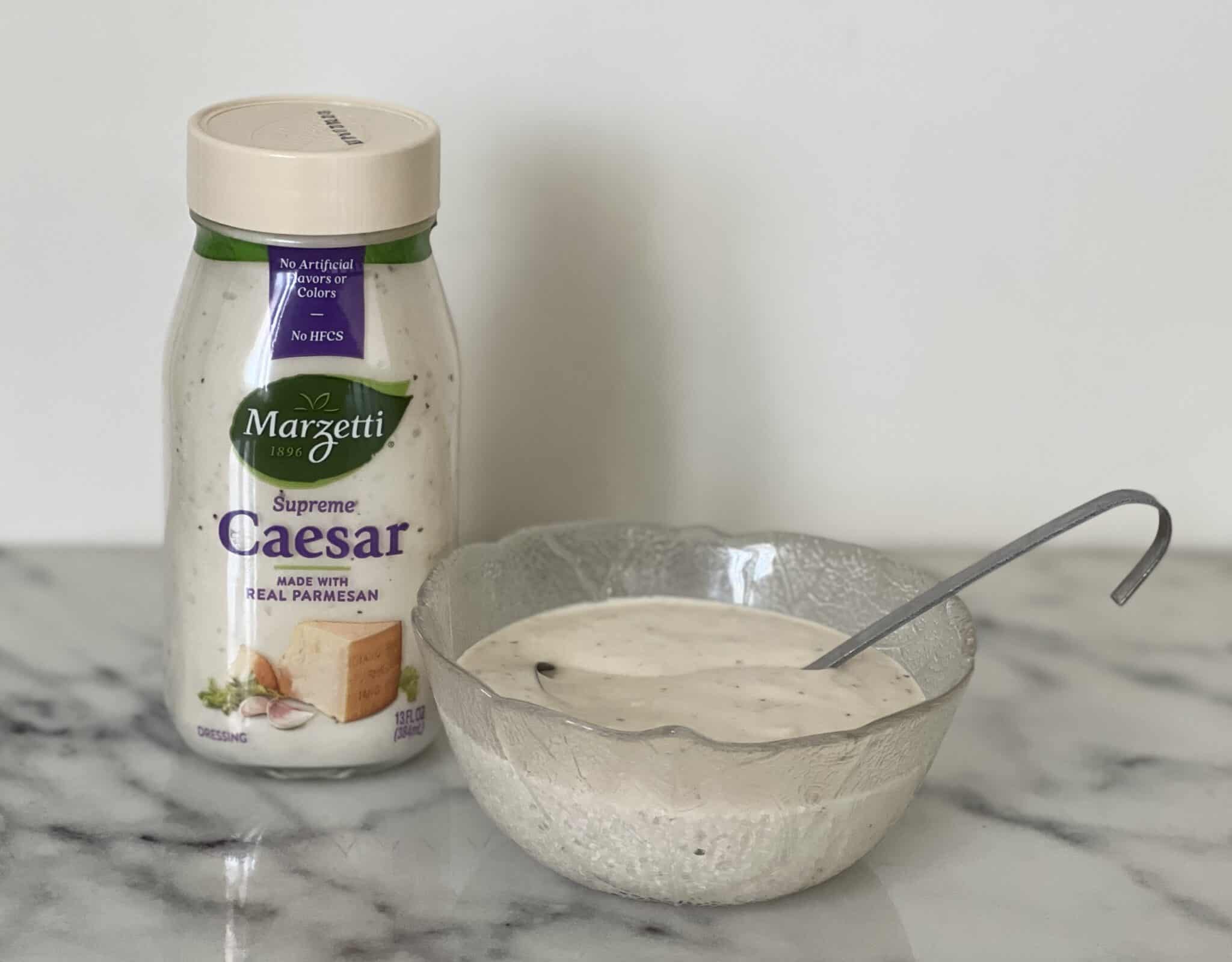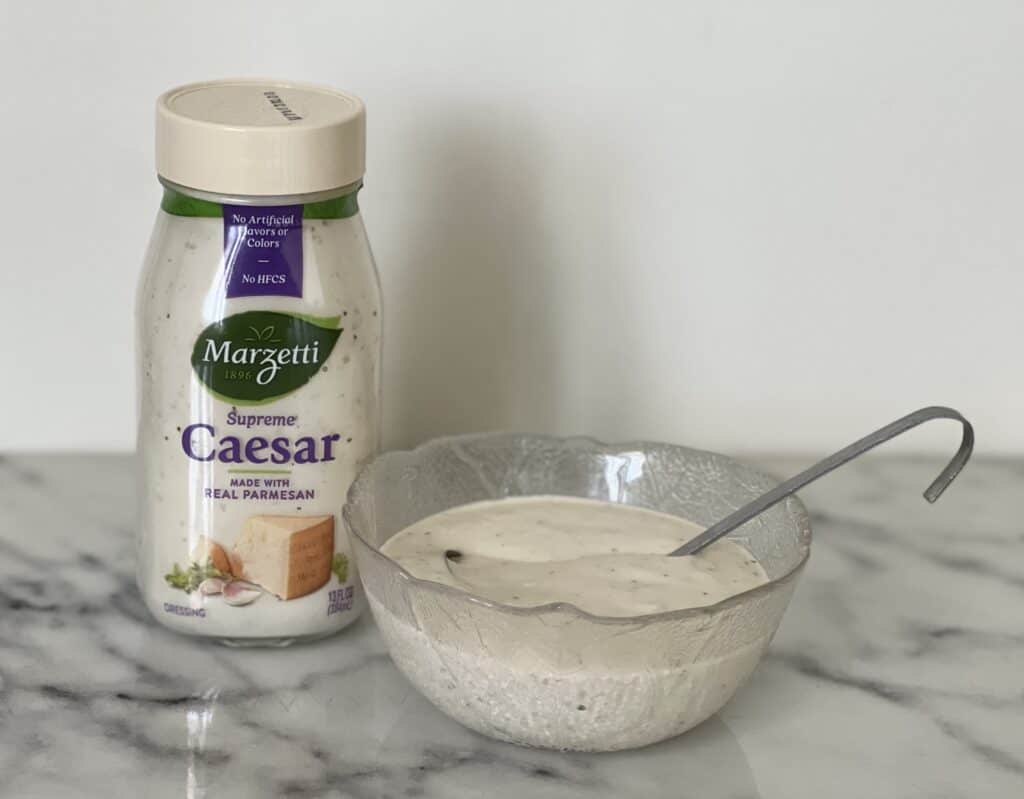 Perhaps what most folks first think of when the term "Caesar dressing" gets tossed around, this variety of salad dressing typically gets its dreamy consistency from emulsified egg yolks. When combined with oil and seasonings--in the same manner you'd use to make aioli or mayonnaise--the concoction takes on a light coloring and smooth texture.
About Marzetti Supreme Caesar Dressing
We had a tough time finding a creamy-style Caesar dressing that straight up tasted bad, but we sure found a favorite in this Marzetti Supreme Caesar Dressing! This brand was born in 1896 thanks to Theresa Marzetti, who opened up a small Italian restaurant in Ohio. The clientele so dearly adored the house-made salad dressings, that they often purchased extra bottles to take home with them. As they say, the rest is history!
We found their Supreme Caesar dressing to be exactly as advertised--supreme in the areas of taste and texture as well as boasting an impressive nutrition panel. This punchy dressing has a unique yet undeniably Caesar flavor profile thanks to the combination of ingredients like mustard seed, tamarind, molasses, and red wine vinegar as well as both parmesan and Romano cheeses!
This perfectly creamy dressing features an excellent texture which nicely toes the line between a dressing and a dip, as compared to a few other creamy varieties we tested, some of which were as thick as sour cream! We also love that the plentiful amount of dried garlic pieces (which are rehydrated by the dressing itself) add a unique and satisfying crunch to the dressing. And, this one is high fructose corn syrup free and has no artificial flavors or colors!
On the downside, this unctuous dressing is unfortunately also extra thick in calorie content--coming in at 140 calories per 2 tablespoon serving. Thankfully, it's rich enough that a little goes a long way! In addition, while the glass jar is cool and all (and we love reducing the use of single-use plastics!) the wide mouth is not at all easy to pour from.
Pros:
Contains a ton of interesting flavor ingredients such as: mustard seed, tamarind, molasses, red wine vinegar, and two cheeses!
Texture is a good balance between a dressing and a dip--thin enough to dress your salad but thick enough for satisfactory dunking of veggies and snacks.
Contains chunks of garlic throughout, which lend additional textural interest.
No high-fructose corn syrup.
Free from artificial flavors and colors.
Cons
Fairly high calorie content with 140 calories per 2 tablespoon serving.
The wide mouth glass jar is very cool looking, but difficult to pour from. Spoon required when serving this one!
2. Best Vinaigrette-Style Caesar Dressing:
Newman's Own Caesar Dressing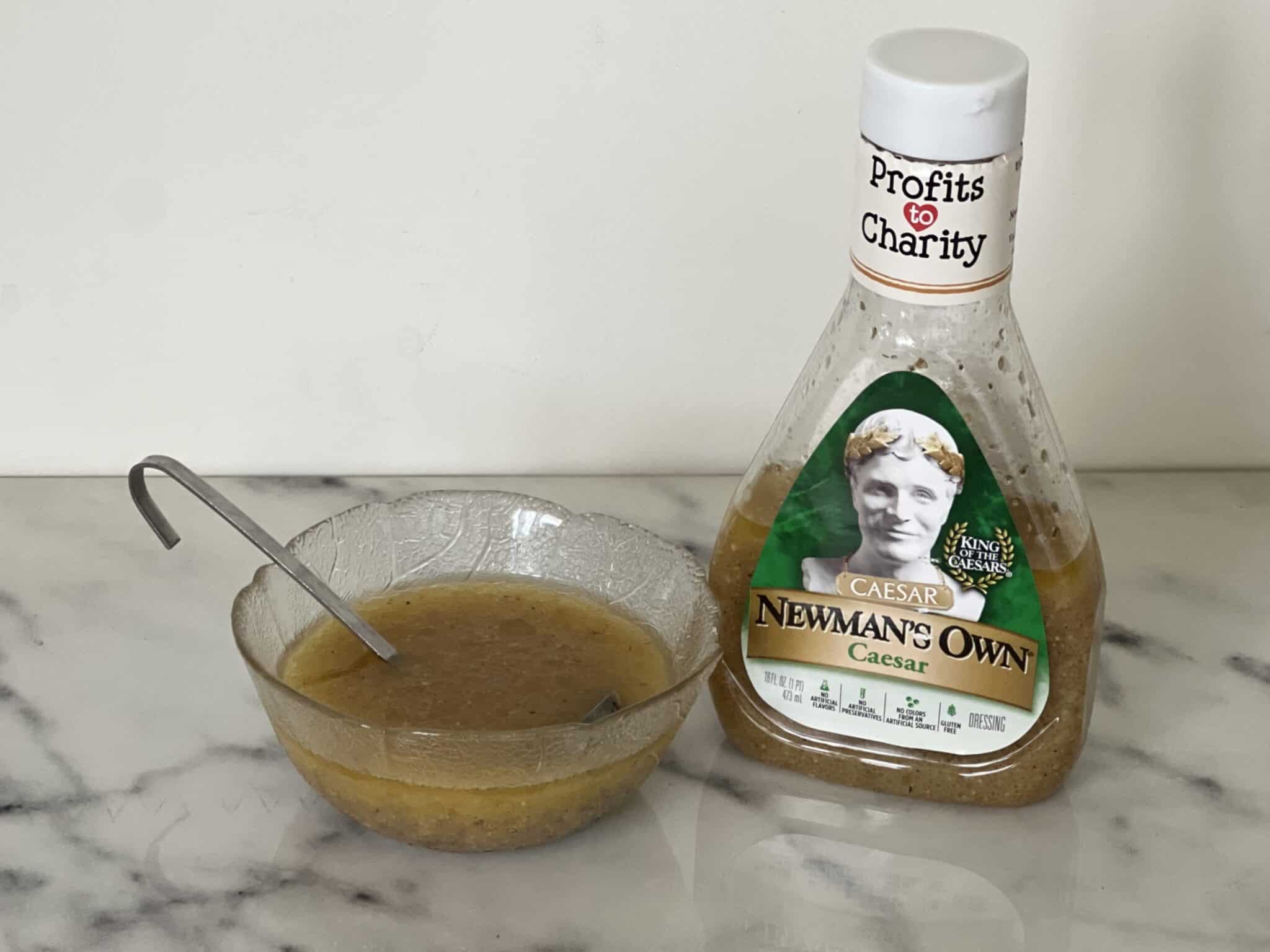 Equally delicious yet in a category all its own, vinaigrette-style Caesar dressing is up next. The key distinction between this type of dressing and its creamy counterpart is that no emulsification is happening. Without the presence of a binder such as egg yolks, vinaigrette style dressings separate into their different components and have a runny, oily consistency as opposed to thick and creamy.
About Newman's Own Caesar Dressing
However, this difference in makeup does not mean any sacrifices are made in terms of flavor! Vinaigrette-style Caesar dressing must still bear a flavor profile which is decidedly Caesar, and Newman's Own Caesar Dressing does just that. It contains plenty of tasty components like Romano cheese, apple cider vinegar, anchovy paste, garlic, mustard flour, oregano, and even a dash of cayenne pepper sauce! Don't let that last one scare you off though, it doesn't deliver a noticeable amount of heat to the table.
The problem with many vinaigrette style dressings is that they can tend to taste quite sharp. Newman's however, is rich and savory yet still pleasantly tangy without being too vinegar forward, as were some of the other vinaigrettes we evaluated. There were plenty of Romano cheese bits dispersed throughout the dressing which added great flavor and authentic texture.
The bottle features a scannable QR code on the back which takes you straight to a website with full product information. There are no artificial colors, flavors, or preservatives in this dressing. And, you may already be familiar with Newman's Own products and the fact that the proceeds from their sales go straight to charity. As if you needed one more good reason to eat your veggies (tossed in Caesar salad dressing of course!).
Honestly, it is tough to find anything bad to say about this dressing! If we're nitpicking, we might consider the fact that this dressing quickly separates after shaking to be somewhat of a negative point. A few other vinaigrette-style dressings we tested had greater quantities of xanthan gum--which serve to emulsify the dressing in the absence of egg yolks, which was an added convenience.
Pros:
Rich, savory flavor balanced by a bit of tanginess, but no vinegary sharpness.
Detectable and texturally pleasing bits of Romano cheese are dispersed throughout the dressing!
Scannable QR code on the packing which helps you to locate even more detailed information about the product and its nutrition.
No artificial colors, flavors, or preservatives.
Comes from a company that is dedicated to donating 100% of profits to charity!
Cons
Requires you to shake well before (and sometimes during!) use.
3. Best Plant-Based Caesar Dressing:
Follow Your Heart Organic Vegan Caesar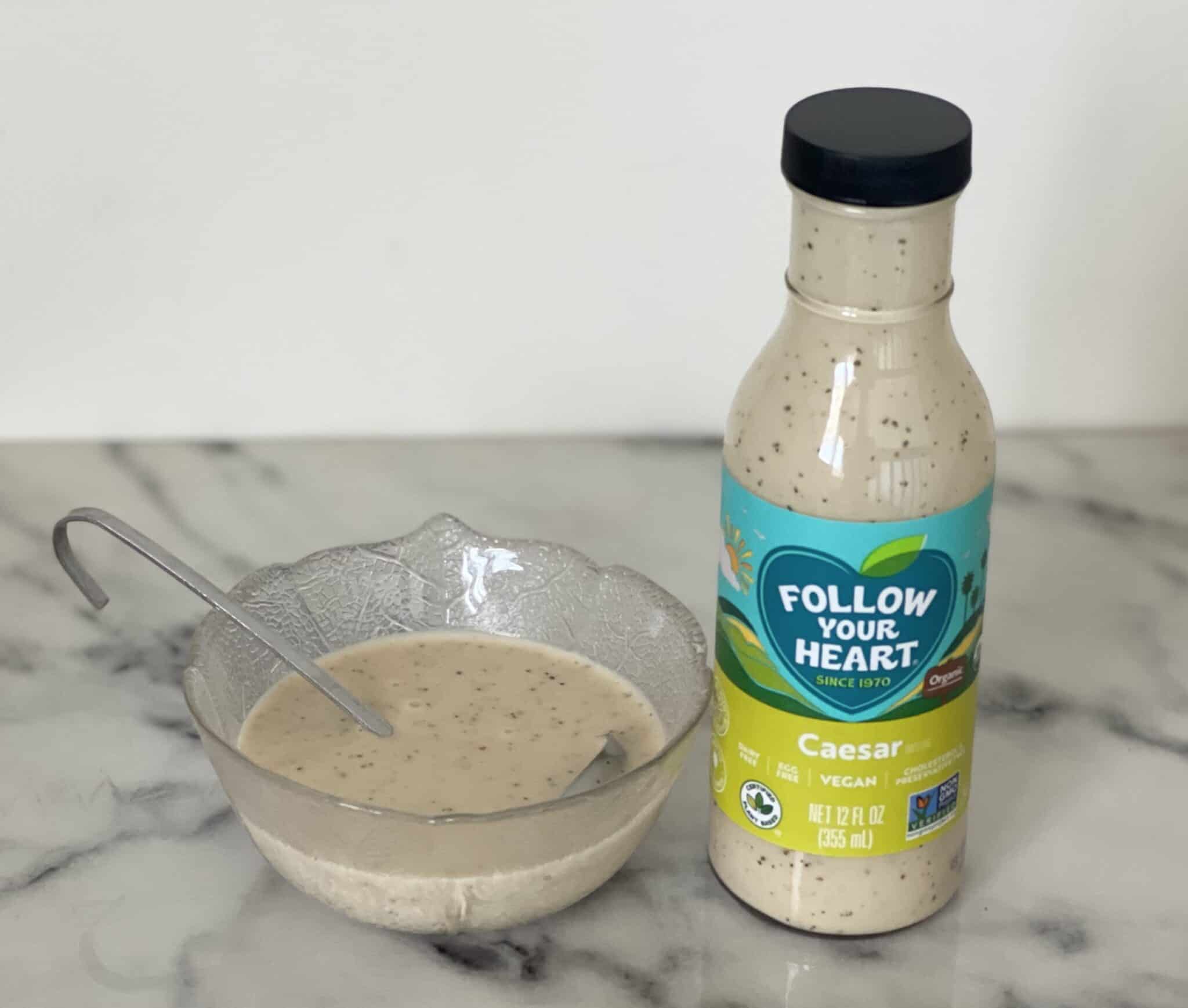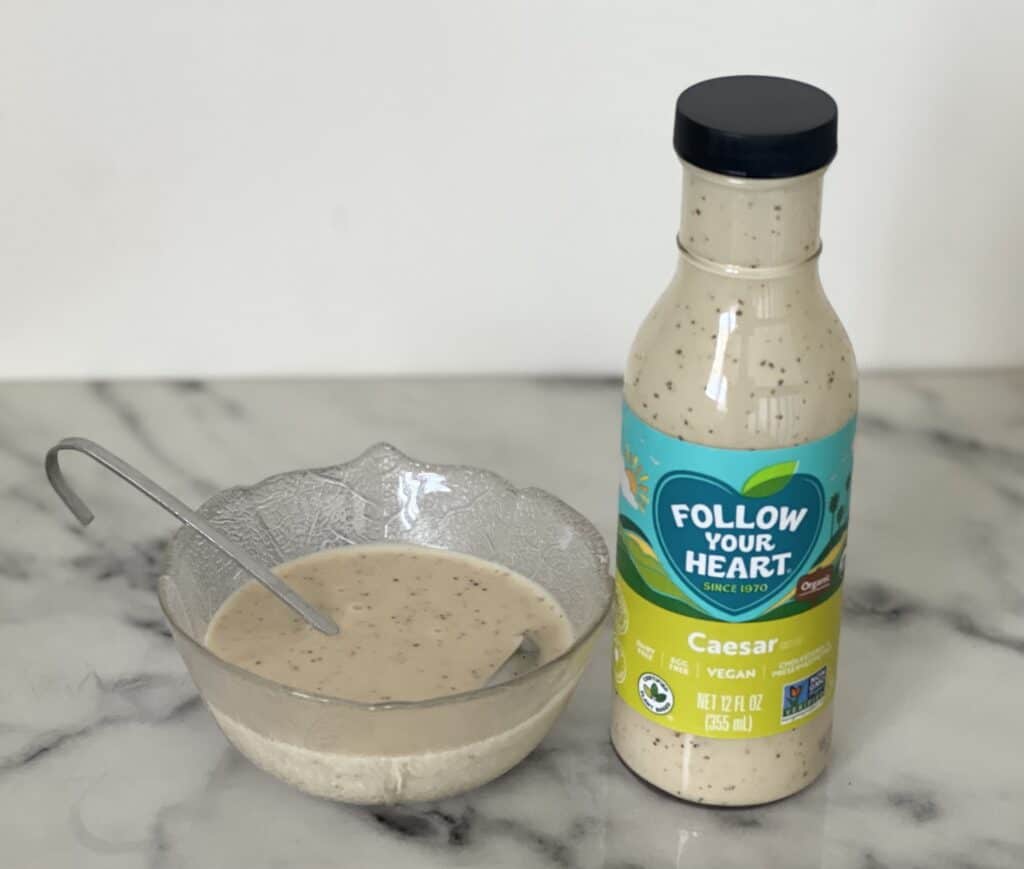 In following the footsteps of the original recipe, most store bought Caesar dressings contain cheese, egg yolks, and anchovies, making it a very un-plant-based way to dress your veggies. But hey, plant-based eaters--as well as those who simply don't care for the subtly fishy flavor of traditional Caesar dressing--like tasty salad dressings too! Thankfully, several plant-based Caesars have popped up over the years, set out to prove that making a great Caesar dressing from plant-based ingredients is entirely possible!
About Follow Your Heart Organic Vegan Caesar
Follow Your Heart has been crafting plant-based products since 1970, and we found that their Organic Vegan Caesar dressing is just the ticket! This creamy dressing is egg-free and anchovy-free, but still packs plenty of flavor and a generous amount of black pepper flakes speckle this Caesar.
Not only is this dressing plant-based, but it's actually fully certified as such, bearing the Certified Plant Based logo. It is also non-GMO verified and certified organic by Quality Assurance International, one of the largest organic certification outfits you'll find.
We noticed during our testing that without egg yolk as a binder, some of the vegan dressing varieties had a tough time in terms of texture. The remedy to this is that magical stuff xanthan gum, but in a plant based dressing it can be all too easy to overdo it and give the dressing a gummy consistency. Not the case here! The texture is cohesive without being gooey--a major feat in the world of plant-based sauces.
We love that this Caesar contains only 70 calories, as compared to other creamy dressings which had 120, 150, even 170 calories per 2 serving! And, it also gives you 657 milligrams of those heart healthy omega-3's per serving. Drizzle on!
While the texture of this dressing is pleasantly un-gummy, the fact is, it is actually quite runny. We're all for pourability here when it comes to salad dressings but this one borders a little on the edge of watery.
Another note, the ingredients list does contain Worcestershire sauce, which traditionally is made with seafood ingredients. Now, due to the multiple vegan claims on this product as well as understanding the history of the company as a whole, our money is on the fact that it must be a vegan Worcestershire sauce included in the mix. However, the packaging unfortunately does not designate it as such and we find the lack of transparency about that to be a little odd.
Pros:
Certified Plant-Based and non-GMO verified.
Certified organic by Quality Assurance International–an independent certification company.
Achieves a creamy, cohesive texture without overdoing it on the thickening agents--well done!
Only 70 calories per serving, one of the lowest of all the Caesars we tested.
Provides an impressive amount of Omega-3's per serving.
Cons
Texture is a bit on the watery side, good news for pourability, bad news for overall textural enjoyment.
The nutrition panel lists Worcestershire sauce as an ingredient--presumed to be a vegan Worcestershire sauce, but this is unclear.
4. Best Specialty Caesar Dressing:
Cleveland Kitchen Fermented Veggie Caesar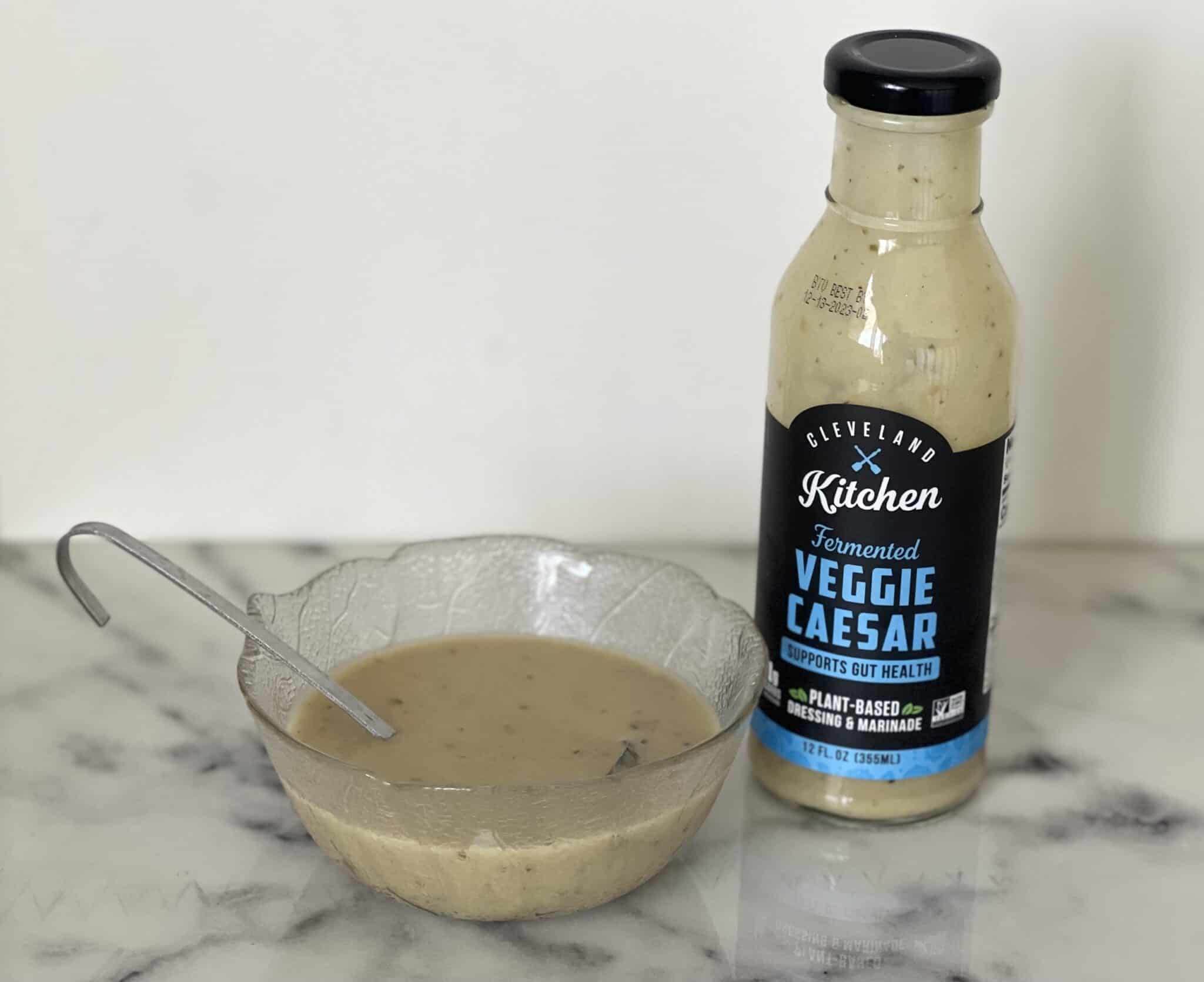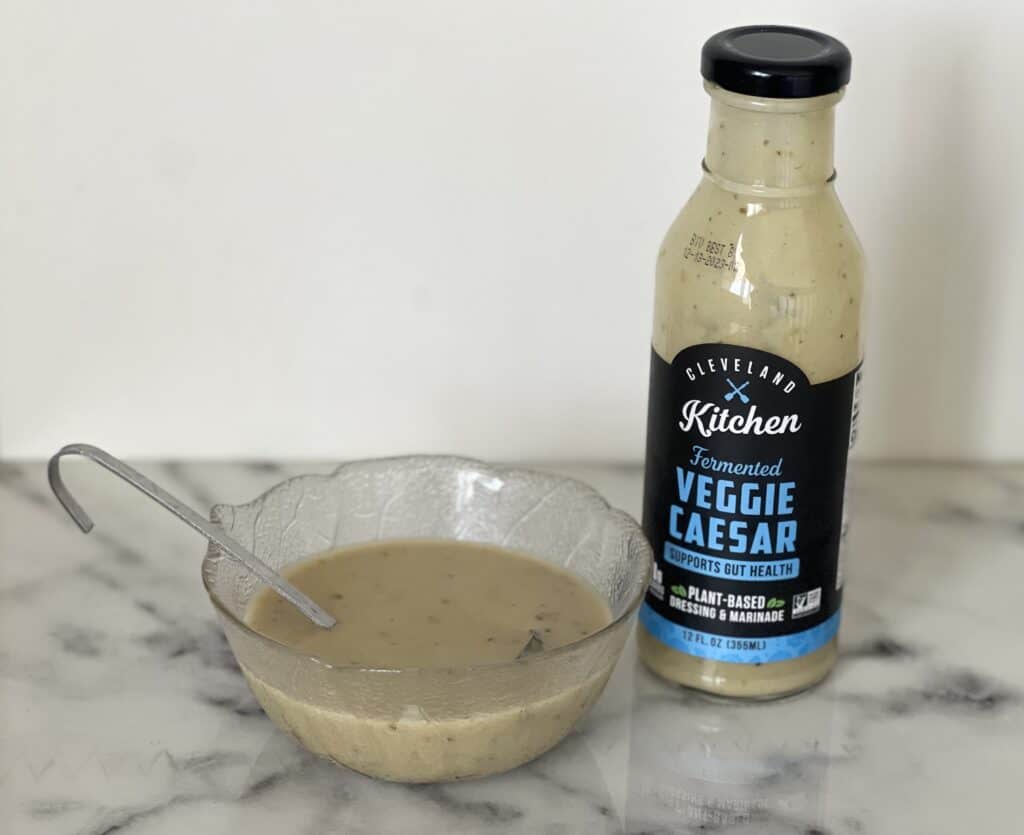 Out of all of the brands and varieties of Caesar dressing we tested, there were a few that had some really unique things going on inside their bottles. They may not be the classic Caesar salad dressings you think of, but we loved them for their ingenuity, new flavor elements, and unexpected characteristics.
About Cleveland Kitchen Fermented Veggie Caesar
You already know that fermented foods are good for you, but the real mystery lies in just how to get enough of them into your diet! Sure you can eat some sauerkraut and drink some kombucha but what else is there?
Thankfully, the folks at Cleveland Kitchen set out to give us another option: Fermented Veggie Caesar! This dressing uses fermented cabbage as a base and is jazzed up by the addition of Dijon mustard, caraway seeds, plenty of garlic, onion, and thyme--giving this dressing a unique yet clearly Caesar-esque taste with a cool, crunchy texture to boot!
In addition to supporting gut health, thanks to all those healthy microbes of course, this Caesar dressing also boasts a super low calorie count at just 50 per serving, as well as only 1 gram of carbohydrates! This means this dressing is super keto friendly, and is actually vegan as well. Perhaps our favorite thing about this dressing is the ingredients label. It features all whole, recognizable food items, assuring you that this product is made from real food and not loaded up on synthetic stuff.
As is the territory with "uniqueness" comes a diversion from tradition–meaning, the taste of this dressing is definitely not on-the-nose "Caesar" and may not be your first pick if you are looking for that classic flavor. Nevertheless! We stand by it as a great choice if you are in the market for something a bit different. The addition of the fermented veggies also gives this dressing a bit of a separated appearance, definitely less cohesive than some others we tried. And, it's worth noting that this special dressing is in the top tier in terms of price tag!
Pros:
Is made from fermented cabbage, offering numerous health benefits as well as unique taste and crunchy textural profile!
At just 50 calories, this is the lowest of all Caesar dressings we tested.
1 gram carbohydrates per serving means this dressing is keto-friendly!
Vegan-friendly as well.
Nothing complex on the ingredients panel, just easy to recognize whole food items.
Cons
The overall flavor profile is distinctly different from your average Caesar and will probably not hit the right spot if you are craving the classics.
The texture on this one is a bit odd and incohesive--somewhat separated due to the multitude of veggies in the mix.
Among the top few dressings in terms of pricing, coming in at almost $.50 per ounce!
5. Best All-Around Caesar Dressing:
Brianna's Home Style Asiago Caesar Dressing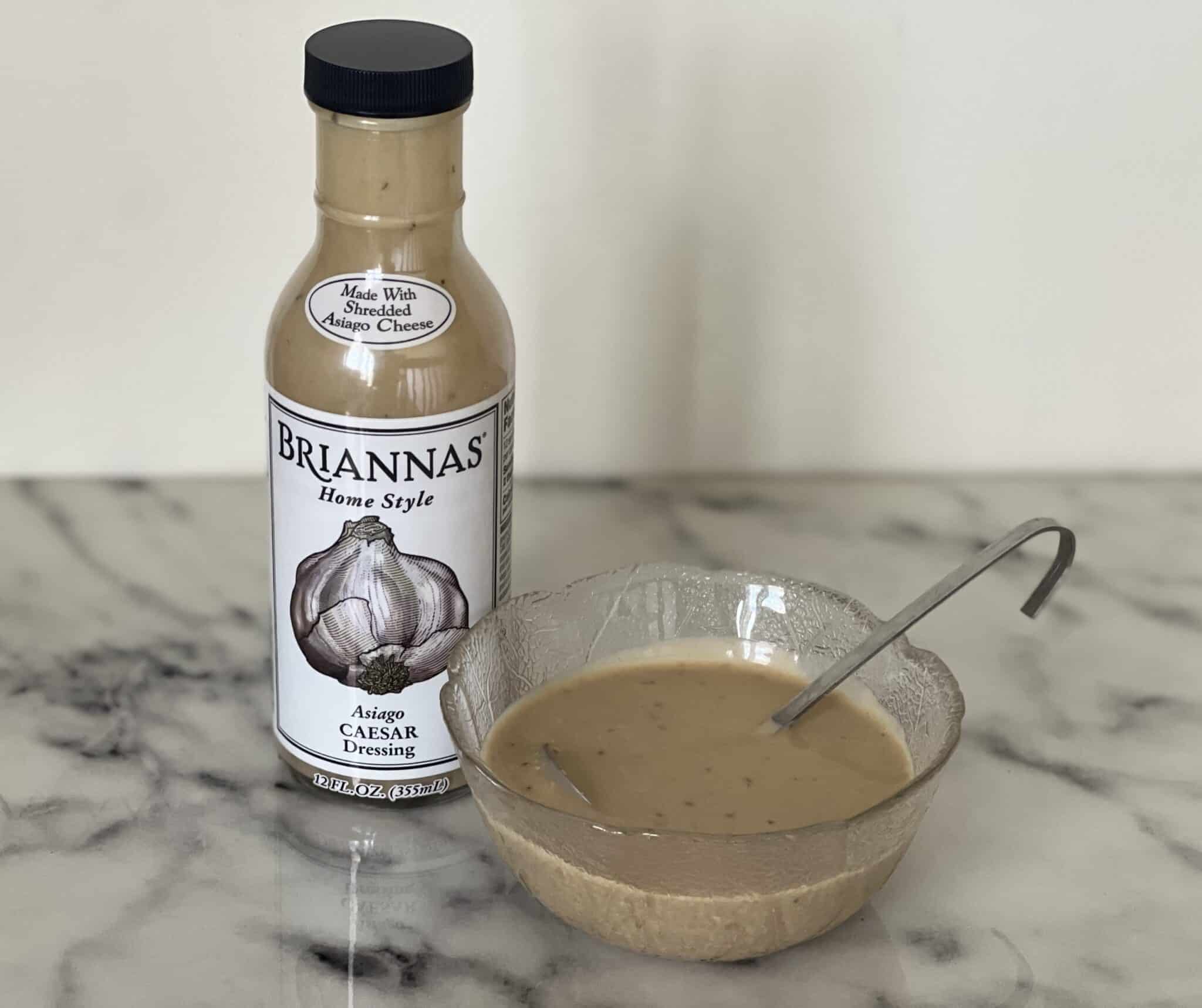 So far we've covered the best creamy-style, best vinaigrette-style, best plant-based, and best specialty Caesar dressings, but what to reach for when you seek a simple, middle-of-the-road option? The best all-around Caesar dressing of course!
About Brianna's Home Style Asiago Caesar Dressing
Brianna's began crafting dressings over 30 years ago, at first in small batches to serve their local Austin, TX clientele. As they grew in popularity though, thanks to unique flavor combinations such as Blueberry Balsamic and Lemon Tarragon, they scaled up the production as well. Now these products can be found in most major grocery stores and are often highly sought after.
Their tasty Home Style Asiago Caesar Dressing, our pick for the best all-around Caesar dressing, is made with real shredded asiago cheese--which tends to have a creamier, milder flavor as compared to parmesan--and as such, packs a ton of savory flavor. This vegetarian dressing omits the anchovies (although it still contains egg and cheese ingredients), yet still has an excellent robust flavor thanks to tamarind paste, garlic puree, balsamic vinegar, and Dijon mustard.
The dressing has a unique, rich coloring where most other Caesar dressings are pale in comparison, and offers a texture that is perfectly balanced in between creamy-style and vinaigrette-style. There is no high fructose corn syrup in this dressing and overall, we love it for the fact that it is a nice middle of the road option that balances taste and texture with quality of ingredients, accessibility, and price.
While most grocery stores and markets we visited did indeed carry several choices of Brianna's dressings, we actually had a hard time locating their Asiago Caesar, so folks may find it a bit tougher to source than some of the other options. Also, we don't love that this one has a rather lengthy ingredients label with some preservatives that many other dressings we tested were free from, and we did notice that this dressing sports the "bioengineered" emblem on the back.
Pros:
Contains shredded asiago cheese, as well as other flavorful ingredients such as tamarind, garlic puree, balsamic vinegar, and Dijon mustard.
The dressing has a lovely rich tan coloring, as opposed to white or off white as most others.
Consistency is right in between creamy and vinaigrette, giving you some characteristics of each.
No high fructose corn syrup.
Provides a good balance of flavor and quality with price and accessibility!
Cons
Finding this particular type of Brianna's dressing was not the easiest.
Had a much more complicated ingredients label than some others and contains a handful of preservatives.
Has the "bioengineered" symbol on the label, meaning it contains genetically modified ingredients.
Final Thoughts on the Top 5 Caesar Dressings
If you've ever felt overwhelmed in the salad dressing aisle of the grocery store, you're not alone! The seemingly endless number of choices can throw a wrench in the efficiency of your shopping trip, when all you're trying to do is pump up the flavor of your fresh veggies!
Whether you seek a creamy-style Caesar dressing or are looking to try the coolest, most unique new style of Caesar that's out there, there are some clear cut top choices to meet the specifics of any palate.