Many different types of foods are just an easy pick for the "America's Top Favorite Dinner" list.
Of course, the foods on the list are subjective to the individual, but if you take a survey of the entire country, you will undoubtedly find pasta more often than not on that list. And what is pasta without a delicious sauce such as pesto to go with it?
For years now, Italian sauces such as Alfredo and marinara have dominated the "most popular and delectable" list.
Slowly, however, more and more people are starting to realize that other, different, yet delicious options are available on the market. Out of all the "other sauces," pesto has garnered the most interest from foodies.
It's just one of those highly versatile sauces. You can use it as a sauce to slather over your noodles or something to finish off your sandwiches. Ideally, however, it's the kind of sauce you want on your pasta.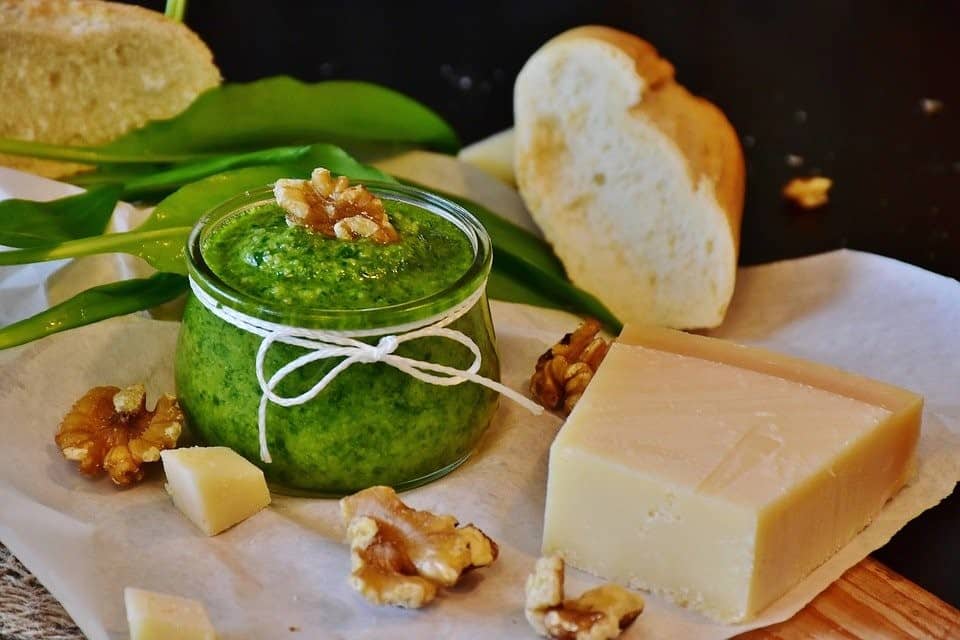 The Best Store Bought Pesto
The thing about making your own pesto, as simple as the process might be, is that it is still work. Some people don't have the time nor the inclination to do this week in and week out.
In some cases, it's not even about being unwilling to do the work but the desire to try something different from time to time. With that in mind, getting your hands on some store bought pesto is always a good idea.
Thankfully, there are so many available options for those who are willing to explore. Here are some of the best store bought pesto you can enjoy with your pasta:
1. Best Overall - Barilla Traditional Basil Pesto Sauce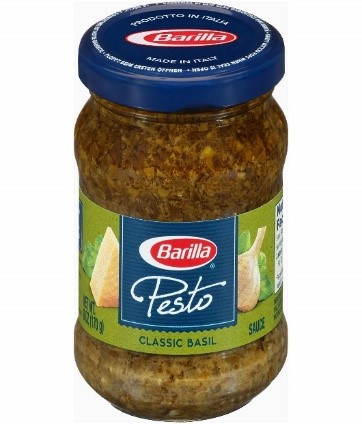 This Barilla Traditional Basil Pesto Sauce has a light flavor. It is the perfect sauce to use on various foods such as sandwiches, pizza, chicken, vegetable salads, fish, and pasta.
Featuring a list of high-quality, flavorful ingredients such as freshly grated specialty cheese from Italy, this pesto is made with sweet farm fresh basil.
It is good for people who have special dietary needs. It's gluten-free, peanut-free, and fish free. Finally, it comes in a host of flavors such as Creamy Ricotta & Basil and Sun-Dried Tomato.
Pros
Quite tasty
Gluten-free
Made using high-quality ingredients
Non-GMO
Cons
2. Best Aromatic Option - Compagnia Sanremo Pesto DOP Basil Pesto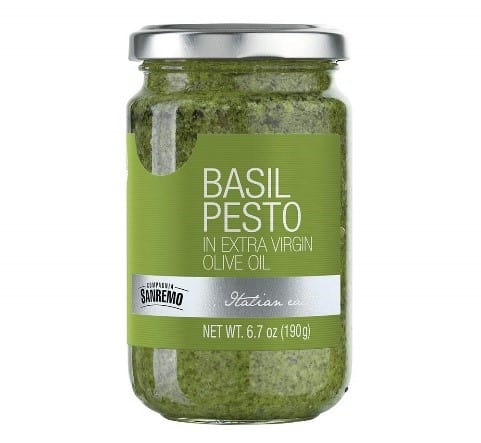 If you are looking for one of the most aromatic pestos on the market, you should give this Compagnia Sanremo Pesto DOP Basil Pesto a second look. Made using Genovese basil D.O.P., which has an intense aroma, you will be engulfed in that sweet scent as soon as you open the jar.
This is an authentic Italian pesto made of high-quality ingredients, including cashew nuts, salt, Extra Virgin Oil, and pine nuts. It has a fine texture and works very well with most dishes, including pasta, lasagna, spaghetti, and gnocchi.
Pros
Has a sweet aroma
Nice texture
Made using high-quality ingredients
Cons
Some people might not like the strong aroma
3. Best Mix Option - Knorr Pasta Sauce Mix Pesto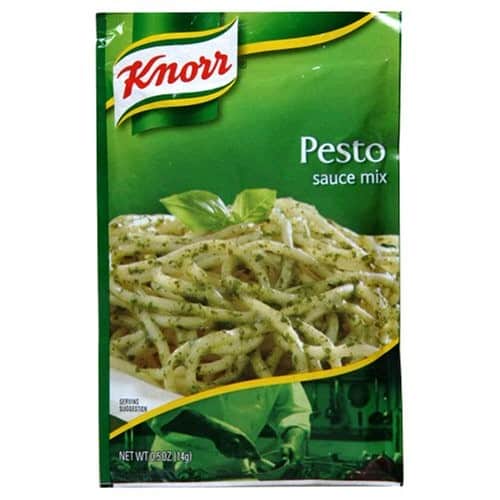 You can never really go too wrong with trusted brands such as Knorr. That being said, some people might have some reservations about buying a pesto mix as opposed to the sauce itself in a jar. Thankfully, however, this Knorr Pasta Sauce Mix Pesto doesn't disappoint.
It has a rich flavor that has hints of garlic, onions, and spinach. A single 0.5 oz. sachet can make half a cup of pasta sauce, and all you have to do is cook it for 7 minutes.
It's an easy to make sauce that is perfectly balanced and makes an excellent addition to meals such as pasta, spaghetti, and lasagna.
Pros
Easy to make
Comes in sachets
Easy to preserve
Perfectly balanced
Rich flavors
Cons
It's a powdery mix which might turn some people off
4. Best Traditionally Made Option - Mezzetta Basil Pesto Sauce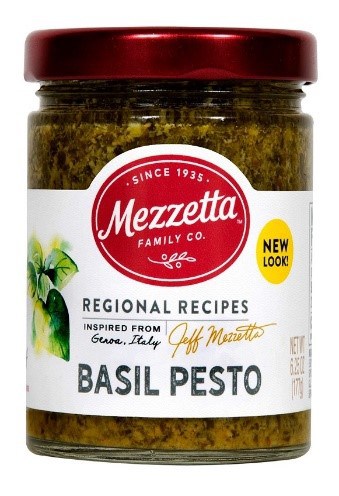 If you can get your hands on anything that has been made using the traditional methods and ingredients of its origin, then you can get your hands on something special.
This is especially true when it comes to food and sauces. This Mezzetta Basil Pesto Sauce is exactly that and so much more. Made using a classic Italian recipe and some of the best, high-quality ingredients, this pesto sauce has tantalizing flavors.
As soon as it hits your mouth, you will pick up hints of pine nuts, garlic, Extra Virgin Oil, fresh basil, and savory Parmesan cheese.
Coming to you in an easy to use glass jar, this sauce can be used on a wide variety of dishes, including grilled meats, roasted vegetables, pasta, fish, and so much more.
Pros
Made using traditional Italian ingredients
Has a wonderful taste
Pairs well with a lot of dishes
Cons
Taste might be too mild for some people
5. Best Made-in-Italy Option - Barilla: "Pesto alla Genovese" With fresh basil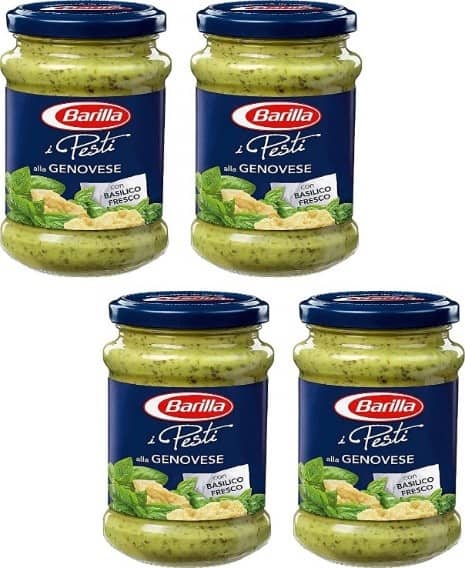 There is no doubt that if you are going to eat something, you want to eat it straight from the source. This Barilla: "Pesto alla Genovese" With fresh basil sauce comes to you straight from Italy.
The good thing is that it isn't just about the packaging. It's everything else: the ingredients, the recipe, and the entire process that goes into making it.
Even though it comes in tiny 6 oz. bottles, you get two portions of tasty gluten-free goodness from each. The sauce has a particular Italian flavor that makes it perfect for pasta, lasagna, and spaghetti dishes.
Pros
Made in Italy
Has a tasty Italian flavor
Gluten-free
Cons
Buying Guide for Choosing the Best Store Bought Pesto
Although almost any homemade recipe is always better than a store bought option, using one of our picks above offers a great alternative. Below we'll go over some key factors to consider before making your purchase.
Flavor
This one might seem obvious, but making sure the pesto lives up to your expectations is probably the most important thing to consider. Pesto sauce is always made up of a few key ingredients: basil, pine nuts, garlic, olive oil, and parmesan. If your store bought pesto is missing any of these, you definitely want to avoid it. Other things you want to consider is the balance of the flavors - were they incorporated properly into the pesto? Did one flavor outweigh others? Not balancing flavors properly can be the difference between great pesto and a bust. Unfortunately, there's really only one way to test this out - by trying one out. But once you find that perfect sauce, then you can make note of it and keep coming back for more! Our top pick is the Barilla Traditional pesto sauce.
Texture
Depending on how you make your pesto, or in this case, how other brands process theirs, the texture can be quite different. Traditionally, pesto is finely blended, however a more rustic and grainy texture isn't out of the ordinary and many people prefer it. What it comes down to really is personal preference. Do you prefer it finely blended so you can spread it on your crostini or mix it in with pasta? Or do you prefer the rustic version? Definitely something to consider based on how you'll be eating your sauce.
Appearance
Similar to texture, appearance really just has to do with personal preference. How will you be serving the pesto? Are you more concerned with just getting it on your dish or do you want it to be presented a specific way? Some pesto brands look a lot more appealing than others depending on the balance of ingredients. If you're serving it as a party dish, you may want a more vibrant green colored pesto so it looks more appetizing to your guests.
Frequently Asked Questions About Pesto
If you are used to making your own pesto at home, you might be new to this whole "store bought pesto" alternative.
The best part is that nothing is too complicated about it as most store bought pesto brands are quite excellent. Many of them taste amazing and are akin to what you would actually get in Italian restaurants.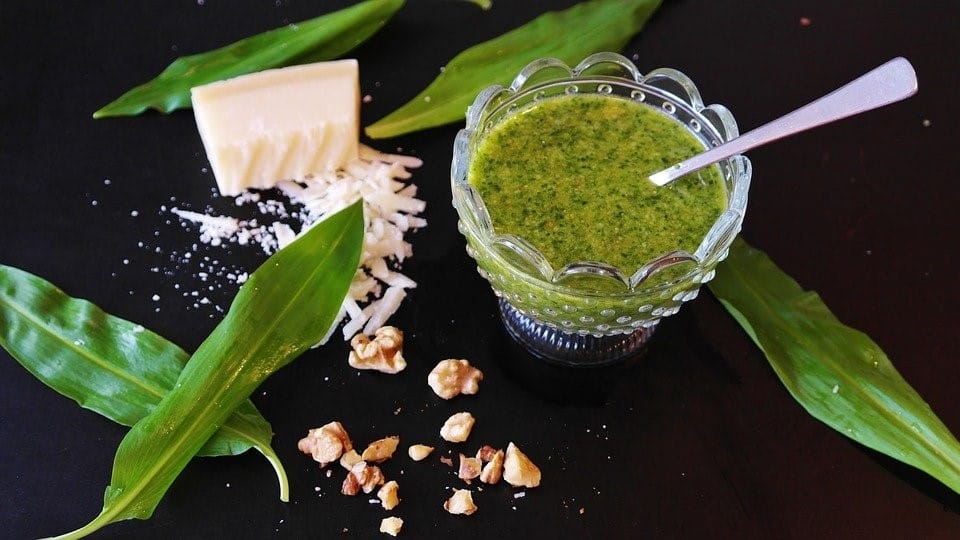 However, you are still going to have some questions about your options. Here are some of the most commonly asked questions and answers about store bought pesto:
What goes well with store bought pesto?
Granted, the go-to dishes that pair well with pesto include traditional Italian dishes such as pasta, spaghetti, and lasagna. However, do you know that there are other options you could try?
You could do shrimp linguine, sweet pepper pesto bowties, veggie-packed gnocchi dish, and so much more. It all depends on how creative you are with different flavors.
Does pesto work well with bread?
Yes, you could very well use your pesto as a simple yet delicious spread on a host of sandwiches.
How long does store bought pesto last?
This depends on a few variables. Do you intend to refrigerate it, leave it in the pantry, or put it in the freezer? If you leave it on a shelf in the pantry, then your store bought pesto can last up to 14 days.
However, if you are going to make sure that it's refrigerated, it can last anywhere from 6 to 8 weeks. If you don't intend to use your pesto that often or are just thinking of stocking up and intend to use the freezer, then you can expect your pesto to last up to 8 months.
Depending on the brand you pick and the ingredients used to make it (as well as the method), store bought pesto can taste just like your favorite homemade option. The alternatives highlighted above are both tasty and easy to use.