Everyone can agree that fresh strawberries are one sweet treat! Hulling them, however, can be quite a pain, especially if you have a lot of little berries on your hands--whether you plan to enjoy them fresh or are whipping up some big berry recipes like our Simple 3-Ingredient Strawberry Jam or a hearty Steak Salad with Strawberry Sriracha Dressing.
But did you know there's one tiny tool which can make your food prep worlds easier? Meet the strawberry huller! These nifty gadgets come in so many different shapes and sizes, you might not even know where to start when looking to add one of these to your kitchen implement collection.
For this reason, we're doing some thorough hands-on testing of 10 different strawberry hulling tools in order to let you know which one to reach for. With our help, you'll be more than ready the next time strawberry season gets the best of you and you suddenly find yourself leaving the market with a bucket load of these seasonal gems!
What is a Strawberry Huller?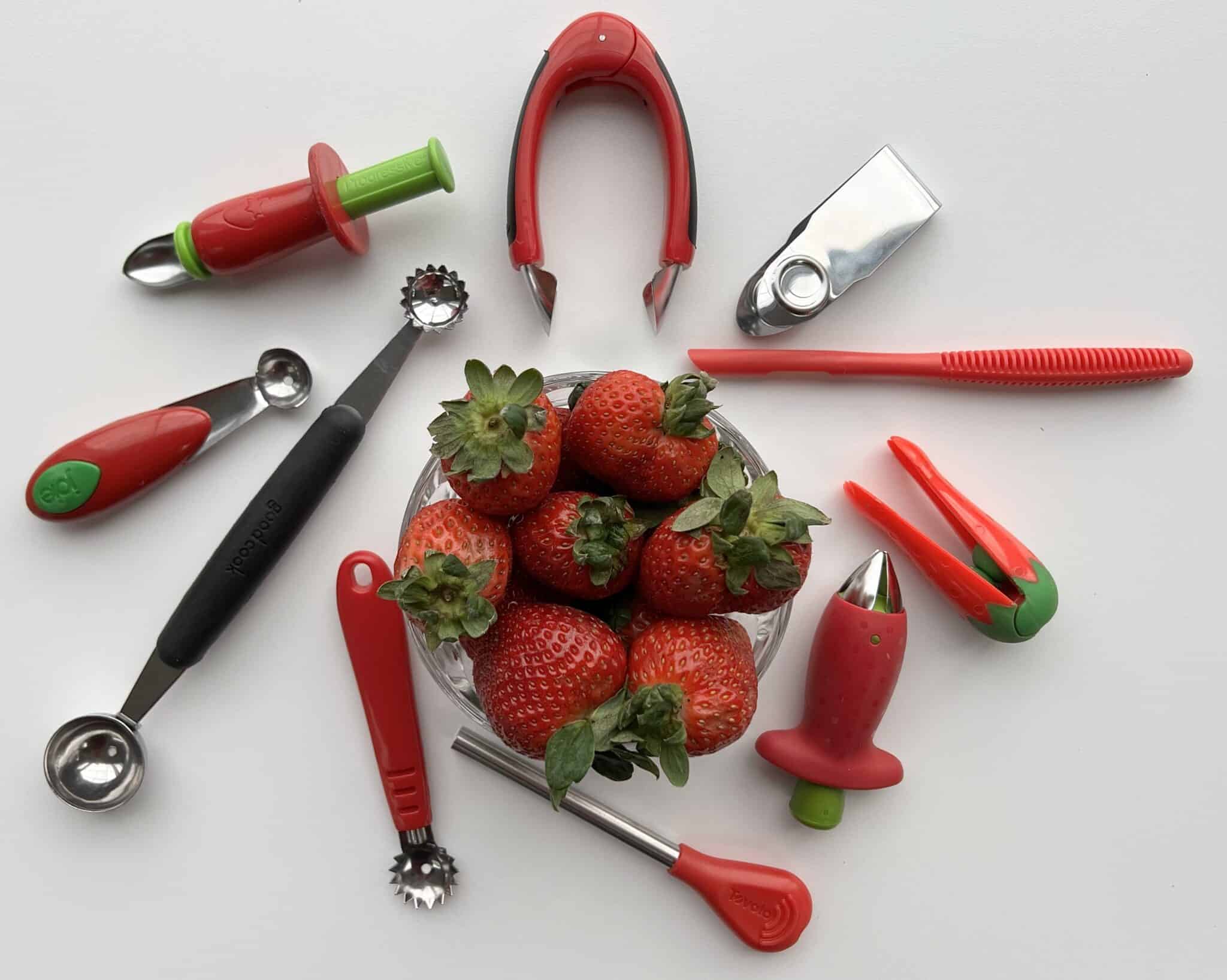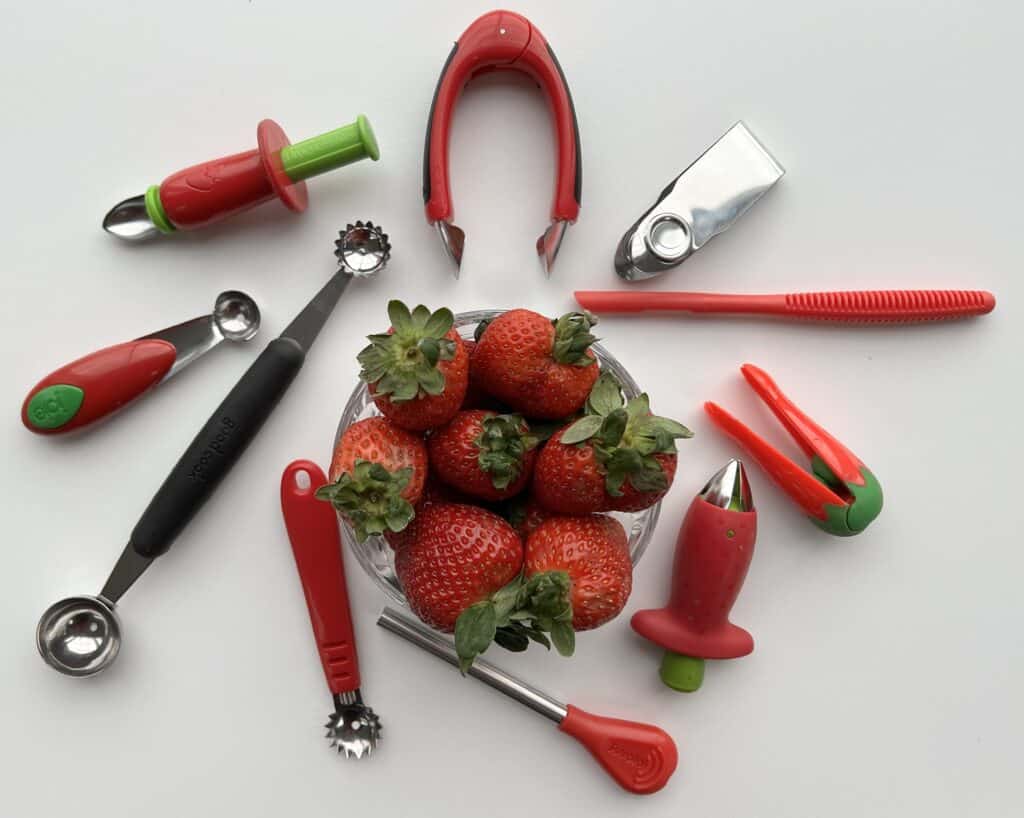 Simply put, a strawberry huller is a small, handheld tool that is specifically designed to make the task of hulling strawberries easier and faster. You may also see these types of devices referred to as a "strawberry stem remover" or "strawberry corer".
The key to a good strawberry huller is that it is able to remove the leaves and core while simultaneously preserving as much of the sweet flesh of the berry as possible. After all, these precious treats are too good to waste!
Types of Strawberry Hullers We Tested
In our search for the best strawberry huller, we gathered together 10 of the most popular strawberry hulling tools including the following:
Berry Blaster Strawberry Huller
Casabella Strawberry Huller
Chef'n Original Stem Gem Strawberry Huller
GoodCook Tough Fruit Baller and Huller
Joie MSC Strawberry Hull & Slice
Luzen Stainless Steel Strawberry Huller Fruit Stem Remover
Norpro Stainless Steel Strawberry Huller and Tomato Stem Corer
OXO Good Grips Strawberry Huller
Progressive Prep Solutions Push n' Spin Strawberry Huller
Tovolo Push & Hull Strawberry Huller
How We Tested and Reviewed These Products
First things first, we got a box of strawberries and went to work, stemming, scooping and slicing. The gadgets each fell into one of four main categories: Best Scoop-Style Strawberry Huller, Best Tong-Style Strawberry Huller, Best Stick-Style Strawberry Huller, and Best Plunger-Style Strawberry Huller . We also opted to add a fifth category of evaluation--the Bottom Line Best Strawberry Huller--to serve as our top pick, regardless of style!
A we tested and evaluated each strawberry tool, we paid special attention to certain criteria along the way:
1. Functionality: how well each device performs its strawberry hulling tasks as well as whether or not it can be used for other purposes, as many of these tools can help with other food preparation tasks as well.
2. Quality & Design: the quality of materials and visual appeal of each tool, as well as any special design ingenuity or unfortunate flaw.
3. Value: taking into account the overall quality of each tool in relation to its price tag.
4. Packaging: whether or not the product packaging contains helpful instruction or other useful information, as well as other factors such as recyclability and ease of opening.
5. Unique Characteristics: including any additional special features that may set one product apart from its competition.
Best Scoop-Style Strawberry Huller: Joie MSC Strawberry Hull & Slice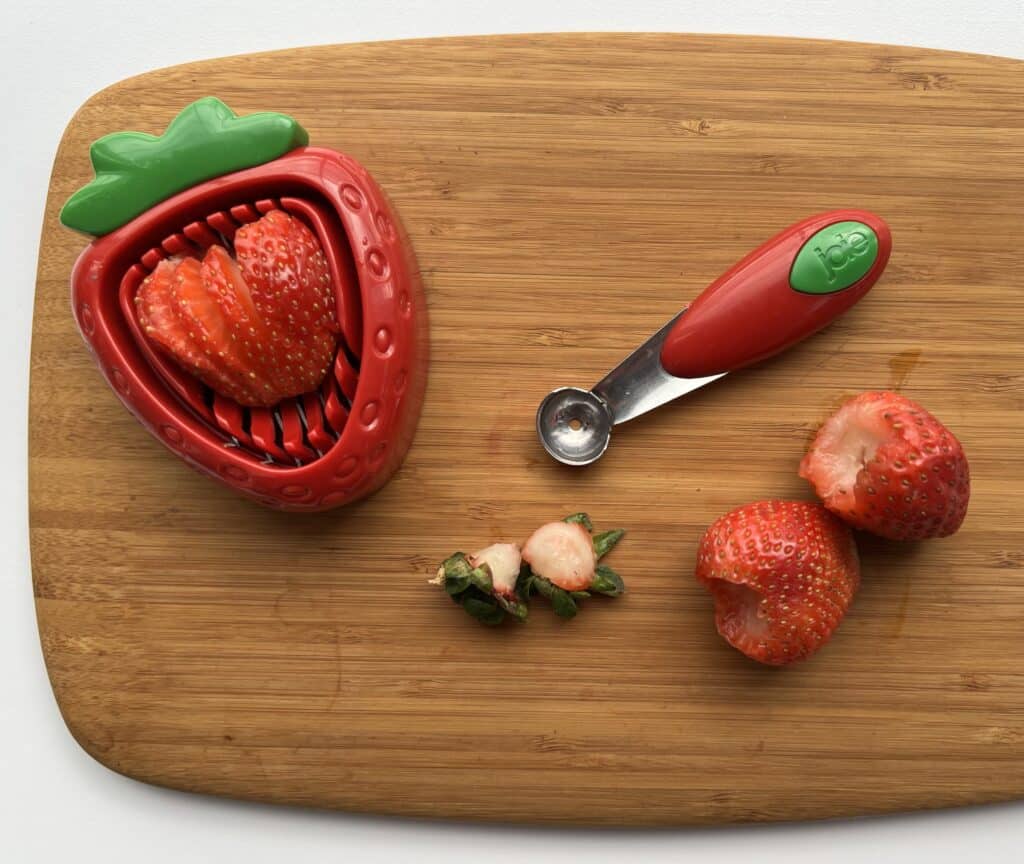 A scoop-style strawberry huller is basically a small, deep spoon with a sharpened edge, designed so that you may pierce the hull of a berry (or other soft fruits!) and scoop out an undesirable chunk in one fell swoop. This style of strawberry huller seemed to be the most popular, as we came across many variations of the same tool in our search, so naturally, we gave a few of them a shot!
Reviewing the Joie MSC Strawberry Hull & Slice
Here is how the Joie MSC Strawberry Hull & Slice scored in each of our criteria categories:
Functionality: 4.5/5.0
Quality & Design: 4.0/5/0
Value: 4.⅖.0
Packaging: 5.0/5.0
Unique Characteristics: 4.8/5.0
Overall Score: 4.5/5.0
Out of all of the strawberry hulling scoops we tried, we easily settled on this one as the best. Unlike the other scoop-style tools, each of which feature a serrated edge on their scoops, the Joie MSC Strawberry Hull & Slice scooper has a smooth edge. With a bit of practice, we found that this style was far better at not tearing the strawberry flesh of our sweet berries like its toothy counterparts did. The compact size of this device is great for berries from large to small, but you could easily also use it to core tomatoes as well as remove bad spots from other fruits like pears or peaches!
One of the best things about this particular huller is that it comes as part of a set, with a super fun, strawberry-shaped berry slicer! Once your berries are thoroughly cleaned and hulled, place them in the slicer and push gently, easily creating a ton of perfectly sliced berries for yogurt, salads, and dessert toppings. Both of these tools can be cleaned via the top rack of your dishwasher, which is a lifesaver when it comes to cleaning between those slicer blades especially.
Unfortunately, we found this strawberry huller to be a little bit fussy when it comes to working around any strawberry leaves. You have to be sure to get the edge of your scooper underneath any leaves so as to avoid chopping them and transferring leaf bits inside the berry itself. Honestly, we found it a bit easier to just pick the leaves off before scooping.
This huller and strawberry slicer set also came with the highest price tag, although keep in mind you are getting 2 different tools! And one big gripe about the fruit slicer itself--we know, not the main subject of our article but nevertheless!--is that the stainless steel blades stick out on the underside of the base when it is closed up, resulting in a real risk of grabbing it and accidentally cutting yourself!
Pros:
Best of all the scoop-styles, thanks to its smooth edge as opposed to serrated, which gives a nice clean cut and reduces strawberry leaf bits.
Nice and compact, can easily be worked into small strawberries or tackle larger ones.
Comes with a bonus strawberry slicer for quick and easy fruit prep, from start to finish!
Both tools can be washed by placing them in the top rack of your dishwasher.
Cons:
Has an annoying interaction with strawberry leaves, chopping them up unless you are very careful to avoid them when scooping.
Most expensive of the strawberry hullers we tested.
The sharp blades of the slicer stick out under the base in an unexpected way, posing an injury risk.
Best Tong-Style Strawberry Huller: Casabella Strawberry Huller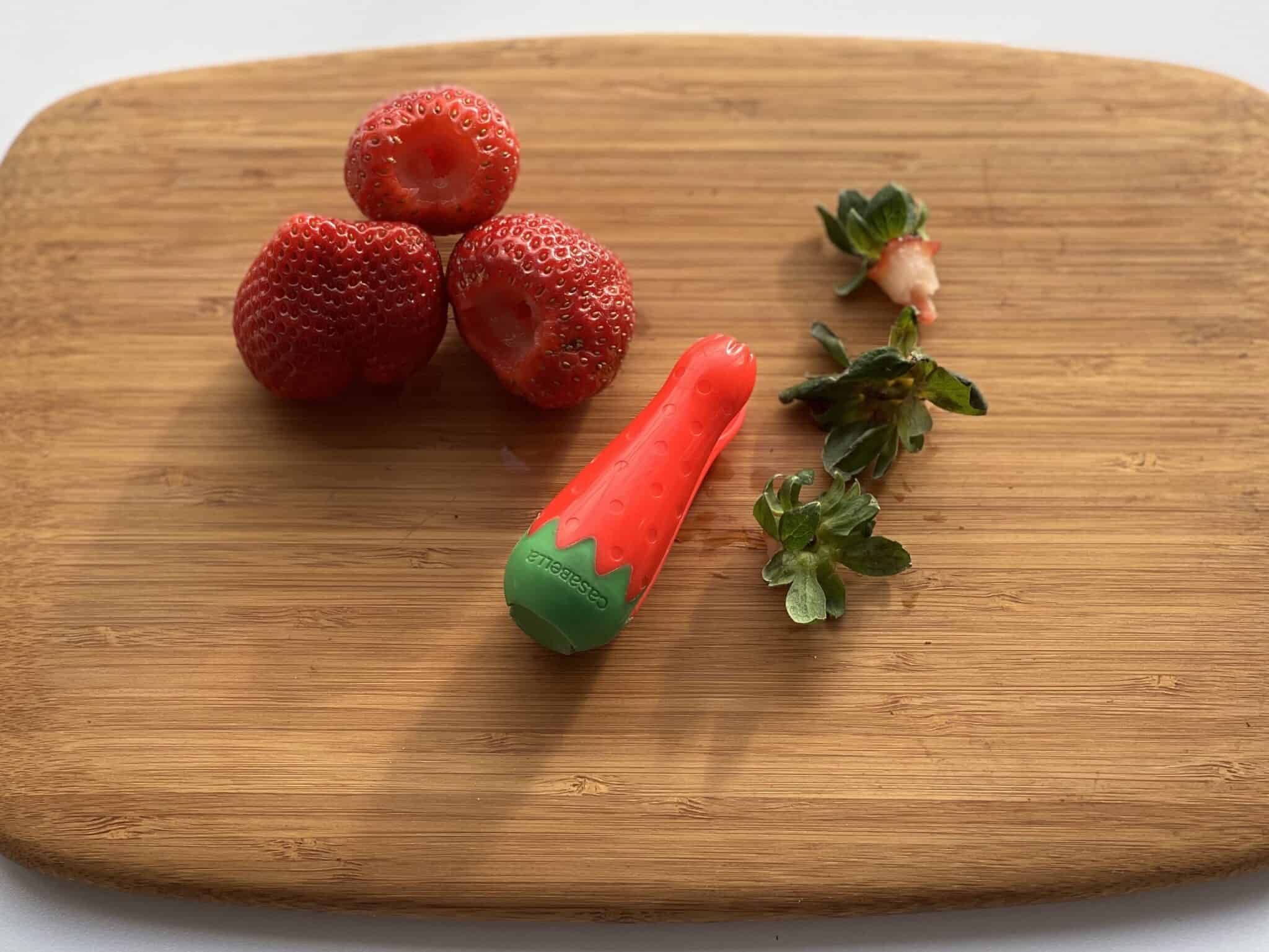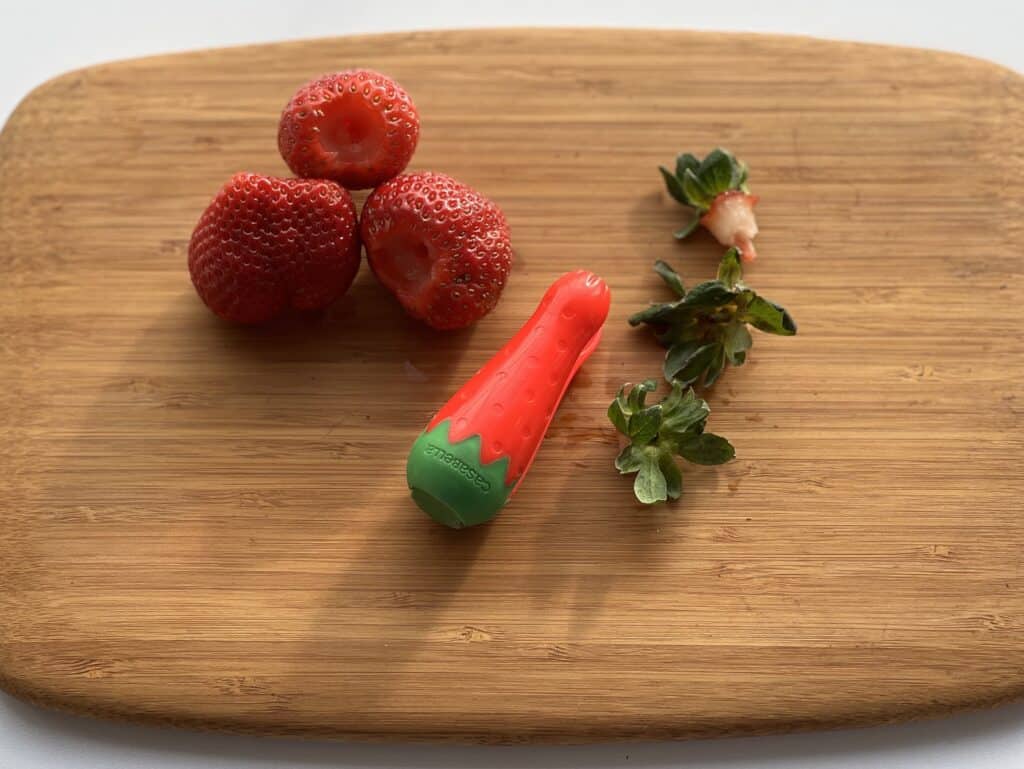 It might sound crazy, but there is a whole range of what are essentially mini pairs of tongs in the strawberry-hulling world! These tools are specially designed to pierce and grab the hull, then with a simple twist, you can remove all of the bits you don't want while keeping as much of that nutrient-packed strawberry flesh as possible.
Reviewing the Casabella Strawberry Huller
Here is how the Casabella Strawberry Huller scored in each of our criteria categories:
Functionality: 4.7/5.0
Quality & Design: 4.⅗.0
Value: 4.⅖.0
Packaging: 4.8/5.0
Unique Characteristics: 4.9/5.0
Overall Score: 4.6/5.0
We have to admit, upon first meeting with the dainty size and--we'll say it--overall dinky feel of this strawberry tool, our expectations were quite low that it would be in any of our top picks. Imagine our surprise when the Casabella Strawberry Huller proved us wrong by hulling our first test strawberry with ease! The toothy mouth of these mini tongs are surprisingly sharp for being made from plastic, and we also love the "open design for easy cleaning" as is stated on the packaging. And, as is quite important when it comes to plastic tools that are to be in direct contact with foods, this one is BPA free!
Unlike many regular tongs and a few of the strawberry tools we tested, these little hullers do not rely on springs for their function. Rather, there are two firm rubber bumpers tucked in between the arms of the product--kind of ingenious if you ask us! This minimizes pinching risks as well as removes a troublesome potential point of failure from the design of the device. If you've ever had a pair of tongs quit bouncing back after a while, you know what we're talking about. Also, simply put, this strawberry is adorable as they really went the extra mile to color and texturize this thing in a way that resembles an actual strawberry.
For all the good about this device, there are a few grievances to mention as well. The packaging is very proud to make mention of the fact that it features a "soft grip top", however, we found that the grippy rubber is not actually on the area where you must grasp the tool in order to operate it, leaving you holding slick plastic which is bound to become slippery with use. Weird design choice there!
The Casabella Strawberry Huller is also a bit harder to squeeze than the other tong-style hullers we tested, although we do wonder if those rubber bumpers will soften over time and decrease their resistance. And, while this strawberry huller was certainly not the most expensive of the bunch, we can't help but feel that the nearly $12.00 price tag our device came with seems rather high for such a tiny plastic tool!
Pros:
Super-effective sharp plastic mouth easily grabs hold of and removes strawberry hulls with ease.
Is open in design and therefore easier to clean!
Is free from BPA's.
Features two bouncy rubber bumpers between the tong arms, rather than your typical spring mechanism.
Has a very cute strawberry design and pattern.
Cons:
The special "soft grip top" is in the wrong location for actual grip support!
A little tough to squeeze, with those rubber bumpers providing too much resistance if you ask us.
Not the most expensive of the tools we purchased, but seemed of the lowest quality and value for the $12.00 price tag.
Best Stick-Style Strawberry Huller: Tovolo Push & Hull Strawberry Huller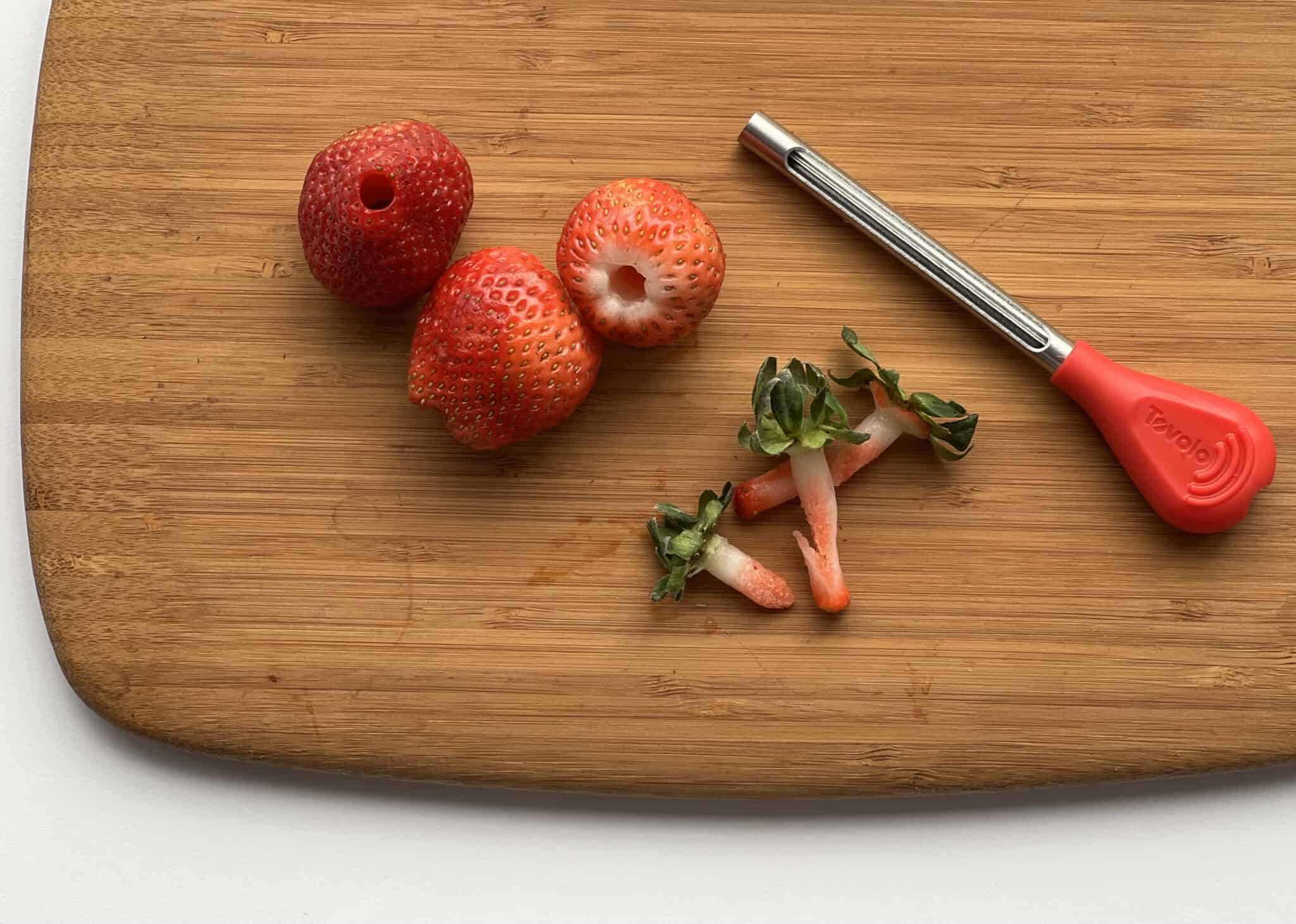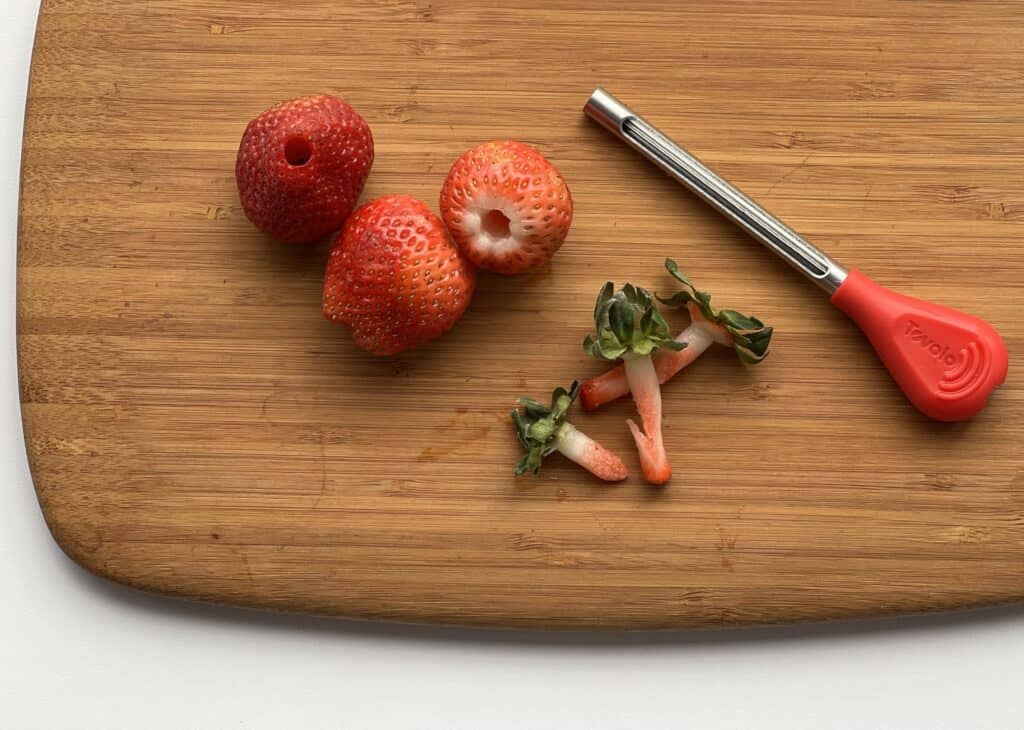 This type of strawberry hulling tool works by essentially punching the core of the strawberry out, from top to bottom! Different stick-style strawberry hullers had slightly varied instructions of use, but overall, we love this category for its minimalism and freedom from any complicated mechanisms.
Reviewing the Tovolo Push & Hull Strawberry Huller
Here is how the Tovolo Push & Hull Strawberry Huller scored in each of our criteria categories:
Functionality: 4.7/5.0
Quality & Design: 4.5/5.0
Value: 5.0/5.0
Packaging: 4.⅖.0
Unique Characteristics: 4.8/5.0
Overall Score: 4.6/5.0
This Tovolo strawberry huller makes for seriously fun fruit prep--you just simply insert the stainless steel rod into the bottom of the strawberry and push up to the stem! This effectively punches out the hull with a clean cut. We think this tool in particular is a great way to get kids involved in the cooking process as there are no sharp or pinchy bits to be found. It features a wide plastic grip up top which makes it easier to grab ahold of and the metal rod is open on the ends and side for easier removal of the strawberry pieces that get trapped inside while coring.
The packaging has a photo "how-to" guide on the back, taking you all the way through the strawberry hulling process and also alerting you to the fact that it is dishwasher safe! At just over $8.00, this strawberry huller is one of the most affordable of all the devices we tested, and definitely the cheapest of our 5 featured top picks.
Thankfully though, it does not seem cheap in terms of quality as the stainless steel straw is thick and sturdy as well as is the "easy grasp" plastic handle. Nothing flimsy about this one! Since this tool punches out a clean cut center from each and every strawberry, we see this as a great opportunity for filling--just pack some chocolate hazelnut spread or sweetened cream cheese in there for a real treat!
One of our least favorite things about the Tovolo Push & Hull Strawberry Huller was simply wrestling it free from its far-too-secure packaging, a task which required scissors and forced you to cut through all of that helpful information that was printed on the back label. Also, despite the carefully designed open ends and sides of this strawberry huller, we still found that plenty of berry cores got stuck inside the device, requiring frequent rinsing under running water to clean things out.
Finally, the simplicity of this device is a bit of a double-edged sword as the lack of adjustability means that this corer could easily remove far too much flesh from small strawberries, while we found that stemming large berries required multiple passes with the tool.
Pros:
Allows you to easily de-stem strawberries without any sort of complex mechanism--simply push it through!
Great for use by the whole family as there are no sharp edges or risky spots, and the wide plastic grip may be easier on some folks with mobility issues.
Has a photographic "how-to" series printed on the label.
Most affordable of the best strawberry huller options we tested.
Materials feel sturdy and of high quality.
This tool paves the way for delicious stuffed strawberry options!
Cons:
Supremely difficult to open packaging! Two thumbs down there.
Pieces of strawberry often got lodged inside the hollow steel rod, requiring a little extra effort to clear out.
Not adjustable in any way, meaning whether you have a tiny strawberry or a huge strawberry, the same size of core is removed.
Best Plunger-Style Strawberry Huller: Chef'n Original Stem Gem Strawberry Huller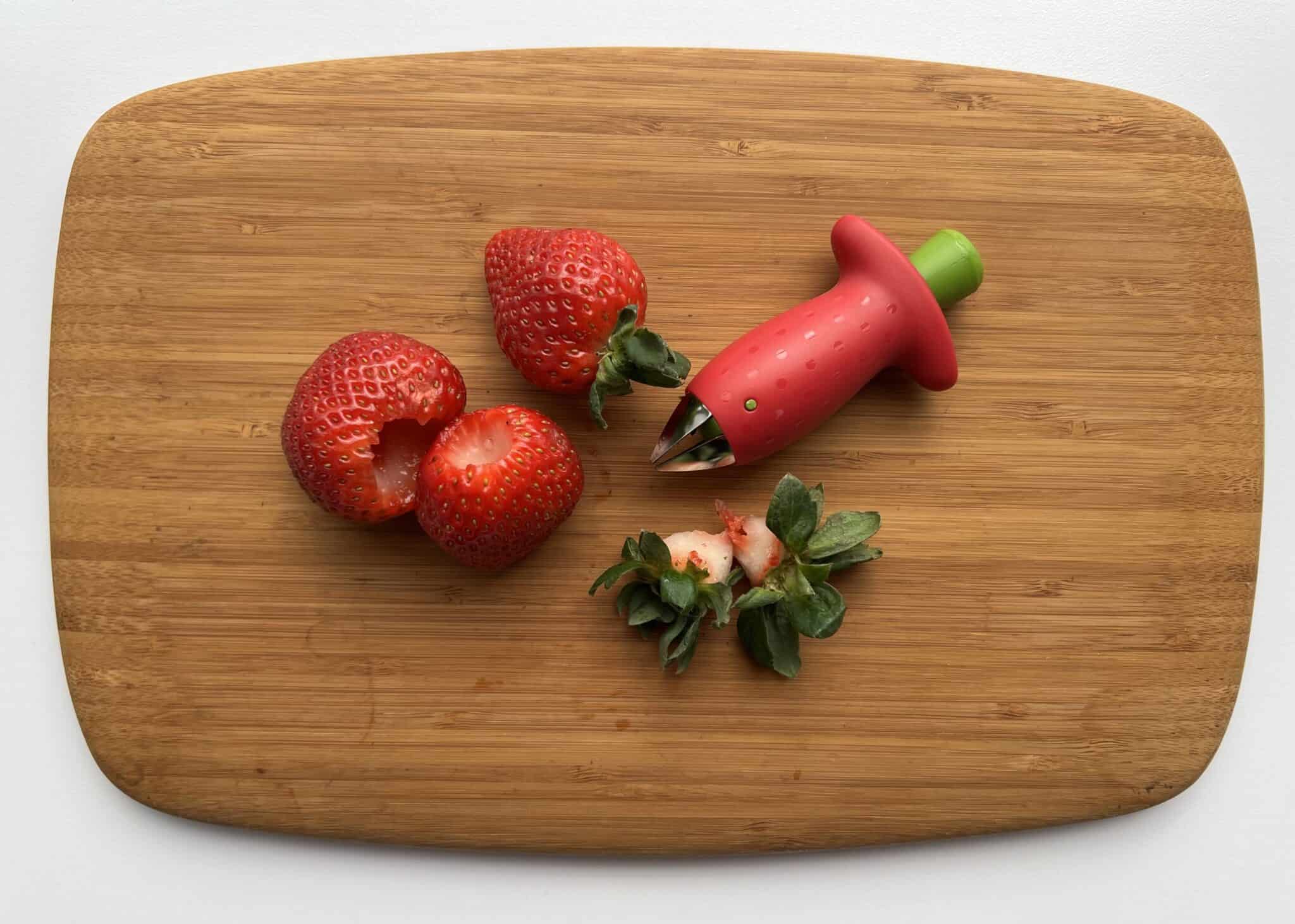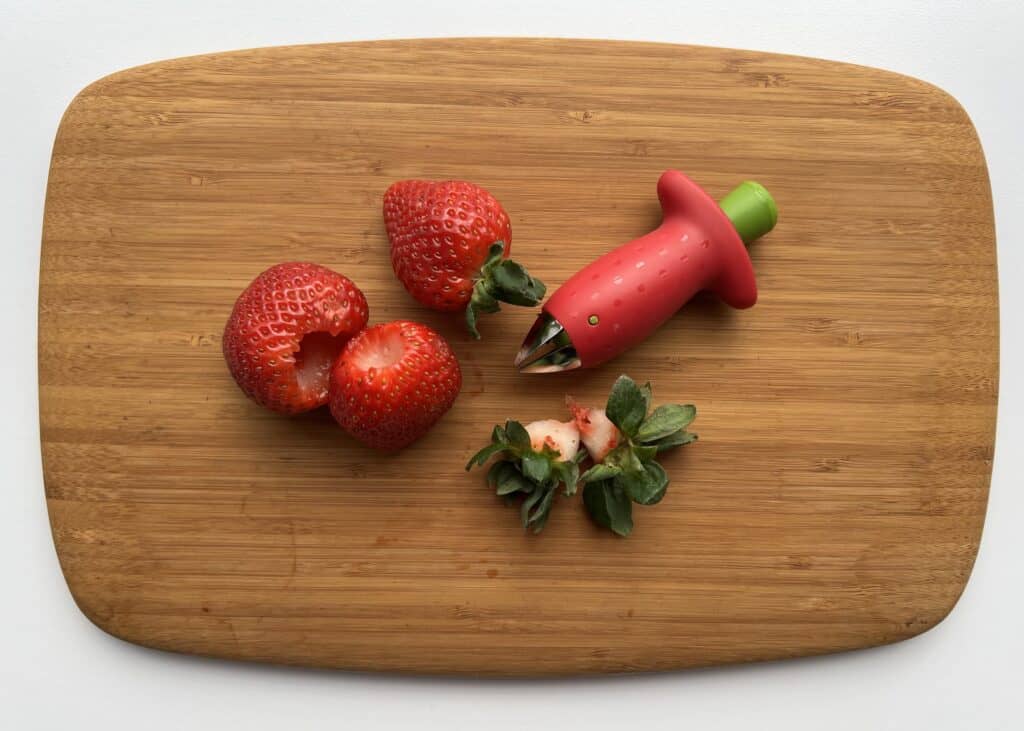 The plunger design is one popular variety of berry huller, as it relies on a spring loaded "claw" to essentially reach in, grab hold of, and extract the stem and core of each berry. There are several different brands of plunger-style strawberry hullers out there–along with many a copycat!--so we tested a few of them to compare their efficacy and ease of use.
Reviewing the Chef'n Original Stem Gem Strawberry Huller
Here is how the Chef'n Original Stem Gem Strawberry Huller scored in each of our criteria categories:
Functionality: 4.5/5.0
Quality & Design: 5.0/5.0
Value: 4.8/5.0
Packaging: 4.8/5.0
Unique Characteristics: 4.7/5.0
Overall Score: 4.8/5.0
First and foremost, this thing actually works! The plunger is easy to operate and does not require a lot of force nor pressure to depress. There is a helpful trio of photos on the back of the packing which guides you through the process of strawberry hull removal using the Chef'n Original Stem Gem Strawberry Huller, and back there you will also find out that this cute and handy gadget is top rack dishwasher safe and BPA free.
The stainless steel claw is nice and sharp, resulting in a clean removal of each strawberry hull, as opposed to some other tools which tore or otherwise incompletely removed the berry stems. We were especially happy to find that this huller works just about equally well on all different sizes of berries, from small to large and would help to remove cores and stems from other soft vegetables and fruits as well!
On the downside, we found that it is all too easy to accidentally take a big bite out of your precious berries using this tool. Despite the relatively informational instruction on the package, there was still a bit of trial and error involved, as it was only after a few attempts that we realized you don't have to open the claw to its full capacity when inserting into the berry, rather, you can adjust it to correlate with the size of the berry you're working with.
We also don't think this huller would be that great for anyone with hand mobility issues as it does require some dexterity to hold the tool and simultaneously operate the plunging action. Also, use this one with care as accidentally pinching a finger with that claw apparatus will definitely hurt you. Work carefully and keep those fingers safe!
Pros:
Does a clean and complete job of removing strawberry leaves, stems, and hulls!
Provides a helpful photographic how-to on the back of the package.
Is top rack dishwasher safe.
Works on a variety of strawberry sizes, whether small or large!
Can easily be used to remove the cores and stems from other soft produce items.
Cons:
Is a bit more wasteful than some of the other berry hullers we tested, especially as you are first getting the hang of using it.
Not ideal for anyone with mobility issues, as it requires some relatively technical movements.
The pinching action of the claw could definitely be a hazard for children or anyone for that matter--handle with care!
Bottom Line Best Strawberry Huller: OXO Good Grips Strawberry Huller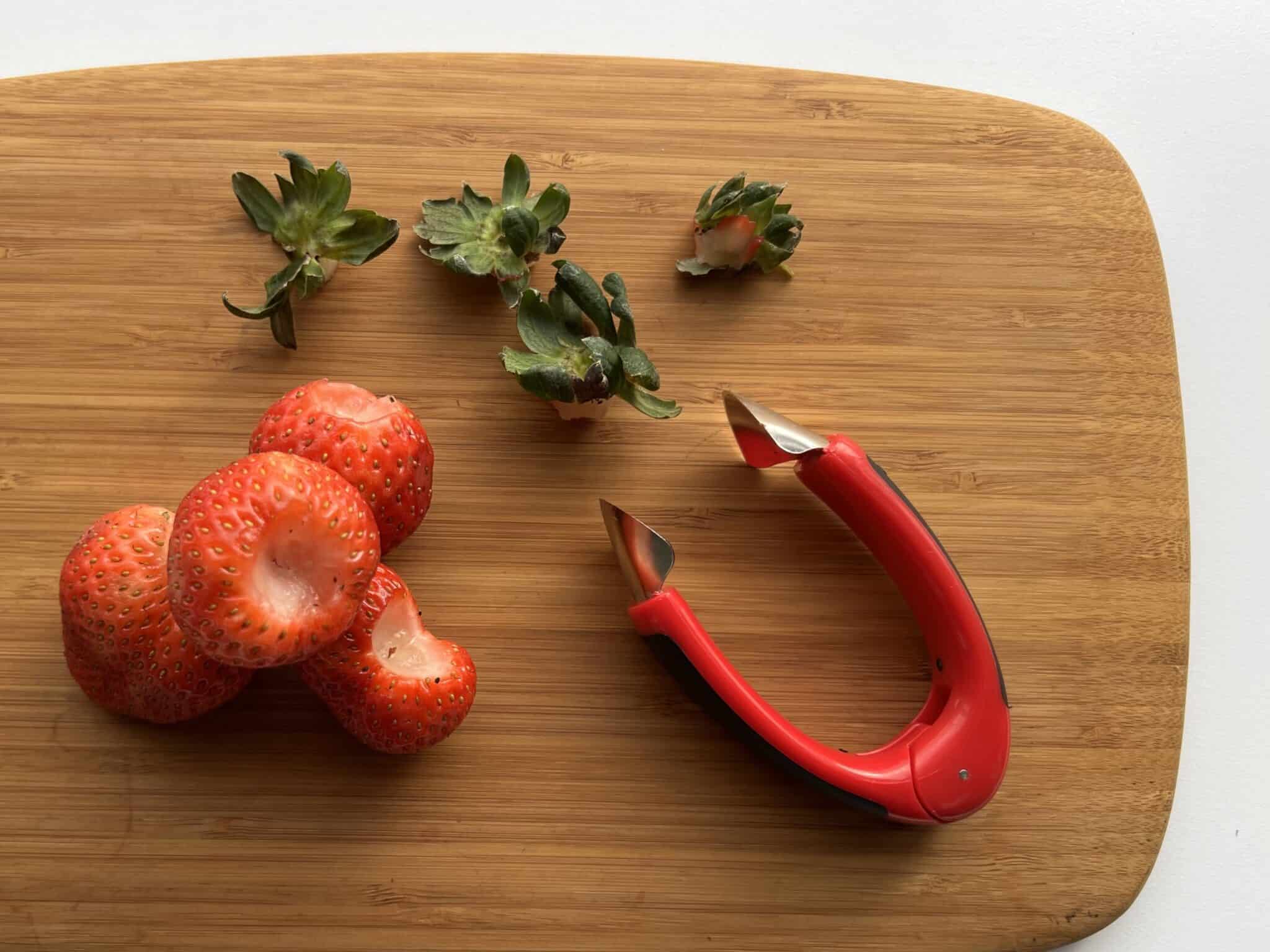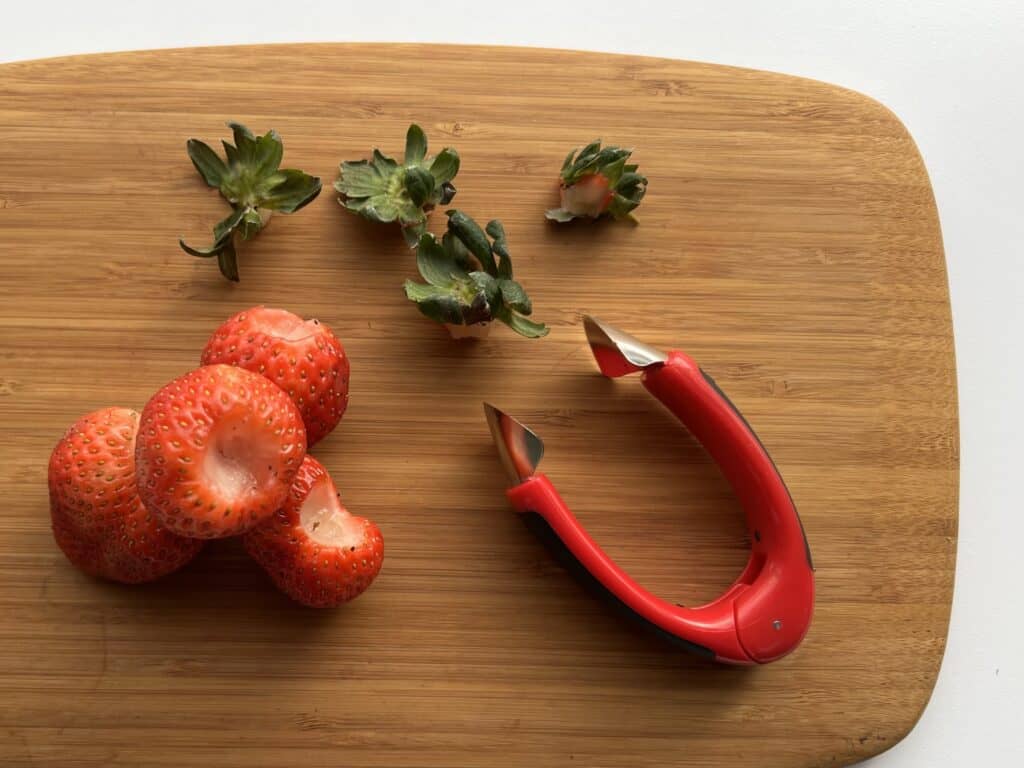 If you had to pick one strawberry huller without having a preference as far as style or category, this is it! We consider this option the best of the best, as it ticks all of the necessary boxes, doing everything you'd expect your trusty strawberry huller to do.
Reviewing the OXO Good Grips Strawberry Huller
Here is how the OXO Good Grips Strawberry Huller scored in each of our criteria categories:
Functionality: 5.0/5.0
Quality & Design: 4.8/5.0
Value: 4.6/5.0
Packaging: 4.8/5.0
Unique Characteristics: 5.0/5.0
Overall Score: 4.8/5.0
Established in 1990 with the development of an arthritic hand-friendly vegetable peeler, the OXO brand of kitchen tools has become synonymous with both quality and ergonomics. You can see these important characteristics were designed into their version of the strawberry huller as well, as this tong-style tool helps you with your food preparation tasks while going easy on your hands.
The soft rubber grips--OXO's trademark!--make this handy gadget easy to hold and operate with no chance of slippage when wielding this huller, even when your fingers are covered in strawberry juice. The sharp stainless steel tips are tapered for easy insertion into the strawberry hull and with a bit of practice, we found the technique required to quickly remove the hulls with minimal waste, meaning you can be on your way to that Decadent Strawberry Mousse for Two even faster! We can see this fantastic tool excelling as a tomato huller as well, and with blades this sharp, could probably even tackle some tougher veggies such as mini bell peppers!
We also love that OXO stands behind their "1% for the Planet" policy, in which they donate 1% of their annual sales to nonprofit organizations that support environmental efforts. In addition, this product also comes with a OXO guarantee, meaning if you aren't satisfied with your strawberry huller--or any of their tools for that matter--they will replace or refund it for you!
One final positive note, and an important one at that, the company's focus on ergonomics carries right on through to their packaging. Removing the device from its packaging took nothing more than untwisting a few twist-ties, no ripping or clipping required!
One thing that we worry about with this tool however, is some safety issues regarding those sharp metal tips. While they're not quite like a knife edge, they're not exactly far from it either! We don't think this would be a good tool for kids to use, and we also wish the huller came with a shield or tip covers for protection during storage. We can see this being a bit of a hazard if it is left open in your kitchen tool drawer and you reach in to rummage for something!
Also, the spring mechanism is not as strong as compared to other tong-style tools, which easily bounce open and drop each berry hull you remove. We realize this may be a nod to the arthritis-friendly roots of this company as it does make it easier to operate, however it adds a bit of hassle when trying to get the tool to drop the berry hulls after each extraction.
Pros:
Is both highly effective at strawberry hull removal while also being the most ergonomically designed of the bunch.
Features soft rubber grips which stay grippy--even when wet!
Sharp, tapered, stainless steel tips grab strawberry hulls with ease and reduce waste.
The OXO company donates 1% of their sales each year to environmental causes.
Comes with a replacement/refund product guarantee.
Amazingly easy to remove from packaging!
Cons:
The sharpness of the metal tips renders this tool unsafe for kids, in our opinion, and unfortunately the tool does not come with any sort of guard for storage.
The tongs don't have much bounce back, reducing the pressure you need to squeeze them but also requiring you to manually open them sometimes.
Strawberry Huller Tips & FAQs
What Does a Strawberry Huller Do?
A strawberry huller is meant to easily remove the leaves, stem, and tough core of a strawberry while still keeping the majority of each fruit's sweet flesh intact.
Be sure to check out our full guide for step by step instruction on how to use a strawberry huller to get those pesky hulls out of your strawberries!
Which Tool Would Be Best for De-Stemming a Strawberry?
Good news! The "hull" of a strawberry and the "stem" are essentially the same thing. Any of the strawberry hulling tools we've covered in this article will work to remove the strawberry stems and cores alike.
How Do You Hull a Strawberry Without a Huller?
You could certainly use a paring knife to remove the hulls from your strawberries, however, not only does this require a deft hand but it also can get a bit tiresome--especially if you have a bunch of berries to get through!
If you find yourself prepping small fruit like strawberries often, we definitely recommend the small investment that is a strawberry huller.
Ranking the Best Tools for Hulling Strawberries: The Bottom Line
If you have been suffering through removing strawberry hulls with a paring knife--or worse yet, your fingers!--we hope that one of these options proves to be an effective alternative. Having the right strawberry tool on hand will make your kitchen prep all that much easier and more enjoyable while simultaneously reducing risk of injury.
Need some strawberries for a recipe but just don't have the time for all of this washing and hulling? Allow us to offer you another option: frozen strawberries--your new best friend for all your cooking and baking needs!
Of course, for eating out of hand, nothing quite beats a fresh, whole strawberry. So go ahead, load up on as many strawberries as possible next time you hit the farmer's market and leave the hard work to your trusty strawberry huller!