Japanese cuisine, more so, sushi, is soaring in popularity because of its burst of flavor and health benefits. And, when it's properly made, sushi becomes irresistible. But, let's face it. Getting caught up in your day-to-day can make heading over to your local Japanese restaurant an uphill battle.
Like exotic food, it's typically pricey. But what if we told you that you could enjoy exquisite sushi at an affordable price, right from the comfort of your home? That's right! With the best sushi making kit, you can revel in sushi as you please and at a fraction of the price.
If this has piqued your interest, then buckle up as we comb through the 10 best options that will give you value for your money. In this guide, you'll also gain insight into the key buying factors that will help you figure out the ideal kit for you. Expert or novice, you'll be whipping up delicious sushi from your kitchen with little to no effort with the best sushi making kit.
1. Best Budget: BambooWorx Deluxe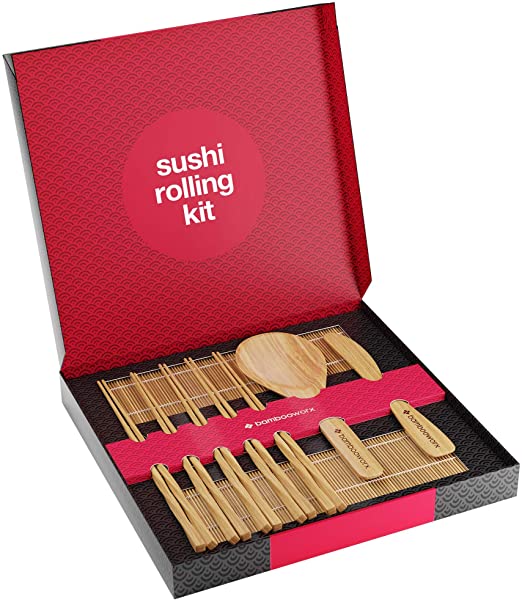 If you're on the quest for a sushi making kit with a natural feel and look to it, then the BambooWorx Deluxe wraps up your search. With components built from the top of the range bamboo, this product has a beautiful finish and was designed with durability in mind. It's a uniform model with no sharp edges or splinters that can cause injury to your hands.
A rice spreader, two sushi rolling mats, five pairs of chopsticks, and one rice paddle are included in the package. So, you can delight in the perfect sushi party right in the comfort of your home. Moreover, sturdy cotton string stitches hold the rolling mats firmly together.
So, you can rest easy knowing that the sushi mat won't come apart. Generic soap and warm water are all it takes to get this kit spick and span before drying it and rubbing some food-grade oil on it to maintain its natural, alluring appearance.
Pros
Beautiful packaging
Eye-catching and durable finish
User-friendly
Great gift idea
Comes with useful accessories
Well-stitched mats
Crafted from top-grade, natural bamboo
Cons
Not dishwasher-friendly
Can't be used in high heat
2. Best for Beginners: SushiQuik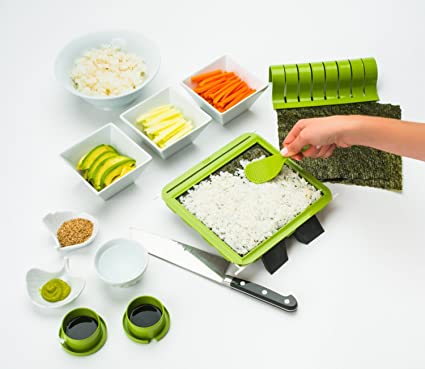 Are you on the quest for the best sushi making kit that is ideal for novices? Then SushiQuik is right up your alley. Furthermore, it was tailored to accommodate expert sushi makers, allowing them to get the utmost convenience with this product. The package comes with a non-stick rice paddle, a roll cutter, a horizontal stand, roll cutter, two end caps, a rolling mat, and a pre-measured rice frame.
The training frame accurately measures the amount of rice required for the perfect roll. Let's face it. The last thing you need is your fingers covered in sticky rice as you're trying to spread it. So, the non-stick paddle allows you to uniformly spread the rice along the training frame.
Once your roll is done, the roll cutter is your Holy Grail to evenly slice the roll while sparing your fingers. To delight in your rolls, the enc caps play the role of sauce holders. And, once the party ends, you can snap the rolling mat apart in a jiffy and toss into the dishwasher along with the dirty kitchenware.
Designed from durable and sturdy plastic, the kit's components are BPA-free, thus rendering them safe to use.
Pros
Detachable components for thorough cleaning
Dishwasher-safe
BPA-free
7-piece set
Suitable for beginners
Cons
The mat is cumbersome to wrap
3. Sushi Master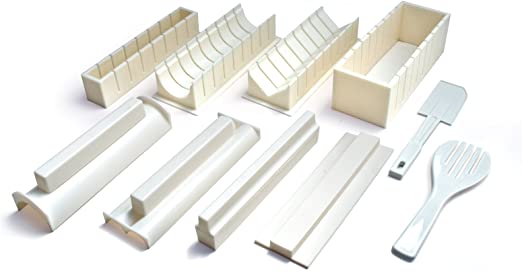 With this kit, your sushi doesn't have to look boring with the generic round rolls. It comes with five unique shapes ranging from large squares, circles, small squares, and hearts to pyramids to spice things up. Armed with 11 pieces, the Sushi Maker will ensure you impress your guests. It comes with eight mold pieces, a large rice fork to serve your sushi, and a spatula to uniformly spread the rice.
The Sushi Maker comes with a recipe book and an in-depth instructional guide to guarantee anyone can make low fat and fresh food in a few easy steps. Thus, it caters to experts and novices alike. For effortless cleaning, you'll be pleased to learn that the sushi making kit is dishwasher-safe.
Pros
Various sushi shape molds for diversity
Detailed instruction guide
Comes with a serving fork and spatula
Dishwasher-safe for effortless cleaning
Recipe book included
Suitable for experts and beginners
Cons
Overly large sushi molds
Doesn't come with a knife
4. Best Premium: Sushi Chef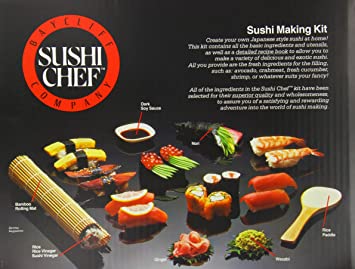 If you're looking for a kit that's packed with everything you need and then some, then Sushi Chef is right up your alley. Along with rice, the kit has a bamboo rolling mat that's a lifesaver with wrapping your toasted seaweed sheets around your desired rice amount and fillings. A recipe book and rice paddle are also included in the package.
Upon discovering that Sushi Chef comes with all the ingredients you need, you'll have an ear-to-ear smile on your face. And, they're enough to feed 12 guests with some leftover.
For authenticity, the rice in the box is Japanese-style short-grain rice. Other ingredients included in the box are Japanese rice vinegar, powdered horseradish, Japanese dark soy sauce, Japanese sushi vinegar, wasabi, Japanese pickled ginger, and the toasted seaweed rolling your rice. With all this goodness, you can whip up some Japanese goodness.
Pros
Comes with ingredients to make about 125 rolls to feed 12 people
Step-by-step instructions on recipes included
Includes a rice paddle and bamboo rolling mat
Contains everything needed to make Japanese-style sushi
10-piece set
Cons
5. Aya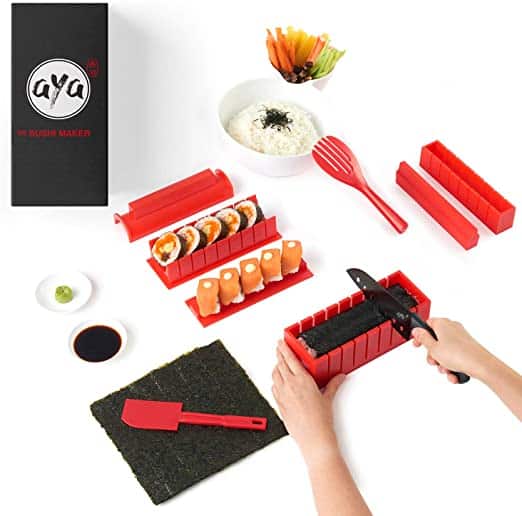 If you want to make mouth-watering sushi in a jiffy and save your loved ones a trip to your local Japanese restaurant, then the Aya sushi making kit is your best bet. With 11 pieces in the package, this product will unarguably give you the best bang for your buck.
It has different shapes such as square, circle, and heart that come in handy to infuse your sushi with an aesthetic factor. Contrary to some of its rivals, Aya comes with a cutting knife that will help you make uniform cuts for that ideal sushi look.
Accompanied by access to exclusive video tutorials, this kit allows anyone to become a pro in a few easy steps. Moreover, it's BPA-free, thus allowing you to safely savor every bite of mouth-watering sushi.
As a dishwasher-friendly product, you can let your dishwasher do all the work as you revel in exquisitely-made sushi rolls. With premium customer support, a lifetime warranty, and approval by the FDA, the Aya sushi making kit guarantees quality.
Pros
FDA approved
It is constructed from safe and durable material
11-piece set
Free online video tutorials
Various sushi shape molds
BPA-free
Dishwasher-friendly
Cons
Package lacks instructions
6. Easy Sushi 8507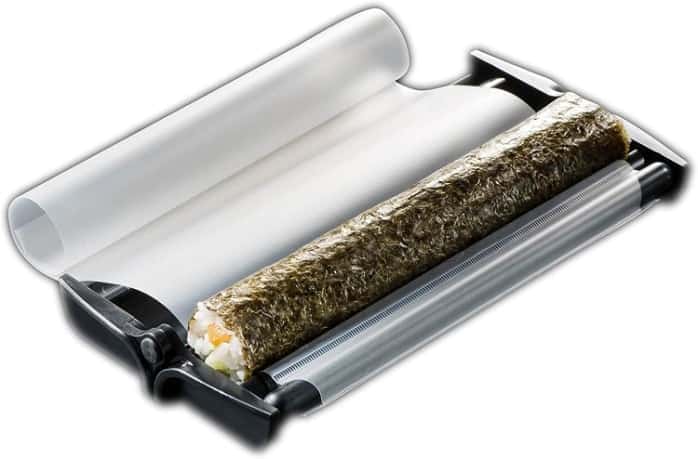 With its ingenious design, the Easy Sushi 8507 is one of the simplest tools you can use to whip up your sushi. As a patented product, you won't find this sushi making kit anywhere else. Made of 2 components (A traction sheet and roller), you can get the job done in a jiffy.
Tuck in the traction sheet neatly in the roller and spread your food inside it. Then, close it after properly adjusting it. The roller dimensions (diameter by length) of 1.4 inches X 9.5 inches guarantee that you and your loved ones can delight in properly-sized sushi rolls.
Constructed from sturdy and durable material, you can reuse the traction sheet countless times. But, for its longevity, it should be gently cleaned with non-abrasive products.
The components of the Easy Sushi 8507 kit are chemical-free, rendering them safe to use. With unmatched efficiency, this sushi making kit is the go-to for a myriad of chefs and Japanese food enthusiasts alike for rolling their leaf wraps, crepes, sushi, tortillas, and rice paper.
Pros
Built from top-notch food-grade plastic
Designed for versatile use
Ideal measurements for proper sushi
Can be used by beginners and experts alike
Patented model
Dishwasher-friendly
Reusable traction sheet
Chemical-free
Cons
7. Sushedo Sushi Bazooka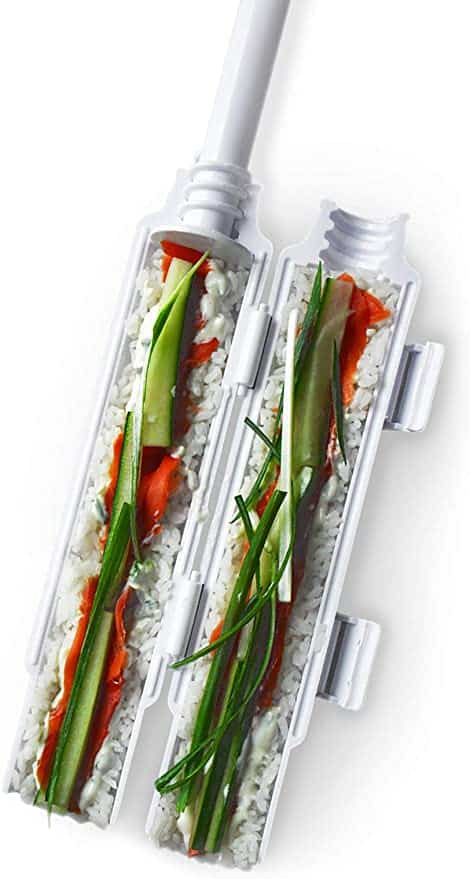 Like its fun name, the Sushedo Sushi Bazooka sushi making kit ushers you into the creative world of sushi making. It adds a twist to it, thus making it an entertaining pastime activity. Granted, this kit only comes with three components, which is a far cry from its counterparts with up to 11 pieces. But, don't let that fool you into thinking it can't get the job done.
The three pieces are all you need to make delectable sushi that will leave you and your loved ones craving more. You'll find a plunger, end cap, and a sushi tube. Collectively, these form a sophisticated design.
However, the flimsy plastic construction falls short of its functionality. The hinges make alignment a bit of a challenge to properly close the kit. Compared to what the Sushedo Sushi Bazooka has to offer, these are small hiccups you can overlook.
The main tube where you'll position your sushi rolls has dimensions of 12 inches X 2.5 inches (length by width). Therefore, you'll need to put a large quantity of stuffing or rice to make it work. If you gravitate more towards small sushi pieces, this sushi making kit may not be an ideal option. It's perfect for those that enjoy large, round-shaped rolls.
You can use the best food scale to accurately measure the rice and other required ingredients. Once you stuff them in the tube, plunge it through the tube onto a sheet. After your sushi party, simply dismantle the kit's components and toss them into your dishwasher, thus saving the hassle of manual cleaning.
As a kid-friendly product, your little ones can use the Sushedo Sushi Bazooka to hone their sushi making skills from an early age and become pros in no time. After all, the components lack sharp edges. The packaging is designed from 100% reusable craft cardboard.
Pros
Incredibly pocket-friendly
A feasible option for everyone
Dishwasher-safe
Kid-friendly components
Round-shaped sushi
Appealing design
Ideal for novices
Perfect for making large sushi rolls
Cons
Flimsy plastic
Not as durable as other models
Difficult to close
8. Best Overall: Sushi Magic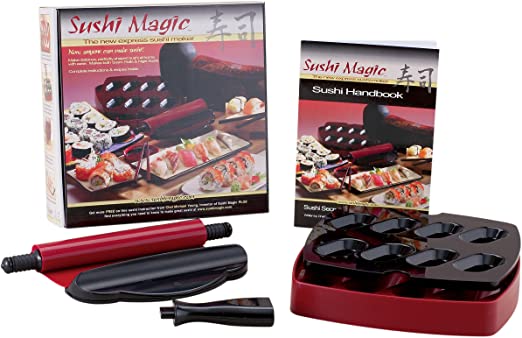 Now, anyone can whip up delicious sushi courtesy of Sushi Magic. It's the world's best home sushi making kit. As a patented express device, it's acclaimed by chefs and home users alike. As a complete sushi maker, Sushi Magic uses a straightforward 2-part mold and press technique.
While it's easy to use, there's an available guide for beginners. Loved by novices and experts, this kit produces top-notch, mouth-watering sushi in a jiffy, which is ideal for when you have guests over. Ideal for California rolls, Sushi Magic has the uncanny ability to also roll foods inside out, which sets it apart from the pack.
You can make California rolls with your preferred type of nori or rice on the exterior. The kit has a nigiri mold that collectively presses rice, seafood, and wasabi to form professionally-shaped sushi right in the comfort of your kitchen. It's perfect for throwing sushi parties, preparing healthy meals, and quick appetizers.
Upon buying the Sushi Magic, you'll find a recipe handbook with detailed step-by-step instructions, a roller molding tool, and a nigiri sushi 2-part mold and press device to get the most out of it. As a chemical-free product, Sushi Magic is 100% safe to come into contact with your food.
Pros
Professional grade
Safe for contact with food
Chemical-free
Also rolls food inside out
Simple to use
Suitable for expert and novice chefs
Beautiful design
Cons
Roller is cumbersome to wrap
The arrows on the roller face the wrong direction, which is confusing at first
9. Best for Versatile Use: BambooMN Deluxe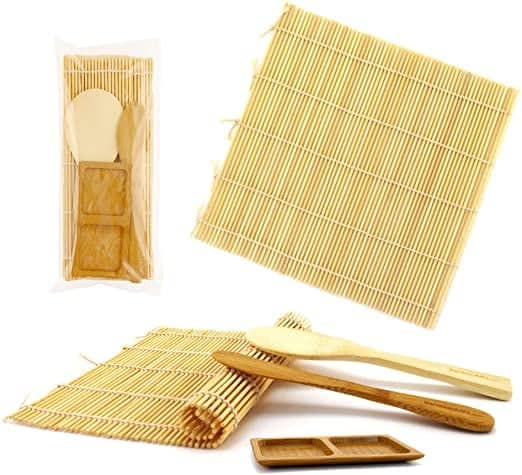 With this kit, it's back to the roots, well, in this case, sushi roots. The BambooMN Deluxe is a modern version of the replica of archaic kits used in sushi making. Crafted from exquisitely-finished bamboo components, this product is not only safe to use but also has unmatched efficiency. It comes with one sauce dish, one rice paddle, two rolling mats, and one rice spreader.
Sturdy and durable cotton strings hold the mats together, thus preventing them from pulling apart or tangling. The sauce dish contains two units that accommodate different sauces. After each use, you'll need to rub the BambooMN Deluxe with a food-grade oil to maintain its beautiful wooden finish.
Pros
Perfect for making kimbap
Vintage product with a modern twist
Designed for versatile use
Durable, beautiful finish
Rice spreader and paddle included
2 sushi rolling mats
Cons
10. Sante Camp Chef Sushezi

As you know, an excellent product is birthed from one simple idea. Well, this is the case with the Sante Camp Chef Sushezi sushi making kit. As a single unit with no additional sets, this product functions seamlessly. Simply assemble the unit's components (end cap, sushi tube, and plunger), and you're ready for action. Moreover, these parts are detachable, thus facilitating easy cleaning.
In 3 easy steps, simply fill up the roller, firmly press it down, pump out your sushi, and you're good to go. While using this tool is unbelievably easy, there's a guidebook with in-depth instructions included.
The effectiveness and simplicity of the Sante Camp Chef Sushezi is a lifesaver in making dessert goodies as well. From biscuit cookies, walnut rolls, cake rolls, and fudge rolls, you name it! Roll after roll; this handy device keeps them coming.
Pros
Built from durable plastic
Minimizes user fatigue
Safe to use
Versatile
Dishwasher compatible
Cons
Buying Guide: How to Choose the Best Sushi making Kit for You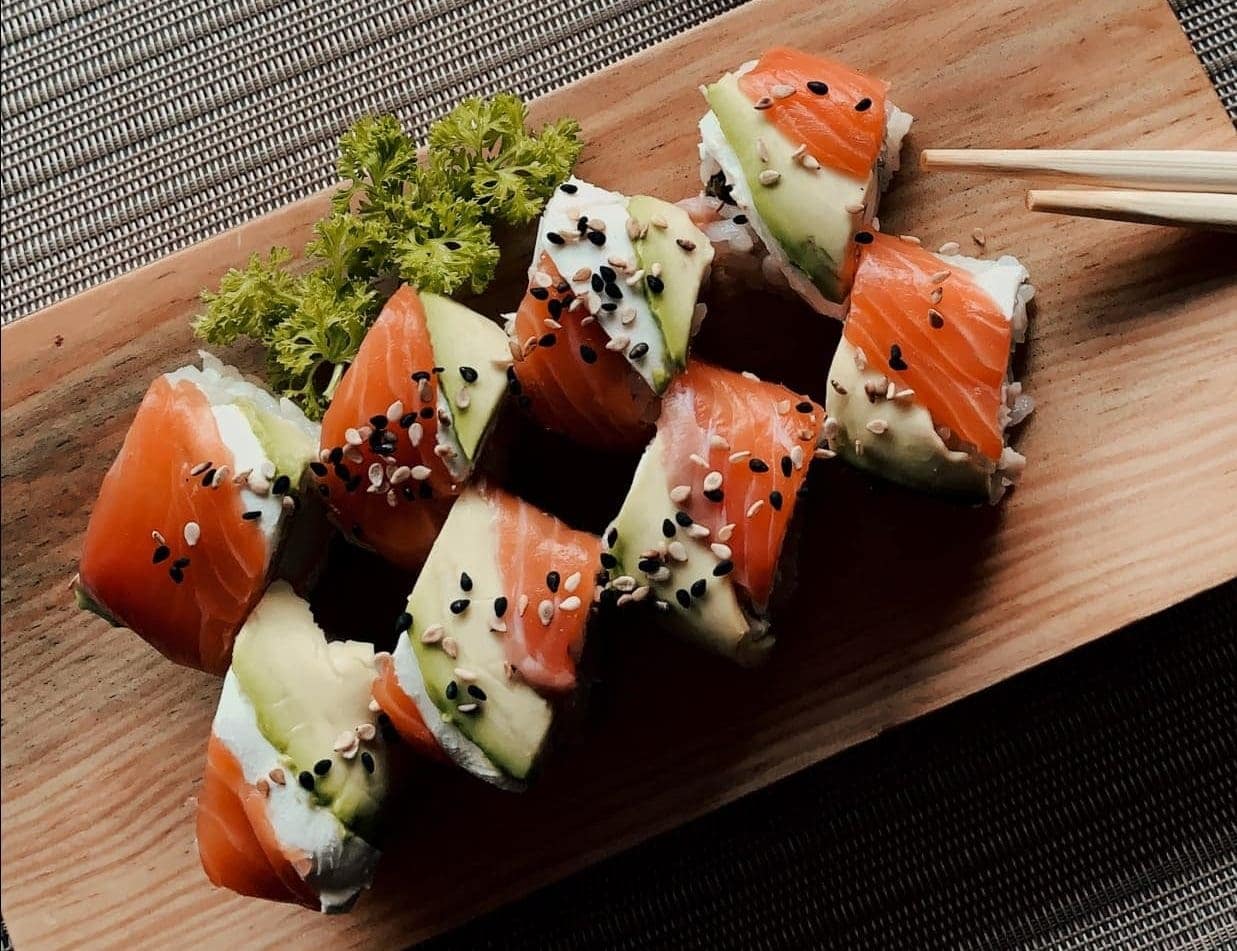 Before hastily selecting the first sushi making kit that captures your attention, consider the key buying factors outlined below.
Shapes
Sushi making kits are available in a vast assortment of shapes. Thus, you can get your creative juices flowing. So, if you're looking to diversify in your sushi making, then you should choose a kit that comes with eight or more different shapes, ranging from squares, hearts, and more. With free rein to select the shape of the molds you like, the world is your oyster!
Materials
Two types of sushi making kits have littered the market and greatly vary in materials. For starters, if you opt for a bamboo sushi rolling mat, then ensure you select the mold-resistant option that can be easily hand washed and dried after each use. Secondly, if you gravitate more towards a plastic kit, then you'll be impressed by how easy it is to clean and use. Furthermore, it's sturdy and dishwasher-friendly.
Top-Notch Rolling Mats
A rolling mat is typically a traditional tool. However, in this scenario, you still require searching for quality when it comes to the mat's ability to deliver the precise width and length portions that you'll find in a barrage of renowned Japanese eateries.
Extras
The additional accessories vary from one sushi making kit to another. They include soy sauce holders, sushi knives, sushi rice, nigiri molds, and everything in between. These extras aid in honing your sushi making skills.
Completeness of Rice Shaping Tools
Along with a rolling mat, you want to secure essential service products such as a top-notch rice paddle and spreader. After all, the best chefs claim that making sushi in all its glory lies in the rice's stickiness and quality and not just the quality of fish.
Dishwasher-Friendly
When sifting through the boatload of sushi making kits, check whether they are dishwasher-friendly pre-purchase. Typically, traditional kits with bamboo rolling mats aren't dishwasher-safe.
If you're looking for a product that you can throw in the dishwasher to make the cleanup process a walk in the park, then a kit designed from plastic is your best bet.
Powerful and Durable Cutting Tools
Without a great cutter or knife, you're forced to use your kitchen knives. However, this isn't just a scenario of a bonus to your sushi making kit's package. The procurement of an efficient knife or cutting tool impacts the speed at which the food is oxidized. So, you may find that some tools make your sushi rot faster after preparation. Nonetheless, with porcelain knives, this becomes the least of your worries, thus making them a great option to consider.
Price
Budget-friendly sushi making kits fall anywhere between $20 and $50. But remember, as, with everything else in life, you get what you pay for. Therefore, you'll notice that the $20 kits compromise on durability and fall short of the essential accessories that can step up your preparation skills by a few notches.
A $30 kit, on the other hand, may have a few accessories such as chopsticks and knives but lack other necessities. If you spend $50, you'll probably receive a premium sushi making kit that's packed with all the ingredients and accessories to wow your family and friends.
Handmade
You need to ensure that the products of the sushi making kits are crafted by hand from all-natural materials to avoid causing sensitivities in people.
Innovation
Concerning old technology, the best sushi making kit has enough innovation for a novice's hands to make sushi of great quality and ease. And, it's ergonomic enough to accommodate all hand sizes.
FAQ
We've rounded up a few of the most frequently asked questions and their answers to help you find the right sushi making kit that will best suit your needs.
1. What type of rice is ideal for sushi making?
Medium or short rice are the most suitable options to give your sushi excellent bonding. So, you can take your pick between Calrose and Japonica rice that will deliver impressive results.
2. What do sushi making kits contain?
Typically, after making your purchase, you'll notice molds, bamboo or plastic rolling mat, an instruction book (comes in handy for beginners), a comprehensive recipe book, and a rice paddle. Furthermore, bowls, a chopping knife, plates, and chopsticks may be included in the package.
Depending on the brand, you could stumble upon different sauces, rice, and other goodies to get the ball rolling. Keep in mind that different kits come with various accessories.
3. Are there sushi accessories that you need to purchase?
Based on the brand you select, the sushi making kit may come with handy accessories such as a spoon, chopsticks, or knife, but with a higher price tag. A cheaper kit, on the other hand, lacks these accessories. So, check that a product has the accessories you need, pre-purchase to avoid disappointments down the road.
4. How do you clean a sushi making kit?
Before buying, check to confirm the category to which the sushi making kit belongs; non-traditional or traditional. The traditional options are designed from wood or bamboo, which means they must be hand washed with soap, warm water, then left out to dry, to get them spick and span. The non-traditional kits can be cleaned in a jiffy using a dishwasher, thus making them a more convenient option, more so if you're looking to save on time.
5. How long does sushi stay fresh if it is not stored in the fridge?
It's a no-brainer that sushi starts to rot when left out at room temperature for an extended period. As a result, it poses a risk to your health, making you susceptible to a severe case of food poisoning. So, avoid leaving it at room temperature for more than 4 hours in a row. Instead, store it in the fridge to ensure it lasts for up to 3 days.
Closing Remarks
Not everyone has the luxury of walking into a fancy Japanese restaurant and enjoying a sumptuous lunch or dinner that includes sushi. At times, the joys of prep-work and cooking at home is all the better when it comes to economics, a healthy lifestyle, and convenience. With these top of the range sushi making kits, you can bring the amazing Japanese experience to your home for your loved ones to enjoy. So, get yours today!