In this article, we're checking out one of the most common household products to turn to with the sniffles – tea. Tea is packed with ingredients that can help soothe your ailments so you can get some rest. We'll be looking at our favorite blends, and helping you pick the one best for you!
In this section, we're running you through our best cold-focused teas. There's a lot to choose from when it comes to the different blends - from taste, to ingredients, and more.
1. Yogi Cold Season (BEST OVERALL)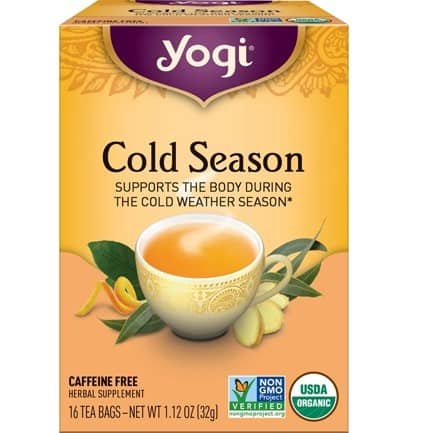 We'll start it off with our top overall pick, the Yogi Cold Season blend. As you can tell from the name, this product's formula is clearly geared toward being a cold remedy.
We like this brand so much because you can tell how much care and thought was put into its formula. The ingredient list is packed with stuff that is great for the cold but also that tastes great!
The flavor of this tea combines a strong amount of eucalyptus and peppermint with licorice, ginger, clove, cinnamon, and cardamom. It is a very flavorful tea, and the eucalyptus and peppermint really pops. These ingredients are also great for clearing your sinuses.
The formula also uses herbs which are traditionally known for their medicinal qualities – such as eucalyptus, tulsi, and ayurvedic spices.
This blend is also certified Organic and USDA-Project Verified.
And perhaps best of all, it's well priced, and you get 64 bags in this package!
If you can't tell already, we really like this blend. Few brands put this much thought into their recipe. Not only did they put a strong focus on traditional ingredients known for medicinal purposes, they also made sure that it tastes great. The strong flavor is just what you need when you're feeling down.
Pros
Strong flavor of eucalyptus and peppermint.
Many traditional medicinal herbs and ingredients.
Very well priced!
Tea bags release flavor quickly.
Cons
Taste might be a bit too strong when you're sick (personal preference!).
2. Gypsy Cold Care (BEST PREMIUM)
Next up, we have another product we really like. Gypsy Cold Care is a great tasting blend with a heavy focus on medicinal ingredients.
The flavor profile on this blend is excellent. It is best described as "minty, sweet, and a little bit spicy!". It's the jolt you need when you're feeling down, and the yarrow and peppermint give it that bite. That being said, the flavor stays very "earthy" and natural. It's got a kick, but not too much kick.
Gypsy has also focused on using ingredients that are known for their traditional medicinal uses. They have primarily focused on elder flower which was sustainably harvested in Europe. This is a time-tested cold remedy, and combined with the other ingredients it really gives your body what it craves.
Overall, another solid blend with its own unique formula. It's got a kick, but that might be just what you need. Peppermint, yarrow, and elder flower (among other ingredients) work together to lift you up. It's slightly more expensive than other brands, but we think it's worth it.
Pros
Focus on traditional medicine.
Non-GMO verified.
Caffeine free (so you can sleep!).
Herbs sourced from ethical trading partnerships.
Cons
Premium price tag.
The "kick" might be a bit much for some.
3. Feel Better Herbal Tea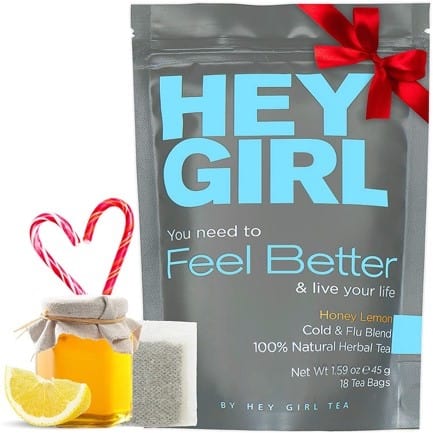 Next up, we have a product that pulls no punches – it wants you to "Feel Better". It does so with its thoughtful blend of all-natural ingredients geared toward doing just that.
Their blend combines medicinal herbs, antioxidants, and vitamins to help you feel better. Some ingredients of note include lemongrass, echinacea, decaf green tea, elderberry, and more! It is also sweetened with Stevia leaf.
The taste is fresh, floral, and sweet. It has that traditional echinacea "kick" that you might crave when you are feeling down.
Overall, it's an excellent blend and we think it tastes pretty awesome. It's definitely on the expensive side, but it's also a great gift to send a friend with a very obvious message!
Pros
Great gift.
Thoughtful mix of ingredients – tastes great!
Full of antioxidants and vitamins.
Echinacea kick.
Cons
4. Zarbee's Naturals Tea (BEST BUDGET)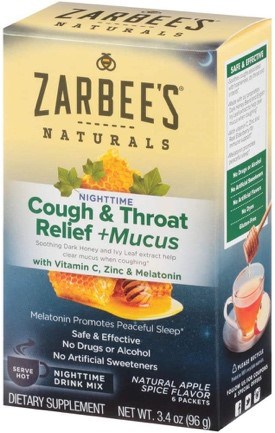 Zarbee's natural tea is an excellent cold formula that puts a special emphasis on sweet taste!
It is packed with ingredients that help you feel better. The ivy leaf helps to clear sinuses and clear a mucus-y throat. It is also fortified with medicinal ingredients such as Vitamin C, B, D, zinc, and elderberry. It even contains 3g of melatonin to help you sleep!
Taste-wise, it's one of the most naturally sweet products on our list. The recipe is infused with honey and agave syrup for that natural sweetness. The natural smoothness of these ingredients also helps your throat.
Overall, it's a great blend, and the price is right!
Pros
Very affordable.
Great mix of ingredients.
Contains melatonin to help sleep.
Naturally sweetened with honey and agave syrup.
Vitamins and antioxidants.
Cons
Might be too sweet for some.
5. Nightly Calm Herbal Tea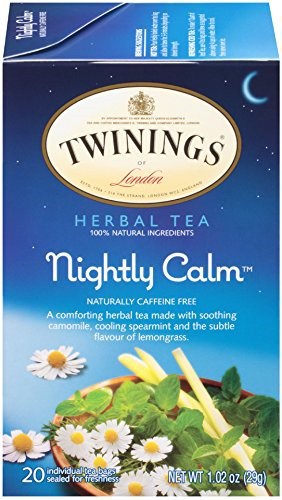 Although this product isn't specifically geared toward a cold, it is geared toward one of the most effective ways to handle any ailment, by getting some good rest!
Twining's Nightly Calm tea is a formula specifically developed for exactly that – to slow you down and help you rest.
This tea has that smooth, mellow flavor designed to help you drift off. It has subtle notes of camomile, spearmint, and lemongrass. It all comes together into a refreshing, yet deep and smooth tea blend. It's the perfect thing before bed, or just when you need some R&R.
Twinings of London is one of the oldest brands in tea, dating back to 1706 in London, England! Needless to say, it's trusted by many.
Pros
Smooth, deep blend to help you sleep.
Subtle, delicious, and natural flavor.
From one of the oldest brands in the world!
High value.
Cons
Not specifically geared for cold.
Buying Guide
Now that we've run through the top products on the market, we're going to give you more information to help you make your decision. Let's run through some of the most commonly asked questions about these types of tea, and then take a look at our top choices on the market.
What are the Benefits of a Tea for Cold?
Drinking a tea for the cold is a tradition dating back many years. It's one of those drinks that people often associate with rest & relaxation, so it makes sense why it would be the perfect thing to turn to when you aren't feeling too hot.
That being said, is there scientific evidence to support the use of tea for the cold? The answer is yes, although the science is quite unsettled in many areas. Perhaps the most obvious and important benefit of drinking tea is hydration. Tea is full of water, which keeps you hydrated to fuel your body while you are sick. Many teas also contain evidence-based benefits to improve overall health.
However, the number one piece of advice we can give is to see a doctor! If you are feeling sick, you should definitely use this option first and foremost. Only a doctor can assess your individual condition, and give you the remedy most suited to you. Before you turn to tea, be sure that you are properly understanding the important issue.
Conclusion + Our Top Pick
Thanks for checking out our guide to the best tea for colds! As you can see, there are a lot of different formulas, all which tout their own benefits. The best tea for you might simply be the one that you enjoy most, and that allows you to get the much needed rest your body requires.
Our personal favorite tea for a cold is the Yogi Cold Season blend. We can tell how much thought and care went into this blend, and it's packed with healthy ingredients to help you feel better. On top of that, it tastes great and is well priced!