The touchless faucet technology is not new – they are a common feature in many public spaces. However, this technology is now gaining more traction and finding its way into more homes, particularly in the kitchen.
Touchless faucets are gradually replacing the manually-operated traditional options and for good reasons. They are among the several kitchen appliances that bring about convenience and peace of mind. Besides, these smart gadgets are a practical addition to your kitchen and designed to provide functionality. They can quickly transform an ordinary-looking kitchen into a modern and stylish one.
Choosing the best touchless kitchen faucet is not a walk in the park, especially since they come in a wide range of design, finish, and sizes. Because of vast options, many people tend to find it overwhelming when trying to make the switch from a traditional faucet to an automatic one. For this reason, we have created this review of the top 5 models available to ease the process of finding one that will suit you best.
You will also find useful information in this article to help you decide which option to go for. Don't forget to check out the FAQ section to find answers to likely questions at the end of this article. To get things started, let's see why you should opt for a touchless kitchen faucet.
The Best Touchless Kitchen Faucet – Our Top 5 Picks
Here are our top 5 picks covering all options within all price points from expensive to most affordable. We are confident you will find a touchless faucet that suits your budget from this list.
1. Moen Arbor Motionsense Kitchen Faucet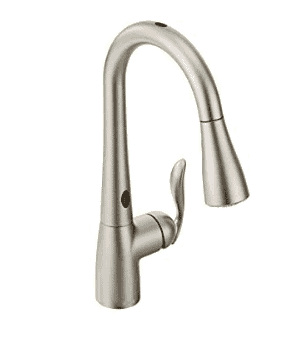 Moen is a household name as far as touchless faucets go. That's why it's not surprising to find the Motionsense Kitchen Faucet ranking high on most online reviews of the best touchless kitchen faucet models. This model comes in an unrivaled, beautiful, and timeless design with a cutting-edge MotionSense technology that raises the bar high for competitors.
This model comes in two versions – a single-sensor version and a double-sensor version. The single-sensor comes with a ready sensor located close to the base of the unit. It turns on the water as soon as it detects your hand or an object under the faucet. And when you pull your hand away, it goes off immediately. In addition to this quick response, the double-sensor version comes with an extra wave sensor located at the neck for controlling the water flow with the wave of your hand.
The sensors are designed to turn off the tap after two minutes of inactivity. This short time frame limits water wastage and eliminates the possibility of flooding your kitchen. One other good thing about this model is that you can disable these sensors to allow you to control the faucet with the manual lever.
Being able to disable the sensors is a great option, especially if you need to use the faucet like a regular tap. For example, you may want to defrost food items in the sink. To disable the sensors, place your hand over the bottom sensor for about 5 seconds. Repeat the process to enable the sensors again.
Installing the unit is quick, easy, and does not require plumbing experience or any tools. You can get it set up and running in no time. The instruction manual is pretty straightforward, and everything you need for the installation comes inside the box.
This near-perfect kitchen faucet has a few downsides, though. First, it doesn't have a manual override. It is battery operated, so there's no fear of power outages. However, batteries can fail when you least expect them to, and it can be a real inconvenience.
Secondly, the head features with a mesh that filters any large sediment in the water. While the idea of a filter is great, incorporating a mesh in the head is likely to affect the water flow rate, especially if there is a buildup of dirt on the mesh. Thankfully, the mesh can be removed and cleaned. But if you are sure of the water quality in your home, you can permanently remove the mesh to get the ideal water flow.
Lastly, the Moen Arbor Motionsense Kitchen Faucet is quite pricey. However, this is not surprising if you consider the top-notch quality of the product. It is worth the investment, and we highly recommend it for anyone who can afford to buy it.
Pros
Timeless and elegant design
Spot resistant finish
Easy to install
Easy to clean
Smart sensor is easy to enable and disabled
Self-retract hose is long
Impressive warranty
Cons
Expensive
No manual override
Filter in the head might get clogged easily (although it is removable)
2. KOHLER Sensate Touchless Kitchen Faucet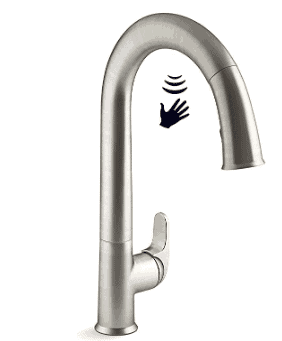 Heads up! This option is for those with deep pockets – those who don't hold back when it comes to splurging to get the very best for their modern kitchens. With this at the back of your mind, you should expect nothing less than top-of-the-line quality from this Sensate Touchless Kitchen Faucet from the renowned KOHLER brand.
This faucet has an impressive 20 millisecond response time – that's incredibly fast. In fact, it's currently the fastest touchless faucet available. Its sensors can detect activity and instantaneously turn on the water. Unlike most other models that run on one AC or battery, this model is powered by a hybrid power source. With this unit installed in your kitchen, you don't have to worry about a power outage or battery failure.
It comes in a futuristic design and smooth finish for all of its four stylish shades, which include polished chrome, vibrant stainless, oil-rubbed bronze, and matte black. But the finish of this faucet is not just about sleek looks; instead, it is designed in KOHLER's patented MasterClean surface that can withstand mineral buildup.
The spray head (which also comes with a sensor) is self-retracting with a magnetic dock to hold it in place. There's hardly any touchless faucet that can rival Sensate's limited lifetime warranty. However, there's a downside to this powerful touchless faucet. Its flow control is rather limited. It can only be set to medium pressure, or else it will run on full blast.
Besides that, the only other drawback is the price. As hinted earlier, the faucet doesn't come cheap, but it is worth every penny.
Pros
Very high response time (20 milliseconds)
Hybrid power source
Manual override
Self-retracting hose comes with magnetic docking
Best warranty (limited lifetime warranty)
Easy to install
Cons
Very expensive
Limited flow control
3. Delta Leland Touch Kitchen Faucet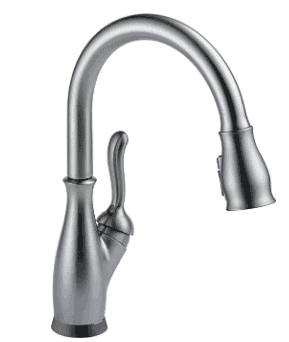 The Delta Leland Touch Kitchen Faucet takes the lead in the world of pull-down kitchen faucets. Delta put some serious work into this faucet – a gorgeous design, a ceramic disc that effectively prevents leaks, and a build that is suitable for one and three-hole mounting. And to make for an unblemished installation, each unit comes complete with an escutcheon plate to discretely hide extra holes.
Incorporating powerful and practical features, such as the anti-splash spray mode, the Touch2O touch-technology, and magnetic docking, it's hard to beat this model. Delta's anti-splash spray mode is unique. In this mode, the water flows out forcefully in a sort of shield around the stream. This is known as the ShieldSpray mode. It considerably reduces splashing while maximizing the coverage area.
The model features a TempSense LED indicator that shows changes in the water temperature. So, you can know beforehand whether the water is cold or hot before it flows into your hand. This model is battery operated but can also be used with an AC adapter that is purchased separately.
Keep in mind that starting and stopping water flow is a bit different in this model. Unlike other touchless faucets, you need to touch somewhere around the spout to activate the sensor. That's because it doesn't use a motion or presence sensor. Instead, this model uses a touch sensing mechanism.
So technically, this is a hands-free faucet. While Delta Leland performs exceptionally well, some people might find it inconveniencing to touch the spout with their forearm or wrist when their hands are dirty. Delta Leland is a slightly pricier option compared to some of the other models on this list.
Pros
Self-retracting head comes with magnetic docking
Manual override
LED battery indicator
Long hose
Can work with AC adapter (sold separately)
Impressive warranty
Cons
A bit pricey
Picky drip control
4. Badijum Touchless Kitchen Faucet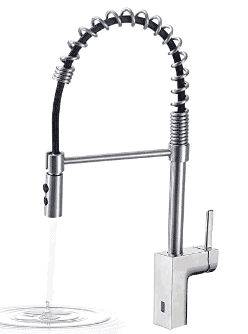 Here's the thing, every once in a while, a seemingly cheap product offers all the right features and functionality of some expensive options. Although this is not always the case, it is a possibility. What's the smart thing to do when you find such products? Grab them, of course!
That's the case with this Touchless Kitchen Faucet from Badijum. Why do we think this is the best touchless kitchen faucet as far as affordability is concerned? First, the faucet is designed to be durable and comes in a sleek decent finish of either brushed nickel or chrome. Of course, it might not be the best looking faucet on the market, but what it lacks in appearance, it makes up in quality.
It is surprising to find a highly affordable touchless faucet with a handle that has a first-rate ceramic cartridge. By the way, handles are not required to turn the water on or off in automatic taps, but just to ensure that you have continuous access to water, this model's handle is designed to withstand wear and tear for a long time. It takes 500,000 turns before it wears off!
Although this is by far an inexpensive option, affordable doesn't always translate to poor quality. You can rest assured that this product meets standard certifications, including lead-free brass NSF certification.
Regardless of how tall your container is, the long hose can reach it and fill it with water in no time. And the best part? It comes with two sensors for extra convenience. Installing the faucet is easy-breezy – no technical know-how required.
This faucet is proof that you don't have to break the bank to get a decent touchless faucet for your kitchen. It is nearly half the price of other options, yet it delivers results where it matters the most.
Pros
Very affordable
Long hose
Dual sensors
Easy to install
Cons
5. ANZA Touchless Sensor Kitchen Sink Dual-Function Sprayer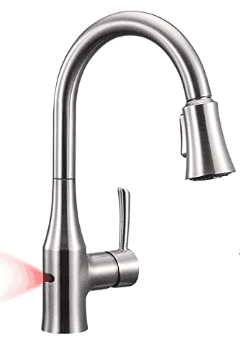 Consider getting this stylish faucet if you are in the market for the best touchless kitchen faucet with a dual-function sprayer. The ANZA Touchless Sensor Kitchen Sink Dual-Function Sprayer might have its flaws and may not be the overall top choice for a touchless faucet, but when it comes to dual-function sprayers, this option stands tall. It is the ideal faucet if you hand wash your dishes regularly.
The dual-function spray is controlled by a button that can be used to switch from the aerated, splash-free stream mode to the powerful spray for a much deeper rinsing.
It is quite easy to get the faucet's 12-inch hose around your utensils than other standard hoses. You don't have to manually guide the head back when you are done because it is self-retracting. However, it doesn't have magnets for docking.
With a flow rate of 1.8 GPM, you can be sure the model will not waste water. It is powered by four double-A batteries, and the unit is covered by a one year warranty. Although that's not a long warranty period, it is usually enough time to handle most electrical problems.
This model is reasonably priced – the second most affordable option on this list. This is a great investment considering its affordability and fairly impressive features.
Pros
Dual spray function
Affordable option
Self-retracting head
Cons
Magnetic docking absent
Warranty period is only one year
The Benefits of Buying the Best Touchless Kitchen Faucet
Here are some of the important advantages of owning and using a touchless faucet.
The foremost benefit that comes to mind when many people think of an automatic kitchen faucet is the hands-free activation. This is particularly useful when your hands are dirty or full. All you have to do is wave or place your hand under the spout, and water will flow.
A touchless faucet limits the spread of germs and bacteria that can be transmitted by touching the tap. This is particularly true for households with a busy family kitchen. Faucets with sensors can reduce the spread of germs and give your immune system the break it deserves from constantly fighting diseases that are preventable in the first place.
Kitchen hygiene is important. This explains why most people spend time cleaning every surface in their kitchens frequently, especially high-contact surfaces such as faucets. Cleaning time is greatly reduced with an automatic faucet since you don't have to wipe down spouts and handles.
A touchless faucet will significantly minimize water wastage, especially for those who tend to multitask with the tap running. If you forget to shut off the faucet (or leave it running on purpose), the faucet will shut the water off after a specific time of non-activity. Besides, the low flow rate of automatic kitchen faucets help with water conservation and prevents leakages.
You will be saving energy in the long run with touchless faucets. Of course, you can't avoid the cost of buying batteries or energy bills, but there is a significant difference between energy consumption with regular faucets and the touchless versions. Each time you select your desired temperature and flow in manual or traditional faucets, energy is wasted. On the flip side, these variables are fixed in touchless faucets, so you get a constant temperature (warm, cold, or premixed) and flow rate every time without making adjustments and inadvertently wasting energy, among other things.
Adding a touchless faucet to your kitchen doesn't only beautify your kitchen but also improves your home's value, as they are considered an upgrade.
Choosing the Best Touchless Kitchen Faucet: What to Consider
Not all touchless faucets are created equal. They vary in shape, size, quality, and come with different features. Therefore, it is important to consider certain factors before choosing a model. Here are some crucial considerations to take into account before you make a purchase.
1. Activation Feature
A touchless faucet's major function is to dispense and stop the flow of water without physical contact with the faucet. A model that doesn't perform this function perfectly is simply not worth it, regardless of its power source, water-flow rate, eye-catching finish, and bells and whistles.
In other words, the accuracy of the activation feature should be your topmost priority when choosing a touchless faucet. It is important to pick one with quick response sensors because the activation feature depends on the sensor type and how many sensors are built into the faucet. A touchless faucet with a presence sensor is generally preferable than one with a motion sensor. Equally, units with multiple sensors (usually two sensors) have higher response time and accuracy than models with only one sensor.
Quick response time means you do not have to wait for the sensors to activate after waving your hand. And sensor accuracy means the faucet won't be activated by every slight motion in the room, as that can cause water wastage. Pay attention to the accuracy and number of sensors in different models before making your buying decision.
2. Water Flow Rate
The water flow rate is measured in gallons per minute (GPM). It is important to check for the GPM of several models before choosing one. A higher GPM number will produce a more powerful blast, and while that might be a good thing in some conditions, it is not necessary for a kitchen faucet. The ideal choice for a kitchen faucet is one with a lower GPM, which would mean better water conservation. The water flow rate for the best touchless kitchen faucet should fall within 1.8 and 2.2 GPM.
3. Power Supply
All automatic or touchless faucets need a source of power to function. The power supply could come from batteries, an AC transformer, or a hybrid system that combines the battery and AC systems. Each of these come with their benefits and drawbacks, and the choice depends on what you have in your kitchen.
Battery-powered units are the least expensive options. They work with double-A or AAA batteries. You don't need to pay an electrician to install these types of faucets because they are quite easy to install. Just about anyone can install the batteries, and the faucet is good to go.
However, the cost of replacing batteries can start to add up, especially with some low-quality models. Also, the batteries may run out at the most inconvenient times. An energy-efficient model, such as a touchless faucet that comes with rechargeable batteries, can help minimize the cost associated with battery replacement.
AC powered models are designed to plug into a power outlet. Consider getting this type of unit if you have a power outlet in your sink cabinet. Although they are more expensive than battery-powered units, you won't have to deal with replacing batteries. This means you will actually be saving money over time.
However, buying these types of models when you don't have a power outlet would mean you have to spend a small fortune for an electrician to have it installed. Plus, if there is a temporal power failure for whatever reasons, you will be forced to use the faucet manually.
Hybrid faucets seem to be the best choice when it comes to a power source since these models combine the advantages of both battery and AC systems. However, for you to enjoy the best of both worlds, you will need to install a power outlet in your kitchen if you don't already have one. Besides, these units can be more expensive than other options, but that is to be expected.
4. Docking Method
The spray heads in touchless faucets are designed to dock into place. Some models can do this automatically by retracting when you let go. Some self-retracting units also feature magnets that keep them in place. The self-retracting options are usually more expensive, though. In other models, the faucet heads are manually guided back into place. These are usually less expensive but can be tiresome over time.
5. Finish
Although just about any good-quality touchless faucet will work just fine, it is preferable to choose something that matches your kitchen's overall décor. Touchless faucets come in various styles and finishes, including stainless steel, zinc alloy, chrome, brushed nickel, and other materials. Consider how the design and finish of a unit will blend with your kitchen before you buy it.
One good thing about these faucets is that they are usually not affected by dirt and fingerprints – they are touchless, to begin with! So, there's no need to worry about smudges. Even units with shiny metals will remain spotless for a long time.
6. Additional Features
Although not required, extra features can make for more convenient use of the faucet. Some models come with voice activation, making it possible to pair them with smart home devices. With this feature, you can turn the faucet on or shut it off with your voice and even use metered dispensing. However, with extra features comes an extra cost. And some battery-operated models may not include additional features.
7. Price
The expression "you get what you pay for" is true for touchless faucets as it is for any other thing. The cheaper the unit, the less durable and possibly less functional it is. But that's not to say the best touchless kitchen faucet will cost you an arm and a leg. As a rule of thumb, be wary of buying any unit under $150 because, more often than not, you'll be throwing away your hard-earned money.
8. Warranty
Lastly, look for a solid warranty. But keep in mind that the electronic components in any touchless faucet don't last as the metal parts. Any warranty on electronic parts within one to five years is generally okay. For any other thing, consider opting for units with a minimum of 10 years warranty. If you find one with a lifetime warranty, you should probably go for it.
FAQ About Touchless Kitchen Faucets
No doubt, touchless kitchen faucets generally cost more than regular types, which is to be expected considering their obvious benefits. It is important to know how these expensive faucets work before you invest your hard-earned cash. For this reason, we've compiled some for the frequently asked questions and their answers to help you understand the basics.
Q. How do these faucets function?
A. Typically, a touchless faucet is made of four major parts. These include the sensor window, a spout, the solenoid valve, and a source of power. The faucet works pretty straightforward. With the power plugged in or batteries installed, the faucet's sensor can detect the presence of an object (usually, your hand) near it, and the solenoid valve is opened to allow water to be dispensed through the spout.
Q. If left running, can the faucet stop automatically?
A. Yes. Most models incorporate an automatic water flow shut-off function. This function will shut off the faucet if it is left to run continuously for a few minutes with no activity.
Q. How long do the batteries in touchless faucets last?
A. The battery lifespan in most high-quality models that run on batteries are good across all brands. Generally, the batteries in touchless faucets are typically designed to last for about 18 to 24 months, even when the sensor is used quite often. However, the batteries will not last if you buy a poor-quality model or misuse the faucet.
Q. How many batteries are required to power a touchless faucet?
A. It depends on the model. Some faucets use four batteries, while others require six batteries of AA or AAA sizes. What you need to keep in mind is how many batteries are required to power the faucet and if the model you are buying comes with them. It can be annoying if you don't have any lying around, and batteries are not included in your purchase. Ensure that you know the power requirement before making a purchase.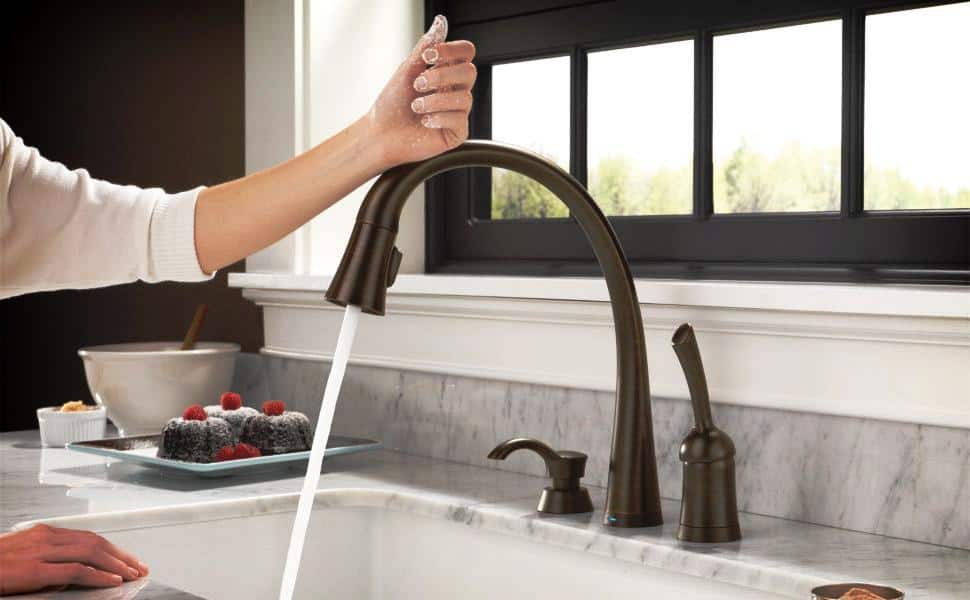 Q. Do these things work manually?
A. Some of the best touchless kitchen faucet options are designed to have a manual sensor override mode. This function is useful when there is a loss of power, as it lets you use water in your kitchen or home without needing to wait until the power is restored.
Q. What brands do you recommend?
A. The competition is stiff, but a few brands stand out. These include DELTA Faucet, Moen, and KOHLER. Besides designing high-quality and long-lasting touchless faucets, these brands offer excellent customer service.
Q. How long does it take before water begins to flow when I place my hands in front of a touchless faucet?
A. It depends on the type of sensor in the faucet. Most of the best touchless faucet models use a presence sensor instead of a motion sensor. This allows the faucets to sense the presence of your hand almost instantaneously and dispenses the water within half of a second.
Q. What about the risks of electric components?
A. Touchless faucets are safe to use and carry no danger of electrocution because they are waterproof. Batteries and other electrical components are not easily accessible, so there is no risk of electrocution even if there is a short circuit. The energy required to operate the faucet is very minimal and will barely register. However, you should never attempt to open or repair the faucet. Contact the warranty department in case of any electrical fault.