There are dozens of vegan burgers on the market now, but are they all good? If you're like me (a self-proclaimed veggie burger connoisseur), you know they aren't. I've eaten too many mushy, tasteless patties to count—and now you don't have to.
Save your money and get yourself the best vegan burger for your next barbeque. Whether you're after a meaty texture or a more natural and delicious veggie taste, this list has you covered.
1. Best Vegan Burger: Beyond Meat Burger Patties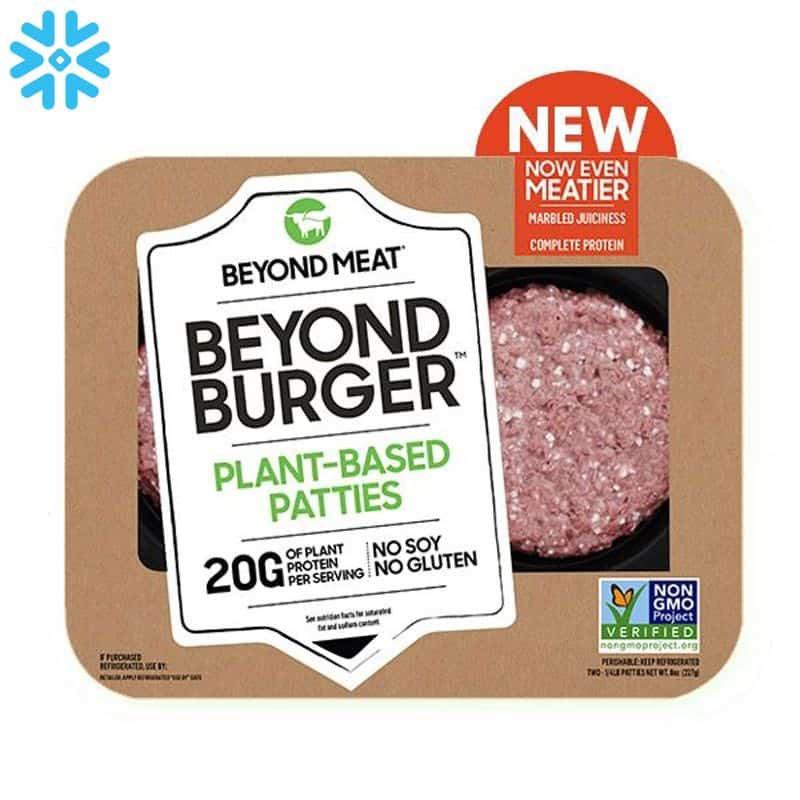 The Beyond Burger was an instant hit when it hit grocery store shelves—and it's easy to see why. It was the first burger to come close to meat burgers, with its 20 g of protein, meaty look, red blood-like juices, and strong meaty aroma.
Made primarily from pea protein, this ultimate vegan burger is gluten-free, nut-free, and soy-free. That's a rarity in the world of vegan burger patties. If you have food allergies, this could be a good meat substitute to try.
There are just a few flaws with the Beyond Burger. For starters, it's not the most affordable burger, costing around $2.50 per patty. That, coupled with the fact that one patty has 5 g of saturated fats (which is still less than what beef burgers have), makes Beyond Meat a once-in-a-while treat.
All in all, though, it's hard to beat the ultimate meaty burger. Next time, serve it to the meat-eaters who insist that vegan foods are boring. They'll quickly change their tune.
2. Healthiest Vegan Burger: Dr. Praeger's Kale Veggie Burgers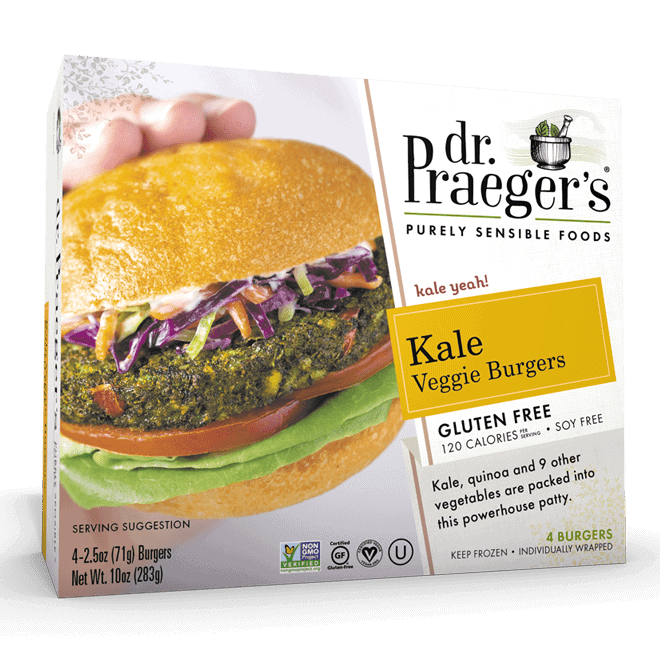 Not very into the meaty flavors of the Beyond Burger? Then Dr. Praeger's garden veggie burgers are perfect for you. They don't mimic beef burgers and instead pack a nutritious and delicious punch.
These wholesome vegan burgers are made from a variety of vegetables (including kale, peas, carrots, broccoli, zucchini, and sweet potatoes) and whole grains (such as cooked brown rice and quinoa). While they won't fool a meat lover with their natural flavor, they are delicious in their own way.
Compared with other vegan burgers on the market, Dr. Praeger's are by far the healthiest. One patty has just 1 g of saturated fat and 6 g of fiber, which will keep you full for a long time after your meal.
Its only downside is that it only has 10 g of protein, but that's easy to fix. Pair it with a healthy serving of pinto beans or black beans for a nutritious boost and you've got yourself a full meal.
3. Best Chicken-Style Burger: Morning Star Farms Chik Vegan Burgers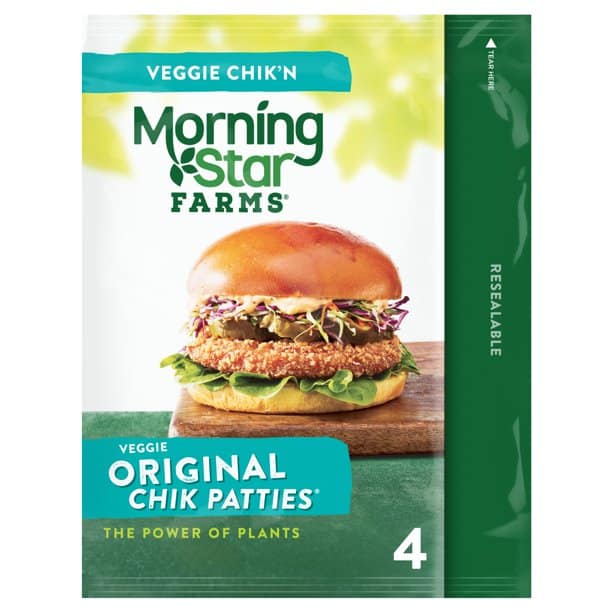 Morning Star Farm is famous for its delicious vegan sausages and nuggets. Now, their plant-based line also includes a chicken-style patty you can find at almost any grocery store.
What impressed me most about this burger is how good the consistency is. It has that sponge-like texture (in the best way possible) that chicken does, too. Plus, since the patties are not dry, they deliver a great taste boost.
Another great thing about these vegan burgers is that they're relatively healthy and can be baked without any added oil. Each burger has 160 calories and 1 g of saturated fat, which is a lot less than you will find in most breaded chicken patties.
There are only two downsides to these burgers. One is that they're not soy-free, so if you have allergies you'll have to look for another patty. The other is that, compared with other burgers, these don't have that much protein—with 9 g per patty.
4. Best Budget Pick: Vegan Burger Veggie Six Mix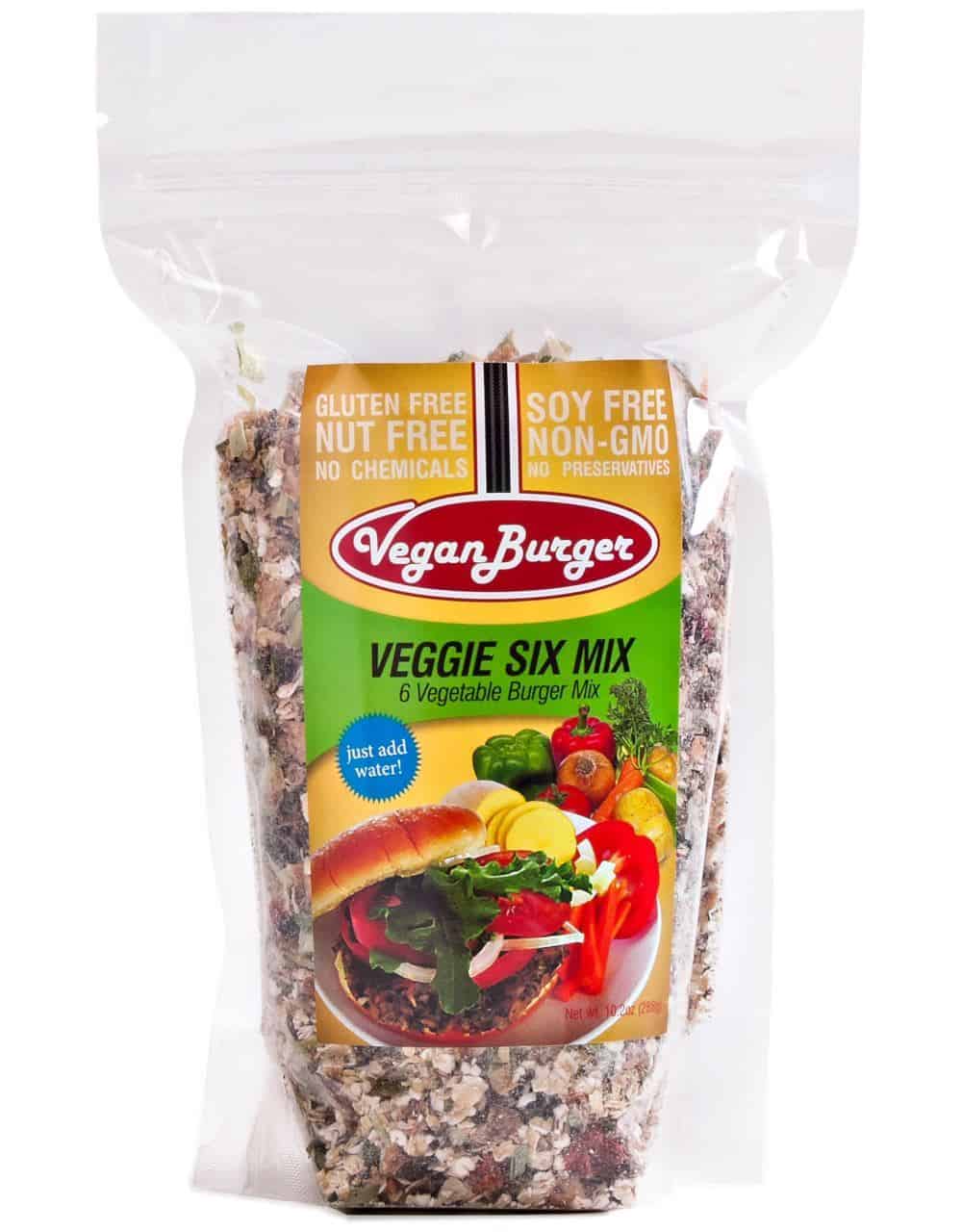 If you're on the market for affordable meatless burgers, these could be the ones for you. They're shelf-stable, so you can store them for a long time for under $1 per patty.
These burgers don't come premade. You'll need to add some water to the burger mix and shape it into patties. Don't be discouraged, though, the prep is pretty easy. Then, grill them over medium heat in some vegetable oil until they turn golden brown, and enjoy.
If you have food allergies, you'll love these burgers; they're nut-free, soy-free, and gluten-free. Plus, since they're made from whole foods—such as pinto beans, black beans, brown rice, bell peppers, and other veggies—they make for a hearty and healthy meal.
Don't bite into one of these burgers expecting a meaty texture, because you won't find it. The consistency is a bit more on the mushier side, which could be a deal-breaker for some people. Yet, since they're so packed with natural flavors, they're worth a try.
5. Best Sliders: Gardein Crispy Chick'n Sliders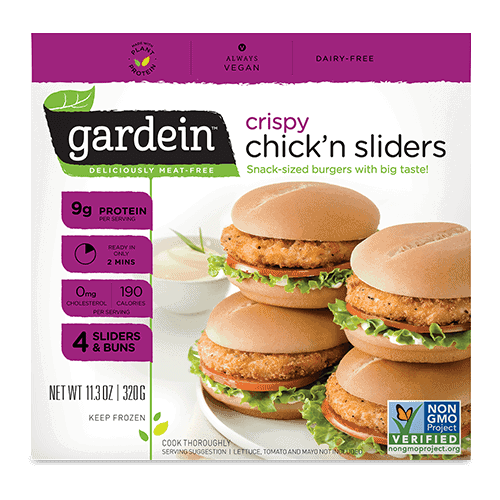 Of course, it wouldn't be a vegan burger list without including sliders. Gardein's chicken-like sliders are a win, whether you're having them as a snack or a whole meal.
When you bite into these sliders, the first thing you'll notice is how similar they smell and taste to chicken. You would be forgiven for thinking they aren't plant-based, but they are. Even the spongey texture is on point.
For a quick and decadent snack, these sliders aren't unhealthy. A slider served with the vegan buns has just 190 calories and a relatively low fat content. Not bad for something you can make in your microwave in only two minutes!
Now, we'll be the first to admit that the ingredients list is lengthy. For such small patties, there are a lot of ingredients, including soy protein isolate, wheat gluten, and pea protein. Thus, this probably isn't a processed snack you'd want to have every day.
6. Gardein Chipotle Black Bean Burger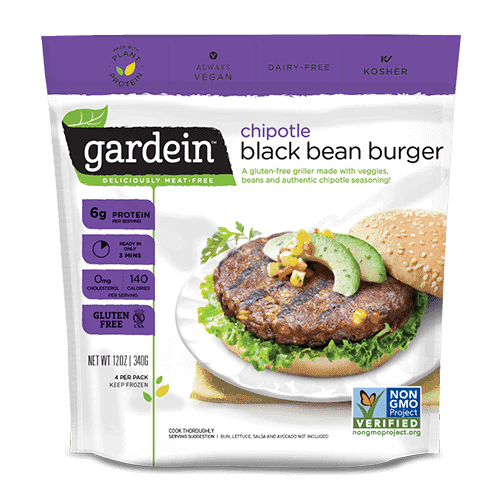 Homemade black bean burgers are very popular, but what about a more convenient option? Gardein's chipotle burgers have the right amount of protein and great flavor to make a delicious meal.
You won't have to season these burger patties with sea salt or black pepper before grilling them: they're delicious as is. The bell peppers, red onion, onion powder, garlic powder, smoked paprika, and chili powder give off a hint of spiciness without drowning out all the other flavors.
Beware that Gardein's burgers do have soy in them, but no gluten, which is a win for vegan celiacs. Other than that, there really aren't any drawbacks to these burger patties.
7. Veije Beef-Free Burger Mix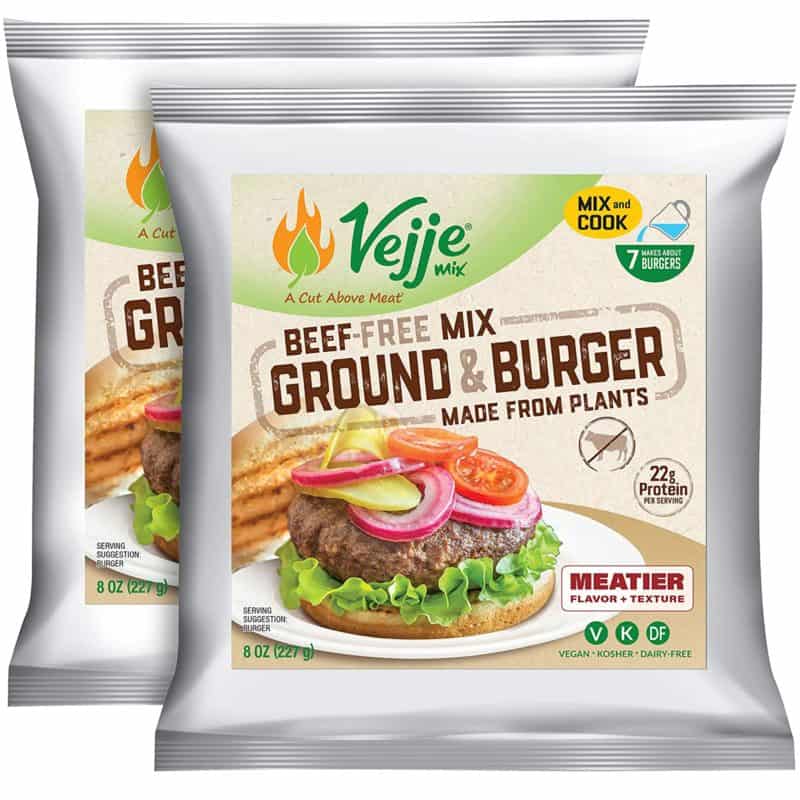 Veije is another brand making just-add-water plant-based burger mixes. They're the best vegan burgers costing around a dollar per patty, while at the same time being meaty—a combination you can't find very often.
These beefless burgers can be grilled on a skillet or grill pads. Hit them with sea salt, and turn up the heat. Then, serve on buns for a delicious barbeque experience or with sweet potatoes, mashed potatoes, or root vegetables for a healthier meal.
The only downside to these vegan burgers is that they don't come ready to eat. You do have to mix the whole packet with water and shape the mixture into patties. If you're willing to put in a little prep time, you can't go wrong with Veije.
How We Created a Best Vegan Burgers List
In my quest to find the best veggie burger, I considered five things: flavor and smell, texture, appearance, quality of ingredients, and nutritional value. To be featured on this list, the burgers I tried had to score well across all categories.
Flavor and Smell
First of all, vegan burgers—no matter if they try to mimic meat or not—need to taste and smell delicious. You want to be swayed by the juicy flavors and mouthwatering smell as soon as you're done grilling them.
Texture
Then, the texture also has to hold up—literally. No one wants to eat a soggy burger that falls apart as soon as you flip it. So, I looked for firmness and consistency. Whether they had a meaty texture or a more wholesome veggie texture didn't matter as much.
Burgers that have high sources of vegan protein, rolled oats, wholewheat flour, or breadcrumbs seem to hold their shape best.
Appearance
In addition to a texture and flavor, I also tested burgers for their appearance. Do they look appetizing? The meatier vegan options on the market (like Beyond Burger) sometimes "bleed" when you cook them (usually because they have beet or carrot juice concentrate), which is a plus in my book but not a must.
Ingredients
I also looked at the ingredient list for each burger. In this list, I included soy-free, nut-free, and gluten-free options for anyone with a gluten, soy, or nut allergy. 
Nutritional Content
Most vegan burgers aren't very healthy, but that's okay. When you pair them with whole foods, such as brown rice and veggies, vegan patties can fit into a healthy diet.
I looked for burgers with quality vegan protein sources (black beans, wheat gluten, pea protein, soy protein concentrate, potato protein, and so on) and relatively low quantities of saturated fats (less than 7 g per serving).