It seems that veganism is growing more popular by the minute–and along with it, the world of vegan books!
What's the difference between veganism and vegetarianism? While each of these is a style of plant based eating, vegans do not consume any animal products whatsoever, while a vegetarian diet allows certain animal products such as dairy and eggs.
Whether you are simply curious about plant based recipes and are looking to include more veggies in your diet, or you're an existing vegetarian looking to take things a step further, this list of the best vegan cookbooks will surely contain a useful addition or two for your cooking arsenal!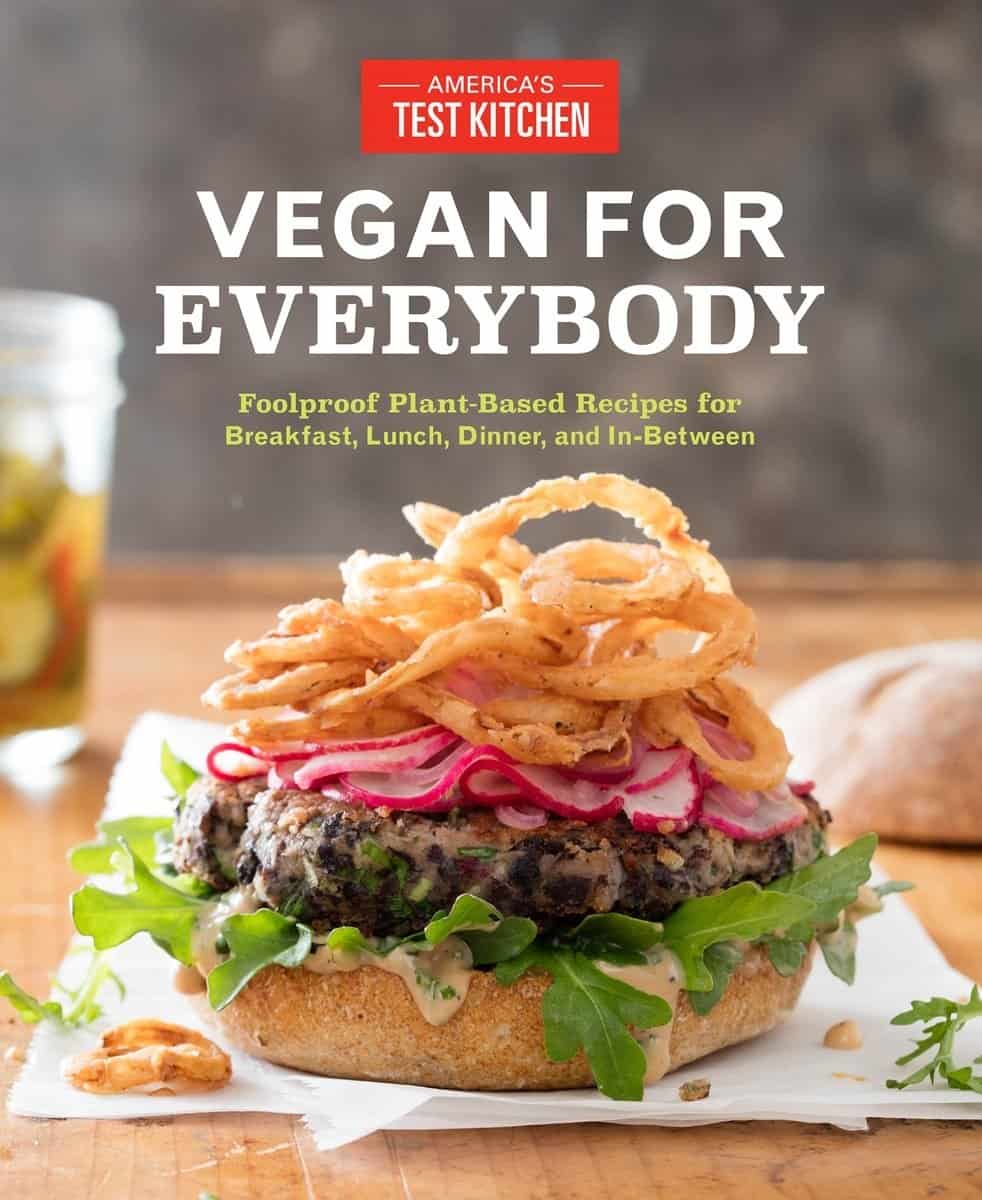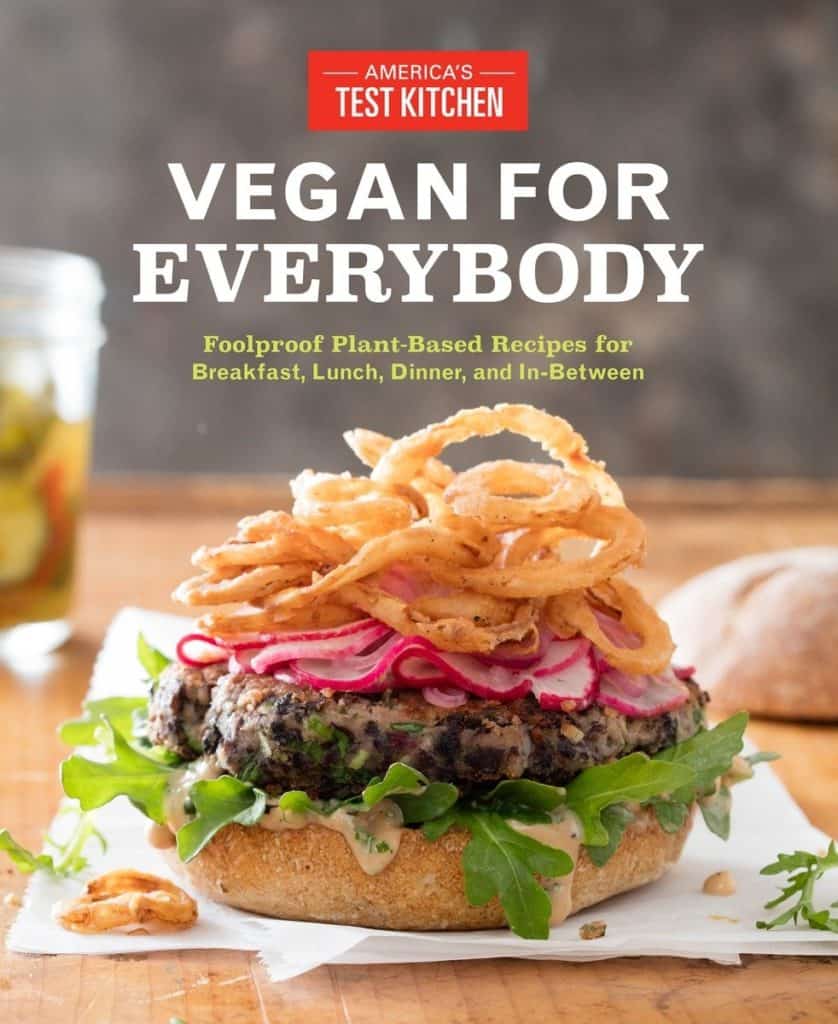 By America's Test Kitchen
From the widely-respected crew at America's Test Kitchen comes this: a truly informative vegan cookbook with recipes that appeal to a wide range of palates and preferences. The title is no joke, Vegan For Everybody truly has something for everyone!
A Peek Inside Vegan for Everybody:
Vegan For Everybody provides vegan recipes for crave worthy classics such as Fettuccine Alfredo, Burgers (made from black beans) with Pub Sauce, and even Blueberry Muffins! It doesn't stop there though, it also includes some unique options like Pesto Pizza with Fennel & Cauliflower and Pumpkin Cashew Cheesecake, as well as teaches you how to make important components such as vegetable broth and parmesan "cheese".
When an author like America's Test Kitchen delivers a cookbook, you can immediately be sure that each and every recipe has been put through exhaustive testing. Not only does this cookbook provide the final, perfected recipe for each dish, but it also discusses the process--how the team arrived at each recipe, the things that didn't work and why. This peek behind-the-scenes is not only informative, but useful when it comes to making recipe adaptations of your own. As compared to many other cookbooks, Vegan For Everybody is exceptionally well photographed, giving you everything you need in order to know what to expect when cooking your way.
The downside of a cookbook that is intended to appeal to the masses like this one is that to more experienced vegan cooks, some of these recipes may be yesterday's news. If you've been eating vegan for some time, it's likely that you already have a favorite muffin or burger recipe. Also, this isn't the most durable cookbook out there, posing an added challenge when you find yourself in a cooking frenzy!
Pros:
Offers vegan versions of classic, crowd-pleasing dishes
Includes recipes for multi-use items such as parmesan cheese or vegetable broth
Extra thorough recipe testing from the authority that is America's Test Kitchen
Provides comprehensive info on different recipe iterations, successes, and failures
Well photographed with plenty of recipe-specific photos
Cons:
Some of the recipes may be basic or expected
Unfortunately, not of the highest overall quality and the binding tends to wear out more quickly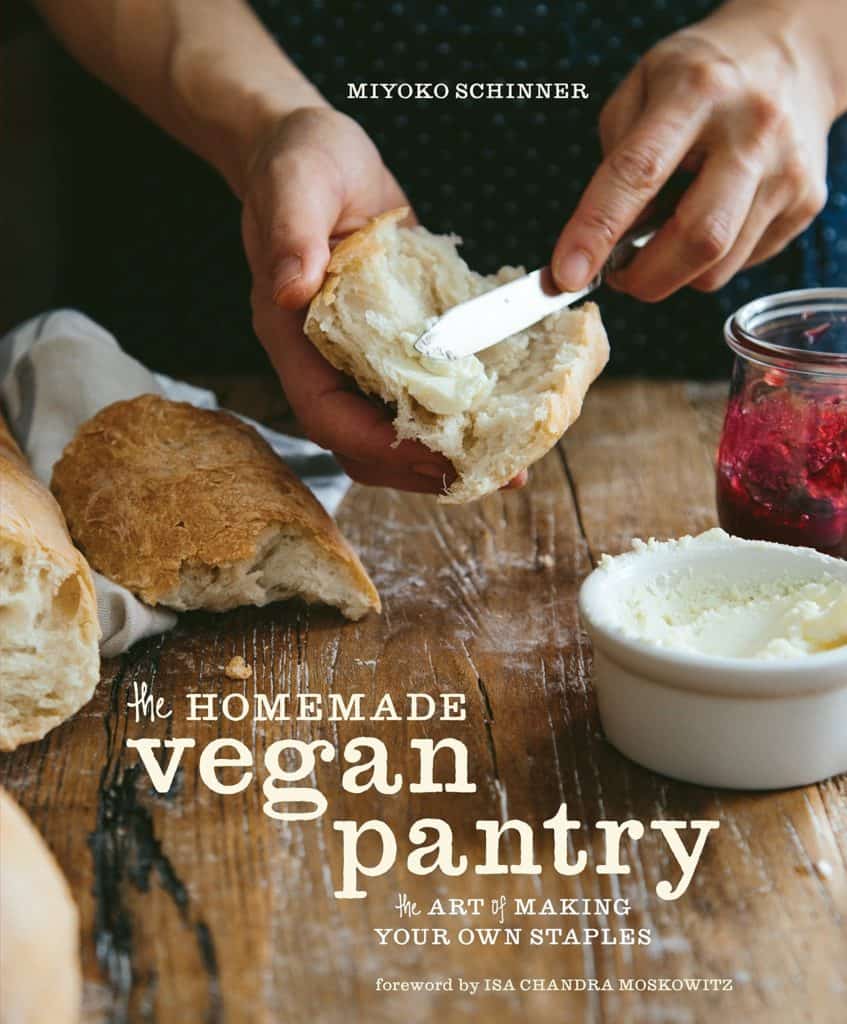 by Miyoko Schinner
The Homemade Vegan Pantry is clearly deserving of a spot on our list of best vegan cookbooks, thanks to author Miyoko Schinner and her ability to create useful, versatile, and above all delicious pantry staples. After reading the glowing foreword by acclaimed vegan chef and restaurateur Isa Chandra Moskowitz, you will have no doubt in Schinner's genius when it comes to setting yourself up for vegan cooking from scratch.
A Peek Inside The Homemade Vegan Pantry:
One of the most difficult things about going vegan is that many of your typical staple ingredients are no longer suitable. This is where The Homemade Vegan Pantry comes into play. Within the pages it teaches you to quickly and easily make your own pantry staples such as vegan butter, vegan mayonnaise, vegan yogurt, cookie dough, tons of vegan sauces, baking mixes, and so much more.
By taking the time to make your own staples, you can be sure of what's actually going into your food, saving yourself any exposure to odd chemicals or additives, as well as saving money to boot! This book gives you the power to throw meals together with ease, simply by setting yourself up with a pantry stocked full of quality basics such as those found in this cookbook.  In addition, there are loads of no-oil recipes and adaptations for anyone who is sensitive to the amount of oil used in many plant based recipes.
Unfortunately, there is a noticeable lack of photos in this book, which is a serious bummer when it comes to creating pantry staples from scratch--likely an unfamiliar process to most! Also, it should come as no surprise that these recipes are not for those short on time or patience. Rather, this book is best used on days that you have some spare time to dedicate to food prep, setting yourself up for easy and fast vegan cooking in the future.
Pros:
Instructs on how to make vegan pantry staples, easily replacing store-bought versions
Prepares you to be able to throw meals together quickly
Offers a healthier alternative to processed vegan items
Making your own staples = more money in your pocket!
Lots of no-oil options or low-oil variations of recipes
Cons:
Lack of photos that correspond to the recipes and processes
Making the individual components is a time consuming endeavor (although it pays off in the end!)

by Jenne Claiborne
Jenne Claiborne was lucky enough to grow up eating soul food in her hometown of Atlanta, Georgia. When she decided to adopt a vegan diet, she still wanted to be able to enjoy those favorite, most comforting southern flavors. So, she set out to create healthier vegan versions of her most beloved soul food dishes and Sweet Potato Soul was born!
A Peek Inside Sweet Potato Soul:
It shouldn't be too surprising that within this book you'll find an abundance of–you guessed it–sweet potatoes! From Sweet Potato Hummus to Sweet Potato Burgers and Sweet Potato-Pecan Cinnamon Rolls, you can truly have sweet potatoes at each and every meal. It's not all about this spud though, you'll find plenty of other classic soul food recipes: Low Country Grits, Coconut Collard Salad, and Jalapeño Hush Puppies to name a few.
This cookbook starts off by setting the foundation with an informational section on fruits, vegetables, seasonings, and other staples of successful vegan soul food cooking. The relatability of the cuisine and approachability of the recipes appeal to a wide range of eaters. This is invaluable when it comes to cooking for a family or any group with blended eating styles, as the recipes here are sure to please a diverse crowd! In addition to providing healthy alternatives to some traditionally not-so-healthy dishes, the recipes are crafted to include recognizable and easily sourced ingredients that you can find at most grocery stores.
Although this book prioritizes health by way of vegan-izing southern food favorites, it does include plenty of processed foods such as vegan cheese and dairy substitutes, which are not always as healthy as you might hope. And, while there are lots of recipes for hearty dishes and sides, there aren't a great deal of entrée options. Finally, if you're not a fan of sweet potatoes, you may want to opt for a different book as this one has plenty of them!
Pros:
Contains helpful information on ingredients and tips for pantry staples that help you to have a successful cooking experience
Great for cooking for groups or families with blended diets, as the recipes will appeal to many palates
Provides a healthier spin on traditionally not-so-healthy soul food cuisine
The dishes are approachable, without complex ingredients or tough to locate items
Cons:
Many recipes call for processed vegan products, which are not always as healthy
Not a ton of entrée options
If you're not a fan of sweet potatoes, you'll be out of luck on this one!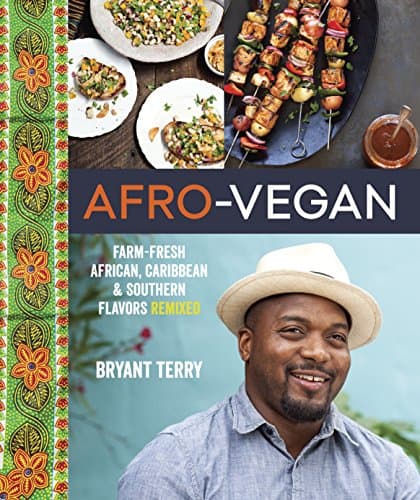 by Bryant Terry
As the author of several vegan cookbooks such as Vegan Soul Kitchen and The Inspired Vegan, Bryant Terry knows plant based food inside and out. With his latest work, Afro-Vegan, he works to intersect veganism with the cuisine of the African Diaspora--bringing the flavors of Africa, the Caribbean, and the American South together in one festive volume!
A Peek Inside Afro-Vegan:
This cookbook is nothing short of a celebration--not just a celebration of food but also of music, culture, family, and life itself! Each recipe is bound to test what you think you already know about food, from dishes such as Cinnamon-Soaked Wheat Berry Salad (cinnamon in a salad, yes!), Caribbean-inspired Cocoa Spice Cake, Crispy Teff and Grit Cakes with Eggplant, and Roselle-Rooibos Drink.
This cookbook will have you cooking vegan food, yes, but along the way you'll also be learning about new ingredients, flavors, techniques, and how these things come together to create a cuisine. Afro-Vegan is especially great for those who already have some cooking experience under their belt, are perhaps growing weary of the same old plant based recipes and looking to (quite literally) spice things up! And, aside from the wide range of recipes, this book is as much a cultural achievement as it is a culinary one. Each recipe comes with a song recommendation, and the cookbook contains movie and book suggestions throughout–entertaining as well as instructive!
Learning about new ingredients can be a double-edged sword, however. If you've never heard of something, then it's likely you don't know where to get it. The complexity of these recipes is what make them interesting and able to inject life into your typical meal rotation. But unfortunately, this also makes them impractical for everyday cooking in which you may not have a ton of time to put towards meal prep.
Pros:
Will surely introduce you to new ingredients and flavors you have never heard of
An excellent resource for those who have a basic understanding of vegan cooking and are looking to expand their repertoire
Provides extra information on the culture and history of African flavors and cuisines
Is a true work of mixed media--incorporating references to music, movies, and literature
Cons:
Recipes will call for unfamiliar, tougher to source ingredients
Most dishes are impractical for weeknight cooking, as they require a time commitment or have more involved techniques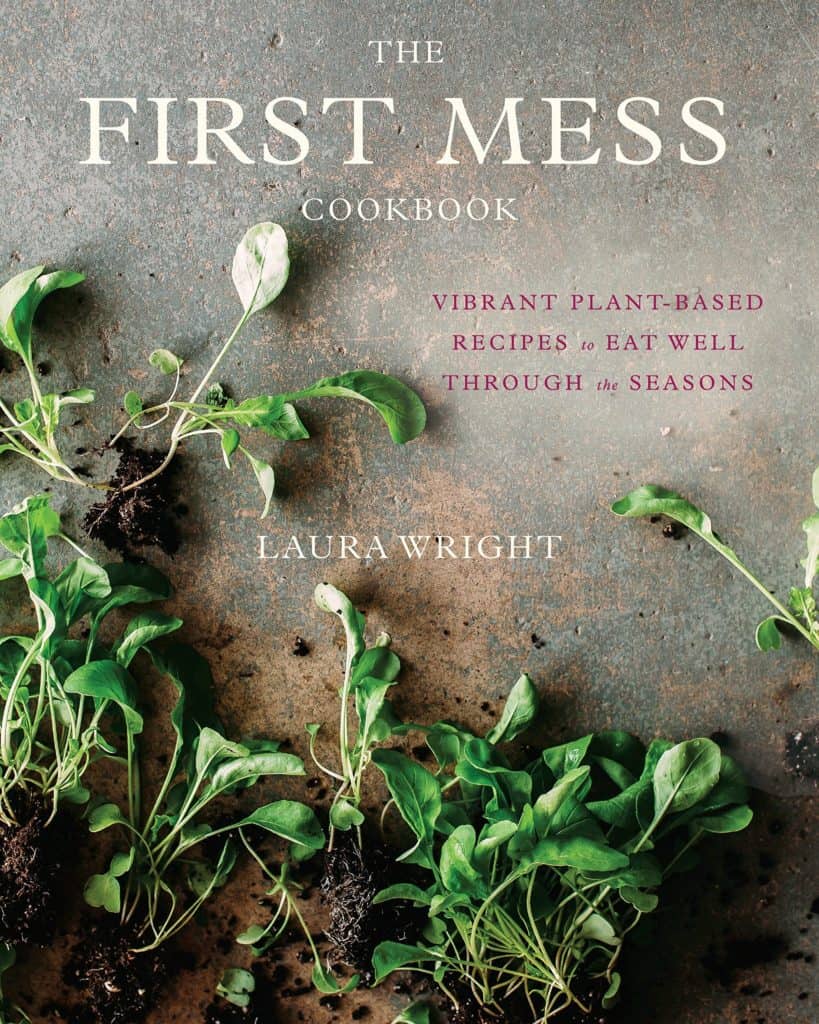 by Laura Wright
When author Laura Wright decided to fully commit to a vegan diet, the step was a natural one as she already had a wealth of plant based wisdom and appreciation under her belt. She started her own food blog, The First Mess, and quickly gained a huge following. Eventually, she compiled her delicious recipes into The First Mess Cookbook, an eye-catching homage to the seasons.
A Peek Inside The First Mess Cookbook:
The fact that this cookbook is connected to an award winning blog is a major bonus, easily earning it a spot in the list of best vegan cookbooks. The First Mess blog is a vast resource, which can be of great aid as you cook your way through recipes such as Root Vegetable Dal, Caramelized Onion Potato Salad, and Earl Grey and Vanilla Bean Tiramisu.
On top of these inviting recipes, The First Mess Cookbook also provides plenty of teachings on seasonality which will get you making use of the farmer's market or local produce section like a pro. And did we mention this book is gorgeous? Wright is a truly gifted photographer and even if you were to never cook a single recipe from this book (which you would be crazy not to), just looking at the photos would surely teach you a thing or two. This cookbook also includes a handy pantry and kitchen equipment guide, as well as makes clear notes of which recipes are dietary-restriction friendly.
Perhaps due to regionality, the recipes in this book do tend to call for ingredients that may be unusual to you or tough to find. Some things, such as arrowroot flour and nutritional yeast, are likely already in the pantries of established plant based eaters, but newbies may require some stocking up. The recipes also tend to be a bit on the more involved side, so if you're looking for quick weeknight suppers, this cookbook may not help you in that department.
Pros:
Connected to an award winning blog, for even more content, recipes, tips, and tricks
Provides plenty of seasonal wisdom in addition to plant based recipes
Stunning photography for each and every recipe
Includes a thorough pantry and kitchen equipment guide
Clearly marked gluten free, oil free, sugar free, and nut free options
Cons:
Calls for many different or seasonal ingredients that are likely not already in your kitchen
Some recipes are labor intensive and time consuming, not ideal for busy schedules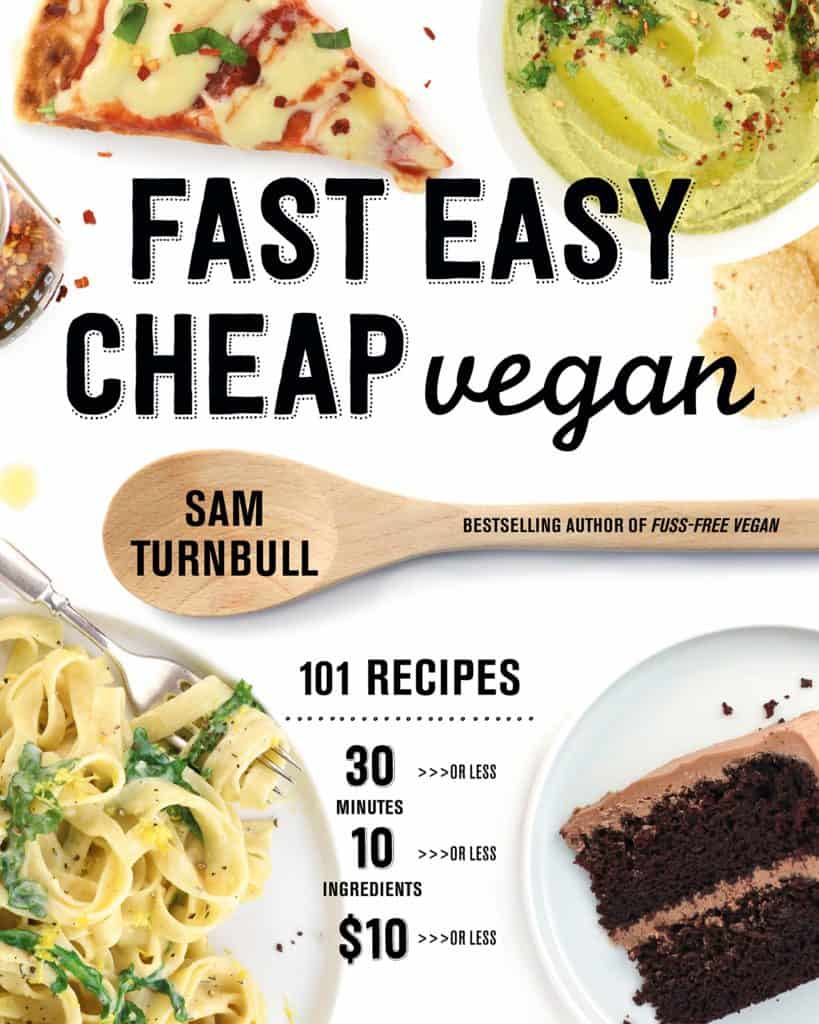 by Sam Turnbull
Sam Turnbull's first cookbook, Fuss-Free Vegan truly set the tone for the type of author she is. In the page of that first book, as well as her wildly successful vegan blog, she makes it clear that she is all about simple, approachable, tasty vegan cooking. Here in Fast Easy Cheap Vegan, she does it again, delivering a collection of recipes that help you pull together vegan meals with ease!
A Peek Inside Fast Easy Cheap Vegan:
Vegan cookbooks don't have to be boring--Fast Easy Cheap Vegan is one FUN cookbook! The photography style is completely unique and whimsical, and with recipe names like Get 'Er Done Garlic Noodles, Hash in a Dash, and No-Sweat Sweet and Spicy Corn Soup, thumbing through the pages is like an instant mood boost. Plus, the joyful style and easy methodology are great for getting kids into the kitchen as well!
The whole concept of this cookbook is to show you that cooking (whether vegan or not) does NOT have to be a time consuming endeavor. As promised in the cookbook title, each of these recipes contains 10 ingredients or less and can be completed in 30 minutes or less. Your wallet will thank you too, as each recipe is designed with budget in mind. In addition to easy breezy meal recipes, this book will also guide you in setting yourself up for grab-and-go cooking, with instructions on how to make your own seasoning blends, smoothie kits, and baking mixes, to name a few.
The downside of all of these quick and easy recipes is that some of them are a bit too quick and easy. Some of the recipes are not all that groundbreaking--different flavors of popcorn, toppings for toast, etc. In addition, many of the recipes are "fakeout" dishes such as BLT salad (without real B of course), rather than recipes that celebrate the goodness of whole vegan foods themselves.
Pros:
Has an engaging layout, unique photography style, and really fun recipe names!
Great for cooking with kids, vegan or not
Recipes are time saving, simple, and straightforward
Money saving, as recipes are designed to cost $10 or less
Instructs on how to make convenience items and "prepared" foods yourself
Cons:
Includes some overly simple recipes
Includes many dishes with substitute ingredients rather than whole foods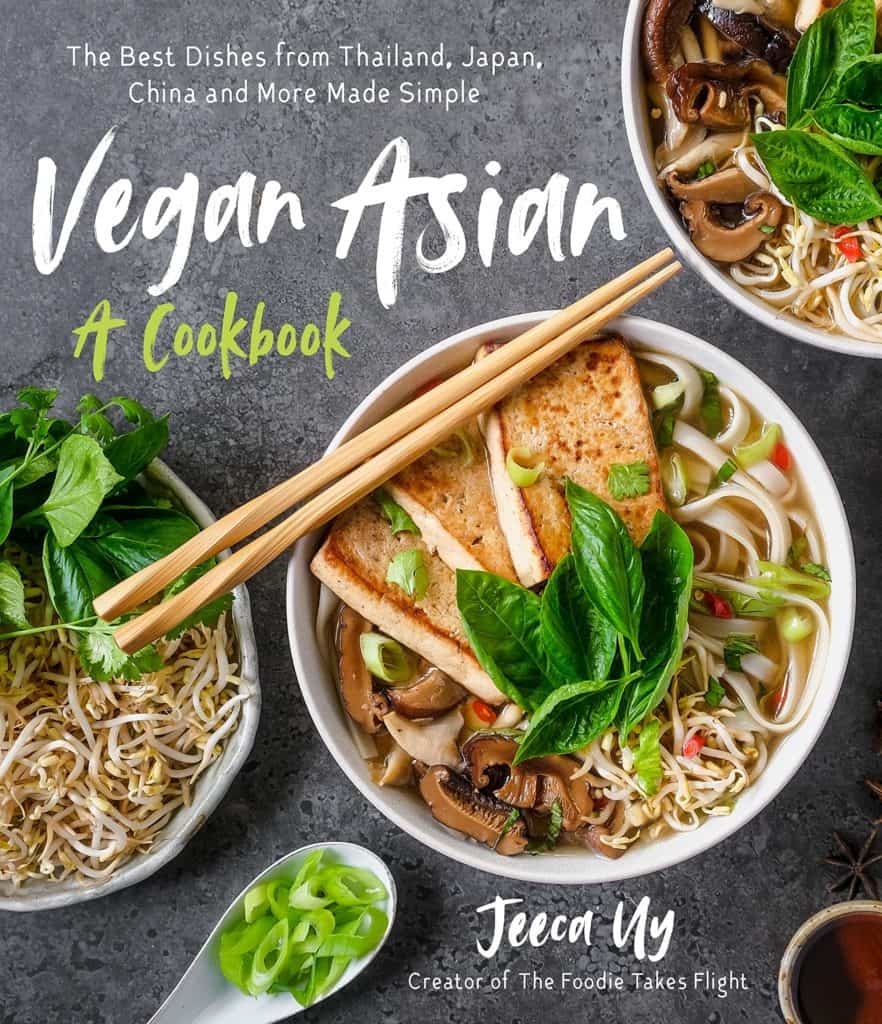 by Jeeca Uy
At the helm of the immensely popular blog, The Foodie Takes Flight, Jeeca Uy is no stranger to developing vegan versions of dishes, whether they be childhood favorites or inspirations acquired on her travels. In Vegan Asian: A Cookbook, she brings together iconic dishes and flavors from Thailand, the Philippines, Japan, and beyond!
A Peek Inside Vegan Asian: A Cookbook:
This cookbook will have you cooking takeout-worthy recipes in no time, from homemade Pad Thai to Mango Sticky Rice, you'll learn that there is truly no need to pay the upcharge or make the trip to get the amazing takeout flavors you crave. You'll also learn some more regional favorites such as Satay Tofu Sticks with Peanut Sauce, Japanese Yakisoba, Tofu Tonkatsu, and Kimchi Pancakes.
It's not always obvious that many of the components that deliver the most flavor to Asian dishes are actually non-vegan ingredients such as oyster sauce or bonito flakes. Vegan Asian: A Cookbook is able to bring the same level of flavor to the table without the use of animal products. You still get all of your favorite flavors such as satay and tonkatsu, without the meat or any "fake meat" products. There are also recipes for some basic ingredients like dumpling dough and oyster sauce (sans oyster, of course), which will help you to more quickly and easily evoke the flavors of Asian cuisine in your cooking. And, if you're a newcomer to vegan recipes or Asian cuisine in general, you'll be pleased that there is a photo for almost every recipe. Not only are there recipes but you'll find a wealth of information on Asian cuisine in general, from a guide to shopping for and working with tofu to folding dumplings.
That said, if you don't like tofu or prefer not to use it, this may not be the cookbook for you. Many of the recipes include tofu and don't offer substitutions, although in some cases, such as the recipe for Satay Tofu Sticks with Peanut Sauce, you could most likely substitute any vegan meat product you like. Also, this cookbook may be extra challenging or incur extra expense if you don't already have at least a few Asian cuisine essentials in your pantry. Some of these items, such as Chinese black vinegar, may be tougher to source than others.
Pros:
Provides vegan recipes for a wide range of Asian dishes, as well as takeout-style favorites
Includes some recipes for helpful and versatile pantry essentials
There is a photo for almost every recipe--especially important if dishes or techniques are unfamiliar
Has some additional helpful information such as shopping for and working with tofu, folding dumplings, and more
Cons:
Some ingredients may need to be sourced at a specialty store or substituted
Recipes are tofu heavy, not ideal if you're not a fan!
Best Books for Vegan Cooking: The Final Say
Whether you have been on a plant based diet for quite some time, or you have recently decided to stop eating meat, there is a vegan cookbook out there for you! Some cookbooks are designed to please a crowd, while others target fans of specific cuisines and cultures.
Even if you aren't vegan, choosing a book from this collection of best vegan cookbooks will definitely help you to eat healthier, eat more veggies, and expand your knowledge of flavors and techniques. Drop us a line and let us know which vegan cookbook is your favorite!