Going vegan doesn't mean that you now have to forego cream cheese for the rest of your life; that life isn't going to be very enjoyable. Thankfully, there are some extremely good vegan cream cheese options available that you can try out.
The best part is that the options mentioned here taste quite good too. Now you can go back to slathering that rich goodness on your bagel, whipping it into creamy pasta sauce, or adding it to some of your favorite vegan recipes.
Formulated to taste just like the real stuff, these vegan cream cheese options have everything but the animal byproducts you are trying to avoid.
You can even find a wide variety to suit every palate, from smoky vegan salmon flavors to herbed options and cruelty-free choices, the choice is back in your hands again. That being said, here are some of the best vegan cream cheese available in the market.
Also Read: HOW TO CLEAN A CHEESE GRATER THE EASY WAY
1. Best Overall - Tofutti`s Dairy-Free Cream Cheese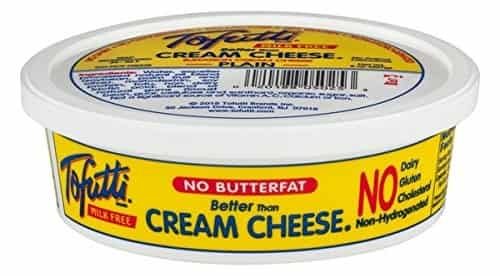 Tofutti is a well-known and trusted brand. In fact, it was one of the very first brands to look into making dairy-free products for the vegan community.
One of the biggest issues people had with Tofutti initially was that they originally made their dairy-free cream cheeses with hydrogenated oils.
However, the brand quickly got off that train and started using non-hydrogenated alternatives - a move that saw its popularity go back up.
This Tofutti`s Dairy-Free Cream Cheese offers you 8 ounces of dairy-free creamy goodness just like you like it. Not only does it have a soft, rich, and creamy consistency that just melts away in your mouth, but it actually tastes very much like the real thing.
This is a vegan cream cheese option that holds up well in any dairy-free frosting and can be used in a wide variety of vegan recipes, such as including it in your vegan carrot cake bread.
Pros:
Has a soft and creamy consistency
Taste very much like the real thing
Quite versatile and can be used in a wide range of recipes
Affordable
Cons
It's soy-based; some people don't like that taste
Has a somewhat strong artificial taste
2. Best Fresh-Flavor Option - Daiya Cream Cheeze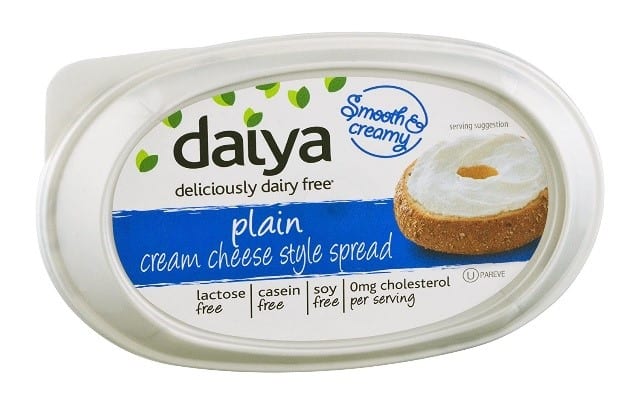 Well known for their plant-based alternatives to an assortment of dairy products, Daiya is a wonderful brand dedicated to manufacturing some of the best tasting vegan food alternatives in the market.
Their Daiya Cream Cheeze is an extremely tasty alternative to people who still want the same smooth and creamy taste that they love on their cheese.
Formulated with a slight touch of lemon juice, the flavors don't overpower the cheese's overall taste. The best part is that it's quite versatile and can be used on a wide variety of recipes, including the making of differently flavored cheesecakes.
One of the reasons vegan cream options from Daiya are so popular is that, like this option, they don't contain peanuts, are free from gluten, and free from soy.
If plain cheese doesn't work for you, you can find alternatives that have garden vegetable flavors, a chive & onion alternative as well as strawberry flavors.
Pros:
Creamy and smooth
Tasty
The hint of lemon doesn't overpower the cheese
Versatile and easy to incorporate into a wide variety of recipes
Cons:
Has a high sodium content
3. Best Fresh Aroma - Violife's Just Like Cream Cheese Chilli Peppers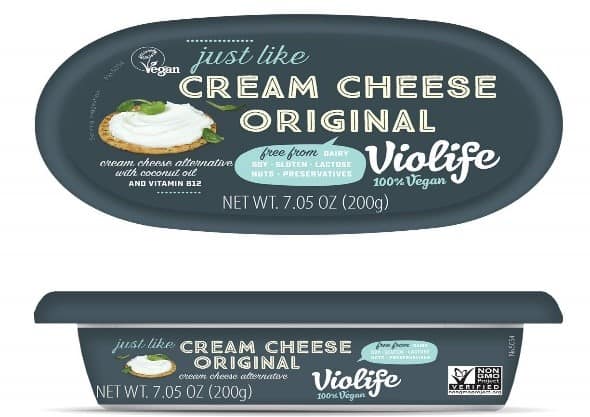 If you are particular about how your cheese smells, you should definitely give this Violife's Just Like Cream Cheese Chilli Peppers a try.
It has an enjoyable fresh smell, which accompanies its tangy yet creamy taste and light coconut undertones that gives it a delicious aroma. Furthermore, it has a light sweetness that accentuates the tart yet gloriously creamy flavor.
Designed for health-conscious vegan consumers, this product is not only dairy-free, but it's also free from soy, free from gluten, nuts, lactose, and artificial preservatives.
It also contains Vitamin B12, which makes it a wonderfully beneficial addition to any diet. Top all that off with the fact that it's extremely spreadable, and you have an excellent vegan cream cheese option.
Pros:
Very spreadable
Contains Vitamin B12
Has a fresh aroma
Has a tangy yet creamy taste
Cons
The flavors are too subtle
4. Best Kosher Option - Kite Hill's Everything spread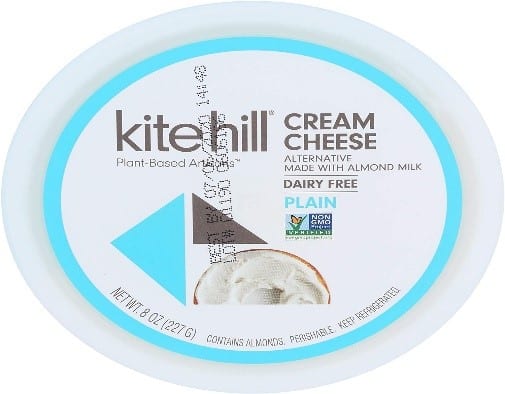 For every vegan looking for kosher cream cheese out there, this Kite Hill's Everything spread is an excellent choice.
Aptly names the "Everything" flavor, this vegan cream cheese is loaded with delicious herbs, sesame seeds (roasted), and poppy seeds. Apart from being dairy-free, it's also gluten-free and has a wide variety of flavors for you to choose from.
Pros:
Easy to spread
Has 0g of saturated fat
Loaded with flavorful herbs
Gluten-free
Cons
Might be a bit too sweet for some
5. Best Sour Option - MIYOKOS CREAMERY Organic Plainly Classic Cashew Cream Cheese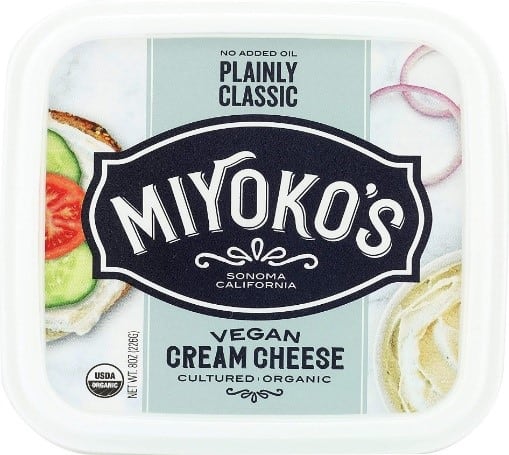 The classic cream cheese taste is definitely sour. Thanks to all the different flavors that have hit the market lately, many people forget that fact until they taste this MIYOKOS CREAMERY Organic Plainly Classic Cashew Cream Cheese.
Formulated to taste exactly like classic cheese, this vegan cream cheese option has a slight yet noticeable sour kick. Some users have even likened it to "sour butter" as opposed to cream cheese.
Although it definitely tastes sour, it's very versatile and can be used in a wide variety of recipes, or you could just dilute it in some soy milk.
Pros:
Has a strong sour taste
Versatile
Smooth and creamy
Cons:
Some people find it too sour
Vegan Cream Cheese Buying Guide
How Does Vegan Cheese Compare With Dairy?
Not many people consider cream cheese as an option when discussing vegan options, but as you can see, there's so many to choose from! Traditionally, cream cheese is made from dairy cheese using casein protein, which is found in cow, goat and sheep milk. Cheese is made using an enzyme called rennet, which is added to the milk during the coagulation process. There are other ways that cream cheese can be made, however using rennet is the most common method and almost all cheeses are created this way.
Vegan cheese is made using a similar process, but very different ingredients (obviously). Vegan cream cheese has a protein substitute added to it, usually sources from plants. Then, instead of using rennet during the coagulation process, vegan cheese uses the lactic bacteria. For more firm vegan cheeses, additional ingredients like oils and emulsifiers can be added, as well as nuts, tofu or seeds.
Ingredients to Look For When Buying Vegan Cream Cheese
There are a number of different sources used in vegetable-based proteins and cheeses, so there's many ingredients to look for. However, below we've outline the key ones for you.
Soy Cheese
Soy vegan cheese is the most common and widespread vegan cheese. It's usually offered in a variety of different flavors, like cheddar and mozzarella, and has a very similar consistency to dairy cheese, which means you can slice, grate, or even melt it onto your recipes! It's also very low in fat and calories, which is why it's a very popular choice among many vegans.
Nut Cheese
Another great option, nut cheese is usually made from macadamias, brazil nuts or cashews. Although this one is higher in fats, it's also a great source of iron, antioxidants, calcium, and potassium. Nut cheese is a great option for spreadable snacks and recipes because the consistency is creamier than other options.
Seed Cheese
Ideal as a substitute for hard cheeses, seed cheese is great for grating over your dishes and is usually made from sesame seeds or hemp seeds. Because seed cheese is made using different seeds, the flavors also vary so there's different combinations to try! Again, this cheese is an excellent source of antioxidants and healthy fats.
Rice Cheese
Not as popular as the other three, rice cheese is mainly processed using water and rice flour. It's usually used for cheddar alternatives and comes in the form of harder blocks or slices - great for vegan sandwiches.
Vegan Cream Cheese FAQ
If you are new to the vegan way of life, you undoubtedly have a few questions about vegan cream cheese that you might want answered. Here are some of the most frequently asked questions about vegan cream cheese:
What is a good vegan substitute for cream cheese?
For a long time, vegans struggled to find the perfect substitutions for most dairy and animal products on recipes.
Thankfully, over the years, as more and more people realized the benefits of going vegan, creativity has come into the mix. Today, you can pretty much turn any recipe you like into a vegan version of itself.
However, cheese is still one of the hardest foods to find a vegan substitute for, mostly because cheese, as we know it, is very high in salt and fat, while most vegan alternatives aren't. The options mentioned above do a very good job of giving you an excellent vegan alternative to cheese.
Now all you have to do is choose the one that tastes closest to the kind of cheese you want. The best part is that every single option on this list is quite versatile and can be used on just about any vegan recipe.
Does Trader Joe's sell vegan cream cheese?
If you are a fan of Trader Joe's, you will be pleased to hear that the brand stocks about two varieties of excellent vegan cream cheese. You can find a private-label option that is a non-dairy cream cheese that has a reminiscent flavor of classic cheese (a little sour and sweet).
This particular cream cheese is quite versatile, easy to spread, and works very well with bagels or the occasional cheesecake. Additionally, the brand stocks Miyoko's cashew-based Un-Lox cream cheese, which is both creamy and has a classic sour taste.
What does vegan cream cheese taste like?
For the most part, vegan cream cheese tastes very much like the real thing: creamy and smooth with a hint of sourness. However, this does depend on the particular brand and the particular cream cheese you pick.
Many different options are given specifically unique tastes that are akin to herbs or fruits. Miyoko's option listed above has a slightly sour taste with heavy hints of cashew.
Others taste a bit like lemon, while many more have specified flavors, such as strawberry. It all comes down to the type of vegan cream cheese you buy.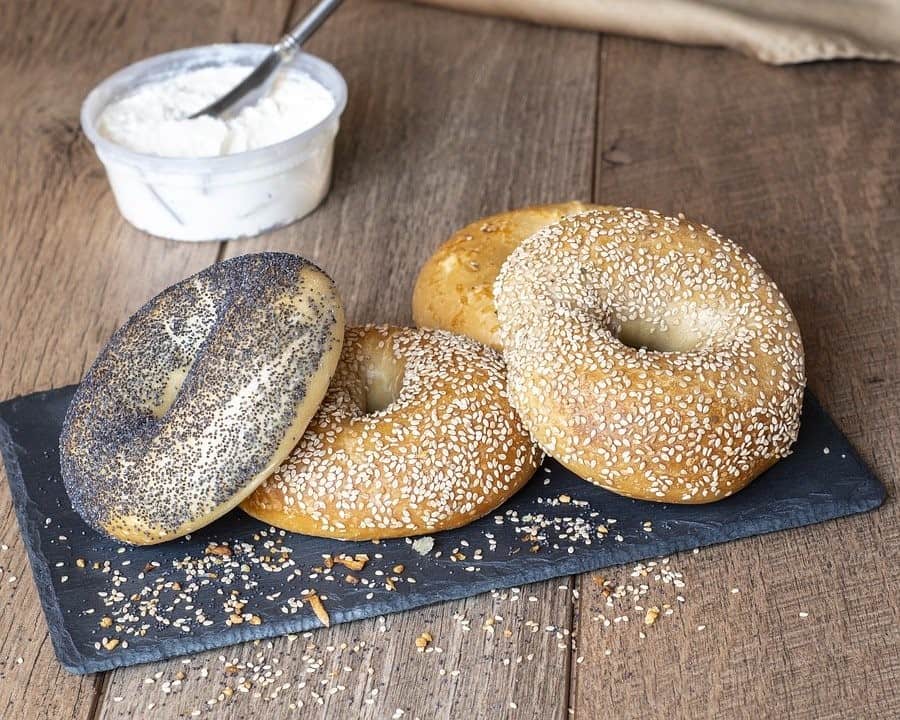 Every option on this list is a wonderful vegan cream cheese substitute that works well with bagels, as well as typical vegan recipes that call for the use of cream cheese.
They are versatile, gluten-free, affordable, and feel as creamy and as smooth in your mouth as the real thing would - except healthier.