There's no better feeling in the world than waking up to cold pizza from the day before and a piping hot cup of coffee to go with it – said no one ever! Unless, of course, you're a college student living in a frat house with no way (or desire) to reheat leftovers.
For decades, the great debate has been – what is the best way to reheat pizza so that tastes as good as day one? Can you revamp day-old pizza and transform those limp, soggy slices into fresh-tasting slices of heaven?
We tried and tested 3 popular reheating techniques to see which one produces the best results. Here's what we found.
1. Use an Oven - Best Overall Result
This is hands-down the best way to resuscitate leftover pizza. Like bread, storing pizza for one or two days causes the crust to lose moisture and become dry and stiff. This is as a result of the starch molecules crystallizing and absorbing moisture through a process known as starch retrogradation.
You can, however, temporarily reverse this process by reheating it to at least 140 degrees. At this temperature, the heat breaks down the start crystals, releasing the trapped moisture, which then softens the crust.
If you place the pizza in a cold oven and gradually allow it to warm up, it gives it enough time to release the trapped moisture and soften the crust. It will become every bit as hot, crispy, and delicious as day-one pizza.
How to Reheat Pizza Using an Oven
Now, if you've previously tried to reheat a pizza using this method, you're probably shaking your head at the very idea. It might be because the last time you did, it resulted in a hard, dried out slice of a cheesy mess. That's probably because you didn't do it right. Here's a foolproof method you can try.
Step 1: Don't Preheat Your Oven
All good things take time, right? Whoever said it probably had day-old pizza in mind. You mustn't preheat your oven. As we mentioned before, you need to give the crust time to gradually warm up and allow the starch molecules to release the trapped moisture. Don't rush the process.
Step 2: Line Your Baking Tray With Foil
Next, you'll need to line the surface of your baking tray with foil before placing your pizza slices on it. Then, seal it with more foil to keep them from drying out as they reheat.
Place the tray on the lowest rack so that the pizza gets heated from the bottom up. That way, the crust becomes crispy, and the toppings don't end up shriveled and overcooked.
Step 3: Turn on the Oven to 375ºF
The final step involves turning on the oven to 375ºF. Leave the pizza in for about 15-20 minutes and let the heat work its magic. Keep an eye on your slices to make sure they don't burn. The result should be a hot, delicious, leftover pizza. Enjoy!
Best Oven to Reheat Pizza – Mueller Austria Toaster Oven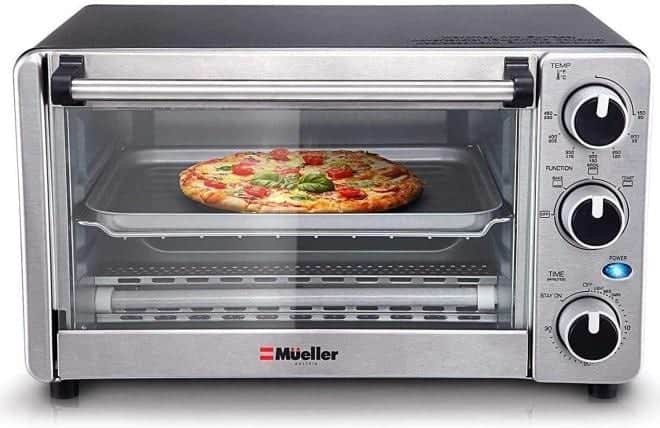 Check Latest Price
While it might not be as big as some conventional ovens around, don't let its small size fool you. The Mueller packs a punch when it comes to all the innovative features it has. It has a wide 150-450 ºF temperature range and uses a convection heating system to circulate air evenly around the oven. This cooks your food faster.If you don't currently have an oven, or you're looking to upgrade the one you currently have, the multi-functional toaster oven from Mueller Austria is just what you need to reheat that day-old slice of pizza lying in your fridge. This stainless steel beauty comes with several cooking features, including baking, toasting, broiling, and even keeping your food warm.
Whether you're baking a fresh pizza or reheating some leftover slices, this toaster oven will surpass all your expectations. The price tag isn't too bad, either. It's a definite winner in our books.
Pros 
Made using high-quality components
Supports a wide range of cooking activities, including baking, toasting, and broiling
Highly energy-efficient
Cons
The bottom tray doesn't slide out, which makes it rather inconvenient to clean
2. Use a Microwave - Fastest Result
Before you dismiss this method entirely, there's a proper way to use the microwave to reheat your leftover pizza without it turning into a limp, soggy, greasy mess. First, you must understand how microwave ovens work to heat food and how you can counteract the negative effect it has on reviving day-old pizza.
Microwaves function by heating the water molecules present in food. As a result, they turn into steam, but because the microwave air is cool, this steam quickly condenses back into water molecules, which then land on the food.
The lack of proper air circulation within the microwave means that steam has nowhere to escape, so whatever food you're heating inevitably becomes soggy. The same applies to pizza. There is, however, a hack you might not be aware of.
All you need to do is place a glass of water in the microwave alongside the pizza slice you're heating up. While this may sound counterintuitive, here's why this technique works.
The water in the glass acts as a microwave sink. Scientists often refer to this as a "dummy load." It works to absorb some of the microwave energy to moderate the reaction between the pizza and the radiation.
This allows everything to heat up evenly, so you don't end up with a piping hot crust, stone-cold toppings, and unmelted cheese; or a tough tooth-shattering crust with overcooked toppings and melted stringy cheese.
How to Reheat Pizza Using a Microwave
Using a microwave to reheat pizza is the fastest way to do it, which is ideal if you don't have 20 or so minutes to stand around the kitchen waiting for your one slice of pizza to heat up. Here a few simple steps you can follow if you want to get the best results from reheating pizza using a microwave.
Step 1: Fill a glass halfway with lukewarm water
Step 2: Place your pizza on a microwave-safe plate
Step 3: Place both the plate and glass in the microwave
Step 4: Set your microwave to about 40 percent power, and then heat your pizza for 45 seconds
Step 5: Check if the pizza is heated to your liking. If not – rinse, repeat
If you want your crust crisp, you will need to place it on a hot skillet to finish it off. It'll taste as good as the day it was made.
Best Microwave to Reheat Pizza – Toshiba EM131A5C-SS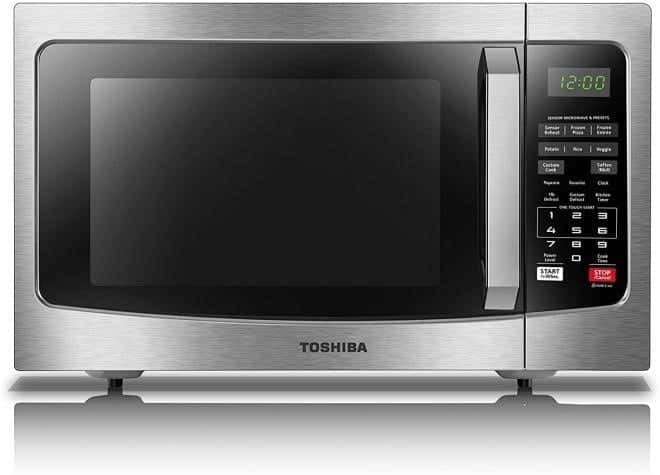 Check Latest Price
The Toshiba EM131A5C-SS is the perfect embodiment of style and innovation. This stainless steel beauty comes with a pre-programmed sensor menu with preset heating options for popular dishes like vegetables, potatoes, rice, pizza, and lots more. It even has a one-touch popcorn button.
If you're thinking of having fondue as a dessert, the Toshiba has a convenient soften/melt function that comes in handy for cheese, chocolate, and butter. All menu options come with a portion/weight indicator to spare you all the guesswork.
For instance, the auto-defrost setting allows you to input the weight of the food you want to thaw, and the microwave will do the rest for you. Alternatively, if you have 1 lb. worth of frozen food that you need to thaw, simply select the 1 lb. auto-defrost option, and the microwave automatically adjusts the power and time required to get the job done.
The most endearing quality of this particular model is its energy-saving Eco Mode feature. Unlike other microwaves in the market right now, the Toshiba EM131A5C-SS minimizes standby power by up to a whopping 50%. Not only will it reheat your pizza evenly, but it'll save you loads of cash on your utility bill.
If any food splatters in the microwave cavity, the easy-to-clean coating is stain- and scratch-resistant, making cleanup a breeze. All you need is a damp cloth to wipe down the interior, and it's good as new. Overall, the Toshiba EM131A5C-SS is one of the best-performing microwaves in its class. It's certainly worth checking out.
Pros 
Energy-efficient and eco-friendly
Easy-to-clean hard-wearing interior
Comes with lots of convenient sensor options for heating and defrosting food
Cons
The turntable does get a little noisy
3. Use an Air Fryer - Tastiest Result
If you're yet to discover the joys of reheating pizza in an air fryer, let's just say you're missing out. It's a quick, foolproof way to revive day-old pizza and get it gooey and crispy like it was just made.
First of all, it's important to mention that air fryers don't "fry" food. Instead, the appliance works by blowing hot air around it, which in turn produces a convection effect. This is what cooks whatever's in the perforated basket. If you want to brown your food, you need to ensure that the temperature of the air reaches a minimum of 320ºF.
While air fryers tend to fall on the pricier side of home appliances, they're worth the investment. Not only do they have the uncanny ability to resuscitate cold, lifeless pizza, but they also offer a much healthier method of cooking all sorts of food.
How to Reheat Pizza Using an Air Fryer
Using an air fryer to reheat leftover pizza gives you the best of both worlds. It gives you a decent fresh-from-the-oven pizza without having to wait for ages for it to heat up. Like with microwaves, there is a method to the madness, and it has everything to do with water.
Here's the proper way to reheat pizza using this method.
Step 1: Preheat your air fryer to 320ºF
Step 2: Add a little water at the bottom of the basket. A tablespoon or two should suffice
Step 3: Place the pizza slice on the basket – toppings-side-up
Step 4: Cook it for about 3 minutes for thin or vegetable crust pizza, and 5 minutes for thick-crusted ones
Step 5: Check if it is heated to your liking. If not, put it back in for another 1-2 minutes
If you want to reheat two slices of pizza at a go, don't stack them up on top of each other. The hot air won't circulate properly around them, so you might end up with half hot/half cold pizza. Instead, use a double layer rack in your air fryer.
Best Air Fryer to Reheat Pizza – Philips Digital Twin Turbostar AirFryer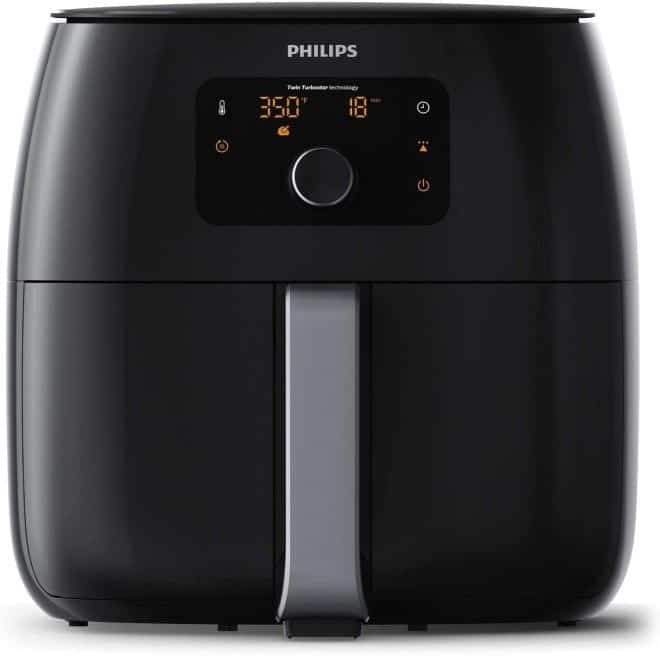 Check Latest Price
It has five programmable settings that allow you to fry, grill, roast, bake, and reheat foods. You don't even need a toaster oven with this air fryer. It dehydrates and toasts as well, taking on the role of multiple kitchen appliances.If you're in the market for an air fryer, we recommend getting the Philips Digital Twin TurboStar AirFryer. It's not only healthier to cook food in, but it is also the only air fryer in the market right now that comes with proprietary fat-removal technology that extracts excess fat from whatever's in there.
This XXL air fryer creates minimal splattering compared to conventional models, making it easy to clean, more economical, and a lot safer for daily use.
Using the Twin TurboStar AirFryer to reheat leftover pizza guarantees that your slices not only remain moist but that the crust becomes nice and crisp as well. The results are hard to beat.
Pros 
Uses fat extraction technology to reduce the fat content in food
Can make up to six portions at a go
Cooks food four times faster than a conventional oven
Cons
Doesn't have any time presets
The Verdict
Any of the three methods described in this guide is great for reheating pizza. However, if we had to choose one way that would yield the best results, it would have to be the oven.
While it is a much slower method compared to the other two, it is no doubt the best way to reheat pizza and have it taste just as it did on day one. Try out these methods and see which one you prefer.
Do you love sushi? Check out our review of the 10 best sushi-making kits.