It's no secret that crisp, clean, and safe drinking water is vital to the health and overall wellbeing of you and the members of your household. One foolproof way of obtaining pure water is by investing in the best whole house water filter that's a beast at getting rid of harmful contaminants. While it makes tap water fit for consumption, it also eliminates the unpleasant odor and improves the taste.
But, with the countless options that have filled the market, knowing the ideal fit for you can be a challenge. Luckily, this guide walks you through everything you need to know about household water filters to permit an informed decision. Read on!
1. Best Premium: Aquasana EQ-1000-AST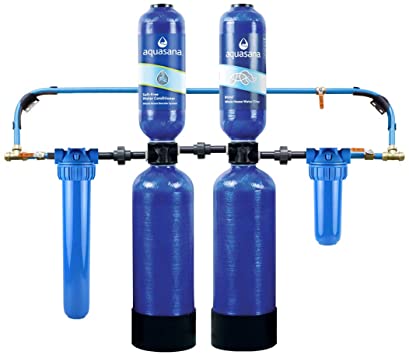 With longevity and efficiency rolled into one, the Aquasana EQ-1000-AST whole house water filtration system gives you the best bang for your buck. It has undergone rigorous testing and has been certified to eliminate up to 97% of chlorine from drinking water.
Installed at the water's point of entry into a home, this filter allows you to delight in purified water in all your household appliances from faucets, showers, and dishwashers to washing machines, you name it. Moreover, the system significantly lowers sediment, herbicides, rust, pesticides, algae, silt, organic particles, bacteria, and heavy metals lurking in the water.
Using state-of-the-art SCM technology, the Aquasana EQ-1000-AST naturally changes the structure of hard water minerals. In turn, it deters them from sticking to appliances and plumbing, in the form of limescale. The Aquasana EQ-1000-AST has four filters, with each playing an important and unique role in the reduction and removal of contaminants.
Salt-free water conditioner
Post-filter
Sediment pre-filter
Activated carbon filter
While the system has a 1 million gallon lifespan, this can be a tad bit misleading. It claims that you can use the filtration system for up to a decade before you need to replace the filters. But, this is far from reality as the pre-filters need to be replaced every couple of months. And the remaining filters need a replacement every 6 to 12 months.
The salt-free water condition has an impressive 1 million gallon lifespan before the media needs to be changed.
Pros
Removes up to 97% of chlorine and other contaminants
Engineered to optimize filtration
Long-lasting and coefficient
Hassle-free maintenance
Top-grade components and installation kit
Purifies and softens water for the entire home
Cons
Cumbersome to install alone
Filters require frequent replacement
2. Best Overall: Pelican Water 10 GPM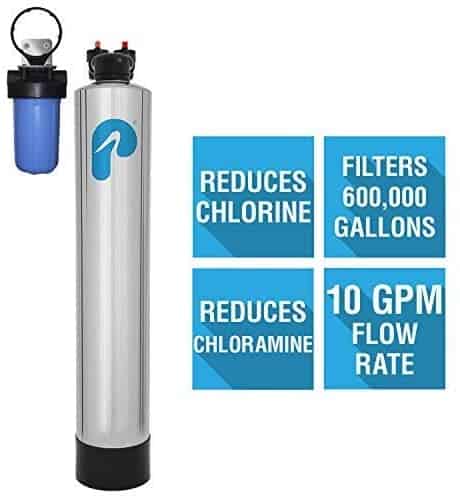 As one of the most popular units, the Pelican 10 GPM Whole House Water Filter is available in 2 sizes; 1 million gallons for homes with up to 6 bathrooms and 600,000 gallons for homes with up to 3 bathrooms. With an array of authentic certifications, including the ANSI/NSF 61 and 42, this unit has the uncanny ability to effectively eradicate a boatload of aesthetic contaminants such as the odor and taste of chlorine. And, it guarantees that there's no addition of lead to the water.
The removal of up to 97% of chlorine from your water means you can shower and drink clean water, which not only promotes more supple hair and skin but also improves your overall wellbeing. After all, health is wealth.
It also eliminates the need to purchase bottled water, as you can consume purified water directly from your home's faucets without resorting to purchasing bottled water that can be costly in the long run. The Pelican 10 GPM comprises a carbon series chamber coupled with the sediment pre-filter to effectively diminish chloramines and chlorine.
Furthermore, it reduces any remaining sediment and unpleasant odors and tastes from the water. While the sediment pre-filter requires replacement after about six months, the carbon series chamber needs changing every five years or so.
One major perk of this unit that sets it apart from the pack is installing it on the interior or exterior of your home. And the installation is a walk in the park and is a one-person job. You'll find everything you require for setting up, including fittings and a bypass valve. Simply follow the step-by-step instructions as outlined in the user manual, and you're good to go.
Pros
Comes in 2 sizes to better fit your needs
Installation flexibility
Low maintenance
Easy to install alone
4 filtration stages
Cons
Doesn't filter fluoride
Slow water flow
3. Spring Well

Are you on the quest for a certified whole house water filter that lowers an impressive wealth of contaminants found in water? Then the Spring Well unit wraps up your search. It uses carbon-certified media to eliminate PFOA, pesticides, chlorine, herbicides, chloramines, and PFOS, to list a few.
With a 4-stage filtration process, the Spring Well filtration system permits your water to be in contact with the filters for the longest period. Thus, this makes the filtration more thorough.
Stage 1: It removes suspended particles such as silt and sand from the water
Stage 2: The water penetrates a KDF media that gets rid of chemicals such as chlorine
Stage 3: A coconut shell carbon media eliminates chemical contaminants ranging from pesticides and herbicides to chlorine that may not have been removed in stage 2
Stage 4: It gets rid of channeling while allowing the water to be in direct contact with the filters for an extended period
As seen with nearly all whole household water filtration systems, you'll require replacing the Spring Well unit's filters regularly at an additional cost. The pre-filter will need to be changed after 6 to 9 months
Pros
Eliminates various contaminants by up to 99.6%, including chlorine heavy metals
No electricity required to function
Fairly low maintenance
Uses certified components
Facilitates more thorough installation
Cons
Doesn't include all the components needed for installation
Relatively complex installation process that may require a plumber
4. Best Budget: iSpring WGB32B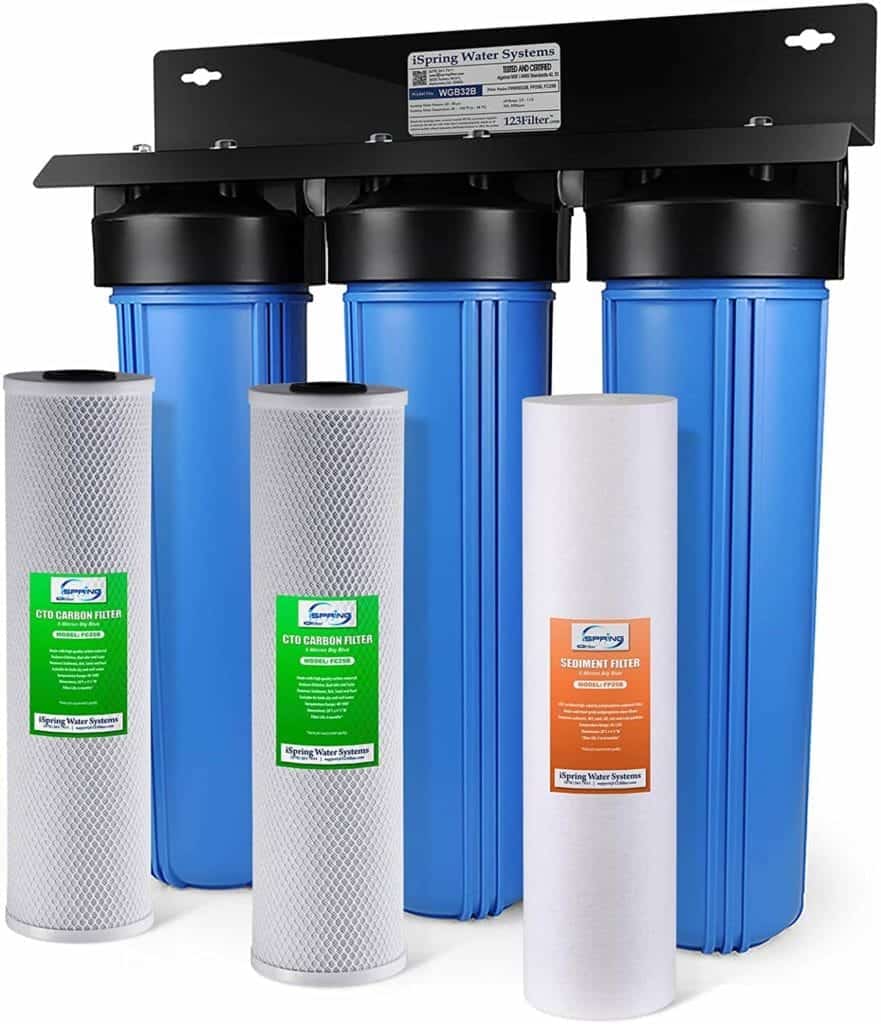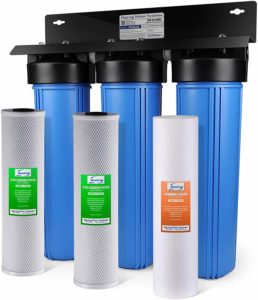 With a carbon coconut filter with a capacity of 100 gallons, the iSpring WGB32B whole house water filter gets the job done at a fraction of the cost compared to its rivals. It has the uncanny ability to provide you with a 1-years' worth of crisp, clean water before a filter change is needed. The unit is designed to eliminate up to 95% of sediment and chemicals such as chloramines and chlorine that give water the color or unpleasant taste and odor.
The iSpring WGB32B comes with a layered sediment filter that eliminates large particles of rust, dust, and sand. Furthermore, you'll find two coconut shell carbon block filters that are a beast at filtering the tiniest impurities, such as chlorine particles of up to 0.5 microns in size.
With a heavily populated carbon-block filtration media, this unit delivers more effective removal of contaminants for an extended period. And, you can rest easy knowing that the filters have undergone rigorous testing by 3rd parties to meet the stringent NSF standards, more so, for the removal of chlorine.
Pros
DIY maintenance and installation
Leaves healthy minerals in your water
Lifetime technical support
Thorough testing by third parties
Doesn't impact the water pressure
Budget-friendly compared to other units
Cons
Not as durable as other models
Cumbersome installation
5. Best for Well Water: Home Master HMF2SMGCC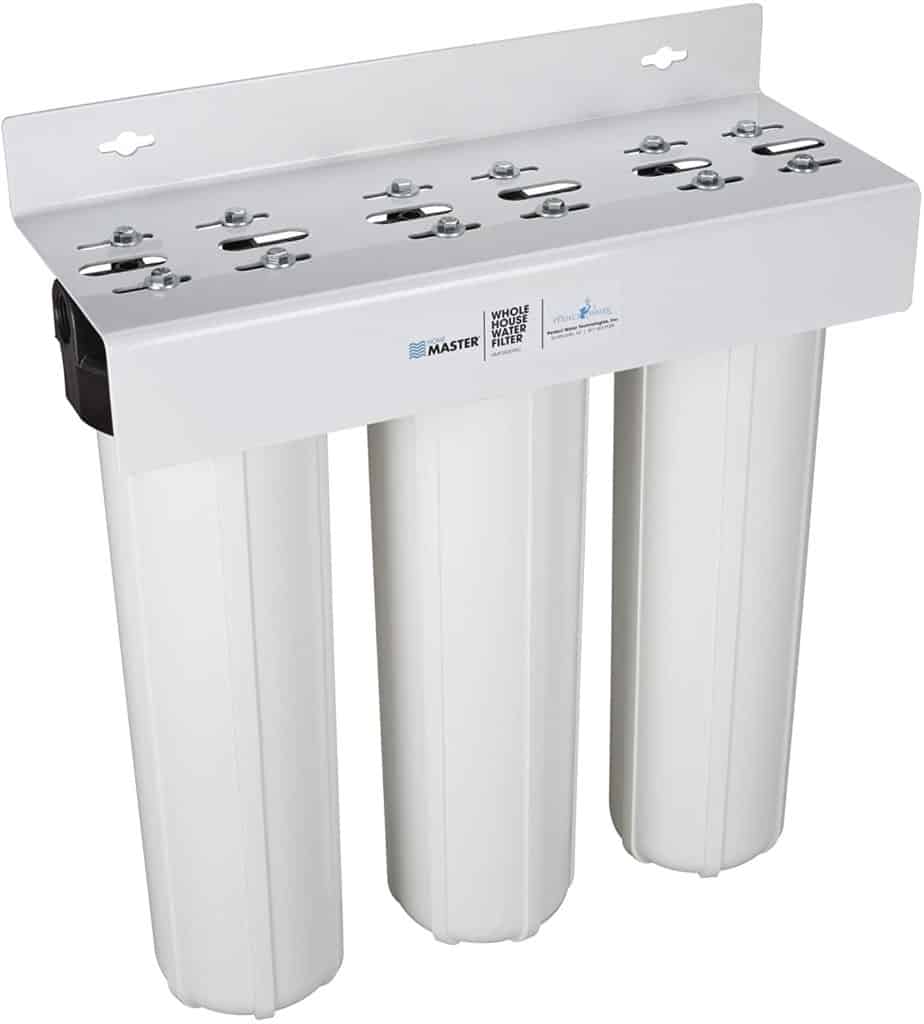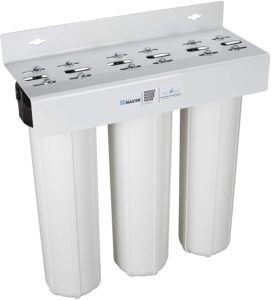 With three water filtration stages for removing fine sediment, carbon, and iron, you can count on the Home Master HMF2SMGCC for top-notch performance. Thus, this makes it perfect for the city and well water. Moreover, it has large filter housings that can easily withstand even the strongest water pressure.
At an average flow rate of 15 gallons per minute, the Home Master HMF2SMGCC can filter water in a shorter duration compared to its competitors upon turning on the faucet.
Courtesy of radical carbon filters, this unit can get rid of particles by up to 3 PPM. Via the adsorption process, the filters are a beast at treating hydrogen sulfide, manganese, and iron, thus removing stains along with foul odors and tastes from the water.
Furthermore, it gets rid of rust, sediment, dirt, and chemicals such as herbicides and pesticides.
The filters only require annual replacement, which is relatively standard for a whole house water filtration system. A multitude of users discovered that they could easily install this unit without roping in a professional plumber. So, simply follow the clear step-by-step instructions, and you're ready for action.
As great as this is, no system is perfect. So, keep in mind that if the water supply into your home is chlorinated, then the Home Master HMF2SMGCC may not be an ideal fit as it doesn't filter chlorine.
Pros
More affordable than similar models
Straightforward installation process
Oversized filters for improved flow rate
Impressive purification
Suitable for well and city water
Can handle the strongest water pressure
Cons
Not ideal for chlorinated water
Pricey replacement filters
6. APEX MR-3030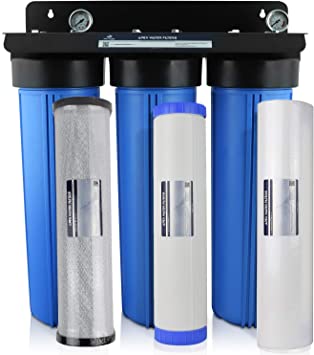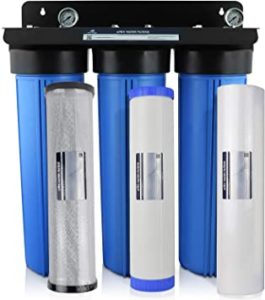 Armed with powerful filters, the APEX MR-3030 whole house water filter is ideal for homes with 1 or 2 bathrooms. So, the hydrogen sulfide, iron, carbon block, and sediment reducing filters, this unit is a beast at getting rid of chloramines, industrial solvents, VOCs, pesticides, chlorine, and insecticides from city water. And this has been validated by independent third-party testing bodies such as the NSF.
Featuring a 1-inch outlet and inlet with little to no impact on water flow, the unit delivers a maximum of 15 GPM after installation. The polypropylene sediment filter allows water to penetrate the carbon block filter, increasing the system's longevity. It does so via eliminating particles, rust, and sediment down to a size of 5 microns, curbing them from clogging the carbon block filter.
The APEX MR-3030 has a KDF media filter that's a beast at getting rid of water-soluble metals such as mercury, nickel, and lead. Every filter has a six months longevity, which translates to about 20,000 gallons of filtered water before a replacement is necessary. With a wall mount included, this model comes ready for installation in your home's interior or exterior.
Pros
NSF certified
Flexible installation in the outside or inside of your home
Eliminates up to 99% of water-soluble metals
Wall mount included to save on space
Comes ready to install
Cons
Filter replacement can be a challenge
7. Express Water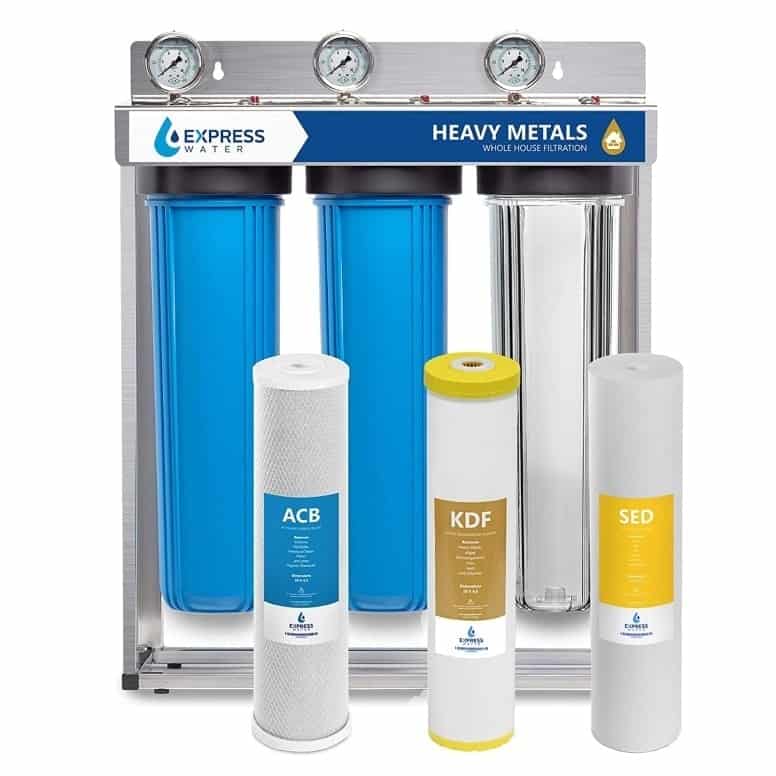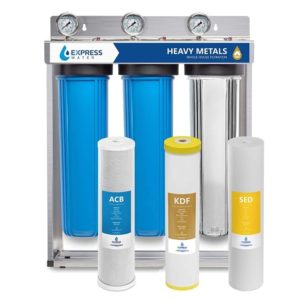 With durability in mind, the Express Water is designed from 100% food-grade, sturdy materials. And, it has undergone thorough testing to meet ANSI/NSF standards, which means you can rest easy knowing it'll get the job done to perfection, as advertised.
The three filter housings (carbon block, KDF, and sediment) found in the unit can be fitted to a freestanding mount, making the installation and maintenance (filter replacement) process a breeze. Collectively, the filters effectively eliminate mercury, pesticides, sand, chlorine, lead, dust, sulfur, iron, arsenic, and other contaminants lurking in the water.
You'll find pressure gauges in the Express Water whole house water filter. These inform you when the water pressure has dropped low enough to imply that a filter replacement is needed.
Pros
Water pressure gauge
Constructed from sturdy materials
Comes with 3 filter housings
Simple maintenance
Cons
Doesn't include all the components required for installation
8. Best for Low Maintenance: 3M Aqua-Pure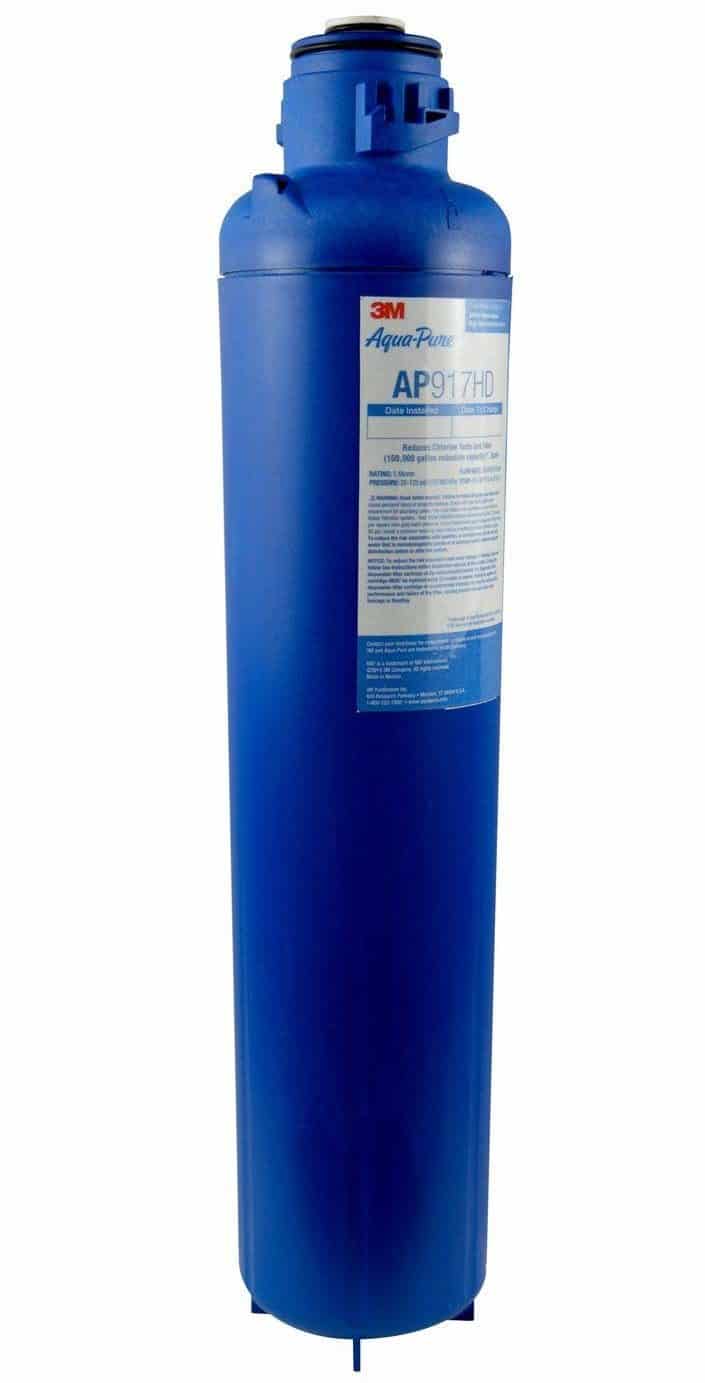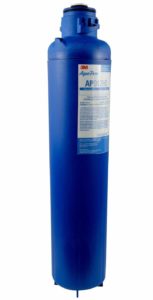 If you're on a quest for the best whole house water filter that's impressively low maintenance, then the 3M Aqua-Pure is your Holy Grail. With a single filter cartridge with sanitary fast-change design, you can easily replace the filter in a jiffy without disassembling the unit.
With a 100,000-gallon capacity, this model can deliver excellent service for up to 1 year before you need to replace the filter. Along with the 20 GPM water flow rate, the 3M Aqua-Pure is built from corrosion-resistant, heavy-duty material that significantly extends its longevity.
The system's filter has undergone rigorous testing by the NSF and has certification for meeting its high standards. So, you can have the much-needed peace of mind in knowing that the 3M Aqua-Pure effectively reduces the boatload of health contaminants (non-aesthetic and aesthetic), ranging from particulates to chlorine that impacts the smell and taste of water.
Pros
Only 1 filter to replace
Meets the NSF's standards
Permits easy and swift change-outs
Built from corrosion-resistant materials
Eliminates various health contaminants
Cons
Pricey filter compared to the cost of the unit
9. DuPont WFPF13003B


If you're looking to test out a whole house water filter without shelling out hundreds or thousands of bucks, then the DuPont WFPF13003B was designed with you in mind. It reduces sediment, thus increasing the longevity of household appliances and plumbing.
The unit's space-efficient and slim design mean that you can install it in minutes without seeking professional help. Courtesy of a poly block cartridge, particles of silt, and rust are effectively removed. And, the filter boosts produces crystal clear water.
Pros
Compatible with any 10-inch filter
Perfect for a small budget
3-year limited warranty included
Elevates the taste and clarity of incoming water
Cons
10. Best Lightweight: Culligan WH-HD200-C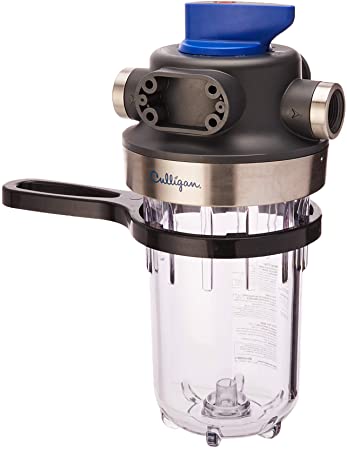 Weighing only 3 pounds, the Culligan WH-HD200-C is a compact whole house water filter constructed from corrosion-resistant stainless steel. Containing a clear sump, you get to witness the filter in action.
Where performance meets affordability, a housing wrench (to alter the handle), pressure relief valve, filter life indicator, bypass, mounting bracket, and built-in shut-off are included in the package.
Furthermore, keep in mind that the smaller opening section is a snug fit on the top handle for optimum leverage. As a result, setting up the Culligan WH-HD200-C is a walk in the park with no plumbing expertise required.
Pros
Comes with handy components
Installation process is a breeze
Built from durable, sturdy, and safe materials
Filter monitor included
Cons
Only compatible with certain Culligan filters
Buyer's Guide: How to Choose the Best Whole House Water Filter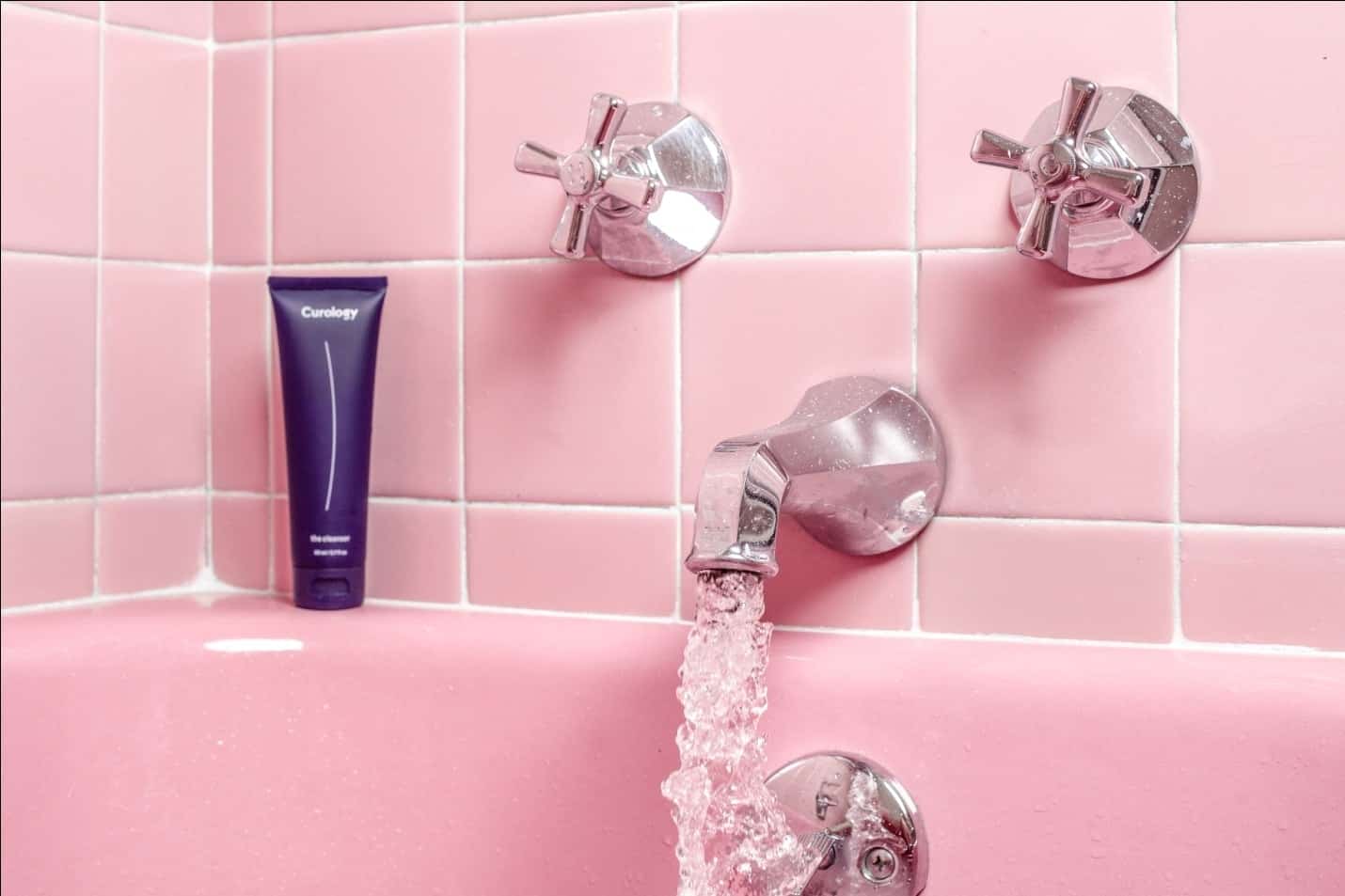 Scouring the internet in a bid to find the latest information when you're trying to decide on a product that best fits your needs is no easy feat. That's why we went ahead and did all the heavy lifting.
We compiled this comprehensive buying guide to give you insight into everything you need to know to permit an informed decision on the best whole house water filter for your specific needs. So, let's jump in, shall we?
Water Consumption and Filter Capacity
A filter's capacity represents the quantity (in gallons) of filtered water it can deliver by the hour. Therefore, the greater it is, the more superior the efficiency of a filtration system. And, the faster you can reap the benefits of consuming filtered water.
Generic whole house water filters such as the carbon-based counterparts don't deliver water waste. Moreover, they have improved filter capacities overall. Water that makes its way through the filters is utilized around your home, as this water filter filtration method doesn't flush away any water during the process.
The capacity of a filter revolves around its quality coupled with the filter's composition. When searching for a product, look out for its filtered water production rate in the specs.
Type of Filter
As mentioned earlier, whole house water filters fall into three categories: next-generation technology, carbon-based, and reverse osmosis. As they say, knowledge is power. So, it's worth learning about the different filter types and the boatload of contaminants they get rid of to determine the ideal fit for your home's water quality.
If you don't receive one already, request a water quality report from your local water provider. The report contains a breakdown of the various elements that your drinking water contains. Compare them to the country's level of contaminants.
Alternatively, use a water testing kit to test your home's water quality. These are readily available online or at your local convenient store. It'll give you a clear indication of the highest level of contaminants that are lurking in your water. Once you're aware of what's in your water, you'll know the type of filter to purchase to eliminate these contaminants.
Filter Lifespan
A filter's longevity is typically based on a product's model, quality, and manufacturer. Depending on their composition and the contaminants they are designed to get rid of, whole house water filters vary in longevity. Generally, the pre-sediment counterparts have the shortest lifespan as they quickly get clogged with larger particles that deter them from properly filtering water in the long run.
Therefore, these filters will require replacement every 3 to 6 months. Contrarily, re-mineralization and carbon filters usually have the longevity that falls anywhere between 6 and 12 months. A reverse osmosis membrane has the highest lifespan of up to 2 years before replacement is needed.
Ultimately, it boils down to conducting your due diligence on a certain product to know just when its filters need replacement. Some whole house water filtration systems have more filters than others.
Therefore, you'll need to factor this in when it comes to changing them. And, remember, no filter will last forever. So, regardless of the model you opt for, be prepared to change your filters frequently if you want to get the most out of them.
Available Space and System Physical Size
Your home's water system will require physical installation. So, you'll need to free up space to install it. Furthermore, you'll need to set up the unit in a way that it's connected to the main water line of your home.
Not only will you require sufficient room to store your whole house water filter, but you'll also want easy and quick access to the system when maintenance or filter replacement is required.
Micron Rating
As a measuring unit, one micron translates to a millionth of a meter in length. Microns are minute, which means anything smaller than 40 microns cannot be seen by the naked eye. Moreover, to put things into perspective, a single white blood cell is approximately 25 microns in size.
Keeping that in mind, the micron rating of a water filter is its ability to eliminate contaminants, depending on their micron size. For instance, a filter with a rating of 5 has the uncanny ability to small particles of 5 microns. But remember, this doesn't include the efficient removal of these microns. It's for this reason that you should know the difference between absolute and nominal micron rating.
1) Nominal: It measures a water filter's ability to eliminate certain particle sizes at an efficiency ranging from 50% to 90%. Therefore, filters with a nominal micron rating of 5 can easily remove particles whose size is as small as 5 microns at an efficiency of 50% to 90%.
2) Absolute: It gives insight into a filter's ability to remove certain sizes of particles at a minimum efficiency of 98.7%. So, if a whole house water filter has an absolute micron rating of 5, it has superior efficiency in removing particles with a size of 5 microns. It will eliminate at least 98.7% of these particles lurking in the water.
You can find the micron rating of a certain product in its specs. Given that particles vary in size, a filter's micron rating will shed light on the types of particles it can remove to the best of its ability. A household water filtration system comprised of a larger type of filter is usually an ideal fit for eradicating the highest quantity of contaminants. Its filter is built with the removal of different micron-sized particles in mind.
Budget
There's a notable difference in the cost of next-generation technology, reverse osmosis, and carbon filters. The next-generation and reverse osmosis counterparts run into the thousands of dollars, costing anywhere between $1000 and $3000. Standard whole house carbon-based filters are cheaper, setting you back by $300 to $600.
Nonetheless, there are pricier options that come with extra features such as UV filters or re-mineralization filters. Whole house RO filters are the steepest in cost, with some peaking beyond the $5000 mark.
A reverse osmosis system is a much larger investment compared to the carbon-based counterparts. And, with a more flexible budget, the ball is in your court to decide whether or not it's worth shelling out extra bucks to reap the additional perks that an RO filter ushers in.
Water Flow and Pressure
Your home's water pressure is a factor to consider as it directly impacts your whole house water filter's efficiency, more so, a reverse osmosis system. You may think that higher water flow or pressure is always the go-to, but this is far from the truth.
What you may not know is that carbon-based filters work better with slower water flow as it permits the filters to eliminate particles from water more thoroughly for years down the road. Contrarily, with reverse osmosis filters, 60 PSI water pressure is ideal for excellent filtration. It permits water to penetrate the filters fast enough for the efficiency of the entire process.
It's this type of filtration that needs sufficient water pressure to force water through the RO at an appropriate rate. You can use a pressure gauge (available online or at your local hardware store) to measure your home's water pressure in PSI.
Certifications
NSF International or the WQA certifies the best whole house water filter. The authentic certification validates that filter functions to the required standards as stipulated by its manufacturer. And, it guarantees that a filter is worth every coin.
1) NSF International
As one of the most renowned certification bodies, NSF International assures customers that an independent 3rd party has rigorously reviewed a product's manufacturing process and has concluded that it adheres to the stipulated quality, performance, or sustainability, and safety standards.
2) Water Quality Association (WQA)
As an independent body, the WQA helps customers identify when a water filter and other quality improvement products meet a specified high level of expertise and standards. Manufacturers can acquire valid certification from this body as validation to customers that their products are approved by a 3rd party for providing legitimate perks.
FAQ
Here are comprehensive answers to some of the most commonly asked questions.
1. What Is A Whole House Water Filter?
As a point-of-entry water filtration system, a whole house water filter delivers crisp, clean, purified water for an entire household along with its appliances. It's linked to your main water pipe, thus enabling you to delight in filtered water across your home. The top of the range whole house water filters uses 3 or 4 filtration stages, as discussed below.
A pre-sediment filter removes larger sand, dirt, rust, and dust particles lurking in the water. It prevents the later stage filters from succumbing to damage by these sediments that lower their longevity.
A zinc or copper combination filter is a beast at eliminating contaminants such as lead, mercury, other dissolved metals, and chemicals such as chlorine, which negatively impact the odor and taste of water.
An activated carbon filter is built to cover the greatest surface area possible to trap a wealth of contaminants such as organic compounds in its pores, only permitting the penetration of smaller water particles.
A post-filter that gives the water one last polish before it makes its way to your household's plumbing. Thus, it gets rid of any sediment that may have seeped through the previous filters.
If you have several water heaters in your home, you'll only require one whole house water filter. Provided that you can install it on your water pipe that links to all your heaters, you can gain from filtered water. Like generic kitchen sink water filters, the whole house filtration counterparts are available in a vast assortment of styles, each serving a unique purpose.
2. What Are The Types Of Whole House Water Filters?
Below are some of the more renowned types of whole house filters that promote thorough water cleanse.
Reverse Osmosis
It's important to note that these whole house water filtration systems are significantly pricier than other alternatives. And, they come with steeper maintenance costs. Nonetheless, they deliver unrivaled efficiency when it comes to the removal of the widest range of contaminants lurking in the water.
While the regular carbon-based filters fall in the hundreds of dollars, reverse osmosis filters for one home can cost as much as $6000, depending on the model's complexity. Keep in mind that this type of whole house water filter isn't water-saving as about 4 gallons per gallon of purified water go to waste during the RO process.
Next-Generation Technology
As another common type of whole house water filter, the next-generation technology counterparts have the power to eliminate dissolved solids and contaminants at the same level as reverse osmosis filters. At a fraction of the cost, this type of filter also doesn't waste any water during the filtration process.
Furthermore, next-generation technology water filters are an eco-friendly alternative to the reverse osmosis counterparts. But remember, they're notably pricier than the carbon-based options. So, you can expect to dent your wallet by about $2000 for decent next-generation filters.
3. When Do You Require A Whole House Filter System?
Thoughts of whether a whole house water filtration system may be racing through your mind. After all, drinking tastier, cleaner, and safer water from your kitchen tap probably pique your interest more. But, what you may not realize is that if your household's water source stems from a privately-owned well, then the best whole house water filter is a worthwhile investment. It guarantees the water is potable, odorless, crisp-clean, and ready for use.
4. When Don't You Require A Whole House Water Filter?
Despite the perks that a household water filtration system ushers in, you may still gravitate more towards a simpler option. For instance, the best faucet water filter for your kitchen sink; a countertop filter that links to your faucet or an under-sink filter that comes with its faucet. Alternatively, you can choose a water filter pitcher that doesn't need to be connected to a faucet and produces filtered water in minutes.
5. Why Should You Select A Whole House Water Filter Over A Kitchen Sink Counterpart?
Personal preferences solely fuel your choice. Whole house filtration systems provide all the perks of a kitchen sink faucet water filter and a few extras. Given that the whole house options filter out chemicals at the water's entry point into your home, this prevents exposure to toxic chlorine fumes while you're showering.
Furthermore, it eliminates sediment from water before it can make its way through your home's piping, possibly causing damage.
The top of the range whole household water filters have the uncanny ability to get rid of iron, thus curbing the formation of rust in your home's appliances. Granted, these perks are amazing. However, if you're simply on the quest for crisp, clean drinking water, then a whole house water filter isn't a necessity. A faucet water filter will get the job done.
Closing Remarks
The installation of a top-notch whole house water filter is one of the best ways of elevating the quality of water throughout your home. And, by investing in safe and clean water, you can protect your family's health. So, order yours today!