Yogurt is probably not the first thing that comes to your mind when you think of making food at home, but homemade is always better. You know all of the ingredients that are in the food, and the taste is always superior.
Homemade food doesn't have to be a difficult process, especially when you have the right tools for the job. Like you would use the best cookie press to form perfectly-shaped cookies, you will need the best yogurt maker to make yogurt.
Making yogurt at home has never been easier, thanks to the yogurt maker. What may seem like an impossible do-it-yourself process at home is now possible when you use the best yogurt maker. A yogurt maker will take milk and starter cultures (the good bacteria that go in yogurt) and keep it at a constant warm temperature for a specific length of time.
Although it's a simple process that you can easily do at home, the yogurt maker you choose can make a difference in how easy and successful the yogurt is. That's why we have included the 8 best yogurt makers with a buying guide in this article. We want to help you make the easiest and right decision when choosing the best yogurt maker.
1. Euro Cuisine Yogurt Maker (Best Overall)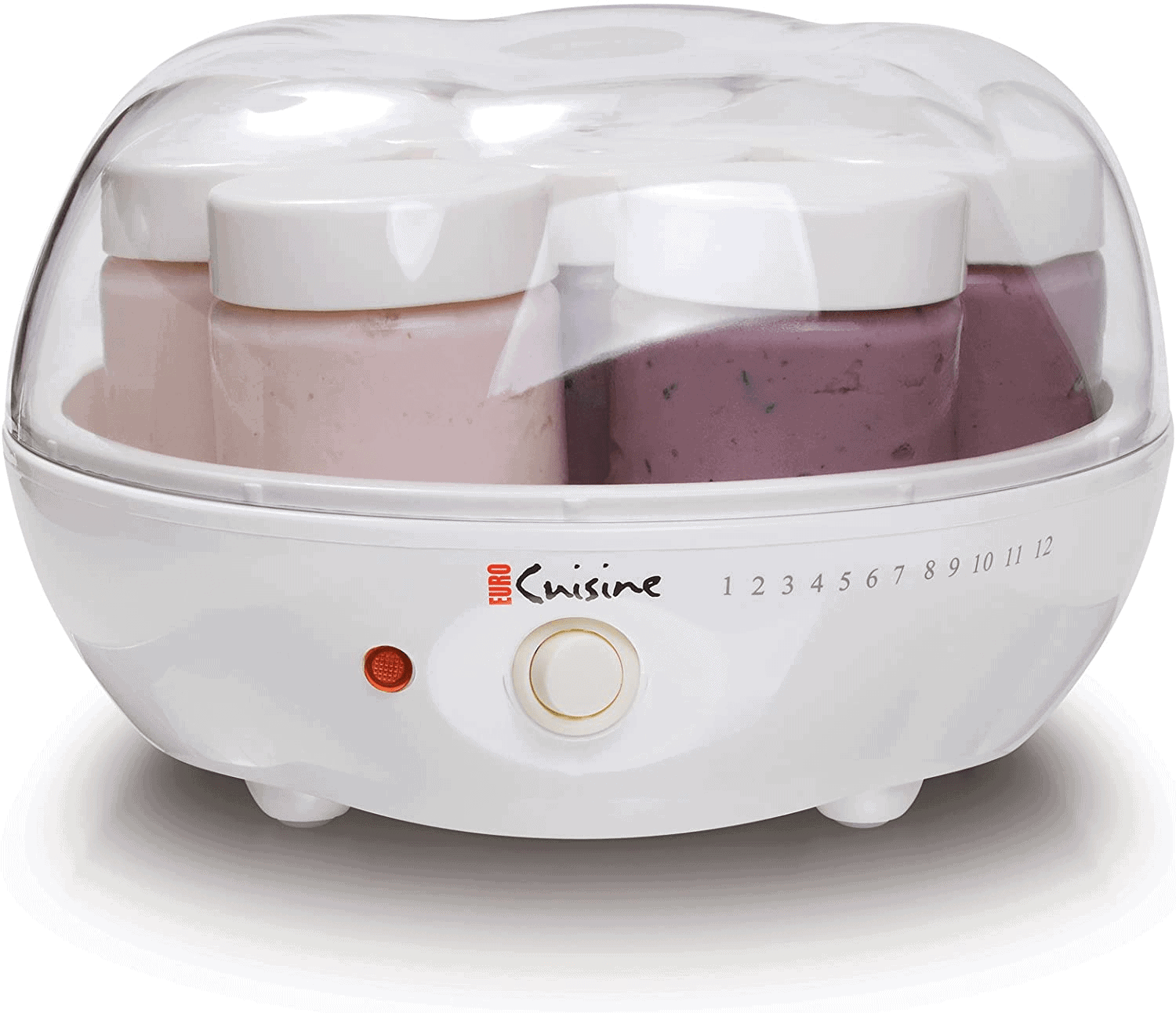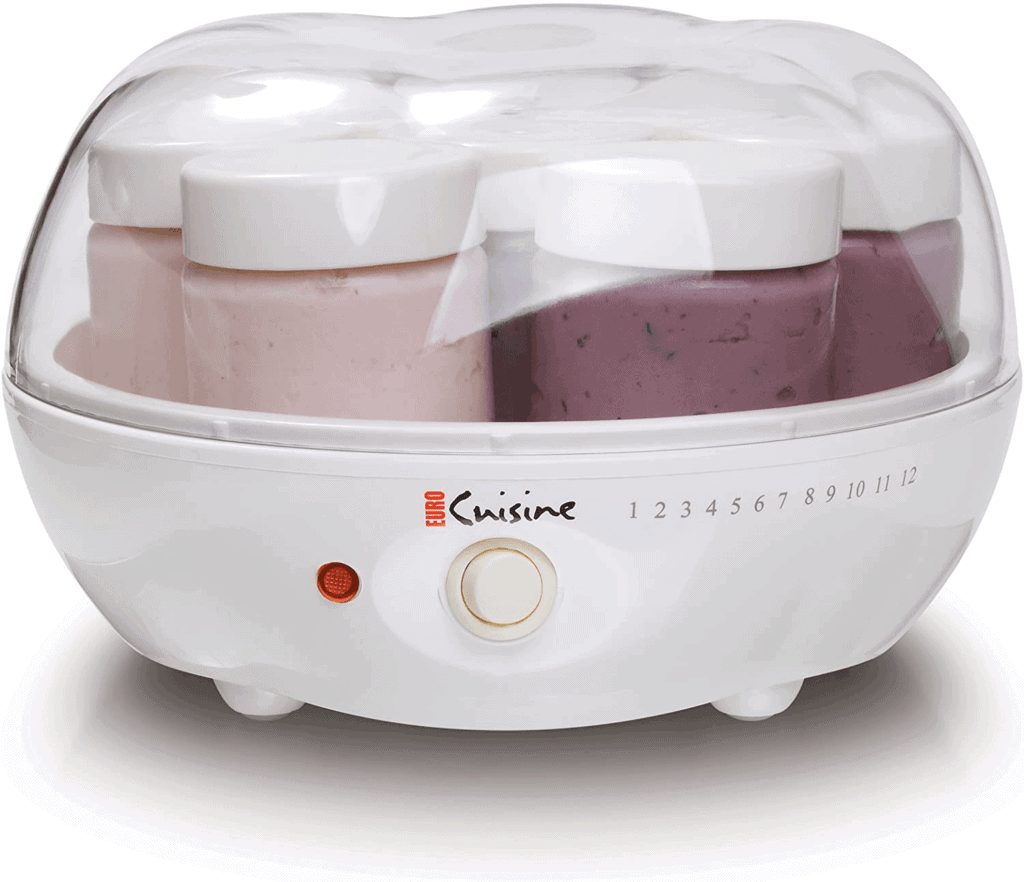 The best overall yogurt maker is the Euro Cuisine yogurt maker. Not only is it affordable, but it is easy to use and gives you a wide variety of flavors to make at one time.
There are seven total 6oz glass jars that you can fill and make seven different flavors of yogurt. There is an easy on/off switch that you will press to turn on the yogurt maker with an indicator light that will light up when the unit is on. The numbers on the side of the maker also light up to let you know how many hours are remaining until the yogurt finishes cooking. It can cook for a total of 12 hours if you need it to.
The yogurt maker's lid is clear so you can see the jars of yogurt inside as they cook. If you don't want to use the jars that are included with the yogurt maker, you can place any glass bowl of your choice inside the yogurt maker. Just adjust the cooking time according to how much yogurt you have prepared if need be.
The glass jars of the yogurt maker are dishwasher safe, but the rest of the yogurt maker should be washed by hand. This includes the lids of the jars and the clear lid of the yogurt maker.
2. Cuisinart Yogurt Maker with Automatic Cooling System (Best Premium)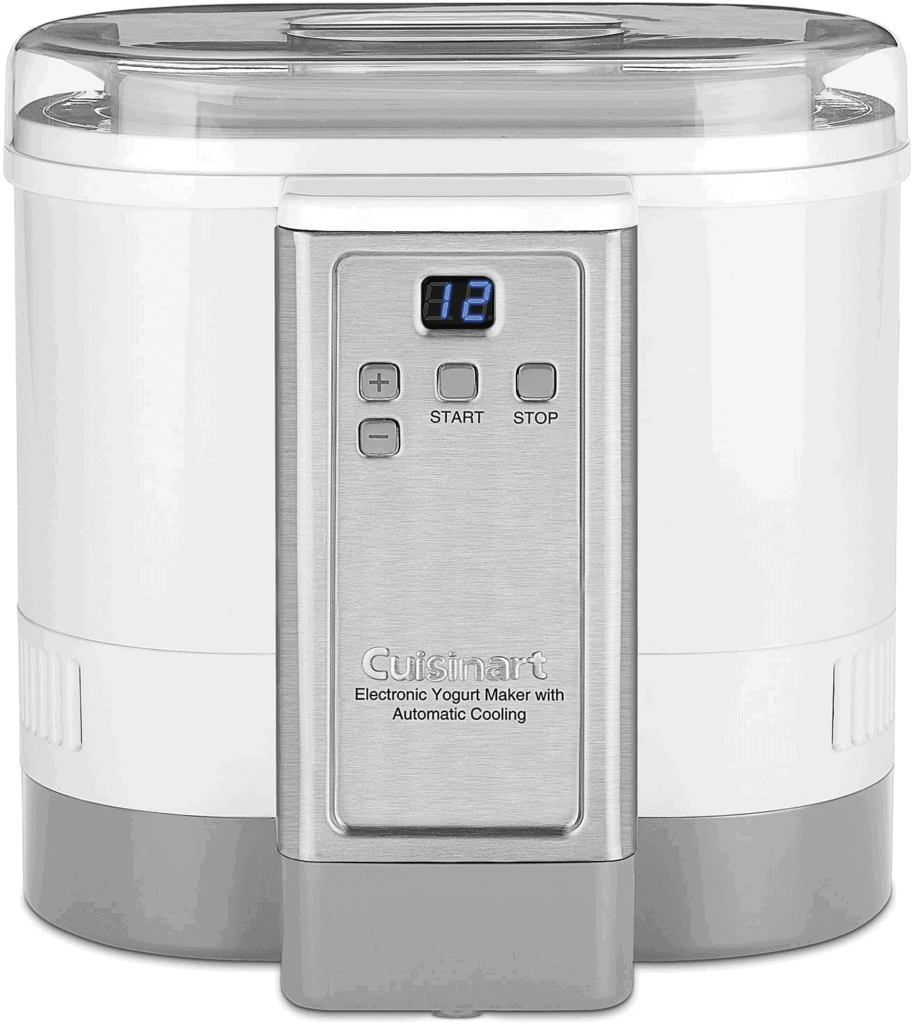 The Cuisinart yogurt maker is a top-end yogurt maker but for a good reason.
We'll start with what's arguably the best feature of this yogurt maker: the automatic cooling system. Once the yogurt has completed its cooking time, it will automatically switch on the cooling system. This means you don't have to take the hot container of yogurt out of the maker and place it into a refrigerator once it has finished cooking; the Cuisinart yogurt maker does this for you. The yogurt maker will remain on the cold feature until you turn the machine off.
The container on the inside will make 50 ounces of yogurt, a little more than six 8-ounce servings. Unlike the individual jars in the Euro Cuisine yogurt maker above, where you can make seven different yogurt flavors, the yogurt you make in this yogurt maker will be the same flavor. The good news is that you can make a plain vanilla flavor and add different fruits and flavorings in each serving.
To use the yogurt maker, you will turn it on and set the timer to how many hours you need the yogurt to cook. It can go all the way up to 24 hours. Once you have set the timer, you will hit the start button, and the yogurt maker will begin cooking.
As soon as the cooking time has been completed, it will automatically switch on the cooling system to begin cooling the yogurt. You can then take the yogurt's internal container out of the yogurt maker and store it in the refrigerator.
The display on the yogurt maker's front is encased in a stainless steel face with blue LED lights that will display the numerical cooking time or a C for cooling.
We recommend washing the yogurt maker by hand to ensure that it doesn't deteriorate or cause it to change the flavor of the yogurt when it is made.
3. TRACONN Automatic Yogurt Maker (Best Budget)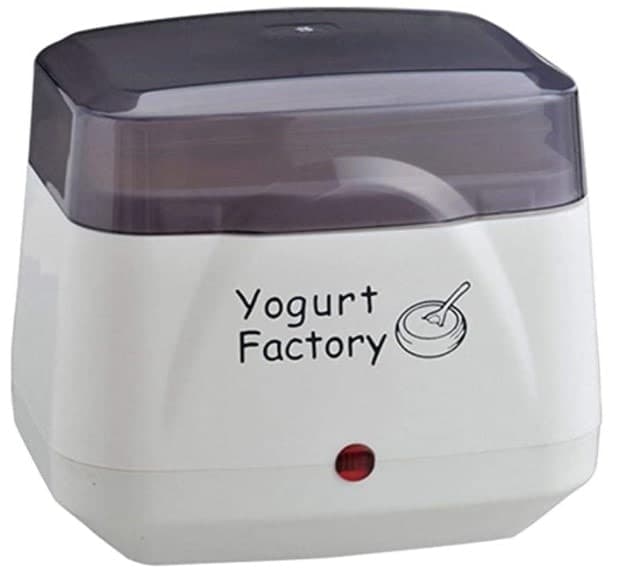 This yogurt maker by TRACONN is the best budget yogurt maker for those who want to make a smaller batch of yogurt but don't want to spend a lot of money doing it. The yogurt maker will make 750mL of yogurt or 25 ounces. It is basic, easy to use, and effective.
It is the best budget yogurt maker because it doesn't have all of the features that some of the other yogurt makers have. It doesn't have an automatic shutoff or cooling system that will engage once the cooking time has been completed. It also doesn't have a timer indicating how many hours are left in the cooking process. You will have to manually monitor the yogurt maker and set a separate timer to calculate the cooking time.
However, the yogurt maker is extremely effective in making quality yogurt every time. It heats the entire internal container in a full 360-degree radius from all sides. This makes perfectly fermented yogurt every time and prevents the yogurt from overheating on one side of the container over the other.
Just because it's a budget yogurt maker doesn't mean it's ineffective, and that's exactly what this yogurt maker by TRACONN proves. We recommend washing the inner container and lid by hand to ensure that it doesn't become damaged in the dishwasher.
4. Proctor Silex Yogurt Maker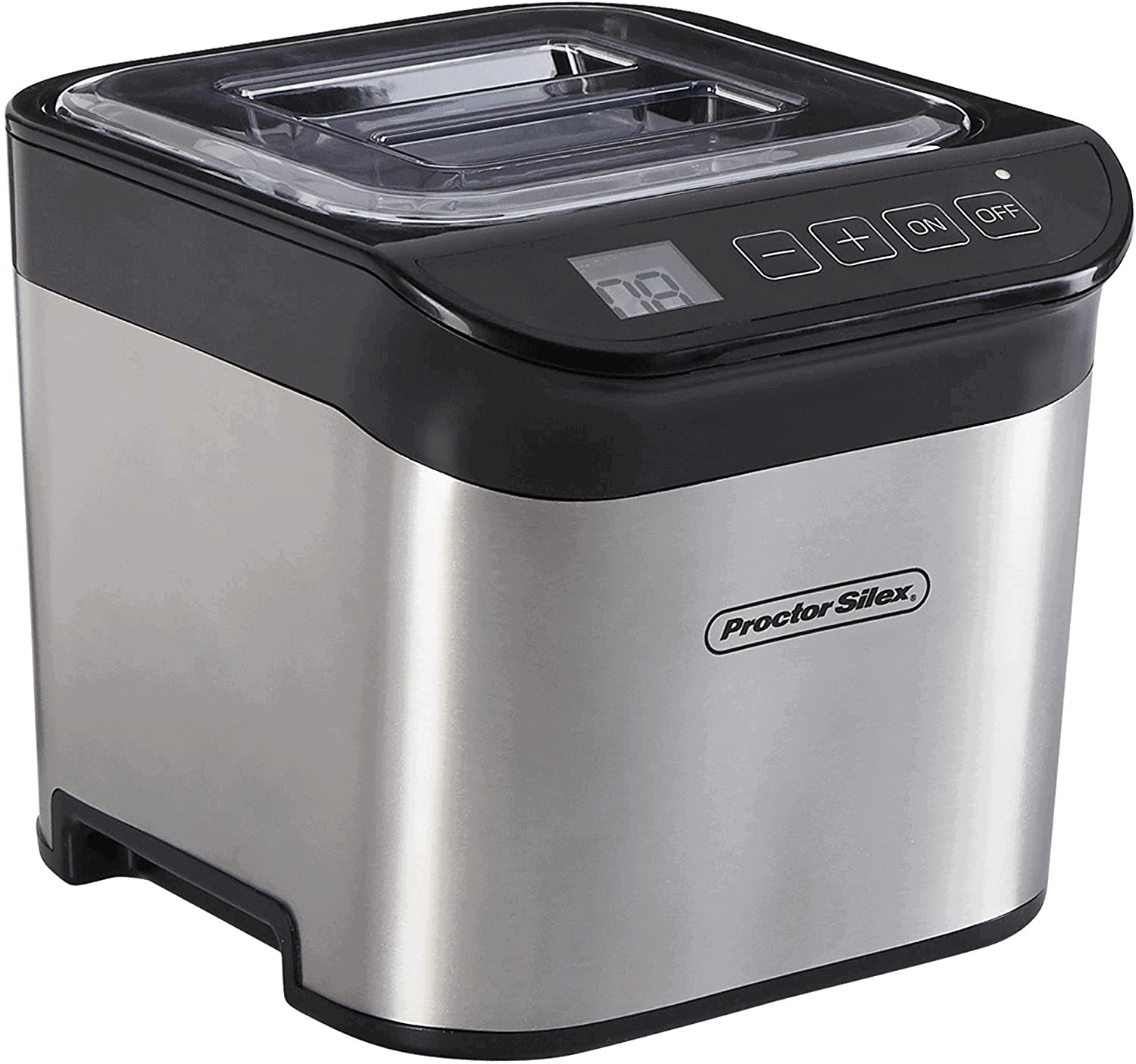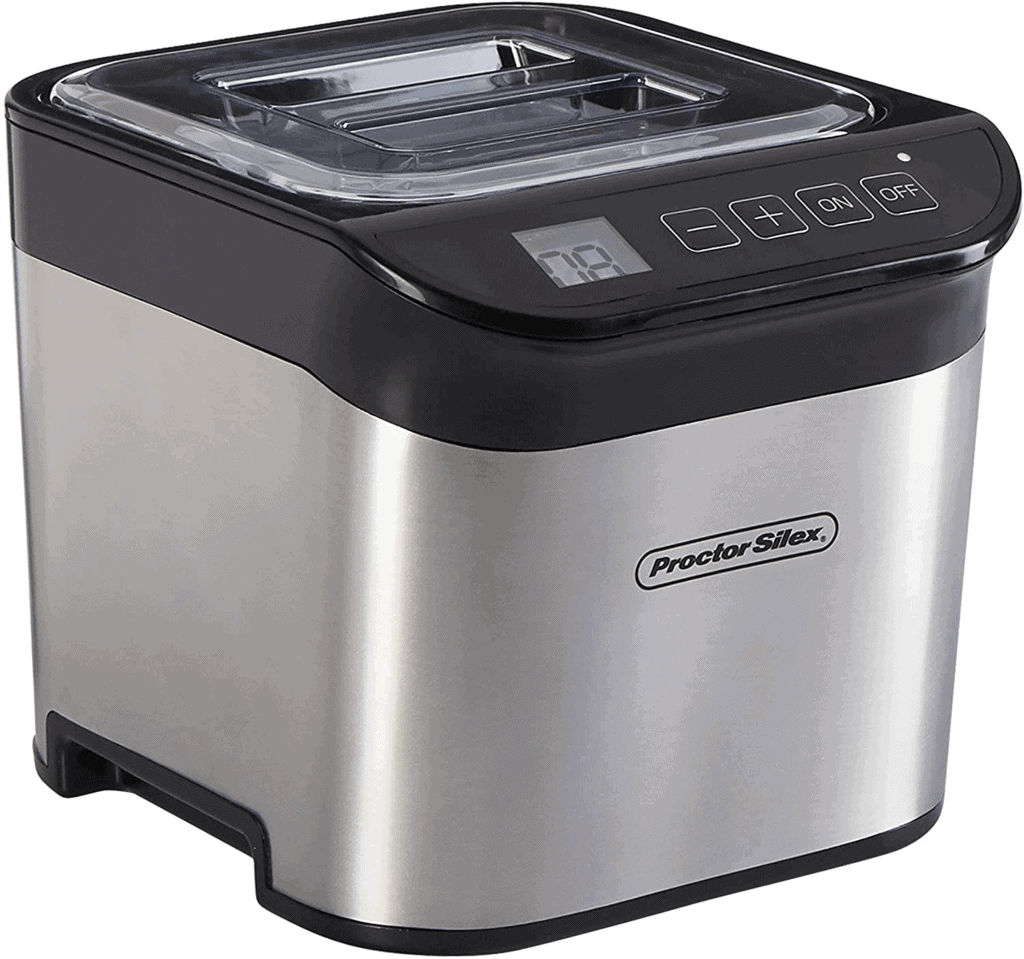 If there were a top runner-up for the best yogurt maker, it would be this model by Proctor Silex.
First, it has an automatic timer on the top of the yogurt maker that will turn the yogurt maker on or off, as well as set the cooking time for the yogurt you are making. The number displayed on the yogurt maker will show you how many hours are left in the total cooking time.
You can make 32 total ounces of yogurt in this yogurt maker. The plastic container can be immediately transferred from the yogurt maker to the refrigerator for easy storage.
Finally, the storage container of the yogurt maker is dishwasher-safe. Once you are finished using the container, it can be placed in the dishwasher for easy and quick cleanup, as the container and lid are dishwasher safe.
5. Dash Greek Yogurt Maker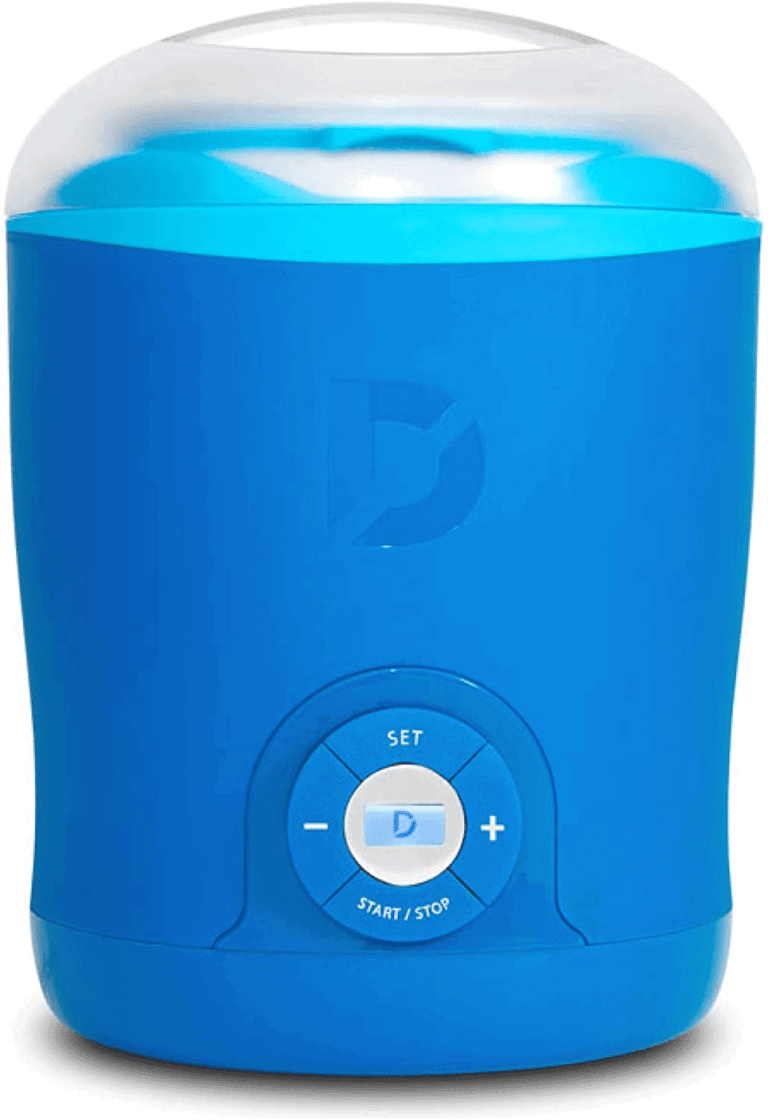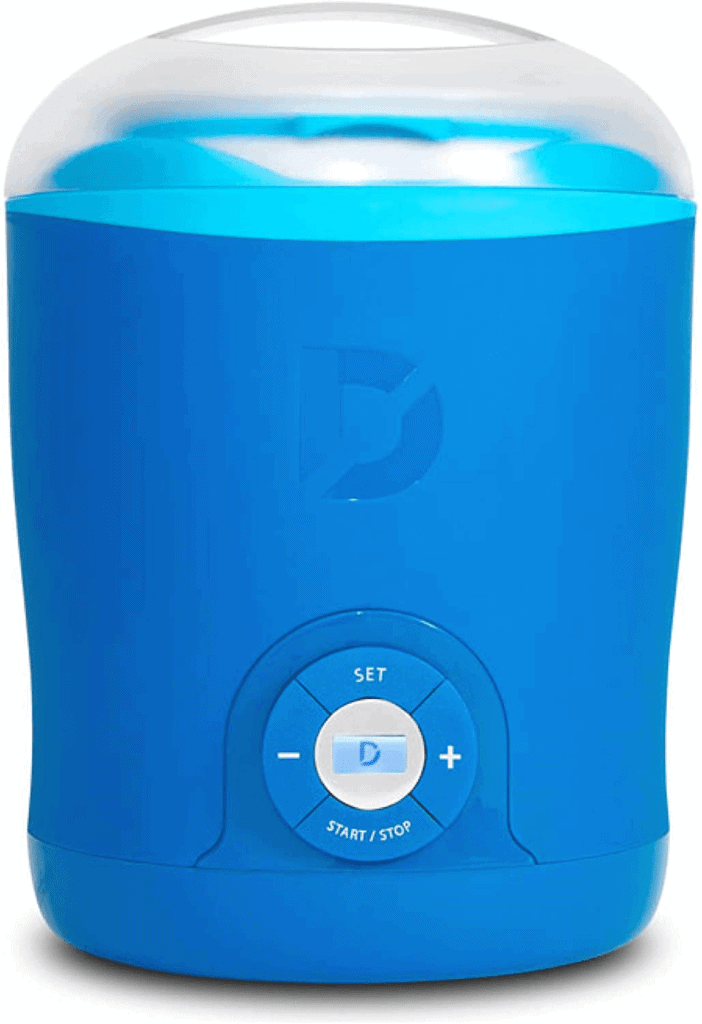 The Dash Greek yogurt maker is another great yogurt maker that is easy to use at an affordable price, especially if you love Greek yogurt.
Greek yogurt is yogurt that is strained to remove much of the water content once it has been made. This is what gives Greek yogurt the thick, creamy consistency. So, if Greek yogurt is your favorite, then you need this Greek yogurt maker by Dash.
To begin, the front of the yogurt maker has easy-to-use buttons that will start, stop, and set the total cooking time of your yogurt. This is similar to any yogurt maker you will find.
What makes this yogurt maker a Greek yogurt maker is a strainer included in the internal container. Once the yogurt has been made, the strainer will remove the whey to create a thick, Greek yogurt consistency.
The total quantity that the Greek yogurt maker will yield is around a quart and ½, so if you are trying to make yogurt for your family or a large crowd, you may need to choose a bigger model. However, if you make Greek yogurt for just you, it is the perfect yogurt maker for the job.
The strainer and container should be washed by hand and not in a dishwasher to be safe.
6. The Country Trading Store Stainless Steel Yogurt Maker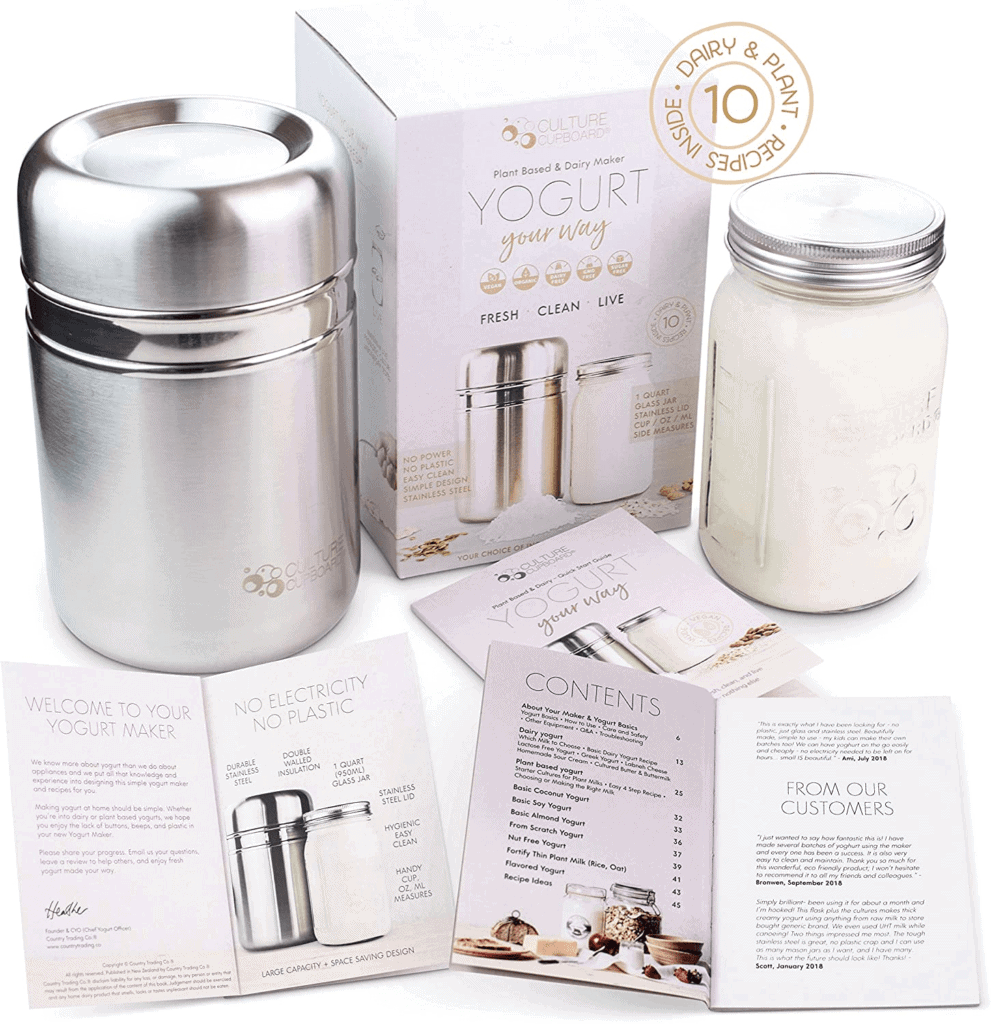 This yogurt maker made by The Country Trading Store does not use any electricity or heating elements to make yogurt, which is why we made sure to include it on our list. We understand that some prefer a manual method for making yogurt rather than an electric method.
To use the stainless steel yogurt maker, you will heat the milk to 194 degrees. Then you will cool the milk to 113 degrees and add the starter. You will then place the glass jar of yogurt into the stainless steel container for approximately 8 hours.
Once the 8-hour cooking time has been completed, you will open the stainless steel container and find your yogurt has fermented perfectly in the glass jar. Place the glass jar in the refrigerator and chill for at least 6 hours before enjoying it.
The stainless steel yogurt maker includes a 42-page recipe book, so you never have to ask yourself what kind of yogurt you can make.
The glass jar is dishwasher safe which makes clean up quick and easy.
7. MVPower Yogurt Maker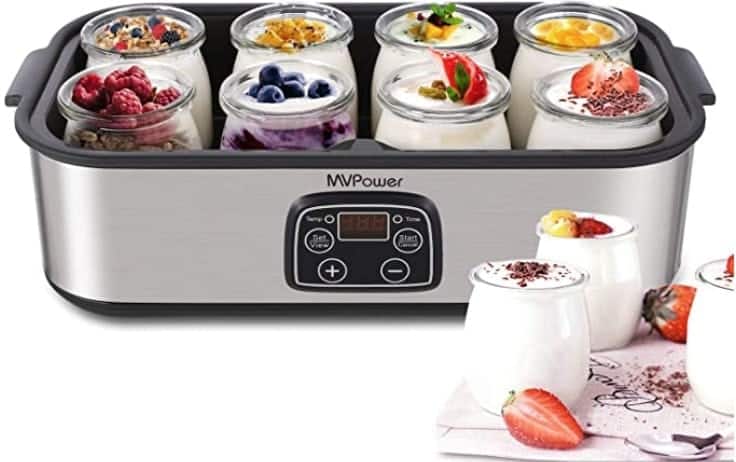 Another yogurt maker that gives you the option to make a variety of individual flavors is this yogurt maker by MVPower. It includes eight total glass jars that can be securely placed into the yogurt maker to create perfect yogurt each and every time.
The front of the yogurt maker has an easy-to-use interface that will allow you to turn the unit on or off and set the time and temperature that you will need to ferment the yogurt. The glass jars are 6 ounces each. This allows you to make nearly 50 ounces of yogurt during each batch.
The glass jars are dishwasher safe. Once you are finished with the jar, place it in the dishwasher with the rest of the load. Just make sure you wash the jars by hand as they may become damaged or deteriorate in the dishwasher.
8. Greek Yogurt Maker with Ceramic Cups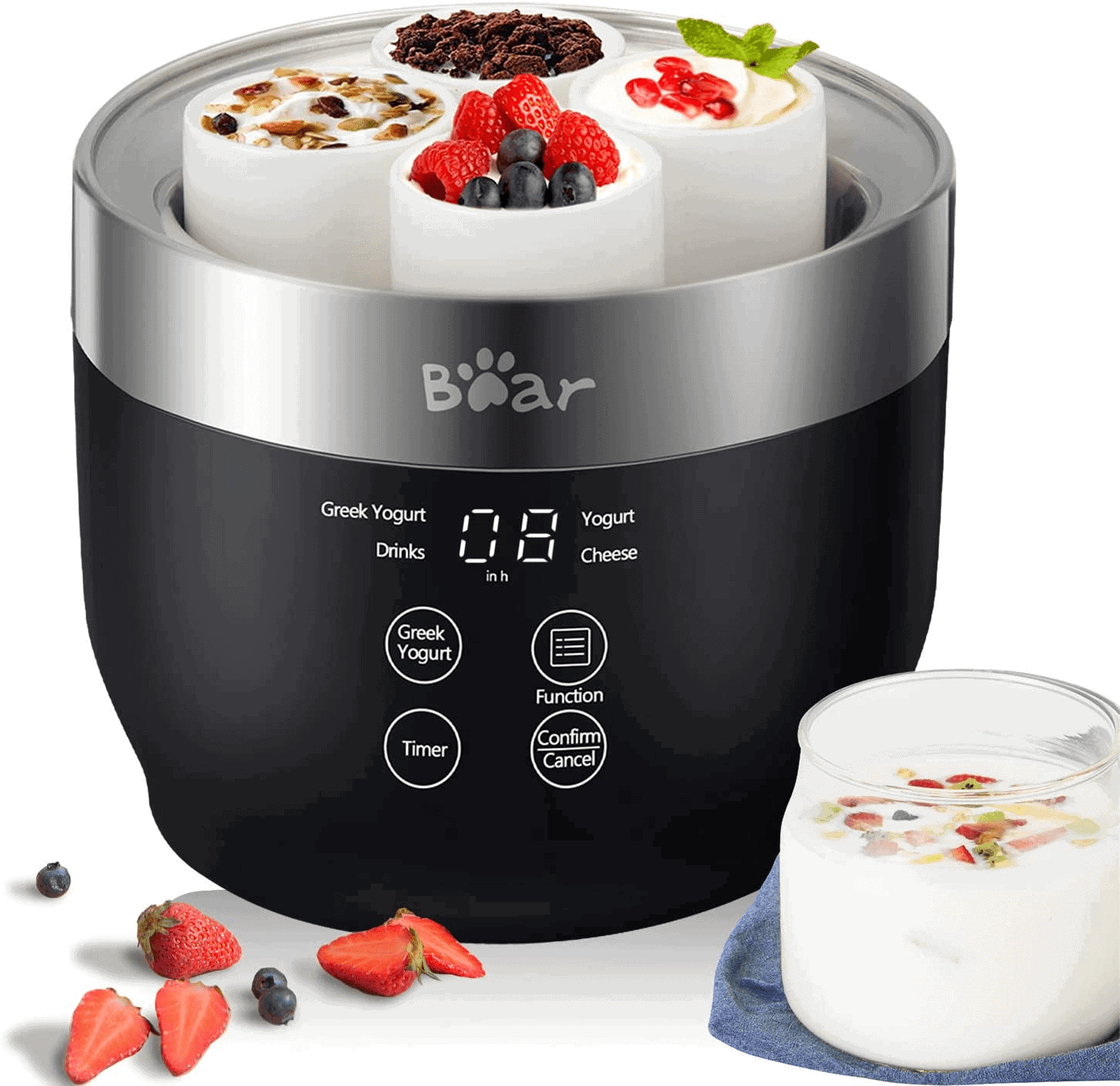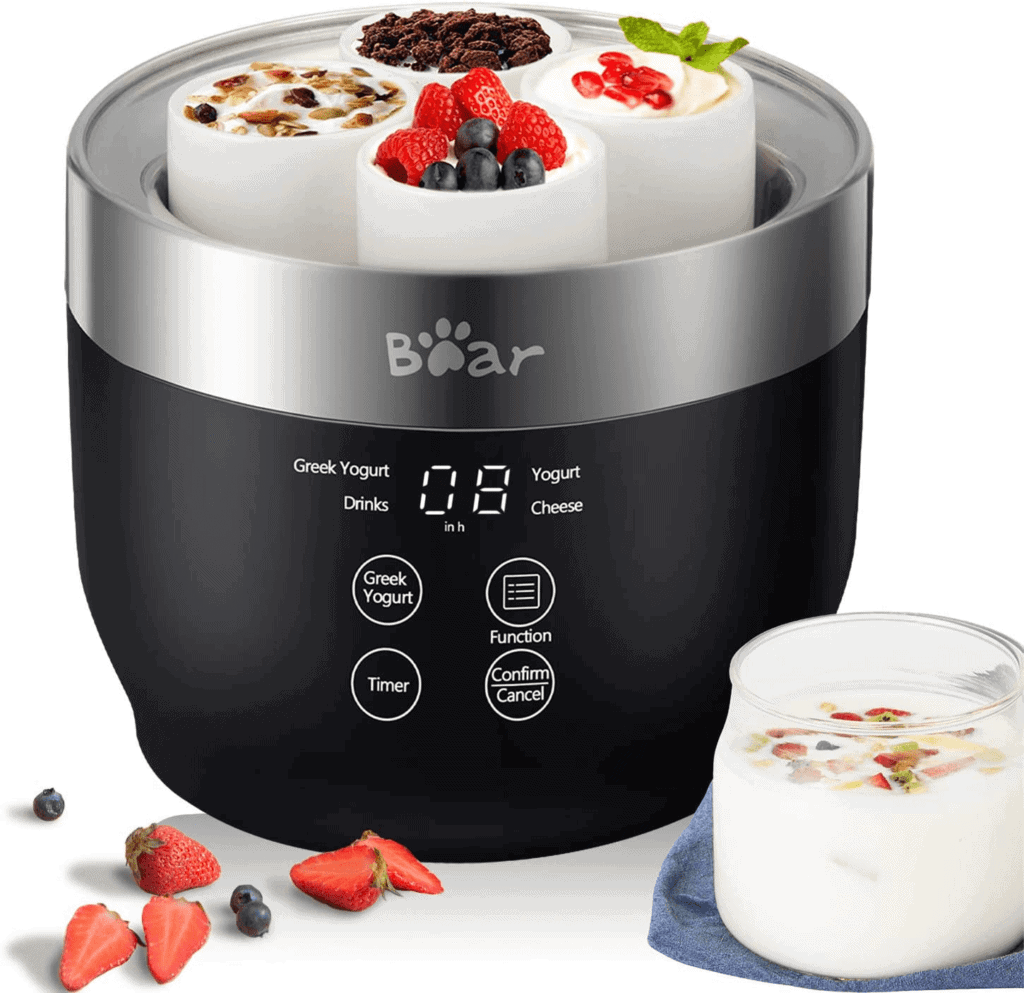 The last yogurt maker on our list is this Greek yogurt maker by Bear. It includes four ceramic jars that are 4.2 ounces each and two 33-ounce glass jars. The glass jars come with lids so you can easily store the yogurt you make.
You can make Greek yogurt or regular yogurt with this yogurt maker, even though there is no included strainer. To make regular yogurt, you will heat the yogurt for 8 hours, and for Greek yogurt, you will heat the yogurt for 10 hours.
Another great feature about this yogurt maker and what makes it extremely versatile is that you can create wine or cheese with this yogurt maker. Wine will need to ferment at a lower heat (86 degrees) for 36 hours, and cheese will need to ferment at high heat (140 degrees) for only 6 hours.
The front of the yogurt maker has function buttons that allow you to easily select the setting you need for what you are making. The temperature of the yogurt maker will be displayed on the yogurt maker as well. That way, you will know that what you are making is fermenting at the correct temperature.
The glass jars can be washed in the dishwasher, but you should wash the ceramic jars and lids by hand.
The Ultimate Yogurt Maker Buying Guide
When choosing the best yogurt maker, there are many features and applications you will need to consider before making your decision. You will need to consider quantity, versatility, and how easy the yogurt maker will be to use. These are all important factors you will need to familiarize yourself with before you purchase the first yogurt maker you come across.
We recommend making a list of the features that are important to you. This may also include making a list of how often you will be making yogurt or what time of day you will be making it. That way, you know exactly what yogurt makers to consider and which ones you can immediately mark off your list.
Quantity
Will you be making yogurt for your entire family, or will it just be you? This will help you decide which yogurt maker you should choose.
If you are making yogurt for your entire family, you will need to choose a yogurt maker that will hold and make a large capacity of yogurt. You will want to look for a container that will make at least one quart of yogurt, which is 32 ounces. Otherwise, if it will just be you who will enjoy the yogurt, you can get by with a yogurt maker that will make a smaller amount of yogurt (32 ounces or less).
Versatility
Any time you can buy an appliance or product that can be used for more than one application, you should always consider it. Some yogurt makers will only make regular yogurt, but others may make Greek yogurt, wine, or cheese.
If you don't think you will ever use the yogurt maker to make cheese, wine, or Greek yogurt, you shouldn't choose this model, especially if it is more expensive than another model you are interested in.
Functionality
Look at how easy the yogurt maker will be to use and put it into consideration. You won't want to use a yogurt maker that will be difficult to use. Additionally, you shouldn't choose a yogurt maker that you'll have to babysit if this isn't an option.
Some yogurt makers won't shut off automatically or switch to a cooling function once the yogurt has finished fermenting. This means you will have to manually turn the yogurt maker off when it has completed fermenting. If you aren't home when the yogurt finishes, it may overheat and ruin it. It can also damage the container or jars in the yogurt maker.
If you are always home when you make your yogurt, this function likely won't matter, as you will be home to monitor the yogurt maker when it finishes. Otherwise, you should choose a yogurt maker with either an automatic cooling system or an automatic shutoff that will stop heating the yogurt when the ferment time has been completed.
Another function you will want to consider is if you get control of the temperature on the yogurt maker. Some yogurt makers only allow you to set the timer of the maker without giving you control of the temperature. This is fine if you will be making regular yogurt only, but if you want to make Greek yogurt or other products, you may need to adjust the temperature accordingly. Without control over the yogurt maker's temperature, you will be unable to do this and be limited to just making regular yogurt every time.
Variety
Is making a variety of flavors at one time important to you? If so, you will want to choose a yogurt maker that uses jars to make the yogurt. This allows you to make a different flavor in each jar if you choose.
Other yogurt makers will feature one container that you will add the milk and starter to. This will create only one flavor of yogurt at a time. To get around this, you can make vanilla yogurt that everyone can add their own flavorings and toppings.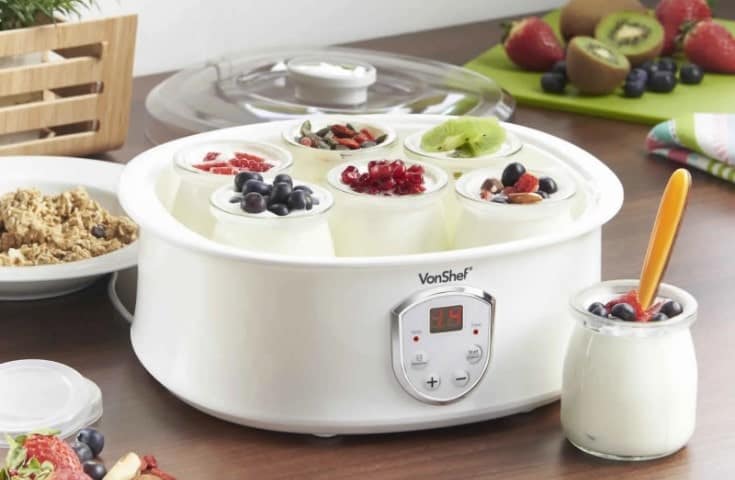 Conclusion
A yogurt maker is an inexpensive product that will allow you to make perfect homemade yogurt every time. You never have to question what hidden ingredients are in the yogurt you're eating when you make it homemade. You know exactly what has gone into the yogurt and the exact method used to make the yogurt.
The best yogurt maker you choose should meet all of your requirements. You shouldn't sacrifice any feature that is important to you. Once you have found the yogurt maker that is best for you, you can get started making perfectly homemade yogurt.