Hello Daring Cooks! I'm Renata of "Testado, Provado & Aprovado". I'm Brazilian but I have recently spent more than 5 years in South Korea, a lovely country with very nice people. Though it takes time to get used to such different customs, especially when it comes to food, I have to admit that now that I'm back to Brazil I miss some of the most popular Korean dishes. One of these dishes is Bibimbap, which happens to be very much appreciated by the foreigners who visit the country. For this reason, I would like to share with you a recipe, among so many variations, of this delicious dish, and challenge you to make your own! It can be easily adapted to your taste, dietary restrictions, and availability of ingredients.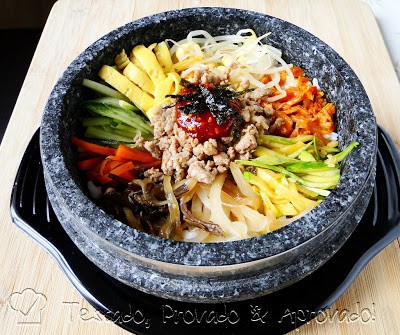 Recipe Source:
Bibimbap – adapted from Aeri's Kitchen
Korean Style Rice – adapted from My Korean Kitchen
Blog-checking lines: The July Daring Cooks' Challenge took us to Korea, where Renata of Testado, Provado & Aprovado taught us to make bibimbap. This colorful rice dish can be customized to meet any taste, and is as much fun to eat as it is to say!
Posting Date:
July 14, 2014
DOWNLOAD THE PRINTABLE FILE HERE.
Notes:
Bibimbap (Bibim = mixed; Bap = rice) is traditionally served in a bowl (individual size servings),
where a bed of hot steamed rice is topped with julienned sauteed (or steamed, or boiled) vegetables
of different colors.
Optionally, beef or pork (or even chicken or sea food) may be added.
An egg is often used fried (sunny side up), or made into omelette strips, or even raw, to top off the
dish.
Bibimbap is a colorful, eye-pleasing dish where vegetables are carefully arranged in a circle, in a way
that colors form a harmonic balance. For example, similar color vegetables are arranged opposite to each other. So much care in preparing the dish, but at the time of eating, everything is thoroughly
mixed together with a spoon!
Bibimbap is usually a spicy dish. Korean cuisine is spicy… VERY spicy! Bibimbap is served with a
thick sauce made with Korean red pepper (capsicum) paste called Gochujang. Of course you can
always adjust it to your liking or even omit the pepper, or substitute soy sauce or fermented bean
paste (similar to Japanese miso). You may also use any other Asian-style sauce of your liking.
Gochujang should be easy to find in Asian markets.
Feel free to research about other types of Bibimbap and choose the one that best suits your taste. I
have pretty much stuck to the recipe presented here since I love it so much, but I will be delighted to
learn new recipes!
One of the variations of Bibimbap (and my personal favorite) is called Dolsot Bibimbap. Dolsot
means "stone pot". The Bibimbap is assembled in individual serving-sized stone pots that are
previously coated with a thin layer of sesame oil. After that, the pot is heated on the stove top until it
sizzles and makes a thin layer of crunchy rice in the bottom. The sesame oil is what gives this dish its
unique taste. It is then served piping hot, and when all ingredients are mixed together, the heat of the
stone pot will cook the egg through. Alternatively, a cast iron skillet works well as a substitute for the
stone pot. You may watch this fantastic VIDEO that has also been linked below under "Additional
Information" for a better understanding. If you don't have a stone pot nor a cast iron skillet, but still
want to try Dolsot Bibimbap, you can try using a common non-stick skillet, the only difference is that
it won't retain the heat for so long.
Mandatory Items:
You must make Bibimbap either using the recipe provided or any other of your choice.
Variations allowed:
You may choose among so many different Bibimbap recipes and adapt it to your taste, dietary
restrictions, and availability of ingredients.
Preparation time:
You will spend most of the prep time to julienne all the vegetables, so that will largely depend on you
knife skills. If you have a good food processor that does the work for you, go for it!
It will take you an average 1 hour from start to finish.
Equipment required:
Chopping board
Large knife
skillet (non-stick would be great)
bowls for individual serving (traditionally, ceramic bowls are used)
stone bowl (optional for Dolsot Bibimbap) – a cast iron skillet can be used here, or even a regular
skillet, if you don't have either one.
Recipe 1:
BIBIMBAP
Servings: 3~4
Ingredients
2 cups (approximately, use according to your taste) Korean style steamed rice (recipe below).
Vegetables:
1/2 cup each of your chosen vegetables (suggestions and preparation methods below).
For the meat:
1/2 cup (120 ml) (2½ oz) (75 gm) beef, pork or chicken; ground (minced) or cut into fine strips
1 teaspoon (5 ml) soy sauce
1 teaspoon sugar
1 teaspoon vinegar
1 teaspoon sesame oil
2 cloves garlic
1 pinch of salt and pepper
Red pepper sauce:
3 tablespoons Korean red pepper paste (gochujang)
1/2 teaspoon soy sauce
1/2 teaspoon vinegar
1 teaspoon sugar
1 teaspoon sesame oil
1 teaspoon sesame seeds
1 clove garlic, minced
For assembling:
Sesame oil
Egg(s), 1 per serving (optional)
Directions:
Start by marinating the meat:
Mix all the marinade ingredients with the meat and set aside while you prepare the vegetables.
Sautée the veggies (instructions below), then use the same pan to sautée the meat over high heat until
it is cooked through.
Vegetables suggested and how to prepare them: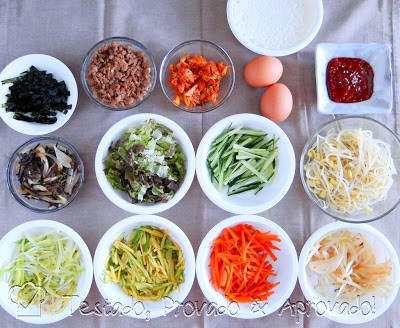 Mung bean sprouts (moyashi) and spinach leaves:
Boil some water in a sauce pan and add the mung bean sprouts. As soon as the water boils again, drain the sprouts and immediately immerse them in cold water for a few minutes to stop cooking. Drain again. Season with a pinch of salt and 1/2 teaspoon sesame oil. Use the same process with the spinach.
Onions, carrots, zucchini, fresh mushrooms, and green onions:
Sautée the julienned vegetables very briefly (they should remain crunchy), one at a time, in a pan that has been lightly greased with sesame oil, over medium high heat. Add a pinch of salt. Set aside separately.
Dried seaweed:
Cut the seaweed into thin strips using kitchen scissors. Use as is.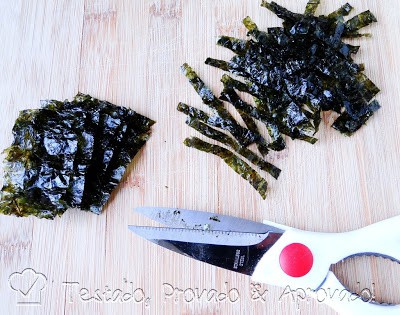 Lettuce and cucumbers:
These are used raw, julienned.
The vegetables can be substituted according to seasonal availability or your preference. Try to use a colorful selection of vegetables to make your dish more appealing and healthier. Vegetarians may omit the meat or use grilled tofu as a substitute.
Eggs (optional):
A fried egg is often used to top off the Bibimbap.
Another option for using the egg is to lightly mix it with a pinch of salt…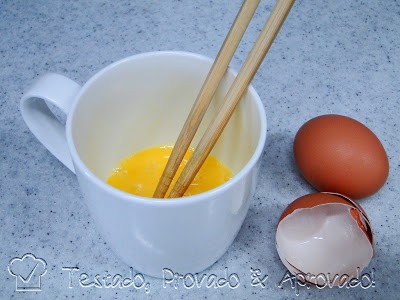 ….and cook in a pan as a crepe.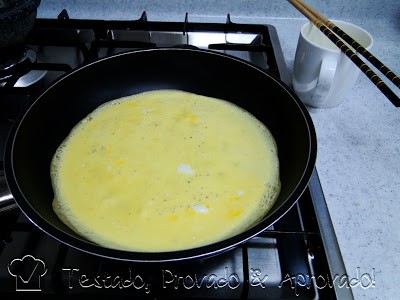 Then, cut it into strips.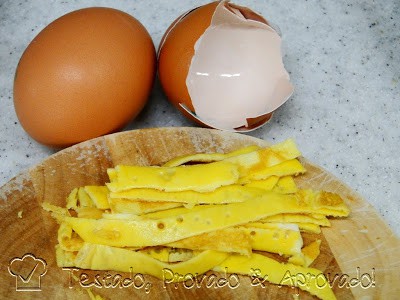 For Dolsot Bibimbap (cooked in a stone pot), put a raw egg yolk in the center of the dish, on top of everything. The heat of the pan will cook the yolk through when you mix everything at the time of eating.
For the sauce:
Combine all ingredients and set aside. This sauce is served separately, according to each one's taste. If you don't like spicy food, you can omit this sauce and use soy sauce or fermented soy bean paste (miso) instead.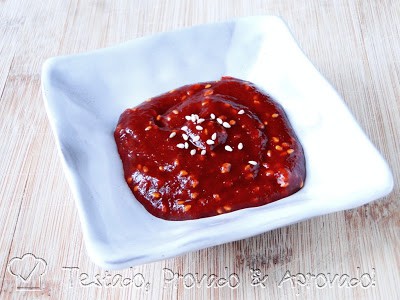 Assembling the dish:
For Dolsot Bibimbap, brush some sesame oil in the bottom of the stone pot or skillet.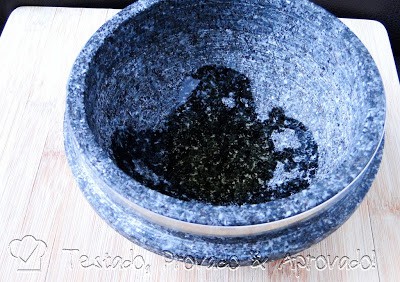 Make a "bed" of steamed rice. Amount is up to you, usually ½ to 1 cup per serving.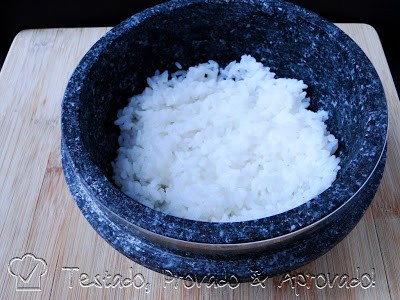 Arrange the prepared vegetables on top of the rice, side by side, around the pot, as shown in the pictures. If you want to be authentic, arrange similar colors opposite to each other. The meat can go in the middle or along with the vegetables.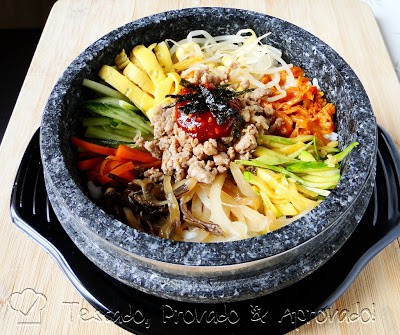 Finally, place the fried egg, or raw egg yolk (if using) in the middle carefully so that the yolk doesn't break.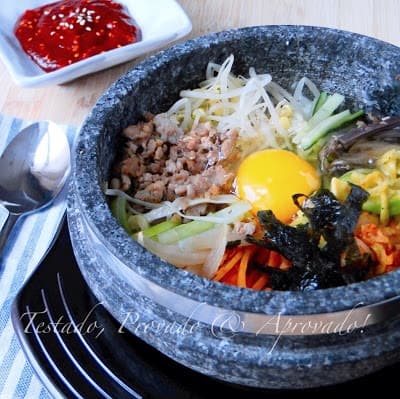 Heat the pot on the stove top over medium heat without a lid. In approximately 5 minutes, it will start to sizzle. It will take about 10 minutes total, but depending on your stove it may take more or less time. So keep an eye on it, you want the rice at the bottom to form a thin, crunchy layer, but you don't want it to burn!
For regular Bibimbap, arrange the ingredients (that should be hot) in individual bowls and top off with a fried egg (optional). Omit the sesame oil in the bottom and the heating on the stove top. Serve.
Bibimbap is traditionally eaten with a spoon. Add some sauce to the bowl, mix all components thoroughly and enjoy!
Note:
These stone pots usually come with a wooden plate to protect your linen and your table, and I highly recommend you use them. Handle with care, they will be very hot! There are special pliers used for removing the pot from the stove, but if you don't have one, a thick oven glove will do. And, of course, be careful while eating directly from the hot pot (as it is, traditionally) so you don't burn yourself. If you are concerned about that, simply transfer the mixed bibimbap to a plate.
Attention:
Maintaining your stone pot in good shape includes NEVER using soap when cleaning. Please refer to the manufacturer's instructions for cleaning instructions and maintenance.
Recipe 2:
KOREAN STYLE STEAMED RICE
Servings: 3~4
Ingredients:
The rice-water proportion is 1 : 1.2 (by volume), and this is what I came up with:
1 cup (240 ml) (7¾ oz) (220 gm) Korean rice (short grain rice, same used for making Japanese Sushi)
1¼ cup (300 ml) water
This amount will yield about 2 cups cooked rice which should be enough for the amount of ingredients in the Bibimbap recipe provided here. Feel free to use more, or less, according to your taste.
Directions:
Step 1: Rinse the rice
Measure the rice and place it in a bowl. Fill the bowl with water and make a swirling movement with your hand. Don't scrub the rice.
Strain the water and repeat this process 3 more times. The last water won't be crystal clear, but that's the way it is supposed to be.
Strain the water well and immediately place the rice back into the bowl.
Step 2: Soak
Measure the water that will be used for cooking, and pour it over the rice. Let it soak for 30 minutes.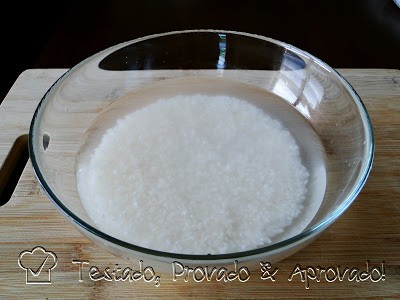 Step 3: Cook
After the soaking time, transfer rice and water to a heavy bottomed sauce pan. Bring it to a boil over medium heat and immediately turn down the heat to the minimum possible. Cover and simmer gently until all the water has evaporated. Watch closely, mine took only 5 minutes!
Step 4: Rest
Turn off the heat and let it sit for additional 15 minutes, covered, to finish cooking.
Stir the rice so that the moisture is evenly distributed.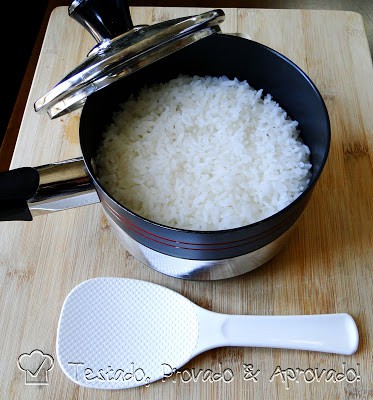 There are special rice spoons, like the one in the photo, with a special texture that won't let the rice stick to it (interesting!)
Ready to serve!
Storage & Freezing Instructions/Tips:
Bibimbap is best made fresh. It isn't suitable for freezing. Rice and vegetables can be prepared ahead (maximum of 24 hours) and kept in the refrigerator in airtight containers, but will have to be reheated before assembly. Dolsot Bibimbap is an exception, it can be assembled with refrigerated made-ahead ingredients that will be heated through on the stove top, using the stone pot.
Additional Information:
For inspiration, click HERE
Dolsot Bibimbap VIDEO (great video, by the way!)