Nothing beats these vegetarian black bean tacos, loaded with fresh avocado, veggies, and all the authentic Mexican toppings. Make them for breakfast, lunch, or dinner - any time of day, this taco recipe will have you satisfied!
The Best Black Bean Tacos Recipe
Tacos are the best. Have you ever met anyone who doesn't love tacos? I haven't. That's because tacos are one of the most delicious things you can eat on the planet.
The tacos I love most are black bean tacos. They have so much flavor and make for a real no-hassle meal. Plus, they are totally vegetarian! This is what makes this one of my favorite Mexican recipes.
I love using black beans as a base because they are chock full of protein and fiber. Don't get me wrong - I love making veggie tacos. But, they aren't as substantial as black bean tacos. Also, black beans are a much healthier and authentic alternative to canned refried beans.
Another reason I adore black beans is how easy they are to prepare. You can make your own black beans or just use canned black beans. I typically use the latter as it simplifies the entire recipe and gives you absolutely delicious black bean tacos in no time. You can easily use canned pinto beans too if you'd like.
What's also fantastic about this recipe is that it is 100 percent gluten free, if you use corn tortillas. All the taco fillings are gluten free too. This recipe can easily be vegan if you substitute sour cream and Mexican cheese. I love adding nutritional yeast and coconut yogurt on top when I'm sticking to vegan meals.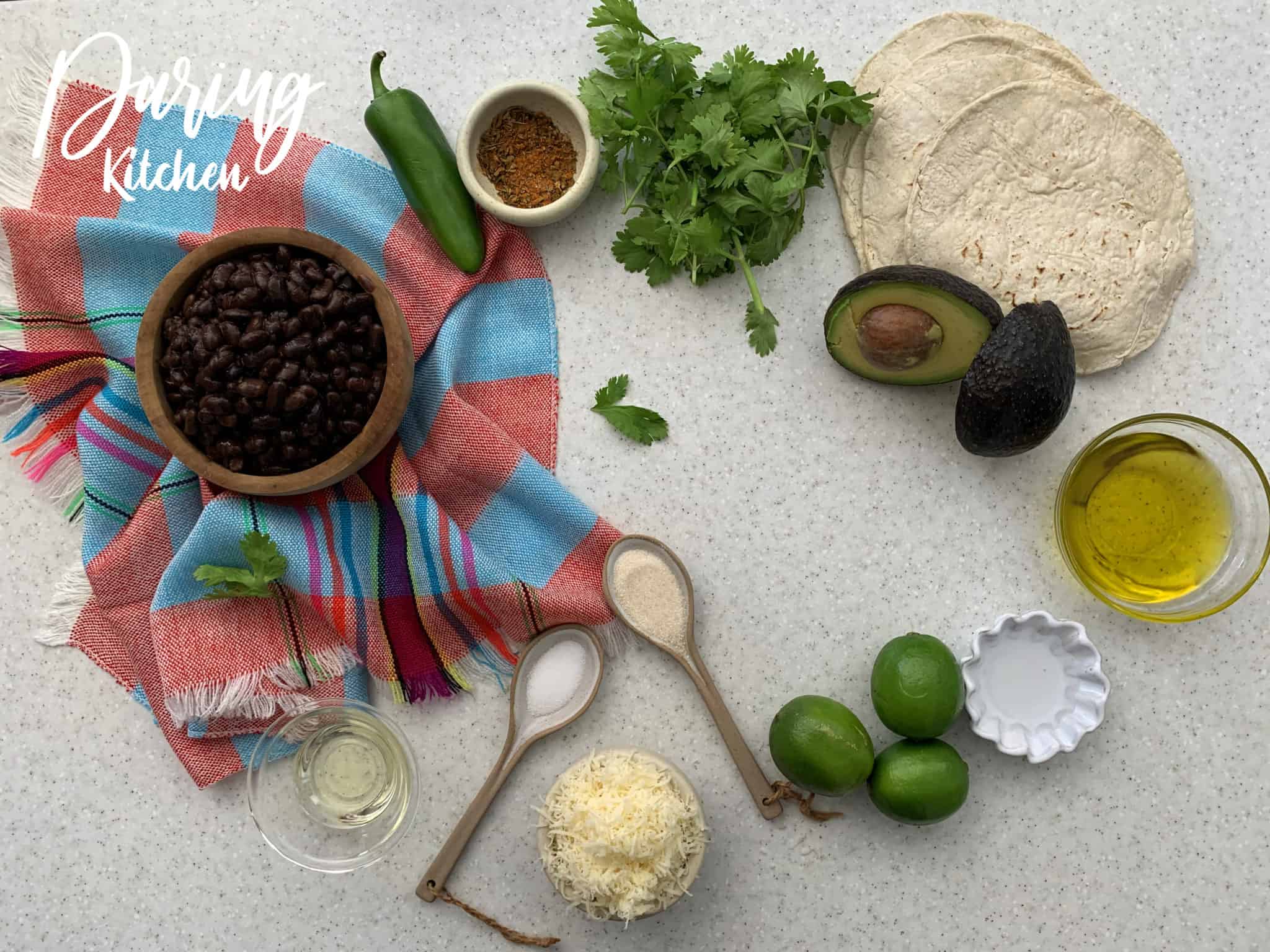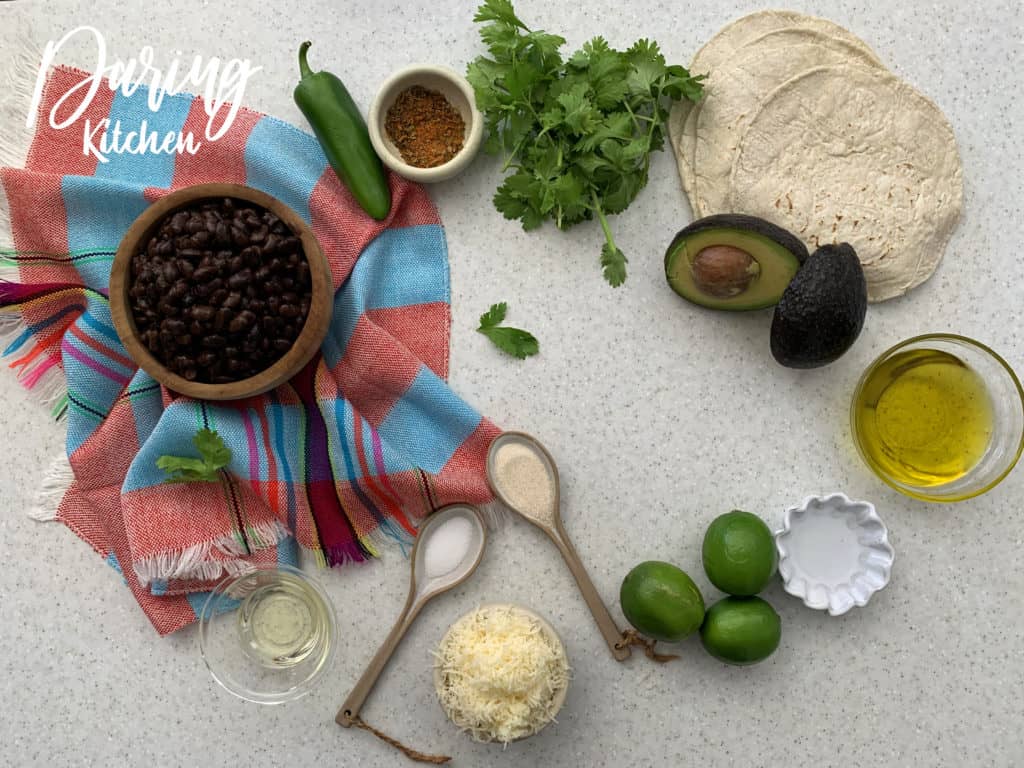 What's in Black Bean Tacos?
There are some special ingredients that make up these black bean tacos delicious. First, there's the black bean mixture inside. I use canned black beans seasoned with salt and pepper. Sometimes, I add a little chili powder for an extra kick.
What really makes these tacos is the zesty avocado salsa on top. With a blender (or food processor,) you can create a sauce that really brings your black bean tacos to life.
So, what's in this avocado salsa?
Avocado - This makes the salsa nice and creamy. It also makes these tacos a lot more belly-filling too.
Cilantro - This is a classic Mexican herb that must be added to tacos. If you really don't enjoy the flavor of cilantro, you can omit it or substitute it with parsley. I personally think an herb component is necessary for the salsa for freshness.
Olive Oil - This is a super healthy oil option and it adds a nice nutty flavor to the salsa.
Jalapeño Pepper - I love a good kick in my salsa, and nothing beats fresh jalapeno pepper! I suggest using fresh rather than pickled. In my perspective, pickled brings too bold of a flavor.
Lime Juice - What's a Mexican salsa without fresh lime juice? Lime brings this salsa to life!
Taco Seasoning - This is my shortcut to boosting the flavors in this entire recipe. You can find taco seasoning easily at the grocery store. It's much more affordable than buying all the spices.
Sugar - This gives the salsa an awesome sweet-spicy flavor.
All of these ingredients just need to be added to a blender and viola! - your salsa is ready! Combined with the beans, it's such a yummy meal. I often skip the tortillas and turn this vegetarian tacos recipe into an awesome burrito bowl recipe. I'll use cauliflower rice as a base and top the bowl with all the hot sauce. Mega yum!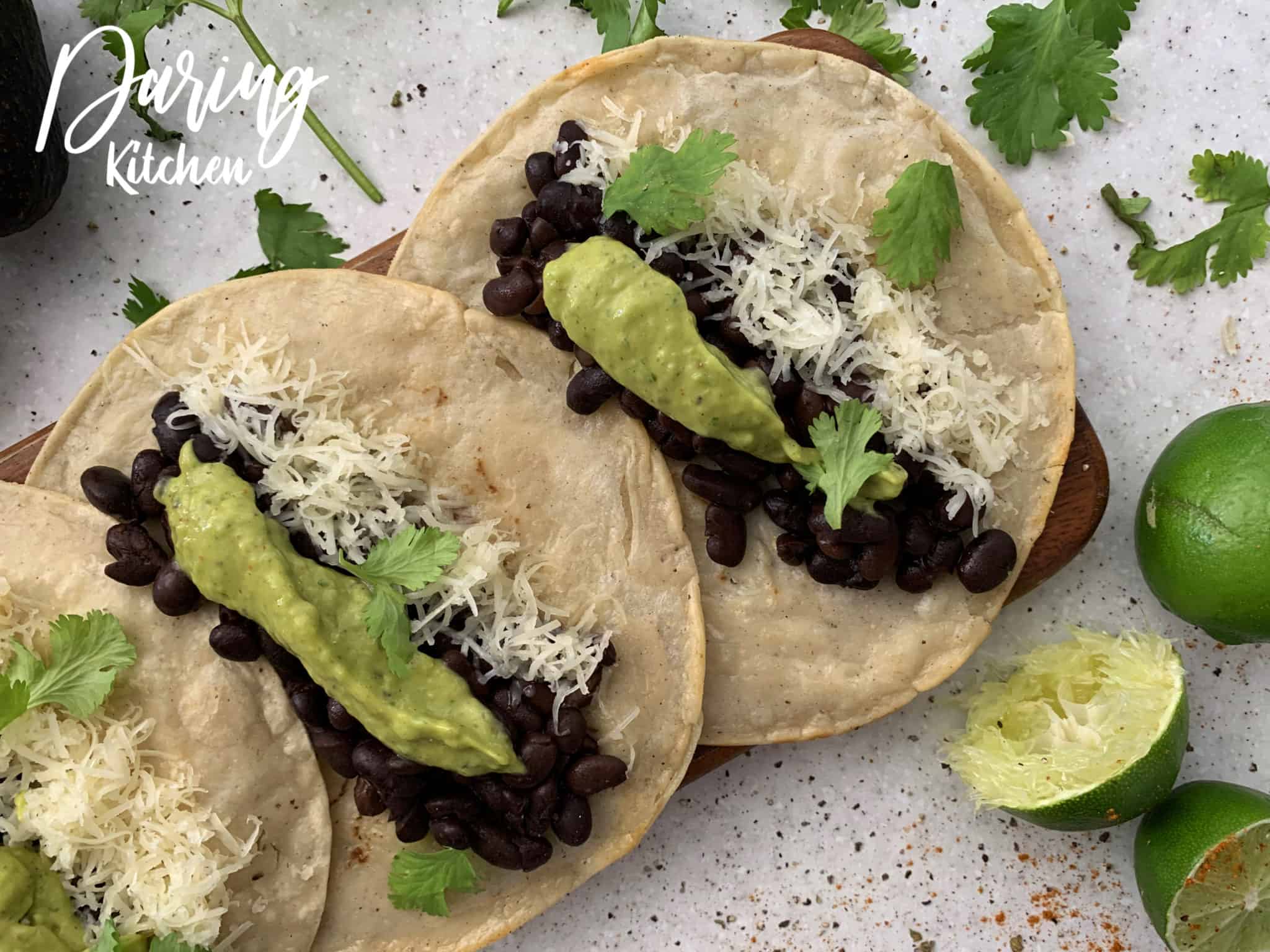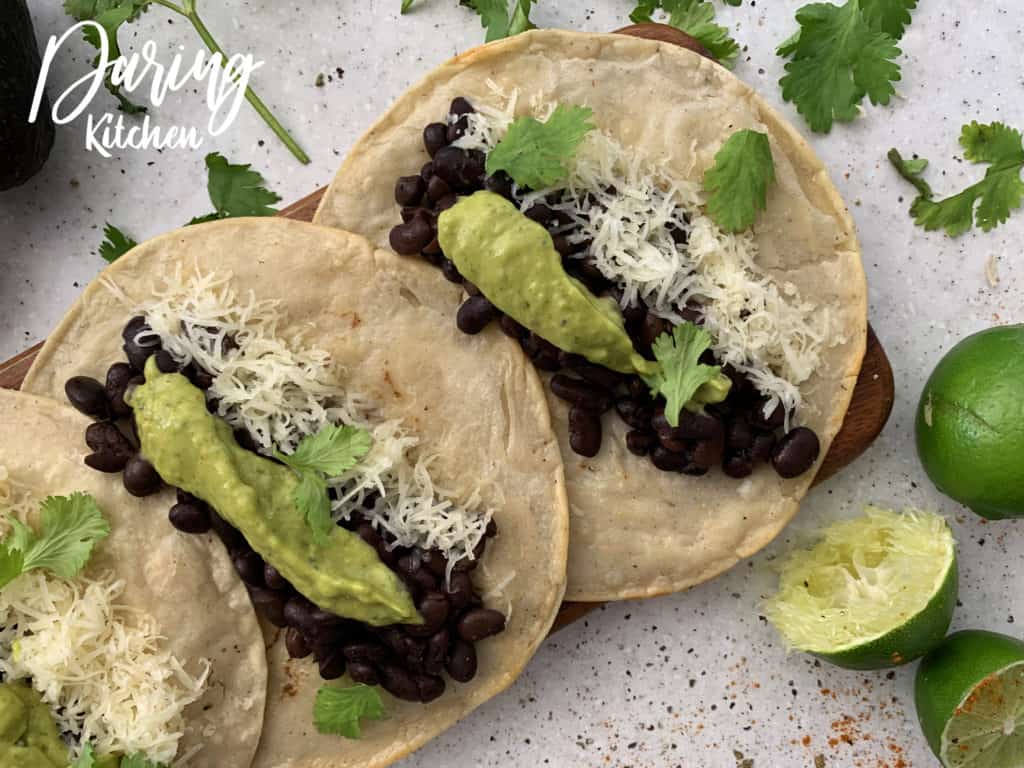 How to Garnish Black Bean Tacos
The best part about tacos is the toppings. Traditional tacos have a very simple garnish (cilantro, chopped onion, and lime juice.) I like to keep it simple too, changing it up a bit as I go.
Here are a few simple toppings for your tacos:
Pico de gallo - Keep it simple with fresh tomatoes, onion, and fresh cilantro!
Salsa Verde - Green pepper salsa adds a nice heat to these tacos
Mexican cheese and sour cream - This gives your tacos all the cheesy flavor.
Nutritional yeast and coconut yogurt - A vegan way to give your tacos a delicious cheesy flavor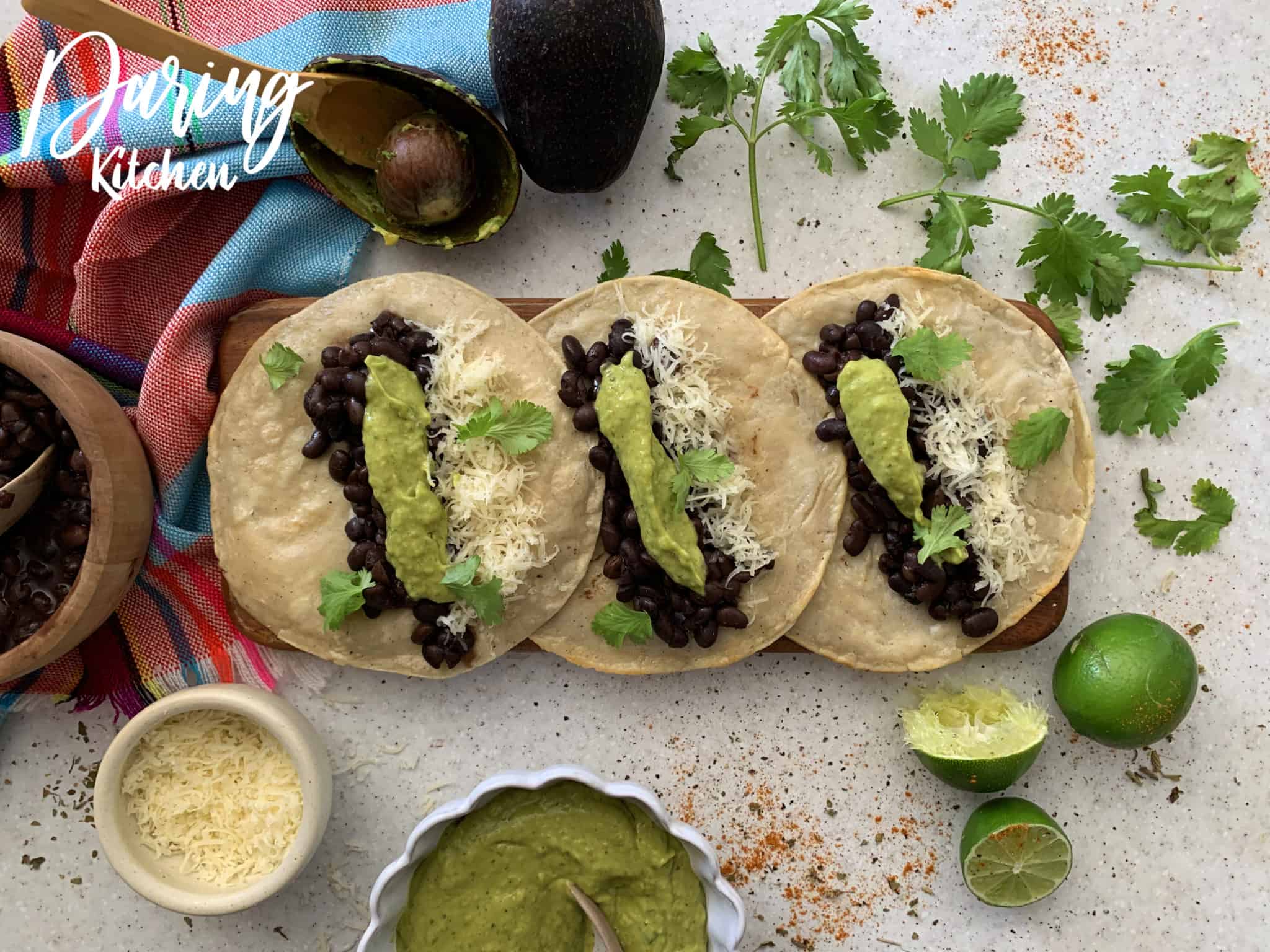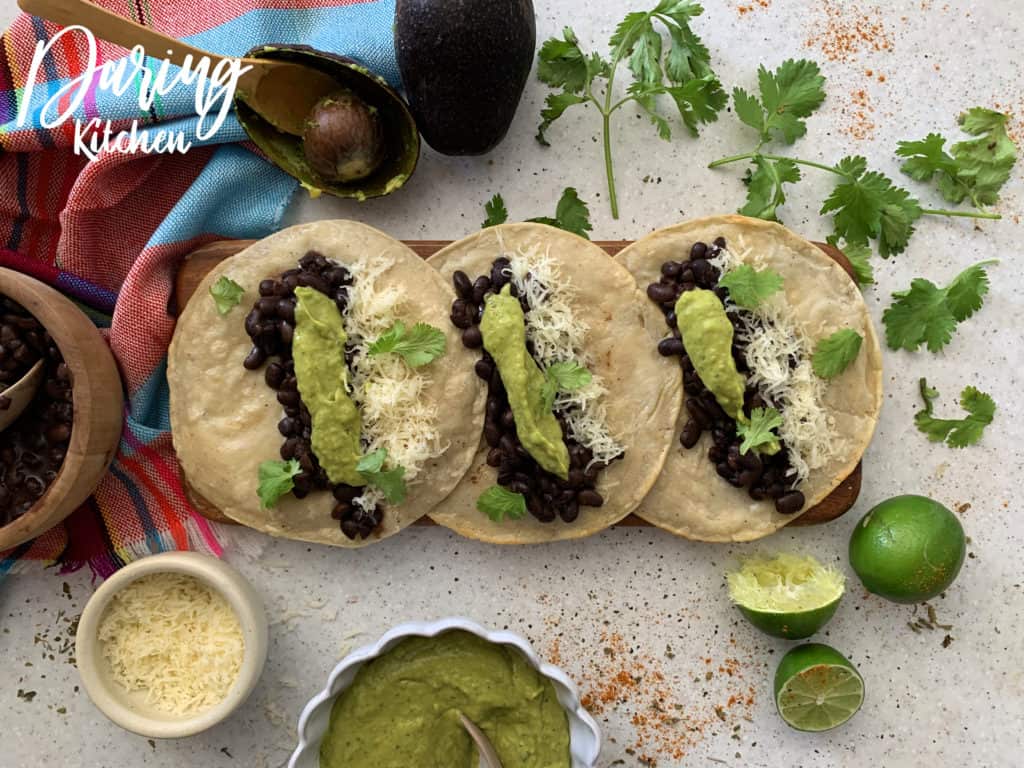 How to Make Black Bean Tacos
Let's get down to the recipe.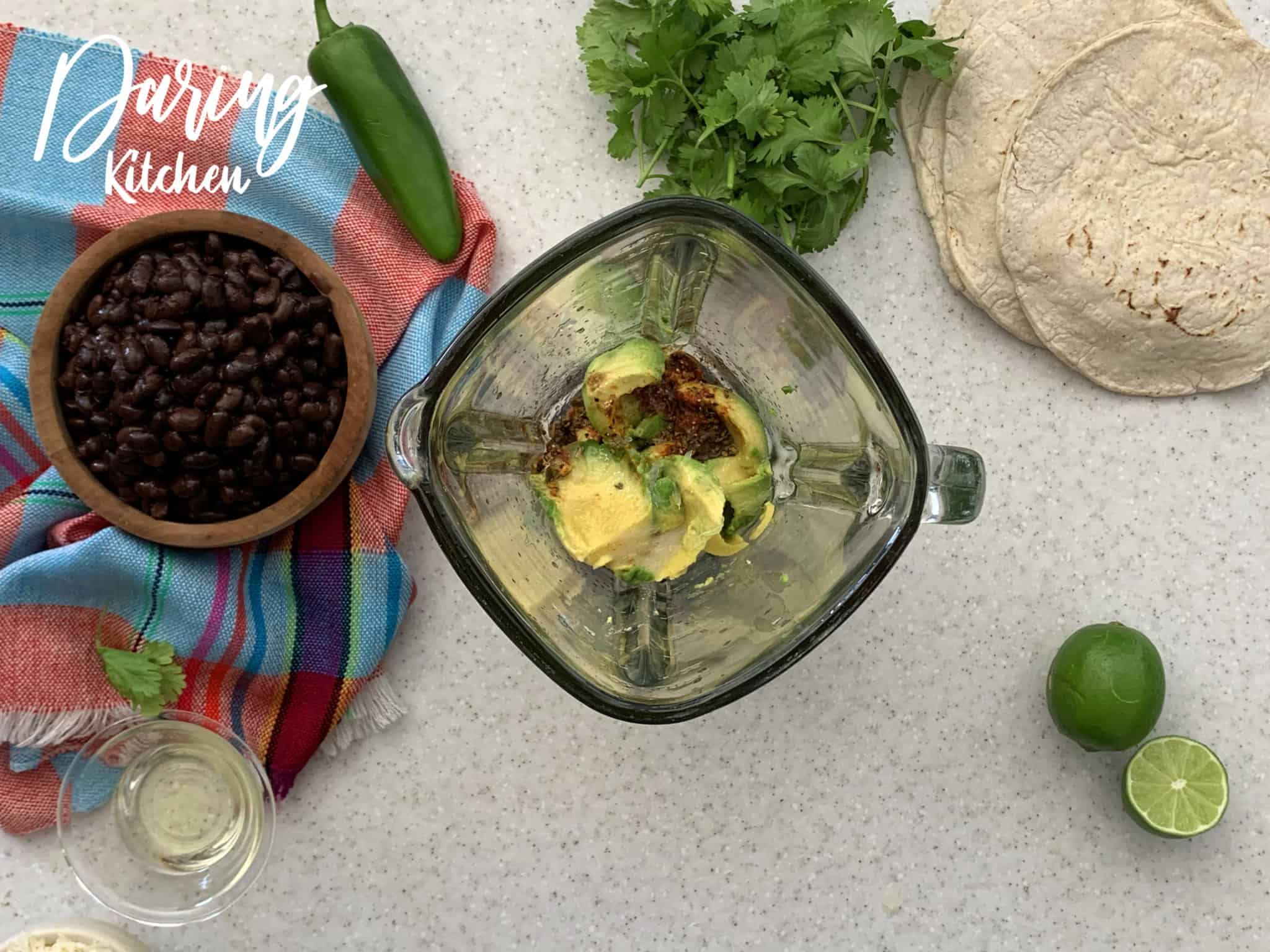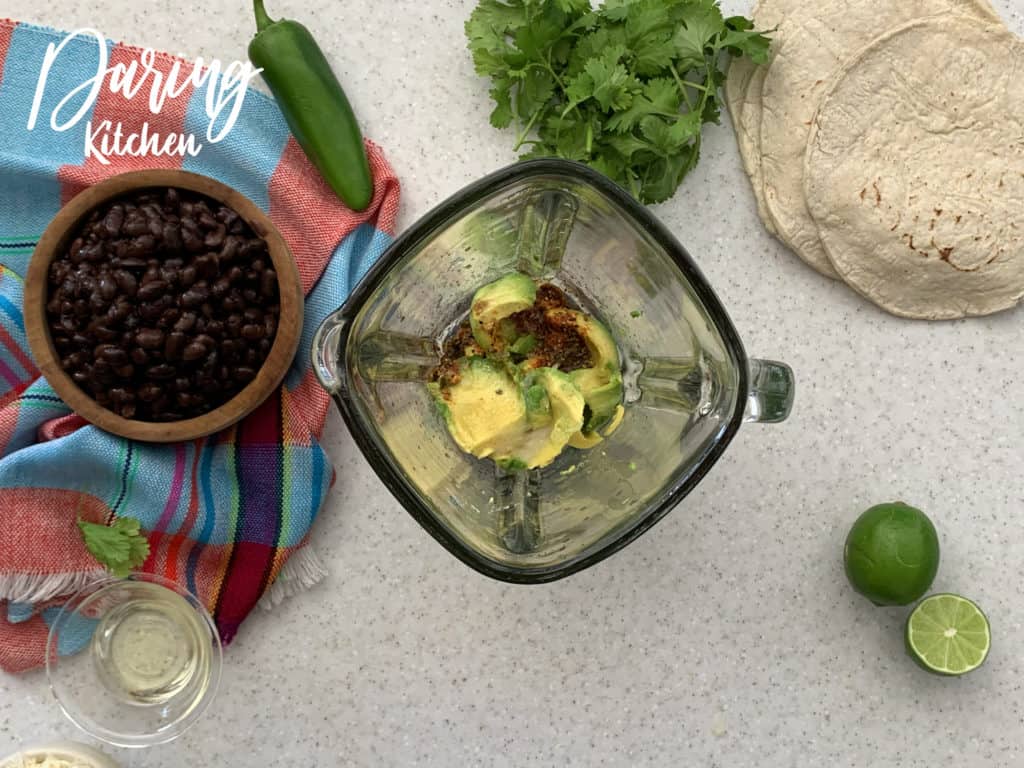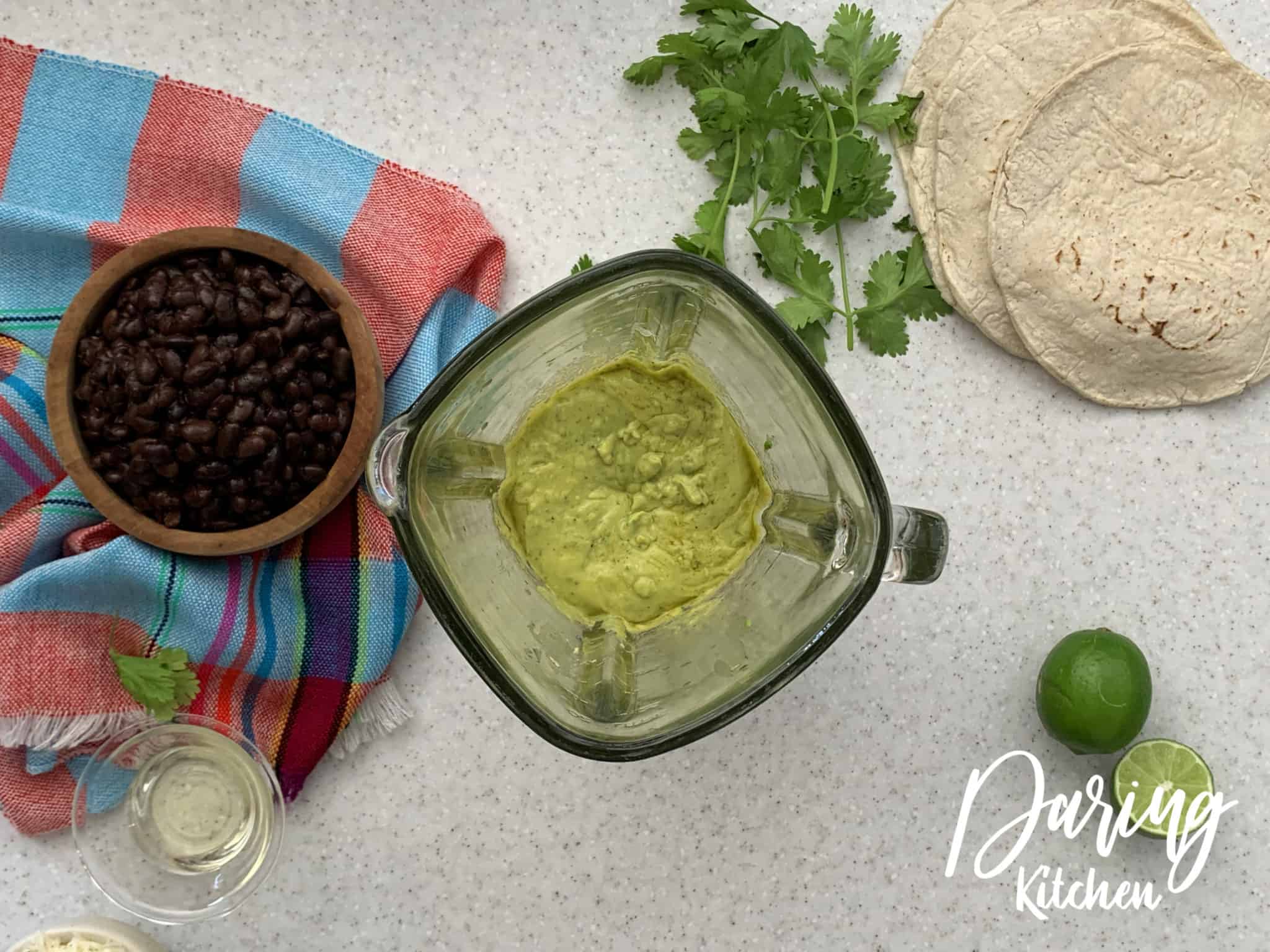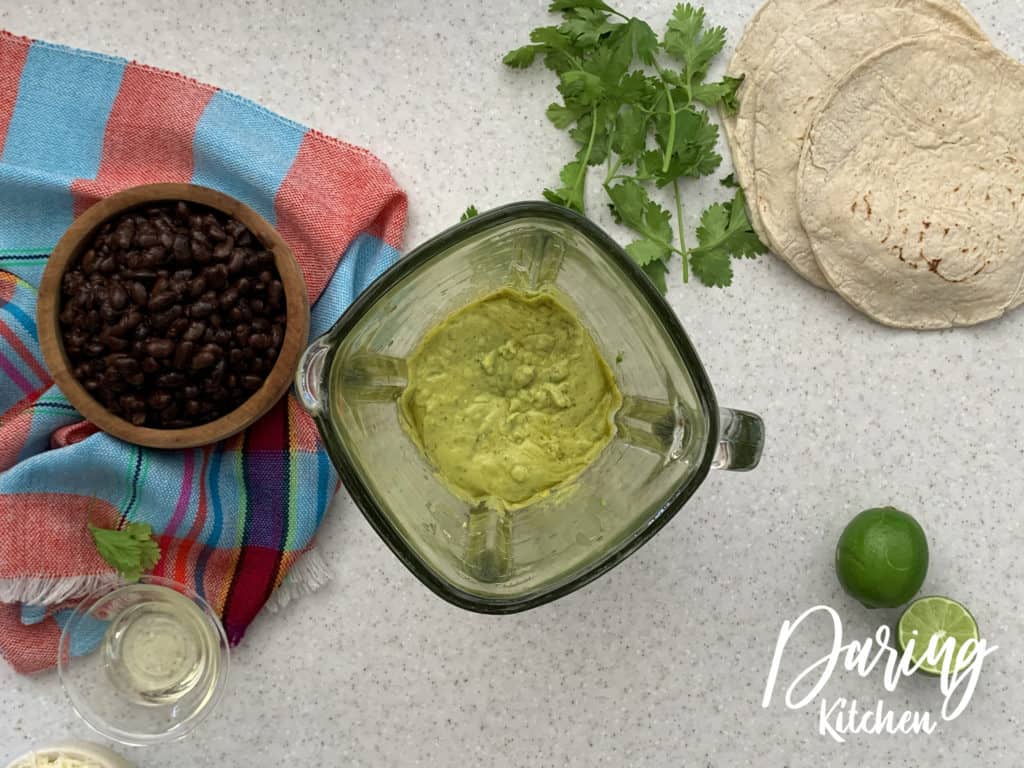 The first step is to prep your salsa. Add your avocado, cilantro, jalapeno, olive oil, sugar, lime juice, and taco seasoning to a blender. Blend until creamy, ensuring the jalapenos are chopped and well incorporated.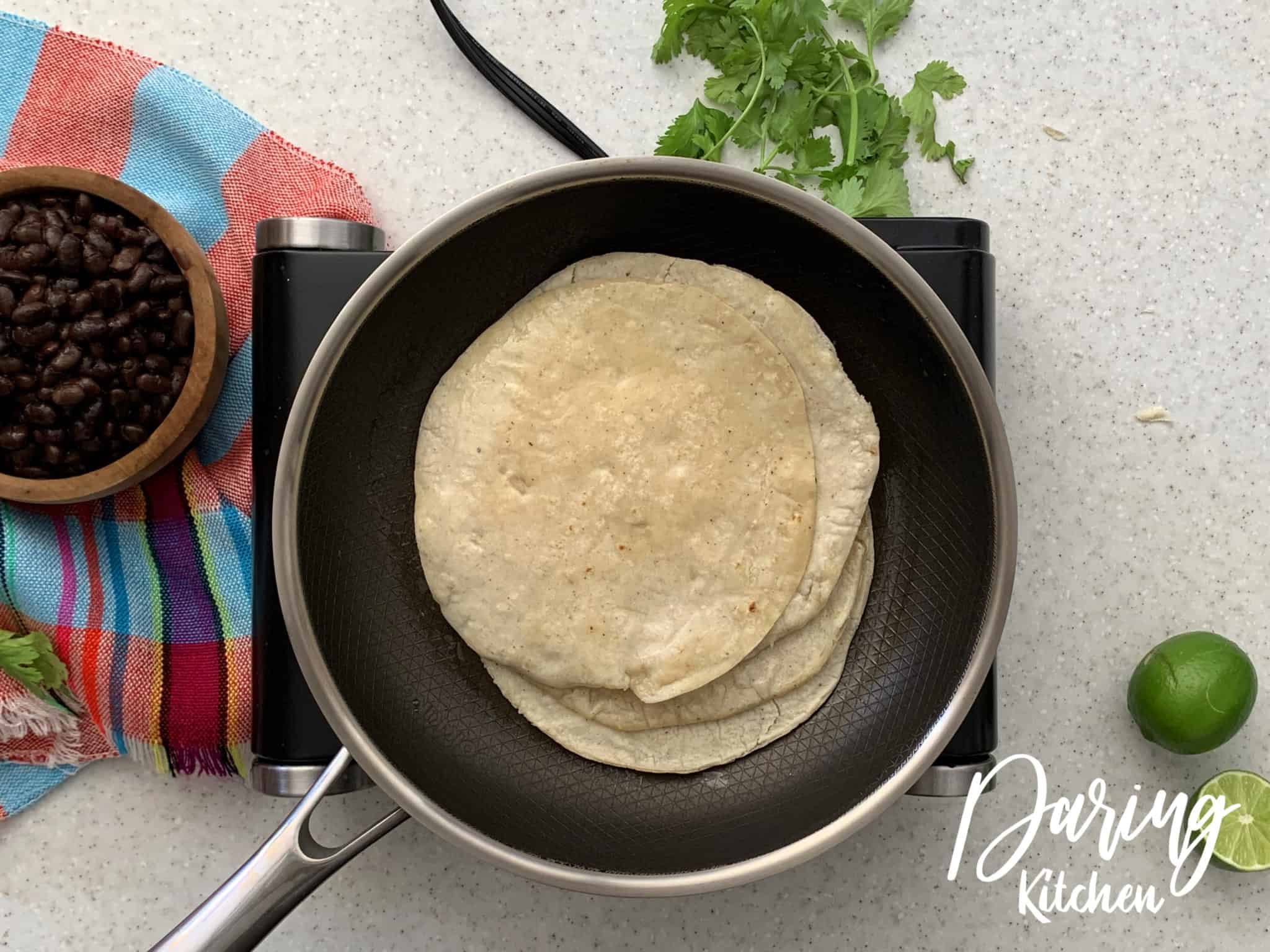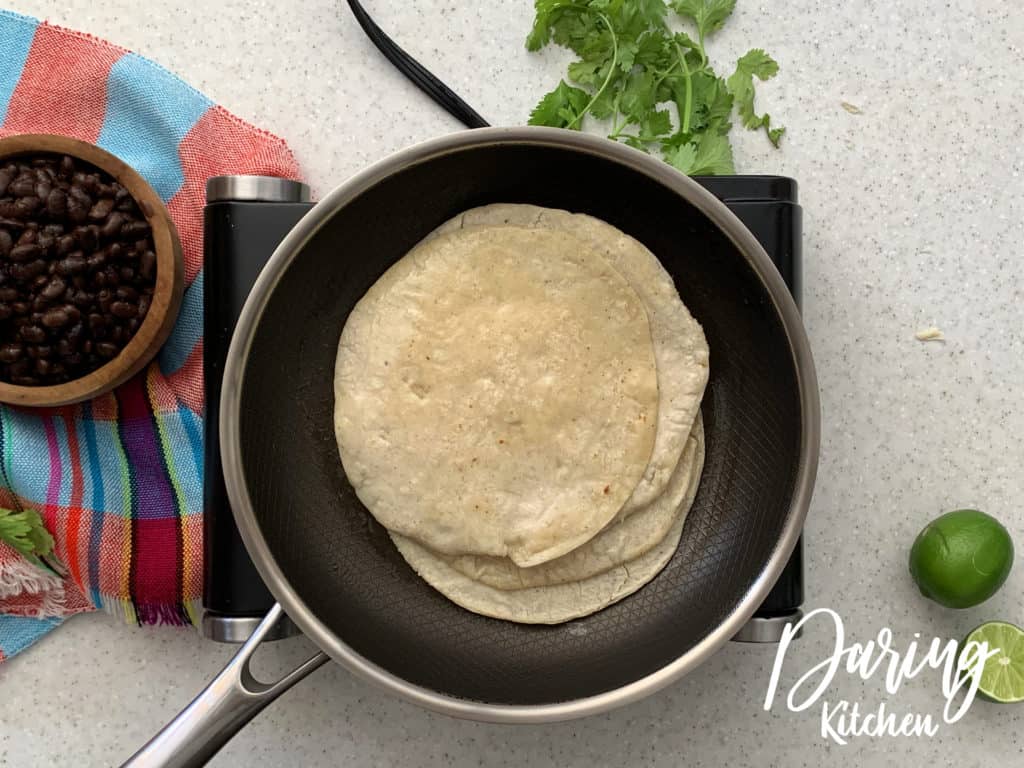 Now, measure out your black beans, seasoning them if you like, and set them aside. Then, heat a pan over medium heat with a little bit of vegetable oil. Lightly fry your tortillas, giving them a nice golden color.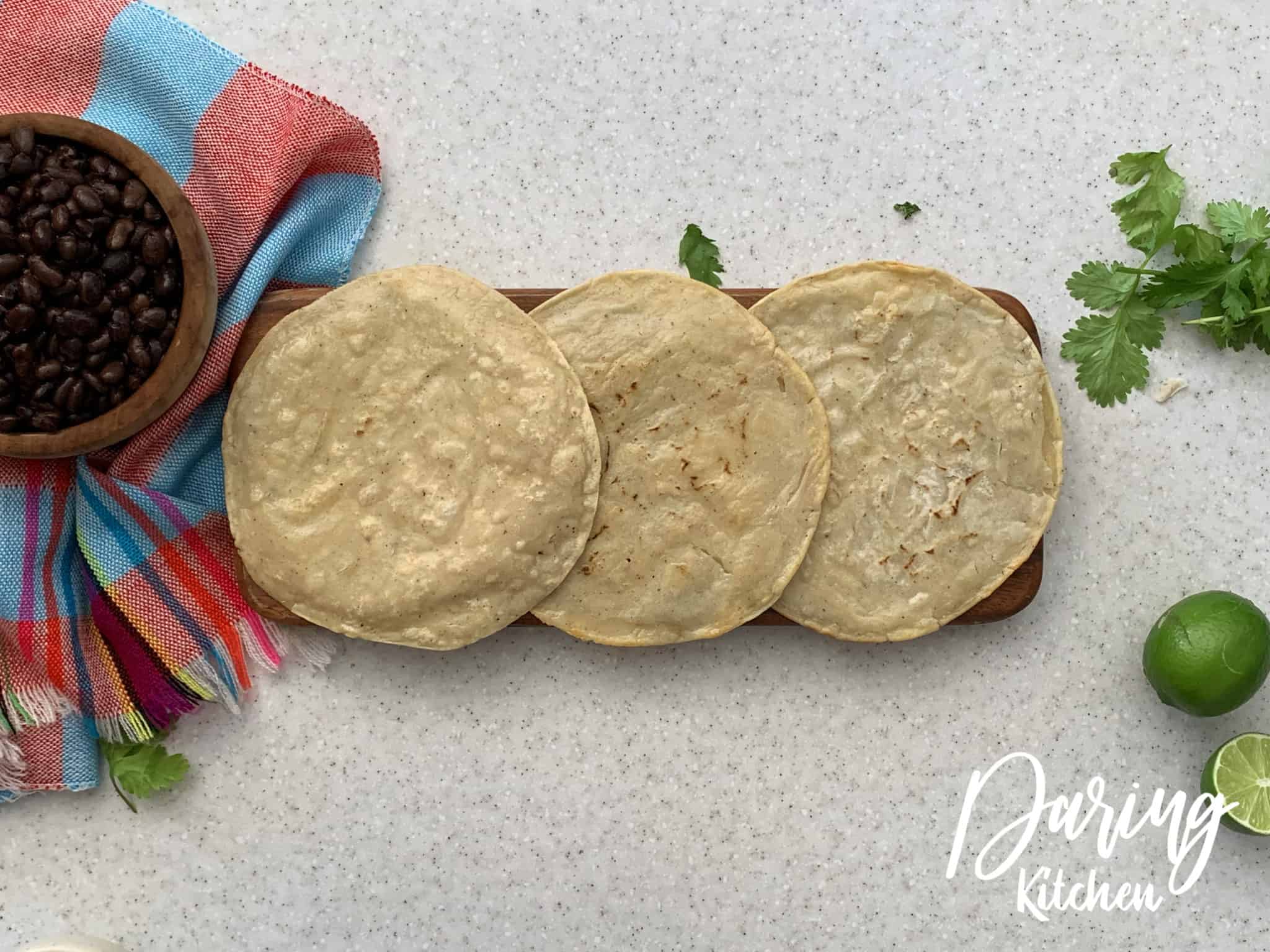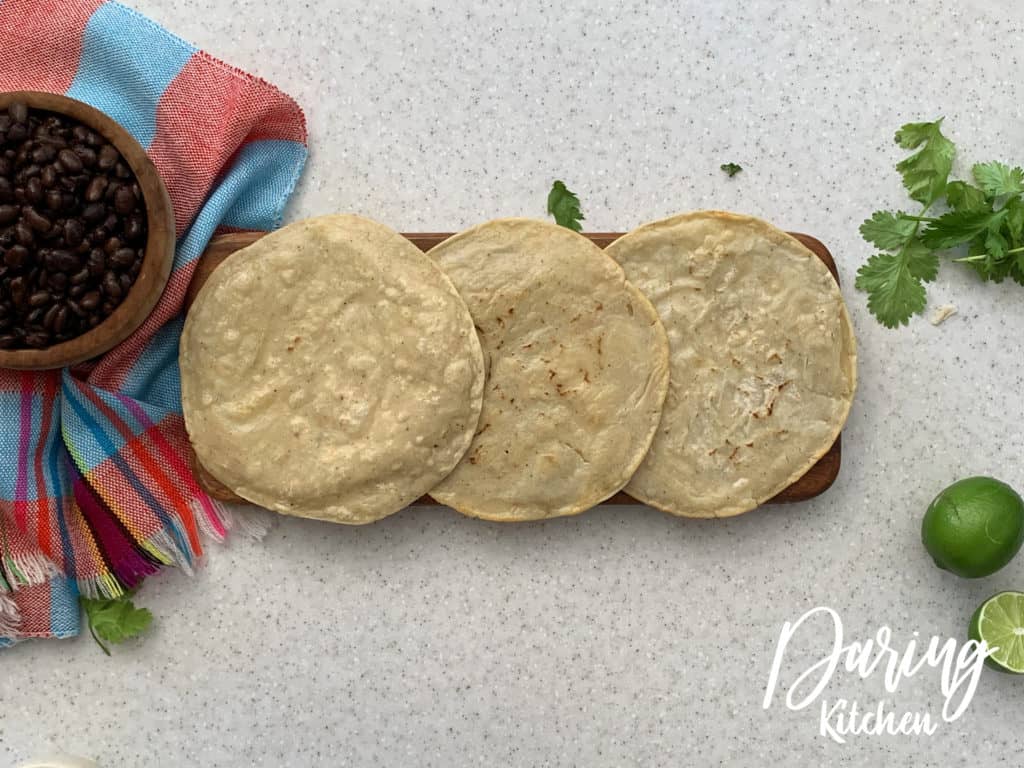 Arrange your corn tortillas or flour tortillas on a plate.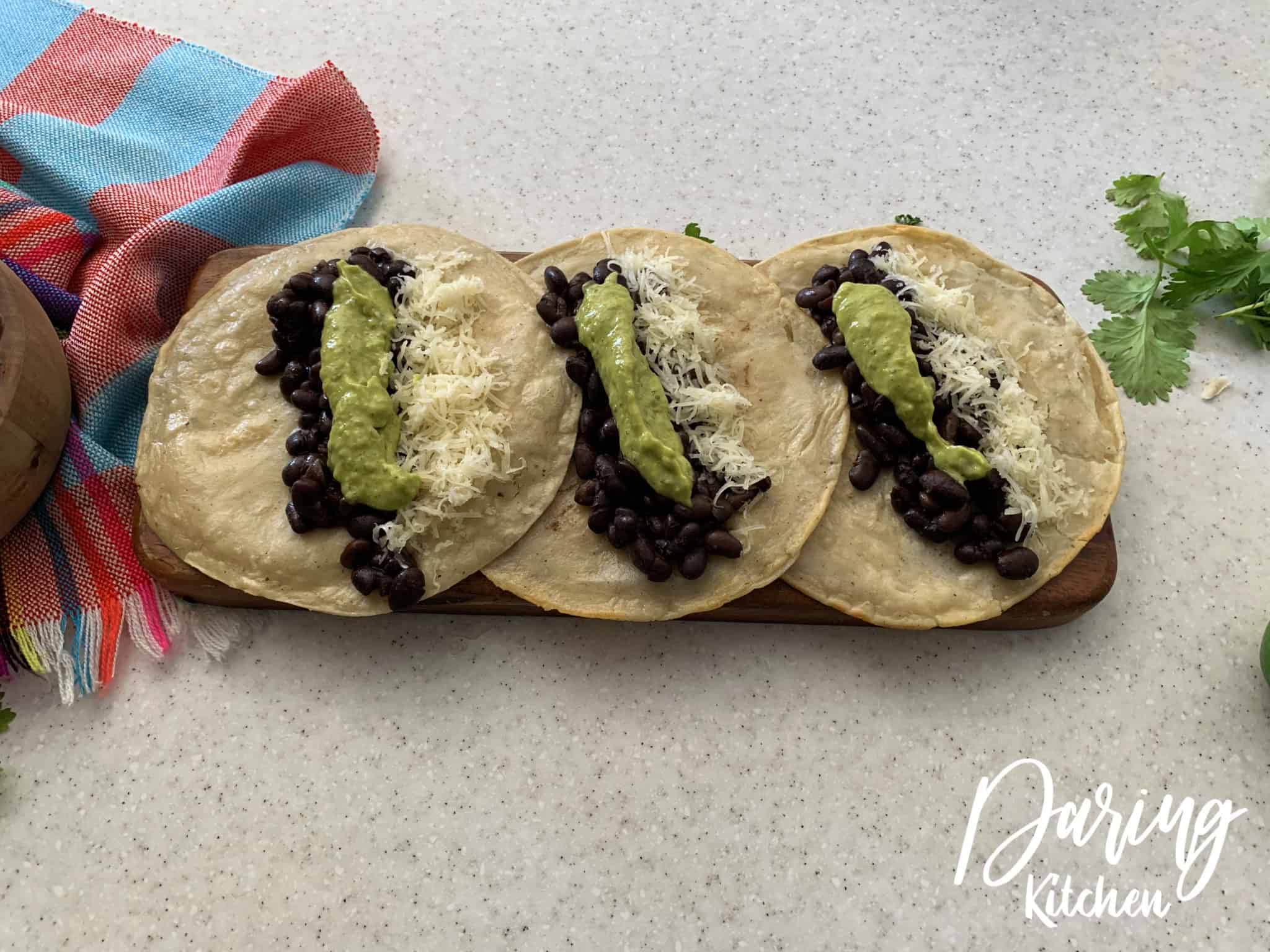 Evenly disperse your black beans on each tortilla, followed by a generous layer of salsa. Garnish each with Mexican cotija cheese and a lime wedge, if you like.
Serve immediately, with your favorite Mexican beverage on the side!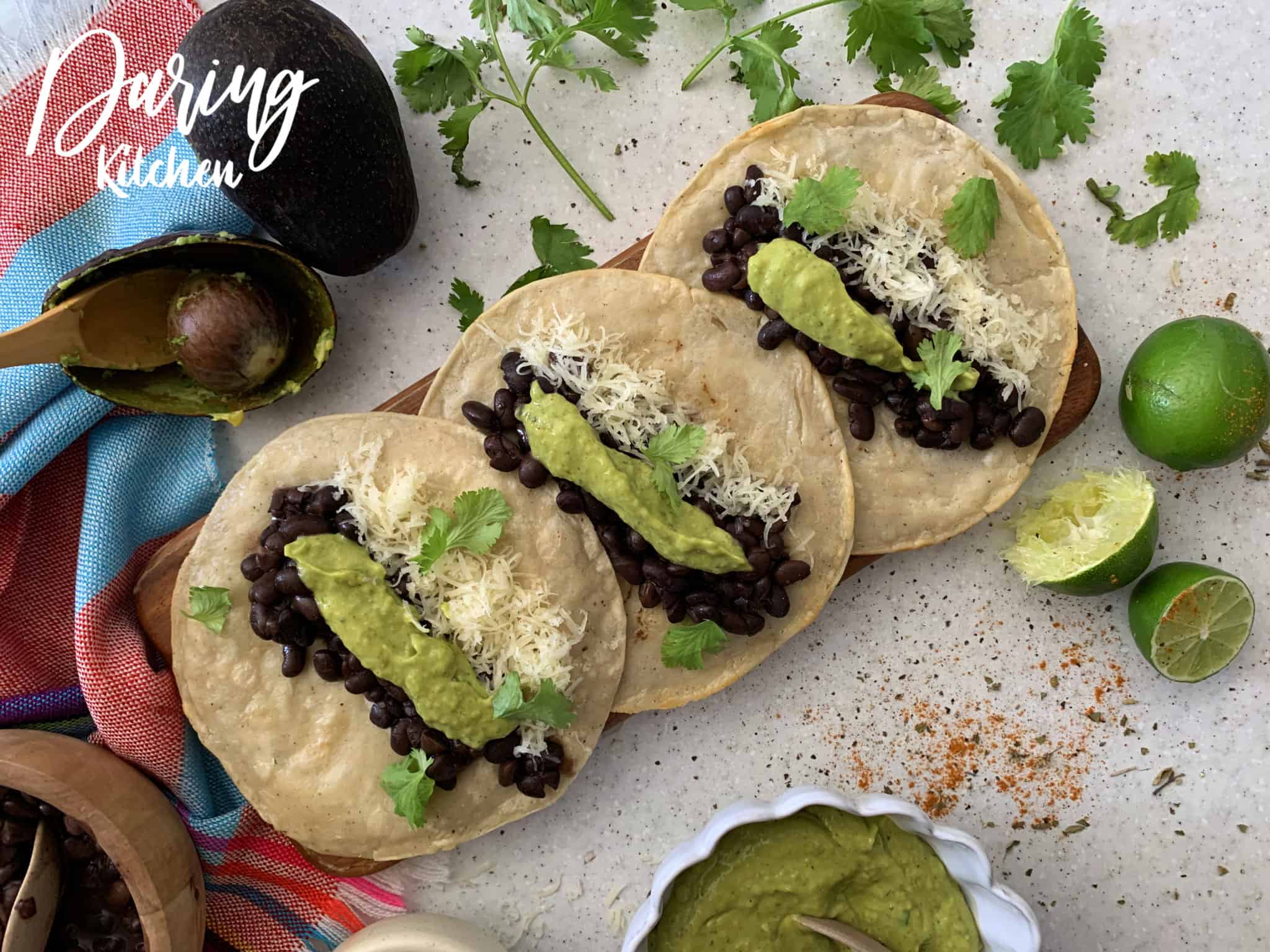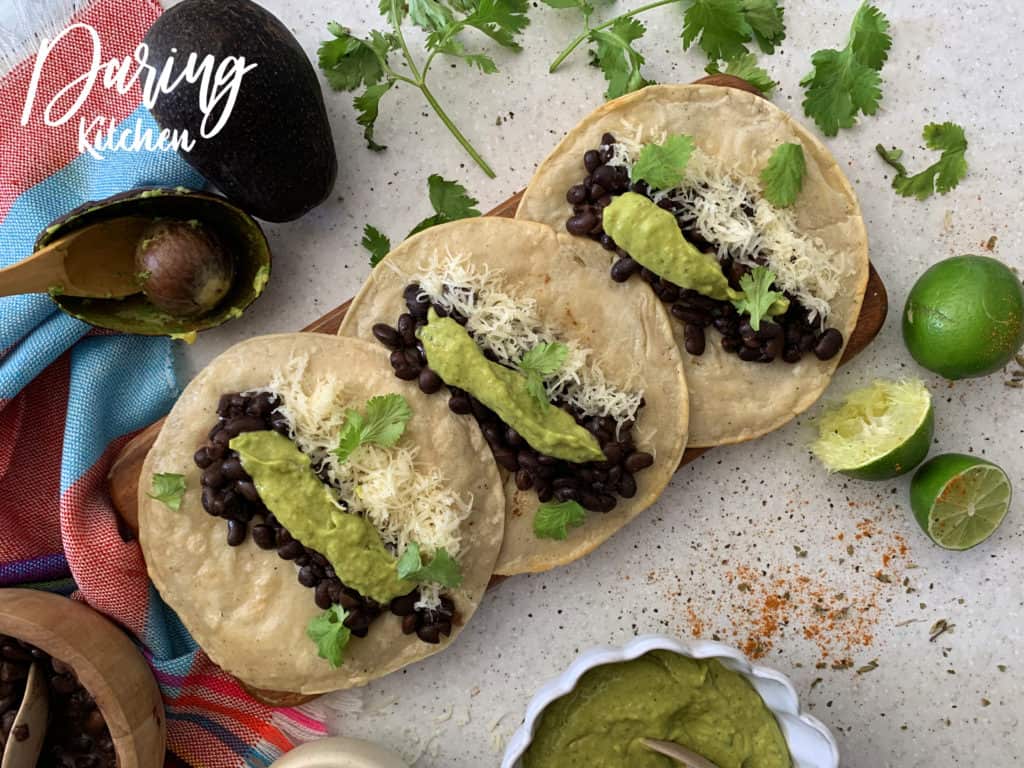 This is a wonderful recipe I am so happy I got to share with you. If you loved it as much as I do, please leave a comment or rating!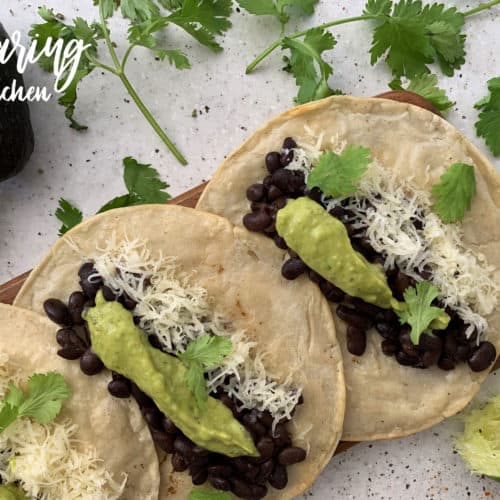 Black Bean Tacos
An easy to make vegetarian taco recipe that's great any meal of the day.
Print
Pin
Rate
Equipment
Skillet for frying

Cheese Grater

Knive
Ingredients
1

Avocado

½

Tbsp

Salt

1

Tbsp

Sugar

1

Tsp

Taco Seasoning

2

Tbsp

Water

1

Lime Juice

⅓

Cup

Olive Oil

½

Bunch Cilantro

1

Jalapeño Pepper

4-6

Tbsp

Vegetable Oil

3

Tortillas

1

Cup

Black Beans

¾

Mexican Grated Cheese
Instructions
Blend the avocado together with cilantro, olive oil, salt, sugar, lime juice, jalapeño pepper, taco seasoning and water to make a delicious salsa.

Heat up the vegetable oil and fry the tortillas in it.

Set the tortillas on a plate so you can assemble the tacos by putting the beans, cheese and previously made salsa on top of them.

Garnish with fresh cilantro.
Nutrition
Calories:
664
kcal
|
Carbohydrates:
40
g
|
Protein:
9
g
|
Fat:
55
g
|
Saturated Fat:
21
g
|
Polyunsaturated Fat:
5
g
|
Monounsaturated Fat:
27
g
|
Sodium:
1378
mg
|
Potassium:
587
mg
|
Fiber:
10
g
|
Sugar:
6
g
|
Vitamin A:
109
IU
|
Vitamin C:
10
mg
|
Calcium:
58
mg
|
Iron:
3
mg