Nothing beats these vegetarian black bean tacos, loaded with fresh avocado, veggies, and all the authentic Mexican toppings. This incredible black bean taco recipe will satisfy everyone's taste buds!
Why You'll Love This Black Bean Taco Recipe
Vibrant- With homemade salsa, black beans, and fresh cilantro, these vegetarian tacos are beautiful and colorful.
Easy To Make- Black bean tacos are easy to make and don't take long to prepare, so they are perfect for a busy weeknight when you don't know what to cook.
Family-Friendly- Everyone loves tacos, and this black bean version will please the whole family. It's also a great way for your kids to try new flavors and ingredients.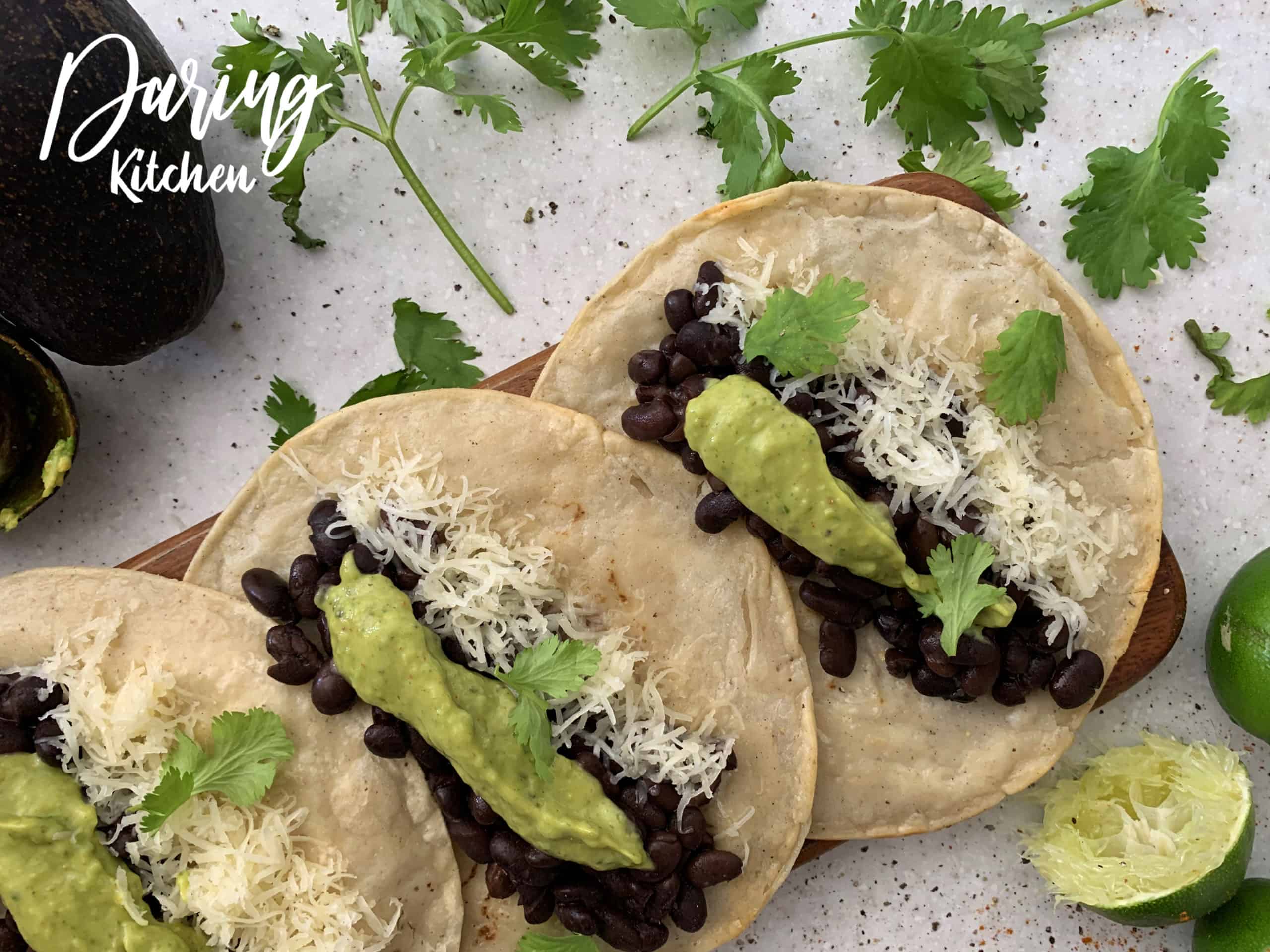 What Are Black Bean Tacos?
Crispy black bean tacos are a delicious, vegetarian-friendly spin on the traditional taco. Crispy corn tortillas are filled with a black bean mixture that has been cooked in a taco seasoning blend, sometimes with chili powder for a spicy kick, garnished with cilantro, cheese, and homemade salsa. Then add your favorite taco toppings. The result is an incredibly flavorful and filling dish.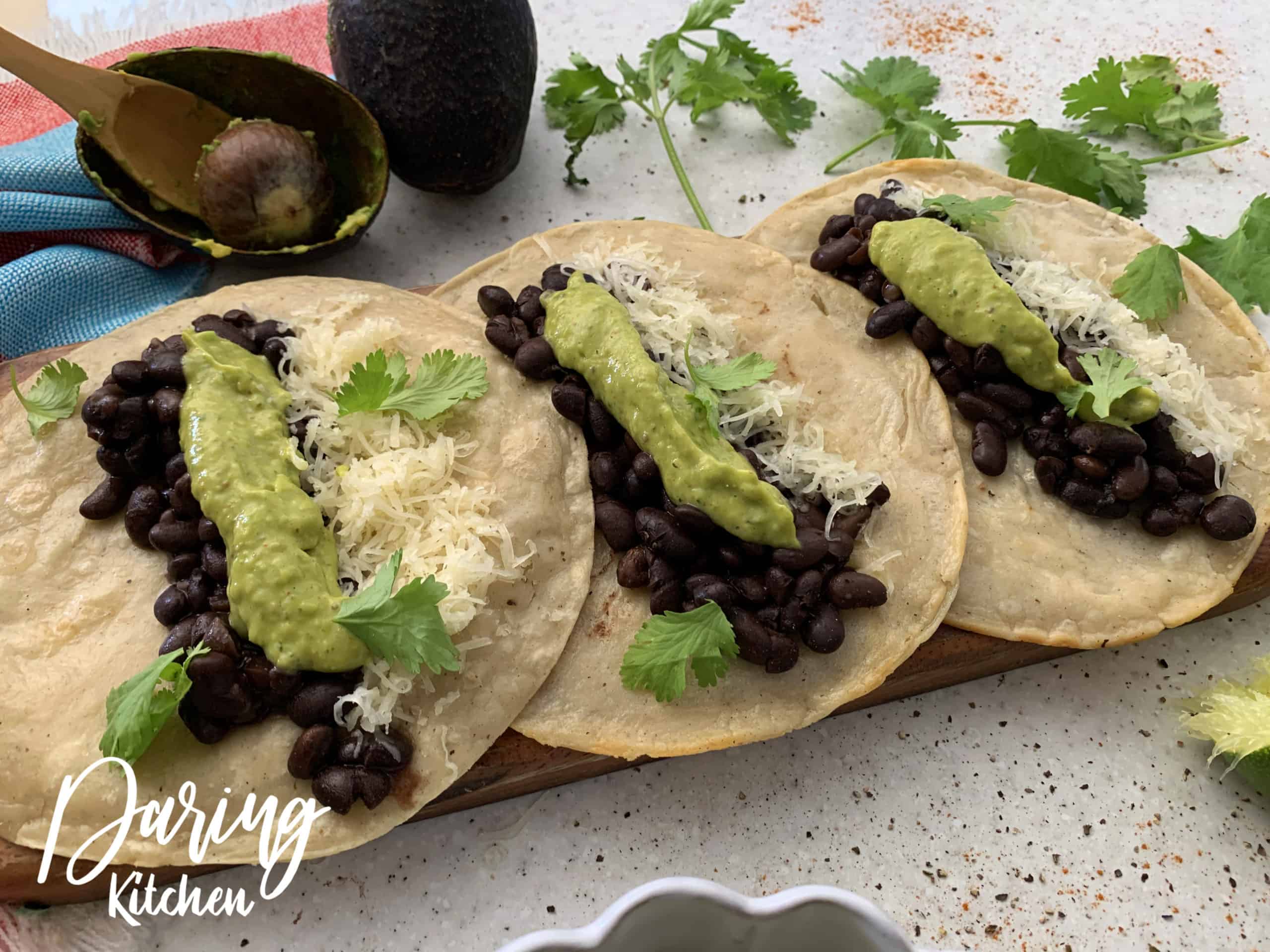 Equipment Needed
Blender or Food Processor
Skillet
Cheese Grater
Knife
Cutting Board
Measuring Cups and Spoons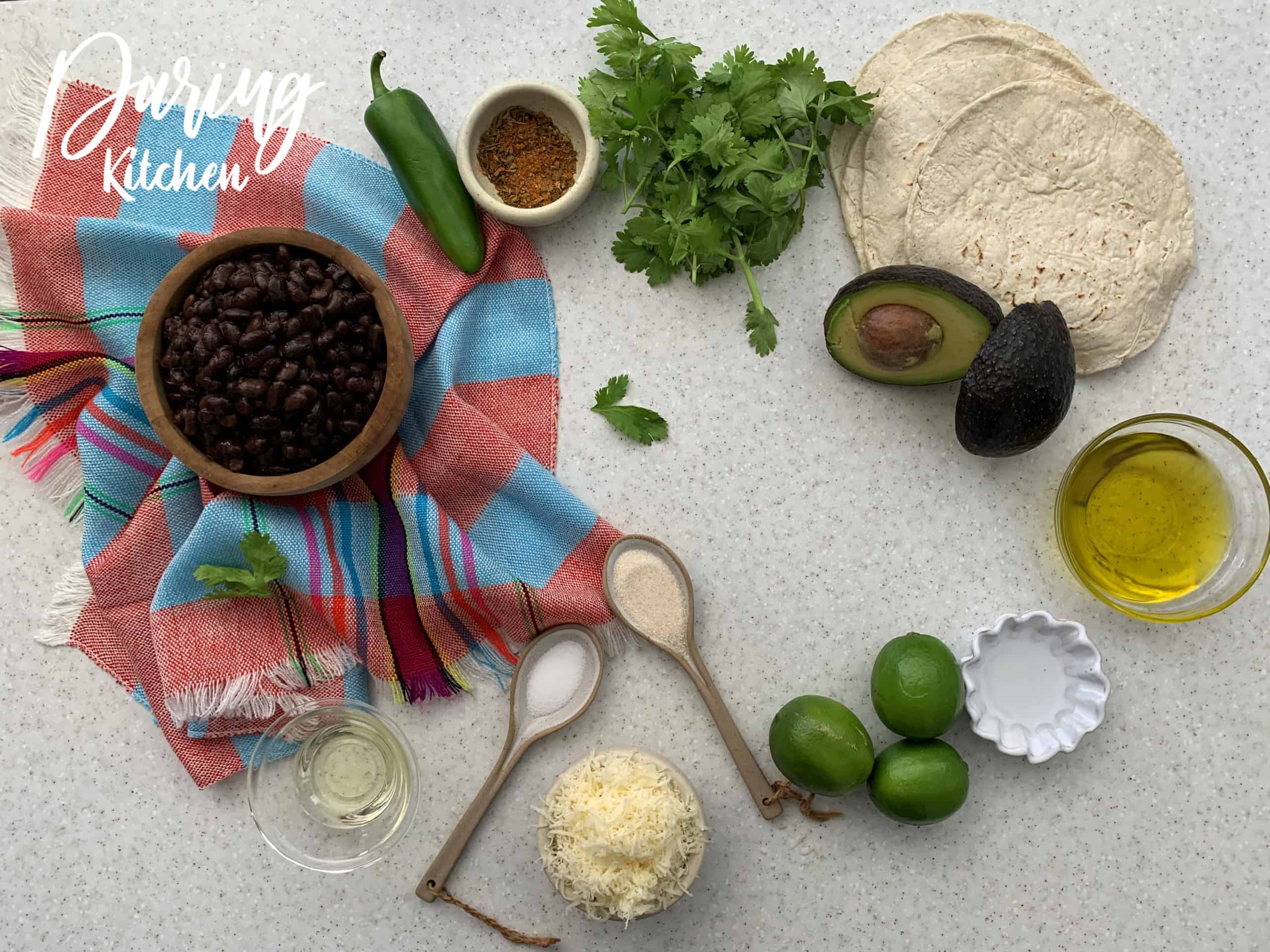 Ingredients
Avocado- Adds a creamy texture to the tacos.
Salt- Enhances the flavor of the black bean tacos.
Sugar- Adds a slightly sweet flavor to the black bean tacos.
Taco Seasoning- Gives a flavorful kick to the tacos.
Water- Helps to mix all the ingredients together.
Lime Juice- Brightens up and gives these black bean tacos a refreshing, tangy flavor.
Olive Oil- Helps to make homemade salsa.
Cilantro- Adds a nice fresh flavor to the tacos.
Jalapeno Pepper- Gives the black bean tacos a spicy kick.
Vegetable Oil- For frying the tortillas in.
Tortillas- Served as the base of the tacos. Depending on your preferences, you can use either corn tortillas or flour tortillas.
Black Beans- The main ingredient in this recipe! The black bean taco filling provides protein and fiber along with a heartiness that makes these tacos delicious and filling. Use fresh black beans or canned black beans. Just remember to rinse them before using them.
Mexican Cheese- Gives these black bean tacos their delicious cheesy flavor!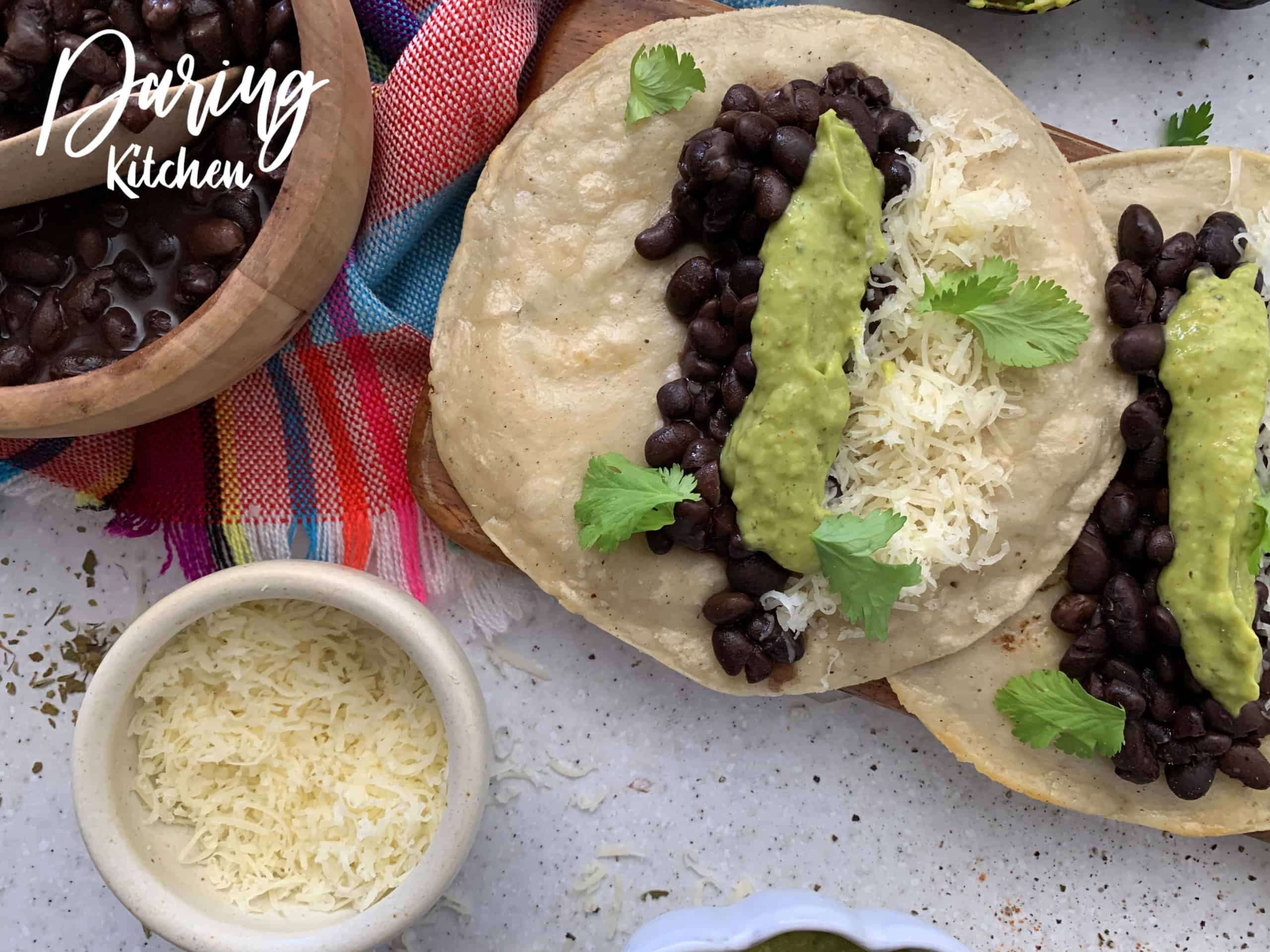 How To Make Easy Black Bean Tacos
Let's get down to the recipe.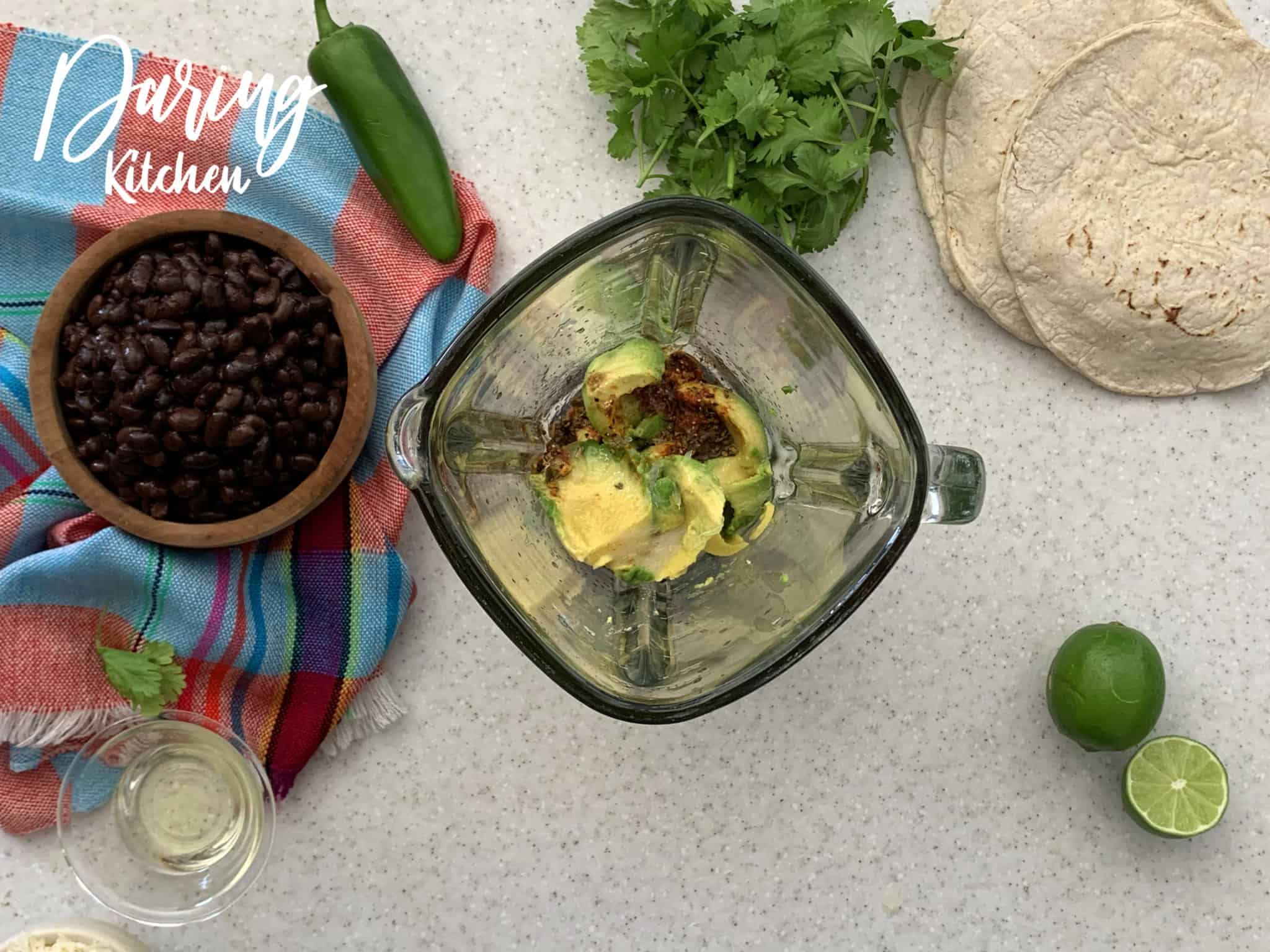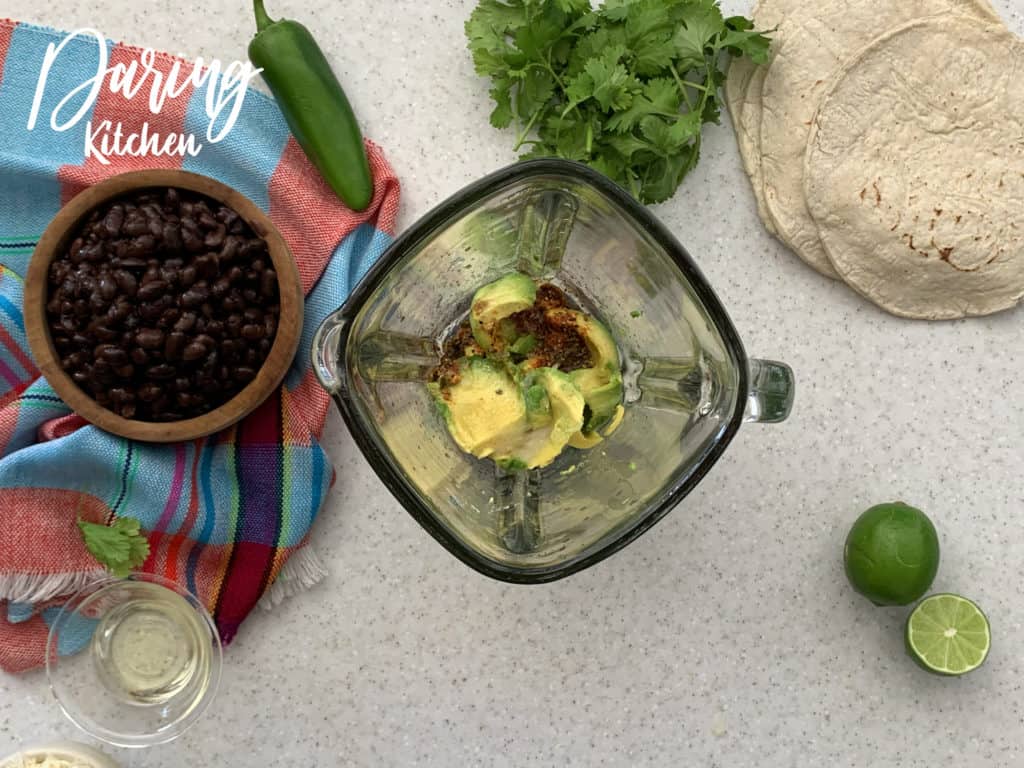 Blend the avocado together with the cilantro, olive oil, salt, sugar, lime juice, jalapeno, taco seasoning, and water to make a delicious homemade salsa.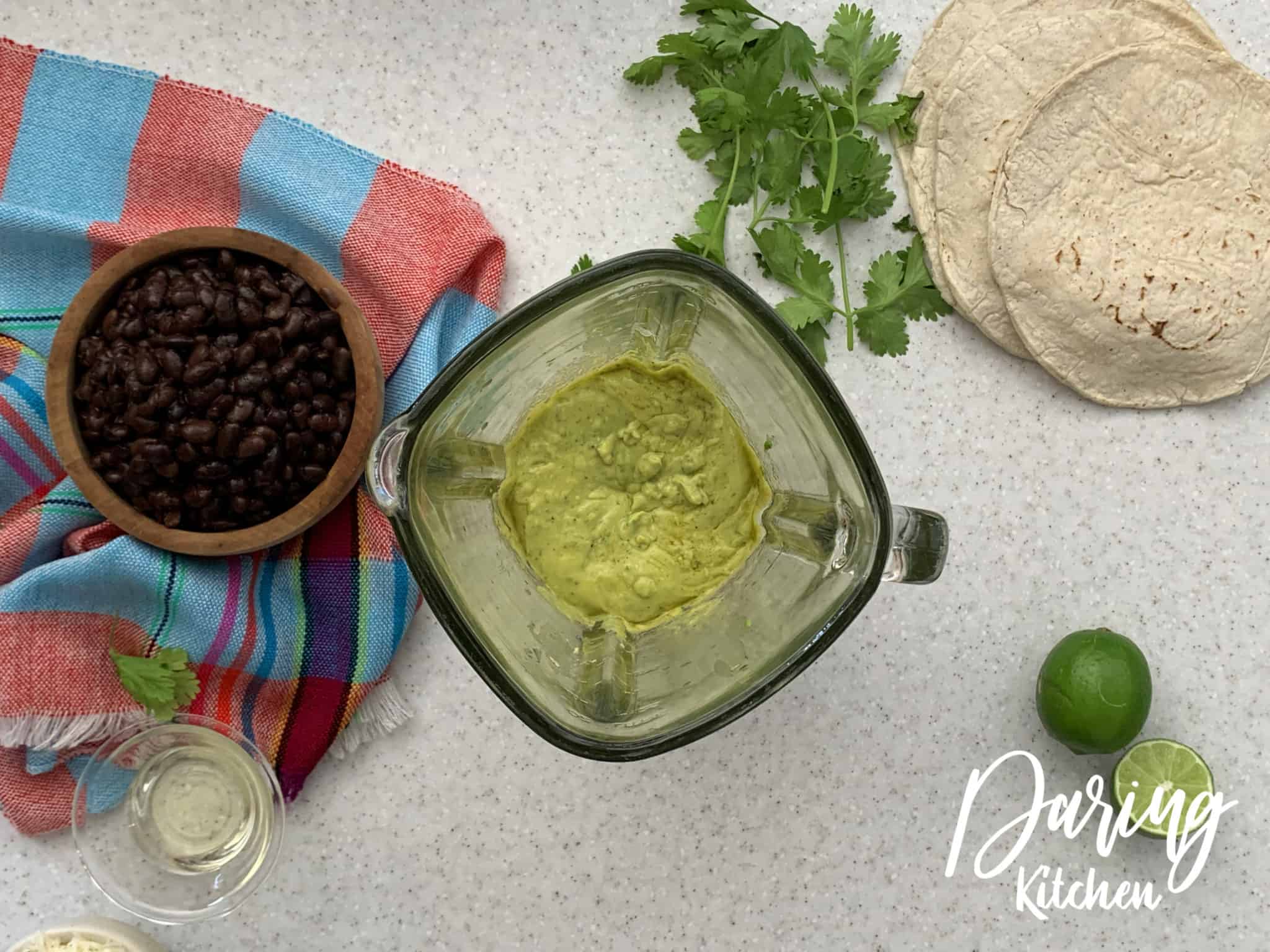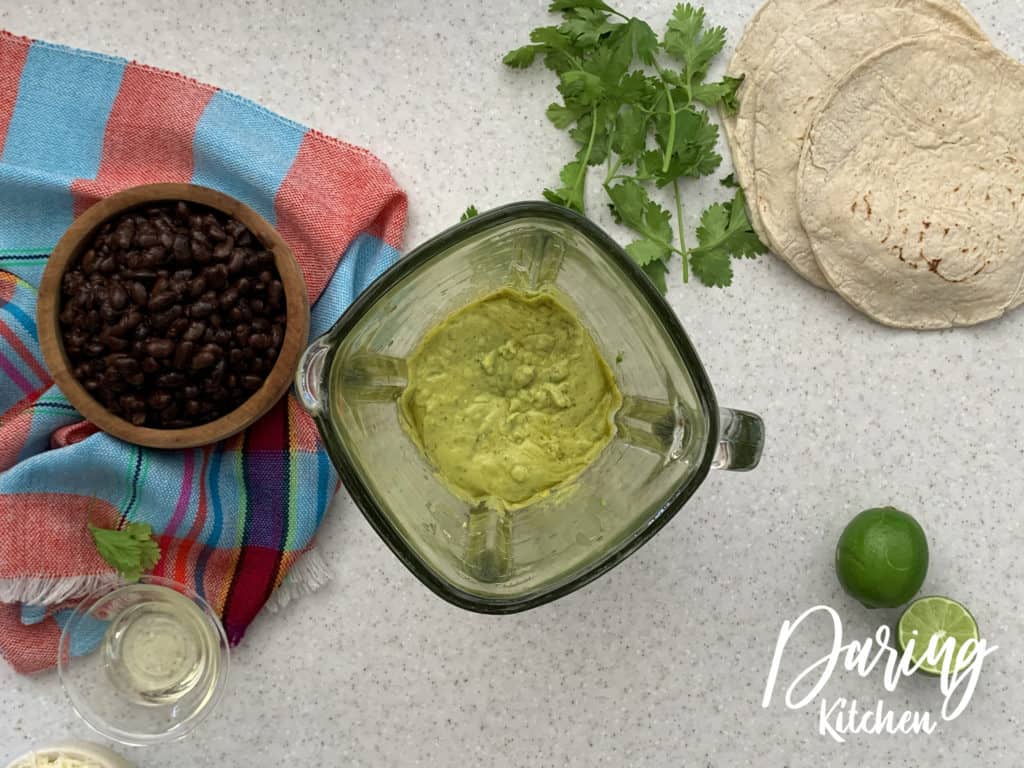 Heat vegetable oil in a skillet over medium heat and lightly fry the tortillas until they are golden brown.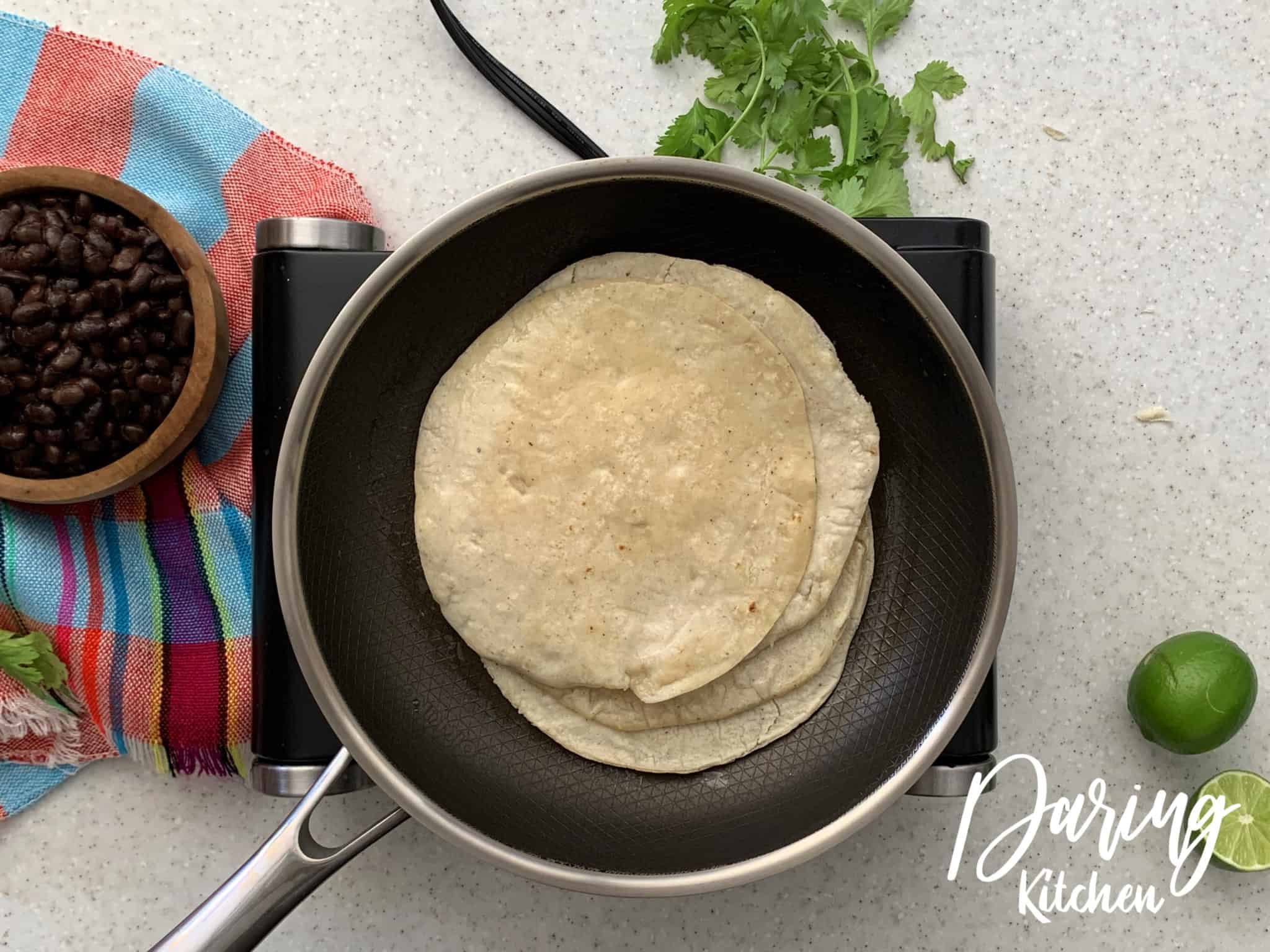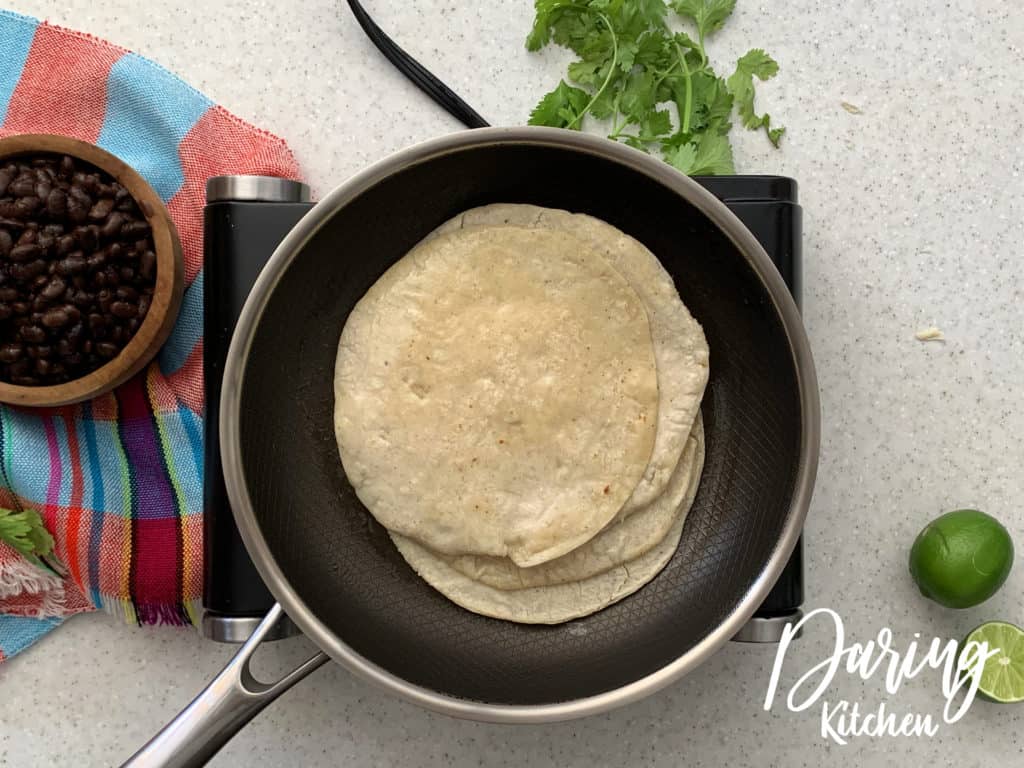 Set the crispy tortillas on a plate so you can assemble the tacos.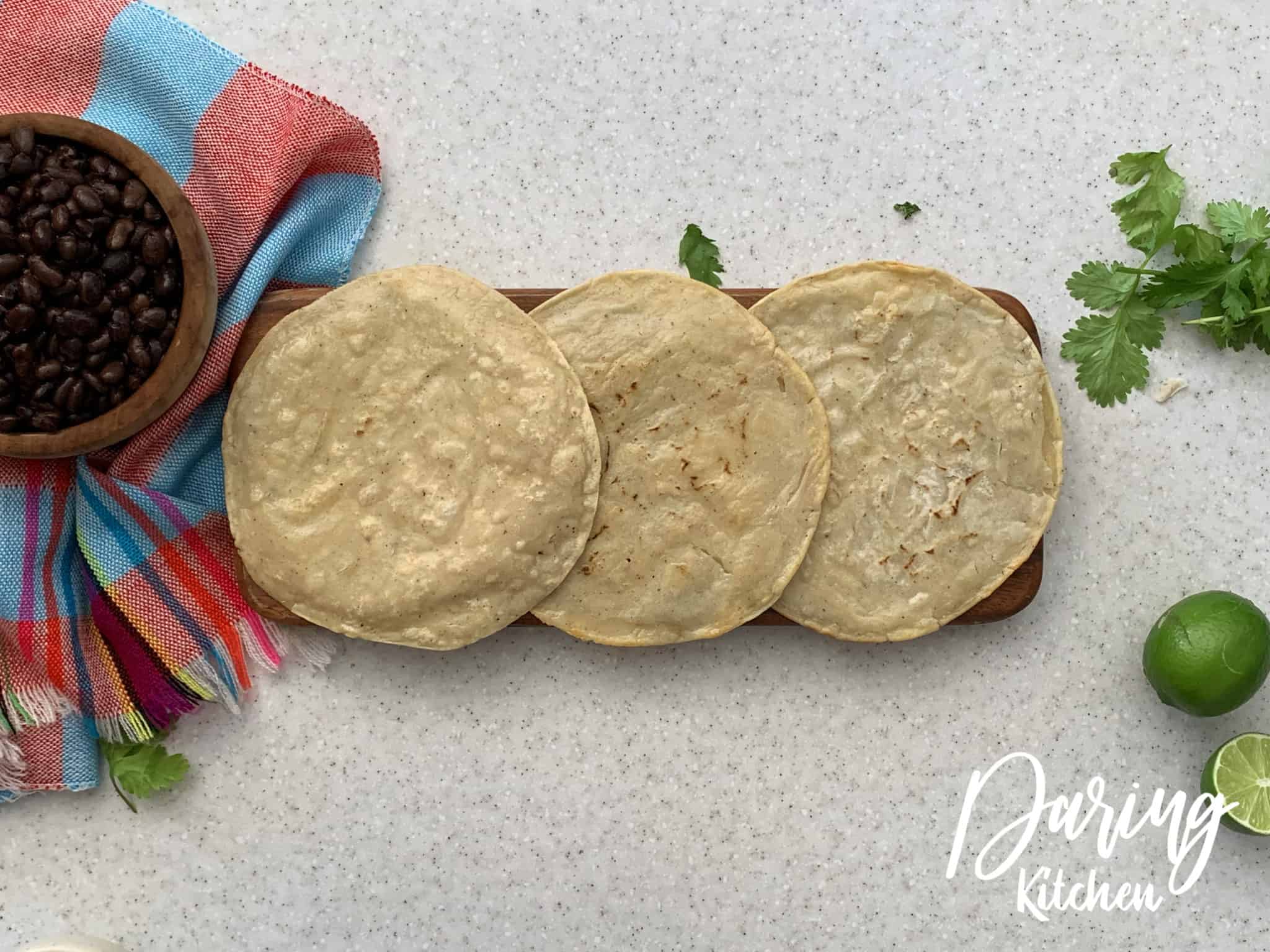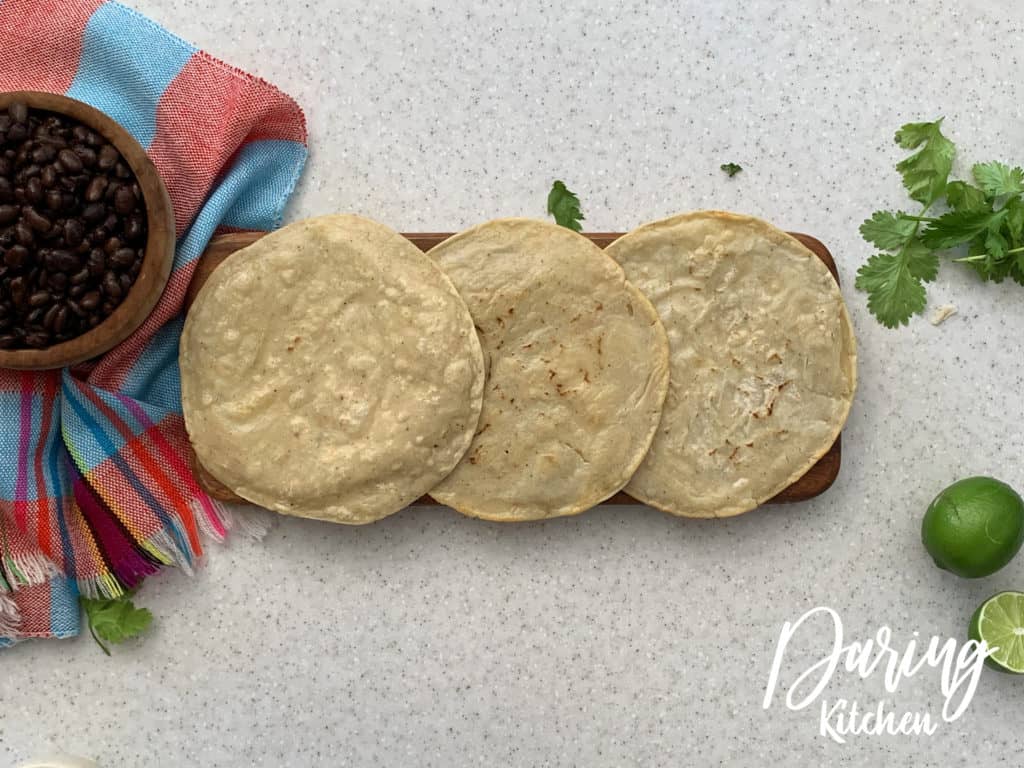 Add the black bean filling, shredded cheese, and homemade salsa to each tortilla and garnish with fresh cilantro.
Serve immediately with your favorite Mexican-inspired side dish, and enjoy!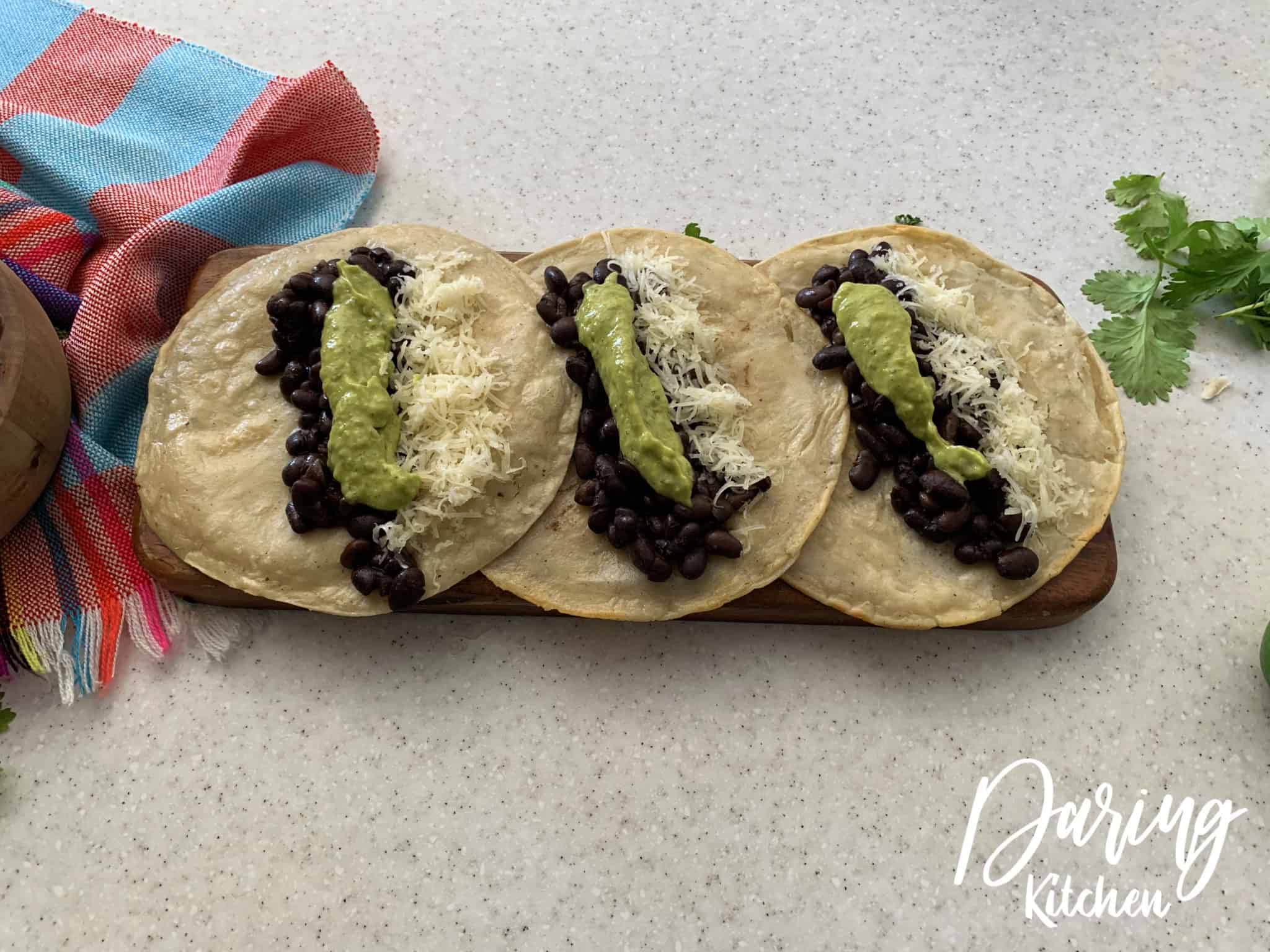 Popular Substitutions And Additions
Tortillas- Corn tortillas or flour tortillas are both delicious for this black bean taco recipe. Lettuce leaves can also be used instead of tortillas for a low-carb option.
Beans- If you are not a fan of black beans, you can always use your favorite beans. Freshly cooked black beans, rinsed black beans from a can, refried beans, pinto beans, kidney beans, or even chickpeas all make delicious vegetarian tacos.
Veggies- Add other veggies to your black beans, such as corn, chipotle peppers, sauteed yellow onion, mushrooms, or bell peppers.
Seasonings- Consider substituting taco seasoning with a combination of chili powder, cumin, oregano, smoked paprika, and garlic powder.
Toppings- While these black bean tacos are delicious as is, there are endless possibilities when it comes to toppings! Some of my favorite taco toppings include shredded lettuce, fresh tomatoes, pickled onions, lemon juice, shredded cheese, taco sauce, feta cheese, sour cream, lime juice, salsa, and plain Greek yogurt. Try topping the black bean tacos with some diced jalapenos or hot sauce for an extra spicy kick.
Dietary Restrictions- To make these black bean tacos gluten-free, make sure to use corn tortillas instead of flour tortillas. Vegan options include dairy-free cheese, nutritional yeast, coconut yogurt, or vegan sour cream.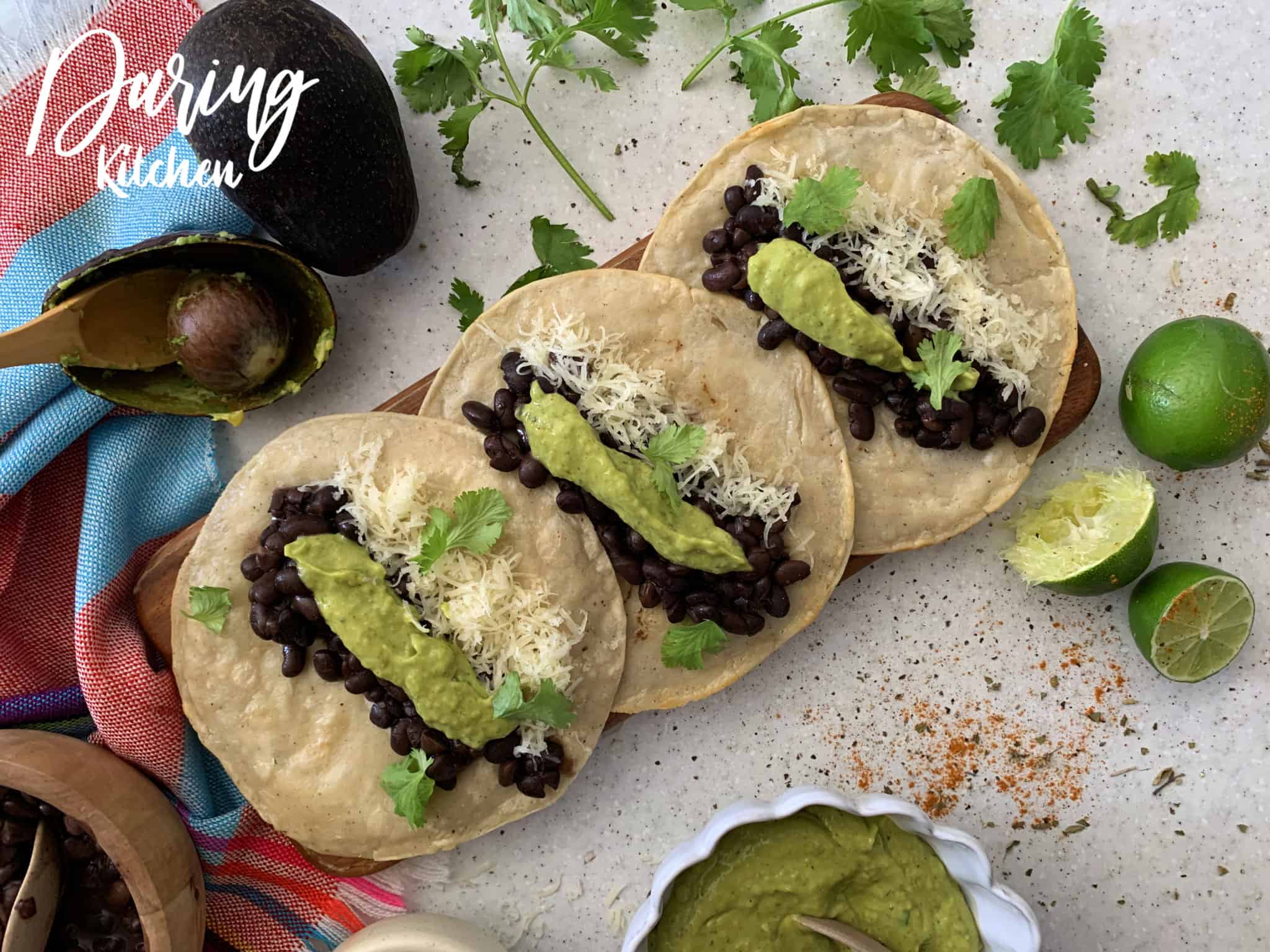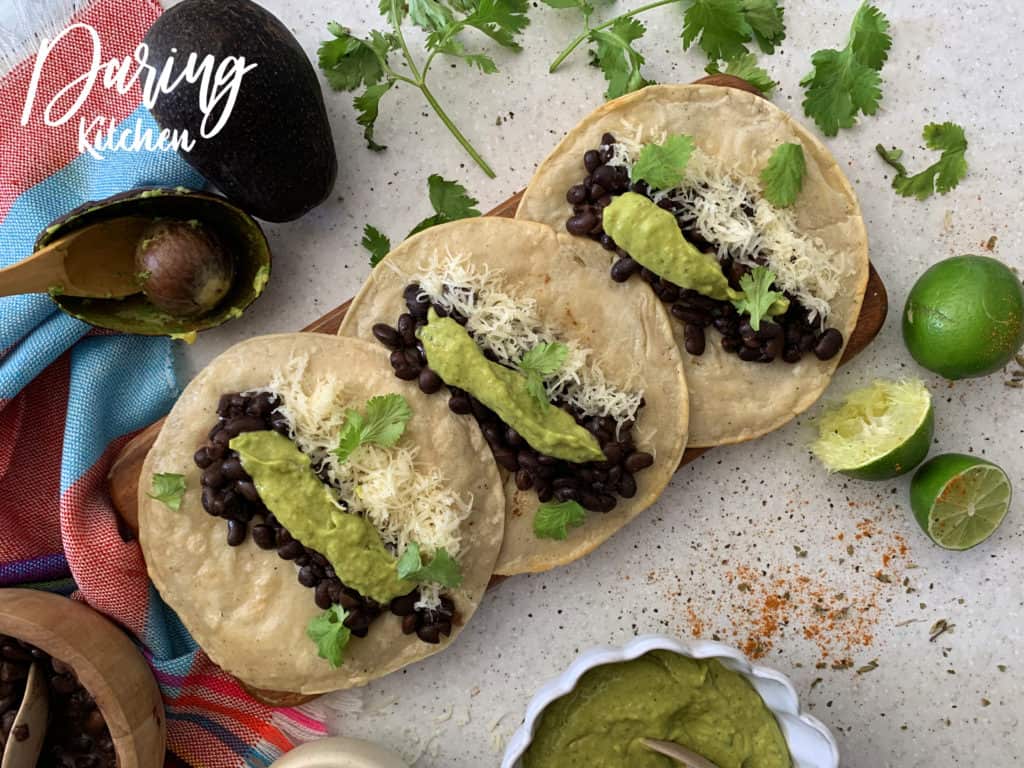 Can I Freeze Black Bean Tacos?
Yes, you can freeze black bean tacos. To freeze the tacos, place the assembled tacos on a baking sheet and freeze for 1-2 hours until solid. Then transfer the frozen tacos to an airtight container or freezer bag and store them in the freezer for up to 3 months. To reheat, bake in the oven at 375°F for 15 minutes or until warmed through.
Easy Black Bean Tacos FAQs
Can I use canned black beans for this recipe?
Yes, you can use canned black beans for this recipe. Just make sure to rinse and drain them before using.
What other toppings can I add?
You can add other toppings like diced tomatoes, onions, lettuce, jalapenos, or hot sauce.
Can I make these tacos ahead of time?
Yes, you can make the tacos ahead of time and store them in the refrigerator for up to 3 days. When ready to eat, just reheat in the oven.
Are black bean tacos vegan?
Black bean tacos can be vegan if you use vegan cheese instead of Mexican cheese.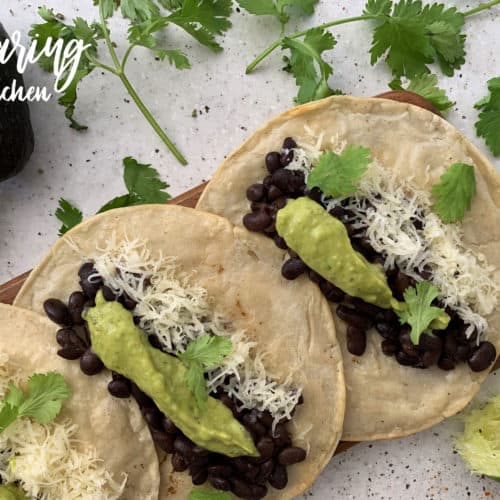 Easy Black Bean Tacos
With their vibrant colors, delicious combination of ingredients, and kid-friendly appeal, these tacos will definitely become a regular on your weekly meal plan!
Print
Pin
Rate
Equipment
Skillet for frying

Cheese Grater

Knive
Ingredients
1

Avocado

½

Tbsp

Salt

1

Tbsp

Sugar

1

Tsp

Taco Seasoning

2

Tbsp

Water

1

Lime Juice

⅓

Cup

Olive Oil

½

Bunch Cilantro

1

Jalapeño Pepper

4-6

Tbsp

Vegetable Oil

3

Tortillas

1

Cup

Black Beans

¾

Mexican Grated Cheese
Instructions
Blend the avocado together with cilantro, olive oil, salt, sugar, lime juice, jalapeño pepper, taco seasoning and water to make a delicious salsa.

Heat up the vegetable oil and fry the tortillas in it.

Set the tortillas on a plate so you can assemble the tacos by putting the beans, cheese and previously made salsa on top of them.

Garnish with fresh cilantro.
Nutrition
Calories:
664
kcal
|
Carbohydrates:
40
g
|
Protein:
9
g
|
Fat:
55
g
|
Saturated Fat:
21
g
|
Polyunsaturated Fat:
5
g
|
Monounsaturated Fat:
27
g
|
Sodium:
1378
mg
|
Potassium:
587
mg
|
Fiber:
10
g
|
Sugar:
6
g
|
Vitamin A:
109
IU
|
Vitamin C:
10
mg
|
Calcium:
58
mg
|
Iron:
3
mg