The Blue Diamond brand represents one of the latest innovations (launched in 2016) of The Cookware Company.
This global company takes pride in producing healthy, ceramic, nonstick cookware over the years. Their portfolio currently has over ten brands of smart cookware solutions and 500 trademarks.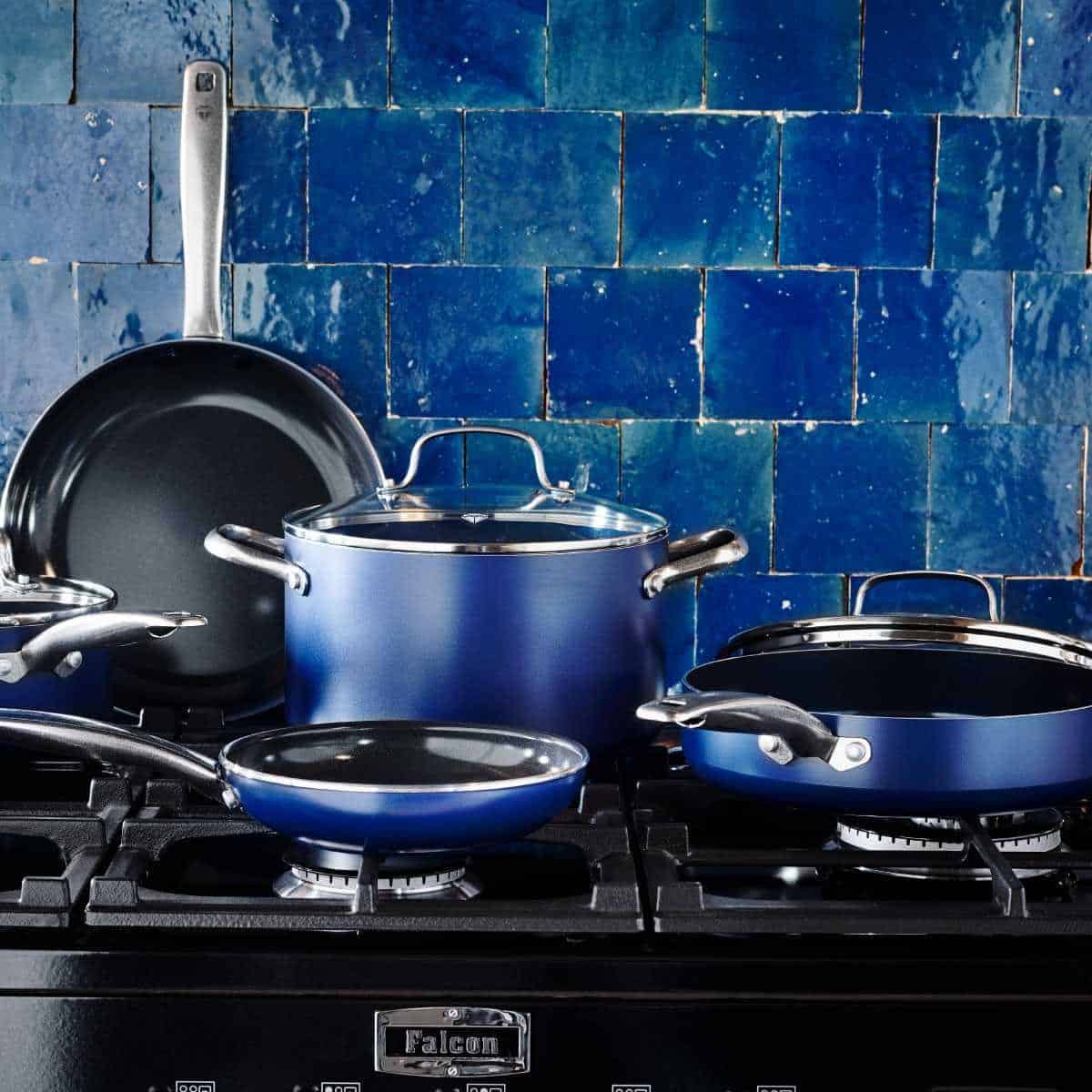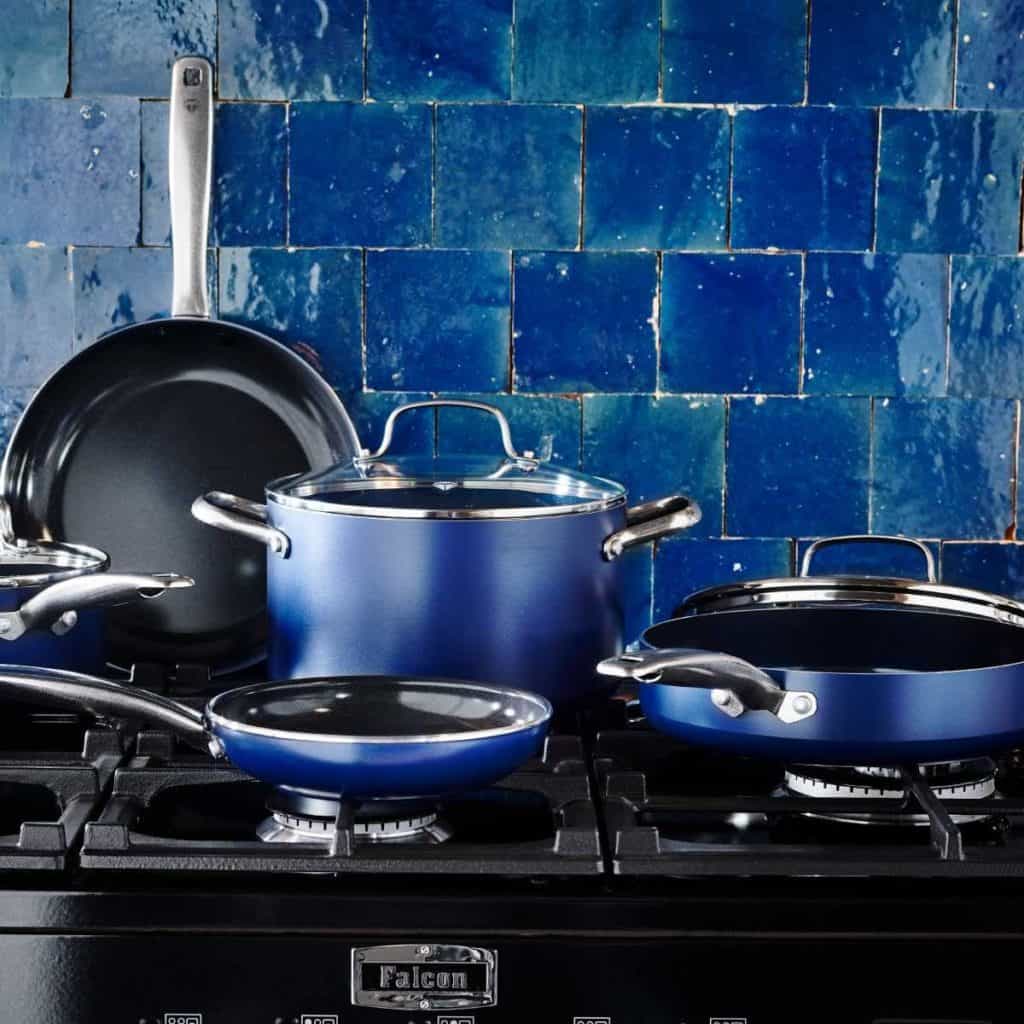 It is a nonstick cookware line whose full set includes a griddle, frying pans, a saucepan, sauté pan, and stockpot.
Blue Diamond Cookware Ceramic Nonstick Fry Pan, 8'' Frypan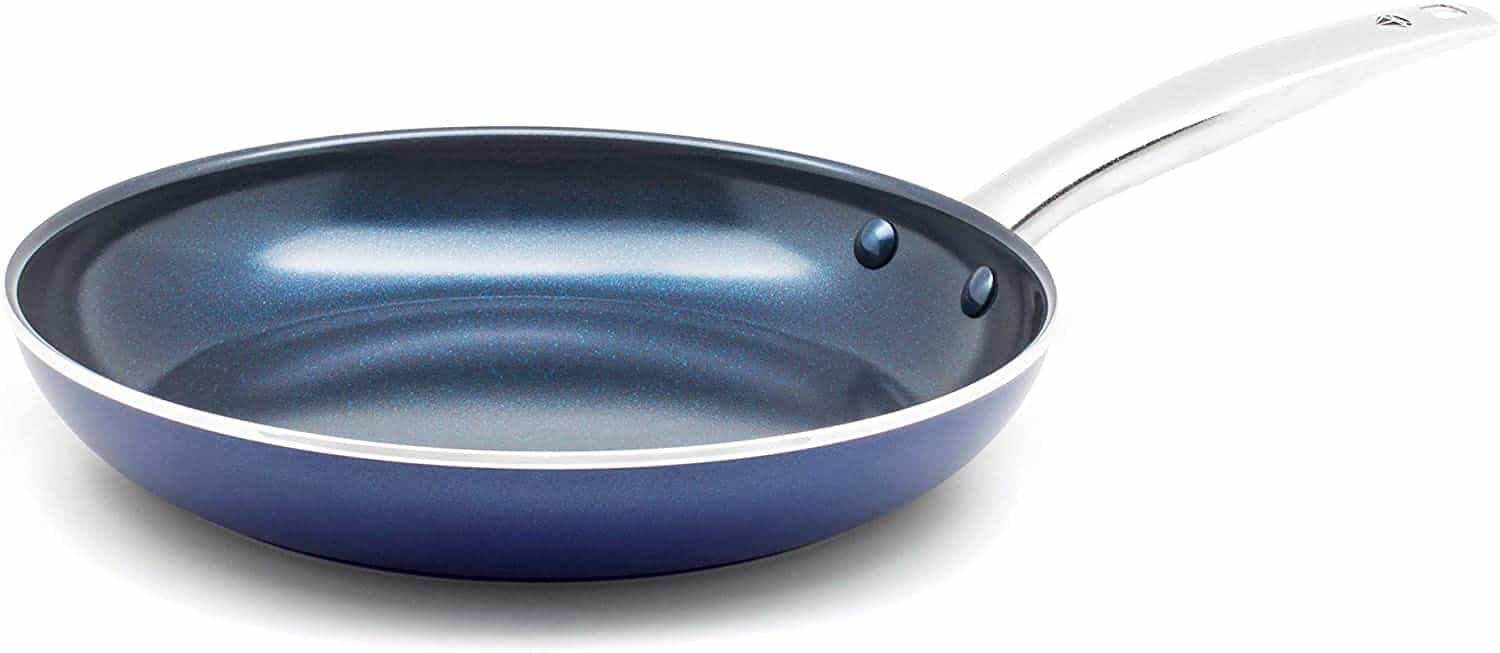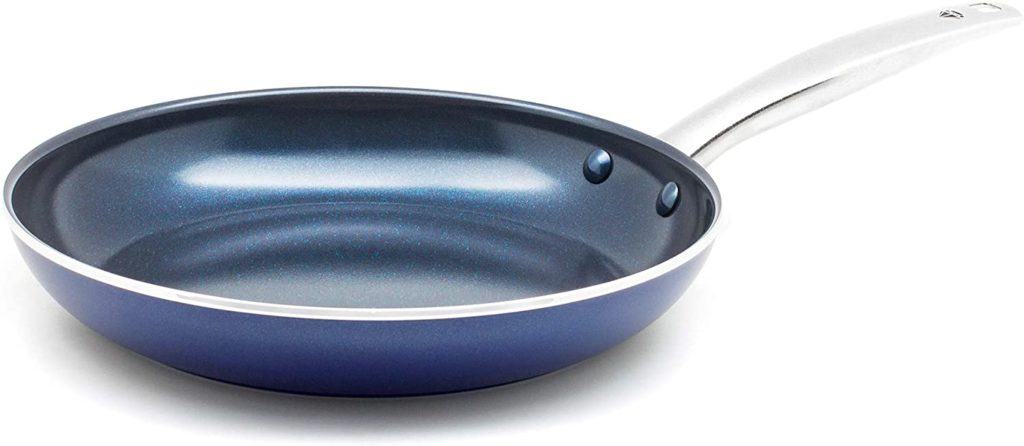 Pros & Key Features of the Blue Diamond Pan
Construction
The main body of the pan is made of aluminum with a forged base for extra strength and warp resistance. Aluminum is a good conductor of heat, lightweight, and has a glossy, appealing look. True to the name, they have a radiant blue finishing, which gives them an aesthetic appeal.
They are coated with diamond-infused ceramic to provide a hard nonstick surface that is easy to clean, resistant to abrasion, and durable.
The saucepans, sauté pans, and stockpots come with glass lids for cover. All pans and lids have stainless steel handles.
Affordability
Blue Diamond pans are very pocket friendly for all the premium benefits you get. Aluminum, the base material, is the most abundant metallic element on the earth, making it relatively cheap. You can order two pans for only $29.
Strength
In addition to the reinforced aluminum, it has a forged base for extreme strength and warp prevention under intense conditions. They bill it to be five times harder than traditional nonstick pans.
Metal Utensil Safe
Since the nonstick surface is glazed with diamonds, it is harder than most metal utensils and will hold up against scraping and abrasion.
Dishwasher Safe
The hard surface is resistant to scraping from other utensils, and the combination of diamond and ceramic can resist corrosion from dishwashing fluid.
Oven and Broiler Safety
Ceramic cookware can be heated to fairly high temperatures. The combination with diamond elements enhances its tolerance, and the pan can take oven temperatures of up to 850˚F. The lid takes up to 425˚F.
Enhanced Nonstick Capabilities
The diamond-infused ceramic coating is smooth, hard, and resistant to corrosion. This enables it to release food better than your regular pans. The layer is also very durable due to the combination of diamond and ceramic properties. The manufacturer estimates the nonstick coating lasts ten times longer than traditional nonstick pans.
Heat Management
Diamond heats rapidly, which translates to saving energy and time. The pans are billed to heat four times faster than your regular cookware. It also enhances heat transfer, which facilitates cooking evenness.
Toxin Free
Intoxication by cookware happens in many ways:
Residual Toxins After Manufacturing
The manufacturing process of the protective nonstick coating may leave traces of heavy metals like lead and cadmium, which have been found to weaken bones and damage the kidneys and livers. These are usually present in the metals natural state and should be eliminated from food handling products.
Leaching of the material due to chemical reactions with the food
This is rampant with acidic foods, which are more corrosive.
Minimal ingestion is generally not harmful as the human body is constantly exposed to these metallic elements in small doses and uses some of them. It becomes a problem when individuals are allergic to certain metals, or the exposure is too much, leading to adverse health effects.
Use of Toxic Substances in Manufacturing
There are substances that were used to make nonstick cookware that is currently disallowed in most of the world.
They were ideal because they are very stable and don't interact with other chemicals. They also provide an almost frictionless and are designed to resist heat, grease, water, and sticking.
These are Perfluoroalkyl Substances (PFA) such as Perfluorooctanoic acid (PFOA), also known as C8, which is used to make Polytetrafluoroethylene (PTFE) or Teflon, its brand name.
They are suspected carcinogens, destabilizers of immunity, and causes of congenital disabilities and hormonal disorders. The United States Government's Environmental Protection Agency has even issued several health advisories against their ingestion.
The nonstick surfaces of Blue Diamond pans are not made using PFAs; they use diamond-infused ceramics instead, meaning they are PFOA and PTFE free. Their production process is compliant with international standards to eliminate lead and cadmium. The corrosion-resistant coating also prevents the leaching of aluminum into foods.
Versatility
The multipurpose pan can be used for all kinds of cooking; baking, broiling, frying, searing, sautéing, and so on. This is made possible by the heat tolerance and enhanced nonstick properties.
It comes in different shapes and sizes and can also be used in all stovetops for cooking, apart from induction heat cookers.
Guarantee and Lifetime Warranty
They have a 90-day cash back guarantee allowing you to return the cookware for a refund of the purchase price (less shipping and handling charges) or a replacement if you are not satisfied with it.
Their limited lifetime warranty covers defective material and workmanship on your Blue Diamond pan.
This combination should give you peace of mind as you purchase the pan.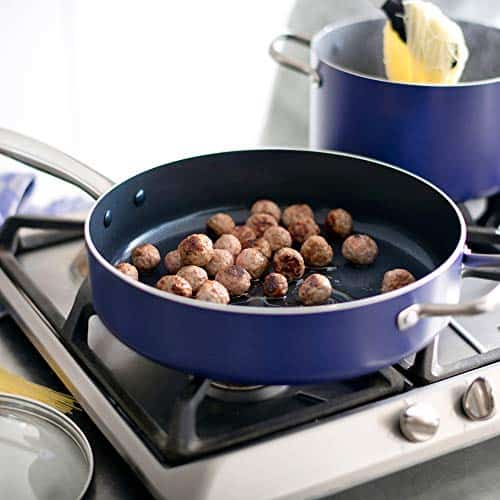 Consumer Reviews
This section looks at the experience buyers, and researchers have had with the Blue Diamond brand in an attempt to verify the highlighted attributes.
There is a consensus that the non-insulated stainless steel handles get hot very fast, especially if the pan is smaller than the heat source, which may cause injury.
The nonstick coating is also not flawless as advertised, and food starts to stick gradually with continuous use. It requires seasoning before use and washing after removing any particles that may not be visible.
They also observed that the nonstick surface wears off after a while, which is shorter than the ten times they claim it will last longer than your regular cookware.
The advertising seems a tad exaggerated because even the claim of heating four times faster was put to the test, and it turned out average.
The other consensus is on the price where it has been agreed it gives a bang for your buck. It seems to perform above expectations for its price range.
Addressing the Shortcomings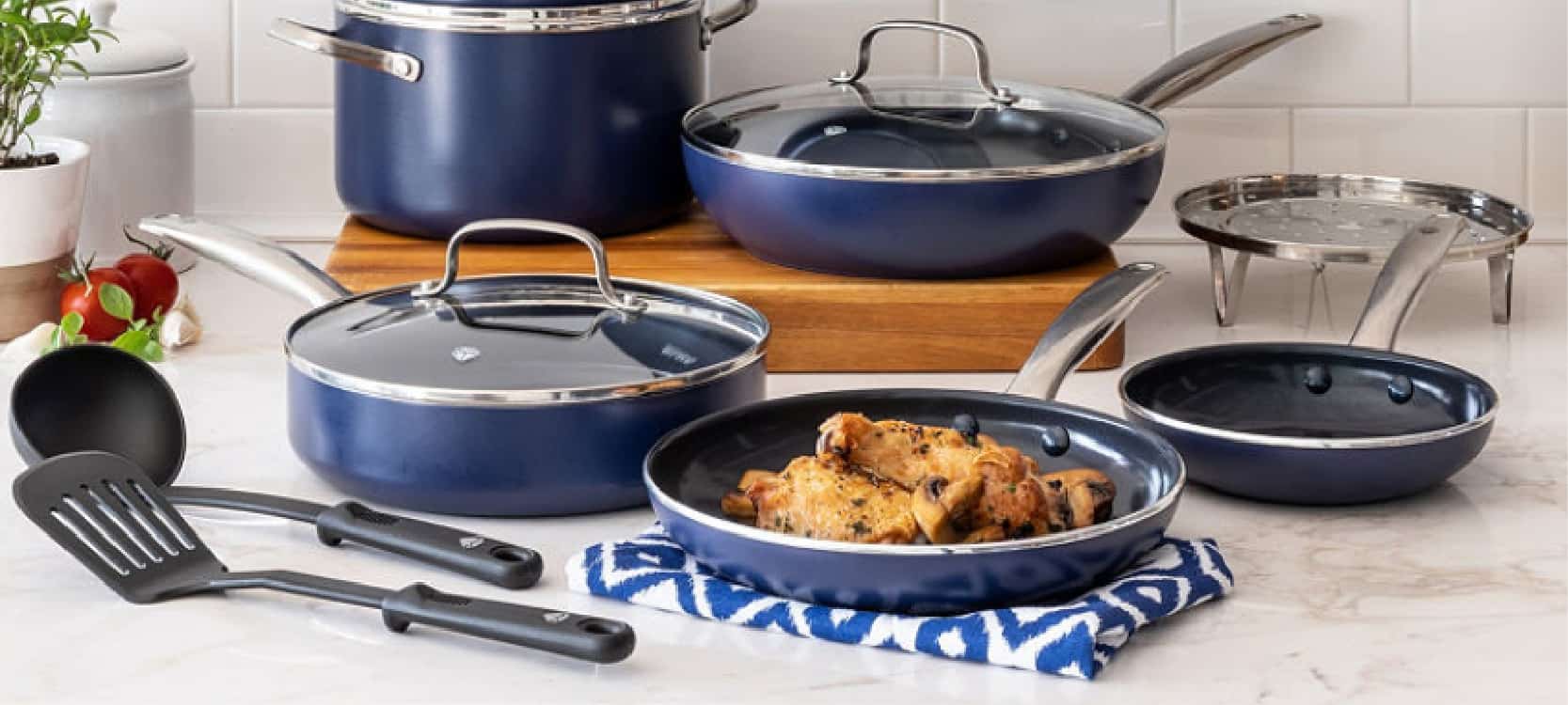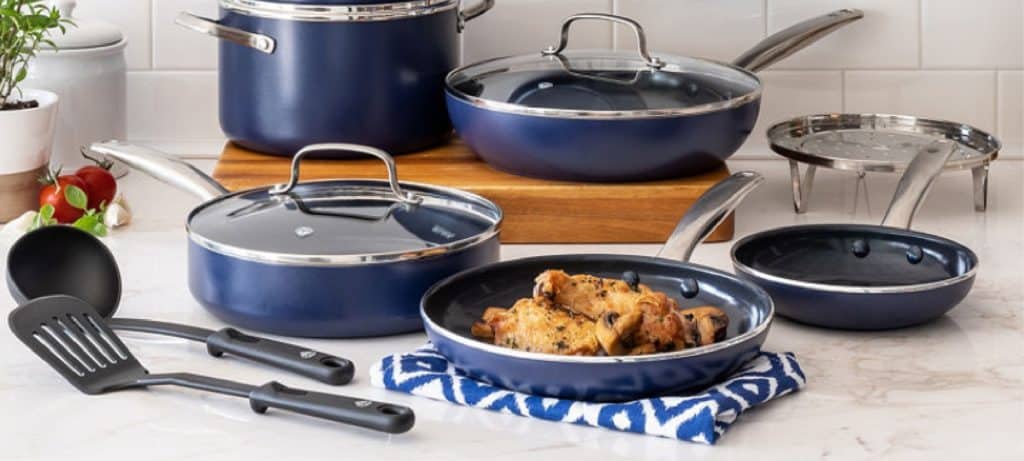 These experiences are not unique to the Blue Diamond brand but cut across cookware brands. Wear and tear are inevitable, with the only difference being how fast you get there and the intensity of usage. Regulating extremities and following the manufacturer's recommendations will go a long way in ensuring your cookware lasts.
Regulate temperature as much as possible; a moderate 430˚F, for instance, is sufficient for most cooking needs. The possibility of the nonstick coating decomposing under extreme heat, flaking, and peeling off is what gives them a lower score when compared to other cookware material.
You are advised to dispose of the pans as soon as they get to this state, or you may find yourself breathing in fumes from overheated pans and suffering the resulting health consequences. For more safety advice and maintenance options, you can check out our guide on the safest cookware.
It is good to use protective gear while in the kitchen. Although your pans will be billed to have insulated handles, metal tends to heat up very fast and get too hot to handle with bare hands. You should have mittens on standby for protection.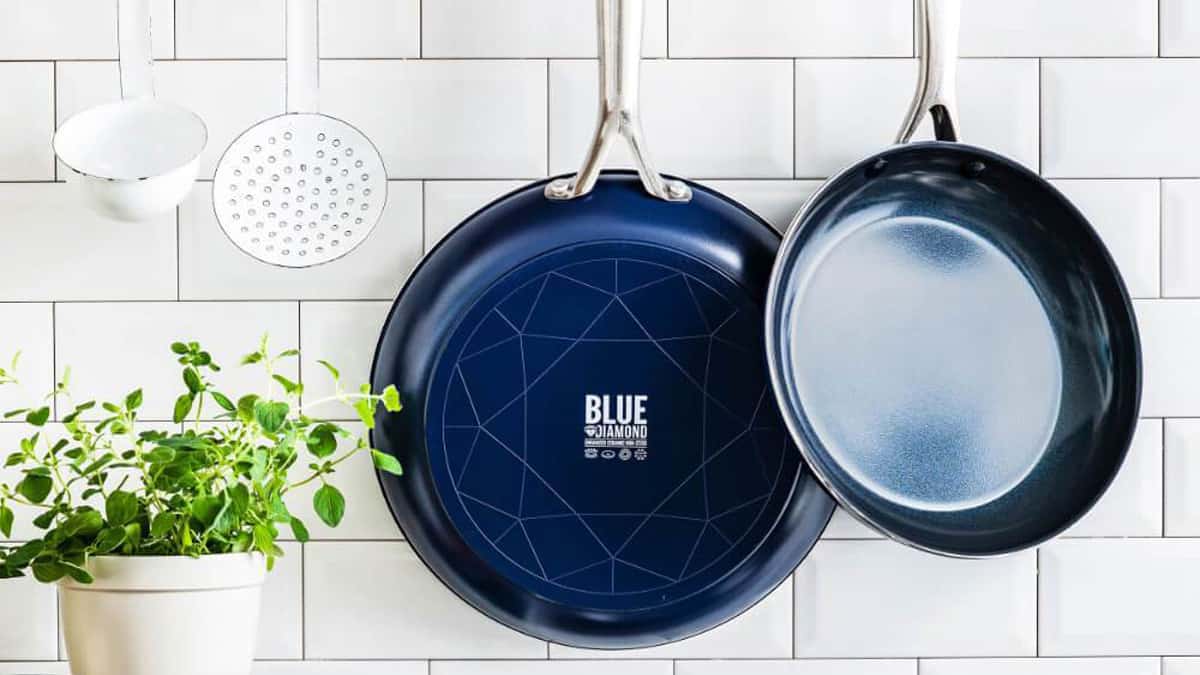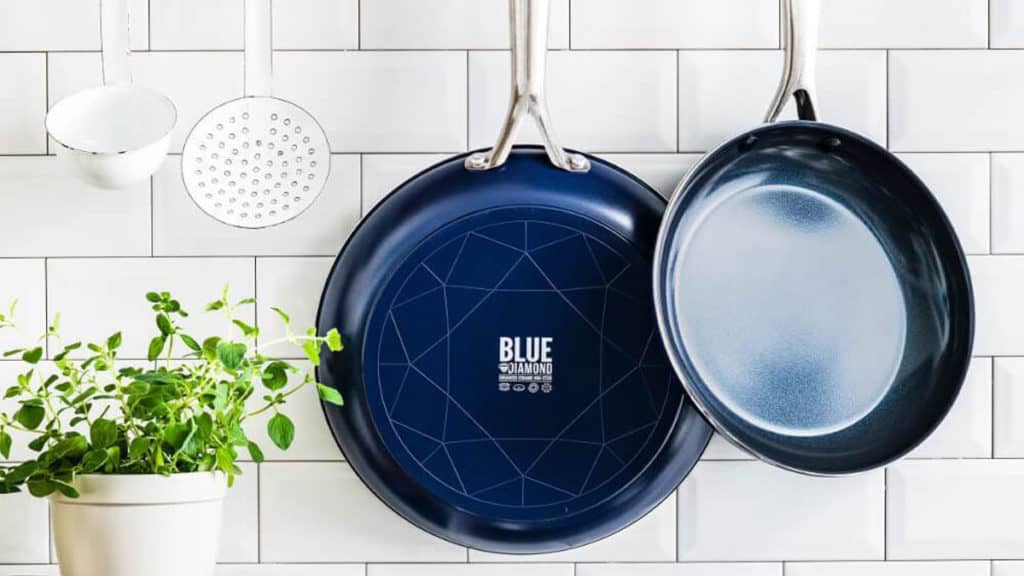 As much as they are billed dishwater safe, nonstick pots should be hand washed whenever possible with a soft cloth in warm soapy water.
Their material is sometimes affected by the intensity of the dishwasher, the dishwashing liquid, and/ or the wash cycle. To avoid mistakes, you can make use of this guide to cleaning nonstick pans.
It is good to season the pans before use regardless of how nonstick it is billed to be. Extra virgin oil or oily sprays are good for seasoning, but they can't withstand very high temperatures; they may smoke or burn. You may have to use butter and regular oils.
Rather than testing the limits, it is wiser to apply best practices regarding the safe use of cookware for all products regardless of the assurances you get from brand ambassadors.
Alternate Cookware Options
In case you are looking for a better option, the Big Leagues- 2 Piece Pro Series Set by GraniteStone Cookware has received glowing reviews after testing.
It has a hard-anodized exterior of a thick gauge for efficient heat retention and an aesthetically appealing nonstick finishing. It can be used with induction heat cookers thanks to an aluminum plate fitted at the bottom. It also comes with a thick ergonomic handle that distributes heat, retaining a user-friendly temperature.
You are free to check out our latest review of the best nonstick cookware for even more options.
The Bottom line
After consideration of the pros and cons, we advocate for the Blue Diamond pan. It offers decent levels of durability, functionality, and quality without breaking the bank. It also gives enough service in the course of its lifetime to justify the expenditure without long-term adverse effects on your health.
Just be ready to dispose of them as soon as they run their course. It is a worthy and affordable transitional investment.