Hi, I'm Fabi from fabsfood and this month I'm honored to host the Daring Cook's challenge. My choice, is the classic Boeuf Bourguignon, it is probably one of the most famous French Cuisine dishes. And among all the possible versions of it, the one I have chosen is Julia Child's recipe, from her book "Mastering the art of french cooking". Please pardon me if I say this book is almost a bible. Every time I read it to pick a recipe and follow her directions I feel myself full of respect and devotion for this incredible woman.
Boeuf Bourguignon (Beef Bourguignon in English) was born in Bourgogne (Burgundy), where beef and wine are its most important products. It's a traditional Sunday's dish, to share with the family.
I hope you enjoy this challenge as much as I enjoy it every time I make Julia's Boeuf Bourguignon, it is one of our favorites at home. I will be here and try to help you during the whole process. Please leave a comment with any doubt or question about this recipe, ingredients, times and so on, and I'll try to answer quickly.
In March I couldn't participate in the Daring cook's challenge, and I regret it very much because Carol (Poisonive) did a splendid job and the technique she chose is very similar to the one you will use in the current challenge, so similar I expressed to Lisa my doubts about the convenience of making Boeuf Bourguignon, but she told me it was perfect and I'm glad I listened to her because when I told her a year ago I would like to host a challenge, I was already thinking of this recipe.
In case you didn't join the challenge as I did (Shame on us!) check Carol's pdf here, you will find there some useful information in order to understand the differences between both techniques. However I will try to summarize them.
Stewing is similar to braising, ok, but the two methods have some differences.
Both involve moist heat, and a slow cooking that tenderizes the beef and develops a rich beef flavor.
Both start with less-tender beef cuts as this cooking method softens the strong muscle fibers and connective tissue, guaranteeing tender, moist, flavorful results.
But…
Braising cooks large cuts of beef in enough liquid to partially cover the meat.
Stewing uses small, uniform pieces of beef that are totally immersed in liquid. This is the technique used for making Boeuf Bourguignon.
So the key word here is immersion. The meat immersed in a delicious mix of stock, wine, herbs and vegetables, developing an incredible flavor and texture. Nothing compares to it, believe me.
On the other hand, I understand that some people don't eat meat as a personal choice, others may have in-tolerances, allergies and so on, so there is vegetarian version which I wanted to be as similar as possible to the original recipe. I bet you're wondering how in the hell it is possible to make a vegetarian version of a dish which is basically a hymn to meat… Well, it is possible.
Of course it's not "exactly" the same, but with the correct ingredients and following the directions, I bet you will be more than satisfied with your veggie Boeuf Bourguignon.
So… Not much more to say. If you're in for this very special French treat, please roll up your sleeves and let the fun begin!
Recipe Source: Mastering the art of French Cooking – Julia Child
Blog-checking lines: Our May 2012 Daring Cooks' hostess was Fabi of fabsfood. Fabi challenged us to make Boeuf Bourguignon, a classic French stew originating from the Burgundy region of France.
Posting Date: 14 May 2012
Mandatory Items: You have to make traditional or vegetarian version (Or both, if you're so inclined) of Boeuf Bourguignon.
Variations allowed:
Preparation time: 5 hours for the traditional version (Including 3-4 hours cooking time in the oven) Much less for the veggie version (1 ½ hour)
Equipment required:
1 large Dutch oven/Cocotte/Cast iron casserole, or an oven proof dish, possibly lidded, otherwise a double piece of aluminium foil will do the trick.
1 sauce pan
1 cutting board
Knives
Measuring cups and spoons
BOEUF BOURGUIGNON
Ingredients for 6 people:
Ingredients
1 x 6 oz (200 gm) chunk of streaky bacon
Olive oil
3 pounds (1⅓ kg) stewing beef cut into 2 inches (5 cm) cubes
1 teaspoon (5 ml) (6 gm) salt
½ teaspoon (5 ml) (2 gm) pepper
3 tablespoons (45 ml) (1 oz/30 gm) flour
3 cups (1½ pint/720 ml) of young red wine. Suggestions: Bourgogne, of course, but also Bordeaux, Cabernet Franc, Cabernet Sauvignon, Chianti, Rioja etc., depending on your country and your taste. Being Spanish, my choice this time was a good Rioja. It really has to be a good one but it hasn't necessarily to be a very expensive one, you know, il ne faut pas exagérer


1 carrot, sliced (I prefer to cut it into chunks, but that's just my taste)
1 onion, sliced in julienne
1 ½ to 2 cups (¾ to 1 pint/355 to 475 ml) of beef stock or beef bouillon
1 tablespoon (15 ml) (½ oz/15 gm) tomato paste or tomato puree
2 cloves mashed garlic
½ teaspoon (2½ ml) (1 gm) thyme leaves
1 bay leave (Julia says it has to be crushed, I prefer not to crush it so that I can remove it at the end of the process)
The blanched bacon rind
18-24 small onions, brown-braised in stock
1 pound (½ kg) mushrooms sautéed in butter (Champignons are perfect for this purpose)
Fresh parsley sprigs to serve
Directions:
1.Prepare the bacon: Remove the rind. Cut the bacon into lardons (Sticks, ¼ inch thick and ½ inch (5 mm x 15 mm) long) and simmer everything in 4 cups (1 litre) of water for 10 minutes. Drain and dry carefully with paper towels.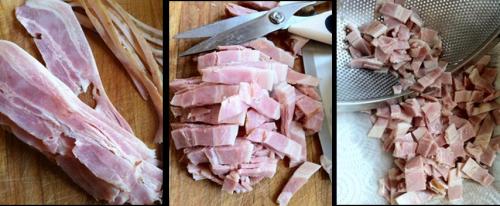 2.Dry the meat cubes carefully with paper towels.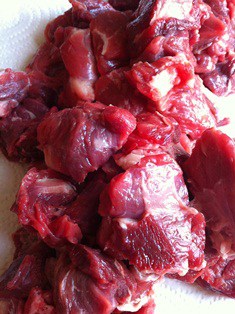 3.Preheat oven to hot 450ºF/230ºC/gas mark 8
4.In a fireproof casserole or a frying pan, sauté the lardons in a tablespoon of olive oil for 2-3 minutes until they're lightly brown. Remove them to a side dish with a slotted spoon.
5.In the same casserole/pan, sauté the beef until it's golden brown. Remove it to the side dish where you keep the bacon and set aside.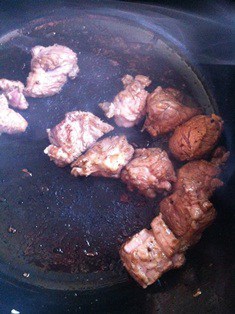 6.Still in the same casserole/pan, sauté the carrot and the onion.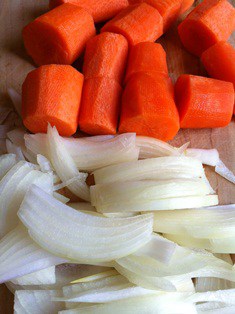 7.Return the bacon and the beef to the casserole. Sprinkle it with salt and pepper, then add the flour and toss.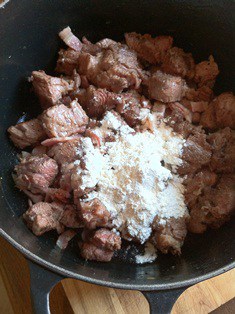 8.Place the casserole/dish uncovered in the middle position of the oven for 4 minutes. This gives the meat a lovely crust.
9.Remove the casserole/dish from the oven. Stir in the wine, stock, tomato paste, mashed garlic cloves, thyme, bay and the blanched bacon rind.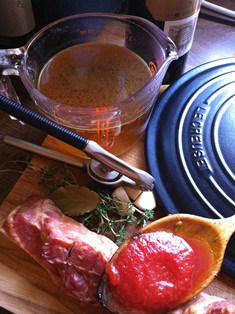 10.Bring it to simmering point on the stove. Now, if you were using a frying pan, discard it and put the stew in an oven proof dish.
11.Cover the casserole/dish (If your dish doesn't have a lid, use aluminum foil and stretch it to the edges of the dish in order to minimize the loss of juices) and place it low in the oven. Adjust the heat so that the liquid simmers very slowly, it has to go on for 3-4 hours.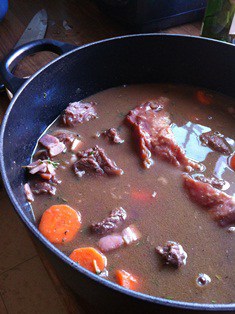 12.While the stew is cooking, prepare onions and mushrooms. For the onions: Melt 1 tablespoon butter in a frying pan and sauté the peeled onions until golden brown. Add beef stock until they're almost covered and simmer for 20-25 minutes, or until almost all the liquid disappears and they're tender but keep their shape. Set aside.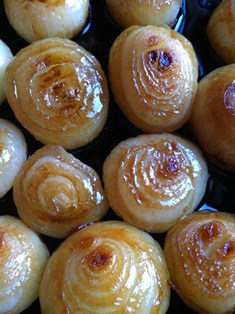 13.Prepare the mushrooms as well: Wash quarter and sauté them in 2 tablespoons butter. Keep on stirring until they're nicely brown. Set aside.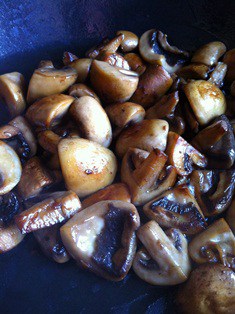 14.When meat is tender, put the stew into a sieve over a saucepan, wash out the casserole and return the stew to it. Put onions and mushrooms over the meat.
15.Skim the fat off the sauce. Put the saucepan on the stove and simmer it for 2-3 minutes. Skim additional fat if it rises. The sauce should be thick enough to coat a spoon. If not, boil it until it thickens. If it's too thick, stir in some stock or bouillon to make it lighter.
16.Pour the sauce over the stew. Put the casserole on the stove or in the oven and reheat for 2-3 minutes. Serve it in the casserole with some sprigs of fresh parsley. Some goods sides are potatoes, noodles or rice.
Freezing/Storage Instructions/Tips: You can keep leftovers in the fridge for 2-3 days. If you want to freeze it, it lasts up to 3 months.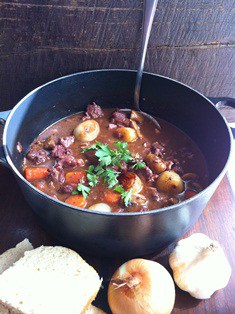 Notes:
•This recipe gives its best when prepared in a Dutch oven (Aka cocotte, cast iron casserole, or simply casserole). It's not mandatory to have one, I know it's an expensive thing but if you really love to cook, it is an excellent investment. Otherwise, an oven proof dish with a lid, or sealed with aluminum foil, will do the trick.
•I confess sometimes I skip the skimming process. If you don't use too much oil or butter and you remove all the fat from the meat, it is not mandatory at all (this is just my opinion)
•Some people add, 10 minutes before serving, a couple of spoonfuls of beurre manié (A paste made of 50% flour and 50% butter) in order to thicken the sauce and make it look more brilliant. I don't add it cause I like the sauce just the way it is, but if you heard about it and want to try, please feel free to do it.
•I know some people hate mushrooms. If this is your case, just don't add them. And have no sense of guilt at all.
VEGETARIAN BOEUF BOURGUIGNON
Ingredients for six servings:
Ingredients
2 carrots, cut into chunks
1 onion, sliced
18-24 small onions
1 pound (450 gm) fresh fresh mushrooms, quartered
3 cloves garlic, mashed
Black pepper
Olive oil
½ kg/1 pound Tofu (You can substitute Seitan or beefless tips), diced
3 tablespoons (45 ml) (1 oz/30 gm) flour
1 cup (240 ml) young red wine (See suggestions above)
2 cups (480 ml) vegetable stock
2 tablespoons (30 ml) (½ oz/15 gm) tomato paste or puree
1 bay leaf
1 teaspoon (5 ml) (2 gm) fresh thyme
1-2 sprigs fresh thyme to decorate
Directions:
1.Sauté the Tofu in the casserole with some drops of olive oil until is nicely brown. Put on a side dish. Set aside.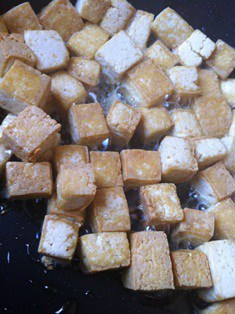 2.Prepare the small onions: Sauté the peeled onions in the same casserole with a tablespoon of olive oil until golden brown. Add vegetable stock (about ¾ cup) until they're almost covered and simmer for 20-25 minutes, or until almost all the liquid disappears and they're tender but keep their shape. Put on a side dish. Set aside.
3.Prepare the mushrooms as well: Wash, quarter and sauté them with a tablespoon of olive oil in the same casserole. Keep on stirring until they're nicely brown. Put on a side dish. Set aside.
4.Still using the same casserole, sauté onion an carrot. When everything is golden brown, stir in the flour and keep on stirring 3-4 minutes, until vegetables are golden brown and a nice crust appears.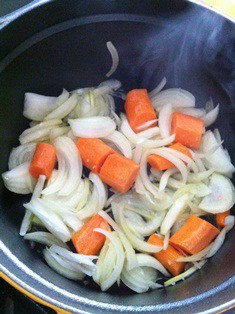 5.Add the garlic, thyme, bay leaf, black pepper, stock and wine. Give it a good stir, bring to simmer point and cook for 20 minutes, or until the sauce begins to thicken.
6.Add the small onions, the mushrooms and the Tofu to the casserole and stir carefully. Cook for another couple of minutes.
7.Serve with some fresh parsley sprigs on top.
Freezing/Storage Instructions/Tips: You can store leftovers in the fridge for 3-4 days. Is possible to freeze it but my advise is: Better don't freeze it since tofu looses its texture and properties.
Additional Information:
Julia Child making Boeuf Bourguignon – Please, please, pretty please check it out, it's simply fantastic (http://www.youtube.com/watch?v=PrnXvE9Fqdo)
Jamie Oliver's Boeuf Bourguignon (http://www.jamieoliver.com/recipes/beef-recipes/boeuf-bourguignon)
Gordon Ramsay's Boeuf Bourguignon (http://www.bbcgoodfood.com/recipes/426620/gordons-boeuf-bourguignon)
About the differences between a braise and a stew: The Kitchn. Interview with David Zino, chef in the official Beef Checkoff Culinary Center's. (http://www.thekitchn.com/the-difference-between-braisin-71988)
Bibliography:
"Mastering the art of French Cooking", Julia Child
"On Food and Cooking", Harold McGee