When searching for the right knives for your kitchen, it's not always about picking out the most commonly used knives. Instead, it's about selecting the knives that you personally need. While average home cooks are content with a regular chef's knives and a couple of cutting boards, serious chefs prefer to use the right tools for the job instead. Chefs who frequently prep fresh meats in the kitchen need two things: an amazing fillet knife, and the best boning knife on the market. Without it, removing bones from meat would be incredibly hard (and sloppy).
Every knife on this list features an extremelly sharp, narrow, thin blade to get the job done, but they differ in their appearance, size, styles, material, quality, function, and price. For that reason, here are the best boning knives of the year conveniently laid out for you:
1. 
Zelite Infinity 6-Inch: The Alpha-Royal Series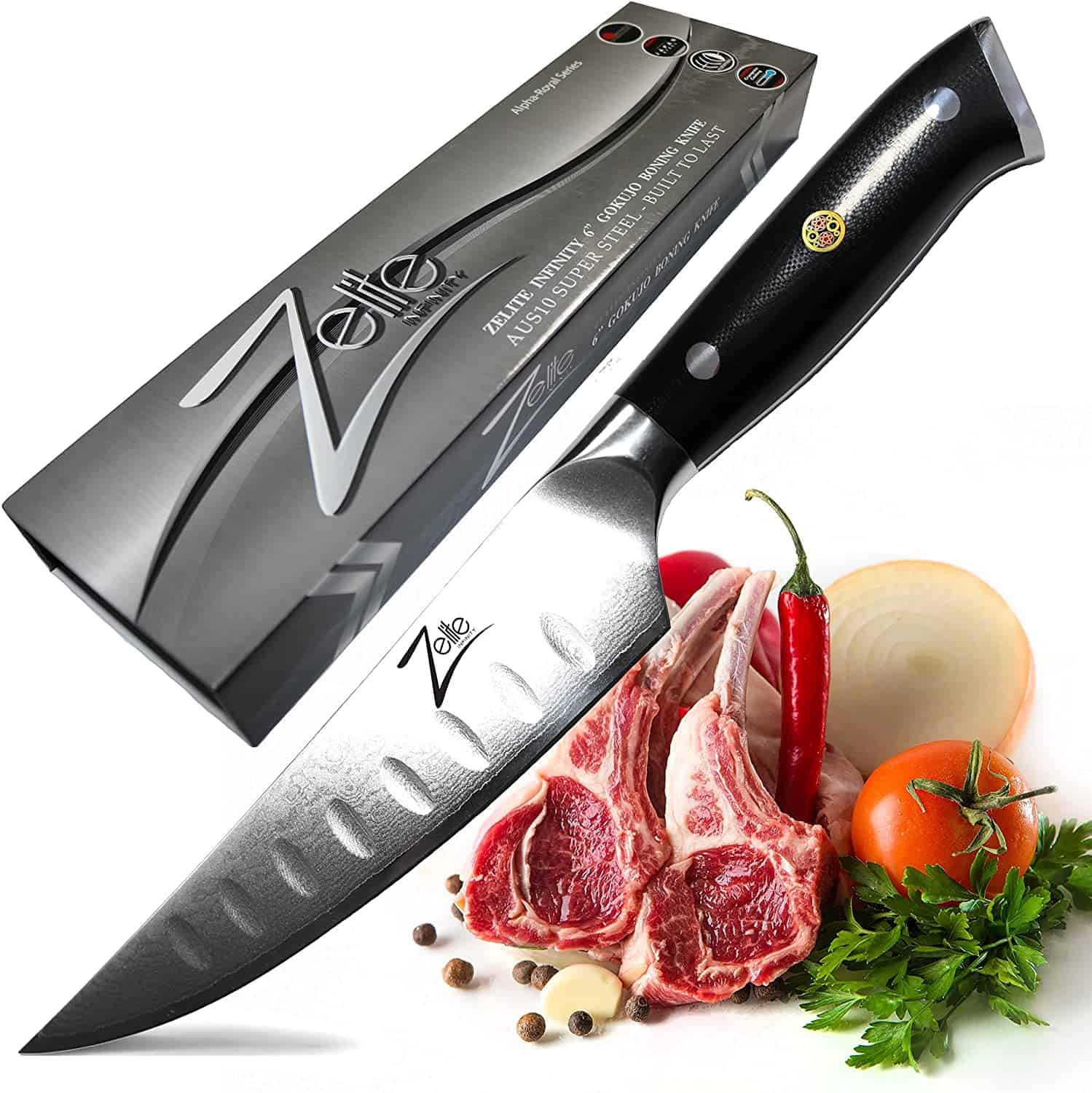 The Zelite Infinity 6 Inch Alpha Royal Series is perhaps the best boning knife of Japanese style. While it's on the pricier end of boning knives, it pulls its weight just fine. But don't just take it from us, take it from the home cooks who refuse to part with this boning knife and have turned it into one of the most popular kitchen utensils.
This high carbon steel boning knife is constructed with sturdy, non-stick Japanese super steel that resists stain, rust, and corrosion. It also features an ergonomic, triple-riveted handle for ultimate comfort and a strong grip. Plus, the finger guard adds to the ergonomic design.
Apart from de-boning, skinning, and butchering meats, Zelite Infinity claims that this tool is ideal for slicing tomatoes, filleting fish, and carving brisket.
Customers who have tried the Zelite Infinity's 6-inch forged boning knife part of the Alpha-Royal Series find that the boning knife offers the perfect grip, an ideal level of sharpness with an ease of resharpening, and offers a well-balanced and comfortable feel. Some find that the knife is at first heavy, but after getting used to the weight of the boning knife, it becomes apparent that the ergonomic design ensures the knife is easy to hold and use. In case you don't love it, however, you can get 100% of your money back guaranteed.
Top Features:
Japan-imported AUS10 super steel with 67-layer high carbon stainless steel
Rockwell hardness HRC 61
12- to 15-degree edge
Ergonomic design
Military grade G10, triple-riveted handle
Stain-, rust-, and corrosion-resistant
Liquid nitrogen-cooled
Non-stick thin blade
Edge retention
Rare tapered bolster
Forged full tang
100% money-back guarantee
2. 
DALSTRONG Boning Knife - Shogun Series - VG10-6"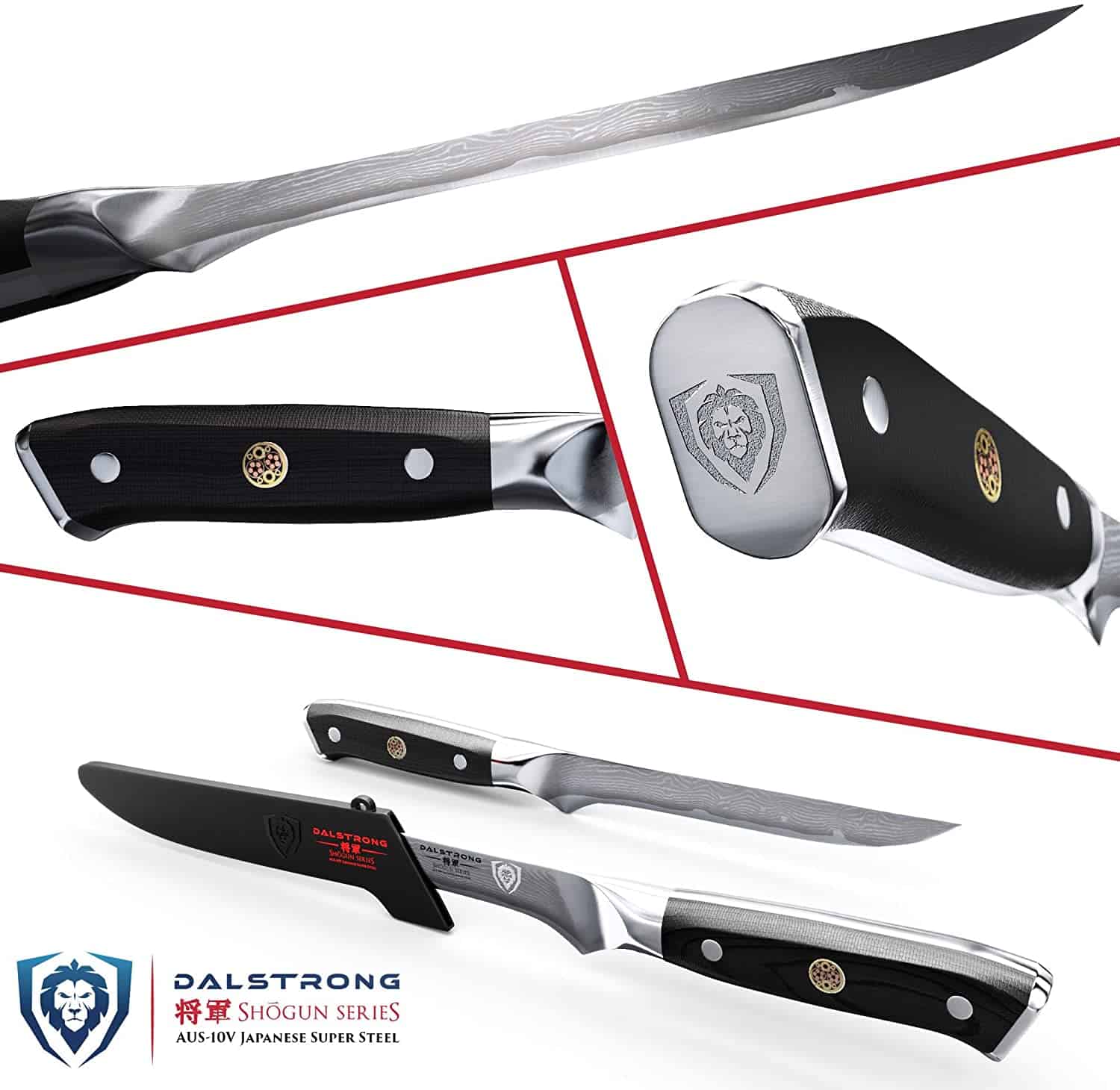 Dalstrong is one of the top boning knife manufacturers out there, offering kitchen cutlery with a luxurious twist. Despite being a more affordable boning knife, it doesn't compromise on quality.
It is heavy-duty, forged from Japanese steel, and the blade has a with a mirror finish. The premium triple-riveted handle is yet another plus. The attractive design and sharpness of the blade alone make the VG10-6" an appealing addition for any home or professional kitchen.
According to Dalstrong, this blade is resistant to stains and corrosion, features a flexible blade, and offers durable construction overall thanks to its nitrogen-cooled blade. With this knife's curved tip, you can rest assured that every cut made goes as close to the bone as possible. This means that your job of removing bones from the meat just got easier and less time-consuming. Being military-grade, this is a boning knife bound to last you a long time while maintaining its sharpness for years to come.
The Dalstrong VG10-6" may be on the pricier end of your budget, but know that if you are not pleased, the company offers a 100% money-back guarantee. From looking at the reviews, however, it is highly likely you'll be disappointed with your Dalstrong purchase. Previous buyers find that the VG10 is substantial in retaining its sharp edge and offers the right amount of pressure for a precise, easy cut. The only thing you'll be regretting after purchasing this boning knife is that you didn't get a gorgeous display case to show it off!
Top Features:
VG-10 Japanese super steel
62+ Rockwell hardness
Mirror-polished
Tapered blade
Knife comes with blade guard
Nitrogen-cooled
Stain- and corrosion-resistant
8- to 12-degree angle per side
Triple-riveted
Ultra-premium G-10 handle
100% money-back guarantee
3. 
Mercer Culinary Renaissance 6-Inch Flexible Boning Knife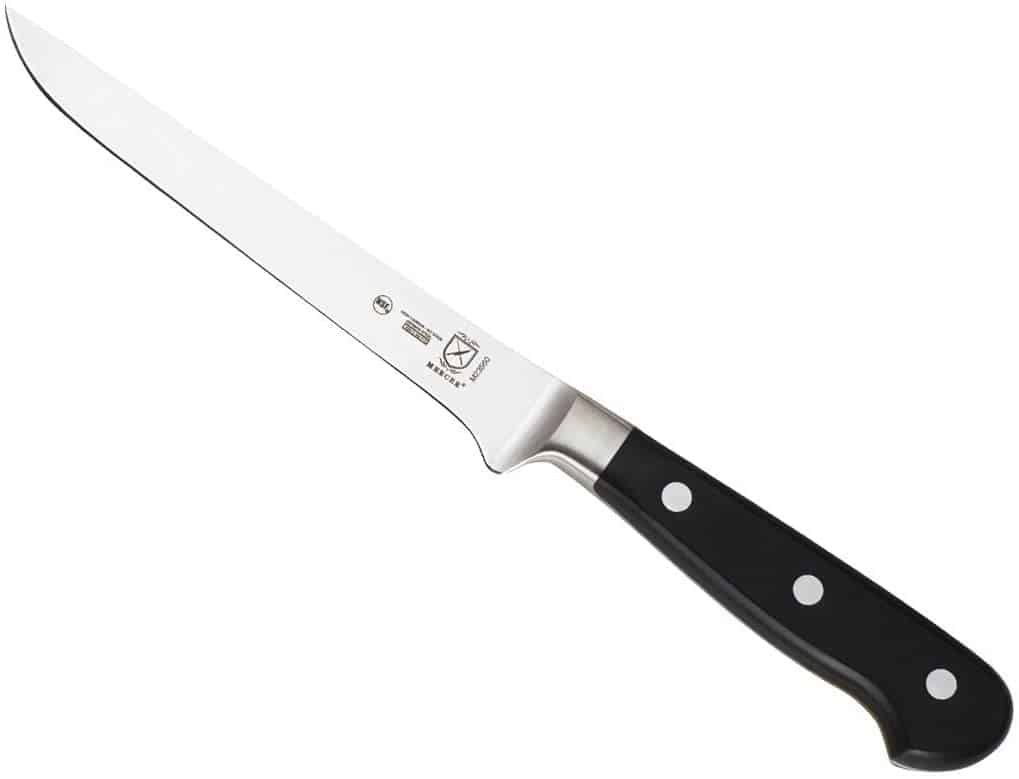 For those who want a boning knife of high quality without paying approximately an entire working day's worth of income, the Mercer Culinary Renaissance 6-Inch Flexible Boning Knife might be a viable option. While its design isn't as jaw-dropping as the last two boning knives we've looked at, its price will surely sweep you off your feet.
This forged blade from Mercer Culinary is constructed with high-carbon steel and is resistant to pesky stains, rust, discoloration, and corrosion. With full-tang running the entire length of the handle, Mercer claims that this boning knife will provide the perfect balance when in use. Additionally, the rounded spine of this tool and the finger guard allow for easy, comfortable operation each time. Best of all, this boning knife is incredibly sharp, sharp enough even for de-boning the thickest, fattiest cuts of meat.
Reviewers of this boning knife find that even after months of frequent use, this knife retains its sharpness. Many will also be glad to hear that this knife, while on the heavier side since it is a German knife, offers a favorable balance between German and Japanese construction as it is still lightweight enough to where it's not going to strain your fingers while using yet isn't without heavy-duty quality. Overall, if you're all about quality but want it at a more affordable price, the Mercer Culinary 6-Inch Renaissance might be the perfect blade for you.
Top Features:
High-carbon, German steel
Stain-, rust-, corrosion-, and discoloration-resistant
Ergonomic design with rounded spine
Triple-riveted handle
Taper-ground edge
Shortened bolster
Limited lifetime warranty
4. UltraSource Boning Knife, 6" Curved/Semi-Flexible Blade, Polypropylene Handle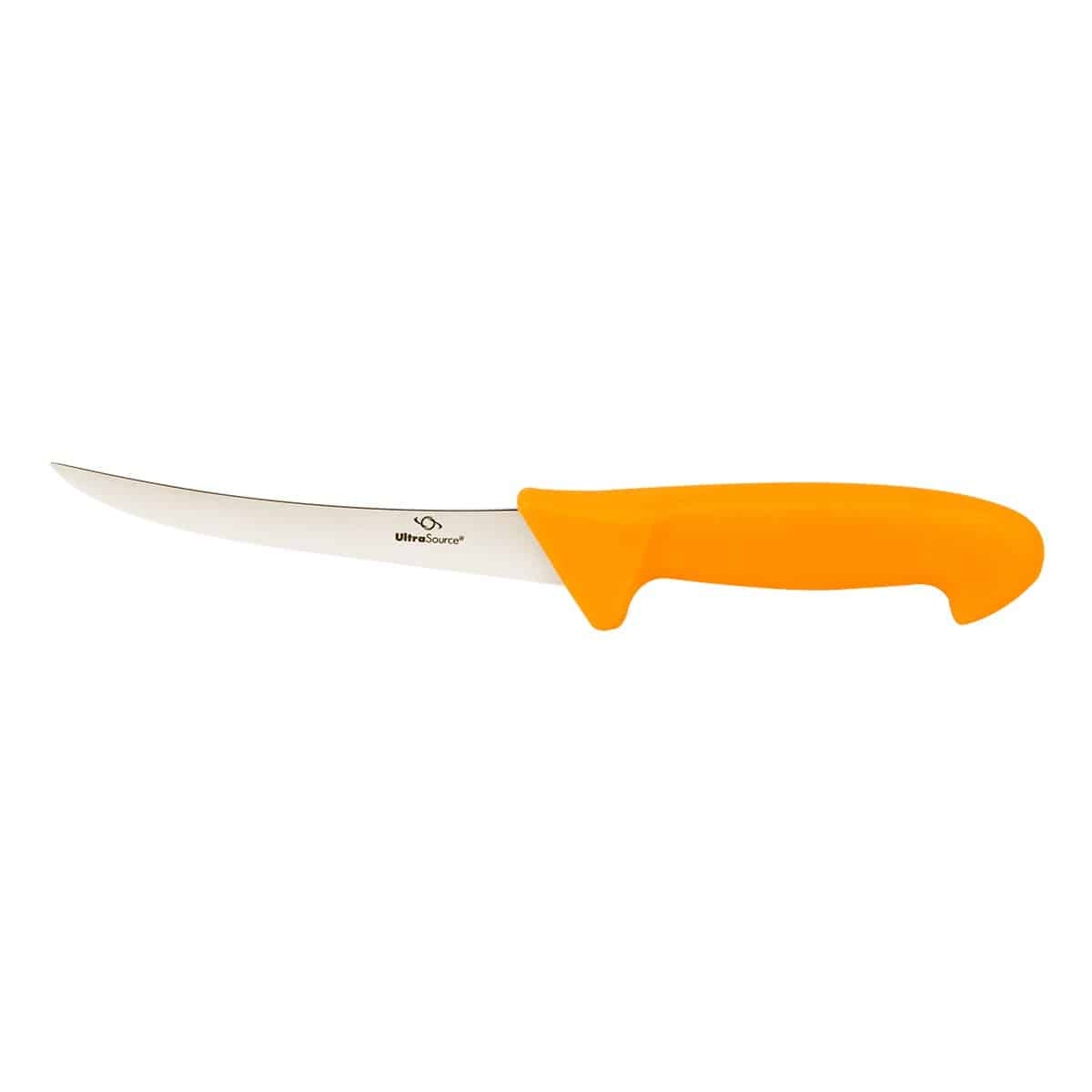 The UltraSource 6" knife can be considered as one of the most versatile and durable kitchen knives the most and best flexible boning knife on this list. (You can also purchase this exact model in 5-inches if you prefer.) Best of all, it's the most budget-friendly boning knife we've reviewed.
This curved boning knife has a blade made from high-carbon molybdenum steel that is treated to resist rust and have the longevity to maintain its sharp edge. It also features a textured handle for the proper grip to ensure no slip. Plus, the finger guard keeps you safe from the sharpness of the blade.
And while the knife isn't dishwasher-safe, the antibacterial-infused handle ensures that cleaning is as easy as possible.
With an affordable price tag and boasting so many favorable reviews, it's hard to pass this product up. Users find that this UltraSource blade is surprisingly sharp and just as precise as the company states. One specific thing many reviewers have noted that they loved about this knife is that even when it's wet, you can still maintain a good grip on the handle. That said, if you value function over aesthetics and brand name but still want great quality and longevity, the UltraSource 6" Curved Boning Knife might be for you.
Top Features:
High-carbon molybdenum steel
Rust-resistant
Edge retention
Antibacterial-infused, textured handle
Front and rear safety bolsters
Ergonomic design
5.
Sky Light Flexible 6-Inch Boning Knife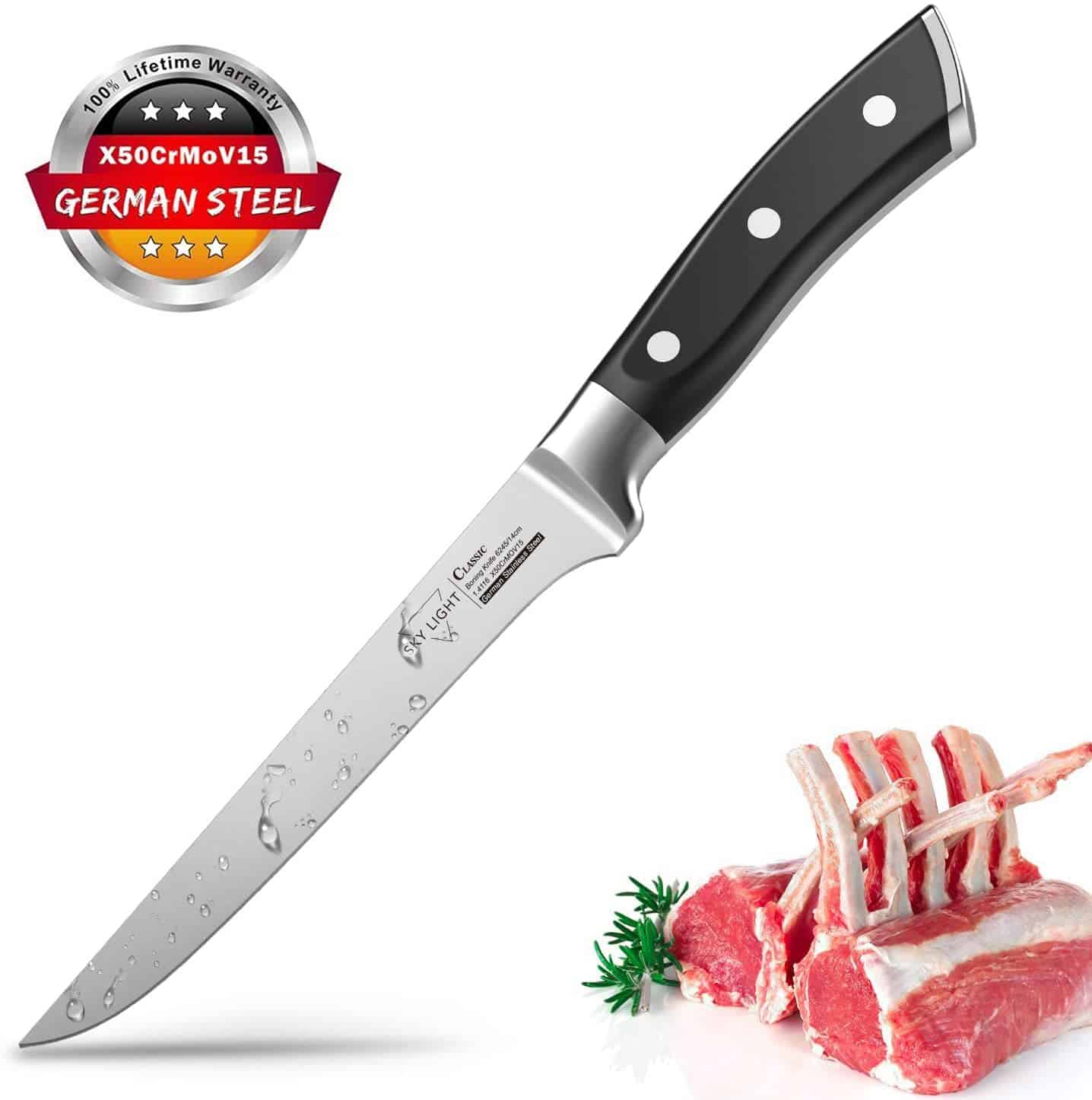 Next, we have the Sky Light Flexible 6-Inch high carbon steel boning knife. It has great reviews from home chefs, which makes it an amazing purchase. It offers a more sleek design than many other affordable knives, but it still is budget-friendly.
This knife offers stain- and corrosion-resistant, high-carbon German steel with a bacteria-resistant, ergonomic handle. You can also be confident that the blade on this boning knife will retain its edge for a long period of time before it needs to be sharpened again.
While this model doesn't have a super curved blade as some other boning knives out there, some may find that the straighter blade on this model gives them greater leverage and offers the best of both worlds when using this knife to slice or carve meat.
This Sky Light boning knife has the sharpness to cut into meat without tearing it and that it offers the perfect weight to provide the best performance. While some find that the knife is a bit long for some slabs of meat, others find that it is perfect when it comes to precision, versatility, quality, and ease of use without needing to apply much strength.
And the best part? If your boning knife ever breaks or cracks, Sky Light is there to offer you a replacement, thanks to its lifetime warranty.
Top Features:
High carbon, German steel
Stain- and corrosion-resistant
Ergonomic, bacteria-resistant handle
Edge retention
Lifetime, 100% money-back guarantee
6.
Dexter Russell (S131F-6PCP) - 6" Knife - Sani-Safe Series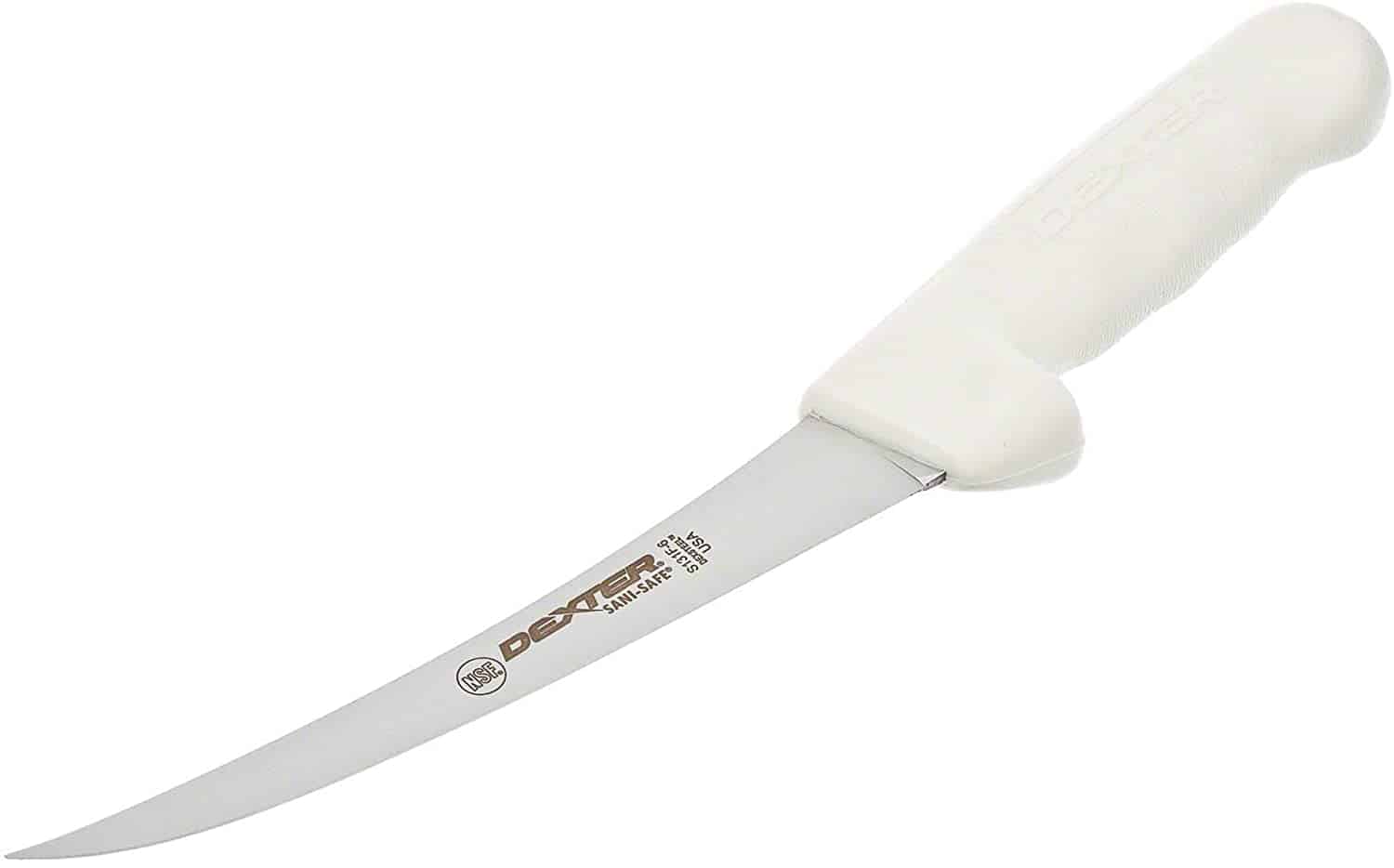 Dexter Russell claims that their Sani-Safe series boning knives offer utmost sanitation and are suitable for commercial purposes. On top of that, this curved boning knife is also incredibly affordable, standing out as yet another budget-friendly (but quality!) pick.
This Dexter Russell blade offers a thin-yet-sharp, high-carbon steel blade that is said to be resistant to stains. With its bacteria-resistant, ergonomic Grip-Tex handle, this boning knife offers top-notch comfort and won't slip while being used. Best of all, this Dexter Russell boning knife is highly versatile in that it can withstand both cold and hot temperatures and retain the perfect grip in both dry and wet environments. As a bonus, this boning knife is made in the United States, meaning that it offers American materials, quality, and craftsmanship.
According to reviewers of this Dexter Russell model, this is a lightweight, easy-to-hold boning knife whose curved blade makes it simple to separate layers. However, while provided by trustworthy Dexter Russell, some claim that the steel is on the thinner side. However, with consideration for the great cost and general function of this knife, from its ease of cleaning to its great flexibility, it makes sense why this is one of the best boning knives out there.
Top Features:
High-carbon steel
Stain-free
Ergonomic, bacteria-resistant Grip-Tex handle
Withstands cold and hot temperatures
Individually ground and honed blade
NSF-certified
Made in the USA
7.
TUO Cutlery 7-Inch Boning Knife - HC German Stainless Steel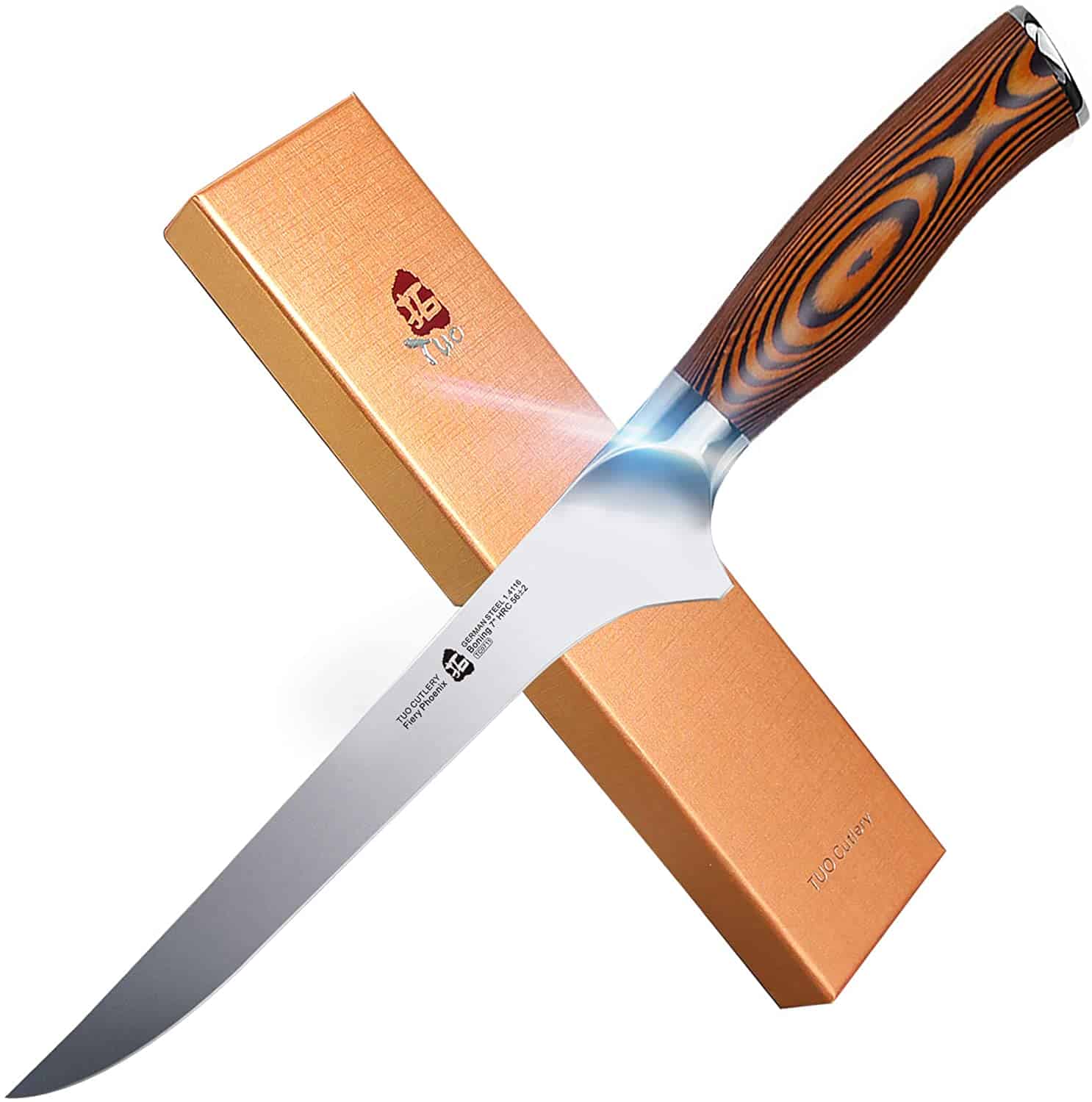 This 7-inch, high carbon steel boning knife by TUO Cutlery is a great boning knife for the semi-experienced home cook. This Chinese-styled knife offers high-carbon, German stainless steel that is resistant to rust, wear, and corrosion. It features the perfect aesthetic mix between modern and traditional with its sharp, slightly curved blade and wooden handle.
While most boning knives are 5- to 6-inches long, this one is 7-inches, making it ideal for not just deboning meats but also for filleting larger fish. Thus, the versatility of this knife can be well-appreciated. Additionally, the narrow blade design of this knife ensures maneuvering is quick and easy.
Coming to the handle of this boning knife, it's constructed with an ergonomically-designed, oil-proof, corrosion-resistant Pakkawood handle. Pakkawood is a plastic- and wood-based material that looks quite similar to solid wood and is commonly used on knives. This material is both beautiful, dense, and sturdy, making it great for kitchen tools.
The TUO Cutlery 7-Inch knife may be great for deboning meats; however, it is also great for de-shelling lobster and slicing meats as it can cut through anything like butter. Reviewers also find that the weight, edge retention, grip, and balance of this knife is exceptional for the price. While TUO Cutlery may not be as popular as other knife manufacturers out there, this TUO 7-inch boning knife is a great buy that you'll surely get your money's worth out of.
Top Features:
High-carbon, German stainless-steel
Rust-, corrosion-, and wear-resistant
15-degrees per side
Full tang
Great-quality, durable blade and handle
Lifetime, 100% money-back guarantee
8. Shun Classic 6-Inch Boning Knife

If you're looking for a higher-end knife, the Shun boning knife might be a good purchase to meet your wants and needs. This corrosion-resistant Shun boning fillet knife is more expensive than other boning knives, but the quality speaks for itself.
You could very well find this boning knife in a professional kitchen. It doesn't miss a perfect cut. From the wooden handle to the six-inch-long strong and sturdy blade, you won't want to pass this one up.
The double-bevel, flat-grounded blade is thick and long enough to fillet while its sharp tip and angle make it ideal for deboning any fish or meat.
Most cooks love the Shun Classic Boning Knife for its versatility and ease of use. Despite looking heavy, it sits comfortably in your hand without tiring your wrists or arms out. Due to its beautiful appearance, reviewers also state that this is a great knife to store on a magnetic strip and show off. Shun knives are highly admired and quite popular, which is why it can command a higher price tag over other knives in the segment.
Top Features:
Ergonomic, walnut Pakkawood handle
Double-bevel, flat-ground blade
16-degree cutting angle
Hammered Tsuchime finish
64 layers of stainless steel
Corrosion-resistant
9. Update International (KP-04) 6" German-Style Steel Curved-Blade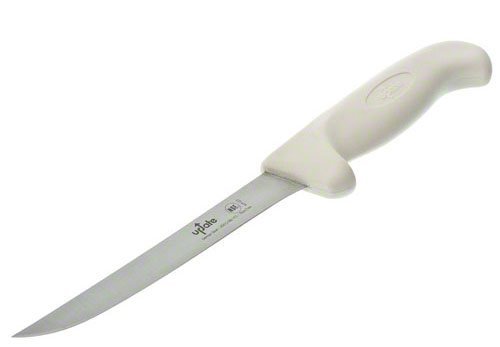 The last knife we'll cover is the Update International KP-04. It's the perfect mix of budget and quality.
This 6-inch knife isn't as flimsy as some may presume it would be. It features high-carbon, German steel with molybdenum vanadium. Its curved, professional-grade, stain-free blade is hand-honed to provide an excellent cut.
It's also safe to say that the Update International blade is NSF-listed, meaning that it has been tested to ensure proper safety. While this isn't the best looking knife out there, you will be getting a capable blade at an incredibly affordable price.
Users find that the sturdiness-to-flexibility ratio is perfect on this knife to tend to both thinner and thicker meats and fish. Not surprisingly, many reviewers were shocked that for such a slim price, this Update International boning knife is sharp enough and comfortable to use even to cut fruits and vegetables.
Even clean-up and maintenance is simple with the Update International KP-04. An affordable knife with fair quality that doesn't need to be resharpened often and cleans effortlessly: what else could one want?
Top Features:
High-carbon steel of German forging with molybdenum vanadium
Stain-free blade
Professional grade
NSF-listed
What size boning knife is best?
Most boning knives have a blade that is 5- to 6-inches long, while others may be up to 9-inches long. Some blades may be thick; others may be very thin. But there is never a one-size-fits-all when it comes to boning knives.
If you want a boning knife with a more flexible blade, you might want to select a knife that is shorter. Additionally, you would want to use a longer, thicker knife for thicker, larger meats while a shorter, thinner one for things that are more delicate, like fish, or require thinner slices. The size of your hands and/or how much pressure you use might also be indicators of the knife size you may work best with.
Who makes the best boning knife?
What we found to be the best overall based on both ratings and popularity is the Zelite Infinity 6-Inch, Alpha-Royal Series. Knives of this model will remove bones without at all damaging the meat.
Apart from Zelite Infinity, other popular brands include Dalstrong, Mercer Culinary, and Dexter-Russell.
However, remember that picking the best boning knife is not merely about how others feel about it, but most importantly, how you feel about it. While you should check out the reviews before purchasing a knife, also consider your own wants and needs.