There is nothing like a raw and hearty salad in the fall. With chopped broccoli, apples, crunchy nuts, and the perfect dressing, this broccoli apple salad makes eating healthy easy.
The Best Broccoli Apple Salad
When it comes to fall, I can't help but think of apples and broccoli. They're two of the main players in Fall's bountiful harvest. I mean, what's fall without going apple picking?
Combining the two into a wonderful salad may sound strange at first, but, trust me, this raw broccoli salad is absolutely delicious. It's one of the few ways I can eat raw broccoli without feeling like.. well, I'm eating raw broccoli! The combination of crisp apples, hearty chopped broccoli, and red onions is just perfect. Topped with a healthy and zesty dressing, every bite is better than the next!
If you recently picked up fresh broccoli at the market or grocery store, you must try this recipe. It tastes the best with super fresh (and seasonal!) broccoli.
I love broccoli salad and after you try this recipe, I hope you will too!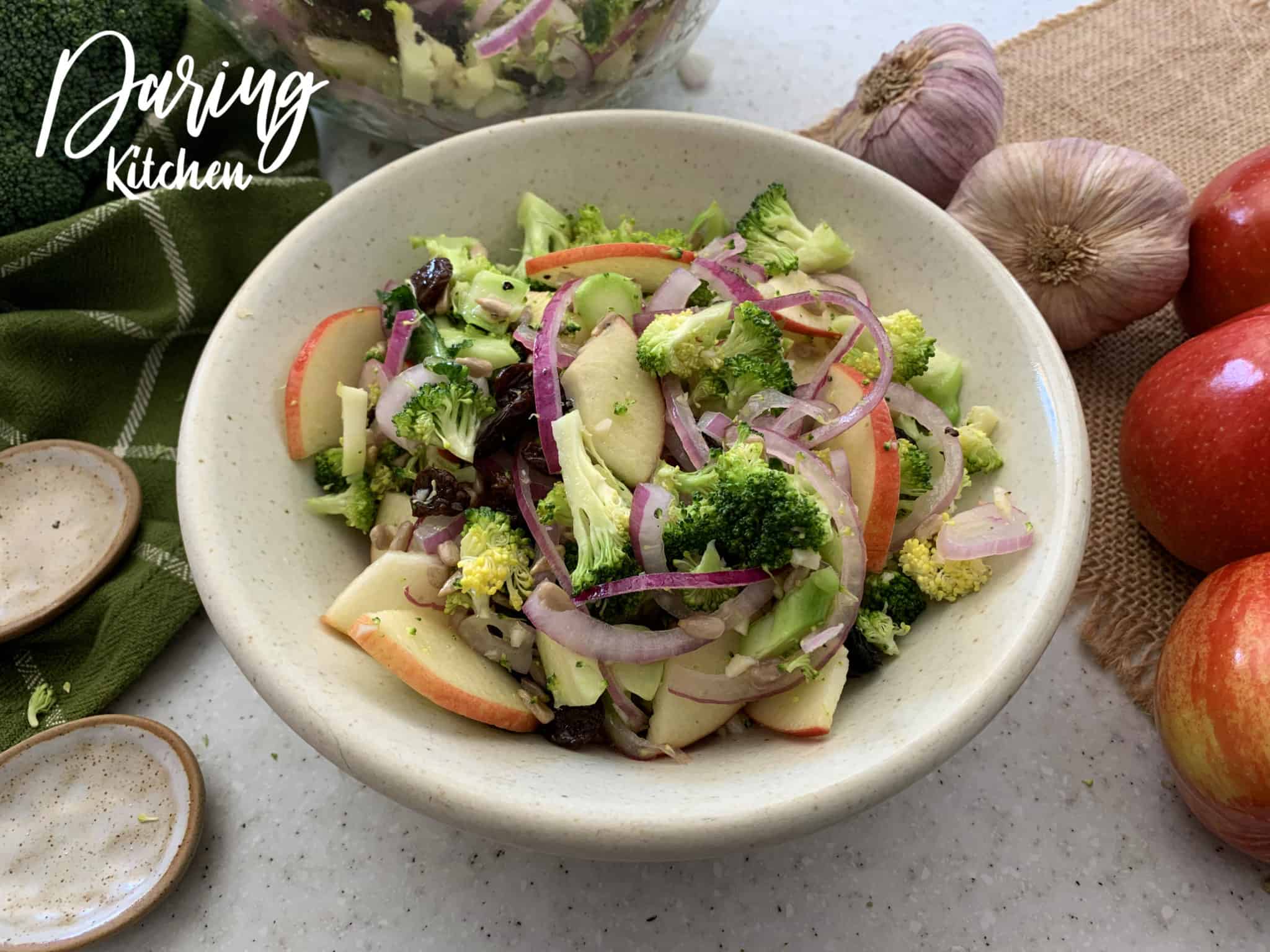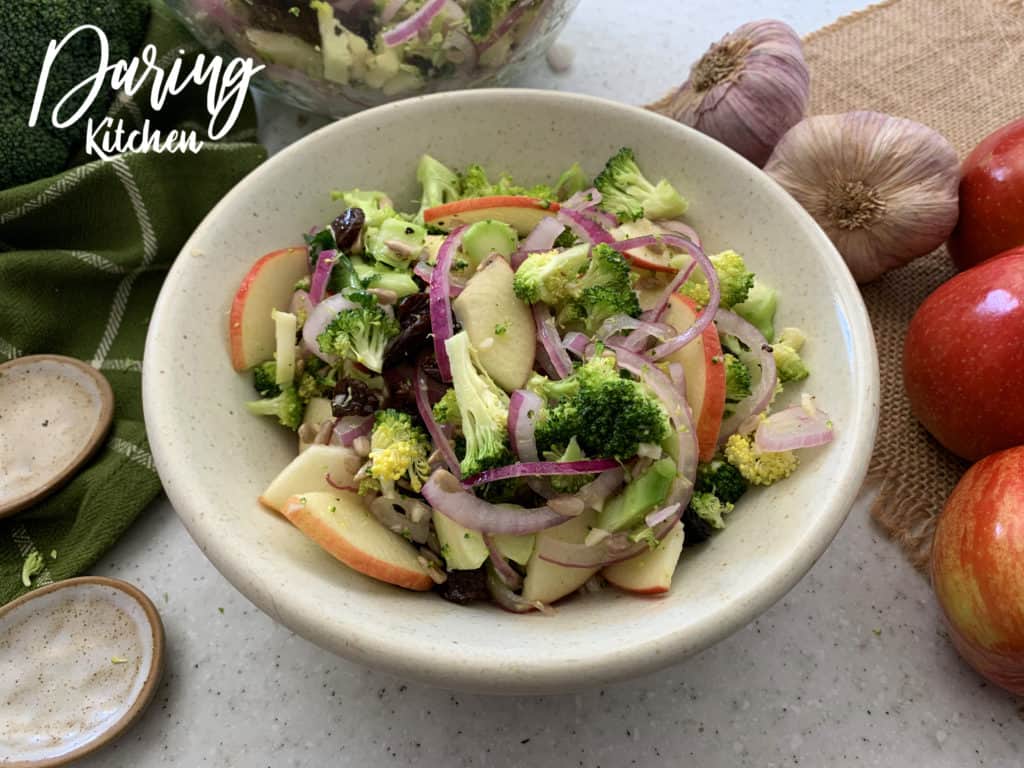 What's in Broccoli Apple Salad?
I started to hint at all the fabulous ingredients in this broccoli apple salad recipe. I chose to use the most 'Fall' base ingredients I could think of...
Broccoli - Try to find local and/or organic broccoli if you can. The fresher the better!
Apples - you can play around with the type of apples in this recipe. I like to use gala, pink lady, or anything with a nice sweet and crisp bite. I'd avoid using red delicious. Whatever you choose, you'll want to slice your sweet apples nice and thin. A mandolin helps with this! Pro-tip: If you pre-slice your apples, lemon juice helps to keep the slices from oxidizing.
Red onions - These onions add more color and a hint of sweetness to this dish that I just love.
Raisins - The sweetness of raisins helps balance all the bold flavors in this dish. You can use dried cranberries instead, to add more of a Fall essence to this dish.
Sunflower Seeds - Who doesn't like a nice crunch in their salads? Adding sunflower seeds does just that. You can also use pumpkin seeds to really capture the Fall vibes as well.
All of these ingredients are tossed together in a large bowl to create an amazing salad with an even more amazing dressing...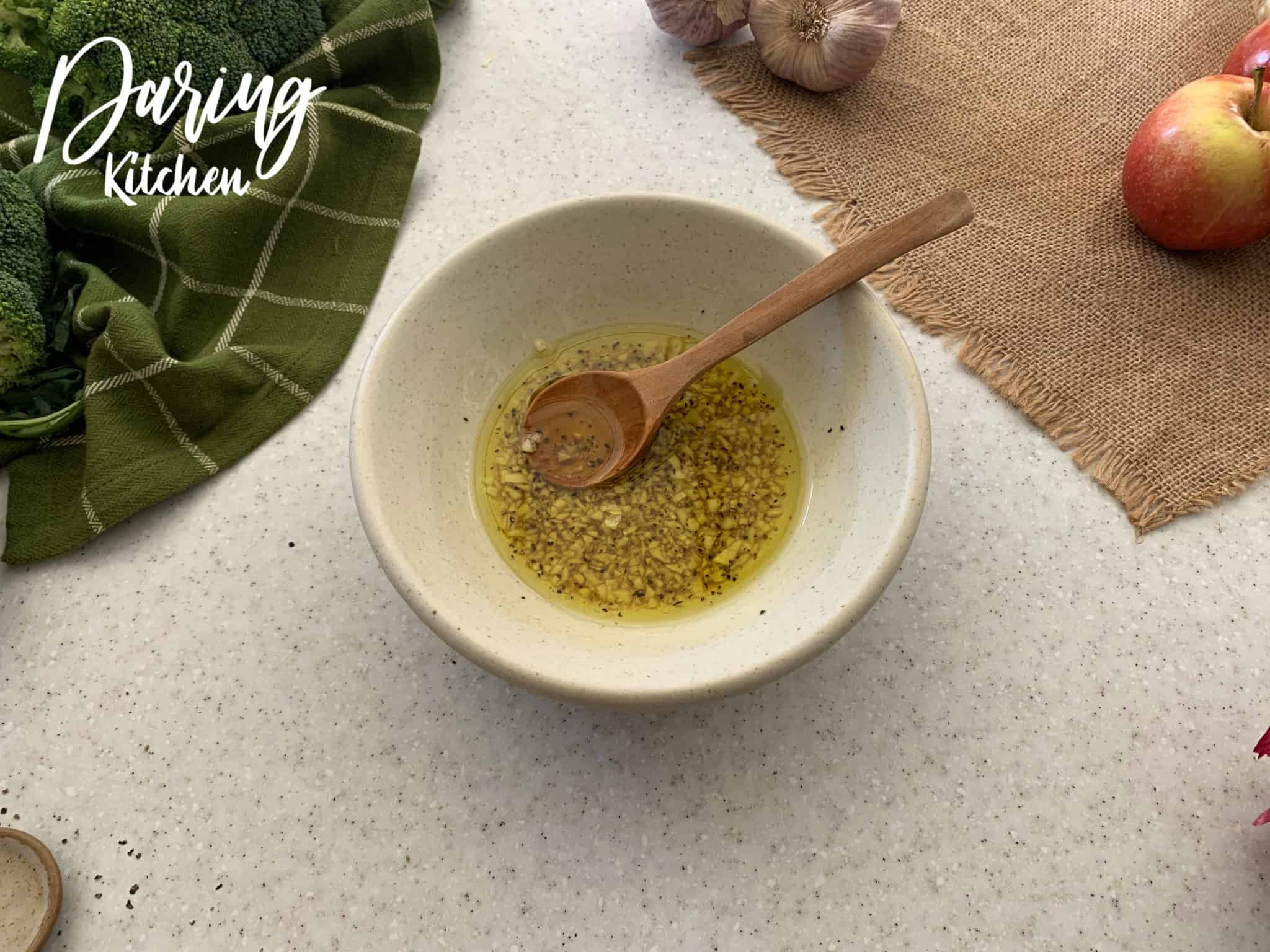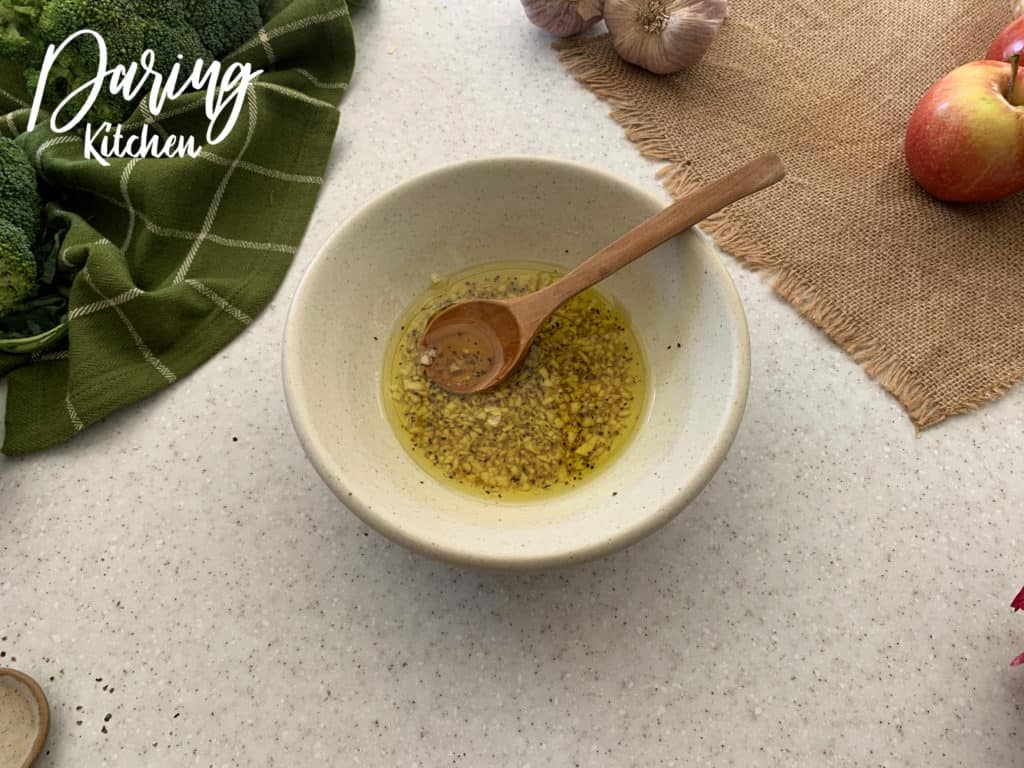 The Perfect Dressing
What brings all the flavors together in this broccoli salad recipe is the dressing. It's sweet, salty, zesty, and downright delicious!
Lots of people I know love to make a creamy dressing for their broccoli apple salads. Not me - I like something light and easy. So, instead of adding mayo, sour cream, or greek yogurt to this recipe, I decided to make a fresh vinaigrette using the almighty apple cider vinegar!
All you need is olive oil, apple cider vinegar, garlic, maple syrup, and good ole salt and pepper. Whisk it all together and that's it! You'll have one of the best broccoli salads you'll ever taste.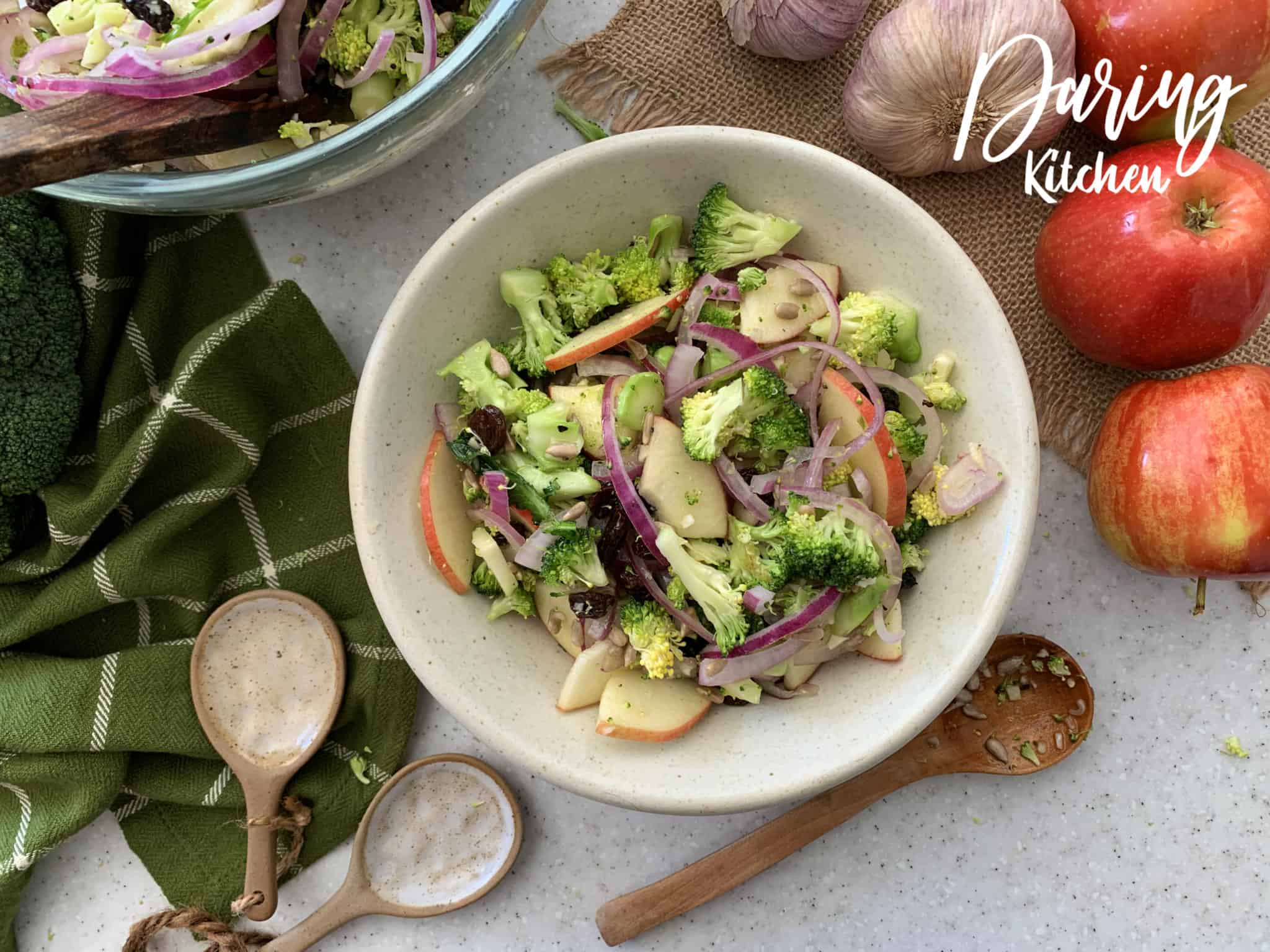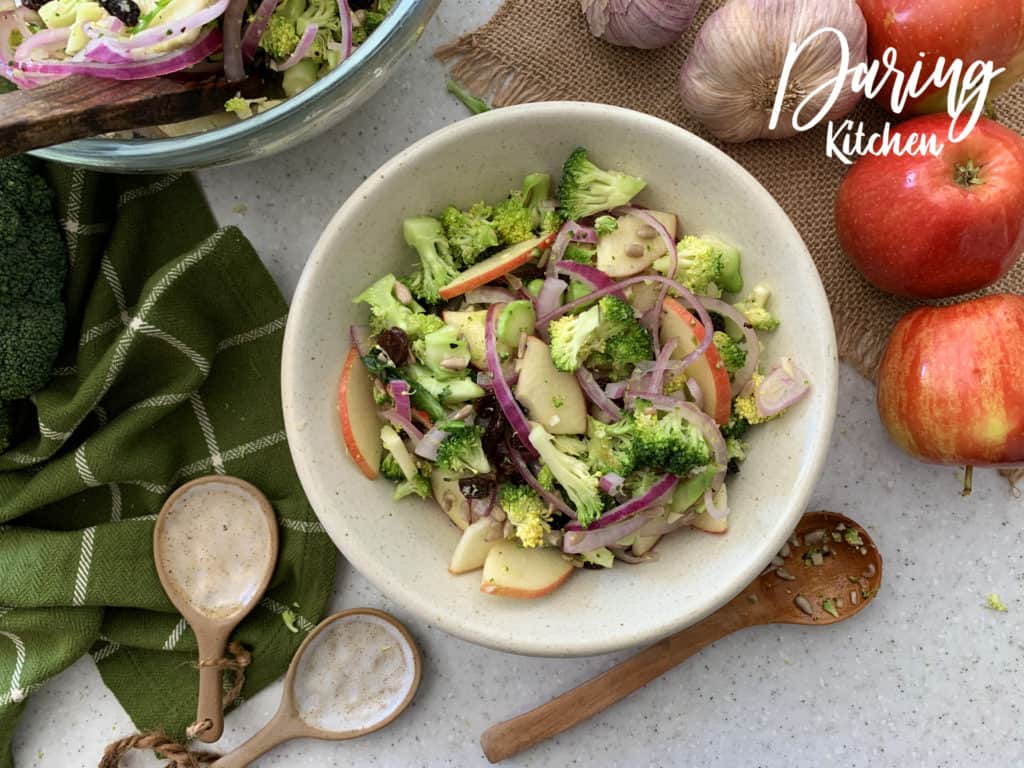 Tips for Making Broccoli Apple Salad
Prep your salad ingredients immediately before serving or a few hours before. The ingredients will lose their crispiness with time.
If you do prep the salad ingredients ahead, make sure to squeeze lemon juice on top of your apples to prevent them from turning brown.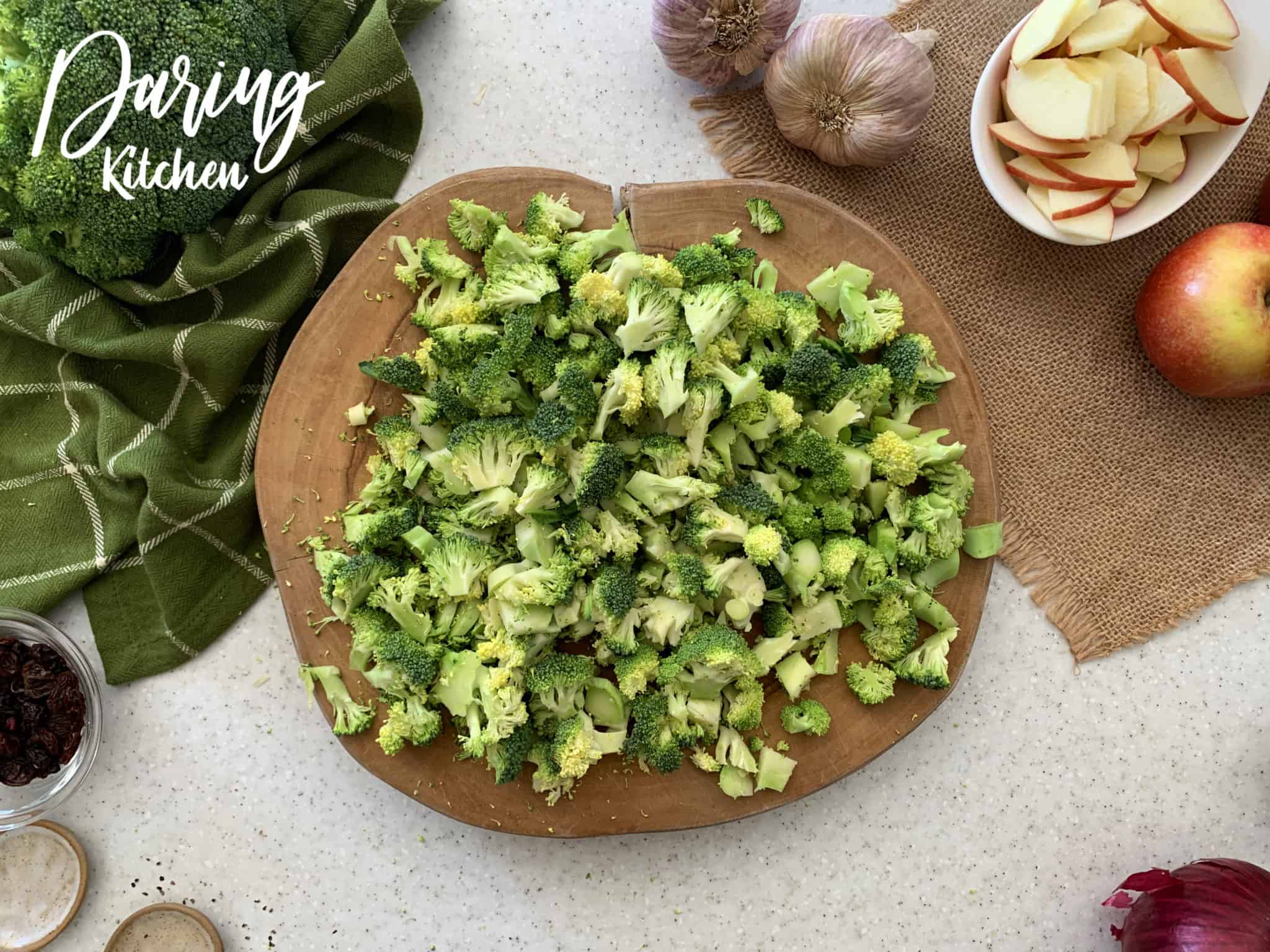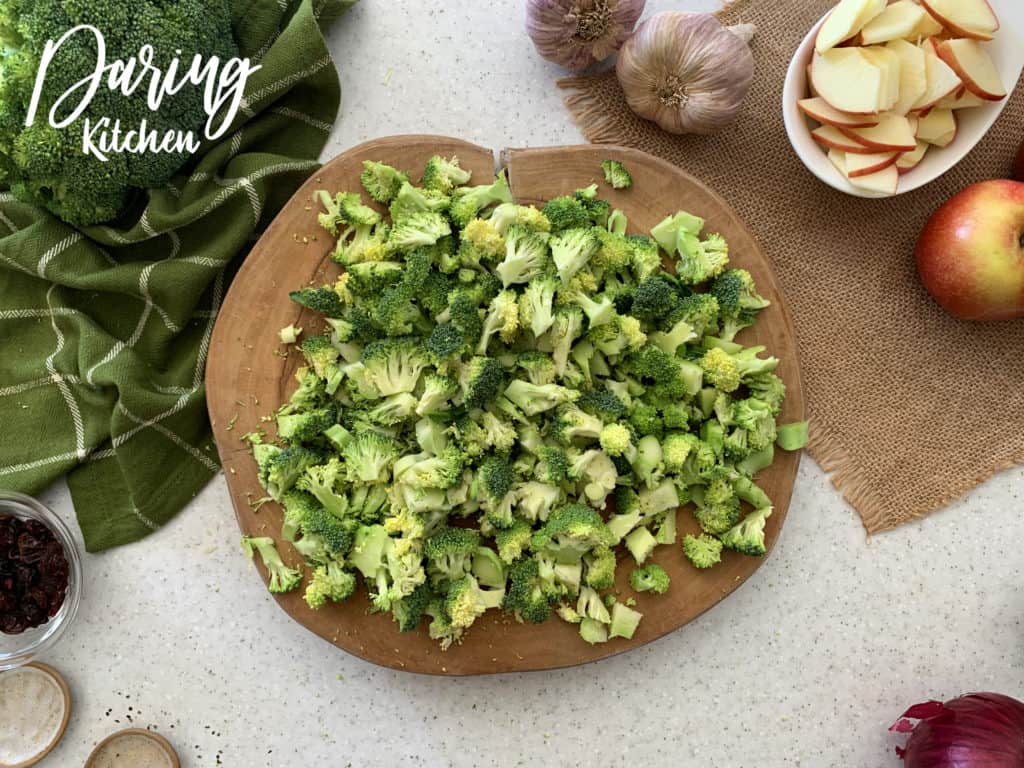 Chop your broccoli in small florets. This makes the fresh broccoli florets easier to eat and digest! If you do suffer from any tummy issues, you can always blanch broccoli to make the florets more digestible.
Pre-make your salad dressing in larger batches. This gives you delicious dressing for more than one salad and other dishes.
Avoid apples that are too sour or too mushy. These will alter the texture and flavor of your delicious salad.
If you do prefer creamy dressing, try adding plain Greek yogurt or sour cream to the dressing. It will make the dish more filling and equally delicious.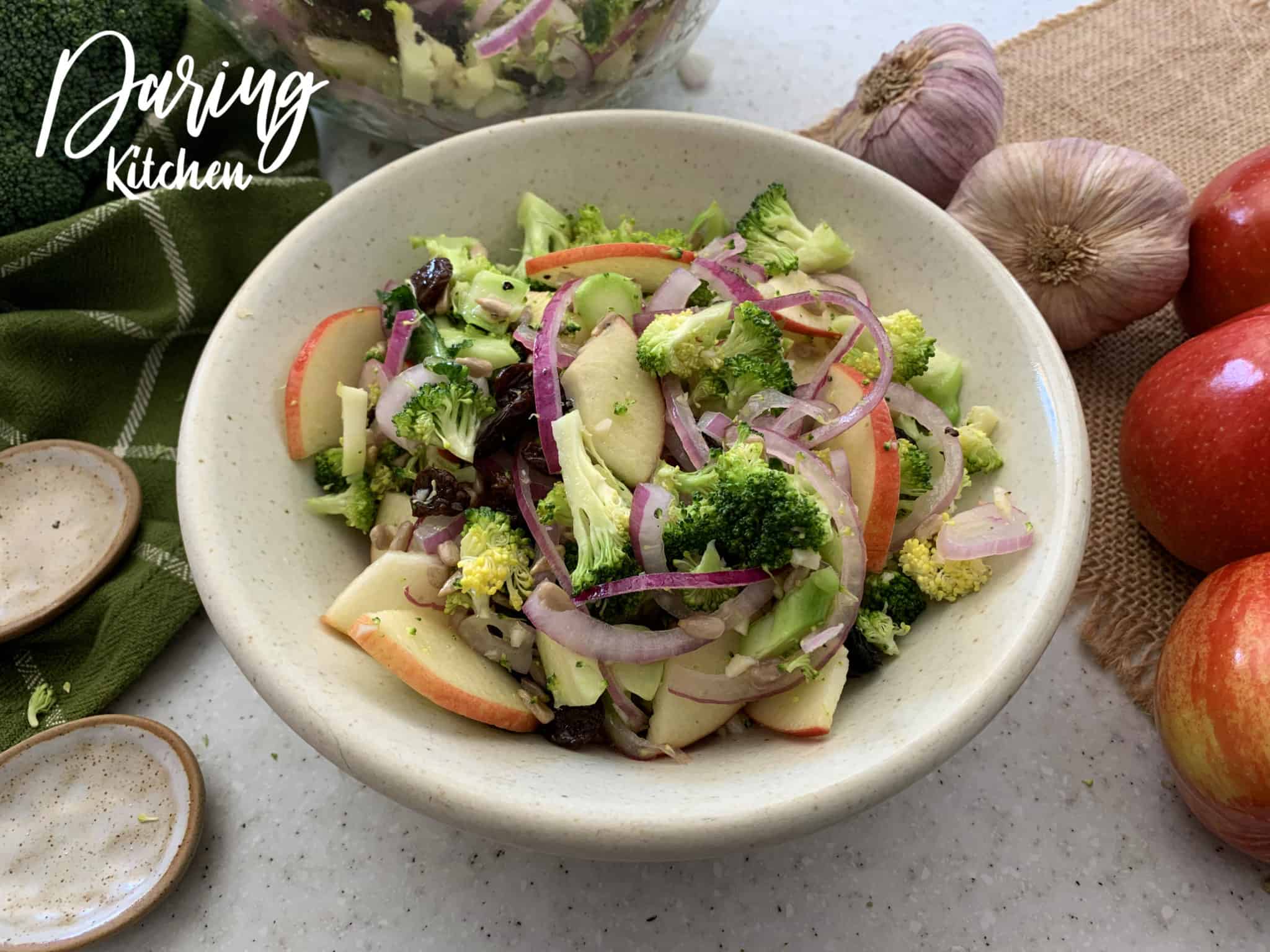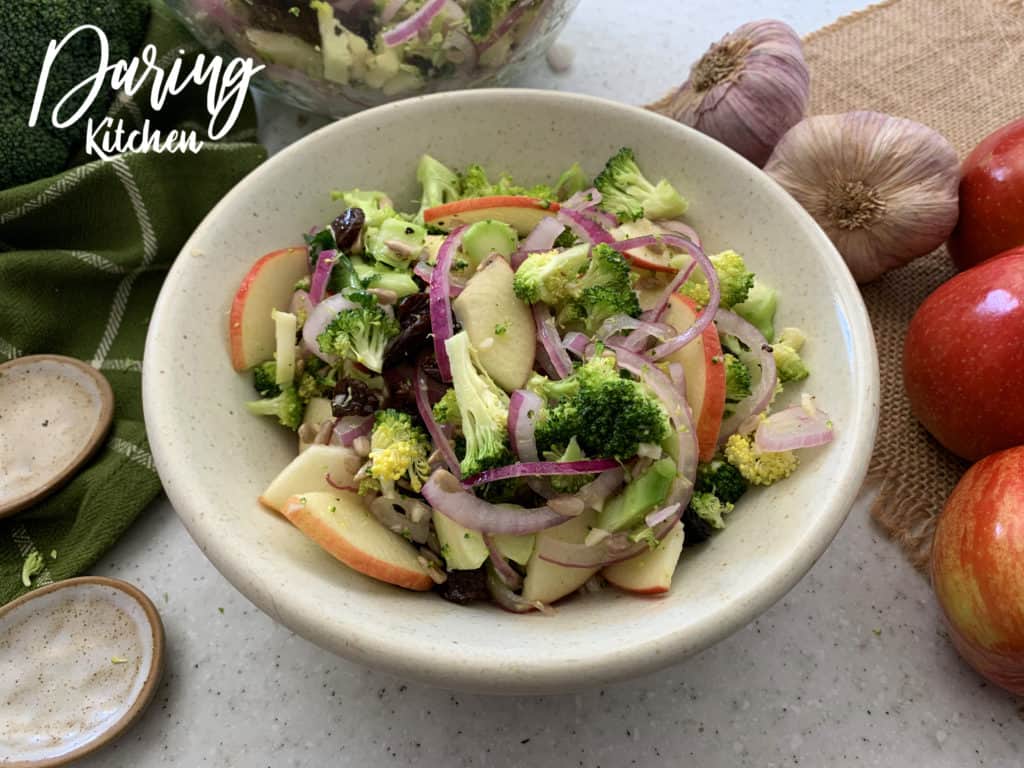 Tips for Serving Broccoli Apple Salad
Adding your favorite protein on top of your broccoli apple salad is never a bad idea. I love topping this salad with fried tofu, carrot bacon, or simple roasted chicken.
Pair this salad with one of your favorite soups for a filling and healthy meal. I often eat this salad with my sweet potato cream soup to channel all the fall flavor into my meal!
Nothing beats swapping fries for a salad. Eating this delicious broccoli apple salad with your favorite sandwich. I adore it with my vegan BLT sandwich for a dynamite plant-based lunch!
No matter what you chose, you'll absolutely love this broccoli salad. It is one of my best fall salad recipes and I am so happy I get to share it with you. Let's make salad cuisine better together, shall we?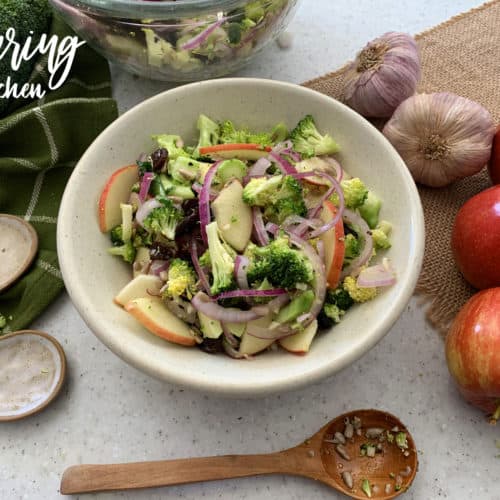 Broccoli Apple Salad
With fresh broccoli florets, apples, and an incredible dressing, everyone will love this Fall-centric salad!
Print
Pin
Rate
Ingredients
2

Garlic Cloves

¼

Cup

Apple Cider Vinegar

½

Cup

Olive Oil

½

Tsp

Salt

¼

Tsp

Pepper

1

Tbsp

Maple Syrup

3

Apples

3

Cups

Broccoli

1

Onion

½

Cup

Raisins

½

Cup

Sunflower Seeds
Instructions
Add the olive oil, chopped garlic, maple syrup, salt, pepper and Cider Vinegar to make a delicious salad dressing.

Chop Apples, Broccoli, Onion and add the sunflower seeds and raising.

Add the dressing and tos.
Nutrition
Calories:
2058
kcal
|
Carbohydrates:
190
g
|
Protein:
27
g
|
Fat:
145
g
|
Saturated Fat:
18
g
|
Polyunsaturated Fat:
27
g
|
Monounsaturated Fat:
91
g
|
Sodium:
1297
mg
|
Potassium:
2758
mg
|
Fiber:
33
g
|
Sugar:
80
g
|
Vitamin A:
2035
IU
|
Vitamin C:
284
mg
|
Calcium:
300
mg
|
Iron:
9
mg