These broccoli fritters are low carb, have a perfectly crispy crust, and are super easy to make. Kids never guess that these delicious broccoli cheese fritters are chock full of veggies. These broccoli fritters will taste great with your favorite dipping sauce.
The Easiest Broccoli Fritters Recipe
There is nothing like a good fritter. It can be sweet or savory. Me? I prefer the savory ones. They are thin, crispy, and full of cheesy flavor.
Instead of making a fritter full of dough - I wanted to make something healthier, but still absolutely delicious. With chopped broccoli florets, I did just that.
I adore broccoli. It is abundant in nutrients, color, and is super low carb. Broccoli also has enough density to replace flour and breadcrumbs.
Do you know what the best part of this easy broccoli fritters recipe is? The parmesan cheese! Parm is one of my favorite things on this planet - it is salty, nutty, and amazingly savory. You can opt for another cheese, like cheddar cheese, manchego, or whatever you like.
But, to me, parmesan cheese adds just the right saltiness and flavor to this recipe. It also helps these cheese fritters become perfectly golden brown. You can even incorporate some greek yogurt or sour cream to add more fluffiness.
These fritters are pan-fried with just a little bit of oil over medium heat. You can also make baked broccoli fritters if you prefer that. This just requires a little more time and a super hot oven to get the right golden brown color.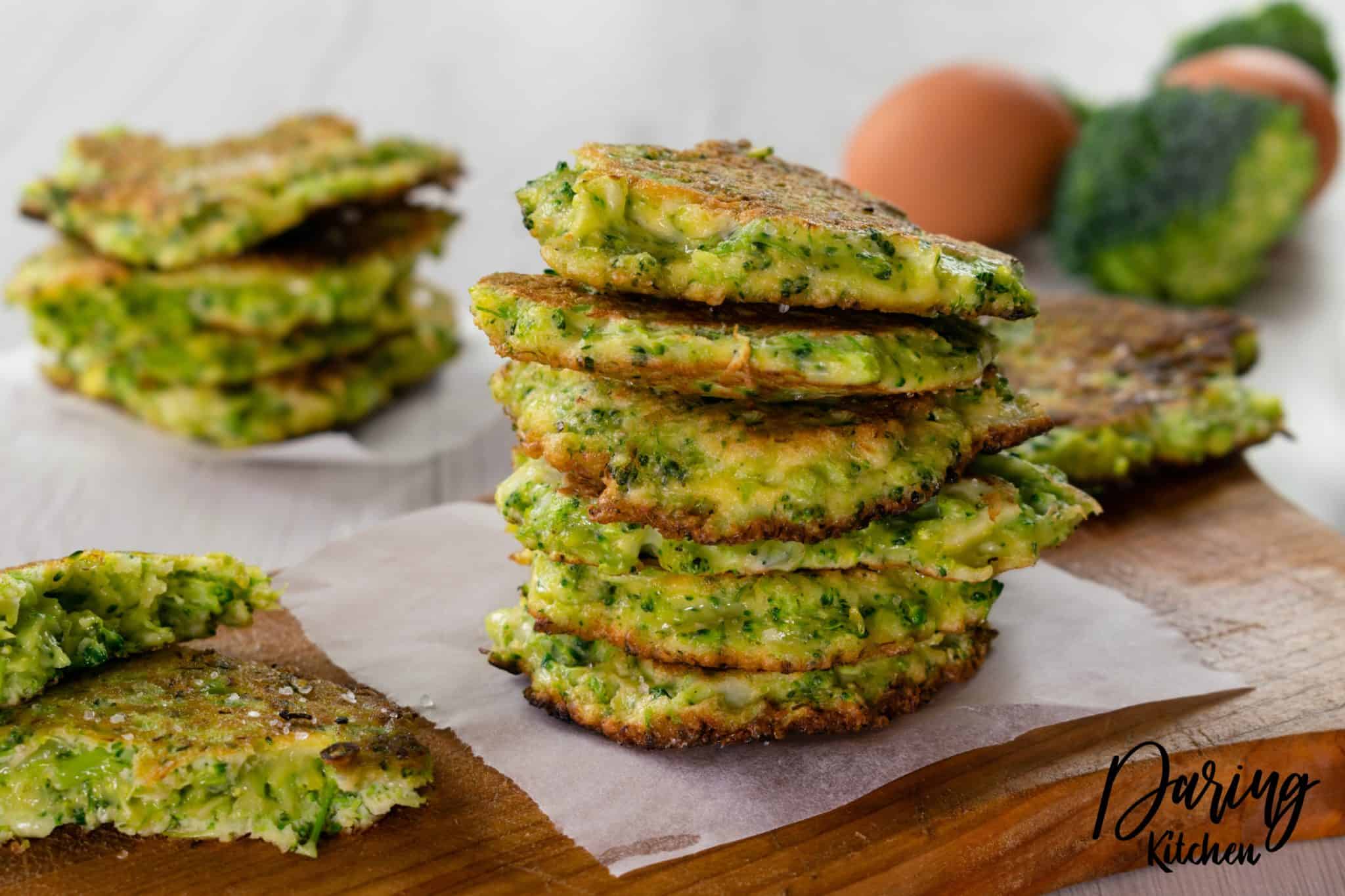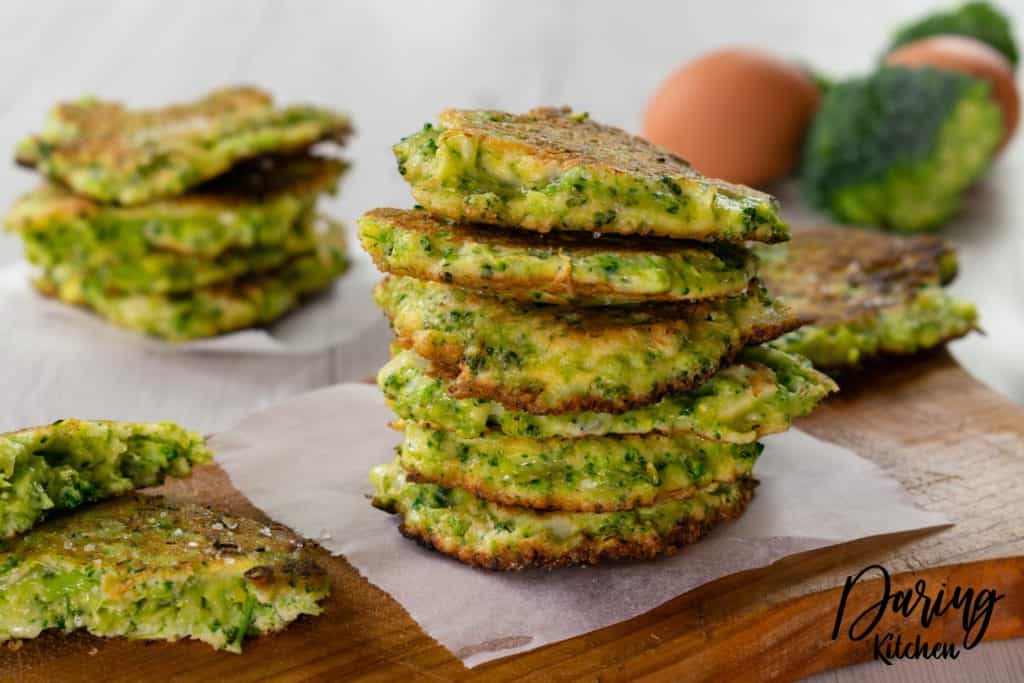 What Makes this Broccoli Fritters Recipe Easy
What is even better about broccoli is how easy it is to cook. All you need is a microwave, chopped broccoli florets, a bowl, and water. Not even a food processor! In just 3 minutes, you have fully cooked broccoli perfect for making fritters! You can also just steam or boil your broccoli, but who really has time for that these days?
Pro tip: If you have leftover broccoli, use it to make these fritters broccoli recipe! It is one of the best leftover hacks I've ever discovered.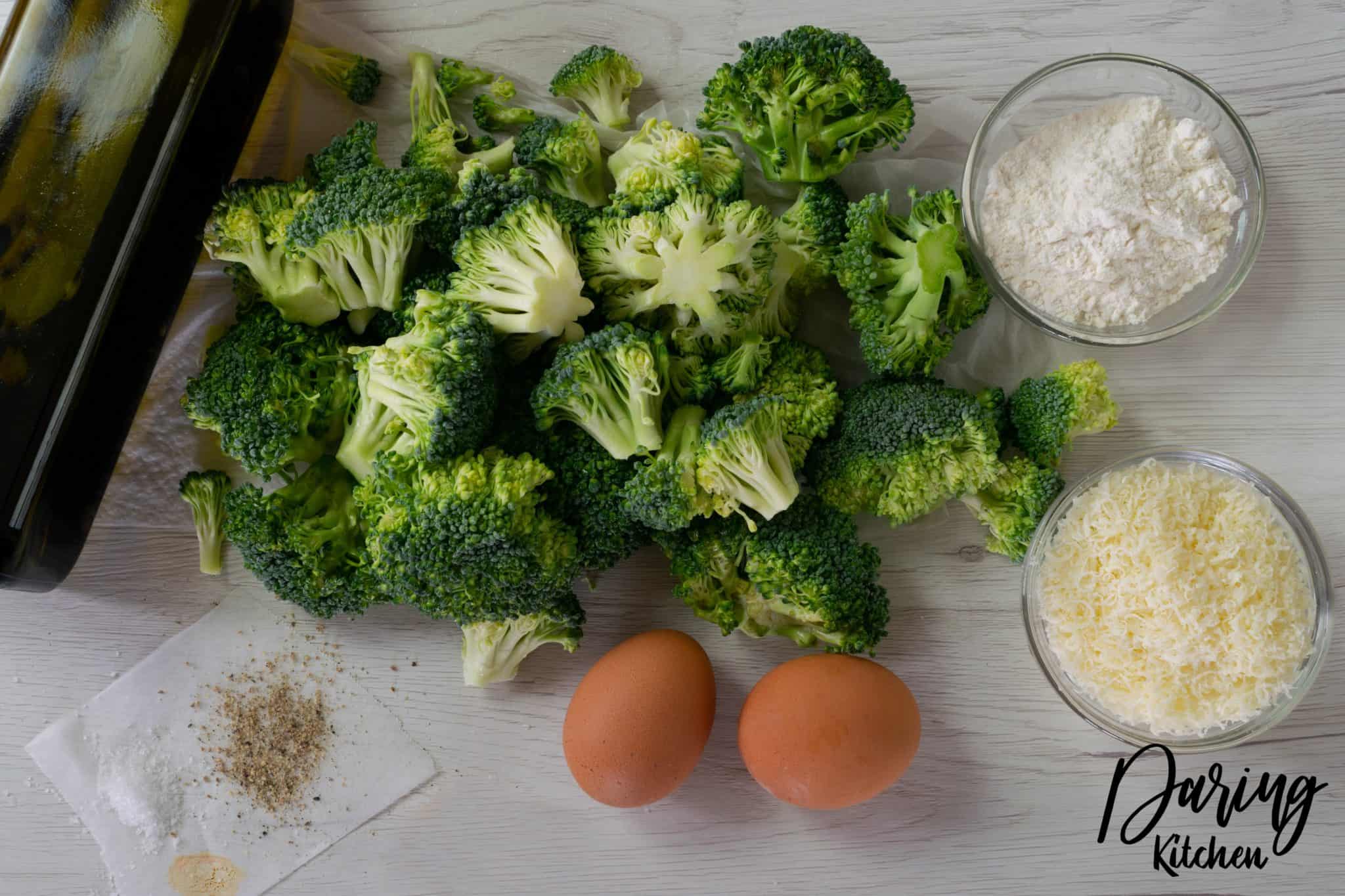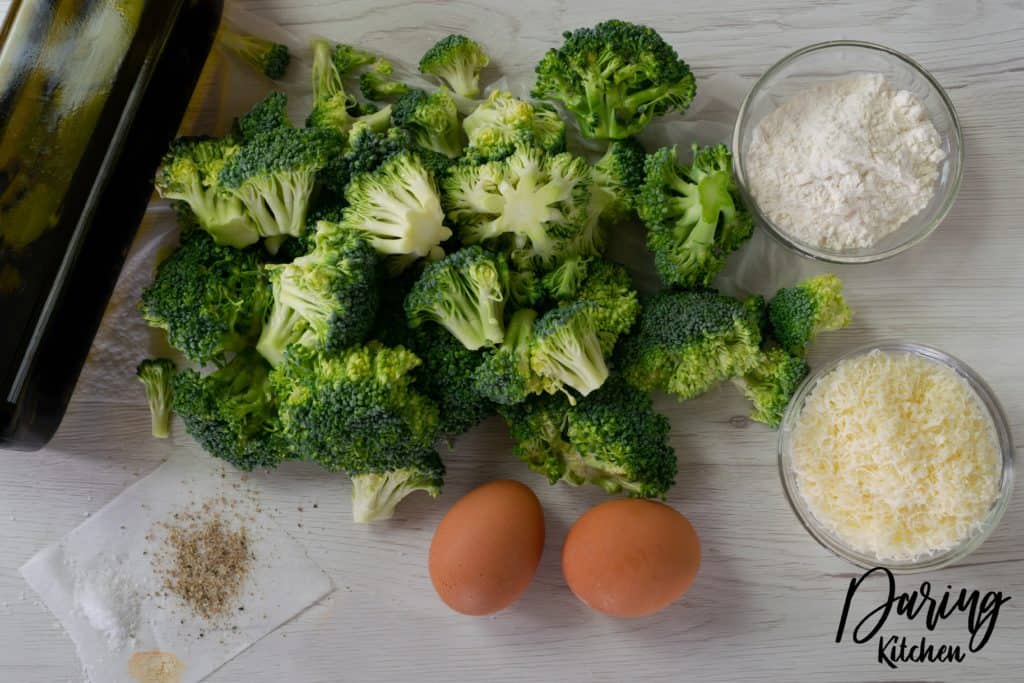 What Do you Need to Make Broccoli Fritters?
This broccoli cheese fritters recipe requires just a few simple ingredients kitchen appliances. Nothing in this recipe will send you on a wild goose chase, going from grocery store to grocery store. No one has time for that!
So, what's in these delicious broccoli cheese fritters? Here's a full list, including substations if you hope to make this recipe gluten free!
Broccoli - For this recipe, you can use fresh or frozen broccoli florets. It doesn't make a difference which you use! Just make sure you pay attention to the cooking time and do not under or overcook your broccoli florets.
Eggs - This is what keeps everything together. I love using eggs, as they are packed with healthy proteins and fat, making these fritters a great pre or post-workout treat!
All-purpose flour - You will need just a bit of flour to bind and give a little structure to the fritters. It also helps them become more golden brown. If you want to make this recipe gluten free, almond flour or coconut flour works as well. I love the nuttiness almond flour lends to the dish.
Parmesan cheese - This adds awesome flavor and cheesiness to the fritters. I prefer shredded parmesan cheese because it melts more evenly in the dish. You can also opt for cheddar cheese or another cheese that melts evenly.
Garlic powder - This enhances the flavor of the fritters. You can also use a spice blend you love as well. I always encourage creativity!
Salt and pepper - Just a little goes a long way in these fritters. I love adding black pepper to give more bite to the steamed broccoli.
Vegetable oil - This is necessary, even if you choose to make baked broccoli fritters. It helps these fritters develop pretty golden brown edges. I like to use olive oil or avocado oil, as they are much healthier than most vegetable oils.
What I also love about this recipe is that you DO NOT need a food processor! All you need is a microwave-safe bowl, a spoon, and a non-stick pan - that's it! You can scratch the non stick pan if you are opting to bake these broccoli fritters. For that, you'll simply need a baking sheet.
Serving your Broccoli Fritters
I always get questions on the best way to serve these broccoli cheese fritters. Frankly, there are so many ways to eat them. The easiest is with your favorite dipping sauce. But, if you want to get a little fancier, I listed a few of my favorite low carb toppings!
Tex Mex-style broccoli fritters- These fritters taste awesome garnished with sour cream, cheddar cheese, and guacamole! You.
Breakfast broccoli fritters - ADd a fried egg and any good melting cheese on top of two fritters.
Mediterranean-style broccoli fritters - Squeeze a bit of lemon juice on each of your fritters and top them with a little hummus and greek yogurt!
3 cheese broccoli fritters - Melt cheddar cheese, parmesan cheese, and romano cheese on top of your fritter with a little black pepper.
How to Make Broccoli Fritters
The method for these broccoli fritters is simple and only takes around a half hour. Just make sure you have all the ingredients you need out and ready to go!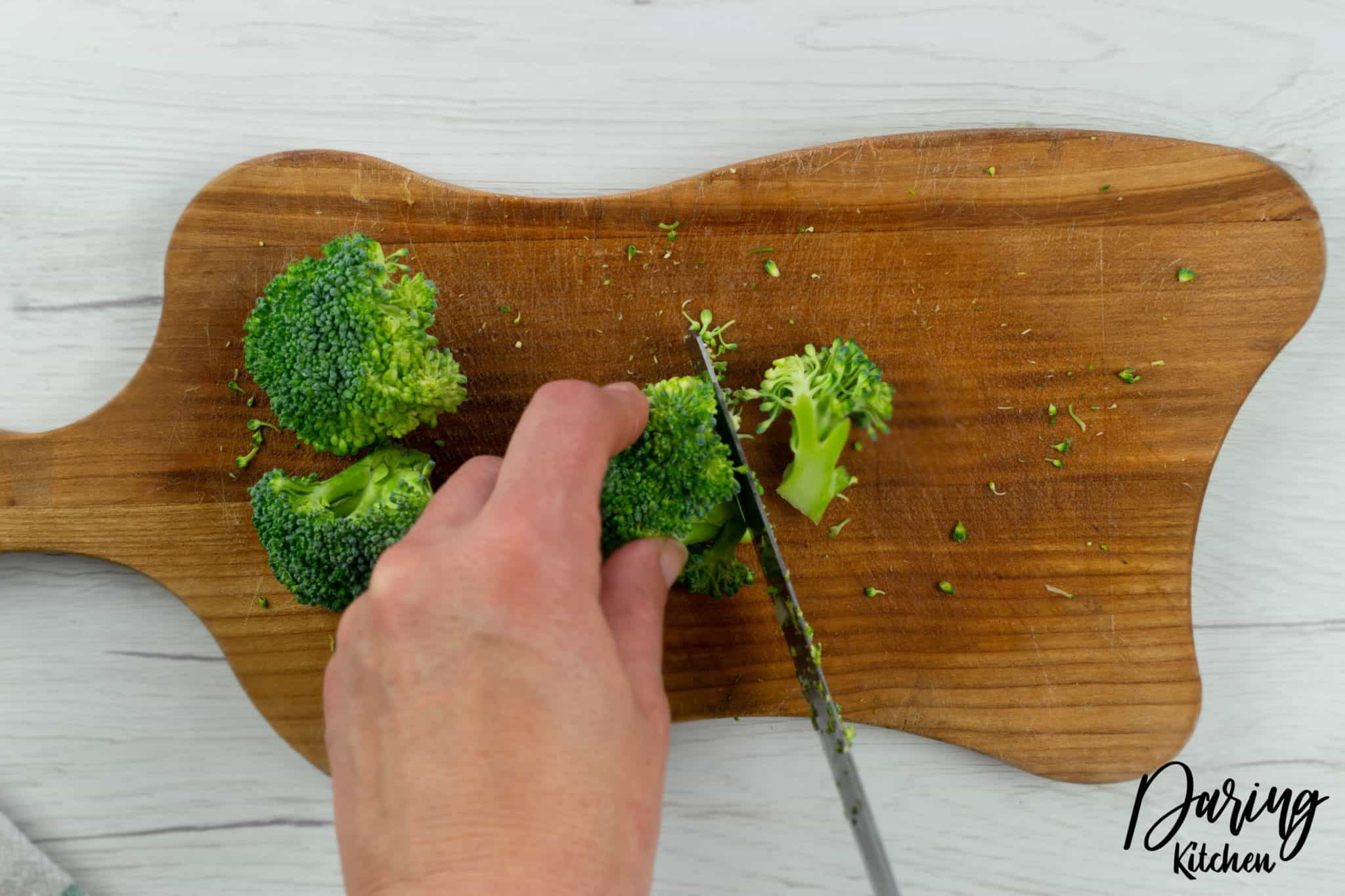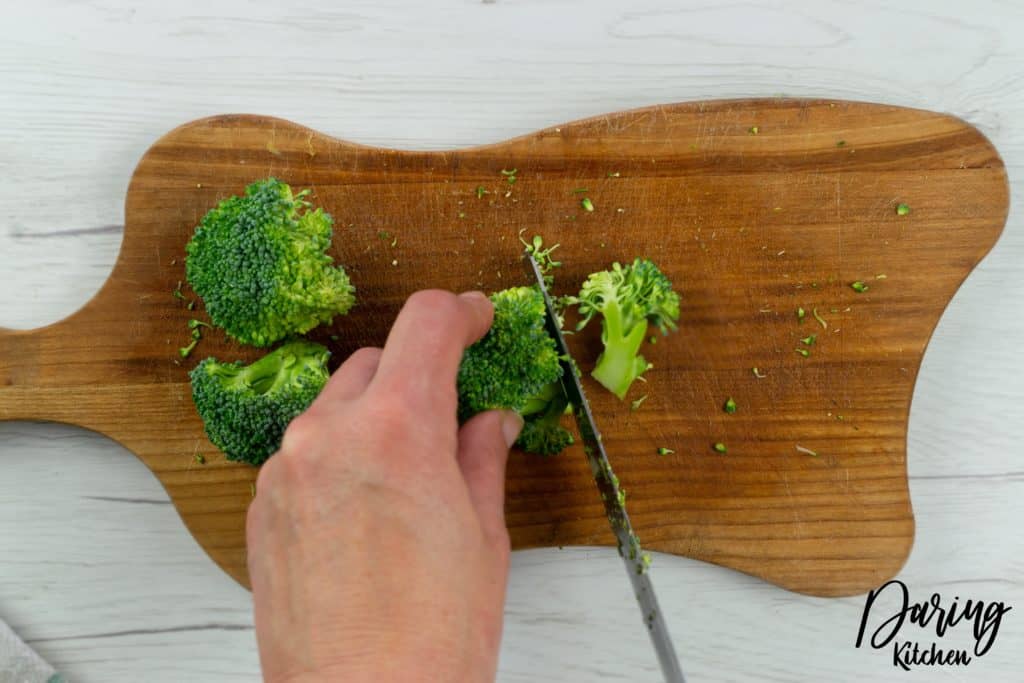 First, chop your broccoli florets into small pieces. Then, pour all your broccoli into a large bowl with 3 tablespoons of water. Cover the bowl with a wet paper towel or microwave-safe cover. Then, cook on high for 3 minutes. While you wait, you can grate your parm if you haven't already.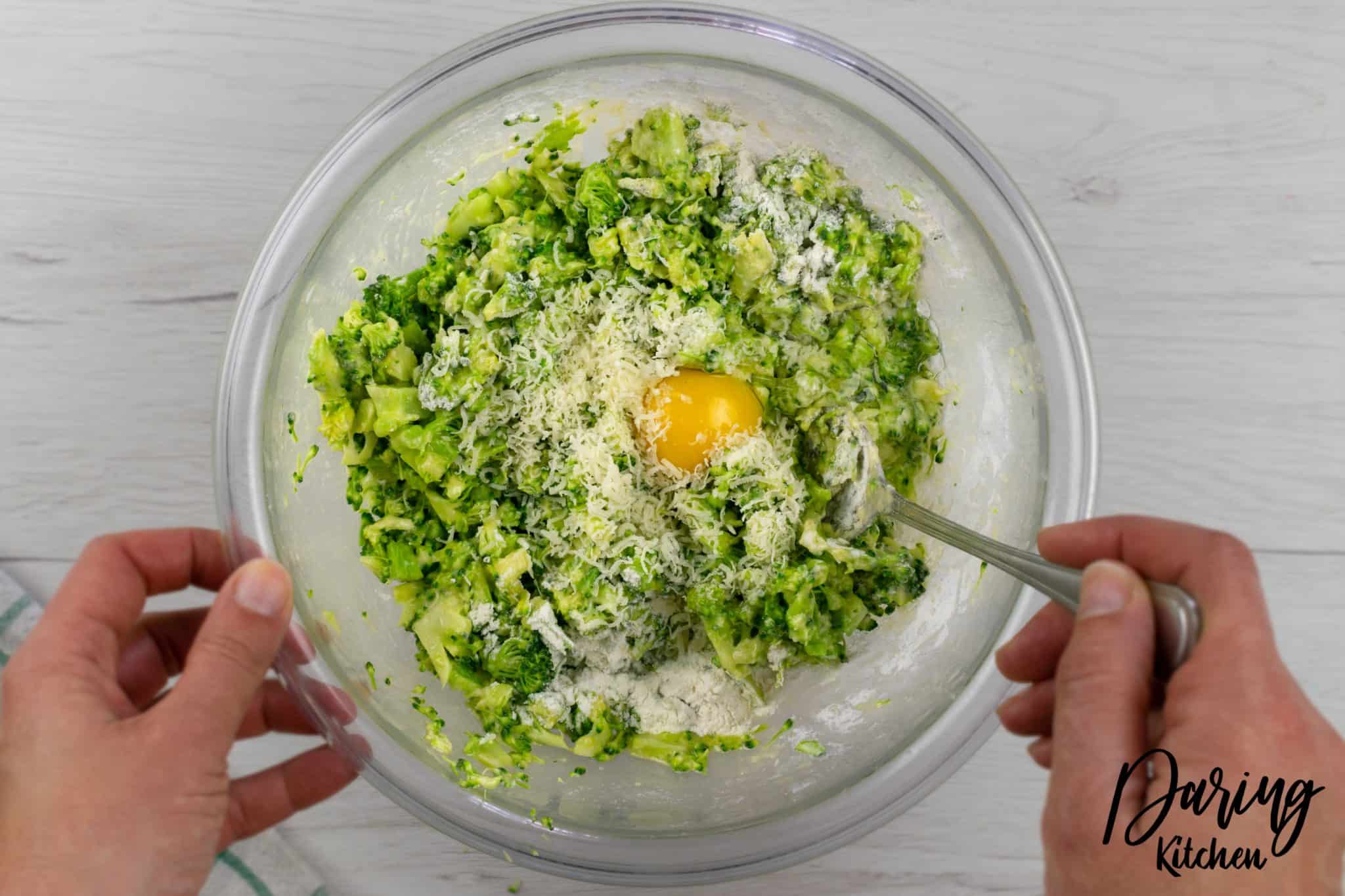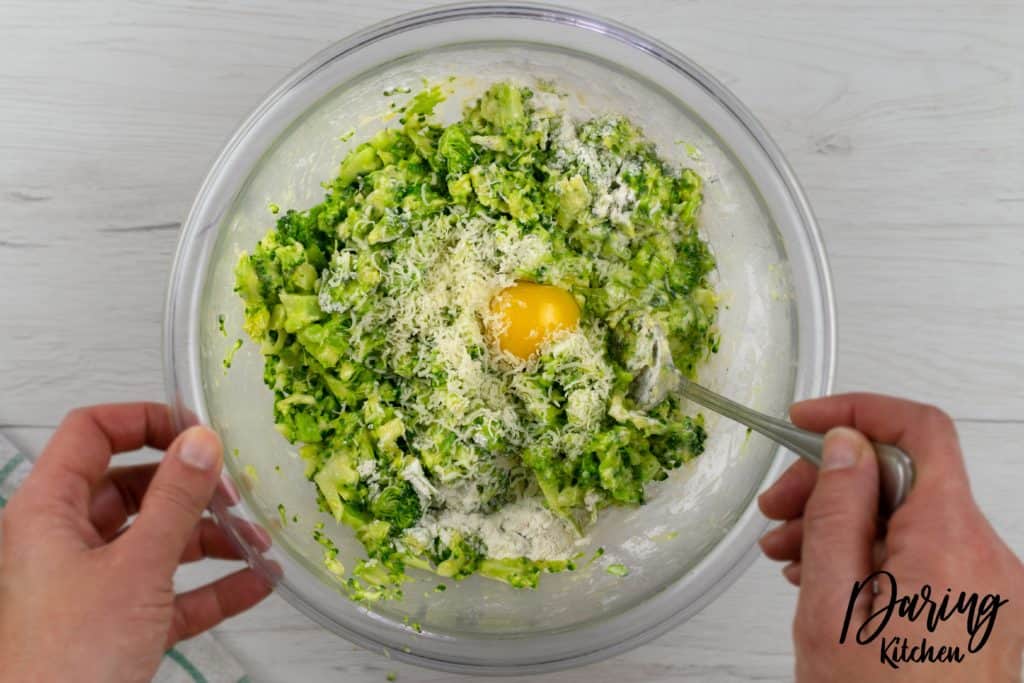 When your broccoli is fully cooked, add all of your chopped broccoli florets into a bigger bowl.
In a separate bowl, whisk your eggs until even. Then, pour your eggs, all purpose flour (or almond flour,) parmesan cheese, and eggs into the broccoli. Mix everything together thoroughly. You will want to mash the broccoli so that it becomes nice and creamy. Then add your garlic powder, salt, and pepper.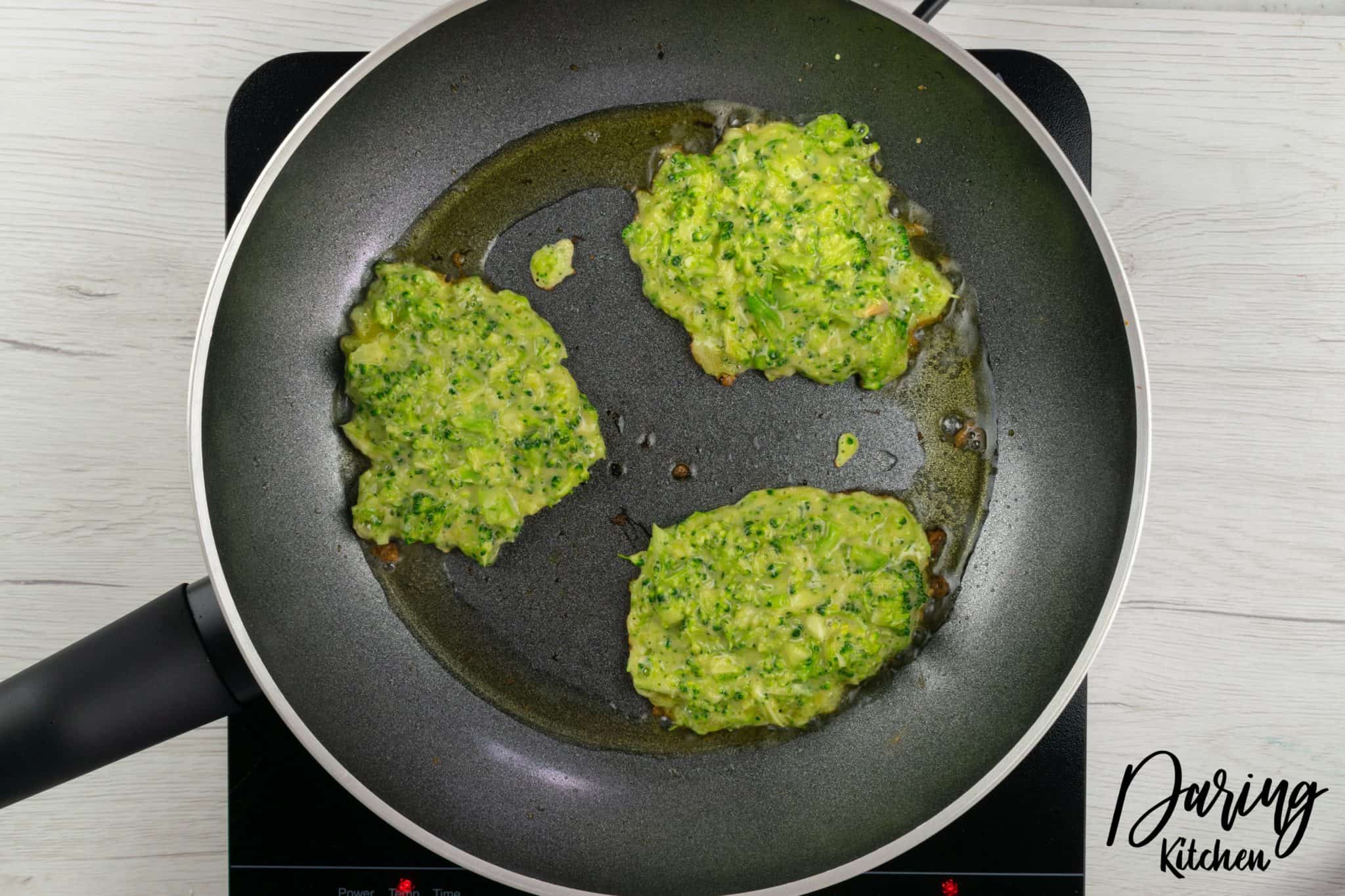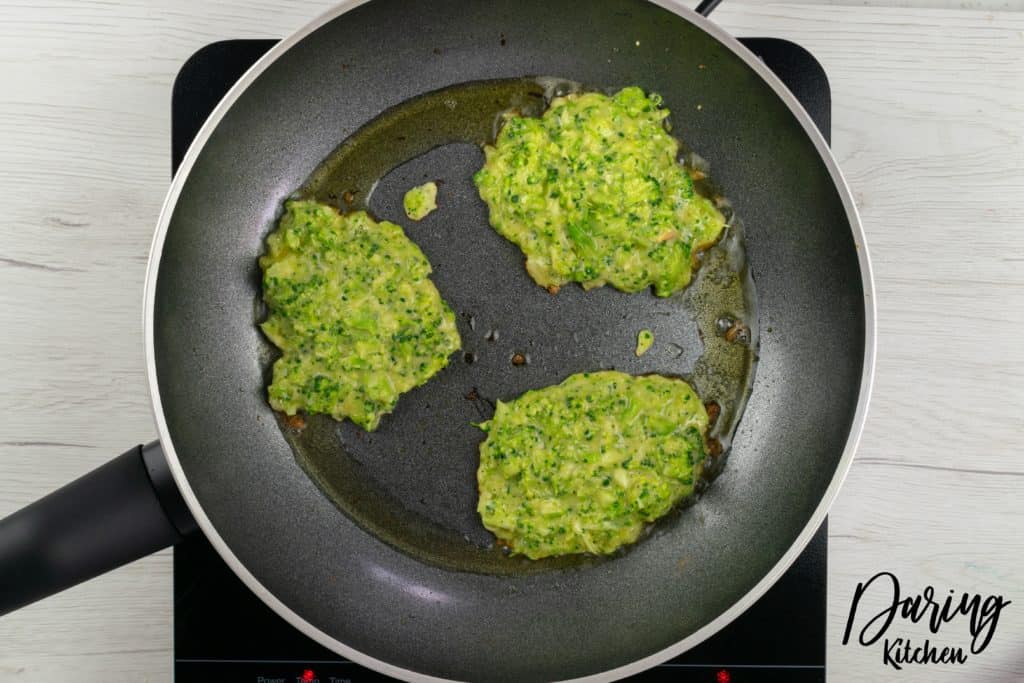 Heat a non stick pan over medium heat. Add 3 to 4 tablespoons of olive oil (or avocado oil.) When the oil is hot (but not burning!) Scoop 2 tablespoons of the broccoli mixture into the pan. Flatten them in the pan so that they form a fritter.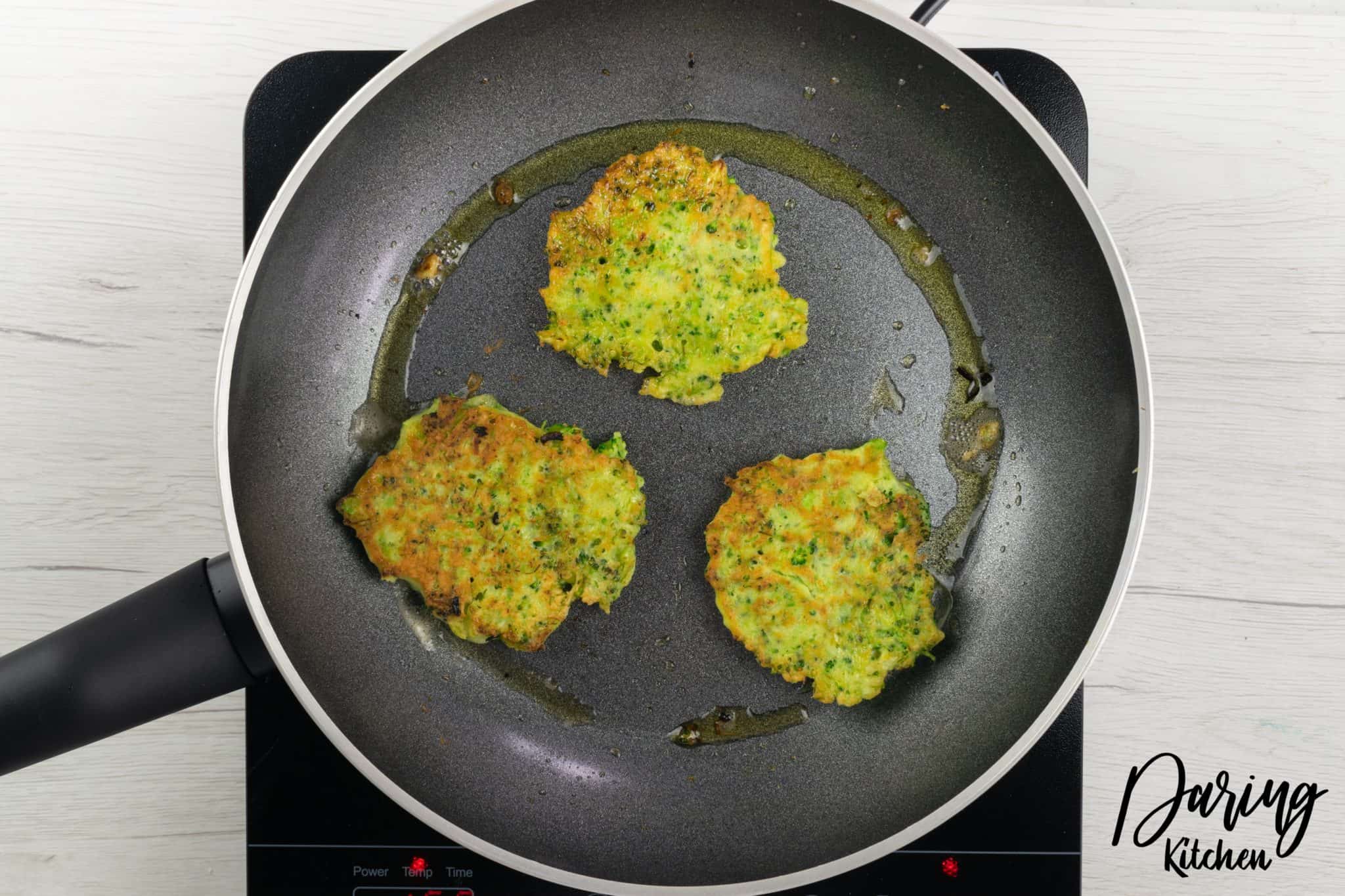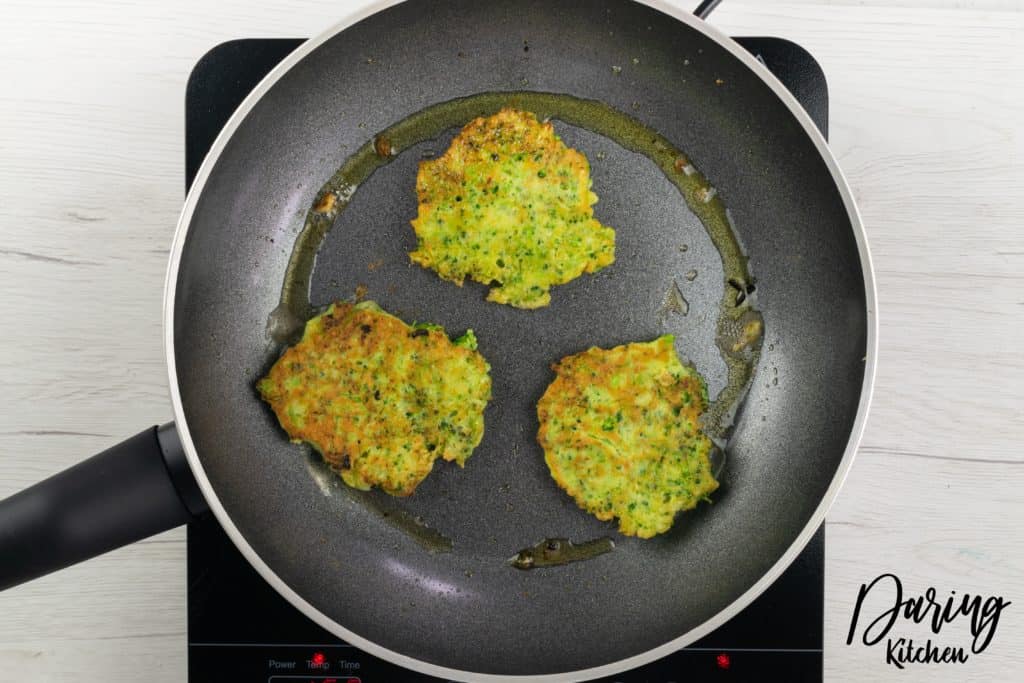 Cook each fritter for 2 minutes on each side, or until they are golden brown on the edges. Make sure you use all the remaining batter. You will need to cook a few batches of the fritters, so I suggest have a paper towel-lined plate nearby to hold your fritters.
These broccoli cheese fritters are best enjoyed hot. Garnish them with all the things you love - cheddar cheese, greek yogurt, sour cream...Or simply pair them with your favorite dip!
Enjoy!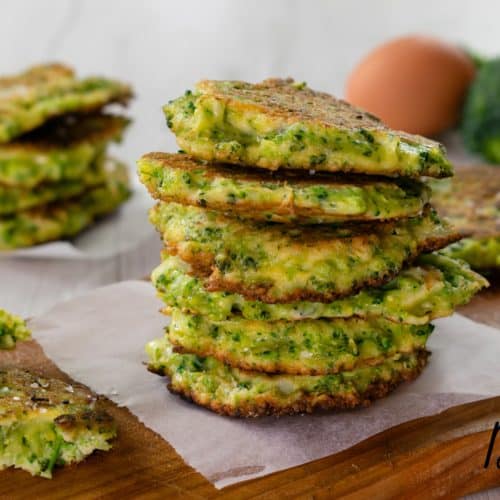 Broccoli fritters
These crispy delicious broccoli fritters taste amazing, especially with your favorite dipping sauce!
Print
Pin
Rate
Equipment
a large microwave-safe bowl

a large bowl

spoons and knives

non-stick pan
Ingredients
2

cups

broccoli florets,

washed

3

tbsp

water

⅓

cup

all-purpose flour

½

cup

shredded Parmesan cheese

2

large eggs

1

tsp

garlic powder

½

tsp

salt

½

tsp

black pepper

Vegetable oil,

for frying
Instructions
Add the broccoli in a large microwave-safe bowl with 3 tablespoons of water. Cover and microwave on high for 3 minutes. Alternatively, you can cook them for 5 minutes in boiling water and then drain them well.

Cut the broccoli into small pieces, and then place them in a large bowl.

Add the flour, Parmesan cheese, and eggs, and mix well with a spoon, trying to mash the broccoli until the mixture is as creamy as possible.

Add the garlic, salt, and pepper, and mix well.

Heat 3-4 tablespoons of oil in a non-stick pan.

Scoop 2 tablespoons of the mixture to the pan, flatten it to form 1 cm thick fritter, and cook for 2minutes on each side.

Repeat these steps with the rest of the mixture.

Serve hot, and sprinkle more salt to taste.
Nutrition
Calories:
141
kcal
|
Carbohydrates:
13
g
|
Protein:
9
g
|
Fat:
6
g
|
Saturated Fat:
3
g
|
Polyunsaturated Fat:
1
g
|
Monounsaturated Fat:
2
g
|
Trans Fat:
0.01
g
|
Cholesterol:
93
mg
|
Sodium:
557
mg
|
Potassium:
221
mg
|
Fiber:
2
g
|
Sugar:
1
g
|
Vitamin A:
512
IU
|
Vitamin C:
41
mg
|
Calcium:
148
mg
|
Iron:
1
mg