This broccoli salad will turn broccoli haters into broccoli lovers - I swear! With fluffy delicious quinoa, sweet potato, and yummy feta cheese, this broccoli quinoa salad will have anyone hooked. It is one of the healthiest lunches!
The Best Roasted Broccoli Quinoa Salad
There isn't any green vegetable I love more in the Fall than broccoli. Its hardy nature makes it such an amazing and filling vegetable for so many dishes. It is also excellent for meal prep, raw or cooked. I can eat oven-roasted broccoli or even raw broccoli florets anytime. I seriously can't get enough!
You may be thinking - isn't broccoli available any time of year? Well, of course, thanks to our grocery stores! But, broccoli, like every vegetable, is seasonal. Its peak season begins in the fall and lasts through the colder months. So, when autumn rolls around, I am always stocking up on broccoli!
What makes this salad so delightful isn't just the broccoli alone - it's how easy it is to make. All you need is one baking sheet for your roasted veggies and a pot to cook your quinoa - that's it. All the roasted veggies are then tossed with protein-dense quinoa, roasted veggies, and zesty feta cheese. With a sweet-salty dressing, every bite is better than the next!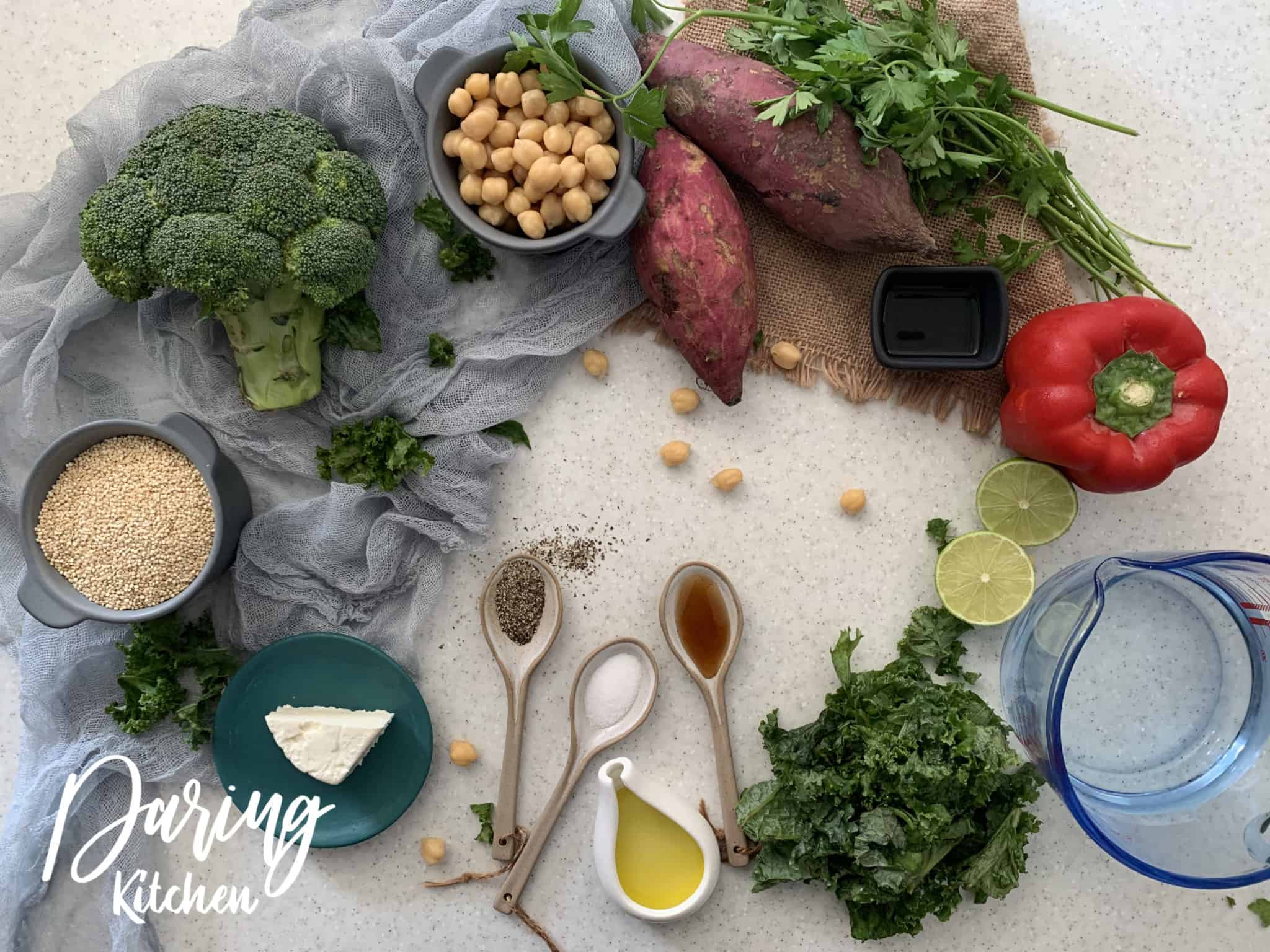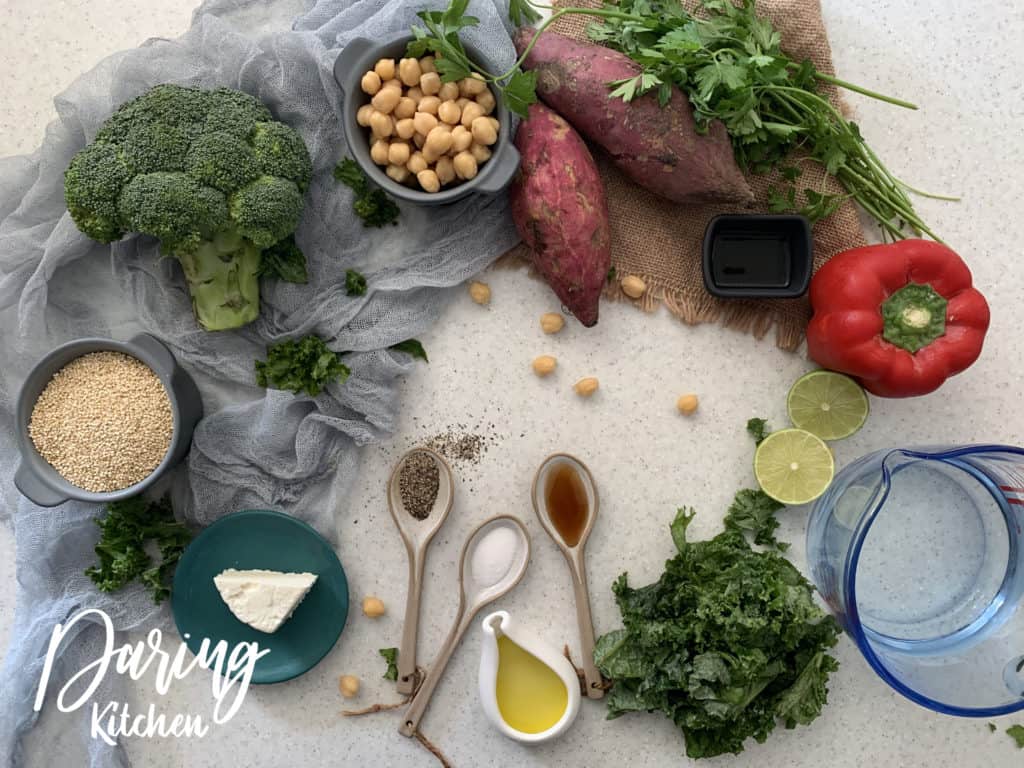 What's in Roasted Broccoli Quinoa Salad?
Ok, so you know broccoli is in this recipe. But, what else makes this salad so freakin' delicious?!
Let's find out!
Sweet potato - I adore sweet potato, especially when it's Fall. Sweet potatoes are so plentiful in healthy vitamins and help you stay full for longer. Plus, sweet potatoes are super easy to prep ahead of time and use for several meals to come.
Broccoli - In this recipe, I use fresh broccoli. It's always best to use fresh as it has the most nutrients and doesn't get soggy as frozen broccoli does.
Kale - This hardy vegetable not only adds a vitamin boost to your salad but also gets nice and crispy when roasted in the oven!
Chickpeas - These beans are so delicious. They give more fiber and protein to this salad, helping you to stay full longer. In the oven, roasted chickpeas become perfectly crispy, adding more texture to this salad.
Quinoa - This is one of my favorite grains to add to salads. It has way more protein. Plus, it's gluten free!
Feta Cheese - This classic Greek cheese adds a nice saltiness to this dish that I can't resist. You can also use goat cheese if you like if you prefer something a little more tangy.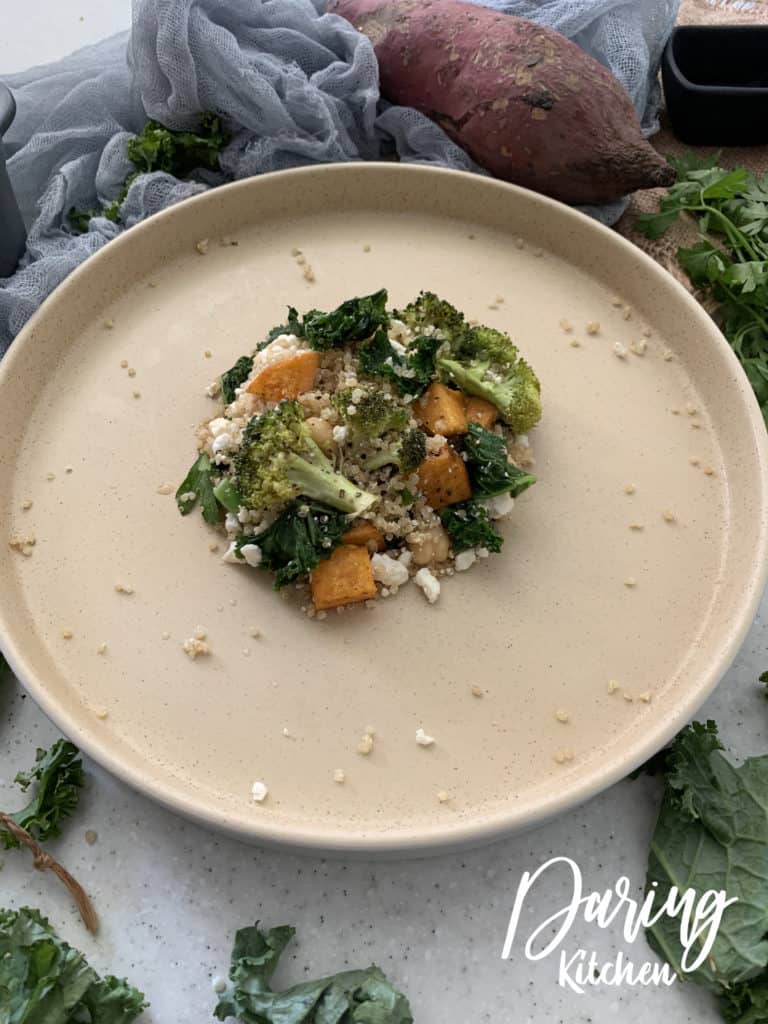 And, for the dressing ingredients...
Olive oil - This is one of the healthiest bases for any salad dressing. I prefer to use extra virgin olive oil as it is the best kind of olive oil. You can also use avocado oil if you like.
Apple cider vinegar - This is my go-to vinegar for its awesome health benefits. It also adds a nice bite to this salad.
Maple syrup - I firmly believe salad dressing should have something a little sweet. Maple syrup is such a great option as it's a refined sugar free sweetener.
Lemon juice - This is one of my favorite things to add to any salad. Lemon juice kinda awakens this salad with its zest and bright flavor.
Salt and pepper
Like in most of my recipes, I always encourage adding your own flair if you like. Love a little heat? Red pepper flakes taste great in this dish. Trying to change more Fall vibes? Toss in some toasted pumpkin seeds too. There are so many ways to enjoy this salad!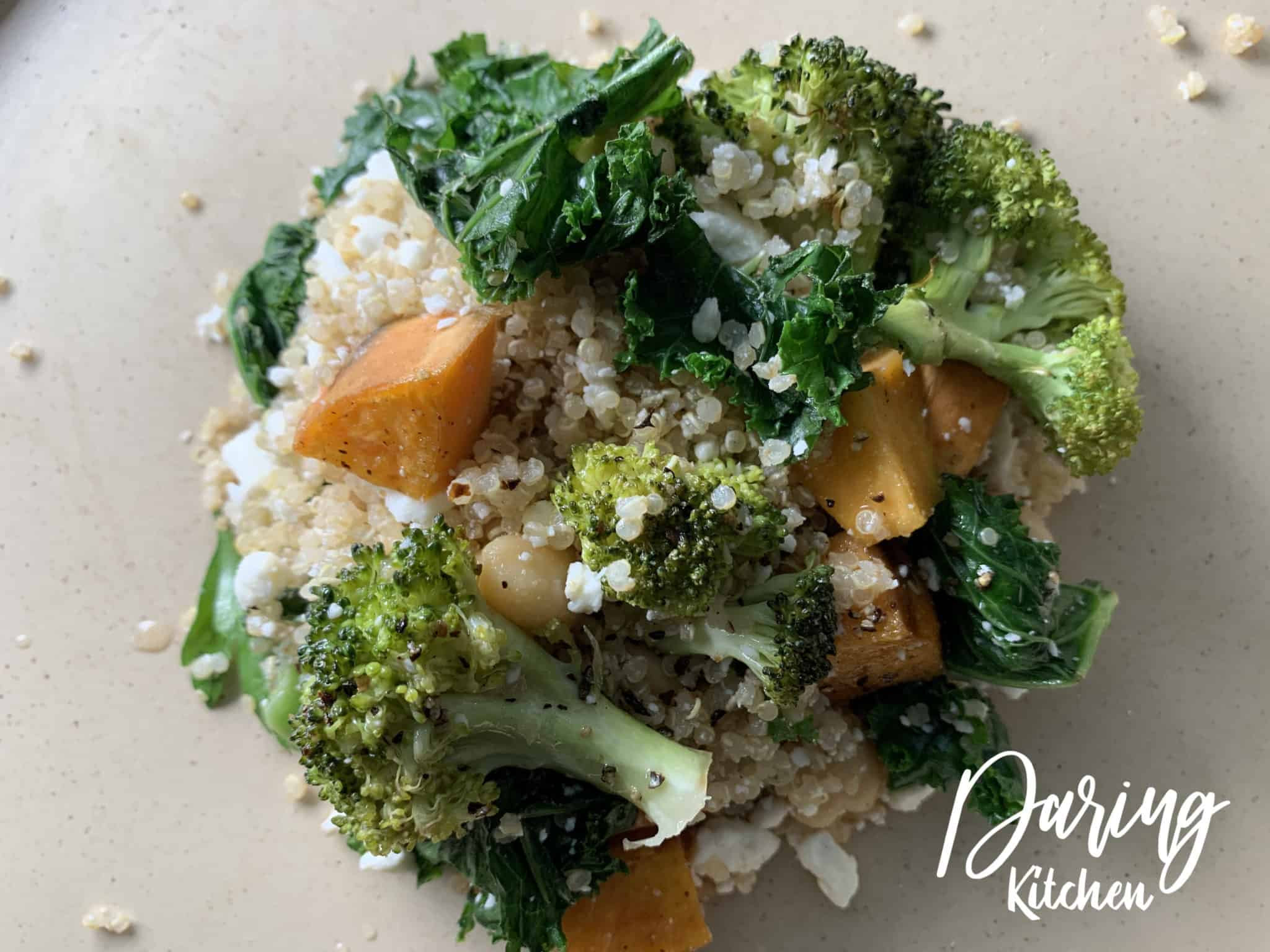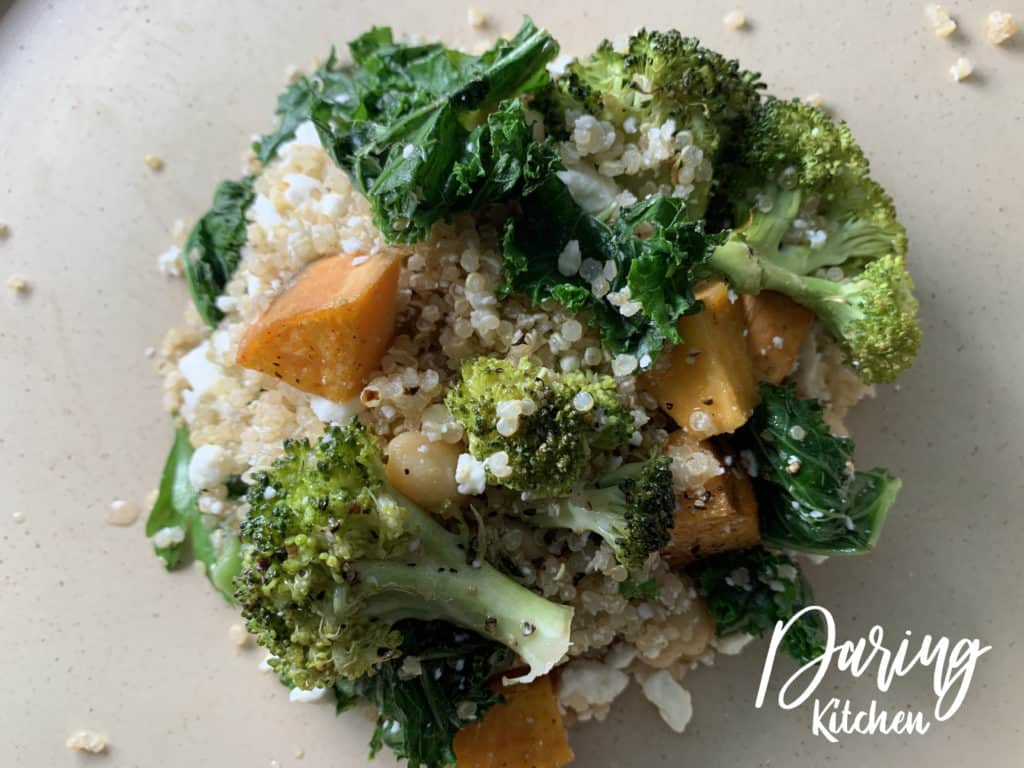 Tips for Making this Salad Ahead of Time
One of the reasons I love this salad is because it is great for meal prep. Every single component of this salad can be prepared a least a couple of days ahead if you please. So, I figured I share a couple of my meal prep hacks!
Make your dressing ahead of time, in larger batches! This way you can have this yummy dressing ready to go for this salad or any salad during the week.
Roast sweet potatoes ahead of time. Although everything cooks together in this recipe, I often like to have my sweet potatoes pre-roasted. It helps speed up their cooking time.
Rinse your quinoa, always. This will keep your quinoa from being all soapy and tasting bitter!
Squeeze lemon on all your prepped vegetables. Chopping all your veggies ahead of time is great, but to help them stay crisp and colorful, it's best to add some lemon juice to them.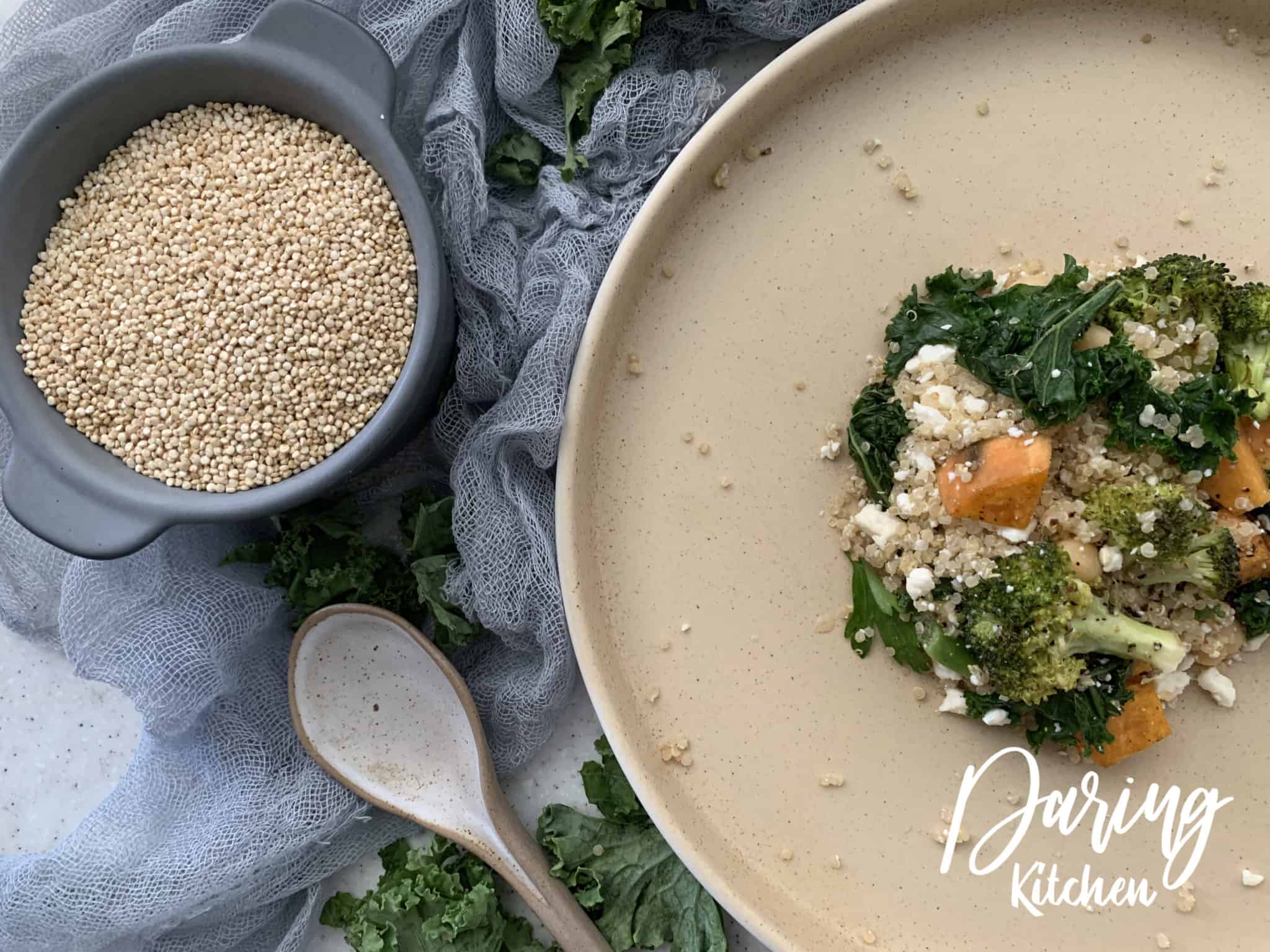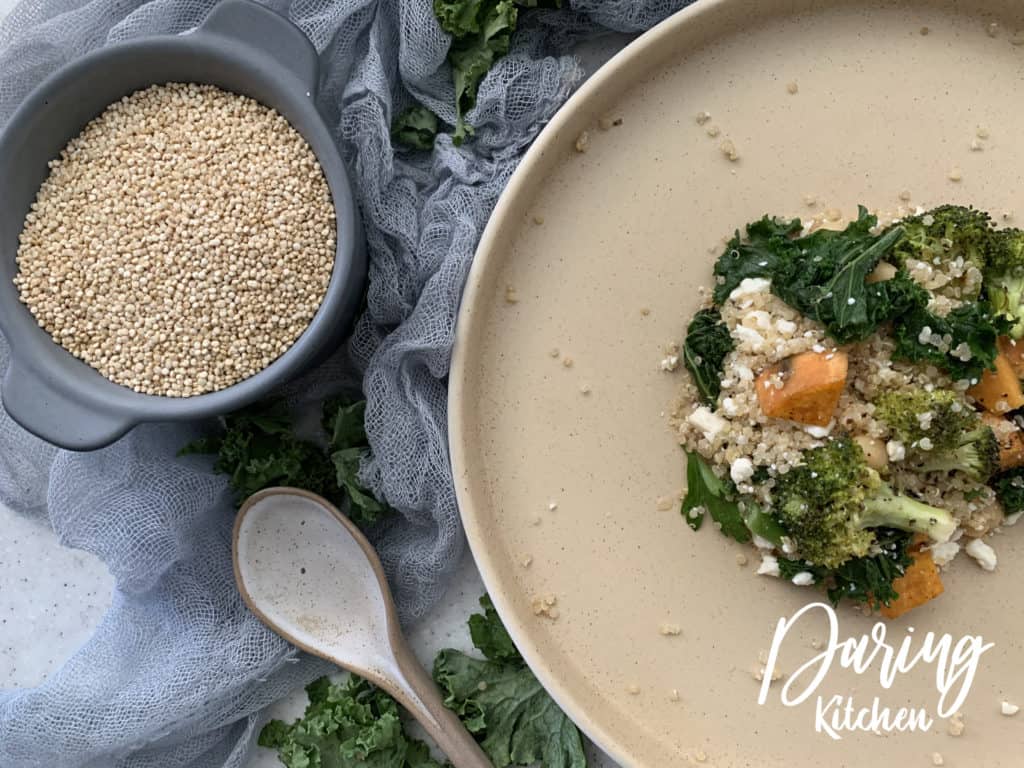 Other Quinoa Based Recipes You'll Love
Curious about more quinoa salad recipes? I have plenty of vegetarian quinoa recipes you'll love, like...
How to Make Roasted Broccoli Quinoa Salad
Let's dive into how to make this delicious roasted broccoli quinoa salad! This method is how to make your quinoa salad on the spot. You can break down these steps if you are prepping this salad ahead of time.
The first step is to make your quinoa. To cook your quinoa, simply follow the package instructions. While your quinoa cooks, preheat your oven to 425 degrees celsius.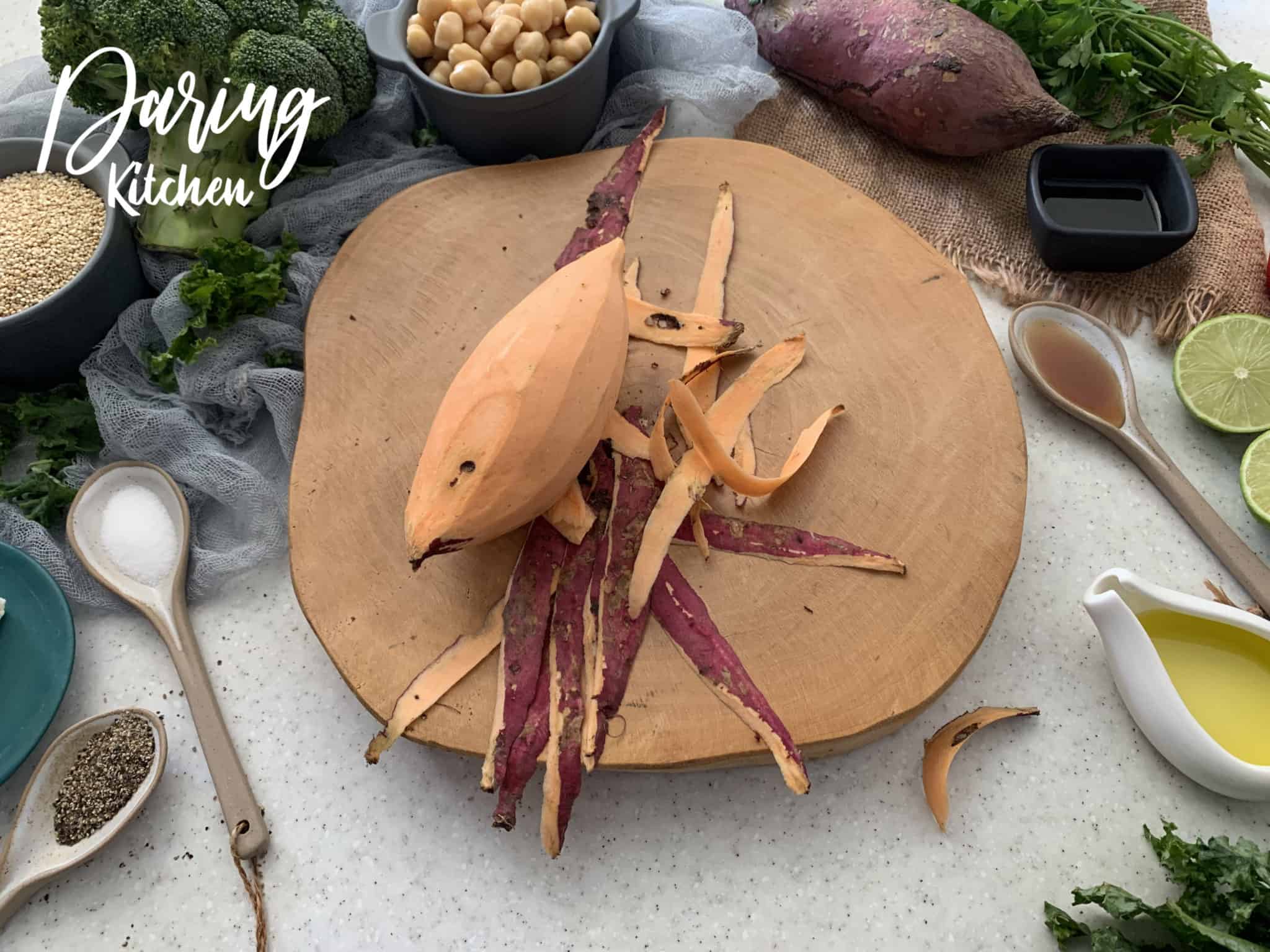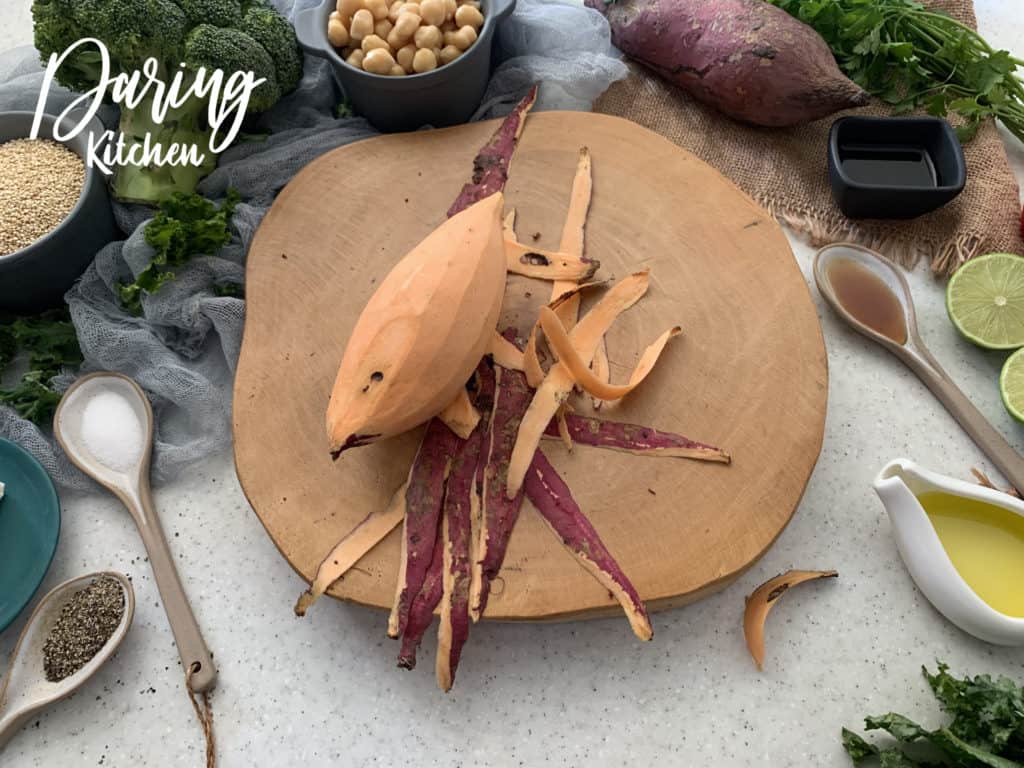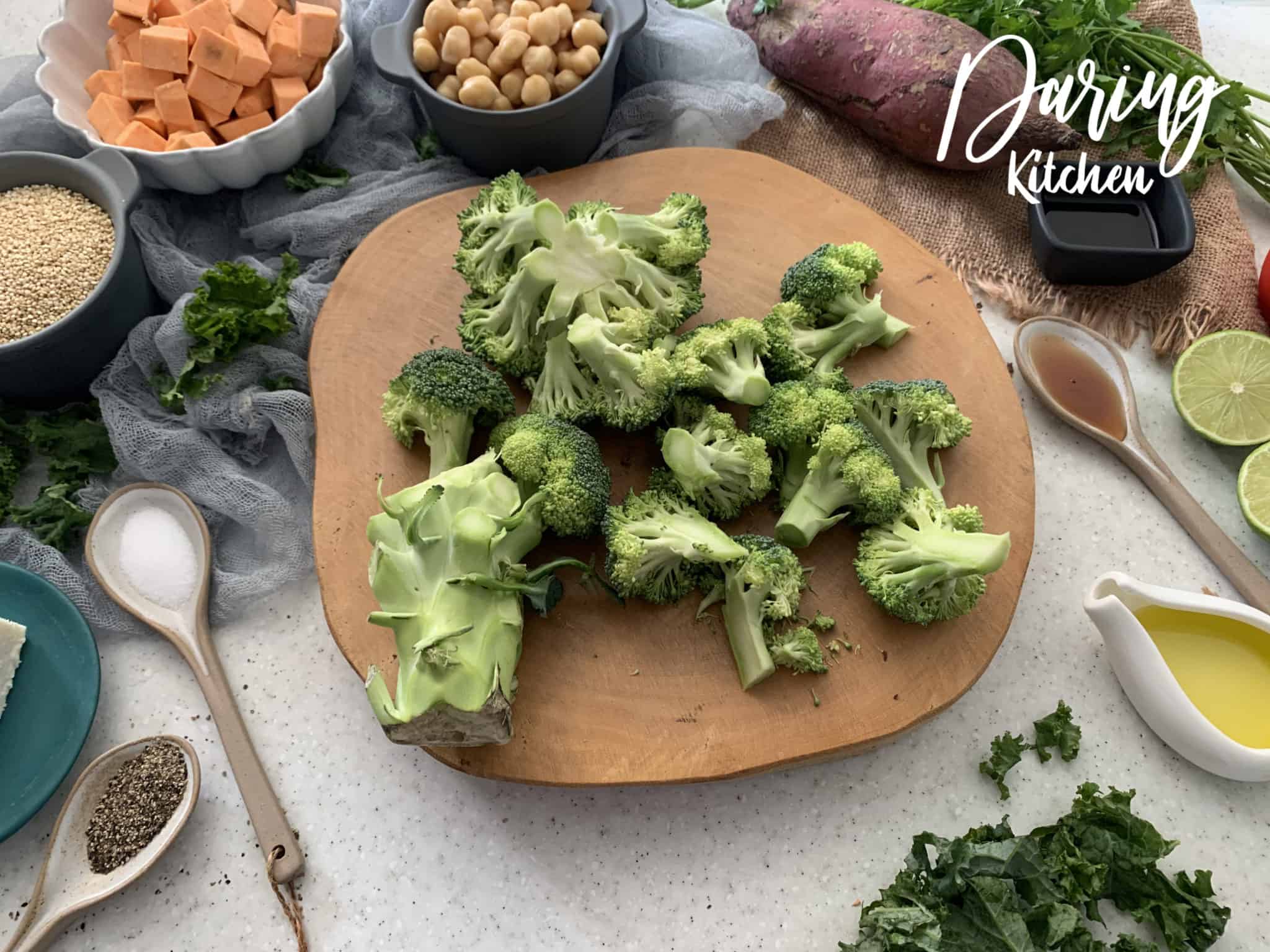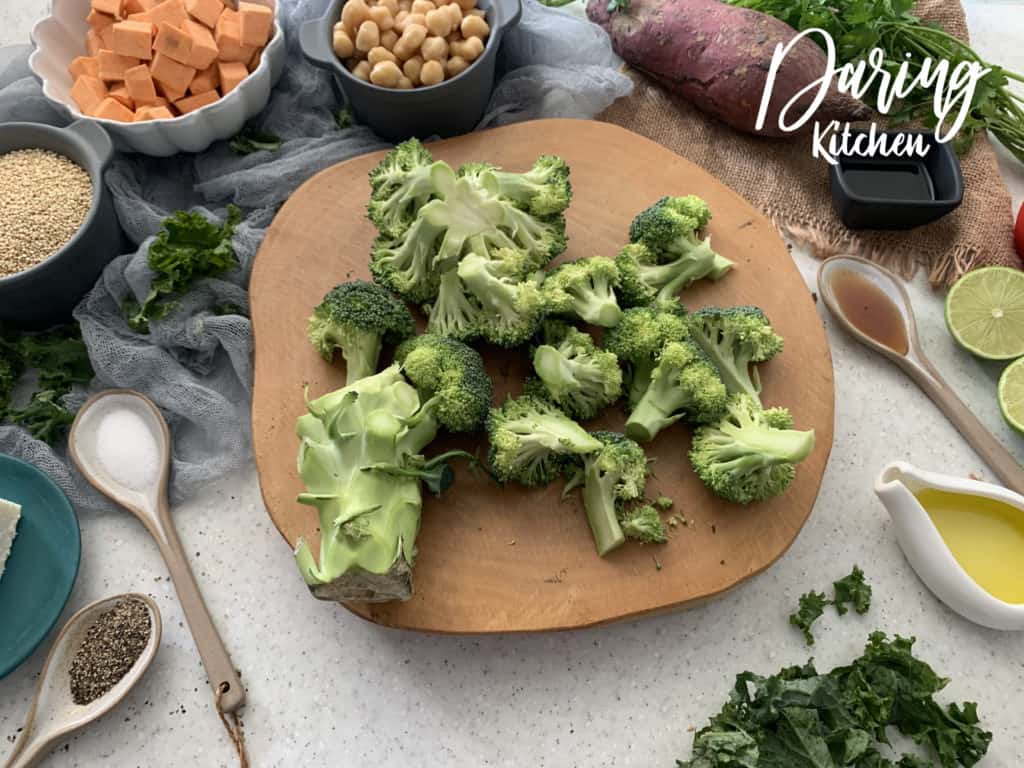 It's time to prep the rest of your broccoli quinoa salad ingredients. Peel your sweet potatoes and chop them into small cubes on a reliable Then, chop your broccoli into florets.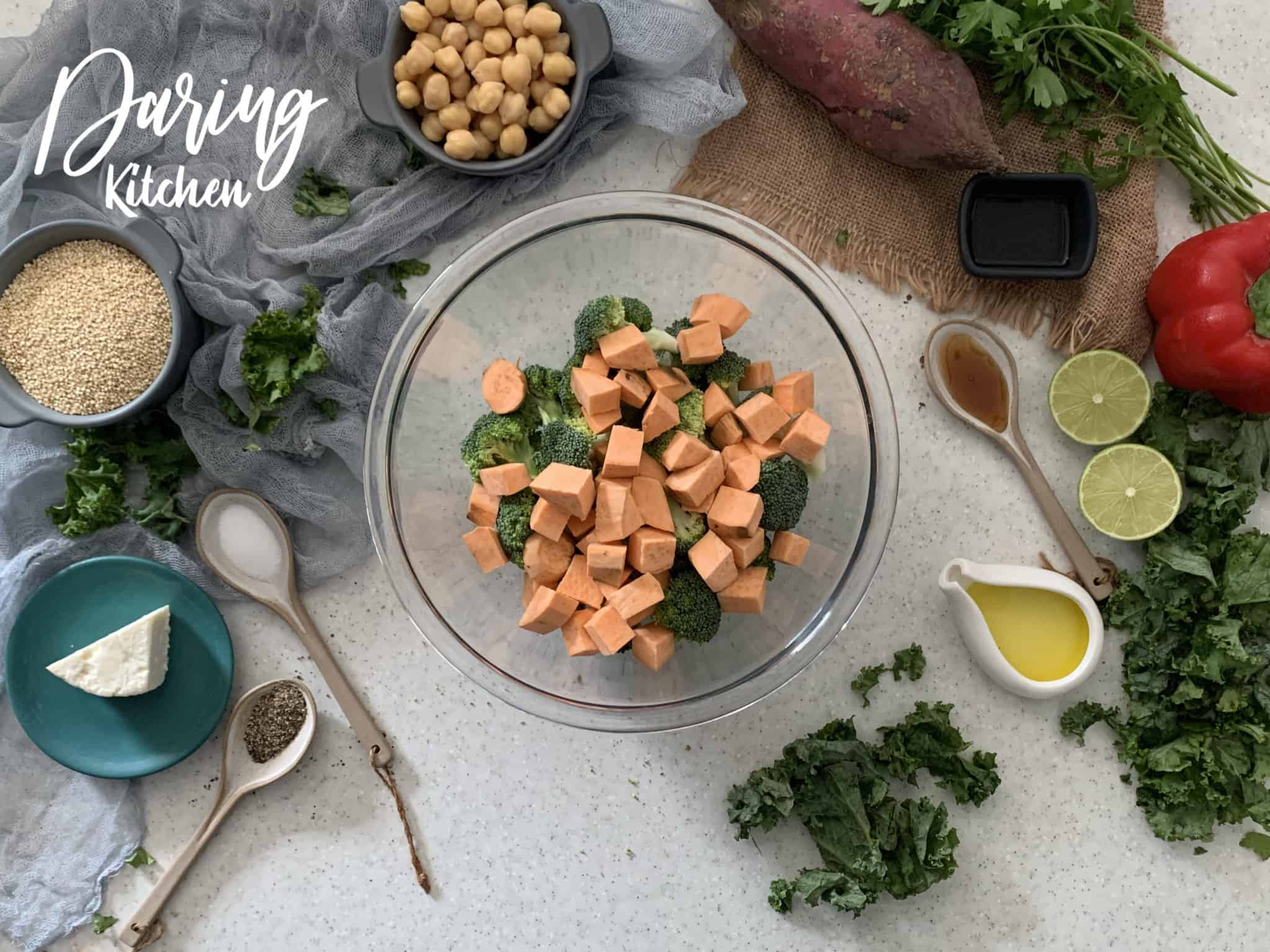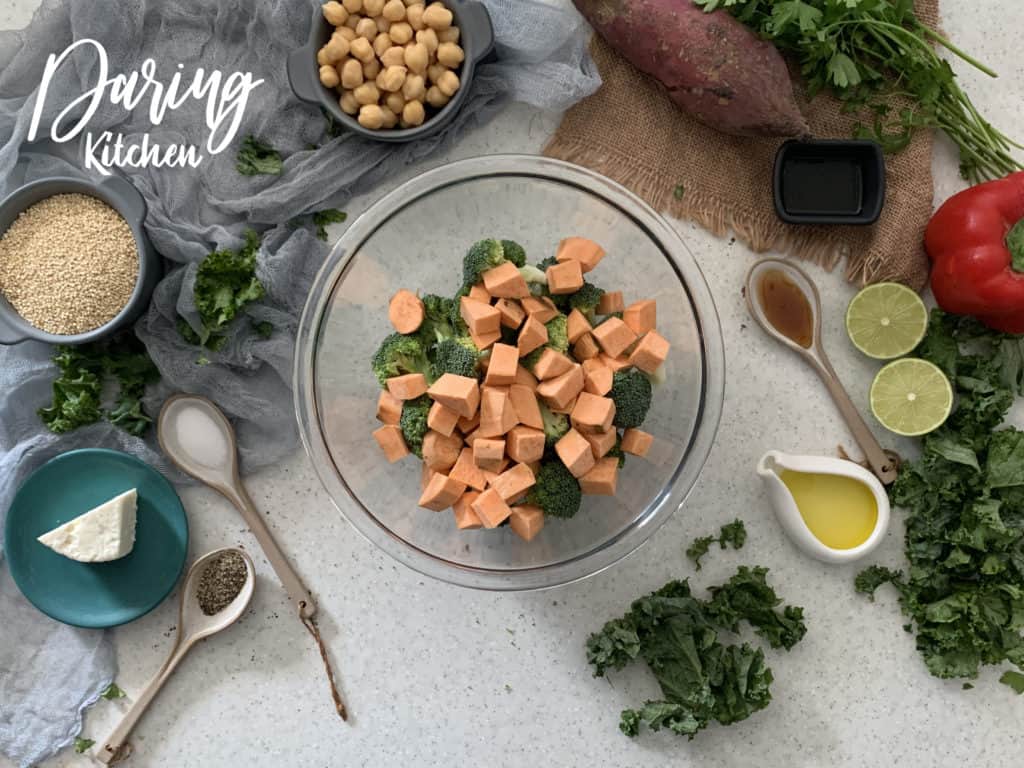 Toss broccoli florets and sweet potatoes in olive oil. Season to taste with black pepper and salt.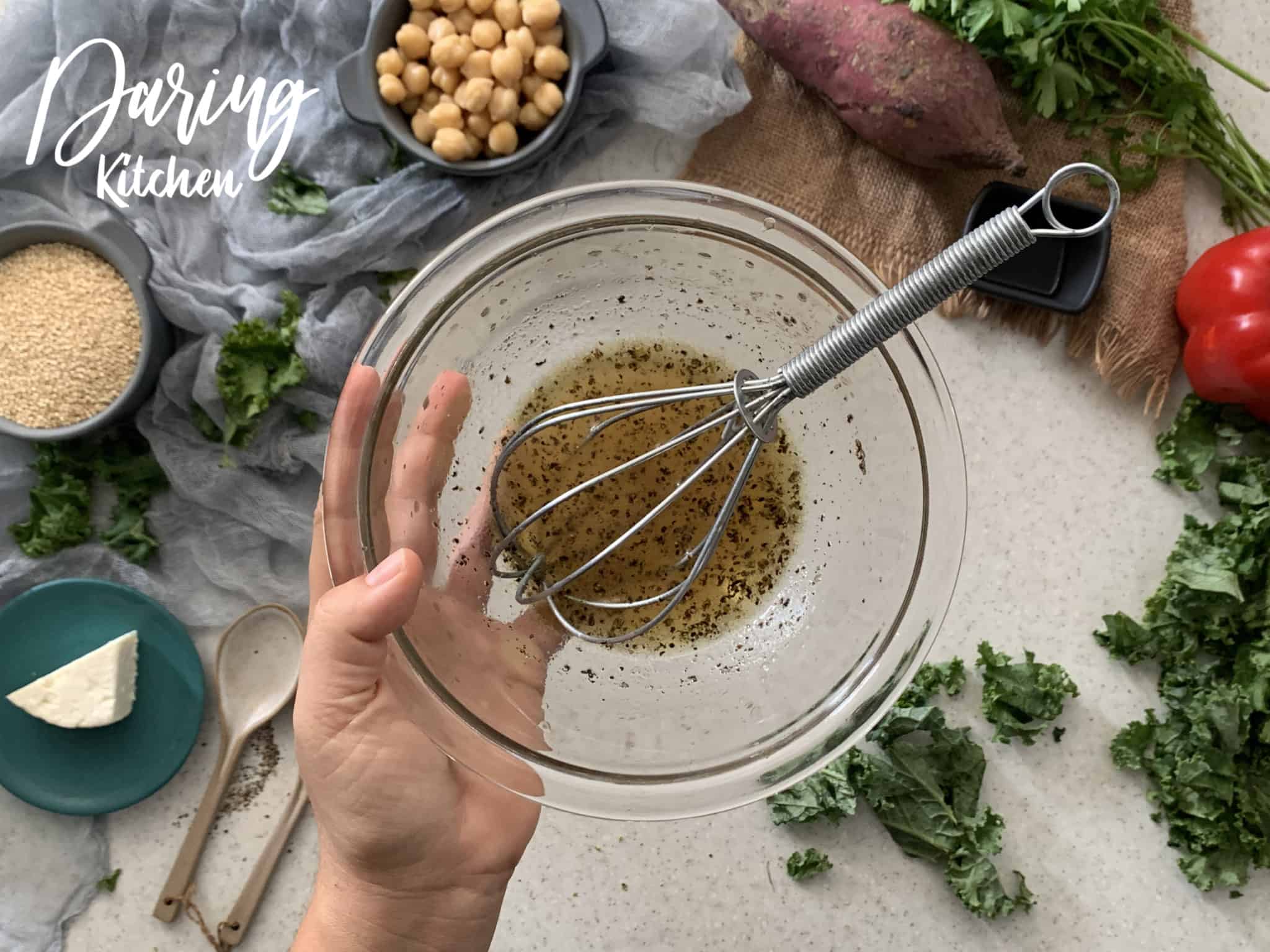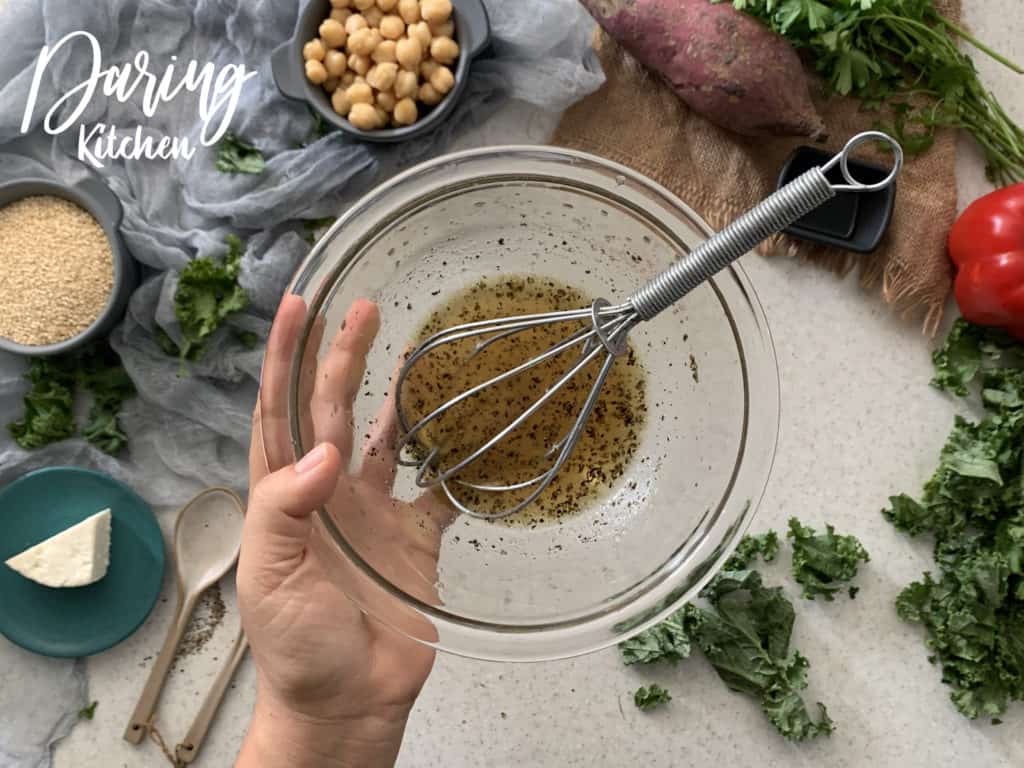 As you wait for your oven to preheat, make your dressing. Whisk your olive oil, maple syrup, apple cider vinegar, and lemon juice together. Season with salt and pepper to taste.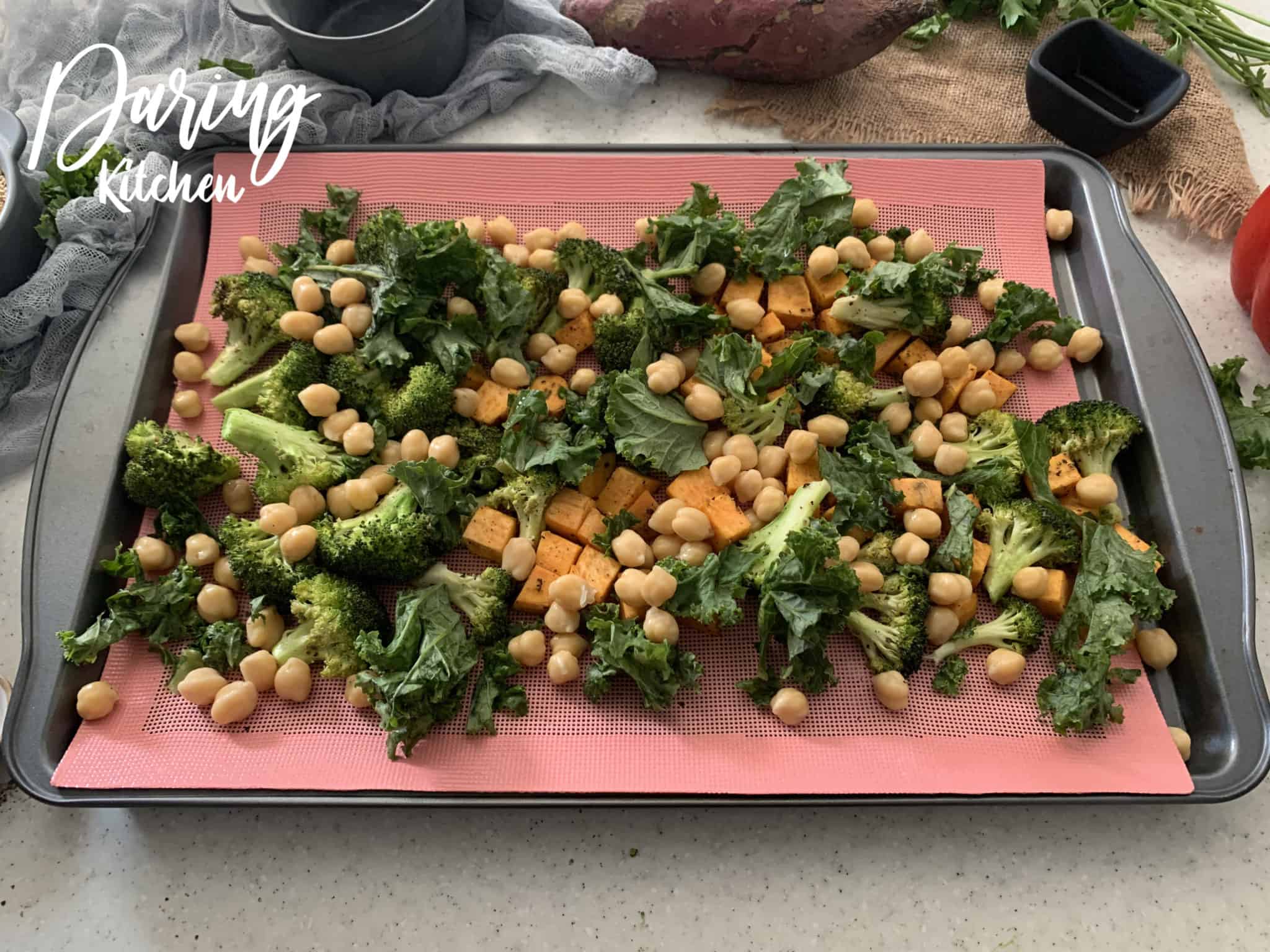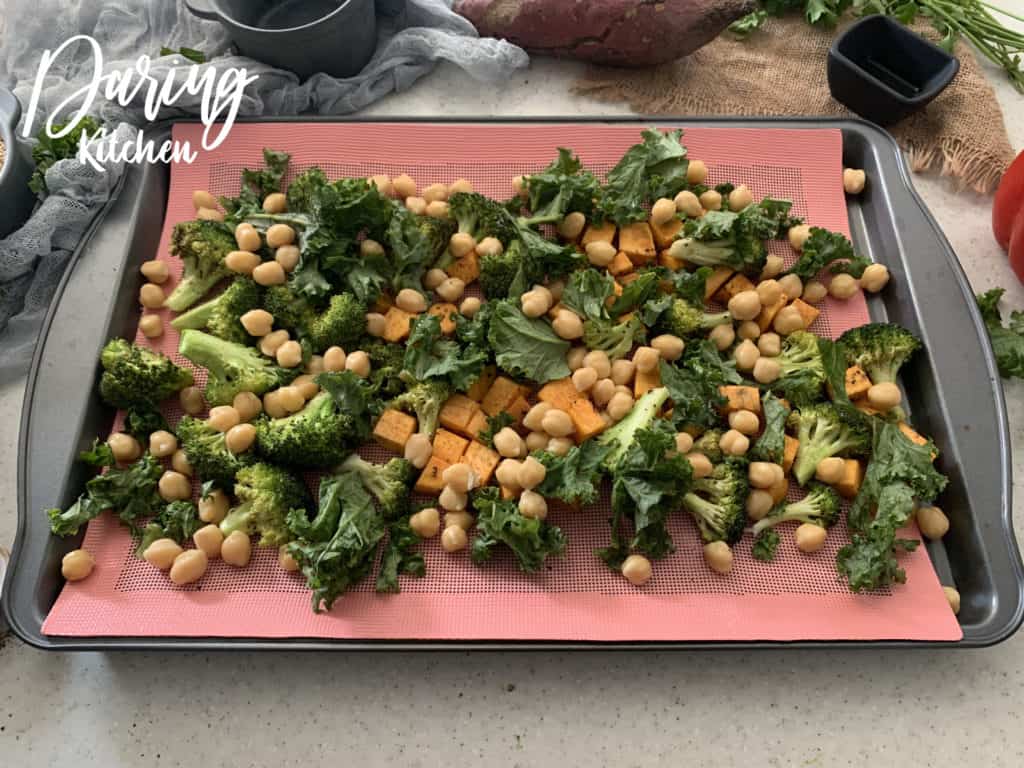 Line a baking sheet with aluminum foil or parchment. Add your broccoli florets, sweet potatoes, and chickpeas to the sheet. Then, tear your kale and lay it on the baking sheet as well. Bake all of the veggies for 15 minutes.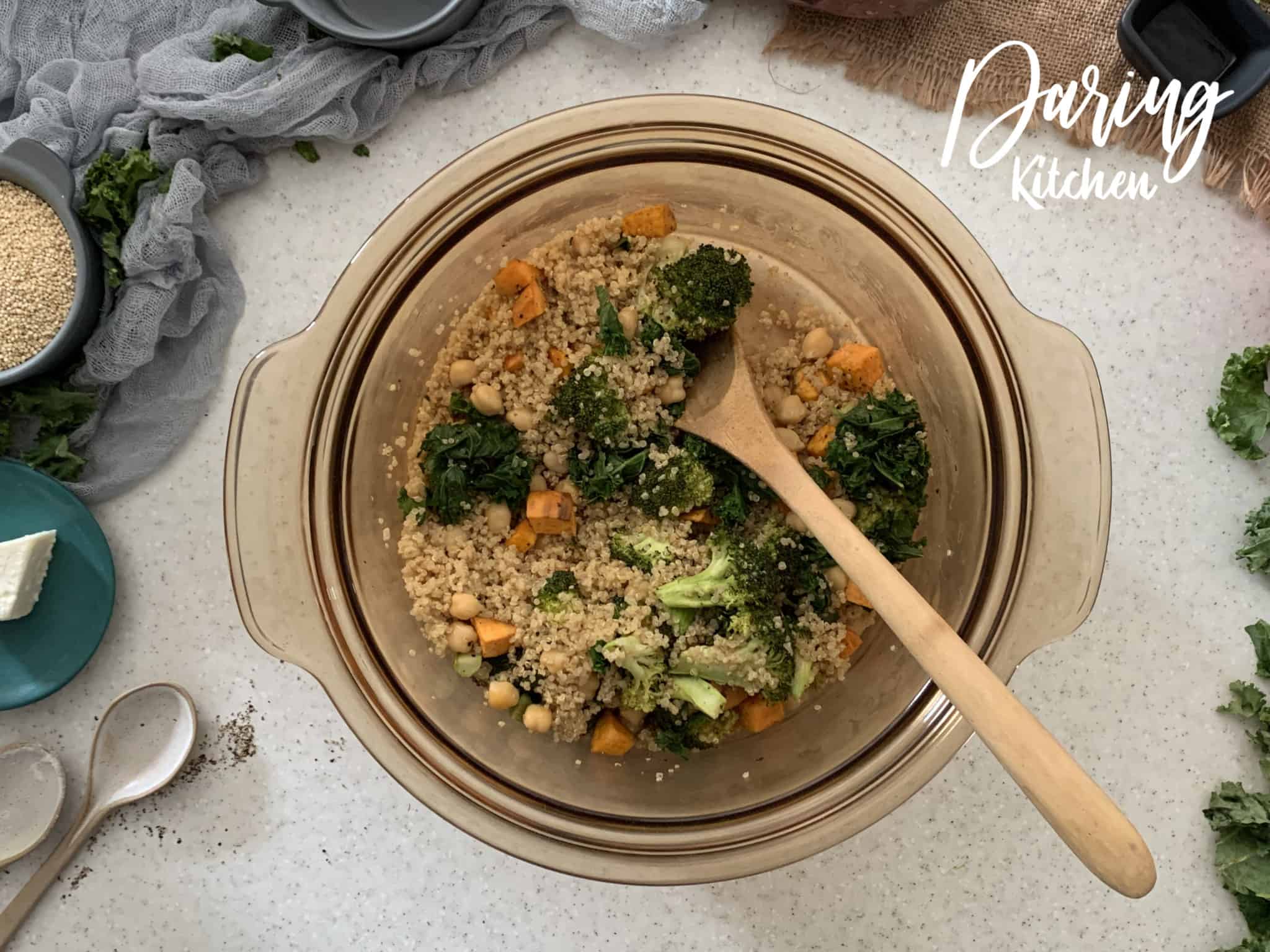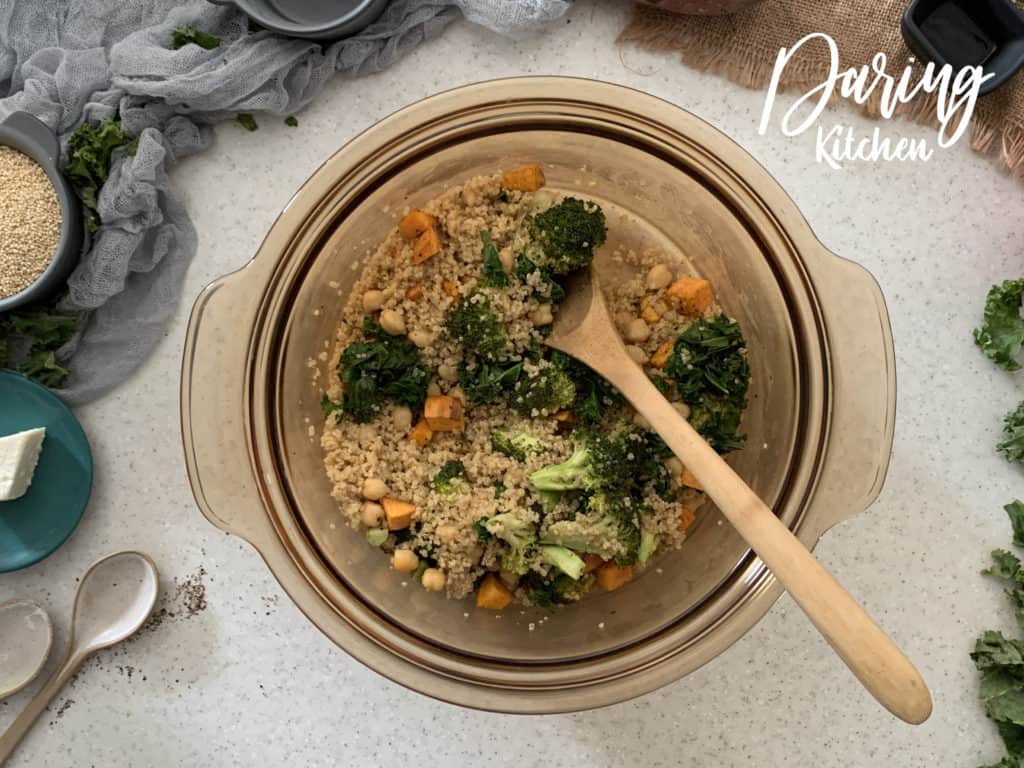 When all your veggies are roasted and tender, remove them from the oven. Toss the roasted veggies with your cooked quinoa and feta cheese. If you are eating this salad later, allow the quinoa to cool before tossing everything together.
If you're eating this salad immediately, toss everything together in a large bowl with the salad dressing. Serve alone or with an extra protein garnish, like fried tofu!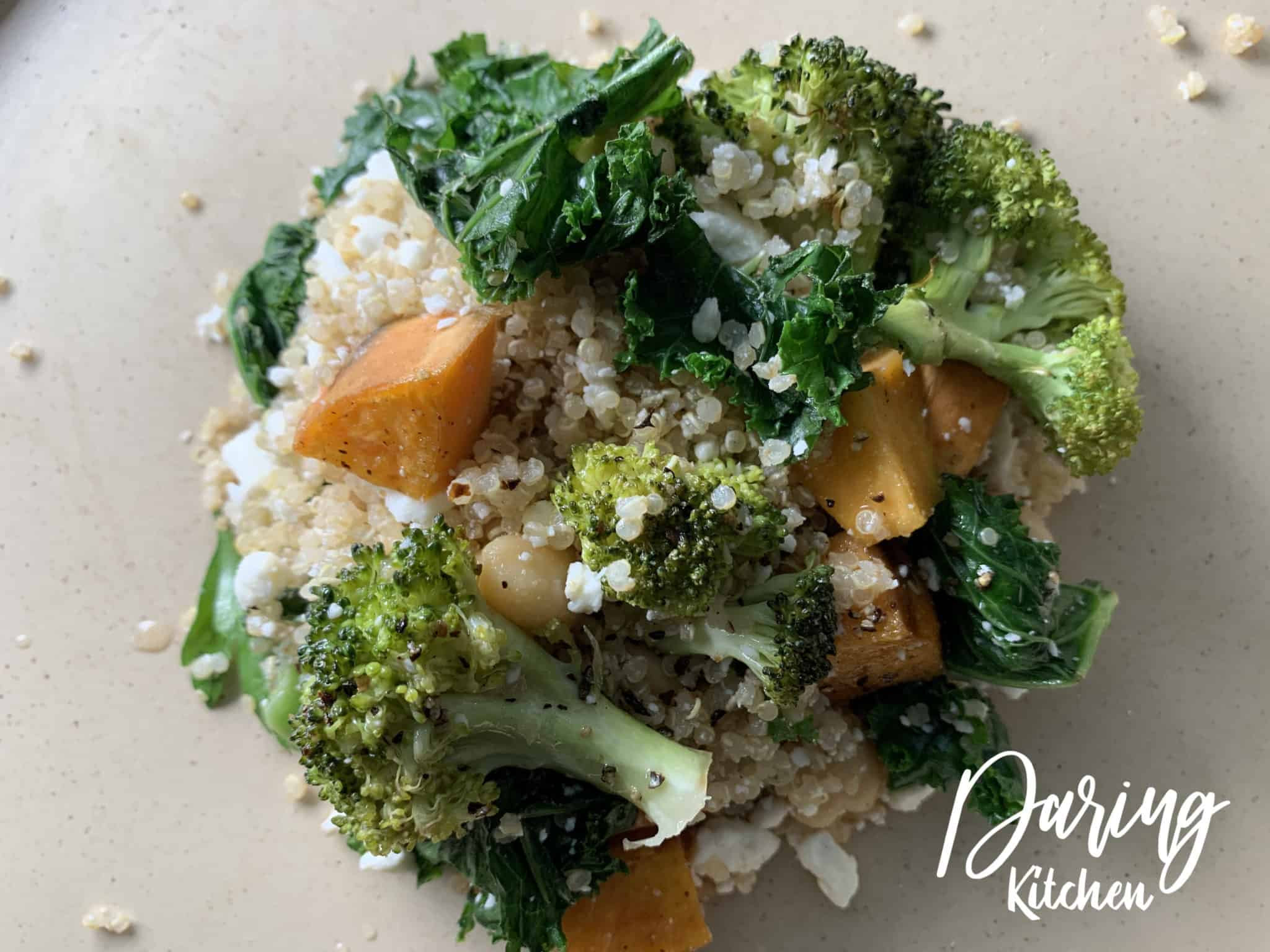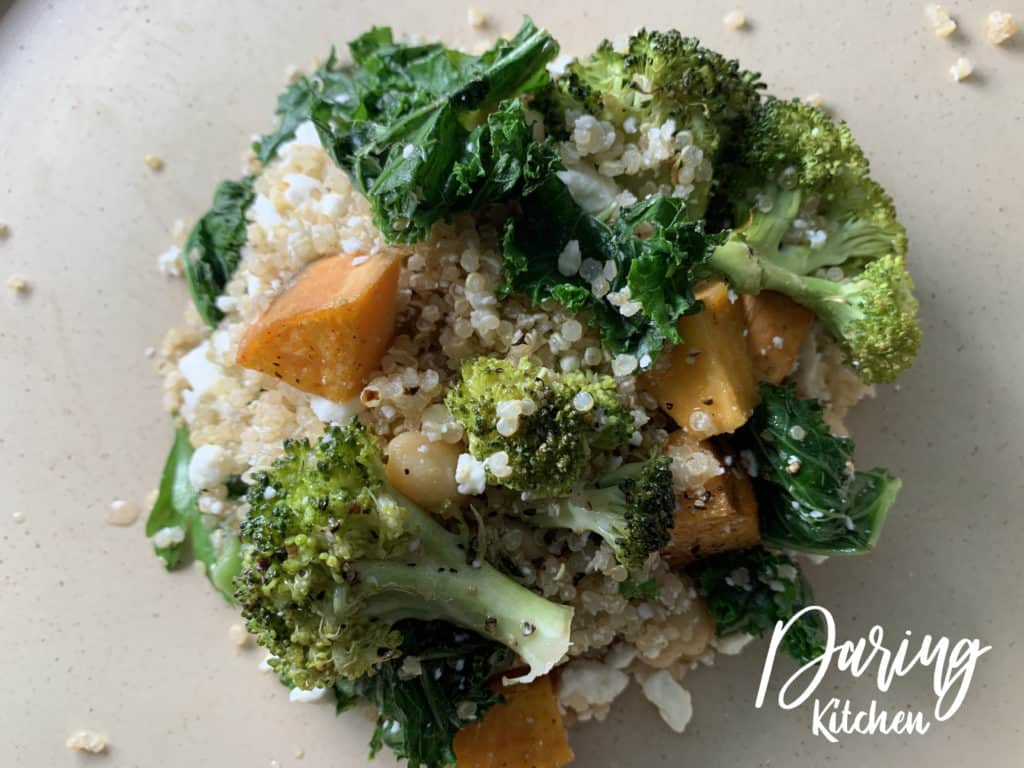 Did you enjoy this delicious recipe? I sure hope you did. It's one of my favorite healthy lunches to eat. It also makes an excellent side dish! Either way, please let me know what you think about this recipe in the comments below. I'd love to hear your thoughts!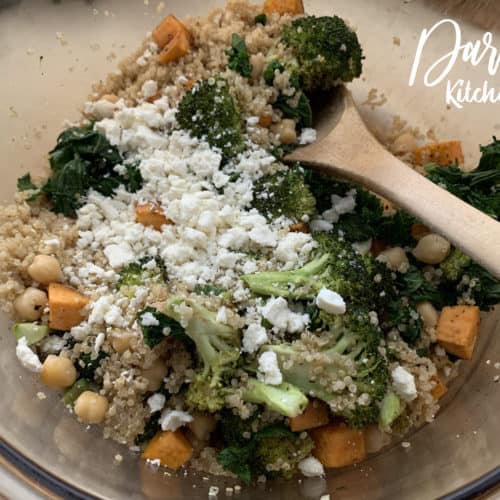 Roasted Broccoli Quinoa Salad
With tons of roasted veggies and fluffy quinoa, everyone will love this hearty and healthy broccoli quinoa salad!
Print
Pin
Rate
Equipment
Potato Peeler

Baking Tray

Knife

Oven
Ingredients
1

sweet potato

½

lb

broccoli

black pepper

to taste

salt

to taste

2

tbsp

olive oil

½

tsp

apple cider vinegar

2

tsp

maple syrup

1

lemon juice

1

bunch of kale

15

oz

of chickpeas

1

cup

cooked quinoa

3

tbsp

feta cheese
Instructions
Peel and dice sweet potato.

Cut the broccoli into florets.

Mix the broccoli and sweet potato and add black pepper to taste.

Add salt to taste and olive oil and tos.

To make the dressing add maple syrup, apple cider vinegar and lemon juice with 3 Tbsp of olive oil and mix well, add salt if needed.

Lay on a baking sheet and add the kale and chickpeas.

Once out mix with one cup of cooked, dry quinoa and the feta cheese.

Add cilantro to garnish and the dressing on top.
Nutrition
Calories:
921
kcal
|
Carbohydrates:
114
g
|
Protein:
25
g
|
Fat:
43
g
|
Saturated Fat:
12
g
|
Polyunsaturated Fat:
5
g
|
Monounsaturated Fat:
24
g
|
Cholesterol:
45
mg
|
Sodium:
784
mg
|
Potassium:
1893
mg
|
Fiber:
18
g
|
Sugar:
26
g
|
Vitamin A:
33702
IU
|
Vitamin C:
219
mg
|
Calcium:
475
mg
|
Iron:
6
mg