In this article, it's a showdown between two of the biggest barbecue brands in North America – Broil King and Weber. We're comparing some of the most popular gas grills on offer from these grilling giants.
Our hope is to give you a preliminary knowledge of each brand, and help you decide whether their products are right for you.
Broil King
Broil King is a barbecue brand which is a subsidiary of Onward Manufacturing Company. Onward is a Canadian-owned company since 1906, and the Broil King subsidiary is over 30 years old.
Broil King's primary business focus is to build high-quality gas grills. Their grills are enormously popular in Canada (with millions of units sold), and are gaining popularity in the American market as well.
Broil King prides itself in selling North American made grills. Gas grills are manufactured in Waterloo, Ontario and Huntington, Indiana. They have large and efficient manufacturing facilities in each location in response to increasing demand.
Weber
Weber grills were invented when George Stephen invented the "kettle" grill while working for Weber Brother Metal Works in Chicago in 1952. He was inspired by the shape of a buoy.
Today, Weber is one of the largest manufacturers of gas grills on the market (alongside numerous other products and types of grills).
Weber maintains its commitment to high quality production and performance, and they maintain focus on the innovation that originally helped them develop the "buoy" grill.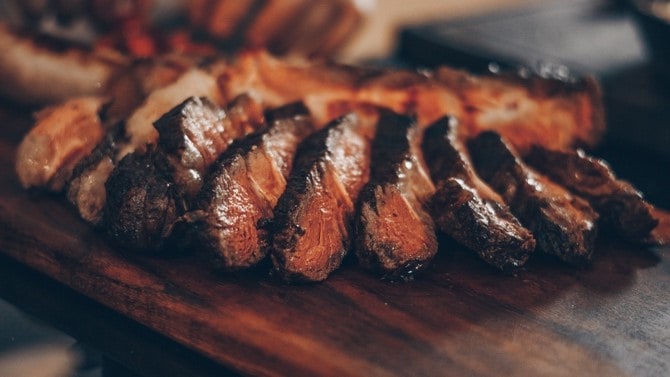 Weber vs. Broil King - Top Gas Grills
Both Broil King and Weber have large and extensive product lines. In this article, we're narrowing our focus on their most popular line of products – the gas grill.
Gas grills are the most popular types of barbecue in North America. Renowned for their superior convenience, predictable cooks, easy cleanups, and more, it's easy to see why these grills continue to dominate the North American market.
We'll be checking out two of both Broil King and Weber's most popular gas grills. Each of these grills are positioned toward a similar target market. We'll start by outlining each grill, and then outline the specific advantages offered by each brand.
Let's start with Broil King:
Broil King Gas Grills
1. Broil King Regal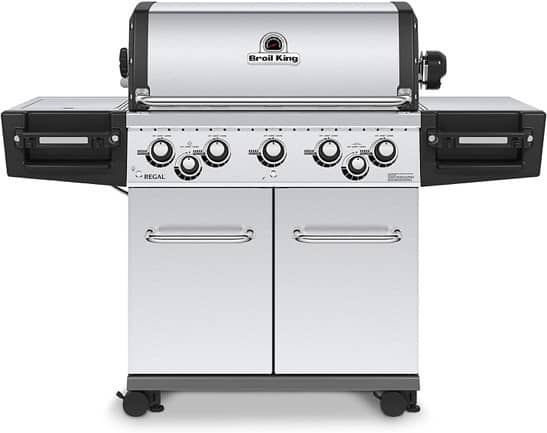 First up, we have the Broil King Regal. This grill is positioned as Broil King's "premium" product offering. With a quick glance it is easy to see why (and we don't just mean the price tag).
First, it's important to note that there are many models available within the Regal product line, but we have linked one of the most popular – the S590.
The Broil King Regal is quite the powerhouse grill. With a 55,000 BTU burner and 625 sq. in. of primary cooking space, it has the power and space to cook for family gatherings and parties. There is even a 10,000 BTU side burner and a 15,000 BTU rotisserie grill.
This is an impressively built grill. It is made with stainless-steel burners and the Flav-R-Wave stainless-steel cooking system. Stainless-steel is excellent for retaining heat for those bold sear marks, and ensuring an even and consistent cook from front to back (less "hot spots").
This one has 5-burners, but the Regal is available with between 4 and 6 burners for ultimate control.
All-in-all, the Regal is simply one of the most impressive and well-designed gas burning grills on the market. Tons of functionality, superior stainless-steel design, and ample heat retention and control. The price tag is high, but it just might be worth it for the grill afficionado.
Pros
Main burner, side burner, and rotisserie grill.
An impressive 55,000 BTUs on main burner.
Impressive stainless-steel cooking grid design for ultimate durability and heat retention capabilities.
Sleek look with "aerodynamic" design.
Cons
Premium model – high price tag.
Purchase options may get a little overwhelming.
2. Broil King Baron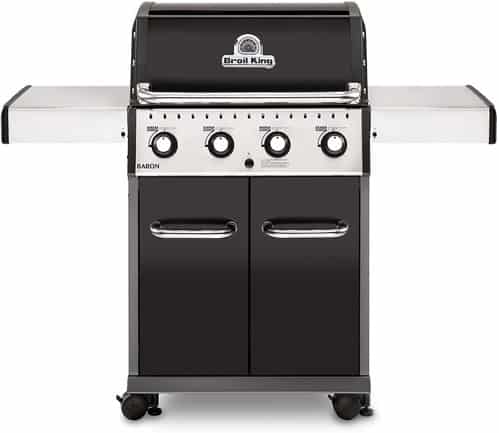 Next up we have the Broil King Baron. The Baron is positioned as a mid-tier option in comparison to the Regal, but is still quite impressive in its functionality. It is one of Broil King's best-sellers because it offers impressive performance at an affordable price.
Once again, there are many Barons available, but we have chosen to highlight the 922154.
The Broil King Baron sports stainless-steel dual tube burners which are capable of reaching up to 40,000 BTUs. This model features 444 sq. in. of primary cooking space, with 644 sq. in. total cooking space if you include the top racks.
It is built with impressive construction. The cooking grids are made with heavy-duty cast iron. These offer impressive heat retention and consistent cooks, but don't quite rival the stainless-steel grids on the Broil King Regal. The grill itself is well built and durable, with its metal design, and also features fold-down stainless-steel shelves.
Controlling the temperature is easy with 180-degree control knobs, and the Flav-R-Wave cooking system ensures reliable temperatures across the grill - although we always recommend using a meat thermometer for optimal results.
Overall, this grill is quite a bit more basic in its design than the Regal. But if all you need is a well-performing, durable, and functional grill, then the Baron might be all you need.
It lacks the power and some functionality of the Regal, but it is still an impressive grill that offers reliable cooking speeds and temperatures.
Pros
Powerful, spacious primary cooking area.
Easy and predictable temperature control with 180-degree control knobs.
Cast-iron grids for ample heat retention.
Durable metal design with stainless-steel shelves.
Cost-effective solution.
Cons
Lacks much of the functionality of the Regal (side burners, stainless-steel grids, etc.)
You might need a bigger grill for large parties or gatherings.
Weber Gas Grills
1. Weber Summit Series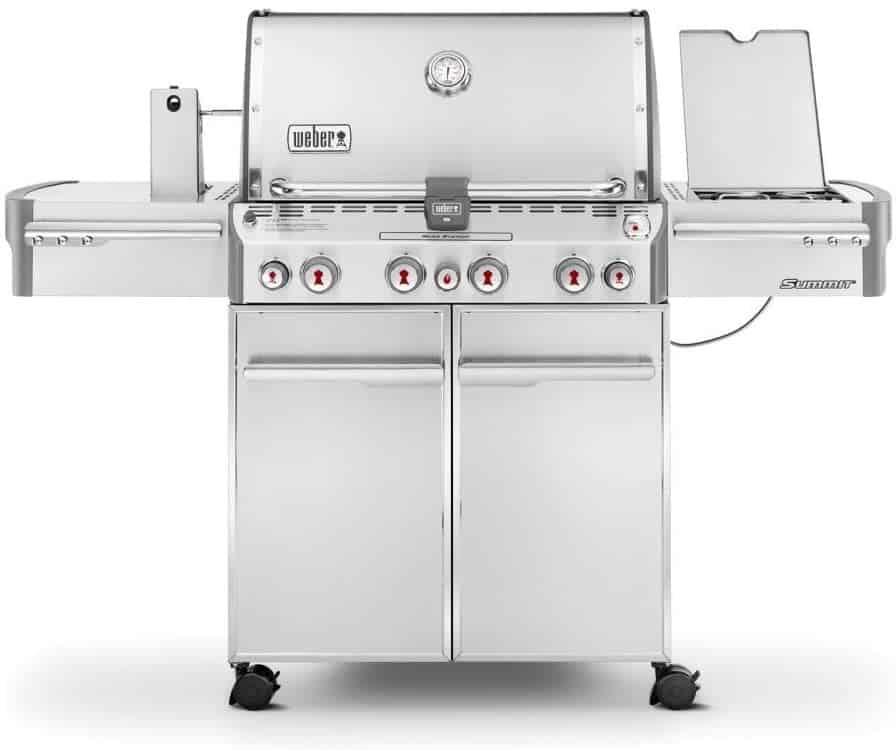 Moving on to Weber grills, let's start with their premium product offering – the Weber Summit Series. Think of the Summit Series as Weber's alternative to the Regal.
In fact, the Summit Series is actually positioned as a slightly more premium option than the Regal, and has the price-point to match.
As with the Broil King grills, Weber offers many variants within each product line. We have highlighted the Summit S-470.
The Summit is a very impressive grill. This one has a 580 sq. in. primary cooking area with 48,800 BTUs of power.
The cooking grates are stainless-steel for excellent heat retention and less "hot spots" throughout. The burners are also made with stainless-steel, which makes them very durable and quite resistant to rust or corrosion.
This model has 4 burners, but it is available with up to 6 burners (with increasing price tags as well!).
The Summit offers a superior level of control when compared to other grills. Each burner has a Snap-Jet ignition system, and the fully rotating knobs allow for accurate temperature control throughout the grilling surface.
This grill is also packed with additional features. It has a side burner, a Sear Station burner, a smoker burner, and a rear-mounted rotisserie burner. While the smokers won't allow the full capability of an actual charcoal smoker, it is still capable of all sorts of cooking. Its main competitive advantage is definitely found in its extremely wide range of functionality.
Overall, the Summit is a very impressive grill, with a very substantial price tag. Even compared to the Regal, this grill stands apart. So if you're looking for a grill that can do it all, this one might justify the price.
Pros
Big cooking surface with 48,800 BTUs of primary power.
Stainless steel grid and burner design.
Painted steel frame for durability and sleekness.
Huge range of functionality – side burners, Sear Station burner, smoker burner, and rotisserie burner.
Cons
Big price tag.
Not as many BTUs as the Regal.
2. Weber Genesis II Series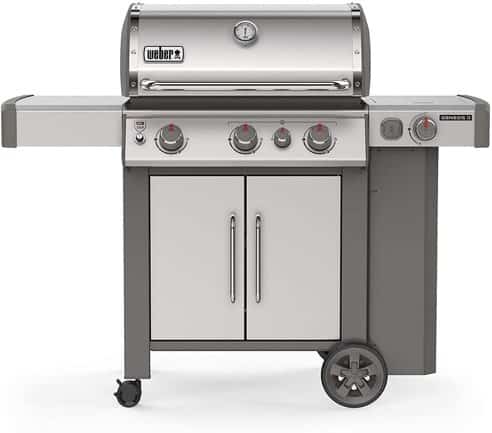 Next up we have the Weber Genesis II Series. The Genesis II Series is positioned as Weber's mid-tier product offering, and is most comparable to the Broil King Baron above. We have chosen to highlight the Genesis II S-335 for this section.
This grill is impressively capable. It has a 513 sq. in. cooking area, with 3-burners to distribute heat across the surface. It is equipped with Weber's Gs4 high performance grilling system. The Sear Station is also located on the grilling surface, and offers a high-intensity area to add grill marks and to sear food.
Unlike the Broil King Baron, this one does have a side burner. It's ideal for sauteeing or simmering as you cook.
Overall, it's a well-made, functional grill. Fast-heating, impressive heat control, and reliable performance. It lacks many of the features found in the Summit Series, but that can be expected from a mid-tier offering. Similar to the Broil King Baron, it focuses on reliable, consistent grilling at an affordable price.
Pros
Spacious cooking area with 3 burners.
Stainless-steel burners are durable and corrosion-resistant.
Includes Sear Station and side burner.
Cons
Cast-iron grid is not as efficient at heat retention as stainless steel.
Not as powerful as comparable Broil King grills (in terms of BTUs).
Broil King vs. Weber – Gas Grills
Now that we've examined two of the most popular grills made by Broil King and Weber, you might have one question left – which is better?
To answer this question, we'll look at their advantages in turn, and see where each brand offers a competitive edge. After that, we'll make our conclusion.
Advantages of Broil King
If you couldn't tell by our product overviews above, we think both brands make quality grills. That being said, Broil King certainly does some things better.
First of all, Broil King grills tend to be more powerful. This means more BTUs. For comparison sake, the Broil King Regal offers 55,000 BTUs on its primary burner, while the Summit offers only 48,800.
In terms of construction, each brand is quite similar. Both offer stainless-steel options on the higher end, and cast-iron options on the lower and mid end. Both grill brands are quite durable and well-constructed.
Overall, we think Broil King offers more in terms of performance. They don't offer the vast array of features of Weber grills, because they have kept the focus on a grill that is powerful and performs consistently. For a quick-heating grill with consistent heat retention, we think Broil King offers more bang for the buck.
Buy a Broil King If:
You want more power for the money.
You want a grill that puts more emphasis on consistent and reliable performance.
You want a high quality, high-functioning grill from a brand you can trust.
Advantages of Weber
Most of the above features of Broil King will still apply to Weber. We can't deny that both brands offer consistent, reliable grills which are built to exacting standards. At a certain point, we are just nit-picking when comparing their main features. But sometimes that is necessary to pick one over the other.
That being said, Weber definitely holds an advantage when it comes to range of features. As an example, the Genesis Series (Weber's Baron equivalent) has a side burner, while the Broil King Baron does not. This was also the case with the Summit vs. the Regal, with the Summit offering more features and burners.
So while Weber's grills are more expensive overall, they do tend to offers a wider range of features than Broil King grills. And although Broil King does slightly edge Weber in power and performance, the difference is quite slim.
Buy a Weber If:
You want a grill that is richer in features (more burners, cook stations, etc.).
You don't mind the added price tag.
You want a high quality, high-functioning grill from a brand you can trust (both brands offer this!).
Top Brand + Product
Of course, the best grill is really just the grill that most closely matches your personal preferences. Read through our product overviews above, and match each product with your product "wants". This way, you can make the decision that is best for you!
That being said, our personal favorite gas grill brand is Broil King. Broil King simply offers more value for the price, and we don't think Weber's additional functionality does enough to justify the price increase.
However, as we mentioned above, both are high-quality, premium options, and there is definitely no "wrong" choice.