Have you ever craved a burger when eating out is not an option? It must happen a lot in this season of the pandemic when restaurants have shut down, and people are in lockdown. Quality burgers are also a bit pricey, and you are never really sure how they made the rest.
Sometimes you just want to create your own flavors that nobody out there seems to grasp. What of those happy occasions like barbeques and house parties when you find yourself in charge of the grill?
The common problem in all these scenarios is not being able to make your own burgers. Whether it is domestic, commercial, large scale, or small scale, we all deserve the opportunity to do so on a whim, and to do it perfectly.
The first thing we need to figure out is how to make that patty just right. It is the backbone of any burger, without which we can't even begin criticizing them. I am also convinced that handmade ground patties with a hint of seasoning are better than those you stock in your fridge from the stores for ages. For one thing, they are definitely fresh, and there is no statute of limitations on how creative we can get with them. Let's bear this thought for a moment.
To produce the best patties, thereby proving my theory above, a number of items have to fall in place: We need to get the best fresh ingredients, mix them just right, and eventually cook them optimally.
For our patties to be perfect, however, we need tools. Let's talk about one very important tool, which is where we have been headed all this time.
The Burger Press
The moment you start making your own patties, it becomes obvious that it is a must-have tool in this project. It saves your energy and leaves you feeling good about yourself, the only way to sustain a hobby.
Our list of the best burger patty press is therefore not following an ascending or descending order, but we shall pick them at random, telling you why they made it, for you to make your own decision. We trust that you will decide based on what works for you and your needs.
1. The Lodge Pre- Seasoned Rectangular Cast Iron Grill Press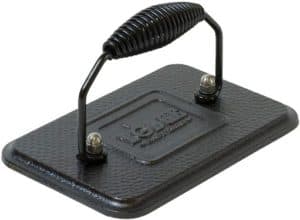 Lodge specializes in cast iron, which makes unbreakable multipurpose cookware. It heats up evenly and retains the heat. This enables it to give that restaurant-quality sear and retain all your juices.
This multipurpose press is ideal for pressing unwanted fats from meat in your burgers and sausages, holding heat in your grilled sandwiches, and eliminating the curls from bacon.
The workhorse is durable and sturdy and can be used anywhere from the kitchen, your outdoor grill, induction cooktops to a campfire.
It has a heavy-duty cast iron base with a unique hammered finish that makes it particularly aesthetically appealing.
Its 6.75 x 4.5-inch dimensions cover your average burger size even as the 3-pound heft presses the patty. It, therefore, comes recommended for smash burgers, where the patty is seared to a crunch before turning, and it is not supposed to be moved in the process.
It has a cool grip spiral handle that enables holding even when working with high temperatures, as it often does.
It is pre-seasoned with all-natural vegetable oils, giving the presser an easy-release cooking surface. Not to mention the added advantage of the resulting black patina that not only protects it from rust but also enables it to give service for a long time.
Pros:
Nonstick easy release surface for efficient handling of patties
Durable cast iron material
Can be used in different environments
Cool grip handle that can be held while the presser is hot
Excellent for smashing patties
Cons
The handle needs to be tightened during assembly. The presser is loose and uncomfortable to handle otherwise. Some users will have reservations against this, preferring an assembled burger press
2. Aussie BBQ Smoke's Solid Stainless Steel Burger Press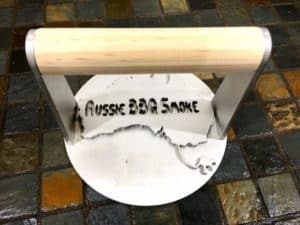 This makes the cut because of its aesthetic simplicity. Considering Aussie BBQ Smoke is just branching from Australian smoking woods to BBQ accessories, they really hit the spot with this one.
It is one of the simplest yet beautiful designs for a functional burger press. The first thing that grabs your attention is the precision of the laser cut logo on the solid stainless steel disk.
You get to choose between a 24mm pine handle and an 18mm hickory hardwood handle depending on the size of your grip and/ or personal preference. The disk is 4mm thick with a diameter of 140mm, which is sufficient for your burger patty.
They have employed TIG welding technology to attach the handle, which both hides the joints and guarantees the press will last for long.
The stainless steel is ideal for smashed burgers as it performs at high temperatures while ensuring equal heat distribution. It also makes the burger press durable as it is not easily destructible. It is easy to clean as you only need to wipe it.
The Aussie BBQ burger press also comes as a toolset for the whole patty experience. This set comprises a spatula for scraping those patties off the griddle, with a built-in bottle opener, stainless steel tongs, and a large 14oz/ 396g shaker full of Fiesta fajita gluten-free seasoning to spice them up.
This means you don't even need a recipe book for your first burgers, just the right meat. How convenient is that?
Pros
Easy to clean
Durable
Aesthetic appeal
Evenly distributes heat
3. The Cuisinart 3-in-1 Stuffed Burger Press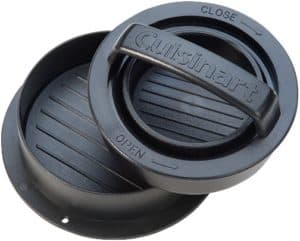 First of all, it is called the 3-in-1 because it is designed to enable you to make patties for three kinds of burgers: stuffed, regular size, and sliders.
This press has a mold for regular burger size patties called the base cup, and a separate one for slider patties called the slider cup, each with its own release plate.
The release plates allow you to pop out the patties from the bottom. This makes it easy to remove the patties without tampering with their shape like you would using your bare hands.
The presser has two components, a press cap, and a removable press top, which are attached using a twist lock. When making stuffed burgers, the two are detached to reveal a slider-sized presser. This is used to make an indented pocket in the middle of the patty where the stuffing is added.
You then top up the patty and press again, effectively sealing the stuffing in the middle of the patty. This is great in preventing leakage if the stuffing melts and holding in the juices and flavors. It is the reason the Cuisinart is ranked as the best burger press for stuffed burgers.
They are made out of plastic and, as such, are used to form the patties before cooking time.
Pros
Easy to clean as each part comes off, and it is dishwasher friendly
Produces the best-stuffed burgers by retaining all the stuffing and flavors
Easy to remove patties as it is non- stick and has release plates
Cons
The fixed mold diameters do not allow for shrinkage, which normally occurs when fatty or watery patties are put on the fire. This may lead to smaller than desired patties
4. The Maxima Hamburger Press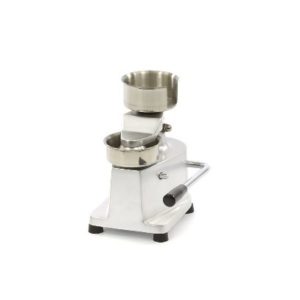 A product of Maxima Kitchen Equipment whose slogan is 'The best partner for your kitchen.' They take pride in having over 40 years' experience in the supply and maintenance of professional kitchen equipment.
This burger press handles hamburger, fish burger, and veggie burger patties with ease. It also enables multiple identical patty production, which makes it ideal for restaurants, small businesses, and functions that require more than the usual domestic making of patties.
At a height of 275mm, width of 235mm, and depth of 230mm, it blends in any kitchen without drawing too much attention. It is recommended as the best burger press for commercial purposes.
The body is constructed with anodized aluminum, which makes it corrosion resistant, scratch-resistant, and tough while enhancing its aesthetic qualities. The plates, levers, and holders are made of non-reactive stainless steel to prevent contamination of your patties if they get in contact with the food.
They have proactively provided 500 partitioning parchment papers that you may use while pressing the patties and to separate them later. You place them on the presser plate and lay the patty in the shape of a ball on top as you press. Then you can stack them on top of each other without worrying about them sticking together.
This process also ensures the patties don't stick on the press plates. The parchment papers can always be replaced once you finish the first batch.
The presser comes in two sizes, the 100mm, and the 130mm. The difference is discernible from the diameter of the disc, making up the press plate. This is also the size of the patty disc you will expect as it forms the mold. It also presses a consistent patty thickness of 35mm, which is desirable if you are serving a number of people. Uniformity prevents a lot of uncomfortable questions.
It stands on four rubber feet, which give it an elevation from the worktop and stabilize it without scratching the surface.
The stainless still lever is ergonomically designed and has a rubber handle for easy grip. It is estimated to be able to make up to 500 burger patties per hour.
Pros
Ability to make identical burger patties
Enables mass production of patties with ease
Easy to clean
Comes with the first batch of 500 parchment papers at no extra cost
Cons.
You have to purchase parchment papers after the initial batch runs out
5. The Maxima Hamburger Press 3L- Vertical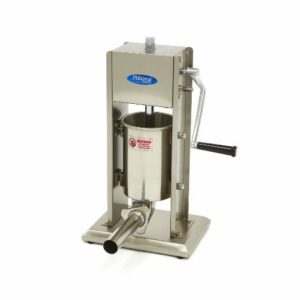 Also from the Maxima Kitchen Equipment line, this one is tailored to mass production of patties, commercial or institutional. The 3-liter capacity of the holding cylinder gives it away; that is the amount of ground meat you can fill in one go (close to 20 burgers).
The cylinder is attached to smaller output cylinders with diameters of 50mm, which direct your patty to a base plate. There are filling tubes of different sizes connecting the output cylinder to the base plate. These sizes determine the amount of ground beef that gets to the base plate and proportionately the size of your patty.
The base plate has a mold that gives your patties that desired shape before they are ejected from the system.
The presser is pushed manually using a shaft connected in a sort of gear to a lever that the operator uses. This system is convenient as you only load the meat once for a large batch, and the lever does the heavy pulling for you. Some intense mechanical engineering must have been employed coming up with it.
It has two speeds to ensure perfect dosing, guaranteeing all your ground meat flows evenly to the base plate. The molds move from side to side, ejecting well-formed patties at a great pace, almost real-time to how the lever is moving. So besides producing more uniform patties, you save critical time in the process.
Everything about it is stainless steel, from the housing, the base and pressing plates, the cylinders, and the filling tubes. This tough material makes the burger press durable, scratch-free, and easy to wash. It is also detachable from the holding cylinder all the way to the base plate, making it more wash friendly. These, coupled with the limited handling of food, greatly reduces the chances of contamination.
Pros
Enables mass production of patties
Saves time utilized in production
Easy to clean
Cons
6. The Weston Non-Stick Hamburger Press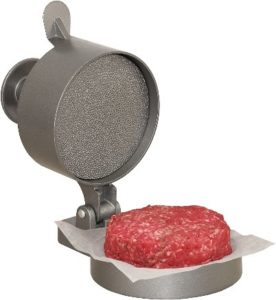 This Weston burger press is made out of heavy-duty nonstick cast aluminum. Casting aluminum makes it strong and durable, not to mention preventing it from reacting to foods with acidic properties.
The nonstick properties make for easy and quick clean up, coupled with the fact that it can be completely dismantled. Once dismantled, all parts that came in contact with food can be washed.
It has a main body lid with an adjustable press plate that fine-tunes the thickness levels of your patties as per your preference. These levels are adjusted using a knob that protrudes from the lid of the presser.
A button is screwed onto this knob, which is important as it used to hold down the lid to keep it in place as the patty is being compacted. The same button is useful in ejecting the patties once they are done; it plunges back for quick patty removal. As the Weston slogan goes, it 'reconnects you with your real food' by not letting it stick.
The burger patty thickness range that can be achieved by this press is from a quarter-inch to one and a half inches. This allows you to make patties for anything from regular burgers, sausage patties, crab cakes to stuffed burgers, which usually require extra inches for the stuffing.
The diameter of the hamburger patty is, however, not modifiable as the lid is not adjustable. It is a constant four-and-a-half-inch diameter, which is within your average burger sizes. Use it for consistent patties that will cook evenly and not fall apart on your grill.
Pros:
Easy to clean
Durable, tough material
Ability to adjust the thickness of patties
Nonstick properties
One year's manufacturer's warranty
Cons
Inability to retain your preferred settings as you always dismantle it while washing
7. Cave Tools Burger Press Patty Maker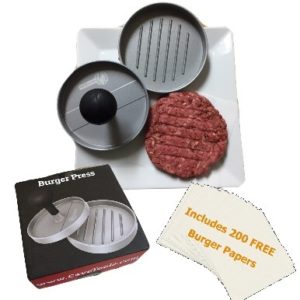 The amount of confidence the team at Cave Tools has in this burger press obliges us to include it on our list. They are giving an incredible lifetime guarantee assuring you a full refund if, at any point, the lifetime of your burger press, you feel like you got less than your money's worth. However long you have been using it!
That has to be the greatest testament to their confidence in the tool. Well, let's check out what they have.
This burger press comprises a base disk and a presser disk with an ergonomic palm-shaped handle designed to delay fatigue when working on many burger patties.
Both are made of aluminum and are ridged to leave those linear impressions we all enjoy seeing in our patties.
Aluminum is very durable and is resistant to corrosion, weather exposure, and oxidation. It is also very easy to clean and is dishwasher safe since it is not damaged by water. They must have considered this when they were coming up with the ridiculous lifetime guarantee.
The base disk has an indicator line marked 0.25, which denotes where your patty should reach for you to produce a quarter-pound patty. If you fill it to the top, it is a full third of a pound. This comes in handy when you want to ration your patties while saving time used in weighing.
The diameter of the expected burgers is standard at 4.25 inches, which is an acceptable burger size. It has a height of 3.15 inches with the handle attached and 0.75 inches without the handle. With an external diameter of 4.7 inches, it becomes easily portable for external barbecues if you want to sample fresh patties instead of frozen ones.
The simple design makes it ideal for all kinds of patty: ground beef, chicken, lamb, pork, turkey, tuna, and salmon.
Besides the lifetime guarantee, other perks have been thrown into this offer:
There is a free batch of 200 nonstick papers to start your journey with the burger press. These are crucial for separating the patties when storing them and lining up the burger press to ensure the patties don't stick and are easily removable. You can purchase some more when you are done with the first batch.
They have also thrown in the grill masters essential recipe book with over 25 professional barbecue recipes, procedural instructions, and exhaustive tutorial videos.
This package definitely raises the bar for this burger press and makes it worth checking out.
Pros:
Lifetime guarantee
Free recipe book to go along
200 patty papers provided for starters
Ergonomic shape enabling more patty formation
Cons:
The need to use patty paper remains even after the batch is depleted. This is an extra expense to be factored in
There are countless variations of the burger presses featured in this article to choose from. We have tried to capture different qualities for different levels of cooking and different burgers.
Why You Need the Best Burger Press for Your Patties
Faultless shapes- Getting those circles and ovals just right without breakages at the edges. This is not always possible using the hands; it takes too many trials to nail it.
Compact discs- The kind that don't disintegrate into pieces on your grill and can lock in all the juices throughout the cooking process.
Identical patties- They come out with matching diameters and thicknesses. This uniformity is important, especially for commercial burgers, so that none of your clients feel short-changed. It is hard to measure by eyes only.
Even distribution of burger meat throughout the patty- This ensures they cook uniformly, guaranteeing efficiency and enabling estimation of the time.
Saving time- Ground meat should not be exposed to too much air, which is a breeding ground for bacteria. When the burger meat is ground, all the bacteria that was on the surface gets mixed throughout. A burger press reduces exposure by reducing the time needed to form the patties. It is also great to make time for other activities like actually enjoying the burgers.
Reduce the transfer of heat from your hands- This happens as you struggle to mold the patties with your bare hands. If they are too warm, they may not form as required and will easily disintegrate when placed on the fire.
While pressing is the core function, how your burger press achieves this differs from one to another. Some presses are suited for smash burgers, others for stuffed burgers, and ordinary burgers. Some are adopted for commercial purposes by enabling mass production of patties while others are for simple everyday use.
Your most important consideration when getting a burger press, therefore, will be what you intend to use it for. What kind of patties you are making and how fast you need to make them are some of the considerations to ponder over.
The idea is to single out the qualities that you will need for your best burger press, which may not be uniform for all of us. Knowing the unique advantages certainly gets you in the door. There is no reason why you shouldn't go all the way in and become that self-sufficient burger maker.