Butternut squash puree- Fresh butternut squash is sliced and roasted until it is fragrant and tender. The flesh is then removed from the squash and pureed in a food processor until smooth. You'll have delicious homemade butternut squash puree in just an hour to use in your favorite fall dishes and throughout the year!
The cold weather is here, and with that comes all the cravings for comfort foods. Winter is a great time to enjoy all of the delicious squashes available. Butternut squash is one of my favorites because it's versatile and irresistibly tasty. This butternut squash puree recipe is sure to be a new winter staple. It's an easy and healthy way to incorporate more vegetables into your diet and is so versatile. It can be used as a side dish, soup thickener, sauce base, or ingredient in baked goods and smoothies. 
Why You'll Love This Butternut Squash Puree Recipe
Versatile-

Butternut squash puree is wonderful in all sorts of recipes, from baby foods to cakes to bread to side dishes. The options are endless.

So easy-

Making homemade purees at home is much easier than you'd think. Follow a few simple steps, and you'll have the best-tasting butternut squash puree you've ever had.

Requires only 1 ingredient-

Butternut squash! It can't be more simple than that.

Better than store-bought-

You'll never buy store-bought butternut squash puree from the store again. This recipe is that good!
Equipment Needed To Make This Roasted Butternut Squash Puree
Baking sheet

Parchment paper

Knife

Large spoon

Food blender

Sieve

Bowl

Ingredients For Your Butternut Squash Puree
Butternut squash

Salt (optional)

Pepper (optional)
How To Make Healthy Roasted Butternut Squash Puree
To make roasted butternut squash puree, start by preheating your oven. While the oven is preheating, line a baking sheet with parchment paper, then wash and cut the butternut squash. Once the oven is preheated, place the butternut squash face down on the baking sheet and roast until tender and fragrant. Allow the squash to cool, then scoop the flesh and place it in a food blender. Blend until smooth, then place the puree in a sieve over a bowl to let it drain all the excess liquid. Once all excess liquid has been removed, serve as desired.


What to Serve/Pair with Your Butternut Squash Puree
The first thing that comes to mind when I think of pureed food is baby food, and this butternut squash soup is a wonderful way to incorporate new nutritious vegetables into your child's diet. The puree isn't only for babies, though. There are several fantastic ways to utilize butternut squash puree.
Butternut squash puree makes an excellent side dish served with other vegetables like Grilled Zucchini Salad, Honey Garlic Roasted Carrots, or Roasted Cauliflower Piccata.
This butternut squash puree can add moisture to bread and cakes. It is used as a base for sauces, a thickener for soups, and adds extra nutrients to smoothies.

Popular Substitutions & Additions
Several additional veggies may be roasted and pureed to use in other recipes. Pureed vegetables make excellent bases for soups. Carrots, sweet potatoes, beets, pumpkins, leeks, and lentils are just a few examples of other vegetables that can be pureed.
Add salt and pepper to pureed butternut squash to make savory dishes. Add cinnamon and sugar to the puree for a sweet snack.
How To Heat And Restore Butternut Squash Puree
The best way to store leftover butternut squash puree is in pre-portioned, airtight containers in the refrigerator or freezer. Once butternut squash puree is stored properly in an airtight container, it will last up to a week in the refrigerator.
Can I Freeze Butternut Squash Puree Made From Fresh Squash?
Yes, you can freeze your roasted butternut squash puree. To have individual portions, I suggest freezing squash puree in ice cube trays. Once completely frozen, transfer the cubes into an airtight container or freezer bag for storage. Butternut squash puree lasts up to 6 months in the freezer.

Healthy Roasted Butternut Squash Puree FAQs
Is roasting the butternut squash the only way to cook it?
No. Roasting a pumpkin in the oven isn't the only way to cook a pumpkin for pumpkin puree. You may also steam pumpkins on the stove or cook them in an instant pot or crockpot. Regardless of how you cook your pumpkins, you will still have a delicious pumpkin puree!
Is there a way to thin the butternut squash puree if it is too thick?
Yes. If your butternut squash puree is too thick or doesn't seem to be mixing properly, add 1 tsp of water at a time until you reach the desired consistency.
Should I use a particular size of butternut squash for this recipe?
No. You can use any size you want. Remember that the cooking time will change according to the size of the squash. I suggest using the cooking time in the recipe as a guide and then adding more time if needed for larger squash.
Is there something I can use to drain the puree if I don't have a sieve?
Yes, if you don't have a sieve, you can use a regular strainer lined with a coffee filter to let the excess moisture drain from your puree. Cheesecloth can also be used in place of a sieve.
Do I need to remove the skin of the squash before cooking?
No, the skin of the butternut squash should not be removed before cooking. While cooking, keeping the skin on and the face of the squash down allows it to cook properly, resulting in a wonderfully soft inside that is easy to remove after it's done cooking.

Other Tasty Vegan Recipes You'll Love
Don't Forget To Come Back And Let Me Know How Your Healthy Roasted Butternut Squash Recipe Turned Out!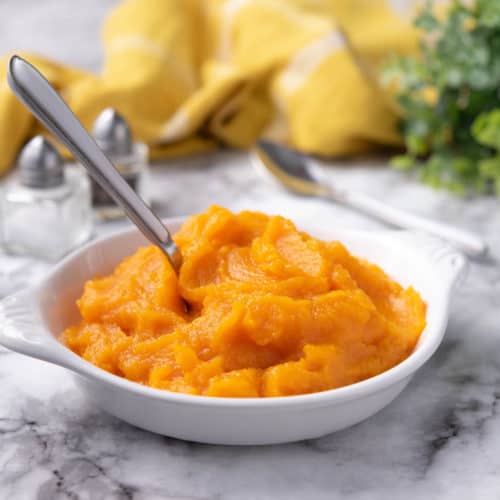 Roasted Butternut Squash Puree
This simple roasted butternut squash puree is silky smooth in texture and seasoned to perfection with salt and pepper. It's the perfect base for soups!
Print
Pin
Rate
Ingredients
1 ½

lb

butternut squash

salt and pepper

if you want salty version, omit if you want a puree that you can use in desserts too.
Instructions
Line baking sheet with parchment paper.

Wash and cut the butternut squash in half, by length.

Place the butternut squash, cut side down on a baking sheet.

Remove the butternut squash from the oven and allow it to cool down.

Place in blender and blend the butternut squash until smooth.

Place the puree in a sieve, and position over a bowl. Gently press the puree to remove excess liquid or just allow it to drain naturally for 30 minutes.

Serve butternut squash puree as desired.
Nutrition
Calories:
153
kcal
|
Carbohydrates:
40
g
|
Protein:
3
g
|
Fat:
1
g
|
Saturated Fat:
1
g
|
Polyunsaturated Fat:
1
g
|
Monounsaturated Fat:
1
g
|
Sodium:
14
mg
|
Potassium:
1197
mg
|
Fiber:
7
g
|
Sugar:
7
g
|
Vitamin A:
36163
IU
|
Vitamin C:
71
mg
|
Calcium:
163
mg
|
Iron:
2
mg