Cabbage is a great ingredient to keep in your refrigerator's crisper drawer. It's filled with vitamins, hardy, and wonderful in everything from salads/slaws to heartier braises or stews. With an awesome crunchy texture when raw that yields to a velvety richness when cooked, cabbage is truly an all-purpose veggie.
However, it's really easy to end up with more cabbage than you can feasibly use in a given week. While cabbage has a great shelf life, it's not infinite. Sometimes, when I've ended up with more cabbage than I wanted, I've wondered "can you freeze cabbage?" to help extend the shelf life while maintaining a great raw texture.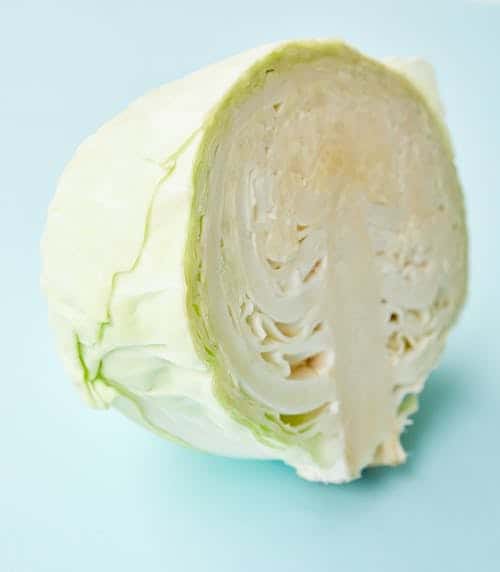 Can you freeze cabbage?
The answer is "Yes, you can absolutely freeze cabbage." With a few simple tips and tricks, it's easy to both freeze cabbage raw and in a blanched form to extend the shelf life. Whether you want the best texture possible or the best shelf life this article will break down the different ways to freeze your cabbage and get the best results for your recipes.
The Ultimate Guide To Freezing Cabbage!
Cutting and using cabbage is relatively straightforward. With a small central stem, cabbage is a mostly usable vegetable with little to no waste. Whether you are using whole leaves for stuffed cabbage rolls, chopped or shredded cabbage for coleslaw, or big chunks of cabbage for braised corned beef or cabbage soup, it's not hard to cut it into your desired form.
When freezing cabbage there is really one main choice to make and that is, To Blanch or Not To Blanch. The biggest impacting factor here is what is your intended use for the cabbage after you remove it from the freezer.
If you are intending to use the cabbage relatively quickly and you want the closest possible thing to raw cabbage then not blanching is going to be your best bet.
On the other hand, if you want the longest possible freezer life out of the cabbage and you don't mind a slightly cooked texture when you finally thaw the cabbage for use in a recipe, then blanching is going to be your method.
Raw frozen cabbage will last ~8 weeks so if you plan on making a recipe with cabbage in the near future, go ahead and keep it raw. Blanched cabbage on the other hand can last up to 9 months, so if you don't know when you want to use cabbage next, but you know you want to keep it around for as long as possible, go with the blanched methods.
How to freeze Blanched, Cabbage Wedges (the best way to freeze cabbage)
Usually, when I use cabbage at home, I'll cut the cabbage head in half and perhaps quarters depending on how much I'm using at once. Often I end up with unused cabbage ¼s lying around my crisper drawer. While they mostly get used in salads or stir-fries, sometimes they don't. To freeze any unused cabbage wedges simply follow these steps:
Blanch the Cabbage Wedges by submerging them in boiling water for 1.5-2 minutes and moving them directly into ice water to stop the cooking process.
Drain the cabbage pieces of any excess liquid.
Arrange the cabbage wedges on a parchment-lined cookie sheet and place it in the freezer.
Allow the cabbage to freeze for 4 hours before moving the frozen cabbage ¼s into an airtight container like freezer bags for long-term storage
By blanching the cabbage before freezing you are going to get the best shelf life possible. While freezing cabbage in its raw form does yield a slightly better overall texture, the added benefit of shelf life is more than enough of a reason to go with this method. This is a great way to freeze cabbage for braised purposes like corned beef or for cabbage soup.
How to flash freeze shredded cabbage.
While blanched quartered cabbage lasts the longest out of the methods described here, I think shredded cabbage can be just as effective, especially if you like to cook on the fly meals for just 1 or 2 people.
By keeping veggies like frozen shredded cabbage on hand you can put together easy to prepare pasta or stir-fries that are full of flavor and hearty, healthy vegetables. This process involves shredding your cabbage thinly and freezing it spread out in a single layer. This flash freezes the individual cabbage strands quickly creating an awesome, almost raw texture when thawed.
To flash freeze shredded cabbage follow these steps:
Shred the cabbage to your desired thickness
Rinse the cabbage and drain away all excess water.
Arrange the cabbage on a parchment-lined baking sheet.
Place the baking tray in the freezer for 2 hours or until the shredded cabbage is completely frozen.
Transfer the shredded cabbage to an airtight container like a freezer bag.
By laying the cabbage flat and allowing it to freeze completely you essentially flash freeze the cabbage getting the best possible texture overall. Then by transferring the cabbage to a freezer bag or air-tight storage container we can keep the cabbage from freezer burn or oxidation helping extend the shelf life and flavor.
When done correctly you can use this cabbage in raw applications like salad or coleslaw without issue. This cabbage makes a great filling ingredient for egg rolls and I love to use it in veggie stir-frys or pasta dishes!
How to freeze whole cabbage.
Whether you have an impressive garden haul or simply a great deal at the farmers market, if you want to freeze a whole cabbage follow these steps:
Soak the cabbage in a gallon of water and 1 cup of salt. This will help get rid of any bugs or pests in the inner cabbage leaves.
Drain the cabbage fully and place it on a dish or tray lined with parchment paper.
Place the tray into the freezer and allow the cabbage 8 hours to freeze before removing it from the tray and transferring it to an airtight container.
Cabbage frozen like this will keep for up to 8 weeks, if you want to extend that shelf life even further you could blanch the cabbage by submerging it for 3 minutes in boiling water before transferring it to ice water to stop the cooking process. From there you would freeze it as normal from step 2 onward.
This is a great way to preserve excess cabbage from a garden or from a local farm. It's also probably the best way to freeze cabbage if you plan on making cabbage rolls, especially if you blanch it before freezing. This will remove the blanching step in preparation and the cabbage leaves will be ready to roll once they are thawed!
How to thaw frozen cabbage.
Now that we've handled the issue of "can you freeze cabbage", let's talk about how to best un-freeze that cabbage when you finally want to use it. The best way to thaw any frozen vegetable and especially frozen cabbage is in the refrigerator. Simply follow these steps and you'll have properly thawed cabbage in no time!
Remove the desired amount of frozen cabbage from your freezer and place it in a bowl or dish.
Cover the bowl with plastic wrap and place it in your refrigerator.
Allow the cabbage to sit in the refrigerator until it has completely thawed. Depending on the size of your frozen cabbage this can take up to 2 days.
Drain all the excess liquid away from the thawed cabbage and. use it as needed for your recipe!
You can thaw ingredients by running them under cool running water. I don't recommend this with cabbage, especially blanched cabbage as you run the risk of breaking the vegetable down as it thaws. If you had to you could use your microwave set to the timed defrost setting, but it's best to let the cabbage thaw naturally in the refrigerator.
Cooking with frozen cabbage.
Depending on how you chose to freeze your cabbage, you can cook with it in a number of different ways, and sometimes you won't even have to thaw it first.
Shredded/frozen cabbage is the easiest to cook with and depending on the recipe, you can just throw it into the pan raw. If you are planning on making cabbage rolls, or braised cabbage with large frozen pieces of cabbage, it's probably best to thaw it before cooking. This will help maintain the most integrity and quality for your cabbage dishes!
Final Thoughts.
Cabbage has a ton of flavor and can add a lot in the way of texture and body to lots of different dishes. Whether you're making egg roll filling, a light coleslaw, or a hearty braised corned beef and a cabbage, this versatile vegetable can do it all!