Chowing down on a piece of fresh fudge is an experience like no other--smooth, creamy, melt-in-your-mouth sweetness that simply can't be beat. A quick trip to your local candy store will present you with a nearly impossible decision: what flavor fudge to choose? From classic chocolate, to peanut butter, to turtle, to penuche, and beyond, it's no exaggeration to say that there is a type of fudge to suit every set of taste buds.
This wide variety of irresistible flavors makes it all too easy to go a little overboard (no judgement!) when it comes to a visit at the fudge shoppe. Or perhaps you were making some homemade fudge for a party, only to have it cancelled at the last minute! Your sudden excess in the sweets department may leave you wondering: can you freeze fudge?
You absolutely can. Freezing is a great way to preserve fudge, ensuring that your culinary efforts are not wasted, and enabling you to save those warm and cozy candy shop vibes for a rainy day! Freezing fudge is a perfect way to set yourself up with sweets on hand for that unexpected company or as easy grab treats for the kiddos.
Read on for the best freezing methods, tips, tricks, and all things fudge!
What is Fudge? (Besides Entirely Delicious)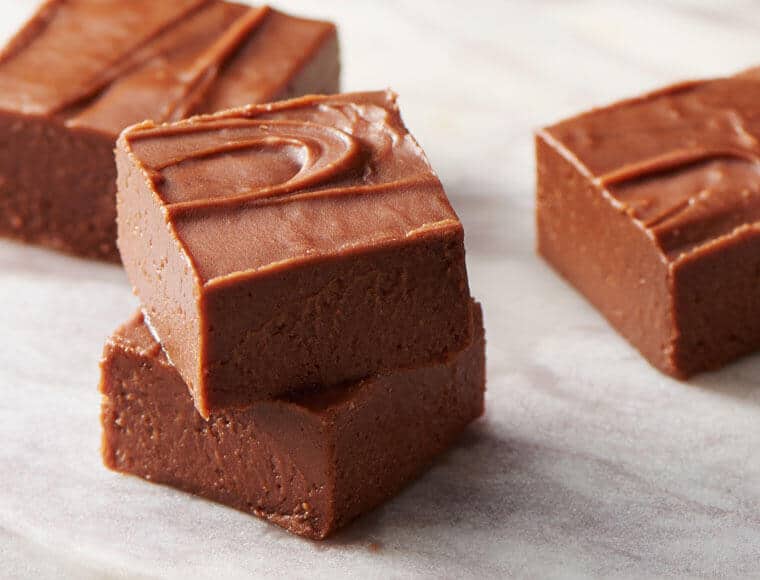 Let's first talk about what makes fudge, well, fudgy! Often thought of as a type of chocolate, fudge is actually a confection that is completely independent of chocolate. Fudge is a type of candy, and while it often is flavored with cocoa, this is not what makes fudge fudge.
A Quick Lesson on Candy Making
As the sugar mixture for any type of candy boils, it quickly loses water, allowing the mixture to begin rising above the standard water boiling point of 212℉. As the mixture cooks longer and gets hotter, the sugar becomes increasingly concentrated. This means there are more sugar crystals when the mixture cools, resulting in candy that is harder and more brittle.
As you already know, fudge has such creamy and decadent texture that it barely seems related to other tough candies such as taffy or lollipops. But it is! This soft, fudgy structure is achieved by cooking the fudge mixture for far less time than those other types of candies. At that point, the concentration of sugar particles remains low enough that the resultant sugar crystals will be small and more spread out--yielding the silky smooth fudge texture we all know and love.
Of course, fudge is not purely sugar and water! There are other ingredients that play a role in making fudge so velvety in texture. Most fudge recipes contain high fat ingredients such as condensed milk, regular milk, and butter. The fat particles in these ingredients have a way of setting up between those all-important sugar crystals we discussed, helping to keep the fudge smooth and even as opposed to crumbly or brittle.
The Wide World of Fudge Flavors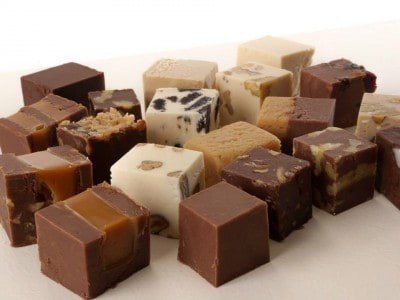 In addition to the baseline fudge ingredients, there is an absolute slew of other ingredients you can add to your fudge recipe for different flavors and textures. Classic chocolate tends to be the go-to, but other popular fudge flavors include: chocolate and vanilla swirl, butterscotch, rocky road, toffee, and peanut butter to name a few.
You might even see fudge that has mix-ins like swirls of caramel, or crunchy toppings such as nuts, broken cookies, chocolate chunks, pretzel pieces, candies, or even popcorn!
Why is Freezing Fudge a Good Idea?
The freezer is already well known as the great food preserver and it's no secret that you can extend the longevity of so many foods by freezing them. So why is this especially important when it comes to your favorite fudge?
The truth is, fudge actually has a fairly decent shelf life, thanks to an extremely high sugar content which helps to inhibit spoilage. In fact, rather than spoiling, the greatest threats faced by our friend fudge are either melting or drying out. Thankfully, the freezer provides excellent protection against both of these risk factors!
In addition to being kept safe from warm temperatures and dry environments, fudge stored in the freezer is a great snack or treat to have on hand. Since it requires no cooking or preparation (aside from defrosting, which we'll cover in a bit!) storing fudge in the freezer is a fantastic way to set yourself up with an easy, last-minute dessert that everyone will ooh and ahh over.
How Long Does Fudge Last in the Freezer?
In an airtight container stored at room temperature, fudge will last for about 1-2 weeks, while fudge in the fridge will last for closer to 3 or 4 weeks.
But you can preserve fudge even longer by wrapping it properly and storing it in the freezer. If you decide to freeze fudge as a means of storage, it will keep your fudge fresh for up to 3 months!
How to Freeze Fudge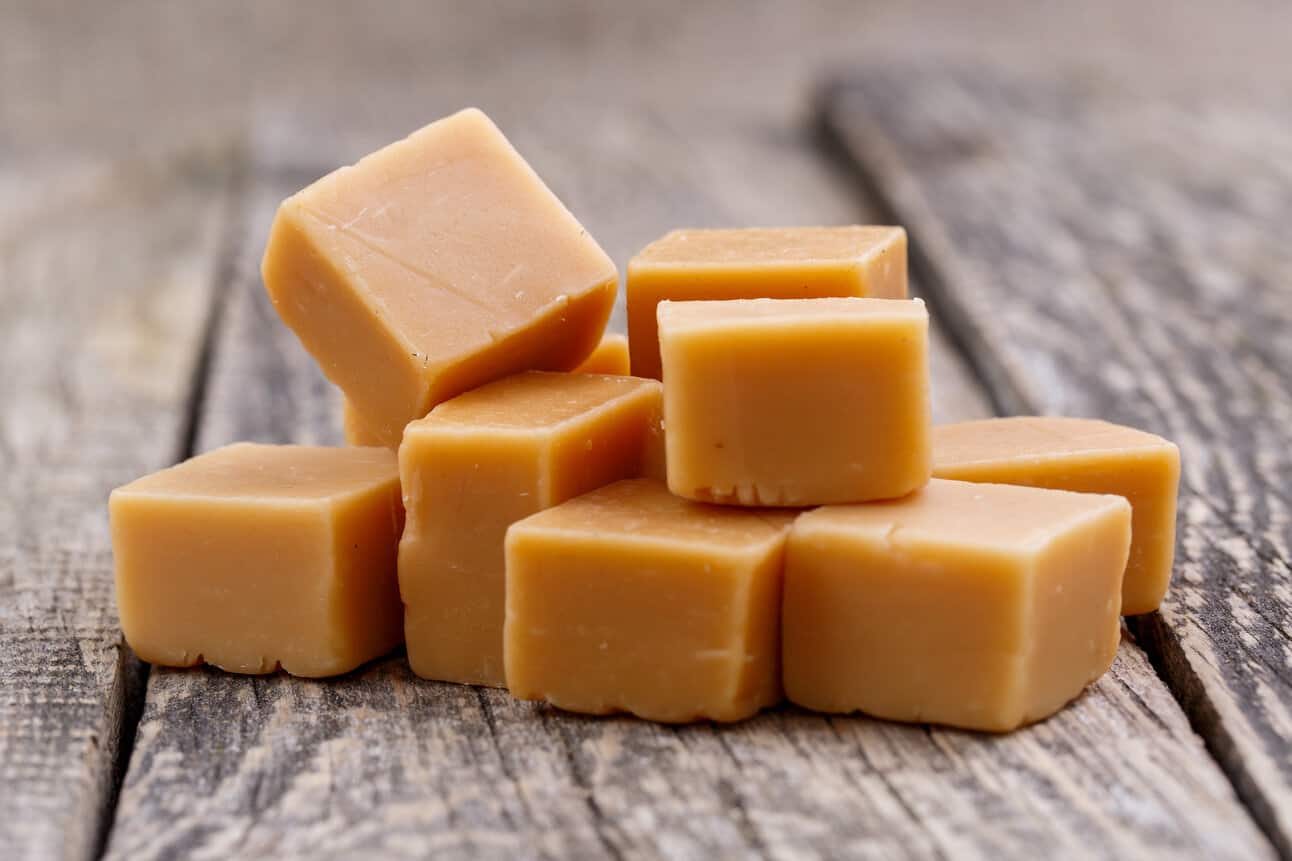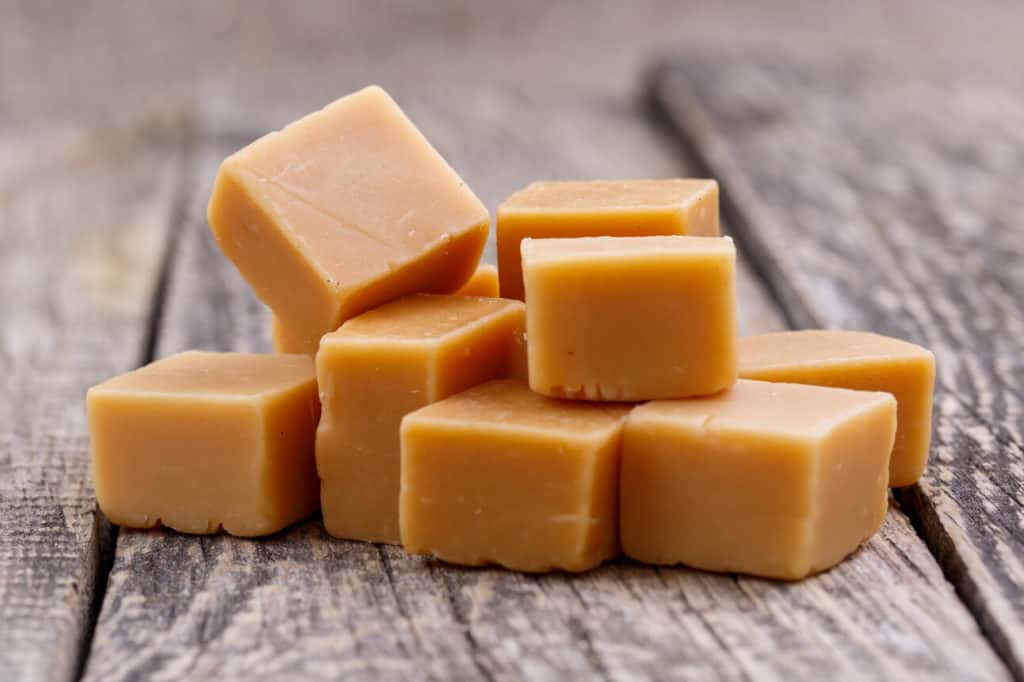 When it comes to deciding how best to freeze fudge, there are several things you must consider before just tucking it into the depths of your icebox and never looking back.
Since the issue of melting is already taken care of by way of inherently cold freezer temps, the main goal now is to prevent your fudge from drying out during storage. Take time to wrap the fudge carefully and tightly, so as to remove as much air from the packaging as possible. Also, you should avoid freezing the fudge in the cardboard containers it is often sold in, as these encourage air flow and do not provide enough protection against the frigid air.
Careful wrapping is also important for protecting the fudge against freezer burn as well as preventing your sweet treats from absorbing any strange odors from the freezer itself. You never know when someone is going to place a tray of garlicky meatballs or fresh fish fillets in the freezer!
Can You Freeze Fudge in Individual Portions?
Yes! We highly recommend this method as it is most convenient, giving you the ability to pull out just a few pieces when you need them without having to defrost an entire package. Of course, if you do decide to defrost the entire package at once, we wouldn't blame you one bit.
Step 1
Cut the fudge into whichever size pieces you desire. Just be careful not to cut the pieces too small, as this will make it easier for them to lose moisture over time. We recommend 2-inch by 2-inch squares, but a bit larger or smaller will be just fine!
Step 2
Individually wrap each piece of fudge using plastic wrap or aluminum foil. We know, this is a time-consuming step, but your efforts will be rewarded when you have perfectly moist, fresh-tasting fudge in your freezer whenever the mood strikes you! You'll thank yourself.
Step 3
Place the individually wrapped fudge pieces into a freezer bag or an airtight container. Be sure to choose a freezer safe container so that it will reliably protect your sweet little treats, without the risk of becoming brittle or cracking in sub-zero temps. Label and date your package so you know what it is and most importantly when it's from, and place the package right into the freezer.
Can You Freeze Fudge Whole?
Also yes! This method is ideal for when you're short on time and simply need to get that fudge in the freezer fast. It's true that freezing larger blocks of fudge creates more work for you later on upon defrosting, but on the bright side, freezing fudge in a whole block will help it to retain moisture during storage.
Step 1
Remove the entire block of fudge from your baking dish or pan. If you encounter problems with sticking, you can try carefully dipping the bottom of the pan in hot water for a few seconds. This should be just enough time to soften the layer of fudge along the edge of the dish, therefore making it easy to lift the whole block out at once.
Step 2
Tightly wrap the entire block of fudge in plastic wrap, taking care to cover all ends and edges as these will be the most prone to drying out. If you have several blocks of fudge you are looking to freeze, be sure to separate them with layers of wax paper or parchment paper to prevent them from sticking together.
Step 3
Place the wrapped fudge block (or blocks!) in a resealable freezer bag or another freezer safe container. Label and date your package, then place it into the freezer. Take extra care not to place anything heavy on top of the package! That block of fudge might seem sturdy, but over time and in very cold temperatures, it could be prone to cracking especially if heavy or unequal weight is applied.
How to Defrost Frozen Fudge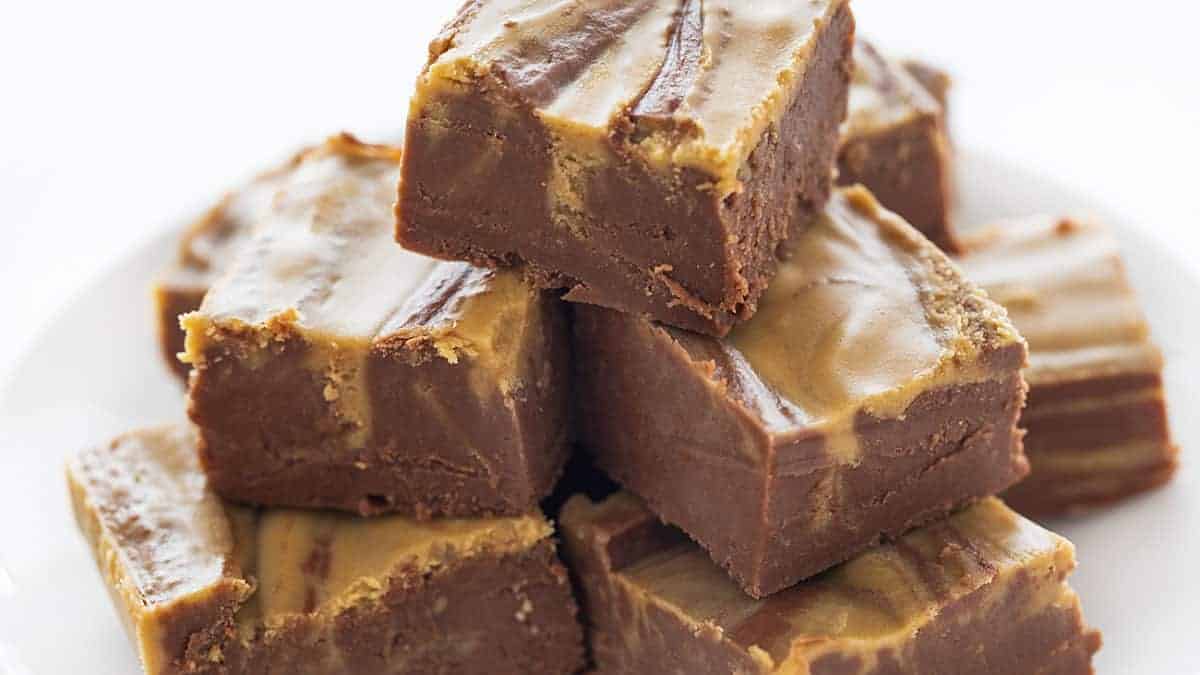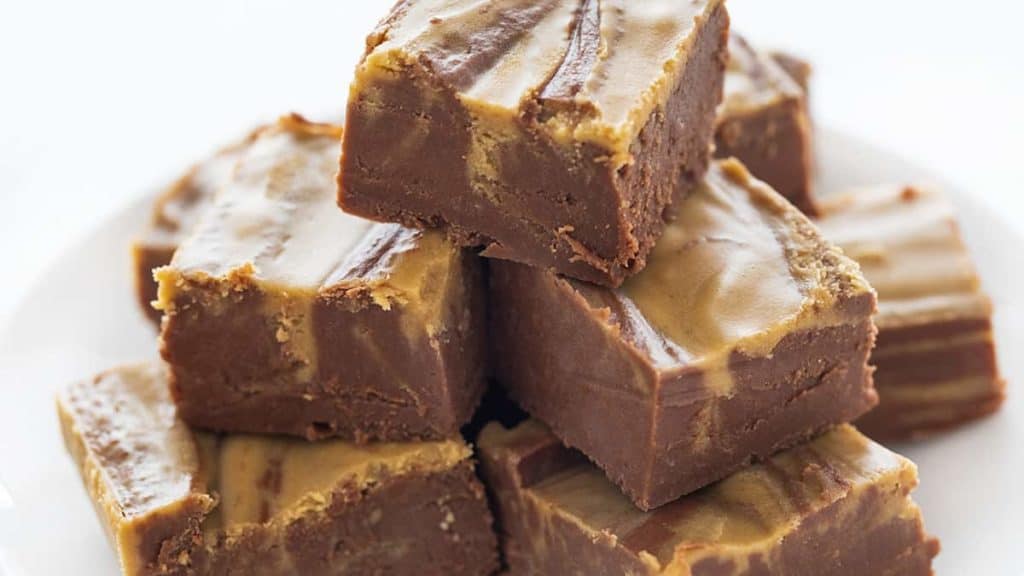 After you successfully freeze fudge, the next most important step of course is how to defrost fudge! Simply keep the frozen fudge sealed up in the same plastic wrap and bag or container you froze it in and transfer the entire package into the refrigerator. Allow it to thaw there for 4-6 hours depending on the thickness of the pieces. A good idea is to transfer the fudge from the freezer to the fridge the night before you need it!
You can most definitely eat your previously frozen fudge straight from the refrigerator after it has thawed, but if you're not a fan of chilly fudge, you can easily warm it up a bit. Just remove it from the refrigerator and let the fudge rest at room temperature for 15-30 minutes, depending on the size of the pieces. Whenever the fudge feels to be at a good consistency and temperature, dive in!
After you defrost fudge once, we recommend not attempting to refreeze it. The fudge will experience textural changes upon freezing and defrosting and over time this can have an unpleasant effect on the overall texture of the candy.
When it comes to storing fudge that has been in the freezer, you should plan to keep it in the fridge rather than leaving it out at room temperature.
How Can You Tell if Fudge Has Gone Bad?
As we learned in our candy making lesson up above, most fudge recipes have an extremely high sugar content due to the inclusion of ingredients such as condensed milk, chocolate, and sugar. Therefore, it's extremely unlikely for fudge to actually spoil. However, additives in certain flavors of fudge such as nuts or fruits could turn rancid or develop mold, in which case the fudge should certainly be discarded.
Another sign that you fudge is past its prime is any separation of ingredients. Due to the different characteristics of the ingredients that make up fudge, they tend to separate from one another over time. This could cause an extra soft texture or a wet or somewhat slimy feeling on the surface, which while probably not harmful to consume, just simply won't taste that good.
Also, after some time, you might find the fudge to be excessively dry and crumbly due to air exposure--whether at room temperature or as a result of freezer burn. Again, while not spoiled, dried out fudge is by no means good eats!
We recommend that if your fudge is experiencing any of these characteristics, go ahead and toss it. Fudge consists of inexpensive ingredients and is quick to make, therefore it's truly not worth forcing yourself to eat if you aren't sure of the quality. Fudge is not meant to be suffered through!
What to Do With Dry Fudge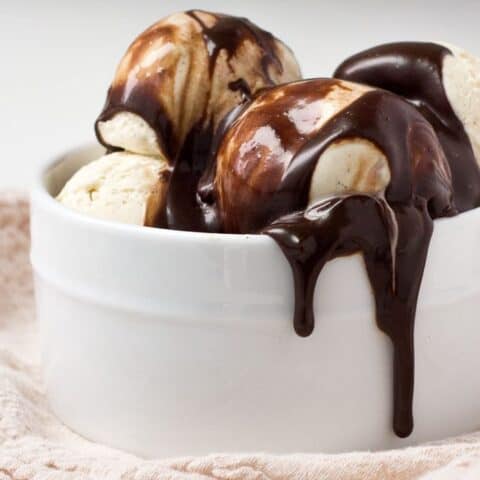 Hold on though, don't toss that dry or cracked fudge just yet! Though it may not be pleasant to eat on its own, dried fudge can still be tasty, it just needs one major change.
Simply melt the dry or crumbly fudge in a non-stick pot over medium-low heat, stirring frequently until the fudge is completely melted and has a uniform consistency. The result? An excellent fudge sauce that is delicious on ice cream, a very special stack of waffles, or as a ganache to be drizzled over pound cake!
Final Thoughts on Storing Fudge in the Freezer
Whether you have homemade fudge on your hands or are trying to preserve those candy store vibes for a rainy day, freezing fudge is a perfect way to save the sweets!
You can store fudge in either whole or cut up form, as both options will do the trick just fine. The most crucial part of the fudge freezing process is to wrap it tightly in plastic or aluminum, remove as much air as possible, and then store it in an airtight container. This will greatly extend the shelf life far beyond the standard 1-2 weeks it would have at room temperature--up to 3 months!
So go ahead and eat your fill of delicious fudge, then with just a few simple steps, you can save the rest of your sweets for a rainy day (or, literally any day).