If you've ever made homemade gravy, you know from experience just what an endeavor it is. From waiting--at times, hours--for those delicious pan drippings to be ready, to the wrist-tiring amount of whisking required in order to give your sauce just the right thick but not gummy consistency. When so much effort goes into it, and the result tastes so good, you wouldn't be caught dead wasting a drop of the stuff!
Sometimes though, you might end up making way too much of the stuff. Gravy consumption is not always so easy to predict, especially when cooking for a crowd! While we wouldn't judge you for smothering your liquid gold over almost everything you eat for the next week as a means to use it up quickly, let's talk gravy storage options.
Simply put, yes you can freeze gravy and all things considered, this is one food product which freezes quite well. However, freezing gravy properly is key to its viability upon defrosting, so we're walking through how to achieve perfect frozen gravy, from start to finish.
What is Gravy?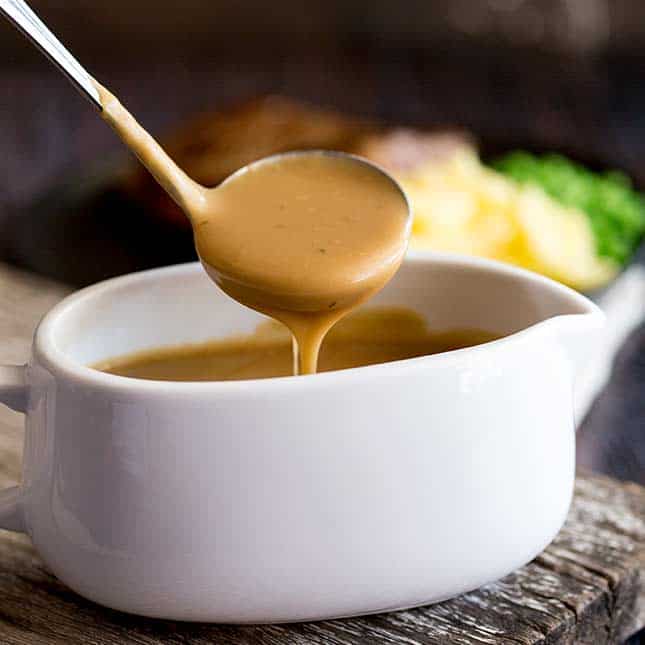 Let's first chat about exactly what gravy is. As we know it's a sauce, but the special thing about it is that it is an emulsion--a stable suspension of fat particles in a liquid, often achieved with the assistance of some thickening agents. In the case of most gravies, the fat is brought to the table by butter, lard, or other animal fat and thickened with starch such as wheat flour, cornstarch, and at times even potato or tapioca starch. Liquid ingredients like the pan drippings from roasted meat, stock, or even water make up the body of the gravy.
When these ingredients are combined together at very specific points in the cooking process, the end result is that the fat and starch become evenly dispersed throughout the liquid, giving it a rich, thick, and velvety texture. Gravy may be seasoned with any number of additional ingredients from garlic and onion to fresh herbs and spices.
This versatility has resulted in a number of different, highly recognizable and regionally popular distinct types of gravy, which we'll get into a bit later in this article.
So, Can You Freeze Gravy?
Yes, freezing leftover gravy is a great storage method, but there are just a few things to keep in mind.
The emulsified nature of gravy means it is likely to experience some textural issues during freezing and defrosting, as the different ingredients within the sauce have varying reactions to being frozen and thawed. This could potentially trigger separation of the different ingredients and loss of consistency. Don't worry though! We'll have some tips for successful thawing of your gravy in just a bit.
Also, when freezing gravy you want to be sure that it is as fresh as possible. After even just a couple days in refrigeration, harmful bacteria can begin to take up residence in the sauce.  If you're planning on freezing your leftover gravy, don't delay!
Reasons to Freeze Gravy
Why bother freezing gravy in the first place? There are actually a number of benefits to doing so!
Whatever way you slice it, homemade gravy is precious stuff. It takes time to cook, season, and thicken properly, not to mention all of the various ingredients that go into this single sauce. Freezing it can help to make sure that none of your hard won efforts go to waste!
The typical shelf life of gravy is not all that great. While gravy can be stored in the refrigerator for about a week--provided you reheat it to a boiling point before eating it--this is certainly not a ton of time in which you can eat it up. Freezing gravy is an easy way to extend its life expectancy.
While store-bought gravy is not all that expensive, it still pays to make your dollar go further and buy in bulk packaging when possible! Use what you need and freeze the rest for another meal without any food--or money--waste.
Cooking for a holiday meal for a crowd (not to mention whipping up enough gravy for everyone) is an especially big and oftentimes stress-inducing task. By making use of the freezer, you can get some of the work done well in advance!
Making and freezing gravy is a great way to make use of yummy juices such as those that linger in the bottom of your rotisserie chicken container or on the sheet pan after roasting turkey thighs. Pro tip: if you're tight on time, you can also freeze these juices without bothering to turn them into gravy first, just be sure to label that container! Small containers of frozen liquids are mysteries which rarely get solved.
Last but not least, if you simply love gravy and eat it often (we're right there with you!), having some portions packed away in the freezer means you have it on hand anytime you want.
How to Freeze Gravy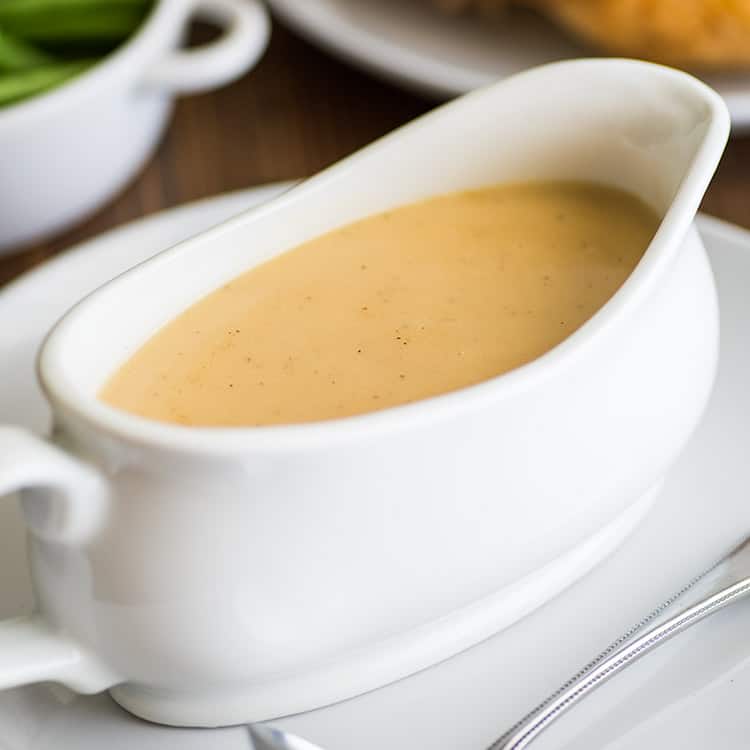 Ready to get that good gravy of yours into the freezer? Freezing gravy properly is important for maximum quality, both in terms of food safety as well as maintaining that unbeatable velvety texture and robust flavor. All you have to do is follow our easy step by step guide below!
Step 1: Prepare the Gravy
First things first, you want to be sure to allow your gravy to cool completely before attempting to freeze it. Optionally, you can also give your gravy a leg up in the post-freezer texture maintenance department by giving it a quick run through the blender or food processor now before freezing. Doing so ensures that the makeup of the sauce is as homogeneous as possible, but again, this is not required!
Step 2: Portion the Gravy
Once your gravy is blended (if desired) and completely cooled, you can divide it into containers of your choosing. You may opt for a freezer-safe airtight container of any size or use freezer bags, which have the added benefit of taking up less freezer space.
Another option, and one of our favorites we might add, is to achieve even smaller portions of liquid items by freezing them in ice cube trays. This allows you to defrost one or a few cubes of gravy at a time for single servings!
Step 3: Freeze the Gravy
Place the gravy-filled containers into an area of your freezer where they are sure to remain undisturbed until the gravy is frozen solid. If using a freezer bag, you may want to lay it down on a baking sheet or tray before transferring it to the freezer so that the gravy freezes flat. Much easier to store this way! Allow the gravy to freeze for a few hours or overnight until it is solid all the way through.
Step 4: Transfer the Gravy (If Necessary)
If you are freezing your gravy in an ice cube tray, you can transfer the frozen cubes into another container such as a freezer bag or freezer-safe tupperware. Just be sure to seal the container tightly to ward off any freezer burn before returning it to the freezer!
How Long is Frozen Gravy Good For?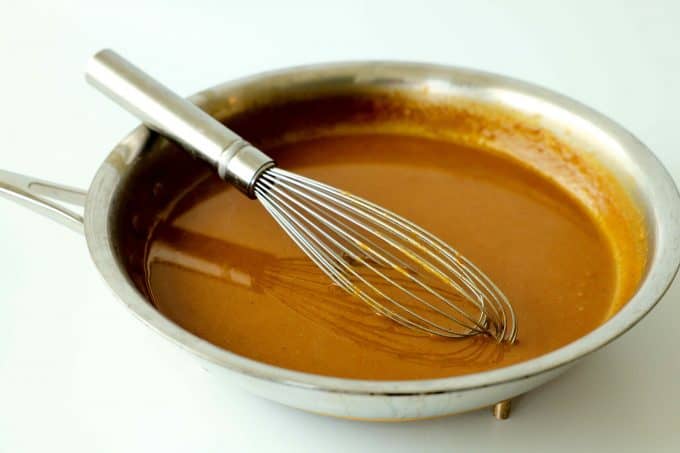 While storing gravy in the refrigerator will keep it fresh for a maximum of one week, most gravy will actually continue to be in excellent condition for up to 4 months in the freezer!
There are of course some exceptions to this, as some types of gravy are more freezer-friendly than others. We'll go over some common types of gravy and their viability in the freezer in a later section.
How to Thaw Frozen Gravy
Below are the steps you need to take in order to defrost gravy for best results. It is imperative to thaw gravy properly--resisting the temptation to leave it on the countertop to defrost!--as holding liquids at room temperature is just an open invitation for bacterial growth to occur. For this same reason, it is inadvisable to refreeze gravy which has already been frozen and defrosted. Once it's thawed, eat it up!
Step 1: Out of the Freezer, Into the Fridge
When it comes time to thaw frozen gravy, the first thing to do is pop that stuff from the freezer into the fridge the day before you plan to use it! This gives it a head start on the defrosting process which will yield a much better final texture than reheating gravy straight from frozen. If your frozen gravy is in a freezer bag, you may want to place it inside an extra bag or another container as some nicks and tears in the plastic are unfortunately not all that uncommon to occur in the freezer, and trust us, a leaky bag of gravy in your refrigerator is not a mess you want to be dealing with.
Step 2: Heat the Gravy
When you are ready to use the gravy, go ahead and transfer it into a saucepan and place it over medium-low heat. Anytime you reheat gravy, especially that which has been previously frozen, there is always a risk of it splitting once some heat is applied. Therefore it's important to heat the gravy slowly and stir it often with a wire whisk to encourage the texture to remain smooth.
Step 3: Adjust the Consistency
After it has warmed up, your thawed gravy may need some adjusting in order to re-texturize it to your liking. If the gravy has become too thick, whisk in a splash of warm water as it is heating up. Or, if your gravy is too watery, whisk a bit of cornstarch with warm water (in a separate bowl, to start) and add the mixture to the gravy a little bit at a time until proper thickness is restored.
Step 4: Check for Seasoning
Once your gravy is piping hot, taste it for seasoning. Surely it was perfectly delicious when you packed it away into the freezer, but it may need another dash of salt, black pepper, or spices of your choice at this point. Once your gravy tastes good, ring the dinner bell because the time to enjoy it all over again is finally here!
Types of Gravy and Their Freezer-Friendliness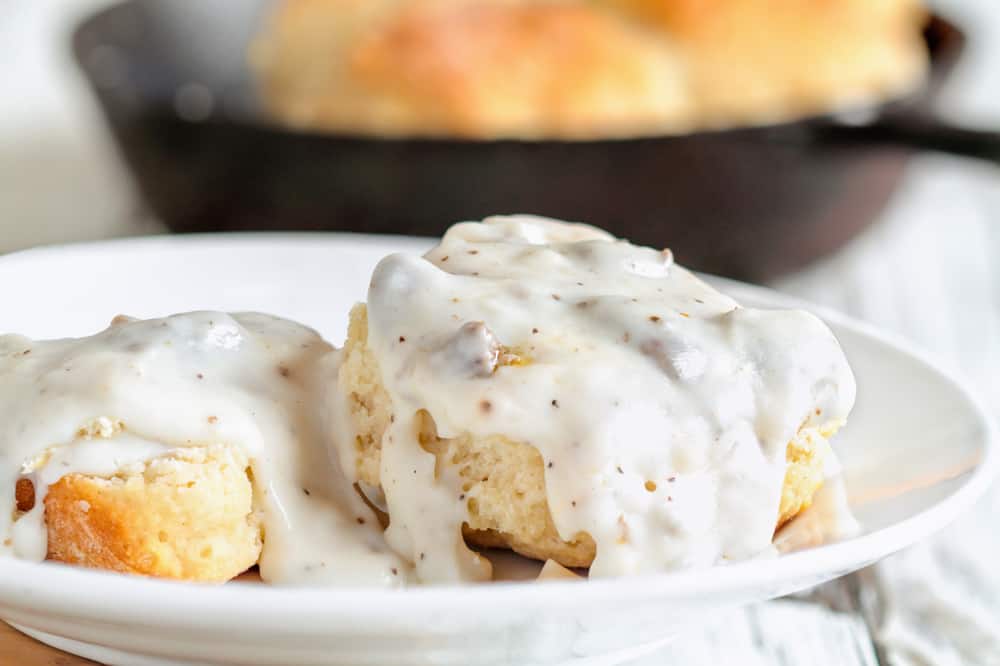 The level of success of freezing gravy will depend on what the gravy ingredients are. Here are a few common types and how well they will do in the freezer:
Brown Gravy
Brown gravy is the type of gravy that most folks are familiar with as a non-negotiable at the Thanksgiving table served alongside the roast turkey. However, brown gravy includes that which is made from other meats as well such as chicken gravy, duck gravy, pork gravy, and even beef gravy!
The idea behind brown gravy is that it takes most of its flavor from the pan drippings of whatever meat has been roasted, and more often than not, brown gravy is made with a base of butter and flour, and a flour-based gravy such as this happens to do very well in the freezer.
White Gravy
White gravy, as you might already know, takes its coloring (and name!) from the fact that it is a cream based gravy. It's actually quite similar to béchamel, that creamy white sauce which forms the basis of cheese sauces and is included in many lasagna recipes. One extremely well known type of cream gravy is sausage gravy, which is a Southern breakfast staple, often served over eggs or biscuits.
Unfortunately, gravy that contains dairy ingredients doesn't do so well in the freezer as the milk products tend to cause a lot of separation. You can give it a shot, but be aware that it will not hold up near as well as other types of gravy and may require some extra elbow grease to reconstitute upon defrosting.
Red-Eye Gravy
Yet another staple breakfast item brought to us by Southern cuisine, red-eye gravy is made from the pan drippings of some freshly sautéed country ham, deglazed with black coffee. Easy as that! Some folks opt to thicken their red-eye gravy with cornstarch to make it more viscous, while others enjoy it as is.
Whether or not red-eye gravy freezes well depends on the inclusion or omission of a thickener. If a thickener such as cornstarch has been used to make the gravy, it will hold up nicely to freezing. If it is only pan drippings and coffee however, the results will not be ideal. The good news is with a recipe as simple as that, it's easy enough to just make some fresh red-eye gravy!
Sunday Gravy
Also known as Sunday sauce, this is not quite like the other gravy varieties we've covered so far. Sunday gravy is the more traditional reference to the ubiquitous Italian-American staple of red tomato sauce with meat and vegetables in it. Its flavor may be quite different, but its function is just the same–to smother over piles of pasta, meat, and vegetables as a means to add extra deliciousness
Happily enough, all types of tomato sauce freeze amazingly well, if not better than flour based or otherwise thickened brown gravy.
Other Frozen Gravy FAQs
Let's go over a few more things about gravy!
Ideas for Using Leftover Gravy
If freezing leftover gravy doesn't appeal to you, or you have plenty of thawed gravy that you need to use up (as we said, don't refreeze it!), here are some ideas on how to eat leftover gravy that go beyond mashed potatoes.
In a casserole dish, stir gravy together with cooked rice, your favorite vegetables, and protein of your choice, then bake in the oven for a tasty and creamy casserole!
Drizzle warm gravy over poached eggs and toast for an extra rich eggs benedict style breakfast, without the hassle of making hollandaise.
Pack some thanksgiving turkey vibes into a sandwich! Just mix gravy with a bit of mayonnaise, then smother it on your turkey or chicken sandwiches. Extra credit if you have some cranberry jelly to add in!
Stir gravy into soups and stews as they simmer to add a cooked-all-day flavor to even store-bought packages of soup or soup mix. Just keep an eye on the salt content!
Toss almost any type of roasted vegetables in warm gravy for a creamy texture and extra boost of flavor.
Can You Freeze Gravy and Meat Together?
Yes! No one says you have to freeze your leftover gravy in a container by itself. If you have leftover cooked meat or poultry, freezing it with the gravy is a great way to keep the meat or poultry moist during storage and reheating. Just make sure both meat and gravy are completely cooled, then place the meat in a freezer-safe storage container and pour the gravy over the top. Seal the lid and tuck it into the freezer for another day!
Opting for this freezing method makes things nice and convenient for you as freezing meat and gravy together leaves you with a ready-to-go meal on hand any time you need it!
Freezing Gravy: The Takeaway
In summary, while gravies which are thickened by wheat flour or other starches freeze quite well, non-thickened gravy will likely experience more difficulty during the freezing and defrosting process. Fear not though! With a bit of vigorous whisking and the addition of some extra moisture and/or starch, you should be able to reconstitute the gravy to your liking.
The next time you find yourself blessed by an abundance of gravy--whether homemade, store-bought, or anywhere in between!--you have some options besides just eating it up as soon as possible. Although, if you decide to serve gravy at every meal until it is used up, we fully support you in this endeavor as well. Drizzle on!