Sauerkraut is one of those foods which is most likely not on your menu every day. If it is, and if you always manage to finish it at each meal, we salute you! For the rest of us though, it's more likely that plenty of leftover sauerkraut remains after the latest cookout or pierogi night. Now the big question: what to do with it.
You might already be familiar with the fact that sauerkraut has a long shelf life, but just how long is it? Can you freeze sauerkraut to make it last longer, and to simultaneously ensure that you have everything you need for the next time you decide to throw bratwurst on the grill?
Simply put, yes, you can freeze sauerkraut. But doing so may result in a number of less-than-ideal effects on your crunchy cabbage, therefore, you may not actually want to freeze it. Nevertheless, storing sauerkraut in the freezer is a definite possibility and we're going to cover everything you need to know about sauerkraut, from frozen to defrosted.
What is Sauerkraut?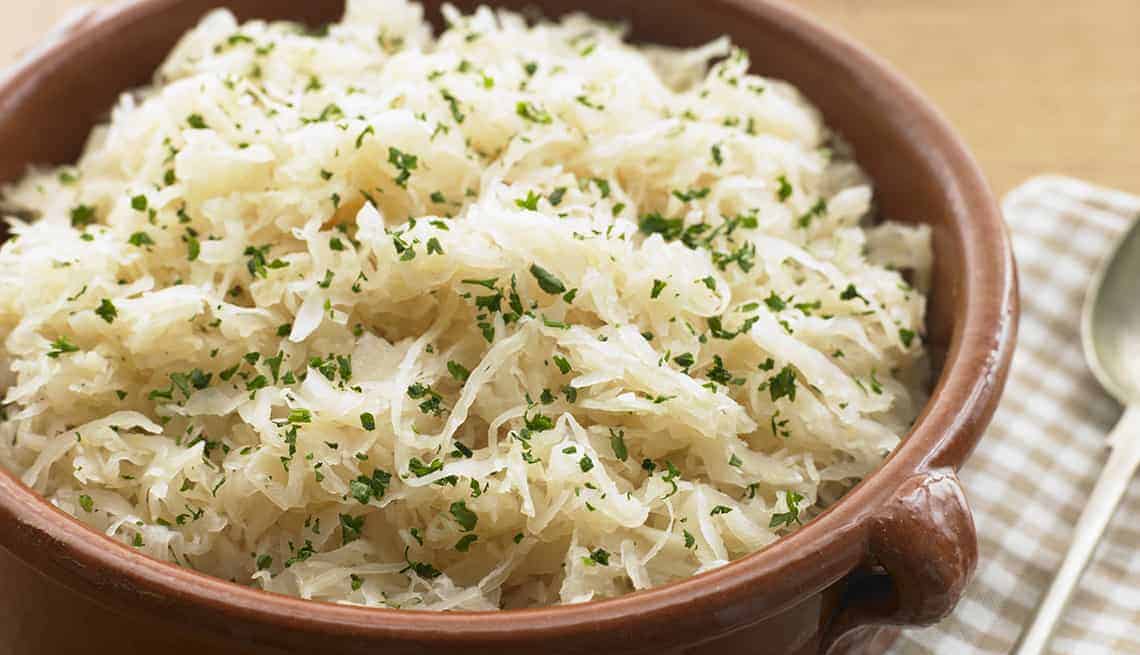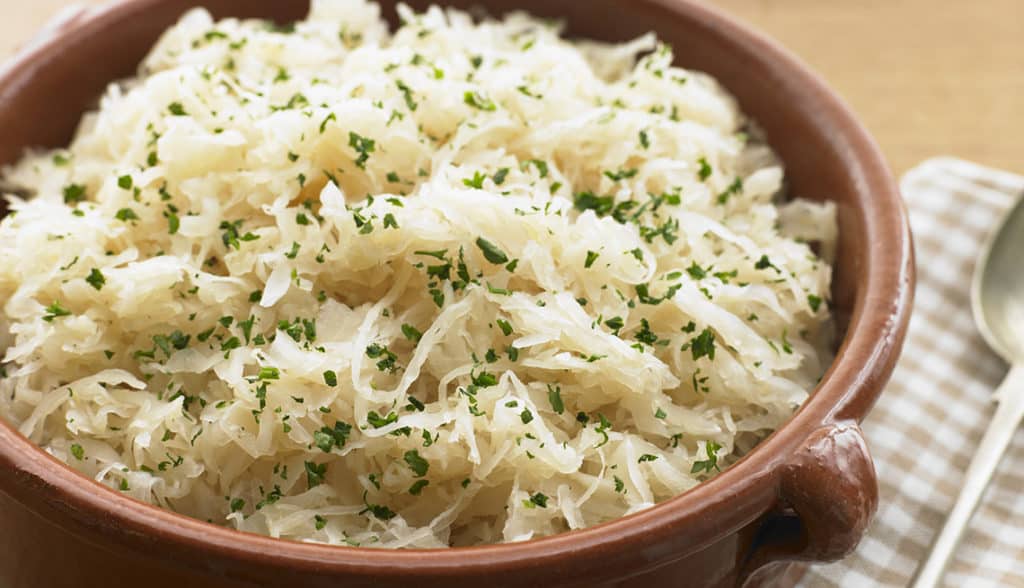 The word sauerkraut translates to "sour cabbage"--a perfect descriptor for this dish! The unique sour flavor of sauerkraut is developed by way of our tiny friends, lactic acid bacteria. These little critters, many of which are probiotic bacteria or "good bacteria", are also responsible for the similarly sour taste of yogurt, buttermilk, cheese, and other fermented foods.
Widely associated with German cuisine and Oktoberfest celebrations everywhere, sauerkraut is actually a popular dish in the diets of many Eastern European countries: Bulgaria, Slovenia, Poland, Ukraine, and Romania to name just a few! Sauerkraut may be served plain alongside meats or vegetables or may be used as an ingredient in a more complex cooked dish. With all of this versatility, you can see why this simply prepared veggie gets so much airtime!
How Does Lactic Acid Fermentation Work?
Sometimes thought to be a type of pickled cabbage due to its vinegar-y taste, rest assured that sauerkraut is fermented cabbage, meaning its tang is as a result of lactic acid and lactic acid alone. At least, this is the case when it comes to quality sauerkraut. Some producers opt to add vinegar to their sauerkraut mixtures to enhance the tang while shortening the amount of time required for the fermentation process. However, these types of sauerkraut tend to taste sharp and acidic as opposed to the pleasantly tangy flavor of properly fermented sauerkraut.
As lactic acid bacteria consume the naturally occurring sugars within the cabbage leaves, they then create lactic acid as byproducts, giving the sauerkraut its tangy taste! This process also helps to partially break down the extremely crunchy texture of those cabbage leaves, making them much easier (and more pleasant!) for your average human to eat and digest.
How Long Does Sauerkraut Ferment?
Sauerkraut is usually fermented for three to four weeks, depending on the ambient temperature and desired end result. It actually is possible to over-ferment sauerkraut, as cabbage that undergoes the fermenting process for a prolonged period of time will inevitably take on a mushy texture and unpalatable, super-sour taste.
Types of Sauerkraut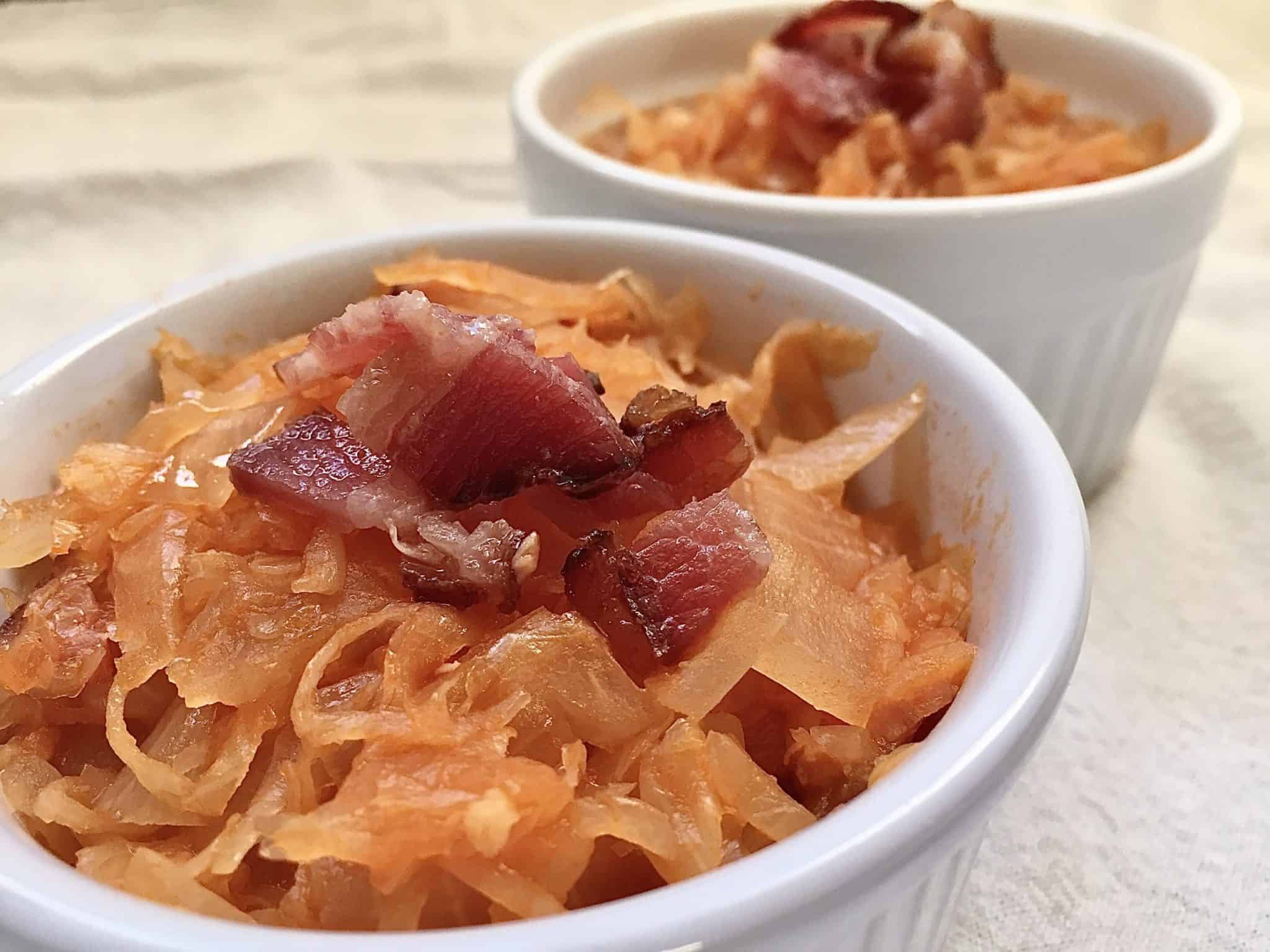 When it comes to sauerkraut, shredded cabbage and salt are the two non-negotiable ingredients. Some sauerkraut recipes may contain additional spices or seasonings such as juniper berries, caraway seeds, or mustard seeds.
The addition of spices and flavorings such as these won't affect the outcome of the sauerkraut going into the freezer, but the addition of other ingredients could. It's not uncommon to find sauerkraut mixes that contain other fresh ingredients such as shredded carrots, turnips, or radishes and even possibly sliced apples or ginger.
Can You Freeze Sauerkraut?
Or perhaps more importantly, should you freeze sauerkraut? As a fermented dish, sauerkraut is chock full of live, beneficial bacteria, and just like all living things, they are sensitive to changes in temperature. While lactic acid bacteria are content to thrive at room temperatures and under refrigeration, the jury is still out on whether or not subzero temperatures can be a bit too harsh for the little guys. Freezing sauerkraut could potentially diminish the number of healthy bacteria in the dish, although it's likely many would remain and continue reproducing once the sauerkraut returns to warmer temperatures.
In addition, any sauerkraut that contains some other ingredients such as apples or turnips, may experience some unexpected textural changes upon defrosting. Therefore, depending on your sauerkraut recipe, you may want to think twice about the freezer as well.
The fact is, sauerkraut naturally has a very long shelf life, lasting for up to 6 months (yes, really!) in the fridge. This lengthy timetable is most likely long enough that you'll finish the sauerkraut before then, but if you don't eat it that often or splurge on an economy sized package to make your dollar go a little further, then the freezer can absolutely be your best friend to extend its shelf life!
How to Freeze Sauerkraut
If you decide to freeze your sauerkraut, follow these simple steps:
Step 1: Consider the Container
First things first, you need to evaluate what type of container your sauerkraut is in and determine whether or not you need to repackage it.
Sauerkraut in Plastic Bags: you can absolutely freeze commercially bagged sauerkraut, just make sure it is labeled with a date and toss it in the freezer! If your bag of sauerkraut is giant and you'd like to break it down into more manageable portions, proceed to Step 2.
Sauerkraut in a Plastic Container: Whether or not you can freeze sauerkraut that comes in a plastic container depends entirely on whether or not it is a freezer safe container. Some plastics are not up to the task of freezing and may become brittle and easily broken in cold conditions. Most sturdy plastic containers will do the trick though, especially the deli-style containers that fresh sauerkraut is often packaged in.
Sauerkraut in Glass Jars: That batch of homemade sauerkraut might look extra appetizing in a glass jar, but unfortunately freezing anything in glass is never recommended. Although some glass containers are manufactured to be able to withstand freezing temperatures, the effects of any fluctuation can be unpredictable, and there is always the risk of the container being broken as items shift around in the freezer. Not worth the risk! Carry on to Step 2.
Sauerkraut in a Can: Canned sauerkraut will also need to be removed from its original container. Since liquids expand as they freeze, this will cause a buildup of pressure inside the can which could cause it to rupture. Sauerkraut in a can will need to be repackaged as instructed in Step 2.
Step 2: Portion the Sauerkraut
If your sauerkraut is already in a suitable plastic bag or plastic container, then there is no further action needed. However, if you have determined that you need to repackage your sauerkraut, or simply would like to break a large container down into smaller portions, this is the time to do so.
We recommend portioning your sauerkraut into small resealable freezer bags, as these can be frozen flat for more storage efficiency! Another option, of course, is to use freezer safe plastic containers, or even an ice cube tray for small and uniform portions.
Whichever container you choose, the key is to leave adequate headspace in the freezer bag or plastic container. Since sauerkraut contains a lot of liquid, it will expand quite a bit during the freezing process, so aim to leave about 1-2 inches of room at the top and squeeze out any excess air.
Step 3: Freeze the Sauerkraut
If using the freezer bag method, lay the bags in a flat area of the freezer for a few hours. After this, they will be frozen solid and can be stacked sideways or vertically so as to make the most of your freezer space.
In a similar fashion, if using an ice cube tray, you can freeze the tray full of sauerkraut until the cubes are frozen solid, and then decant them into a resealable freezer bag.
If you have opted for a different type of container, just place the sauerkraut into the freezer as is! Whichever container you use, just be sure it is labeled and dated, as once that sauerkraut becomes frozen, it can be tough to tell exactly what it is.
Can You Freeze Cooked Sauerkraut?
Cooked sauerkraut actually freezes surprisingly well! Whether you have simmered your sauerkraut in the oven or lightly roasted it in a sauté pan, the fact is, cooking sauerkraut results in moisture loss, which actually makes it freeze better than raw sauerkraut.
You can freeze cooked sauerkraut according to the same steps above, and feel free to leave a little less headspace as it likely won't be expanding as much during freezing.
How Long Does Sauerkraut Last in the Freezer?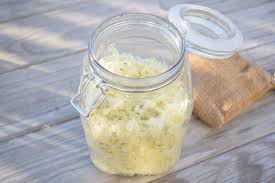 Since sauerkraut in the refrigerator can already last for up to 6 months, the fact that the freezer can extend this time even further is really quite remarkable.
Freezing sauerkraut will therefore make it last even longer, up to a year in fact! Even beyond this point, it's unlikely that the sauerkraut will actually go bad, but after the one year mark it may start to suffer in terms of taste and texture. Even when stored properly, freezer burn is a likely effect, which will eventually wind up dehydrating the sauerkraut.
How to Defrost Frozen Sauerkraut
There are a couple different ways you can go about defrosting sauerkraut, and choosing the manner in which you defrost sauerkraut will depend on how quickly you need it and how soon you plan on using up all of it.
Option 1: Refrigerator Method
The way to defrost sauerkraut which requires the least amount of effort also, unfortunately, takes the longest amount of time. All you have to do though is remove your package of sauerkraut from the freezer and place it in the refrigerator until it is defrosted! This could take a while, depending on how large of a package your sauerkraut is in, so your best bet is to transfer it into the fridge the day before you'll be using it.
It's also worth noting that if your sauerkraut is frozen in freezer bags, you may want to place the bags on a plate or in a dish as they defrost. Sometimes tiny pin holes or tears form in the freezer, and you may not notice them until the sauerkraut has defrosted and leaked its juices all over the refrigerator shelves.
Option 2: Cold Water Method
If you need to speed up the process and have that frozen sauerkraut ready for dinner in just a couple hours, you can use the cold water method. Just place the package of frozen sauerkraut in a bowl of cold water, and let it sit on the kitchen counter. Drain and replace the water with fresh, cold water every 20-30 minutes until the sauerkraut is fully defrosted.
Since it has been kept cold during the entire time, you can either place the thawed sauerkraut in the refrigerator, ready to be used whenever you are, or you can use it right away.
Option 3: Heat Method
Finally, the fastest way to thaw frozen sauerkraut is to use heat. However, this defrosting method is only safe to use if you will be cooking and serving the sauerkraut right away. You can go right ahead and place a solid block of frozen sauerkraut in a saucepan and heat it over medium-low heat until it simmers. Or, you can add frozen sauerkraut directly to a recipe such as soup, in which it will defrost as it cooks.
If you opt to take the sauerkraut straight from frozen to cooked, just keep in mind that this change will definitely affect the texture of the cabbage and it will not be as crisp and crunchy as if you had defrosted it in one of the cold methods. In addition, it is only safe to use heat as a means to defrost your sauerkraut if you plan to eat it up right away, no leftovers allowed!
Signs of Spoilage in Sauerkraut
Since sauerkraut is created by way of fermenting cabbage, it can be tough to tell if and when it has actually spoiled. Nevertheless, there are a few signs which will indicate to you that your sauerkraut has gone bad and consuming it may put you at risk for food poisoning.
There's no getting around the fact that sauerkraut has a natural funk to it, but if it takes on a different aroma which is more stinky, pungent, or sharply sour, then it's likely the sauerkraut is turning for the worse.
If the pieces of cabbage making up the sauerkraut lose their distinctness and become a mushy or slimy mess, then you can bet the sauerkraut is no longer good to eat.
If the sauerkraut develops any visible mold or discoloration, it is definitely past its prime. This is highly unlikely to occur, due to the fermented nature and high acid content of the product, but is always possible, especially if the sauerkraut has been rinsed or watered down.
Health Benefits of Sauerkraut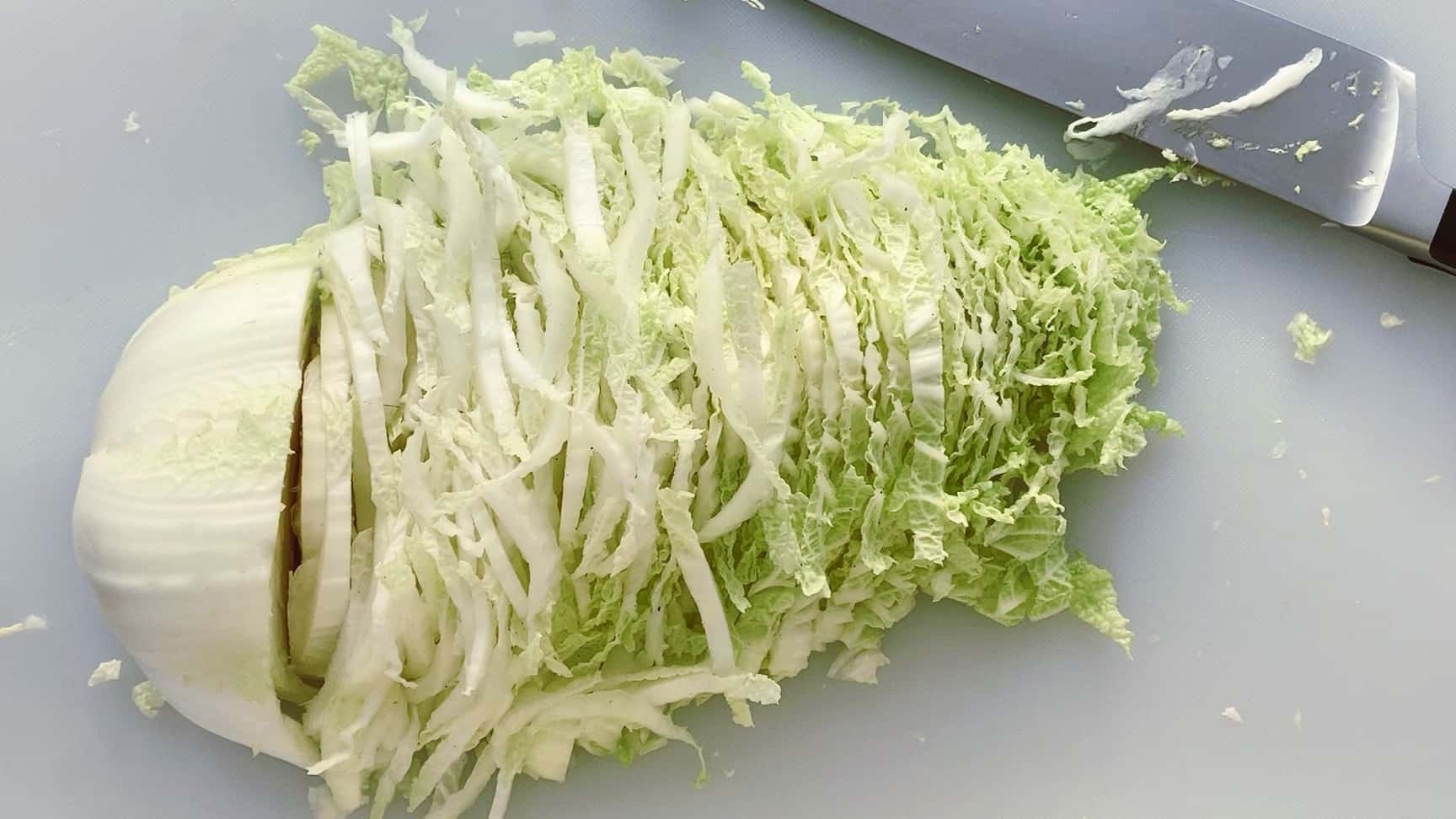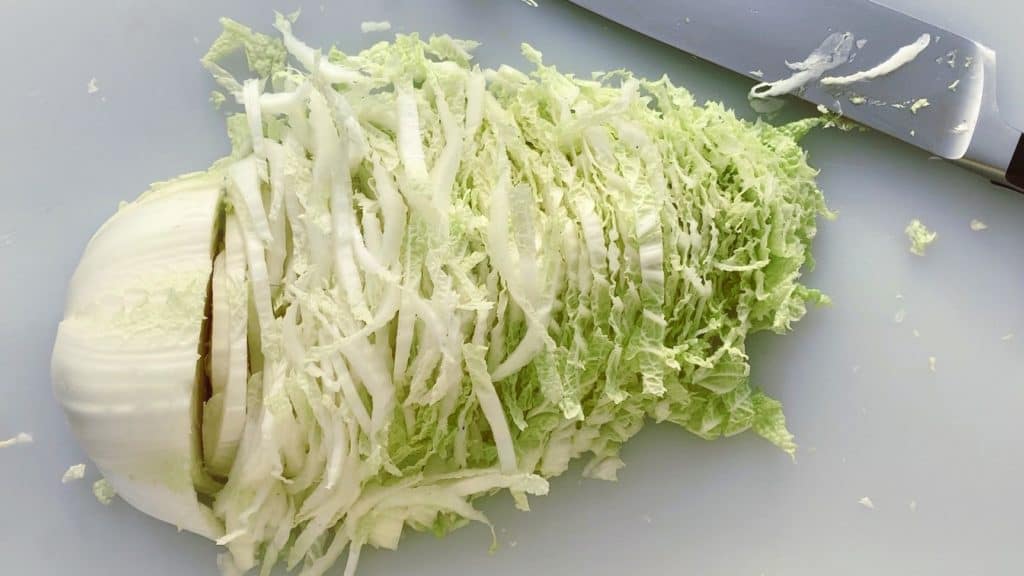 Sauerkraut is packed with health benefits! Aside from being an extremely low-calorie food (just 27 calories per cup!), consuming sauerkraut will also give you:
Plenty of Fiber
Fiber is not only vital for healthy digestion, but it can also help to maintain a healthy body weight. Since fiber takes time for your body to break down, it leaves you with that satisfying "full" feeling for far longer than other types of foods.
One crunch of a raw cabbage leaf will let you know just how fibrous this vegetable is, but unfortunately, this is exactly what can make it a bit tough to work into your diet. Sauerkraut is the answer, as it provides a more approachable and tasty way to work that healthy cabbage into your diet.
Vitamins and Minerals
Sauerkraut is also rich in many different vitamins and minerals, from providing a hefty dose of vitamin C, to several B and K vitamins, as well as minerals like copper and iron!
Probiotics
As we discussed, the fact that sauerkraut is a fermented food means that the naturally occurring bacteria have been allowed to chow down on sugars, producing lactic acid as a result. Not only do these bacteria cause the sauerkraut to have its interestingly tangy taste, but consuming foods with bacteria such as this can do wonders for your system!
Why are these tiny critters so good for you? Because they support healthy digestion, can ward off other, more harmful bacteria, and are important for immune function as well.
It is worth noting that not all sauerkraut contains live bacteria though. Any store bought sauerkraut which is pasteurized to make it shelf stable (i.e., room temperature cans or jars of the stuff) unfortunately is lacking any live activity. The canning process involves heating up the sauerkraut to the point where any living organisms, good or bad, are killed off. Eating such sauerkraut will still provide you with nutritional benefits in the form of fiber and vitamins, but you'll be missing out on the probiotics you would pick up from some of the chilled stuff.
Can You Freeze Sauerkraut? The Bottom Line
The bottom line? Yes, you can freeze sauerkraut! All things considered, sauerkraut is actually one food which freezes far more successfully than many others and has a much more forgiving texture when it is defrosted and used in a delicious meal.
The thing is, though, sauerkraut has a naturally long shelf life, lasting for many months in refrigeration--even after opening. Therefore, it may not be entirely necessary for you to preserve sauerkraut even longer by sticking it in the freezer. In addition, freezing sauerkraut can take a toll on the live, beneficial bacteria, which is a reason why many folks choose to consume this tasty cabbage preparation.
At any rate, if you find yourself with too much sauerkraut, go ahead and use our guide for freezing and defrosting it. Freezing sauerkraut is a great way to ensure that you always have some on hand for your next grilled sausage or Rueben night!