If you're a seafood lover, you already know how sensitive the stuff can be. The speed with which fish and shellfish start to spoil, honestly, deserves some type of medal. The best way to avoid such an unfortunate ending? Making use of your freezer whenever possible!
You might think twice when it comes to the idea of freezing smoked fish though. After all, isn't the idea behind smoking fish (and other foods for that matter!) to increase its shelf stability in the first place? You're left to wonder not only "can you freeze smoked salmon?" but also "do you even need to freeze smoked salmon?".
In short, yes you can freeze that delicious package of smoky, savory fish and doing so is a great way to extend its shelf life, especially after opening. In classic seafood fashion, however, food safety issues abound! Don't worry though, we're here to help you navigate the waters and you'll be safely freezing and defrosting your smoked salmon in no time.
What is Smoked Salmon?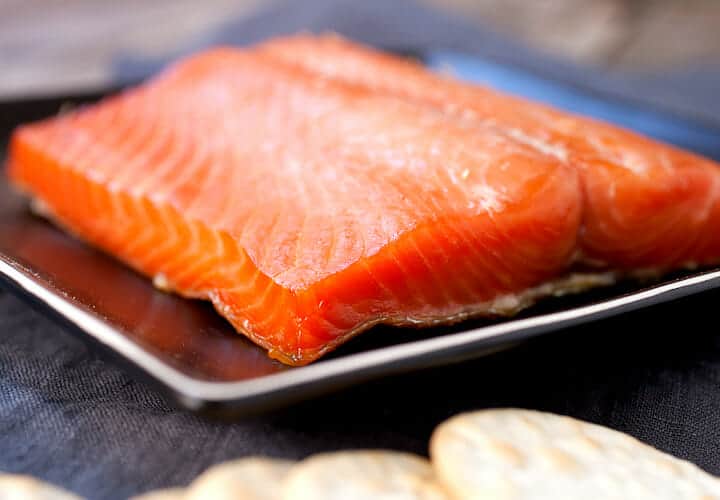 The name just about says it all, smoked salmon is salmon which has been smoked! Depending on the intended result, the fresh fish fillets are either dry-cured or wet-brined, then rinsed, dried, and smoked.
A variety of hardwoods may be chosen, but many producers opt for alder or beech wood to smoke their fish. After the smoking process is complete, the salmon is either sliced or left whole and placed in a vacuum sealed package for sale. Some smoked salmon packages must be kept refrigerated, while others are packaged in a manner that renders them shelf stable for years.
Smoking vs. Curing
The catch here is that some of the items that are often tossed in under the umbrella of "smoked salmon" are not actually smoked at all. Some salmon preparations halt at the curing process, thereby preserving the fish without adding any smokiness.
Types of Smoked and/or Cured Salmon
There are four main types of smoked and/or cured salmon which you'd be likely to encounter in supermarket aisles and deli counters. Let's go over their differences so you can be sure of which type of salmon you have and thereby gain the necessary understanding of how it was processed, as these factors are important when it comes time to freeze.
Lox
These days, many people use the term lox to refer to smoked salmon, but in its origination, this term refers to salmon which has been cured but not smoked. True lox has a similar texture to smoked salmon but will taste much saltier and lack any smokiness whatsoever.
In some situations, perhaps where there is only one salmon choice on the menu, it will be understood that lox = smoked salmon. In other situations, where a whole range of smoked and cured salmon types are offered, requesting lox may not yield the smoky result you're expecting!
Gravlax
Gravlax is in the boat right alongside lox, as it is also cured and not smoked. The thing that sets gravlax apart, however, is that rather than being cured in plain salt, the curing process is jazzed up by the addition of sugar, spices such as coriander or white pepper, and plenty of fresh dill. Many recipes for gravlax also make use of aromatic spirits such as aquavit or gin.
All of these additional ingredients in the cure make gravlax more flavorful than lox, and it is generally less salty as well. Once again, gravlax will be distinct from smoked salmon in that it will neither taste nor smell smoky.
Cold Smoked Salmon
Now, onto the salmon options which are actually smoked! First, we have cold smoked salmon, which is perhaps the one most people are familiar with. There are many varieties of cold smoked salmon which are named for the regions from which they hail: Nova smoked salmon (from Nova Scotia), Norwegian smoked salmon, and Scottish smoked salmon to name a few. These types of smoked salmon each carry specific characteristics based on the salmon that is found in each region, the type of hardwood used for cold smoking, and any differences in the curing process.
Regardless of which type it is, all cold smoked salmon is smoked below 80℉ and will have a smooth, buttery texture and smoky flavor which may range from mild to strong.
Hot Smoked Salmon
Also known as kippered salmon, hot smoked salmon will also have that crave-worthy smoky aroma and flavor, but the texture of the fish will be dramatically different than cold smoked salmon. This is due to the fact that it is smoked hot instead of cold.
Where cold smoked salmon has a silky texture, more like that of raw salmon, hot smoked salmon takes on a firmer, more flaky texture which is similar to that of cooked salmon. Hot smoked salmon is generally smoked around 130℉, which results in a gentle cooking of the fish flesh, changing its texture and leaving it opaque. Because of these differences, kippered salmon does not yield the same paper-thin slices as cold smoked salmon or lox. Therefore, kippered salmon is generally sold in a whole piece rather than pre-sliced.
The unique processing of hot smoked salmon typically makes it shelf-stable, no refrigeration required! Much like canned fish or vegetables, sealed hot smoked salmon can last for several years.
Can You Freeze Smoked Salmon?
Yes! Whether you have cold smoked salmon or lox, gravlax or kippered salmon, freezing smoked salmon of any type is a great way to make it last longer.
Lox, gravlax, and cold smoked salmon will freeze just about the same, while kippered salmon will require a slightly different approach due to its semi-cooked texture.
How to Freeze Smoked Salmon
Most smoked salmon you'll encounter at the grocery store will be vacuum sealed and in the freezer section. However, if you happen to pick up a package which is not frozen, have stocked up on fresh smoked salmon from your favorite deli, or are trying to decide what to do with the leftovers from a previously sealed package, follow our guide to freezing smoked salmon here.
Step 1: Examine the Smoked Salmon
This is perhaps the most important step in the quest to successfully freeze smoked salmon. Whether the package of smoked fish is brand new or you have already opened it, you want to be sure to check on the condition of the fish prior to putting it in the freezer. Review the expiration date on the package to ensure that you have not already surpassed it and, if unopened, make sure the plastic is tightly sealed with no nicks or tears.
If the package is already opened, remove the fish from it and make sure it does not have any signs of spoilage (we'll cover these in detail later!). If there is anything off about the fish or it is showing signs of age, do not attempt to freeze it.
Step 2: Portion the Smoked Salmon
If your package of smoked fish remains factory sealed, go ahead and check this step off your list, nothing more for you to do here! If your smoked salmon is opened though, then it needs to be repackaged before you can freeze it.
One option is to freeze all of the salmon in one batch, which will save you some time in the present and help you to get that salmon into the freezer with haste. But another, potentially more convenient-in-the-long-run idea is to freeze the salmon in smaller portions. If you arrange just a few smoked salmon slices in each package, you'll then be able to take out as many packages as you need when it comes time to defrost--whether you need enough lox for one bagel or are supplying smoked salmon for a crowd!
Step 3: Package the Smoked Salmon
Whichever portioning path you choose, carefully wrap your smoked salmon in plastic wrap, pressing the plastic tight against the flesh of the fish to minimize air exposure. Then place the plastic wrapped salmon into another container such as a freezer bag, squeezing out as much air as possible. You can also place the plastic wrapped fish into a freezer-proof airtight container if you like but be aware that this may result in greater air exposure than using a bag.
Step 4: Freeze the Smoked Salmon
Time to get that fish into the freezer! Label and date your package smoked salmon and place it in a temperature stable area of your freezer. Be sure to take a peek at the smoked salmon periodically to ensure that it isn't experiencing freezer burn or developing ice crystals inside the packaging.
How Long Does Smoked Salmon Last When Frozen?
Opting to store smoked salmon in the freezer will greatly extend its shelf life. When properly packaged, and with consistent freezer temperature maintained, frozen smoked salmon should last up to six months.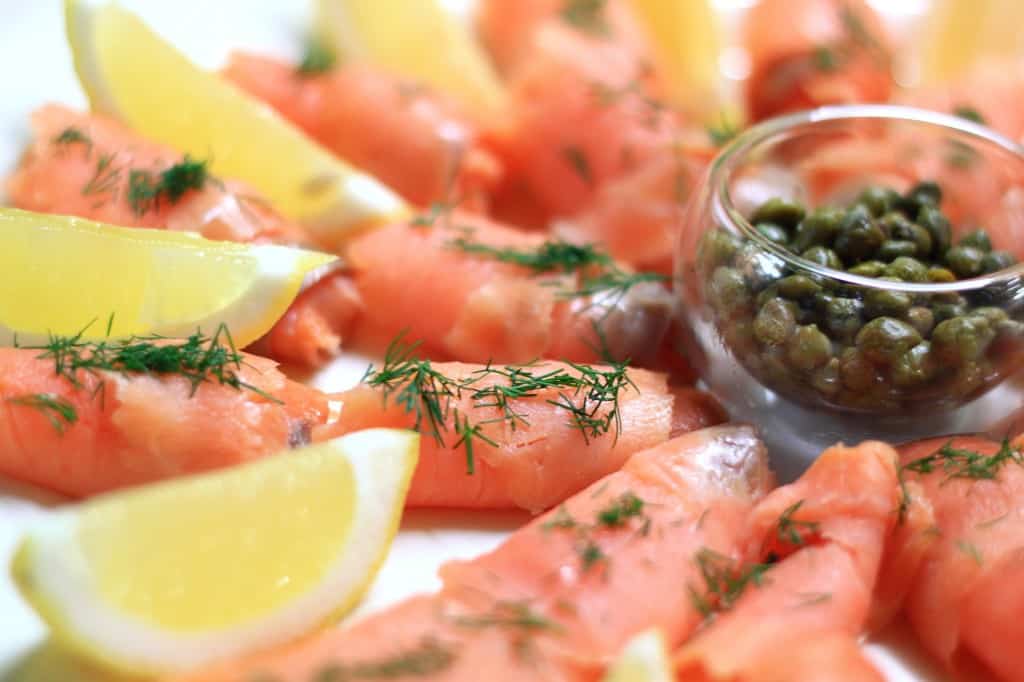 How to Defrost Frozen Smoked Salmon
When it comes to defrosting smoked salmon, it's extremely important to do so properly, otherwise you may risk exposure to foodborne illness. There are only two options of how to defrost smoked salmon safely, and please note, that neither of them involves warm water!
Once thawed, your salmon will quickly begin to suffer in terms of quality and taste, so it's best if you plan to eat your defrosted smoked salmon within three days.
Defrosting Smoked Salmon: Option 1
Remove the smoked salmon from your freezer one day before you plan to use it and make a small slit in the packaging (we'll explain why in a moment) to allow a bit of air into the package, then place it in your refrigerator. This will allow the frozen fish to defrost slowly, while remaining in refrigerated temperatures the whole time.
Defrosting Smoked Salmon: Option 2
If you don't have the time to thaw smoked salmon overnight, you can hasten the process by way of cold water. Fill a large pot, bowl, or clean sink with cold water (never tepid or warm!) and submerge the sealed package of smoked salmon. If you are using this cold water method, there is no need to puncture the packaging beforehand as we instructed in defrosting option 1. Drain and replace the water with fresh cold water every 20 minutes until the salmon is thawed.
This method is especially useful if you are trying to thaw just a few slices of leftover salmon or a relatively small package of it. However, if you have quite a bit of frozen salmon, it could take a while and require many changes of the water.
Smoked Salmon and Food Safety
Ok so what's with piercing a hole in the package of smoked fish in order to thaw it? It's not every day that you're instructed to expose your frozen food to air in order to thaw it.
The reason for doing this is a means to prevent one major type of foodborne illness: botulism. Botulism bacteria, Clostridium botulinum, is anaerobic bacteria, meaning it thrives in low or no oxygen environments. It also grows best in foods which are low in acid and sugars. Since smoked salmon is most often available in packaging which has had all the air removed, and is a low acid food, unfortunately it's just the type of place that botulism would flourish.
The good news is though, when it comes to frozen foods such as smoked salmon, botulism bacteria only stand a chance of reproducing as the temperature of the fish warms. This is why it is of the utmost importance to keep the fish cold as it defrosts and never leave smoked salmon at room temperature when it is sealed.
And, the simple act of making a hole and introducing even just a small amount of oxygen into the package will serve to inhibit the growth of this organism as well. This is good practice when it comes to defrosting any foods that are in vacuum sealed packages, also known as reduced oxygen packaging or ROP.
Tips For Freezing Smoked Salmon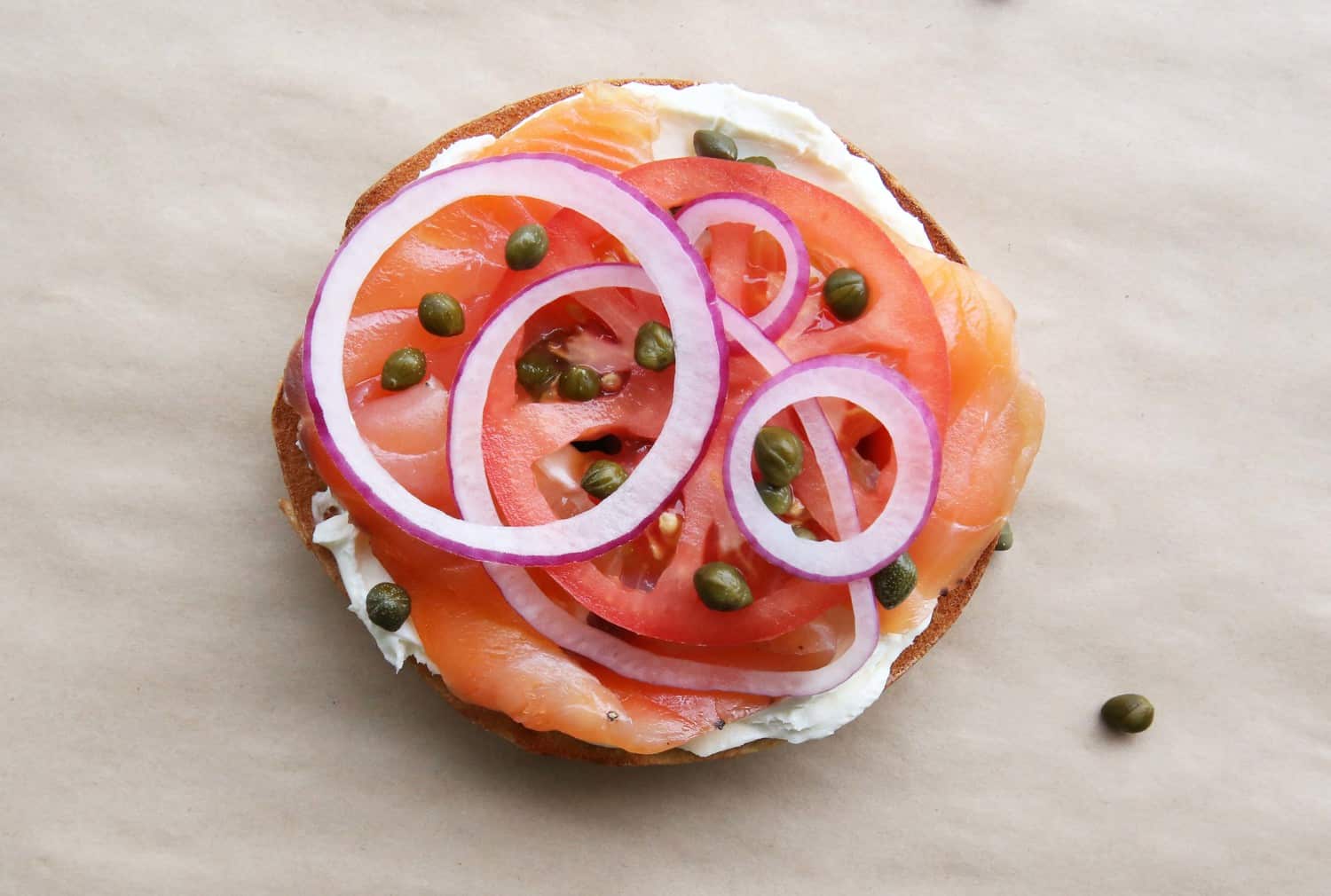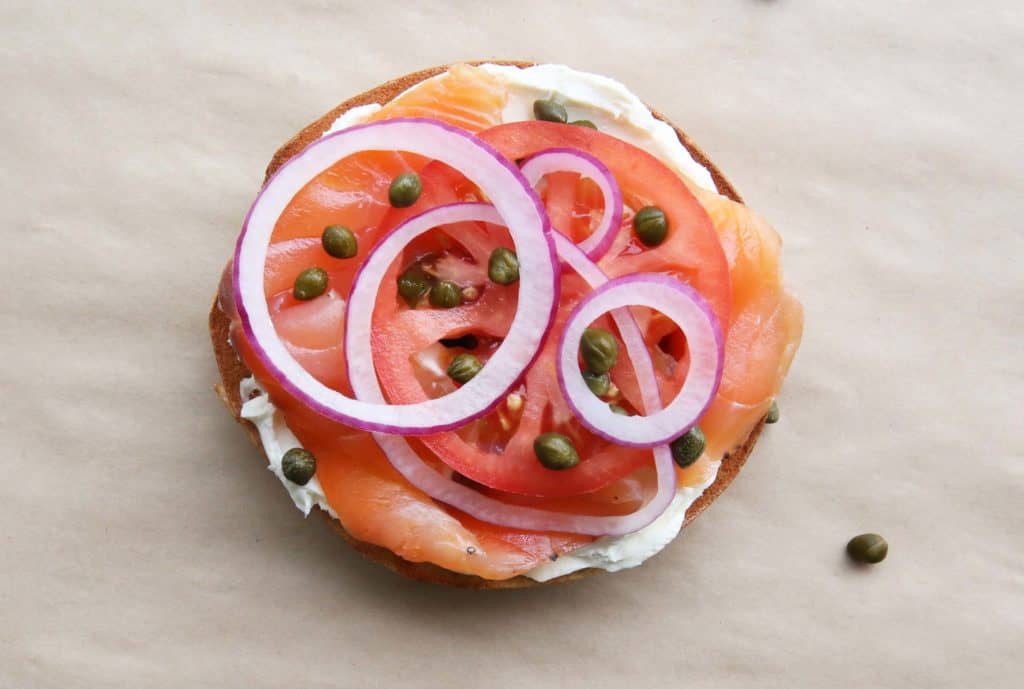 Now that we've covered the hows and whys of freezing smoked salmon, here are a few more details to keep in mind to achieve the best frozen smoked salmon possible.
ONLY attempt to freeze salmon that is fresh and in great condition. That leftover smoked salmon which was sitting out for a short time during brunch is not the stuff you should be freezing. Trying to freeze smoked salmon which has already begun aging is just asking for trouble.
Just like all proteins, you should not refreeze smoked salmon which you have already defrosted once. Keep in mind that the package of smoked salmon you bought at the grocery store may have already been frozen and defrosted, so it's in your best interest to limit further episodes of freezing and thawing.
Try to handle the smoked salmon as little as possible, as your hands could easily introduce contaminants which could cause the fish to spoil. If you have to handle the salmon in order to portion or repackage it before freezing, it's extra helpful to wear food-safe gloves while doing so.
If you are trying to freeze sliced smoked salmon, it might help you to lay pieces of wax paper or parchment paper between some of the slices. This will help you to peel the slices away from one another after it defrosts.
If you have a vacuum sealer, now is its time to shine! Once you have your salmon portioned and/or layered with sheets of parchment or wax paper, transfer it into vacuum sealing bags rather than freezer bags. The vacuum sealer will be able to remove all of the air and the package will be just as good as if you bought it in store!
As we learned, hot smoked salmon is quite different in texture as compared to cold smoked or cured salmon and its flaky texture may make it more prone to falling apart during freezing and defrosting. Therefore, you can freeze hot smoked salmon in the same way you would freeze cooked salmon of any type. Leave hot smoked salmon in a large portion rather than slicing it, wrap it tightly in plastic wrap, then place it in a hard-sided, freezer safe container in order to protect its structure.
You probably won't have the best luck at freezing salmon which has already been incorporated into another recipe, such as smoked salmon cream cheese or spread. Unfortunately, the same goes for attempting to freeze smoked salmon pate, a common preparation. Most of these recipes contain dairy ingredients and a wide range of other components, many of which won't take well to being frozen and defrosted.
How to Tell if Smoked Salmon is Bad
Most folks are under the general impression that smoked foods last for an incredibly long time. It would certainly make sense to think so, as smoking is one of the oldest food preservation techniques out there!
Nevertheless, smoked salmon can definitely go bad and you want to be sure to get rid of any smoked salmon which is exhibiting signs of age. Keep an eye out for these signs of smoked salmon spoilage:
Smell
Fresh smoked salmon should smell bright, rich, and of course, smoky! Cured salmon such as lox or gravlax will be sans any aroma of smoke of course, but otherwise should smell the same.
If the salmon has a fishy smell or sour aroma, you can bet it's not going to taste very good and may actually be unsafe to eat.
Texture
Smoked salmon has a buttery, smooth, silky texture. It may feel slightly slick to the touch due to the high levels of naturally occurring oils, but the salmon should not feel wet or slimy by any means.
Appearance
Just like any other spoiled food, aging smoked salmon will most likely be off in terms of appearance long before you get close enough to notice any aromatic or textural issues. As the salmon ages, it will likely become discolored, turning gray or even greenish as it does so. The salmon may also appear dried around the edges if it has had significant air exposure.
Can You Freeze Smoked Salmon? Final Thoughts.
We hope this article has put to rest all of the questions you could possibly have about freezing smoked salmon. Whether your salmon is lox or gravlax, hot smoked or cold smoked, the bottom line is that freezing it is a great way to keep it fresh for many months after purchase.
If you are looking to freeze smoked salmon slices, take a moment to consider how many you'd be likely to pull out and defrost at a time and portion them accordingly. On the other hand, if you are freezing hot smoked salmon, freeze it in a large piece and slice it later, otherwise the slices are likely to flake apart during freezing.
With smoked or cured salmon on hand in the freezer, you'll just need cream cheese and bagels and you'll have everything you need for an impressive brunch spread or breakfast-on-the-go anytime you need!