We all know how important it is to get our greens in. But maybe you took this task a little too much to heart and found yourself going rogue in the spinach section of your local grocery store or farm stand, with no chance of eating it all before it turns into a wilted mess! Perhaps you're about to head out of town and don't want to return in a week, only to throw your newly purchased value package of baby spinach into the trash. Or, maybe you did plan carefully and bought only as much spinach as you expected to use within a reasonable amount of time, but somehow, it seems to be degrading more quickly than usual!
In any of these scenarios, you'd be wise to wonder, can you freeze spinach? After all, it seems like such delicate stuff--with its thin leaves and tender crunch, how could it possibly stand up to the harsh environment of the freezer?
Allow us to put your spinach suspicions to rest and reassure you that yes, you can certainly freeze spinach. It may not be quite the same after, but freezing spinach is a great way to extend its shelf life. We're here to cover everything you should know and walk through the how-to's when it comes to freezing the mighty green stuff--spinach!
What Happens to Spinach When You Freeze It?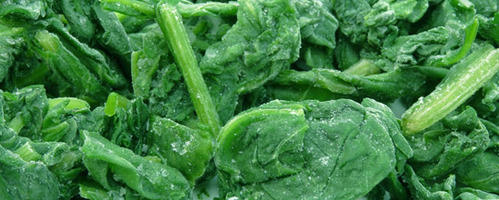 Like we said, previously frozen spinach will never be quite the same as fresh spinach leaves. The texture of spinach after freezing it will change from crisp and crunchy to soft and wilt-y, but not because the spinach has gone bad!
These textural changes are due to what happens within the spinach during the freezing process. Spinach leaves, along with most other fruits and veggies, have quite a high water content. We all know that when water freezes it turns to ice, and that this ice expands, taking up more space than the water in its liquid state.
The problem here is that the tiny bits of water turning to ice is enough expansion to rupture the walls of the individual cells which make up each spinach leaf. The spinach may appear nice and crunchy while it remains frozen, as the ice within each leaf helps to keep it rigid, but once defrosted, the water returns to its liquid state and the collapsed cell walls are evident.
How to Use Frozen Spinach
What does this marvel of science mean for you in your kitchen? Unfortunately, it means that you shouldn't count on being able to use your previously frozen spinach in a salad, as the texture will be mushy rather than fresh and satisfying. This isn't such a bad thing though! Frozen spinach is actually perfect for cooking with, as fresh spinach breaks down in nearly the same way during the cooking process anyhow!
Do You Need to Wash Spinach Before Freezing?
This all depends on what type of spinach you have on your hands! Most baby spinach that is sold in bags or plastic boxes is marked as "triple-washed", therefore, you don't need to worry about cleaning it any further before freezing it.
If, however, you have picked up a bunch or two of fresh, fully grown spinach, then this will definitely need cleaning before it is safe to eat. Luckily, this is easy enough, just go ahead and give it a rinse under cool running water. Or, with the spinach submerged in a bowl of cold water, you can swish vigorously to remove any dirt and sand.
Once clean, be sure to dry the spinach very well before proceeding with the necessary steps for freezing. We recommend using a salad spinner to remove as much water as possible. Dry spinach lasts the longest!
4 Different Ways to Freeze Spinach
When it comes to freezing fresh spinach, there are 4 main ways to go about this. Each method has its own benefits and drawbacks and is best opted for in some situations above others. Therefore, you can go ahead and choose the spinach freezing situation which best works for you!
Method 1: How to Freeze Fresh Spinach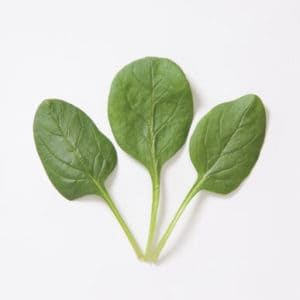 This is the easiest and quickest method to freeze fresh spinach. If you would like to freeze spinach leaves raw, whole, and otherwise as they are, this is the way to go about it! This method will work for any type of spinach, whether full size or baby, and can even be used for chopped fresh spinach as well.
The downside is that the spinach doesn't last quite as long as the others, but is a cinch to accomplish. Therefore, it is best used when you're short on time now and plan to be using the frozen spinach sooner than later!
Step 1: Dry the Spinach
Pat the spinach leaves dry on paper towels or a clean kitchen towel as best you can, especially if you have opted to wash the spinach beforehand. This is also a great time to pick out any discolored, wilted, or otherwise less than ideal looking leaves, as leaving these in could cause the rest of the spinach to spoil more quickly.
Step 2: Package the Spinach
Place the dry spinach leaves in a resealable freezer bag, squeezing out as much air as possible. You can also use a hard-sided plastic container if you'd like, but we definitely recommend freezer bags here since the ability to remove excess air is good for reducing the risk of freezer burn, as those raw leaves are extra susceptible.
Step 3: Freeze the Spinach
Label and date your package(s) of spinach and toss them into the freezer! Well, ok, don't toss them in but rather place them in an area where you know they will be safe from being crushed by other frozen items. That's it!
Method 2: How to Freeze Blanched Spinach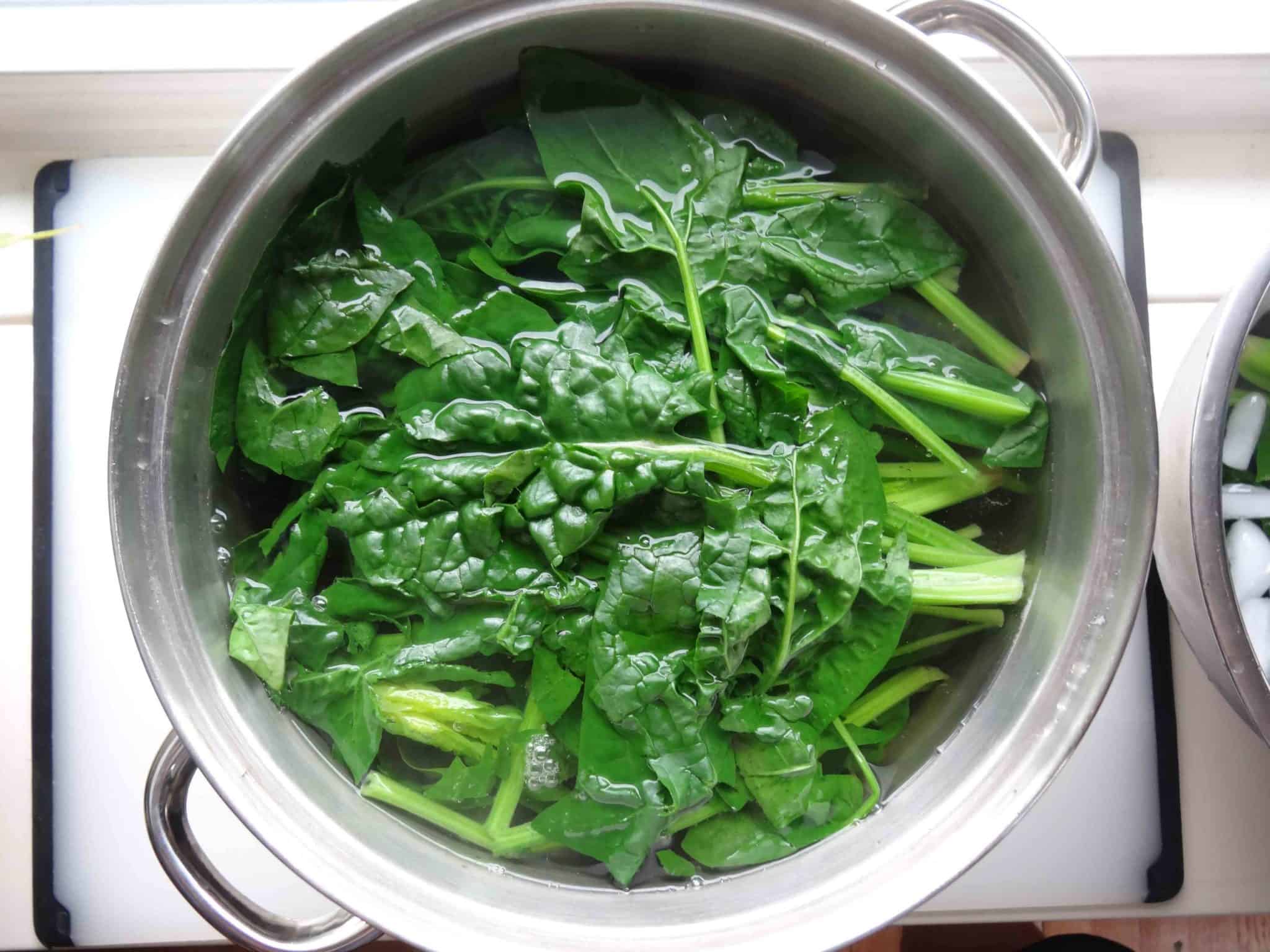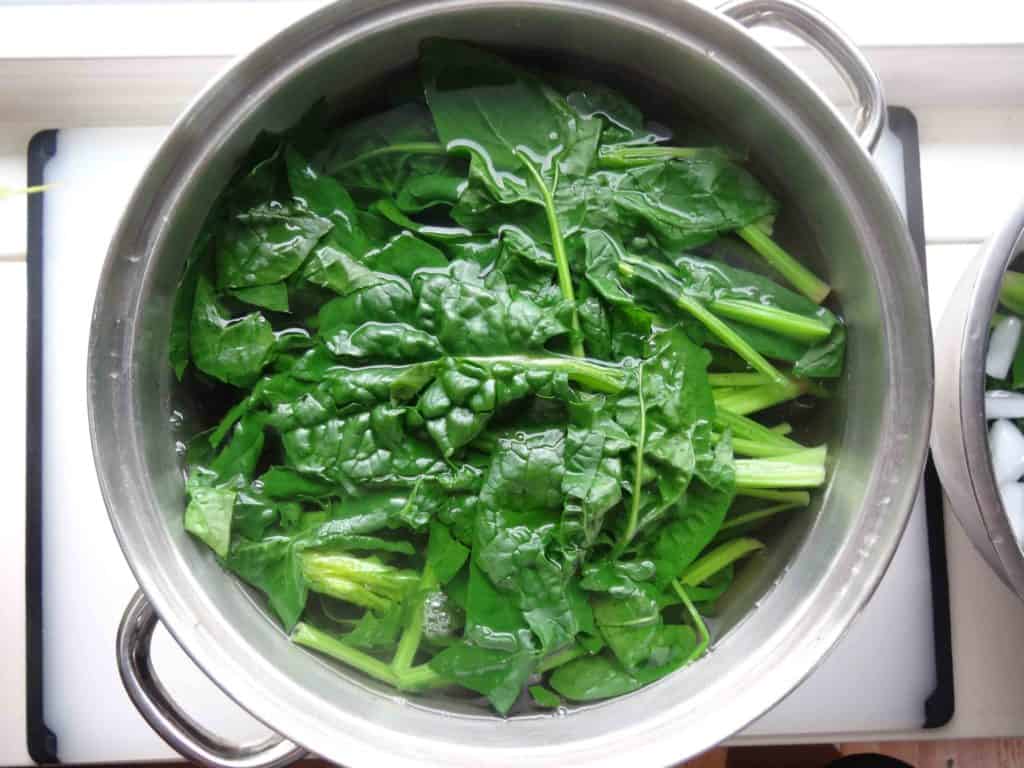 Do you really need to blanch spinach before freezing? As you saw in the first freezing method we offered, no, you definitely don't have to! But the answer to whether or not you should blanch your spinach before freezing depends on how quickly you plan to use it, as blanching spinach beforehand can definitely give it a leg up in the shelf life department.
The problem is, the naturally occurring enzymes in spinach continue to be active even while under frozen temperatures, thereby slowly breaking down the leaves. Your unblanched frozen spinach may look great for a few weeks or maybe a month or two, and then suddenly one day you'll open the freezer to find a brown, sad looking pile where your spinach leaves used to be.
In yet another miracle of science, blanching the spinach leaves is able to halt the enzymes in their tracks, keeping your spinach bright and tasty for far longer than unblanched spinach.
Step 1: Blanch the Spinach Leaves
Add spinach to a large pot of boiling water (no salt!), stirring just to make sure all leaves get into the water. Keeping the water at a rolling boil, cook the spinach for about 1 minute if you are blanching baby spinach, or 2 minutes if you are blanching regular spinach.
Remove spinach from the boiling water and transfer it to a large bowl of ice water. This rapid cooling is important for setting that bright green color of the spinach leaves and preventing any further cooking from occurring.
Step 2: Dry the Spinach
After the spinach is thoroughly chilled, transfer it to a fine mesh strainer over a sink or large bowl and press, removing excess water. Then place the blanched spinach in a few layers of paper towels or a clean kitchen towel, again squeezing to remove as much water as possible.
Step 3: Portion the Spinach
Since blanched spinach is denser than fresh, raw spinach leaves, it will unavoidably stick together during freezing. Therefore, it's a good idea to freeze blanched spinach in small portions so that you can easily remove as much as you plan to use at any given time. Portion the spinach into small plastic containers, muffin cups, or even in small piles on a parchment paper lined baking sheet.
Step 4: Freeze the Spinach
Once the spinach portions have frozen solid, you can transfer them into freezer bags for easier storage. Be sure to label your packages so you know when to use them by!
Method 3: How to Freeze Pureed Spinach
Freezing pureed spinach is a great way to reduce the amount of freezer space your spinach will consume as well as up the convenience factor for yourself. Frozen pureed spinach is perfect for tossing into green juices, a spinach smoothie recipe, or for stirring into fresh gazpacho or pasta sauce.
The downside is that it takes a bit of extra time to prepare, but when you have frozen cubes of spinach puree to reach for while cooking, you just might thank yourself for taking the time now!
Step 1: Puree the Fresh Spinach
In a blender, combine fresh spinach leaves (you can tear or chop them as needed to make them fit) and a splash of water. Start blending, adding more water if the blender is having trouble getting going. Blend just until the mixture is smooth and cohesive.
Step 2: Portion the Spinach Puree
We recommend freezing spinach puree in small portions, since it is intense stuff, therefore it's highly unlikely that you'd be using an entire quart container of it at any given time. The best way to do this is to decant your spinach puree into ice cube trays, which gives you the most flexibility on how many cubes of spinach puree you'd like to defrost at any time!
Step 3: Freeze the Spinach Puree
Freeze the ice cube trays for at least 4 hours, or until the spinach puree is frozen solid. At this point, you can transfer the spinach cubes to freezer bags and return them to the freezer, thereby freeing up additional space and ensuring that your ice cube trays are available for other purposes such as, well, ice cubes.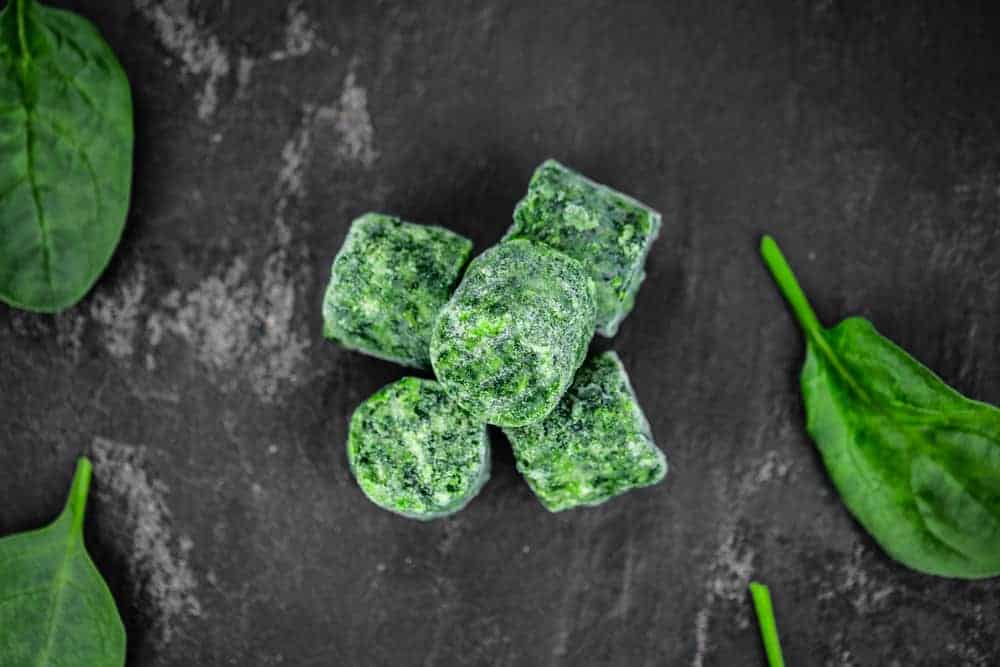 Method 4: How to Freeze Cooked Spinach
So far, we've covered all the different ways you can freeze fresh spinach leaves but what if you have a load of leftover cooked spinach that needs long term storage? Don't worry, you can absolutely freeze cooked spinach as well! Bonus: it's incredibly simple.
Step 1: Prepare the Cooked Spinach
Make sure that the cooked spinach is cooled to room temperature, and also be sure to drain off any excess liquid that may have accumulated in the pan during cooking. Spinach releases a lot of water as it cooks and then cools, therefore it's not uncommon to return to your skillet of sautéed greens and find a pool of liquid coating the bottom. No need to keep that stuff!
Step 2: Portion the Cooked Spinach
Divide the cooked spinach into whatever size freezer containers make sense for you. If you routinely cook for a crowd, you can freeze the spinach in large, quart-sized containers or freezer bags for an easy-to-reach-for side dish on busy nights! Or, freeze the cooked spinach in cup size containers or small resealable plastic bags so as to have single servings readily available.
Step 3: Freeze the Cooked Spinach Portions
Label and date your packages of cooked spinach and place them in the freezer, then rest easy knowing you've got good-for-you veggies at the ready!
How To Thaw Frozen Spinach
One of the most amazing things about frozen spinach is that it defrosts in a snap! This is because as compared to most other frozen foods, frozen spinach is extremely thin, meaning warmer temperatures can easily and quickly permeate each individual frozen spinach leaf. Most frozen foods require the overnight refrigerator method or a lengthy cold water bath to properly defrost, but thawing frozen spinach is a nice respite from that complexity.
To thaw frozen spinach, simply place it in a colander or fine mesh strainer, then run it under cold water until the spinach becomes soft. Press it gently with your hands or a spoon to remove excess water, then drop the spinach into a clean kitchen towel (one you don't mind dirtying up a bit!) and squeeze to remove any more extra liquid. Your thawed spinach is now ready to use in your favorite recipes.
What's even easier than this? The fact that you don't even need to thaw the spinach at all before adding it to certain dishes! You can use frozen spinach as is when cooking liquid dishes such as soups, stews, and sauces as the warm fluids will nearly instantly defrost the frozen greens. Just keep in mind that doing so will add a bit of extra moisture as well.
How Long Does Frozen Spinach Last?
The shelf life of frozen spinach depends on how it was prepared going into the freezer. Fresh, unblanched spinach leaves have the shortest window of time at just 3-4 weeks, while blanched spinach leaves last for a significantly longer amount of time, 6 months or even up to a year!
Frozen pureed spinach will likely begin suffering in terms of quality somewhere between 2-3 months, so it would be best to use before this point.
Since the cooking process destroys those pesky enzymes, frozen cooked spinach can last surprisingly long, up to one year in fact.
Final Thoughts on Freezing Spinach
As it turns out, freezing spinach is not only possible, but it's actually completely practical as well! Fresh vegetables can be costly, and to avoid wasting your hard earned money, it would be wise to freeze any spinach which you aren't sure you'll be able to eat before it ages beyond your reach.
As an added bonus, the techniques we've outlined above can be used to freeze plenty of other leafy greens, from Swiss chard to beet greens! There's no better feeling than stretching your dollar further, reducing food waste, while also knowing that you have a freezer full of healthy, nutritious food that can be defrosted at a moment's notice.