It's common knowledge that watermelon is one super-sized fruit. In fact, according to Guinness World Records, the largest watermelon ever grown rang in at just over 350 pounds! Now, while the average melon you pick up at the supermarket or farm stand is most certainly not going to be quite so large, it will still probably yield more fruit than you can use up at once. This leads to the question: can you freeze watermelon?
In short, you sure can freeze watermelon, however it will never be quite the same thereafter, and will be worlds away from ever passing for fresh fruit by the time it thaws. Nevertheless, freezing watermelon is still useful in plenty of different ways, so we'll cover all of the how-to's you need to know for getting this fruit into the freezer.
And, while we're here, we'll get into everything else you need to know about storing watermelon as well! From storing whole melons at room temperature to defrosting frozen watermelon, please allow us here at The Daring Kitchen to be your guides to all things watermelon storage and shelf life.
Watermelon Basics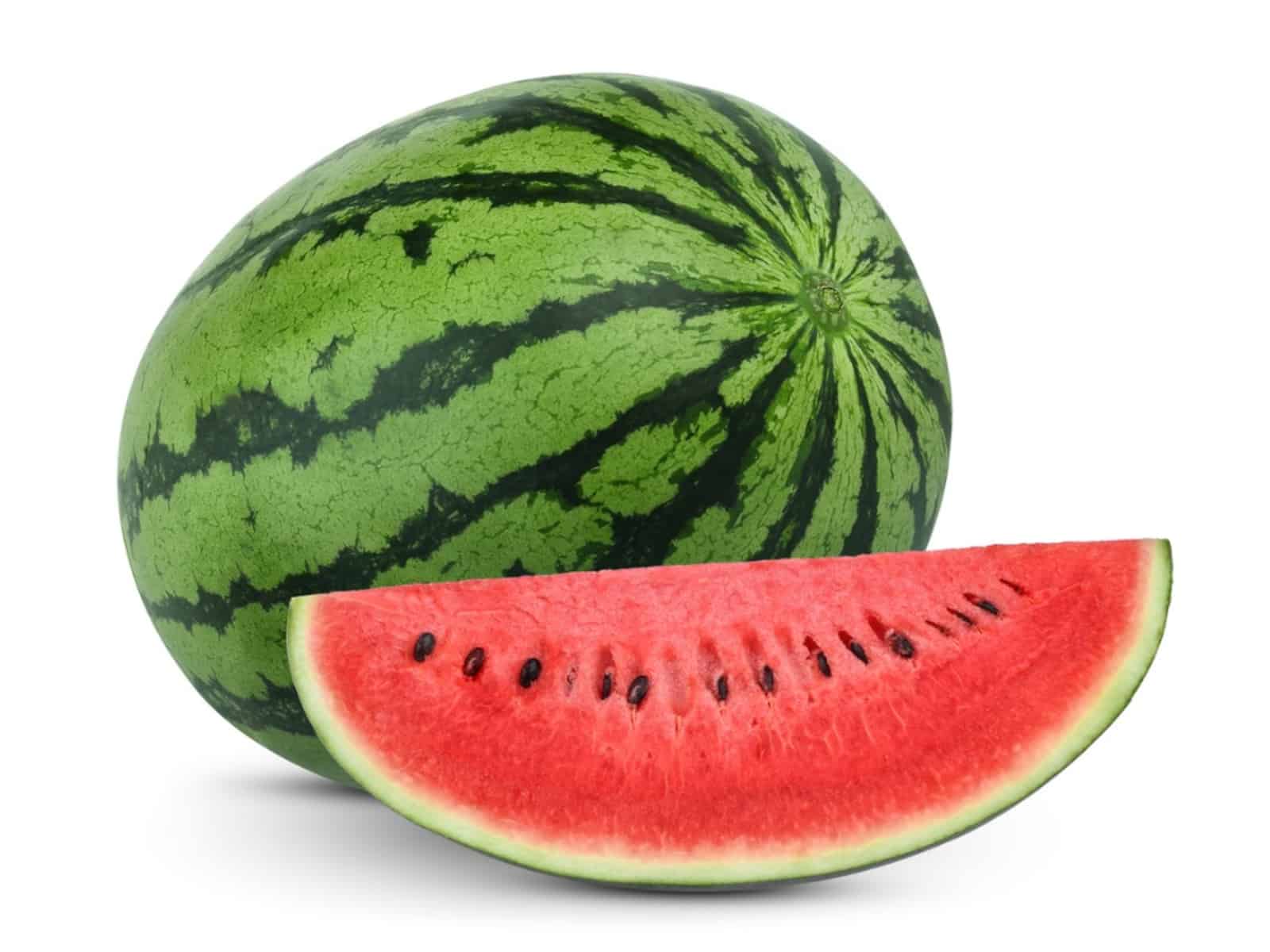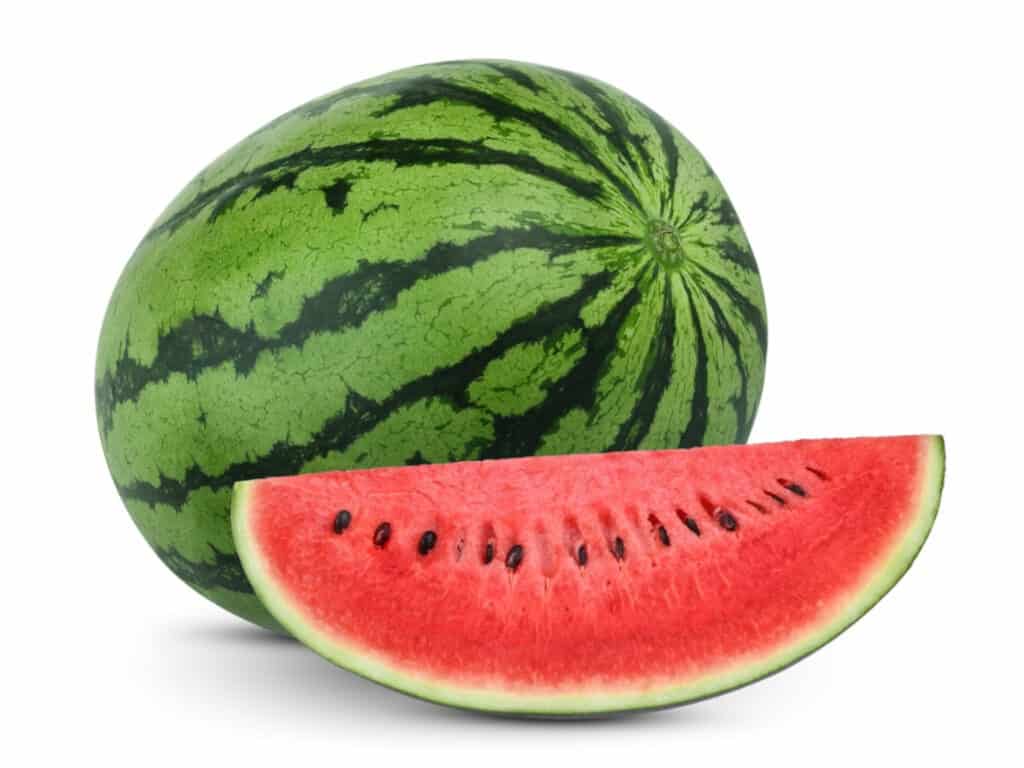 First let's cover a few of the watermelon basics before we get deep into the storage options and shelf life of this fruit. Watermelon is one of the most well-known members of the Cucurbitaceae family, along with other fruit such as pumpkins, squash, cucumbers, and a ton of other melon types. Watermelon itself grows in several different varieties, from large to small, seedless to seeded, and red-fleshed to yellow-fleshed!
As mentioned above, fresh watermelon can grow to enormous sizes, but generally this is not what you'll encounter. Most watermelons of the traditional varieties you'll find will be somewhere between 20 to 25 pounds, while watermelons of the miniature types (known as icebox watermelons!) will be around 6 to 10 pounds.
How to Store Watermelon
While it's true that yes, freezing watermelon is indeed a valid storage option, let's first investigate the other methods of storing this summertime treat. You might be surprised at how easy it is to store watermelon and just how long it lasts when left to its own devices--no freezer needed!
When deciding how to store watermelon, you must take into account what state your watermelon is in. Is it whole or is it cut? How long have you had it? How long are you trying to keep it for? Answering these questions will help you to suss out the best way to store your watermelon!
Storing Whole Watermelon
Contrary to popular belief, watermelons do not continue to ripen after harvesting. This means that upon harvest, your watermelon is just about as good as it will ever get, and from there it will only decay. Thankfully, watermelons are incredibly sturdy, meaning this decay process will take quite some time before it has any noticeable effects upon the fruit.
For this reason, a whole watermelon may easily be stored at room temperature, so long as it is out of direct sunlight and not subjected to any temperature extremes. If you'd like it to keep for even longer, and you are blessed with plentiful refrigeration space, go ahead and stick that entire watermelon in the fridge!
Storing Cut or Sliced Watermelon
Unlike whole watermelon, sliced or cut watermelon may not be stored at room temperature as the exposed flesh of the fruit is prime bacterial growth territory. If you have large watermelon slices or an entire half of a melon, you can simply wrap the pieces of fruit in plastic wrap. For cubes of watermelon or smaller slices, opting to place them all in an airtight container or resealable plastic bag would be best.
Not only does the airtight seal provided by plastic wrap or a separate container serve to protect the fruit from harmful bacteria, but it also helps to keep the moisture with the flesh of the fruit, as well as to prevent the watermelon from picking up any odd aromas which may be floating around the fridge!
How Long Does Watermelon Last?
So, how long is watermelon good for when stored in either of the above scenarios? Whole watermelon on the countertop will generally last for about a week, while refrigeration will extend its lifespan to at least a couple weeks.
Cut watermelon has the shortest shelf life of all and will typically only stay fresh for about 3 to 5 days. This estimate is of course greatly reduced if the watermelon has spent a significant amount of time sitting out at room temperature before being stored, such as in the fruit bowl at a picnic or barbecue.
How to Tell if Watermelon is Bad
So, our friend the watermelon may take a while to spoil, but it will spoil eventually! Here are a few signs to look for which indicate if your watermelon is at the end of its life.
Examine the outside surface of the whole watermelon for any dark or spongy spots. The whole melon should be uniform in color--and pattern, if it has one--and be extremely firm, with an ever so slight give when pressed upon. Any areas of the rind which are much softer to the touch may indicate spoilage.
Keep a specific eye out for any mold growth on the outside of the whole melon, which may appear near or on any dark spots or may cluster near the stem end. If your melon is already cut into pieces, this mold growth may appear on the surface of the flesh itself.
A whole watermelon should be smooth and slightly waxy, it should not be slimy or leaking liquid from anywhere. Cut melon pieces will always leak some liquid into whatever container they are being stored in, but if this liquid takes on a slimy texture, it's a no-go.
The exterior of a fresh watermelon should smell clean and slightly sweet. Any sour smell emanating from the melon or released upon cutting into it is a sure sign that it has already spoiled.
If the cut pieces of melon have a sour taste, fermented flavor, or a mealy and mushy texture, throw it out! As always, if it tastes bad, it is bad.
Can You Freeze Watermelon?
If you are looking to store your watermelon for longer than two weeks, which is about the maximum amount of time you can count on keeping a fresh watermelon--well, fresh--then you may want to freeze it!
While freezing watermelon is a good way to preserve it for even longer than keeping it at room temperature, as we mentioned above, this storage method may not yield the exact results you're looking for. The naturally high water content of watermelon means it will freeze readily, however, this abundance of ice crystals within the frozen fruit has some harsh effects on the fragile cells of the flesh. Once thawed, watermelon will lose most of its structure, collapsing and losing juices as it does so.
Don't let this dissuade you entirely though! While frozen watermelon may not be great for eating by the slice at your next picnic lunch, it is still tasty and useful in a number of different applications. We'll discuss some ways in which you can use frozen watermelon later in this article, but first, on to the freezing!
How to Freeze Watermelon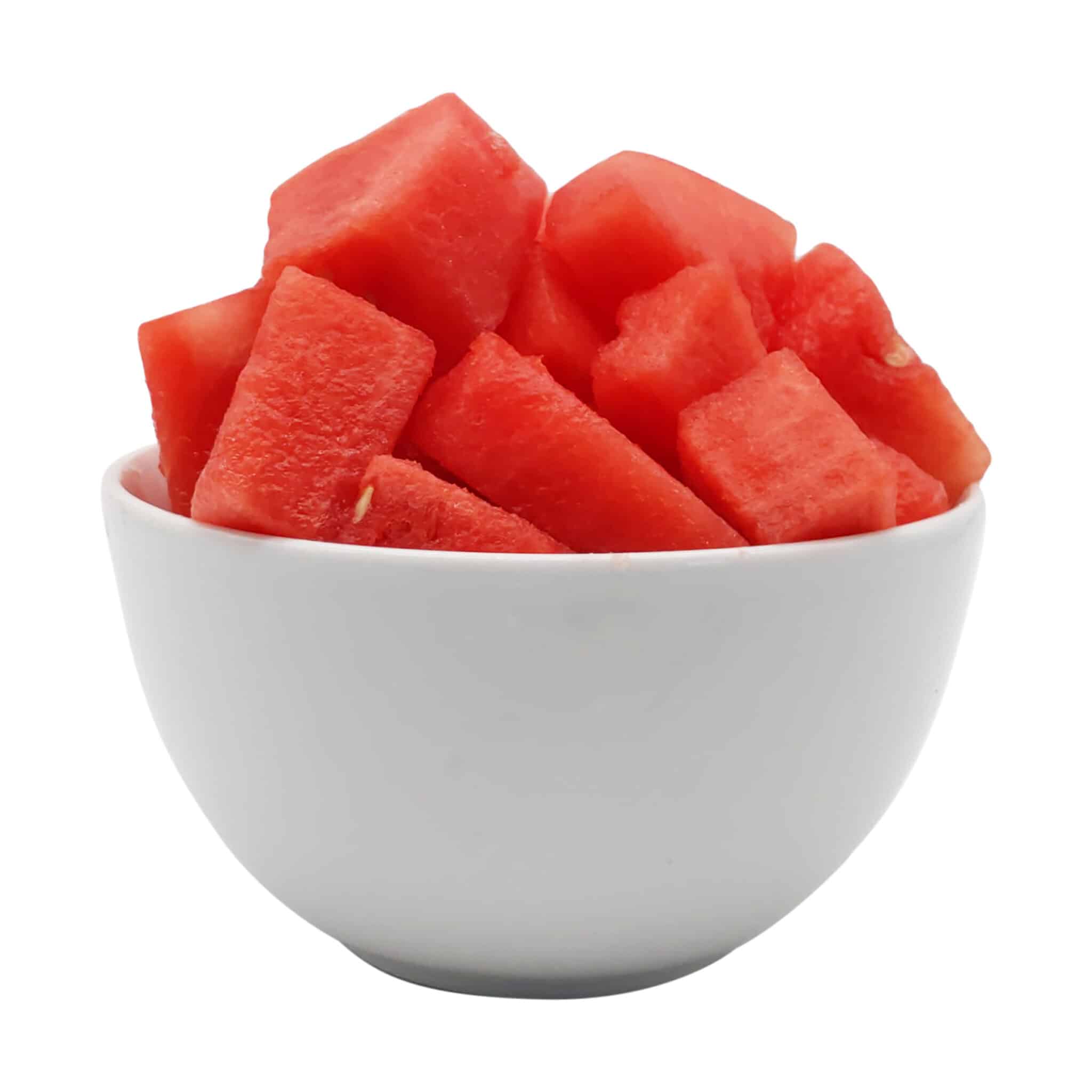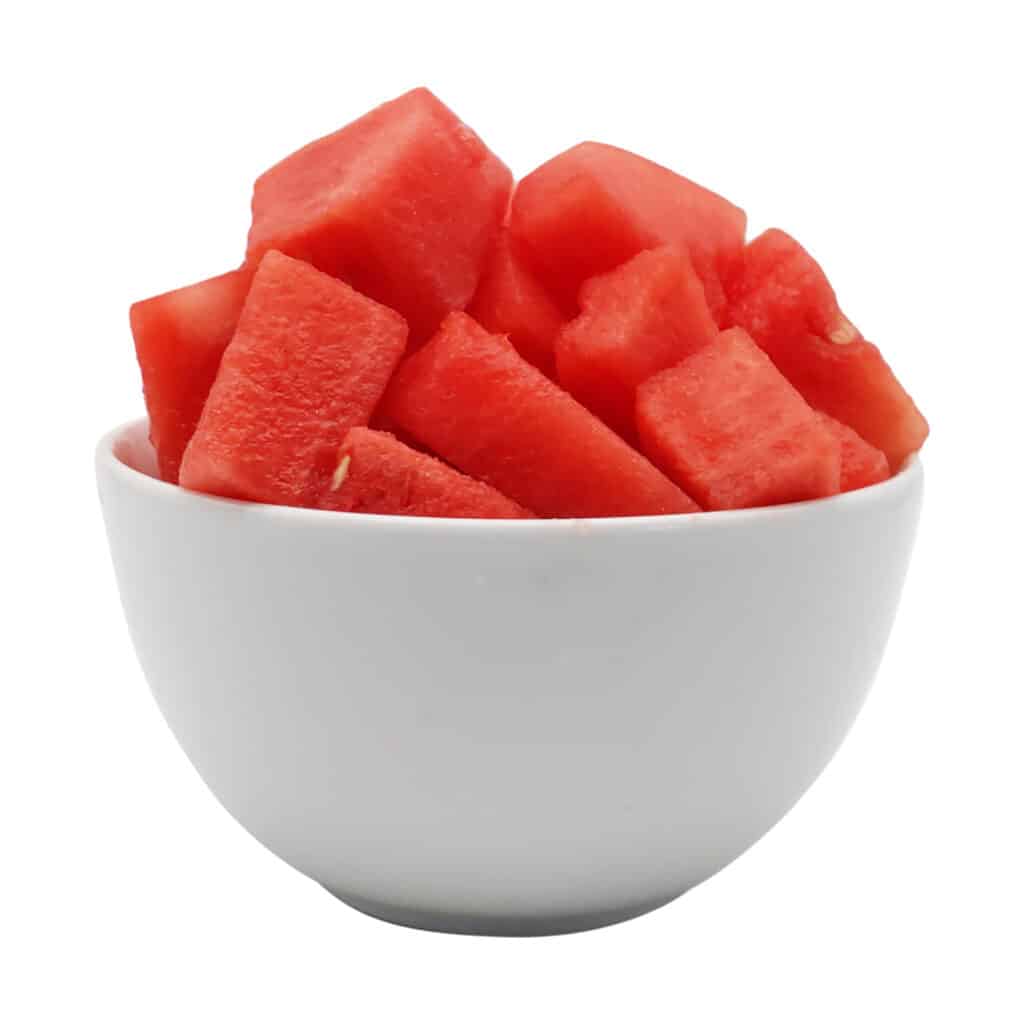 If you end up deciding to freeze watermelon, read on and follow our easy step by step process!
For the best results, you want to be sure to freeze watermelons which are already in the best shape possible. Don't try to salvage subpar or already aged watermelon by sticking it in the freezer--it's not going to get any better! This means if you decide to freeze leftover watermelon, you just want to be sure it has not been sitting out for an extended period of time.
Step 1: Portion the Watermelon
If your watermelon is not already cut, this is the point at which you should do so. Not surprisingly, freezing a watermelon whole is definitely not recommended!
When portioning the melon, you're looking for uniform pieces on the larger size, as any very tiny chunks or thin slices will have a harder time holding their shape in the freezing and defrosting process. You can use a melon baller to make uniform spheres or cut it up into large or small cubes depending on your preference.
Step 2: De-Seed or Not De-Seed?
If you have a seedless watermelon, no need to worry about this, as those soft, pale seeds will easily blend into whatever application is in store for your watermelon on the other side of its frozen journey. However, if you are freezing watermelon which has those dense, black seeds, you may want to remove as many as you can. If you freeze watermelon chunks which are full of tough seeds, you may find yourself limited on how you can use the frozen watermelon, as the seeds will be a bother when it comes time to make smoothies or juices.
Step 3: Arrange the Pieces
Once your watermelon is cut and seed-free (if desired), arrange them in a single layer on a parchment paper lined baking sheet. If you find yourself with no parchment paper on hand, go ahead and use wax paper or even plastic wrap! The idea is just to keep the watermelon pieces from sticking to the baking sheet as they freeze.
Step 4: Freeze the Watermelon
Place the baking sheet full of watermelon pieces in a flat section of your freezer for a few hours until frozen solid. Depending on the size of your pieces, this may take anywhere between 2 to 4 hours. You might be tempted to just dump all of the watermelon pieces in a freezer bag as soon as they seem frozen on the surface, but this could cause the melon chunks to freeze together into one big clump, so patience is key here!
Step 5: Repackage the Watermelon
Once the frozen pieces of watermelon are solid through and through, go ahead and transfer them into freezer bags or another freezer-safe container. Label and date those guys (so there's no mistaking them for other similar looking foods such as tomatoes!) and back into the freezer they go.
Another Option? Freeze Fresh Watermelon Puree!
Another great option for freezing watermelon is to first make it into delicious watermelon puree! Not only does this leave you with an extremely tasty ingredient on hand in your own freezer, but it also is useful for that fact that it takes what is a rather cumbersome package of watermelon chunks and reduces it into neat little containers of liquefied watermelon.
Watermelon puree is an option for both seeded and seedless watermelon, as you can easily strain the puree after blending and remove any seed material.
Step 1: Make the Watermelon Puree
Pile your cut watermelon into a blender and sprinkle in a bit of sugar, if desired. This is also a great way to use up any watermelon which wasn't quite sweet enough for your liking, as you can use this as an opportunity to up the sugar ante! Blend the mixture until the watermelon pieces have broken down and become a uniform puree.
Step 2: Strain the Watermelon Puree
If you have used seeded watermelon to make your puree, pass it through a fine or medium mesh strainer to remove any whole seeds or seed fragments. You may also do this with seedless watermelon if you prefer not to have the soft white seeds in your watermelon puree either!
Step 3: Transfer the Watermelon Puree
Transfer the watermelon puree into containers of your choice for freezing. One great option is to use ice cube trays to freeze the watermelon puree, so that you can easily use just a few at a time. You can also freeze the puree in cup, pint, or quart size containers depending on how much you think you may use at a time. Bottom line: use whatever size containers work best for you!
Just remember that due to its high water content, watermelon expands as it freezes, therefore be sure to leave plenty of headspace whatever containers you are planning to freeze your puree in.
Step 4: Freeze the Watermelon Puree
Place the full ice cube trays or containers of watermelon puree into the freezer. If using the ice cube tray method, wait until the cubes are frozen solid and then you may transfer the cubes of frozen puree into a resealable plastic bag or another freezer-proof storage container.
How to Thaw Frozen Watermelon
When it comes time to make use of your frozen watermelon, it's actually not ideal to attempt to defrost it all the way. If you allow it to remain partially frozen instead of thawing it completely through, the texture will be far better as the partially frozen melon will retain a similar crispness to that of fresh melon.
The best way to ensure that your watermelon doesn't go too far during the defrosting process is to transfer as much frozen watermelon as you plan to use from the freezer into the refrigerator. The length of time will depend on how large your watermelon chunks or cubes are, but for most sized pieces, you can leave it there for 2 to 3 hours, checking on it every so often to evaluate the texture. Once the watermelon is slightly soft on the outside and still a bit icy on the inside, it's perfect to use!
Ideas for Using Frozen Watermelon
Now, you don't always have to partially defrost your frozen watermelon before using--there are plenty of ways to use it straight from the freezer as well! It is worth noting that if you have partially defrosted your frozen watermelon, it will likely seep a great deal of liquid as it does so. This watermelon juice is delicious, so be sure to capture it and toss it into your recipe as well, or at the very least, drink it up!
Here are a few ideas for how to use frozen or partially defrosted watermelon pieces:
Frozen watermelon is perfect for making smoothies! Just toss frozen watermelon cubes or watermelon puree cubes into the blender with other tasty ingredients such as pineapple juice, chopped banana, frozen strawberries, yogurt, or even some greens!
Partially defrosted watermelon is a great topper for ice cream. Or, make your very own fruit-on-the-bottom style yogurt bowl.
Sprinkle chunks of frozen watermelon lightly with sugar and skewer them for a healthy alternative to an ice pop. The perfect way to keep you cool in those dog days of summer!
Instead of ice cubes, go ahead and toss cubes of frozen watermelon or watermelon puree into your glass of water, fruit juice, iced tea, cocktail, or mocktail! As the cubes melt, they will slowly release watermelon juices and flecks of fruit which will add amazing flavor and texture to your beverage.
Frozen watermelon is perfect for making frozen dessert recipes such as our Healthy Watermelon Sorbet!

Storing and Freezing Watermelon: The Takeaway
When it comes to answering the question "can you freeze watermelon", the answer is a resounding "yes!". While doing so will cause a definite shift in the texture of the fruit, as you can see, there are still plenty of ways to use frozen watermelon where these textural changes won't even be a factor.
When you have a whole watermelon on your hands and are trying to decide how to store it, remember these facts. Already cut watermelon will only last for about 3 to 5 days in the refrigerator. A whole watermelon on the other hand, will last for about a week at room temperature and about 2 weeks in the refrigerator.
If you need it to survive longer than that, go ahead and cut it up and freeze the pieces! In the freezer, good quality watermelon should last for up to a year provided it is packed properly. That is, if it even takes you a full year to eat it up!