Ah yes, the microwave oven. What an invention! It's no surprise that this kitchen appliance quickly took hold as a standard feature of most home kitchens, as its ability to quickly cook and reheat foods has yet to be matched.
This rapid-cook technology also means that the heat generated inside of these units can be somewhat unpredictable at times, making the choice of food containers an all too important one. Glass tends to be a go-to selection for many reasons. Unlike plastic containers, glass is BPA free and won't melt. And unlike paper or metal, glassware won't pose the risk of fire.
Nevertheless, this doesn't mean that all glass is suitable for use when it comes to the microwave as it must go through careful testing to ensure its safety before use. This leaves us with many questions left to answer! Can you microwave glass even if it isn't labeled? Can you microwave glass that is decorated? What about reheating food in your everyday standard glass jar?
In the interest of preventing any kitchen disasters, let's go over the details!
How Do You Know If Glass is Microwave Safe?
When evaluating your glassware to see if it's microwaveable, there are several signs to look out for! No signs? No problem! We'll also walk you through a simple test you can conduct to determine if your glassware is able to be microwaved safely.
Microwave Safe Labeling
Let's start with the easy stuff. Turn your glassware over and examine the bottom of it. If you see printing or an inscription that reads "microwave safe" or something to that effect, your work here is done. Go forth and reheat!
Microwave Safe Symbol


Not finding any writing on the bottom of your glass dish? You should also keep an eye out for any symbols. The symbol for microwave safety will typically resemble a rather rough depiction of a microwave with some wavy lines inside or above it. Another possible symbol might be the outline of a plate or bowl with wavy lines above, while yet another version is a series of wavy lines without any microwave nor plate icon. What do all of these things have in common? Those wavy, wavy lines. Look for those and you're in the clear.
Food Safe Labeling
In some cases, you might turn over a piece of glassware and find a label such as "not for food use". This note is an important one, as in order for glassware to be considered suitable for use with food it must meet certain FDA regulations. The types of glassware that don't meet these specifications are frequently considered purely decorative (such as pots for plants or candle holders) and may contain additives which could potentially leach into foods they come into contact with. If you have a glass bowl, plate, or container of any type that indicates it should not be used with food, you should absolutely avoid putting any type food items into these types of glassware, let alone be using them to cook food in the microwave oven.
Dishwasher Safe Labeling
When on the hunt for any indicative labeling, you might also notice some indications about the safety of that item as it pertains to the dishwasher. In many cases, items that are safe for the dishwasher are also safe for the microwave and vice versa. However, this is more of an association rather than a steadfast rule. If an item indicates it is dishwasher safe but any clues about microwave safety remain at large, you should still proceed with further evaluation before assuming that the item can be used in the microwave as well.
What if the Glass Has No Indicators?
Now the fun begins! Let's do a small science experiment to determine the viability of your glass in the microwave. It will just take a minute and don't worry, no Bunsen burner nor safety goggles required.
First, fill a glass container (such as a mug or drinking glass) that you know is microwave safe with water. Place this in the microwave, along with the empty glass container you are trying to test.
Next, turn the dial up to the highest power level and cook for 1 minute.
Then, open the door and carefully feel each of the containers. If the water inside the microwave safe cup is hot and the glassware under scrutiny is cool or only slightly warm to the touch, then the glassware can be considered safe to use in your microwave. If, on the other hand, the glassware you are testing is hot or quite warm to the touch, then its time in the microwave has come to an end.
Reasons Why Glass May Not be Microwaveable
What makes some glass safe to microwave while other types of glass pose a huge hazard? It all comes down to a handful of factors and characteristics of different glassware and glass making processes.
Air Bubbles
During the glass making process, it's normal for tiny air pockets to form within the glass, as is the case in most instances where a hot liquid cools and solidifies. Tiny air bubbles are quite common in ordinary glass, but when manufacturing microwave safe glass, special care is taken to avoid and remove these bubbles. When subjected to high heat, these air bubbles would expand more than the glass surrounding them, and this force could cause the entire dish to crack or shatter.
Metals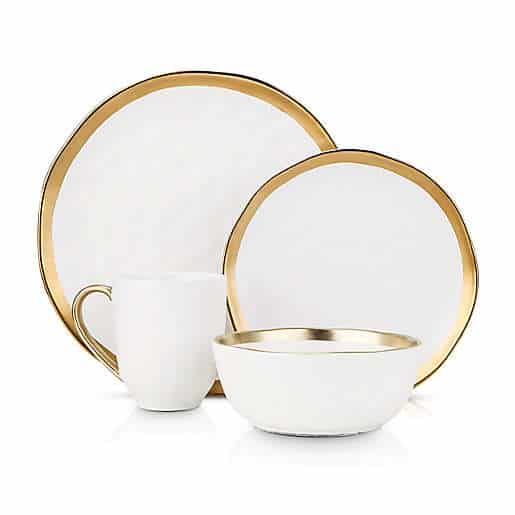 Microwaves and metals don't mix! Anyone who's accidentally left their spoon in a coffee cup or bowl of soup before placing it in the microwave can strongly attest to that fact. You might not think of metal as being a concern when it comes to microwaving glass, but it's certainly something to be aware of.
Many types of dishware have metallic paints, gold or silver trim, or metal handles and decorations. When the electric current produced within a microwave makes contact with materials of a metallic nature, sparks are produced which could in turn cause damage to the oven itself as well as the dishware.
Chemicals
Certain types of glassware, such as dyed or decorated glass, may contain harmful chemicals. The glass might seem safe enough when it's just sitting on a shelf minding its own business. However, these chemicals can react negatively when they come into contact with food, experience temperature changes, or are subjected to the power of a microwave. Microwave safe glassware is carefully tested to ensure that it is chemically inert and does not contain any unsafe compounds that could leach into your food while cooking.
Which Types of Glass Containers Can You Microwave?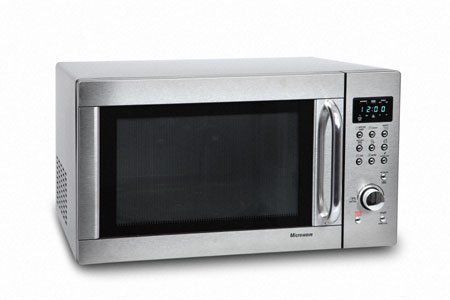 You may have gathered by now that determining whether or not a container is microwave safe is one complex issue! A typical kitchen will contain many different types of glass containers, from tempered glass to glass jars, each with its own characteristics and factors to consider.
Can You Microwave Glass Jars?
While it certainly would be convenient to microwave glass jars filled with store bought products such as pasta sauces, soups, and dips, generally speaking, it's just not worth the risk. When it comes to these products, there's no way of knowing what type of glass jars the company has opted to use for their packaging. Some glass jars are practically designed and able to withstand various heat and temperature fluctuations. And sometimes, the glass jars are purely decorative--because let's face it, food that is stored in glass jars just looks better!
If you come across a situation where a particular jar indicates that it is safe for use in the microwave, be advised that glass jars should never be heated with the lids on. Refer to the reheating instructions on the label for guidance, and when in doubt, it's best practice to transfer the food out of the glass jar and into a separate dish in order to reheat it.
Can You Microwave Mason Jars?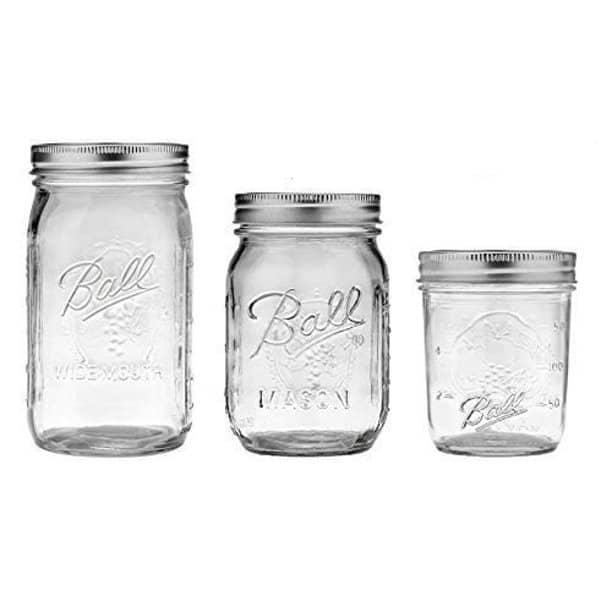 When it comes to specific types of glass jars such as mason jars, the situation is even more muddled. Many newer mason jars are safe to microwave, while older types of mason jars have thinner walls which are known to shatter under the conditions of modern microwave ovens. To make things even more difficult, the style of each mason jar size has not changed all that much over the years, so it can be a tough call trying to decide whether you have a newer or older style jar on your hands.
Bottom line: do not attempt to microwave mason jars unless they are clearly labeled. Even if they are labeled as microwave safe, take note that this does not include any metal caps, rings, or clips that generally accompany each mason jar.
Is Pyrex Glass Microwave Safe?
Most people are familiar with Pyrex as a brand of extremely durable glass that is able to withstand high heat. This is due to the fact that all Pyrex glassware goes through a process known as tempering, in which it is heated and cooled in a controlled manner that strengthens the final product.
Also referred to as safety glass, tempered glass has the added benefit that on the rare occasion when it does break, it shatters into small and fairly dull bits rather than the large, dangerous shards produced by ordinary glass. Another bonus is that Pyrex glassware comes in all shapes and sizes: from glass bowls, to measuring cups, to casserole dishes and more!
Thanks to its special characteristics, Pyrex glass is indeed safe to microwave. Don't be fooled into thinking that tempered glass is completely invincible though! When working with Pyrex you should still take care not to subject it to temperature shocks such as placing hot Pyrex in a cold refrigerator.
Can You Microwave Glass? The Final Word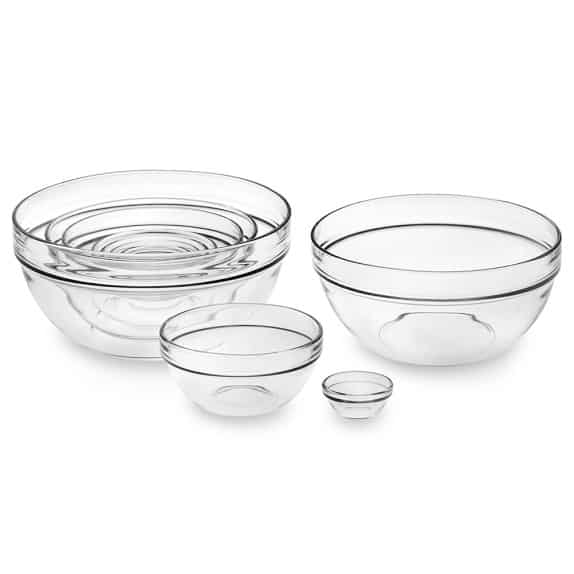 When microwaving glass, you must take care to first determine the specific characteristics of your glassware before pressing that ON button.
Most glassware that is newly made will offer indications, either in the form of a label or symbol, giving you a clue on its safety when heating in microwaves. Even with a clear label such as this, you should never microwave glass jars or any glass container straight from cold temperatures, as this can put undue stress upon the structure of the glass. And finally, avoid microwaving any type of glass that is dyed or painted, unless the container specifically indicates that it is safe to be microwaved.
Despite the dangers associated with heating glass in microwaves, it remains a wonderful material and when done safely, is a superior alternative to heating food in toxic plastics! Make a point to determine the microwave safe containers in your kitchen so that your meal prep can be just as quick and convenient as the microwave itself!