Foods come in many different containers--paper, plastic, metal, glass--the list goes on! With all these different materials and individual variations between them, it can be tough to tell which ones are safe to use in the microwave and which ones are a no-go. Most folks are already familiar with the fireworks display that will occur when you accidentally microwave a bowl covered with aluminum foil or if you leave a spoon lingering in your coffee cup while you attempt to reheat it, but what about other materials?
With cookout season around the corner, you're likely to have a few paper plates come your way. Maybe even get lucky enough to bring home leftovers on a paper plate. But how to reheat things for the midnight snack? Can you simply pop the whole food-filled plate in the microwave?
While it's generally safe to microwave paper plates, the tricky part lies in the fact that not all paper plates are microwave-safe. Don't worry though! We're about to cover everything you need to know about microwaving paper plates, from which ones are safe to which ones to avoid, and most importantly, how to tell the difference!
How Does a Microwave Work?
Before we delve into answering the question "can you put paper plates in the microwave", let's first cover a few basics on microwave oven technology. Because! If you understand how the microwave itself is able to heat food, there is really no need to memorize a list of which products are and aren't microwave-safe. Rather, you'll understand why something is or isn't safe in the first place.
Unlike traditional ovens or stovetop burners, which generate heat by way of fire or electricity, microwaves use--get this--waves to cook the food. When you microwave food, electromagnetic radiation in wave form passes into the food. This causes the water molecules within the food itself to vibrate, each one generating a tiny amount of heat as it does so. The sum total of all of these particles shaking around however, results in a lot of heat very quickly, which is why microwave ovens are so useful for heating food.
What Makes Something Microwave-Safe vs. Not Microwave-Safe?
The biggest determining factor on an item's microwave safety is whether or not the waves will pass through the material or get absorbed by the material. How can you tell the difference? Well, have you ever put a mug or a bowl of food into the microwave, warmed it briefly, only to find that when you go to remove it, the handle or the edge is ripping hot while the food itself is only lukewarm or even still cold? This is because that particular material absorbed the microwaves rather than allowed them to pass through the container and into the actual food.
The problem here, aside from the obvious risk of injury due to burning oneself, is that containers such as these will continue to absorb the radiation until they break or degrade, thereby posing a huge risk to your food as well as to the microwave oven itself. This is a particular concern when it comes to microwaving glass, but can certainly be an issue with other types of materials as well.
Another factor to consider when thinking about microwave safety is whether or not the materials that make up the container will leach chemicals when heated, as this is a major food safety concern as well. This includes items that have paints, dyes, or decorations, as well as perhaps the most widely recognized compound of concern, Bisphenol A--or BPA.
It's also important to note that just because something is microwave-safe, doesn't mean you can just nuke it forever. Think of it this way, everything (even steel!) has a point at which it melts and breaks down. Therefore, it's possible that heating up microwave-safe materials for an extended period of time could render them unsafe as well.
Which Types of Paper Plates Are Safe to Microwave?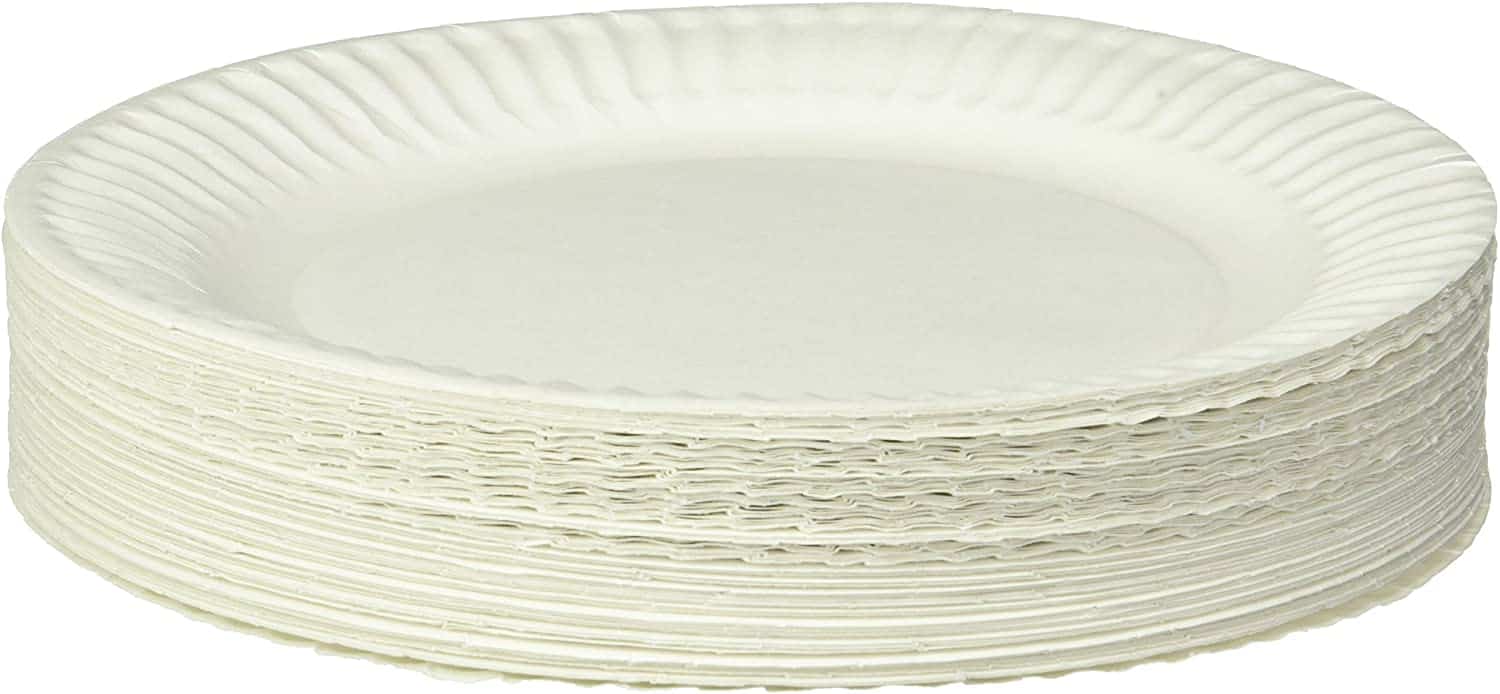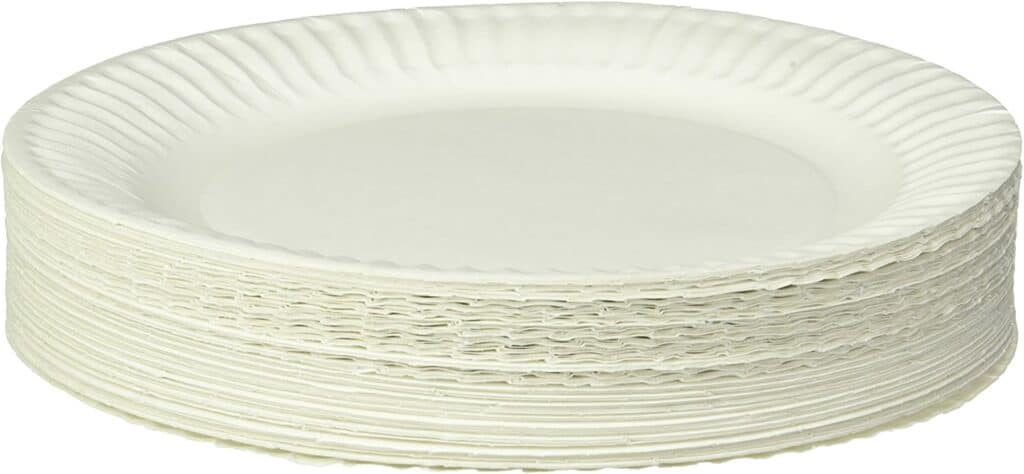 When it comes to microwaving paper plates safely, it all depends on exactly what type of paper plate is in question. Some are completely safe--and are among the safest materials to microwave at that--while others pose some serious concerns.
100% Pure Paper Plates
YES!
Pure paper plates--that is, those plates made of 100% paper which are not dyed, printed, or coated in any way--are completely safe to microwave. You've likely encountered these types of plain white paper plates, you know those ones with the ruffled edges! The problem with these plates is that they tend to be quite thin and don't last very long in the battle against greasy foods, so you may need to stack a few together in order to prevent the food from soaking through the bottom while reheating.
Coated Paper Plates
Sometimes.
Coated plates are typically easy to differentiate from plain paper plates, as they have a shiny, glossy finish. This is most often due to a thin layer of plastic coating, and you likely already know from experience that coated paper plates are much more durable than their pure paper counterparts. The coatings are added to make for a more sturdy dish, as well as to make the plates more soak-proof against oily and greasy foods. The rims of these plates are also generally more pronounced and stronger than those of plain paper, offering additional support when a plate of heavy food is held by the edges.
Oftentimes, the outer packaging of plastic coated paper plates will indicate whether or not they are safe to microwave. And these days, most major companies are savvy enough to make sure that the coating they use is safe to go in the microwave. Nevertheless, it always pays to double check or do any necessary research on your particular brand to determine its microwave viability.
Decorated Paper Plates
Probably not!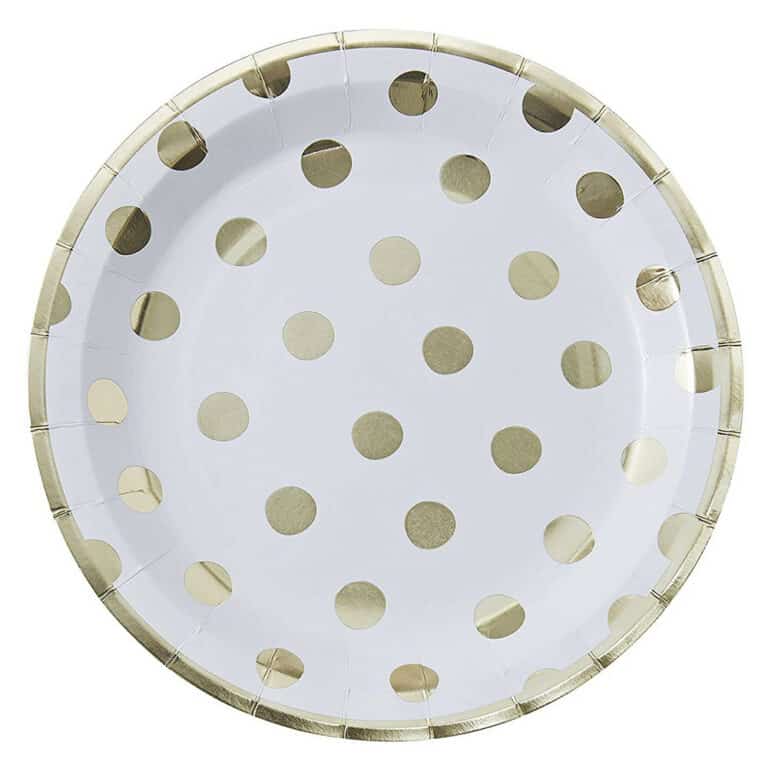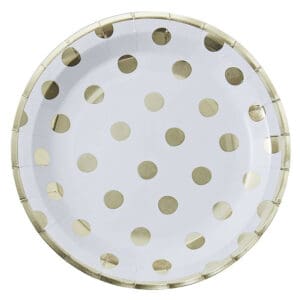 Pay special attention to any plates that have "extras" such as dyes, inks, printing, metallic finishes, or other special decoration. Items such as these, unless expressly labeled as microwave-safe, should be considered unsafe for microwave use, the reason being that the decorative materials could very well contain harmful chemicals or produce toxic fumes when heated. Also, plates with extra accouterments or decorative layers may contain glue or adhesive which may not be safe for microwave use either.
Eco-Friendly Plates
There are many eco-friendly plates out there, and luckily, many of them are microwave friendly as well! Let's go through a few of them.
Recycled Paper Plates
No (unless specifically marked as "microwave-safe"). 
There are plenty of paper plates out there which are made from recycled paper, and while it's great news for sustainability's sake, recycled paper poses a problem for us in regard to this particular topic. While recycled paper does go through cleaning and purification processes during its manufacture, you honestly never quite know what is left behind in the mix. There could be ink residue or other materials which are perfectly fine to be within the product but may not be up to the task of being heated. Therefore, unless your recycled paper plates indicate they are microwave-safe, it is probably best to carefully slide your food into another dish to reheat it, rather than testing your luck with mystery recycled materials.
Compostable Plates
Sometimes, but be sure to research your specific product and brand.
Compostable plates may be made from any of several compostable materials such as sugarcane, vegetable starch, bamboo, or palm leaves. The microwave safety of each of these types of products will depend on the individual makeup and manufacturing process, but many of these options are indeed microwave-safe. Bonus: the plates can be composted when you've finished your leftovers!
Other Disposable Plates
Typically, NO.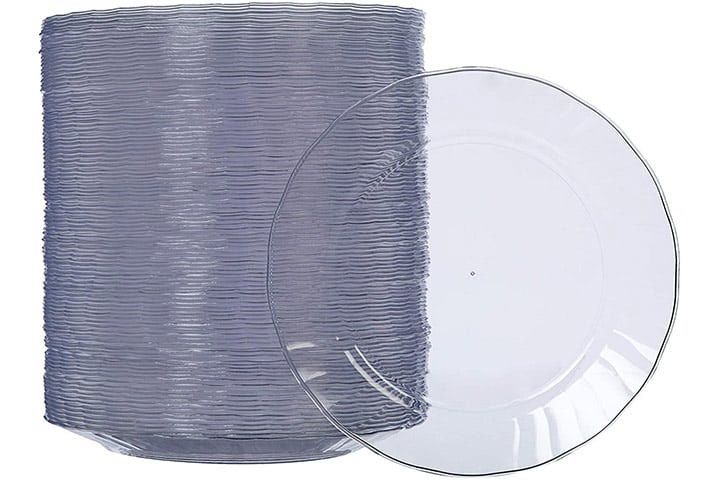 While these items don't fall into the category of paper plates, these plates made from other materials are often used in the same situations where paper plates might be, so it's worth covering them here as well.
Styrofoam plates are NOT microwave safe, as they consist of a type of plastic which will produce harmful chemicals when heated, as well as the fact that they are prone to melting and warping. Plastic plates are the other most-likely-to-be-used disposable plates out there, and the microwave safety will vary from one plastic plate to the next. Again though, you should never heat plastic unless it is specifically designated as safe to do so.
How to Test if a Paper Plate is Microwave-Safe
So, what happens if you have just purchased a big stack of paper plates, thrown away the packaging, and are now unsure whether or not they are microwave-safe? Luckily, there's an easy experiment you can perform with just one paper plate so that you know what to expect from the whole batch!
Step 1: Set it Up
Choose a glass or mug which you already know to be microwave-safe and fill it with water. Place the paper plate you wish to test in the microwave, and place the cup of water atop it, being careful not to spill!
Step 2: Heat it Up
Close the door and heat the plate and the cup of water together on high power for 1 minute.
Step 3: Check it Out
After the cook time is complete, carefully compare the temperature of the plate and the water. If the plate has no heat and the water is warm or hot, the plate is microwave-safe. However, if the plate feels warm to the touch and the water is still cool or room temperature, this means the plate is not safe to microwave.
Other Microwave Safety FAQs
Still have some questions about everyone's favorite and most convenient kitchen appliance? We've got your answers here!
What Does the Microwave-Safe Symbol Look Like?
Depending on your package of tableware, there may not be any written words about whether or not it is microwave-safe, but there may be a symbol on there! Keep an eye out for a box or a plate with a series of wavy lines within or below, something along the lines of these symbols:

Is it Safe to Microwave Other Paper Products?
You might think that just about anything made of paper would be microwave safe. After all, if it can't melt like plastic or spark like metal, what's the risk? As it turns out, plenty of paper items pose risks. Brown paper bags are perhaps the worst offenders here as they are a major fire hazard when exposed to the conditions within a microwave.
According to the USDA, most paper products such as paper towels, paper napkins, wax paper, and parchment paper are indeed safe so long as they are plain and not dyed or printed. Other items like paper cups should be treated like paper plates and considered carefully if coated (as are most coffee cups) or decorated in any way.
What is BPA and Why is it Harmful?
Why does it matter if a plate is plastic coated in the first place, and what's the harm if a bit of plastic coating leaches into your food as it heats up? It all comes down to that buzzworthy term bisphenol A, referred to more commonly as BPA. This is a compound which has been included in plastic manufacturing for many years, but more recently has become associated with certain health concerns and conditions, according to the Mayo Clinic.
It's still unclear how much exposure to BPA is safe, but it is best to avoid it when possible. Take care to use BPA-free plastics (many are labeled these days) and don't allow thin plastics such as plastic wrap or resealable plastic bags to be in contact with your food while it is cooking or reheating. If you'd like to cover your food while heating it in the microwave, try covering it with a plain paper towel instead of plastic wrap.
So, Can You Put Paper Plates in the Microwave? It Depends!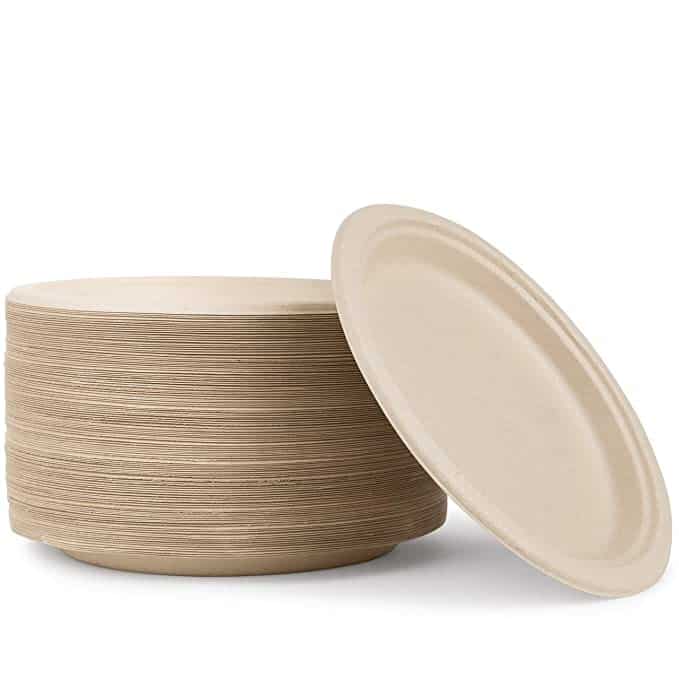 If you have pure, plain paper plates, go right ahead and reheat your food to your heart's content! However, if the disposable plates are made of any other materials or have decorations of any type, you need to consider the situation carefully. Unless designated as microwave-safe, heating these items should be avoided as they can actually pose health risks or even catch fire!
If you are unsure about the heat tolerance of a paper plate, then it is best to just use it to serve the food and select a container you are sure about for reheating and cooking in the microwave. When in doubt, just transfer it to another container, easy as that!