The air fryer. As the next big thing in a long line of convenience enhancing kitchen devices, this is one small appliance that is making a big splash!
The beauty of the air fryer of course is that it is able to give foods the crispy texture you're craving, without the use of a deep fryer. Begone the quart of oil you've been keeping in the fridge for whenever fish fry night happens to roll around again! From perfectly crisp French fries and chicken cutlets, to roasted vegetables and succulent lamb chops, there are loads of easy air fryer recipes out there to make your meal prep as seamless (and delicious!) as possible.
The only thing that takes a bite out of the ease-factor of using this tool is cleaning it. Getting all of the food residue scrubbed out of the air fryer parts is one task that can definitely be a pain. Then, a stroke of genius hits you. You often line your baking sheets and racks with aluminum foil (or tin foil, as you might call it) to make oven cleanup easier. Why not do the same with your air fryer! Is this even an option?
The short answer is yes, although it comes with a few important caveats. Let's get into them!
Why Put Foil in an Air Fryer?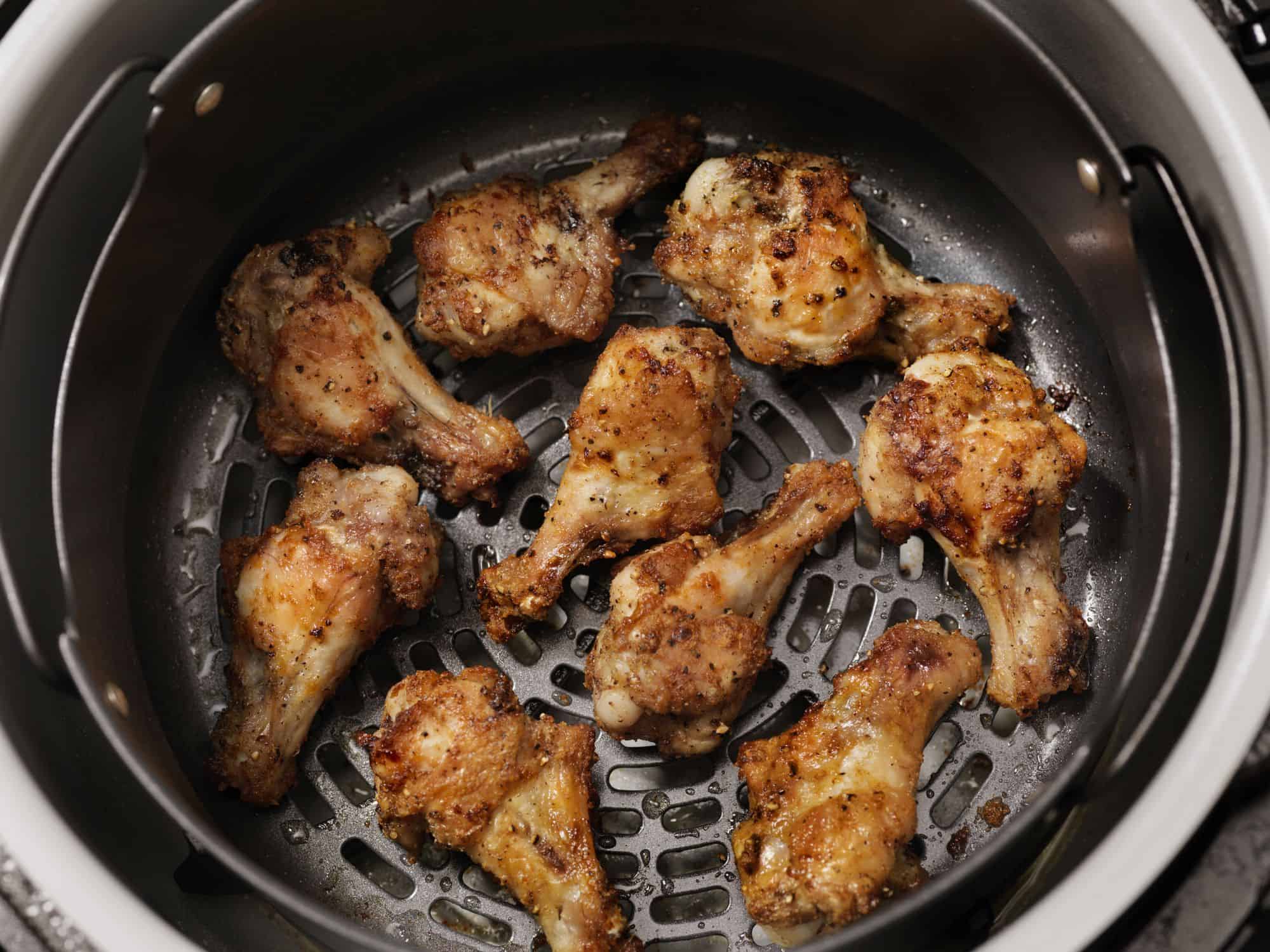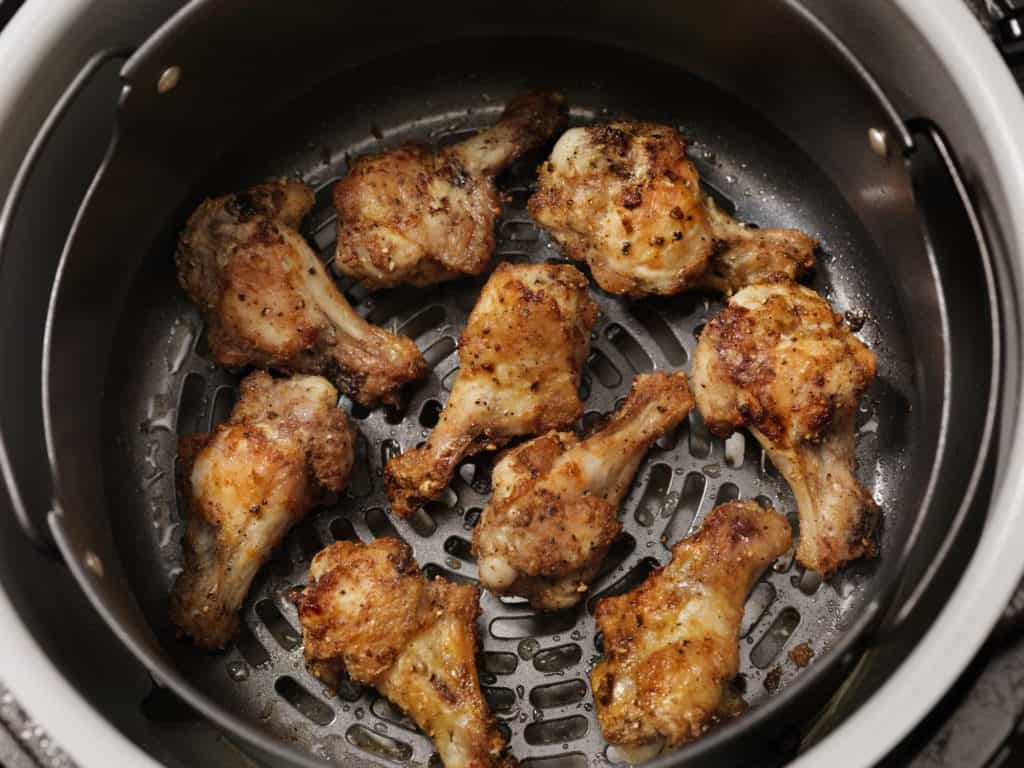 First things first, why might you even want to put foil in your air fryer in the first place? Well, as you've most likely experienced by now, when placing foods directly onto the bare basket of the air fryer, there is plenty of tendency for things to stick onto and in between the mesh.
Also, food particles can easily fall through the gaps and get cooked onto the lower portion of the air fryer or even shift around and affect other components of the unit. By lining the basket with foil, you minimize how far the food particles travel during cooking. When you're ready to clean you can simply peel away the foil, toss it into the bin, give the basket a quick rinse and you're done!
Secondly, using foil in the air fryer may actually help to promote better flavor as certain foods cook. As the holes in the fryer basket provide plenty of opportunity for seasonings, sauces, and coatings to fall through, they not only make cleanup a chore but they also take flavor away from the food itself. By using foil, you can help your food to cook with all of its intended deliciousness rather than having it fall away throughout the cooking time.
How to Use Foil in an Air Fryer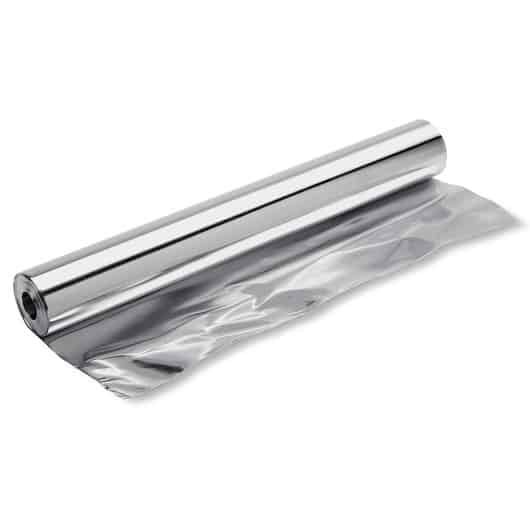 Before doing anything, be sure to check the user manual that comes with your air fryer to ensure that the use of foil inside it is not advised against by the manufacturer. Most air fryers work just fine with aluminum foil, but each device is different, and the manufacturer will always know best.
If after your reading and research you've determined you're in the clear, go ahead and get that box of foil out and hunker down with our handy guide to using aluminum foil in your air fryer!
1. Location is Everything
We've heard it from real estate moguls before: location, location, location! But did you know this saying applies to using foil in an air fryer just as well as it does to the housing market?
The fact is, when using foil in your air fryer, there is one golden (er, silver?) rule on where you can place it. You might be tempted to line the very bottom of the air fryer with foil so as to catch any drips or food particles that fall through, just in the same way you might line the bottom of an electric oven.
However, this is unfortunately not an option. You must only place the foil inside the air fryer basket, not the bottom of the unit itself. Lining only the air fryer's basket with foil will help your air fryer properly function.
2. Let it Flow
Let it flow, let it flow–the hot air, that is! As you might already know, successful air fryer cooking relies on efficiently circulating hot air. If this air flow is impeded, it may affect the heat distribution to the food and therefore increase the cooking time or otherwise have a negative impact on the outcome of your dish.
It may seem like a good idea to completely line the entire air fryer basket with a sheet of foil in order to prevent as much mess as possible. However, this is ill-advised as it will block the all-important air circulation.
When applying aluminum foil to the air fryer basket, you must make sure not to cover all the holes. Use a piece of foil that is as small as possible, and keep it contained to sit just underneath the footprint of the food and not far beyond. And definitely do not line the foil up the sides of the basket! This will allow the hot air to continue circulating efficiently around the food. If this means you need to cook your food in smaller and more numerous batches, so be it.
3. Avoid Aluminum Foil in Flight
In order to circulate air effectively, each air fryer has a powerful fan which distributes the hot air that is generated in the heating coils throughout the device. For this reason, it's important to make sure that when placing foil in the air fryer, it is secured so as to prevent it from becoming dislodged and blowing around inside the unit.
You can do this by making sure that the aluminum foil is adequately weighed down by food and that there are no excess pieces or hanging edges. Any loose pieces of foil can easily get swept up and torn by the flowing air–posing the risk of blocking air flow, getting stuck to food, and in the worst case scenario, getting stuck up against the heating element and igniting!
This provides another reason why it is important not to place the foil into the lower drawer of your air fryer, as without the weight of food directly on top of it, the sheet is even more prone to becoming airborne. We're all in favor of making cleanup easier, but not if that means doing something that keeps you from using your air fryer safely!
4. Don't be Reactive
Out of all of the metals out there, aluminum is a quite sensitive one. It is highly reactive and therefore special care must be taken when considering using it with foods that have a high acidity.
When acidic foods come into contact with aluminum, a chemical reaction is caused which can result in your food taking on a metallic taste or coloring. Not only is this effect unpleasant, but the jury is still out on whether or not this type of exposure to aluminum is harmful to human health. In that case, it seems best to avoid it when possible.
Some acidic foods that you want to avoid cooking in conjunction with aluminum foil are: tomato sauce or whole tomatoes, most types of fruits, any pickled foods, and anything that has been marinated in vinaigrette or citrus juices.
5. Remember--Aluminum is an Insulator! Or is it a Conductor…
This one's a throwback to middle school science class. Do you remember learning all about the properties of different metals? Metals that are good conductors allow heat to pass through them easily, whereas metals that are insulators are those which do not allow the heat to pass through them easily.
We all know the old trick of wrapping aluminum foil around the rubber handle of a pan in order to make it oven safe, as when it is used in this way, aluminum foil has insulative properties. Yet also, plenty of pots and pans are made from aluminum as it quite effectively moves heat from the source into whatever food item is to be cooked, meaning it's a great conductor as well!
In a very odd twist of science, aluminum is actually able to function as both depending on the circumstances. Without getting too deep into the weeds, the main takeaway here is that due to the complexity with which aluminum reacts with heat, it has the potential to interfere with the cooking process and lead to unevenly cooked food depending on how it is used.
How does this affect you on your air fryer cooking journey? It just means that when using foil, you have to keep an extra eye on cooking time and doneness, as the presence of foil in your device has the potential to make foods cook either faster or slower.
Other Options to Consider
Instead of simply sticking a sheet of aluminum foil in the air fryer basket and calling it a day, here's a couple of other options to think about!
Poking Holes
If you're planning to use aluminum foil under your food in the fryer basket, one idea that may help you is to poke holes through the foil to encourage air circulation. It takes a bit of extra time, but may help encourage more even cooking as the hot air circulates while simultaneously protecting against the majority of messes.
Give Parchment Paper a Shot!
This material is non-reactive, meaning you don't have to worry about cooking any acidic foods on top of it. In addition, parchment may actually help your food to cook more evenly as opposed to cooking on foil. There are even some manufacturers that make pre-cut parchment sheets which fit into most air fryers and have perforations which promote heat circulation.
Just keep in mind that while the parchment will prevent food residue from sticking to the air fryer basket, it will allow grease and juices to seep through, so you still will need to thoroughly wash the basket after use.
Can You Put Foil in an Air Fryer? Yes!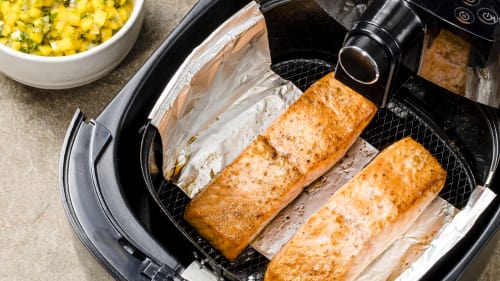 The bottom line is that using aluminum foil in an air fryer is a great way to bring an added level of convenience to this already convenient cooking method. Before tearing off that sheet, just take a moment to consider its size and placement, what type of food you're cooking, the overall airflow of the unit, and how the foil may impact the cooking time of your meal.
In order to encourage better heat distribution, you can try poking a few holes in the sheet of foil before putting it down. By using aluminum foil, your cleaning concerns can be minimized, and your food might even end up tasting better to boot. So go ahead and air fry up a storm!