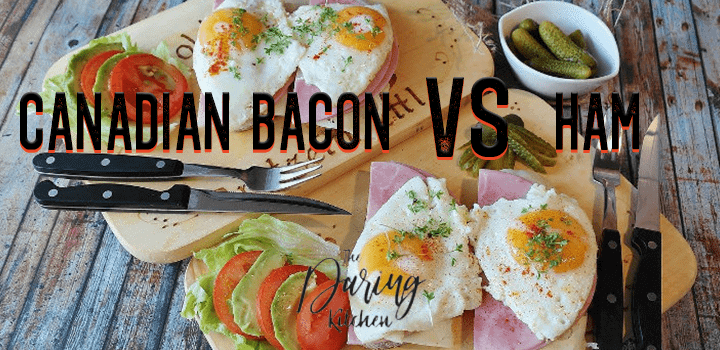 It tastes and looks like ham, but it's not ham, and on top of that, if you ask a Canadian what Canadian bacon is, he or she might struggle to get the answer right. Or if you expect to visit Canada and taste Canadian bacon, you might get a tad disappointed since it's very unlikely that you will find it in any menu there - confusing, right?
Let's clear things up a little bit and look at the differences of Canadian bacon vs ham, that's why we are here after all.
What Is Canadian Bacon?
Canadian bacon is a type of back bacon that comes from the center part of the pork loin and has a ham-like texture. This lean meat is salt-cured and can be smoked or not. It's funny that 'Canadians' don't use the name 'Canadian bacon' for this product.
Instead, they call it 'back bacon' or 'Peameal bacon', a variety of back bacon that is rolled in cornmeal or peameal after it's brined. The cornmeal adds flavor and texture to the bacon while the brining adds tenderness and moisture.
So, if the Canadians don't call this product Canadian, then who does? It's the Americans mainly. In the UK, the terms 'Canadian bacon', 'rasher', or Irish bacon' are also used to describe the bacon that comes from the back of the pig.
How Is Canadian Bacon Different From Ham?
The main difference between Canadian bacon versus ham is the part of the pig used to make the product. Ham comes from the pork hind leg whereas Canadian bacon comes from the back of the pig.
Usually the brine of the Canadian bacon contains maple syrup while the brine of the ham may or may not include maple or honey. It typically contains sugar, spices, herbs, caramel, or vinegar.
Canadian bacon is always served in cylindrical slices and often found in the cornmeal rolled version. On the other hand, ham can be cut and served in different shapes and thicknesses such as large cubes, regular slices, very thin slices, or as a whole.
Besides, there are different types of ham depending on the country of production. From the American-style ham to the 'Jamon Serrano' of Spain or the Italian Parma ham, the options are many.
Finally, Canadian bacon is usually eaten for breakfast or brunch and always served juicy and soft whereas ham can show up at any meal of the day.
How To Eat Canadian Bacon
Canadian bacon can be eaten right out of the package but it tastes better if it's heated. You cansauté, grill or bake it, the choice is yours! It's great in a fried egg sandwich and hearty enough to be combined with some veggies such as potatoes, peppers, and corn for a light meal.
The most popular ways to cook it in the US are Egg McMuffins and Benedict eggs but you don't need to go with the stream. Chop it in salads, cook it in a frittata, use it as a pizza topping or think of other creative combinations.
How To Eat Ham
The cured, smoked, or baked version of ham doesn't need to be cooked before eating it. From hearty breakfast scrambles to casseroles, antipasto platter, and open-faced sandwiches, ham knows a thing or two about how to impress.
The Bottom Line
Canadian bacon and ham are so similar that one can often substitute the other in a dish – but not always. The choice is ultimately yours.