When you can't buy fresh vegetables or simply don't want to deal with the hassle of cleaning, trimming, and prepping all of that produce, what do you reach for? Canned or frozen vegetables of course!
Green peas are one of the most common items which are available in either of these two forms, but the decision on which to toss into your shopping basket sometimes isn't such a clear one. You might have many questions such as "are canned peas healthy?", "are frozen peas good to eat raw?", and "are canned peas processed?". These questions are good ones, and certainly the answers are not always spelled out on the packaging by manufacturers who are trying their hardest to get you to purchase their product!
Not to fret though, we'll answer those questions and many more as we go in depth to cover all of the differences between canned peas, frozen peas, and how they compare to fresh peas and one another.
Similarities Between Canned Peas and Frozen Peas
Let's start with the similarities first so we can more easily understand at what point these two types of peas diverge from one another.
Whether they are canned or frozen, either of these processing methods achieve the same goal: taking a fresh green pea and making it last longer.
And in most cases, both canned and frozen green peas will be made from the same species of English, or shelling peas, Pisum Sativum. This starchy vegetable variety consists of peas which do not grow in an edible pod and therefore each can or bag of peas is filled with individual peas (the seeds!) rather than pods themselves.
Main Differences Between Canned Peas and Frozen Peas
As you're about to find out, there are many more differences between canned peas and frozen peas than there are similarities. Anyone who's ever tasted the difference between frozen produce and canned veggies can attest to this!
From taste and appearance to nutrition and cooking methodology, we've got all of the differences outlined here.
Canned vs. Frozen Peas: What Types of Peas Are Used?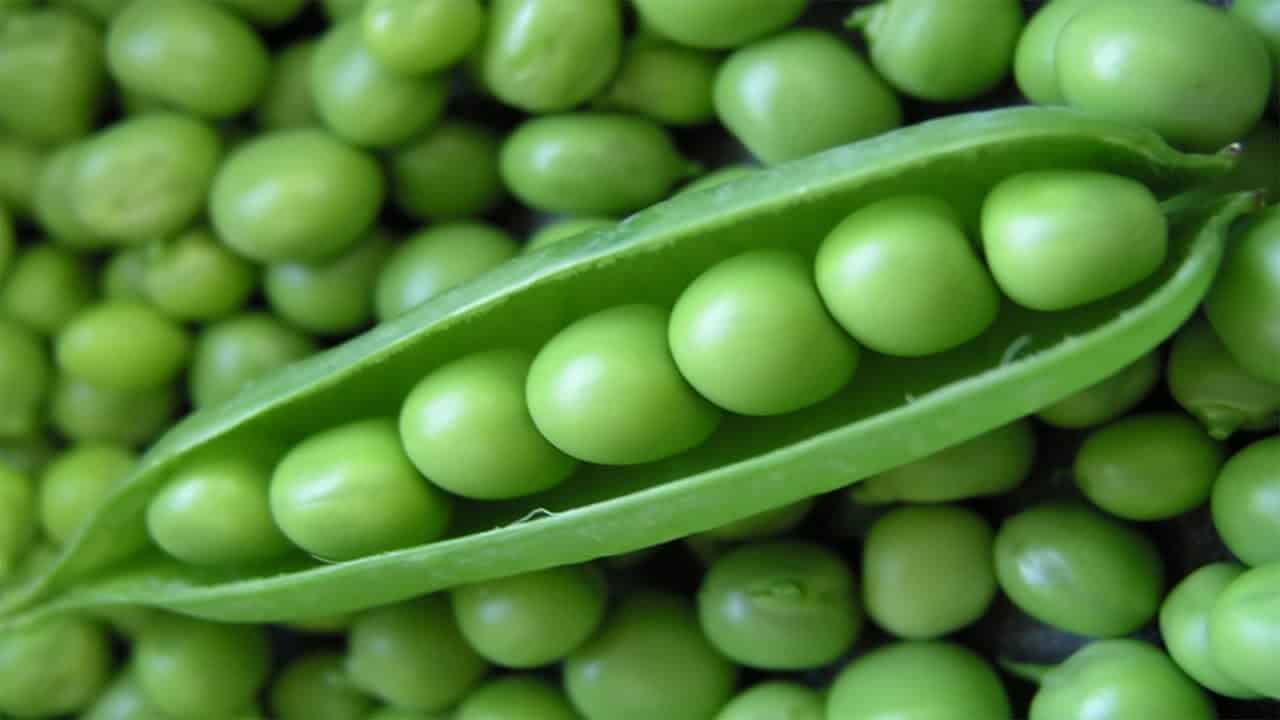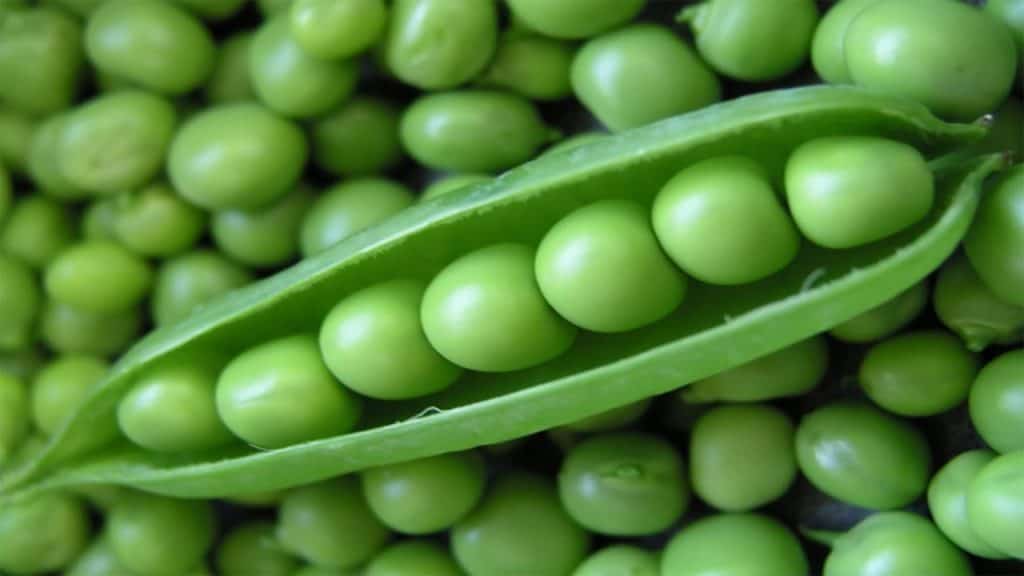 As mentioned above, typically, canned peas cans and frozen pea bags are filled with the same type of peas known as English peas, shelling peas, or garden peas. These tiny green globes are always removed from their pods and then either frozen or canned, depending on their use.
Canned pea varieties are almost always made from this type of pea--although never say never as some other canned peas may be available from farms or small batch producers--while frozen peas actually do regularly come in other options. It's not uncommon to find the other types of green peas in the freezer aisle such as frozen sugar snap and frozen snow peas.
Canned vs. Frozen Peas: How Are They Processed?
After harvest, fresh peas which are destined to be canned go through a process of blanching. This step serves to clean the peas, kill off some of the naturally occurring bacteria and organisms, and destroy the inherent enzymes which are responsible for the degradation of fresh produce over time.
After blanching, the peas are then rinsed and packed into cans with a hot brine solution, which may or may not contain some quantities of sugar and/or salt. The cans are then sealed and transferred to a sterilizer, which serves to heat the cans and their contents to a sufficient temperature point at which all bacteria are killed off. This heating and cooling is precisely what causes the vacuum effect inside the cans of canned vegetables.
Frozen peas go through similar steps as canned vegetables, up until a certain point that is. After the peas are blanched and rinsed, frozen peas begin their own unique journey. After blanching, the peas head over to a super-freezer, where they are arranged in a single layer before going inside. Frozen vegetables and fruits that go through this type of freezing process are known as individually quick frozen or IQF.
The benefit of these flash frozen veggies is that they remain separated from one another forever after, rather than freezing together in one large clump. This makes it much easier for consumers to use the frozen peas as they can easily measure out a cupful or a few servings, without having to break out the ice pick. After being frozen, the peas are packaged and sealed, typically in freezer-proof plastic bags.
Canned vs. Frozen Peas: How Do They Look?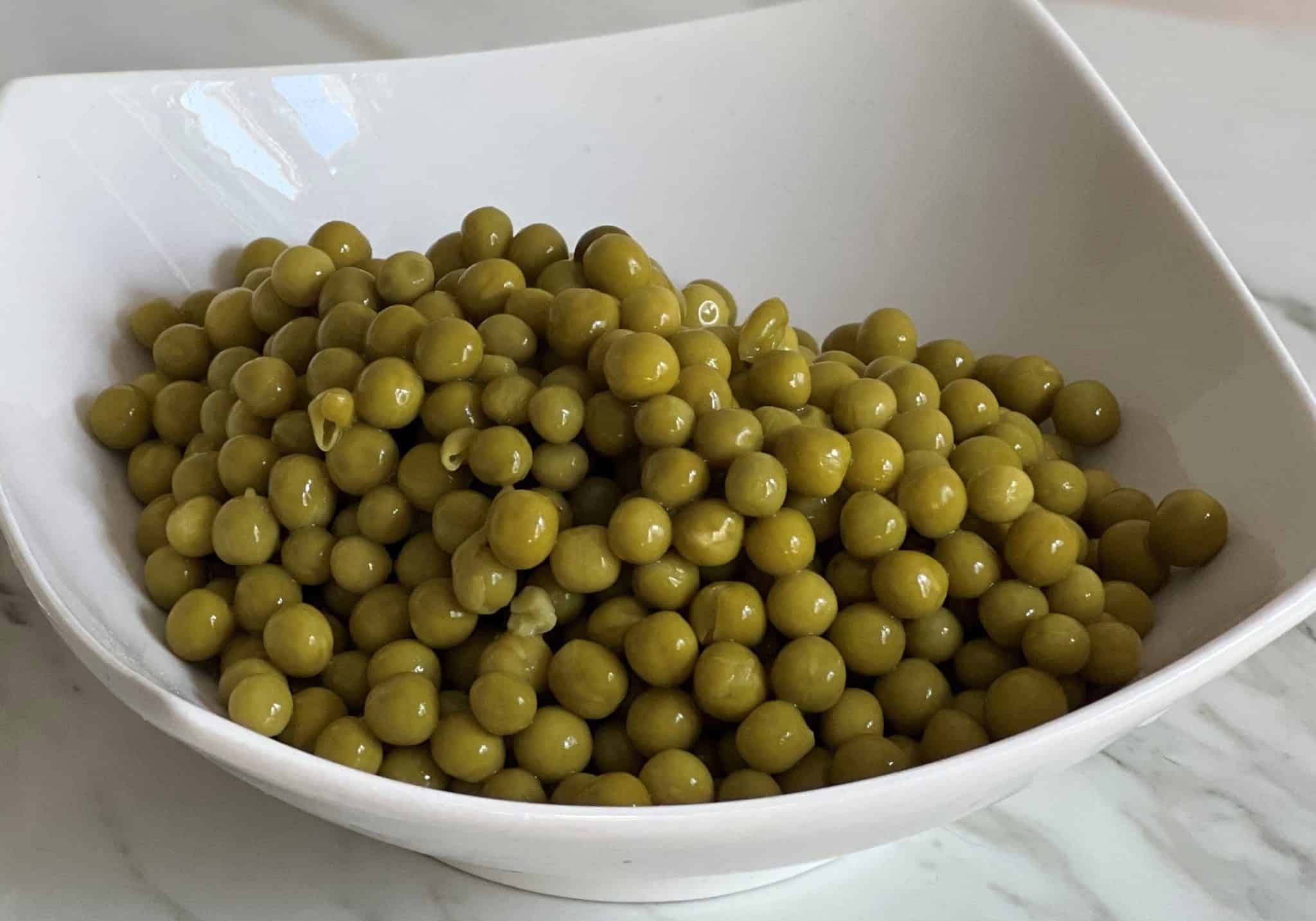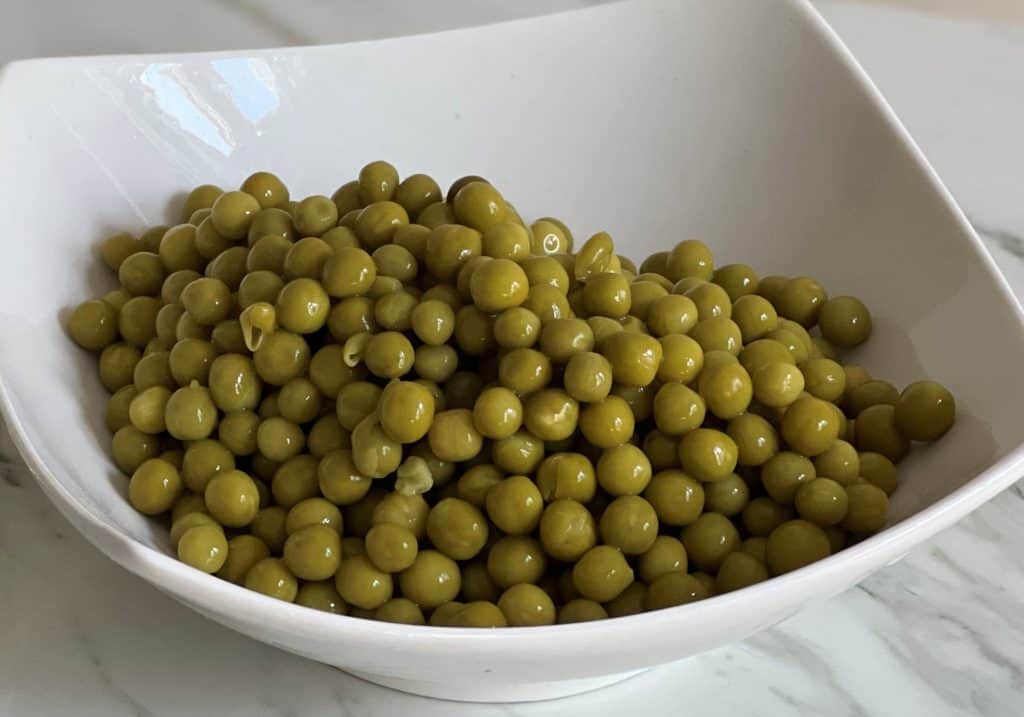 The fact remains, you will probably never mistake a canned pea for a frozen pea, because the two look quite different from one another. Since they are cooked inside their cans for quite some time, canned peas have an unmistakable processed color, ranging from olive green to yellow-green. Canned peas also tend to be smoother and wrinkle-free due to being stored in liquid.
On the other hand, frozen peas in many cases are bright green, actually at times having an even brighter green coloring than their fresh counterparts due to the blanching step in their processing. Blanching vegetables always serves to lock in their coloring by destroying the enzymes which contribute to color loss over time, and actually enhance a vegetables natural color by removing excess air, thereby making the vegetable more compact.
Since the frozen veggies are not cooked again after the blanching, they are able to retain their green color all the way up until the point you open the bag to start making dinner!
Canned vs. Frozen Peas: How Do They Taste?
There's no getting around the fact that canned peas, just like any other canned vegetables, have a, well, canned taste. As we experienced during the research phase of our Best Canned Peas: Tasted and Reviewed article, this flavor was at times bland or metallic and in other cases, surprisingly nutty and delicious!
Some varieties may also be salty or sweet depending on any additional ingredients, and on that note, many canned peas do contain a decent quantity of salt and/or added sugar. Texturally speaking, canned peas are always going to be on the softer side than fresh or frozen, but some varieties are better than others at keeping their outer shell intact, which gives them a nice bite.
Frozen peas, on the other hand, taste much more like fresh peas. Most frozen vegetables retain their inherent flavors better than their canned counterparts due to less heat exposure during processing. This causes the texture of frozen peas to be more distinct as well, providing a clear differentiation between the outer skin and the creamy center of the pea itself.
Then, there is also the fact that the texture of frozen vegetables is always at risk of being altered by the freezing process in a way that canned or fresh vegetables aren't prone to. Freezer burn can cause frozen peas to take on an extra tough texture. Despite all of this, you can count on the fact that a bag of frozen peas will most likely be as close to the fresh deal as you can get! See for yourself in our Best Frozen Peas: Tasted and Reviewed article.
Canned vs. Frozen Peas: Are They Nutritious?
Whether you opt for canned or frozen veggies, both are good choices as they provide a ton of nutrients, and fiber. These are goodies which our human bodies require and that plants thankfully contain in plenty! However, there is definitely a difference in nutrient density between canned and frozen vegetables.
Due to the fact that they are more heavily processed, peas from a can are generally considered to be less nutritious than frozen. Some of the vitamins, minerals, and antioxidants found in fresh veggies are destroyed by heat. Since so much heat is required in order to make canned veggies shelf stable, some of these nutrients are, unfortunately, collateral damage.
The fact that frozen vegetables are only briefly blanched before being flash frozen makes frozen vegetables healthy in a way that canned veggies can only aspire to be! Their nutrient density is superb as compared to their canned counterparts and you can tell by their bright coloring that many of their pigment compounds remain intact. We all know the phrase "eat the rainbow!" as it applies to getting a range of colorful fruits and vegetables in our diets, and frozen peas can help you do just that!
Canned vs. Frozen Peas: How Do You Cook Them?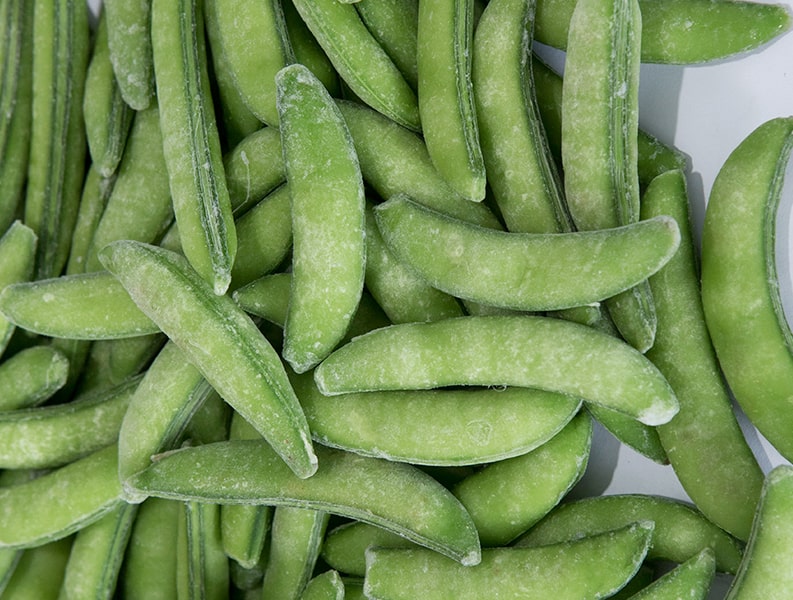 One big question many folks have is "are canned peas cooked?". As you know from our information on canned peas processing, the answer is yes! This means that in reality, you can go ahead and eat canned peas straight from the can. Nevertheless, most people prefer to use canned peas in a recipe rather than plain or otherwise heat and season them to make them more tasty.
Frozen peas, on the other hand, are not cooked (aside from the brief blanching) and actually are unsafe to eat straight from the package. Therefore, you must always cook frozen vegetables thoroughly, and honestly, this makes them much more enjoyable anyway! For more cooking tips when it comes to peas, check out: How to Cook Peas.
Canned vs. Frozen Peas: How Long Do They Last?
For all of the battles that canned peas don't win, they certainly hold the number one spot for life expectancy. Canned peas have the amazing ability to last for many years at room temperature. You can easily consider a can of peas to still have great quality up to 5 years, but truthfully, they should stay safe to consume for much longer provided the can and its seal remain intact.
Frozen peas and all frozen vegetables, of course, are much more needy than canned or fresh veggies. Not only do they need to remain frozen right up until the moment you are ready to cook and eat them, but even with proper storage, beyond a certain point they are likely to begin suffering in terms of quality. No matter how perfectly sealed your package of frozen peas is, freezer burn will always eventually happen as the moisture inside the vegetables evaporates in the form of ice crystals. This dries out the delicate tissues of the vegetables, and usually gives frozen peas bad taste, texture, and appearance.
Canned vs. Frozen Peas: Are There Any Food Safety Issues?
Unfortunately, yes, there are certain food safety issues associated with either canned or frozen peas. There is no getting around it!
The idea of canned food posing the risk of food poisoning is a confusing one. After all, the heat treatment and careful can-sealing process is intended to obliterate any pathogens, right? That's true, but the biggest risk associated with canned vegetables, or any canned food--canned beans, fruits, jams, syrups, pickles, you name it--is botulism. This is due to the fact that botulism is caused by an anaerobic bacterium, meaning it thrives in the absence of oxygen. In some rare cases, when food is improperly packaged, a wayward pathogen may be present and then actually survive and thrive in the environment within the sealed can.
Luckily, there are telltale signs of canned vegetables which are suffering this fate, as the can will begin to swell, bulge, or even leak. In addition, upon opening the can there will be a bad smell or appearance. Bottom line: any commercially packaged canned veggies developing botulism is extremely rare and will exhibit obvious signs if and when it does occur.
Since frozen foods are not packaged in oxygen-free packages, they don't have to worry about botulism. Yay for that! However, they do have to worry about other pathogens, as most pathogens which cause foodborne illnesses do very much enjoy oxygen.
While a fresh vegetable is unlikely to contain something that could cause illness, there is the possibility that contaminants could be introduced during their journey at frozen vegetable processing facilities. Listeria and Norovirus bacteria are two of the most likely culprits. Luckily, these types of bacteria are readily destroyed by heat. This is why it is important to always cook your frozen vegetables to a minimum internal temperature of 165℉.
Canned Peas vs. Frozen Peas: The Bottom Line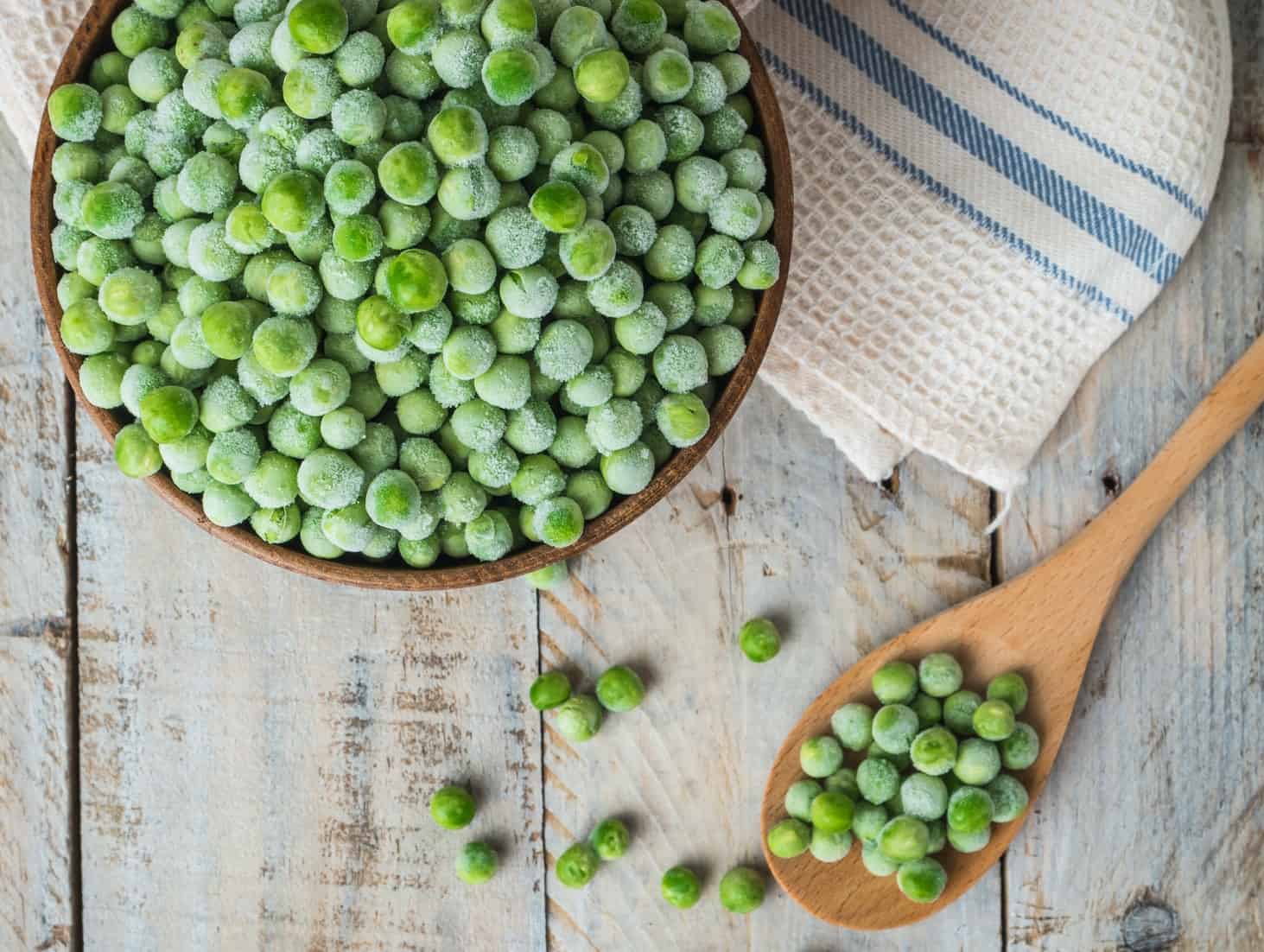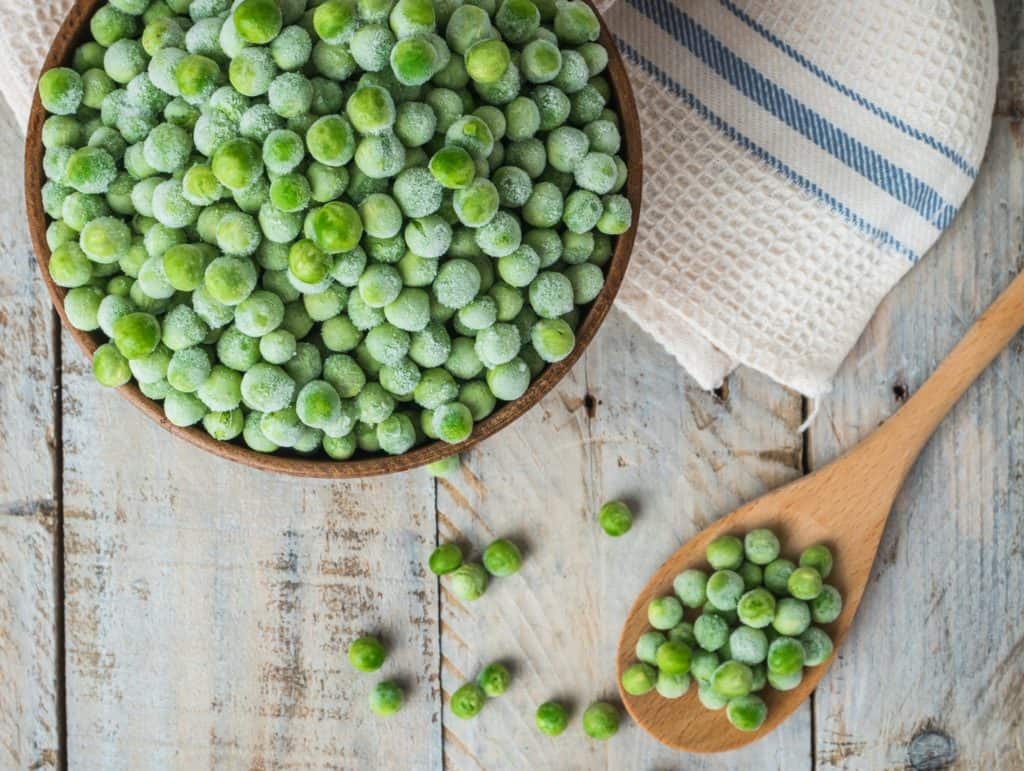 The fact is, there are a slew of differences between all frozen and canned veggies, and peas are no exception! From the types of peas that are available in either preparation method, through taste and appearance, all the way to issues of nutrition and food safety, it's clear to say that canned peas and frozen peas are not two peas in a pod.
Differences aside, both of these pea preparations have a place in your kitchen though. Frozen peas may be superior in terms of taste and nutrition but require temperature-regulated storage conditions and have a relatively brief shelf life. Canned peas on the other hand, generally don't taste as fresh as frozen peas, but they are a reliable source of all of that veggie goodness that you can count on to be safe and maintain quality for years to come!
Still not sure which option to go with? If all else fails, grab one of each and compare for yourself. It's all about what works for you, after all!