While there are tons of incredible cookware sets available today from fantastic Direct 2 Consumer producers like Goldilocks or Made-In, Abbio, or Blue Diamond, Bakeware is often a segment of cookware that gets overlooked.
Everyone loves a great-looking cookware set, but more often than not, their bakeware collection is a mish-mash of pans of differing quality and build. Thankfully, Caraway, a brand that produces some of the finest ceramic non-stick cookware that I've had the pleasure of reviewing, also makes a set of Bakeware that's not only beautiful to look at but incredibly functional in the kitchen!
After weeks of living with these pans and using them regularly, it's fair to say that I'm a convert. Though I was initially impressed by the Caraway bakeware set, I wasn't convinced that anyone needed a full suite of matching bakeware. Now that I've had the chance to cook with these pans, I am sold on the idea that a well-built, matching bakeware set is far superior to the hodge-podge I was already using.
Caraway Bakeware: Non-Stick Ceramic Bakeware for Everyone!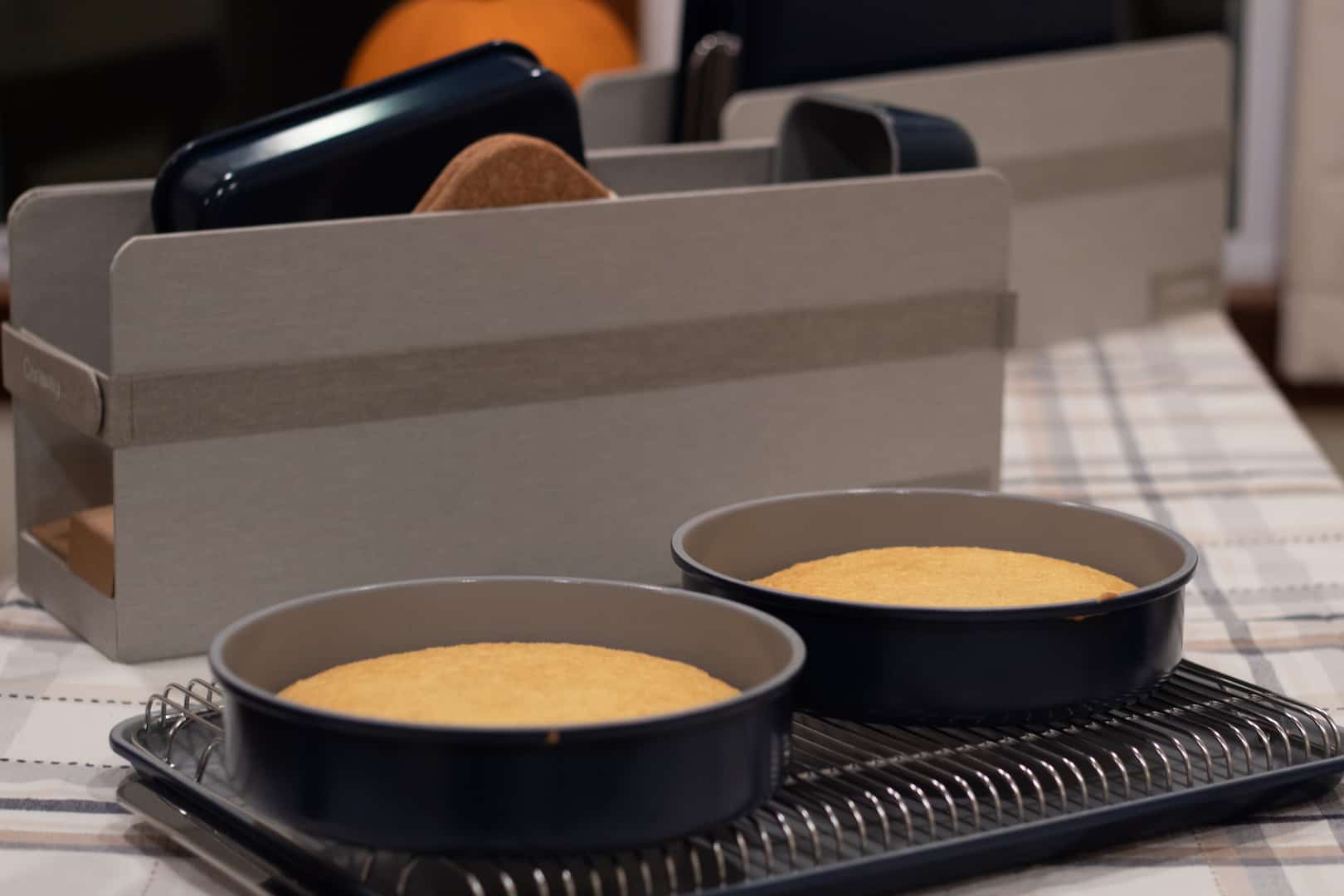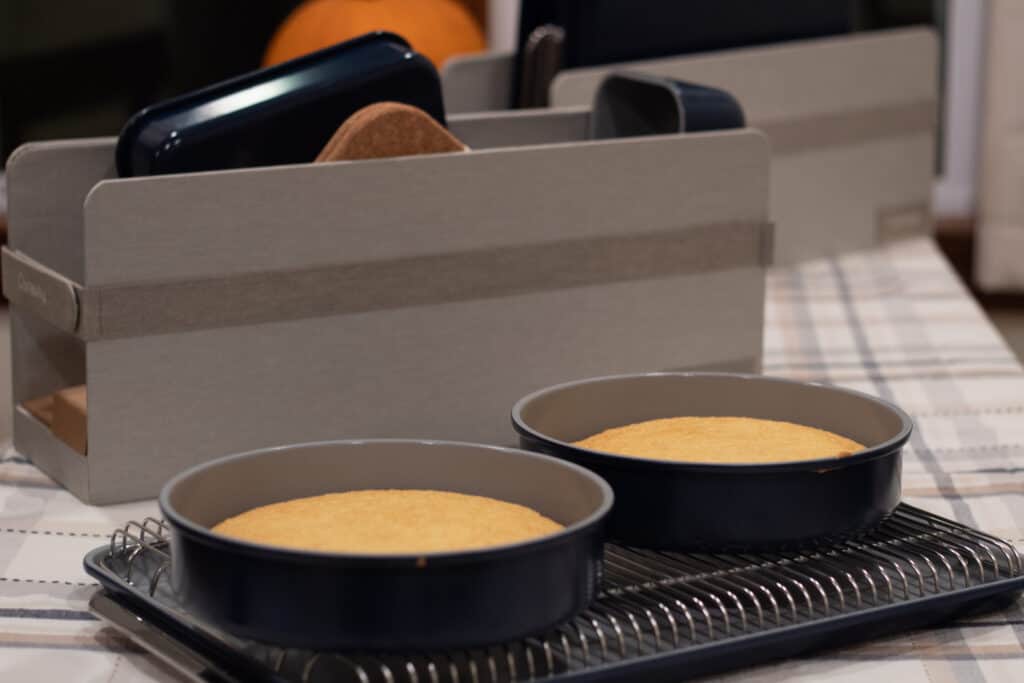 What's included in the Caraway Bakeware set?
18x13 Baking Sheet
10x15 Baking Sheet
12-cup muffin pan
9x13 rectangle pan
9x9 square pan
1lb loaf pan
18x13 roasting/cooling rack
2, 9" cake pans
Two storage bins
Two cork trivets
What we liked:
Incredible, fit, finish, and construction.
Beautiful colors
Excellent size selection, enough pans for any baking task
Easy to clean
What needs improvement:
Cloth storage bins may get oily or dirty over time
Pricey
Look and Feel.
When I was given a chance to take the Caraway cookware set out for a spin, I was immediately impressed with the pans' overall fit, finish, and functionality. So when I had the opportunity to look at the Caraway Bakeware set, I knew I was in for a treat.
Upon opening the Caraway packaging, I was struck by how nice a matching set of ceramic, nonstick bakeware can be.
As someone who has always had a piecemeal collection of baking sheets and pans, the matching set I found inside the Caraway pan organizers was a stark contrast.
Like the Caraway Cookware set, the ceramic coating on each aluminum core pan was beautiful and tough. These pans are reminiscent of famous ceramic-coated cookware brands like LeCreuset or Lodge.
The lips of the pan are smooth and even, with almost no "lip curl," making them easy to clean and maintain by removing a space that often builds up excess grease over time. Our test set's dark blue exterior coating was gorgeous and fit my kitchen perfectly; however, it was tough to choose between all the incredible colors, especially the yellow and the light green.
The interior or top coating is a very light off-white/eggshell that glistens and shines with the coating that makes these pans impervious to sticking.
Undercounter Pan organizers
Caraway makes products that are not only gorgeous but incredibly functional, and one of the ways they emphasize this is by adding thoughtful accessories that improve the ease with which you use their products.
These purpose-built, fabric-covered organizers make it easy to keep all of your pans together and protected beneath your counters.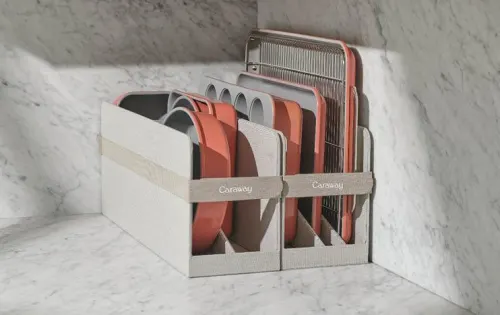 These slim, angled organizers are designed to fit side by side in a cabinet, making it easy to grab the pan you want without removing every other piece of bakeware beforehand and simultaneously protecting the pans from scratches and dents.
Pan Size & Design
One of the benefits of purchasing a bakeware set, as opposed to individual pieces, is the convenience of acquiring all of the pans you might need at once. While some bakeware sets go a bit overboard and include too many options, Caraway has hit the sweet spot of utility and functionality while keeping their selections minimal enough not to overcrowd your space.
To begin, the two 9" round pans are perfect for cakes, cinnamon rolls, or even a large tart/quiche. The walls are nice and high, making it easy to bake two large cakes simultaneously that can be split into 4 layers to create a larger cake or project.
The loaf pan is perfect for everything from banana bread to brioche or meatloaf, and the square baking dish makes an excellent brownie pan. The rectangle pan can be used for everything from larger tray bakes to lasagna or as an all-purpose roasting pan, and the muffin tin is self-explanatory. Still, thanks to the ceramic coating, you can bake directly into the cups without the worry of sticking.
Finally, the Caraway baking sheets are perfect for small or large batches of cookies, crackers, bacon, or roasted veggies. The 18x13 pan works well for more oversized items or larger batches and is designed to fit the cooling rack inside its dimensions for storage. The cooling tray also doubles as a roasting rack when inverted.
The 10x15 Caraway baking sheet is slightly smaller and, in my opinion, makes a great small roasting tray or a perfect jelly roll pan!
Cooking with Caraway Bakeware
Before testing these pans, I'd use a lot of different bakeware throughout my career, but my go-to pans have become two 18X13 aluminum sheet trays with silicone baking mats and a set of silicone cake tins.
Beyond those 4 pans, I've got drawers of ceramic, pyrex, stoneware, aluminum, and steel options to choose from; I don't end up using them because I don't want to pull out all the other pans to get to them.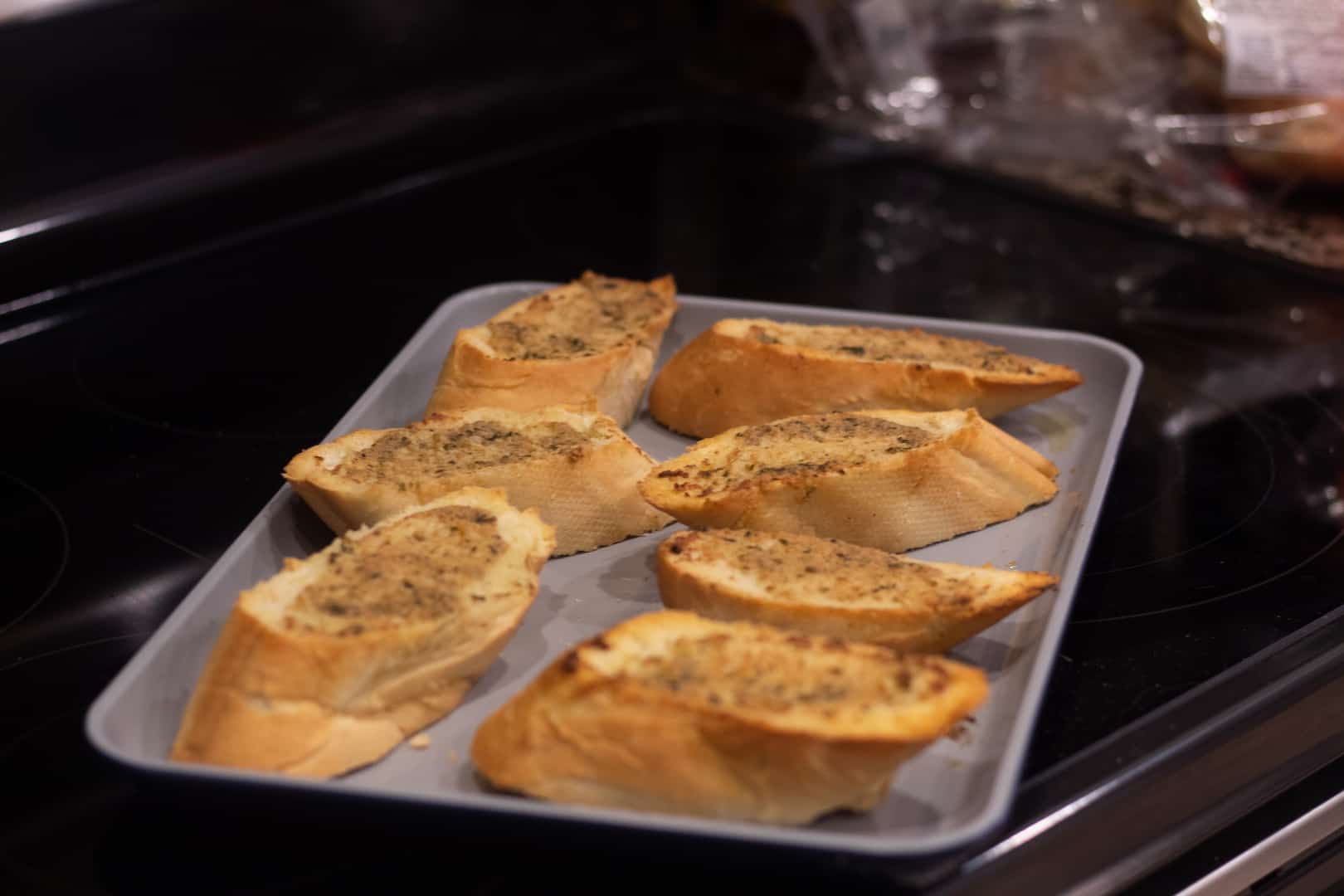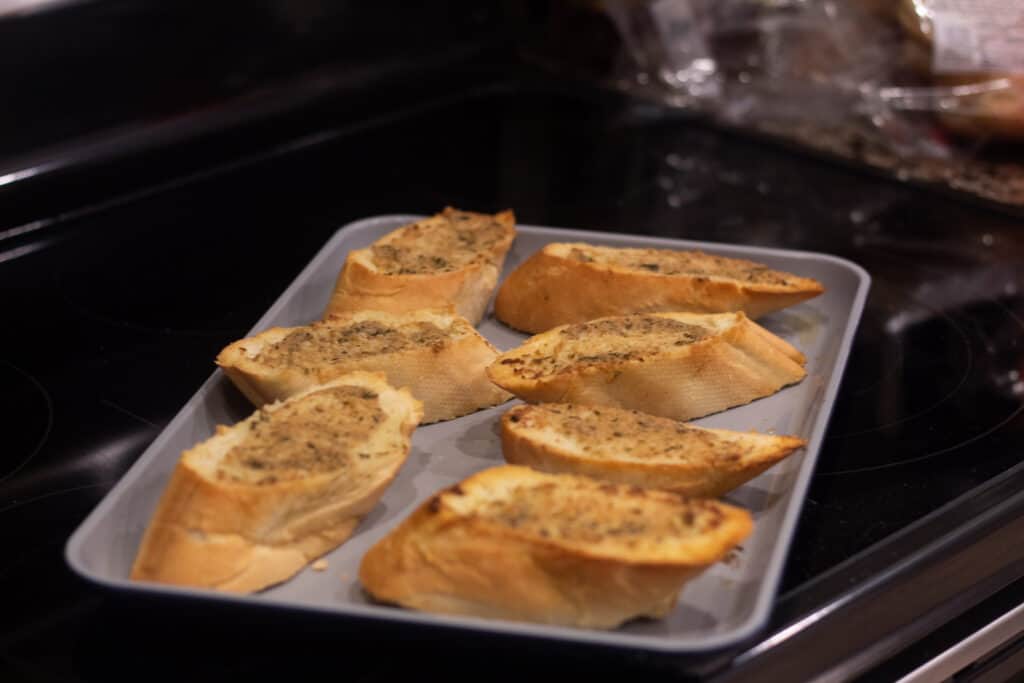 Over the years, I've found I'm far more inclined to use the bakeware that's easily accessible, and with my Caraway set, I found myself using more of the options in the set because they were easy to get to.
Ceramic Nonstick Coatings and Baking
One of the reasons I've often stayed away from non-stick baking cookware is primarily because I couldn't see the reason, especially when I almost always use a baking liner of some sort.
Caraway pans are made to use without any liner, and thanks to the tough ceramic coating, you can do so without many issues. While I still use parchment sheets with certain items, as long as you've got a set of non-abrasive, silicone utensils, you can use these pans without fear of scratching or chipping. Most importantly, the non-stick coating will last for a super long time!
Throughout my weeks testing this cookware, I tried to make a ton of different dishes to test the overall utility of both the non-stick coating and the pans themselves.
I made cakes, cooked bacon, roasted veggies, and made a fun egg Strata recipe as a brunch entree. Whenever I used these pans, I found myself loving them a little more. The non-stick coating is very lovely, but more than that, they are just really nice pans.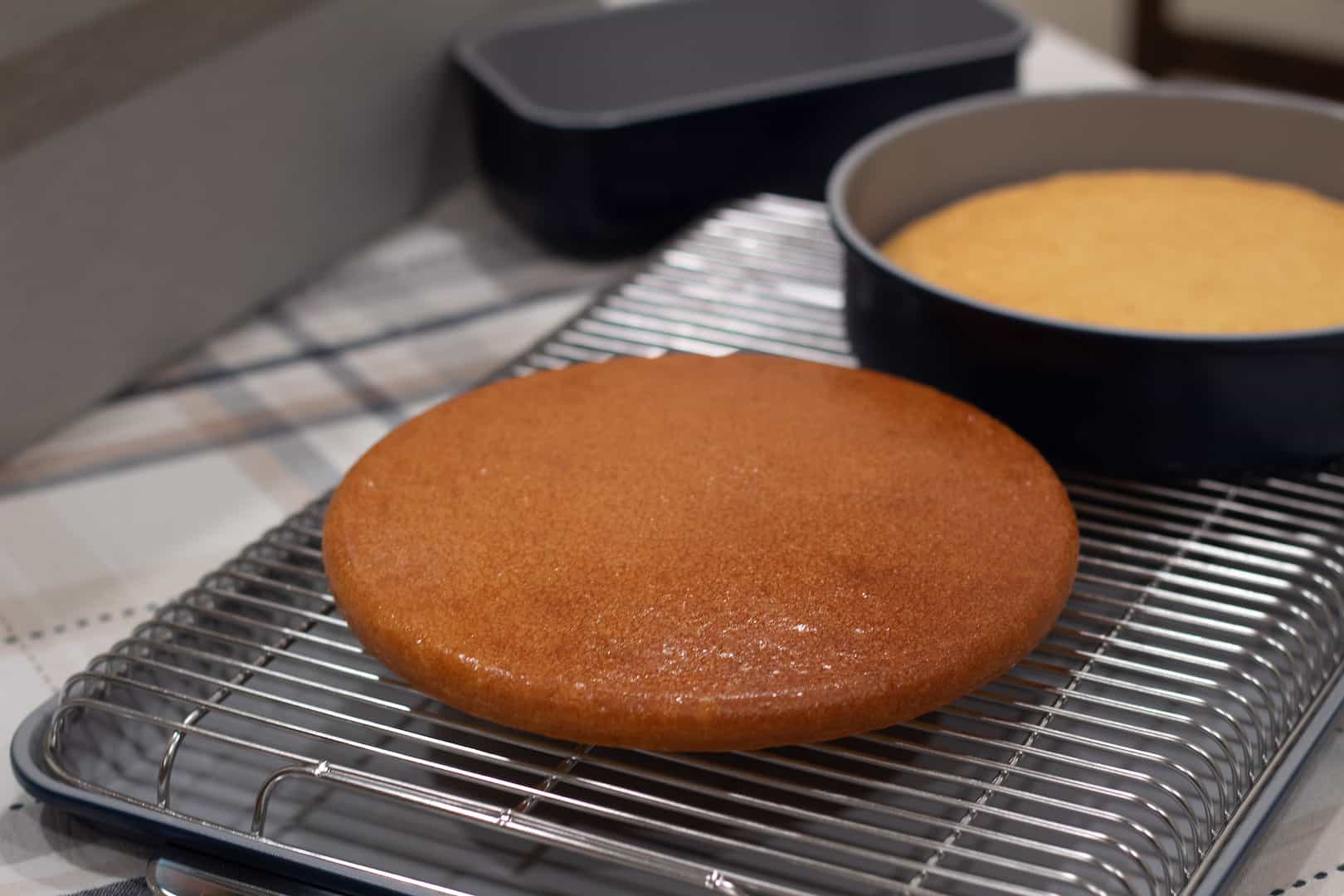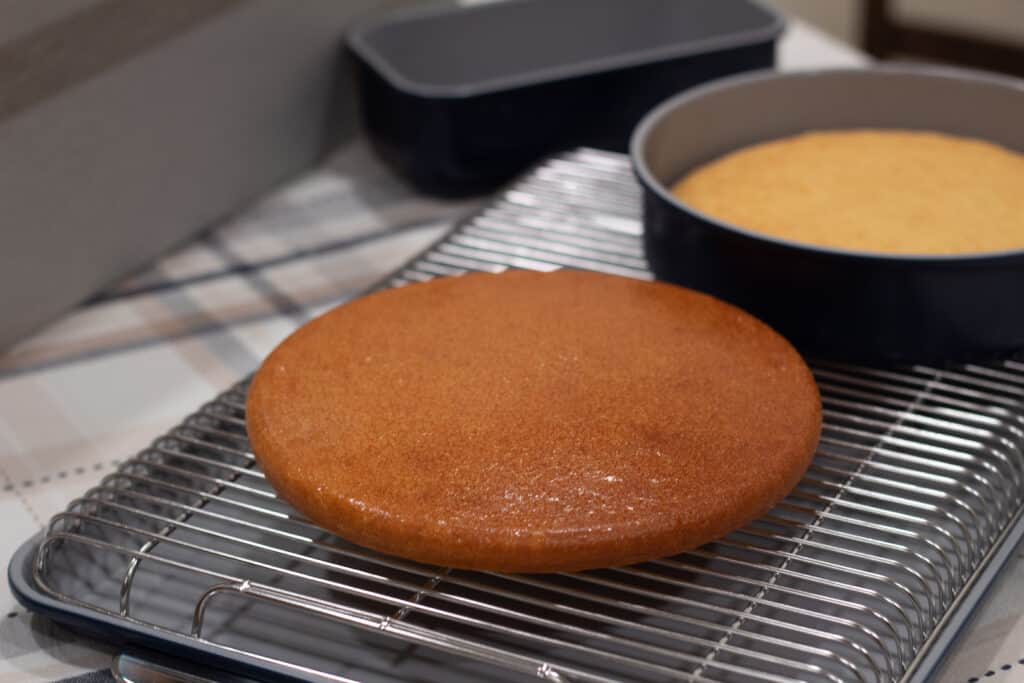 They look good, and they feel well made.
Cooking is a lot of fun, and when the tools you are using look just as good as you hope the finished product will, it's easy to enjoy the process that much more.
I'm not saying that a high-end matching bakeware set is a must for the kitchen, but I will say that it makes it a little bit nicer.
Caring for your Caraway Cookware.
If you've read our Caraway Nonstick Cookware review, you're probably already familiar with the cleaning process for Caraway Pans, but just in case, here are the details.
Nonstick ceramic cookware is made to stand up to everyday use, but there are some things you can do to extend the life of these pans.
Most importantly, avoid sharp or abrasive utensils, which means almost anything steel or metal. Use silicone, rubber-coated utensils or wooden tools. This will help from scratching the non-stick coating or chipping the ceramic surface.
Though you can put caraway cookware in the dishwasher, it's best to handwash whenever possible. If you have any stuck-on grease, you can soak the pans in warm soapy water to loosen it and then scrub it with a non-abrasive sponge or scrubber.
The recommended cleaning procedure for your caraway bakeware is pretty straightforward:
Always use a non-abrasive cleaner and cleaning pads/sponges
Soak your pans in warm, soapy water to remove grease or stuck-on food.
Scrub your pans with non-abrasive utensils to remove grease and char.
Rinse your pans with warm water
Air dry
One thing to be aware of with ceramic bakeware or cookware is always to handle it carefully and avoid dropping, bumping, or scraping the bottoms, sides, or lids. While the Caraway ceramic glaze is solid, it can chip, exposing the core of the pan.
Because these ceramic-coated pans are so nonstick, it can be tempting to bake directly against the pan surface. I still use parchment liners where possible to protect the finish. While this isn't necessary, it can certainly keep the coating of your pan looking new and free of scuffs or scratches.
If you end up with super tough, stuck-on grease outside the nonstick pans, you can use baking soda and vinegar to help remove the stains. Sprinkle the baking soda over the pan's surface, and then pour the vinegar over. After the fizzing reaction has calmed down, the grease should begin to move and wipe away with a bit of elbow grease. You can repeat the process until the tough baked-on grease is gone and your pans are returned to their original luster.
Our Unboxing of Caraway Cookware Video
Are Caraway Pans Right For You?
Whether or not you think a matching set of baking ware is a good investment, it's hard to deny just how beautiful and well-made the Caraway bakeware sets are.
With a solid ceramic coating, quality design, and unique accessories, this nonstick cookware makes a lasting impression.
While this set is not suitable for everyone, if you want to replace your current bakeware and want a strong base set to work from, the Caraway Bakeware set has everything you'll need to bake any recipe you might encounter. With a convenient storage organizer, beautiful fit, and finish, these pans look great and make it easier than ever to bake your favorite foods.
While these pans are not inexpensive, a set like this is built to continue to provide value for years to come!