You might have never heard of it, but carbon steel cookware is one of the best things to add to your kitchen if you're serious about cooking. It's what you'll find professional chefs using in restaurant kitchens, where precision and speed are crucial. Fortunately, you can get what the pros have without breaking the bank. The best carbon steel pan is out there for you, and it can be tailored to your budget.
This isn't your run-of-the-mill stainless steel pan which, while great, has nothing on carbon steel pans. They're also known as "black steel" pans and are some of the best-performing cookware you'll ever find. Let's quickly run through their perks: carbon steel pans boast great heat retention, sear food evenly and quickly, can be safely used with high heat, and have non-stick properties when you season them correctly. In a nutshell, they're everything you could want from a cast iron skillet but without any of its downsides—and cheaper!
Today, we're showing you all the wonders of this type of cookware. We've compiled reviews for the best carbon steel pans available to all home cooks—at virtually all price points. Who said cooking restaurant-quality food has to be expensive?
1. Best Carbon Steel Pan for the Money: Matfer Bourgeat 8-Inch Frying Pan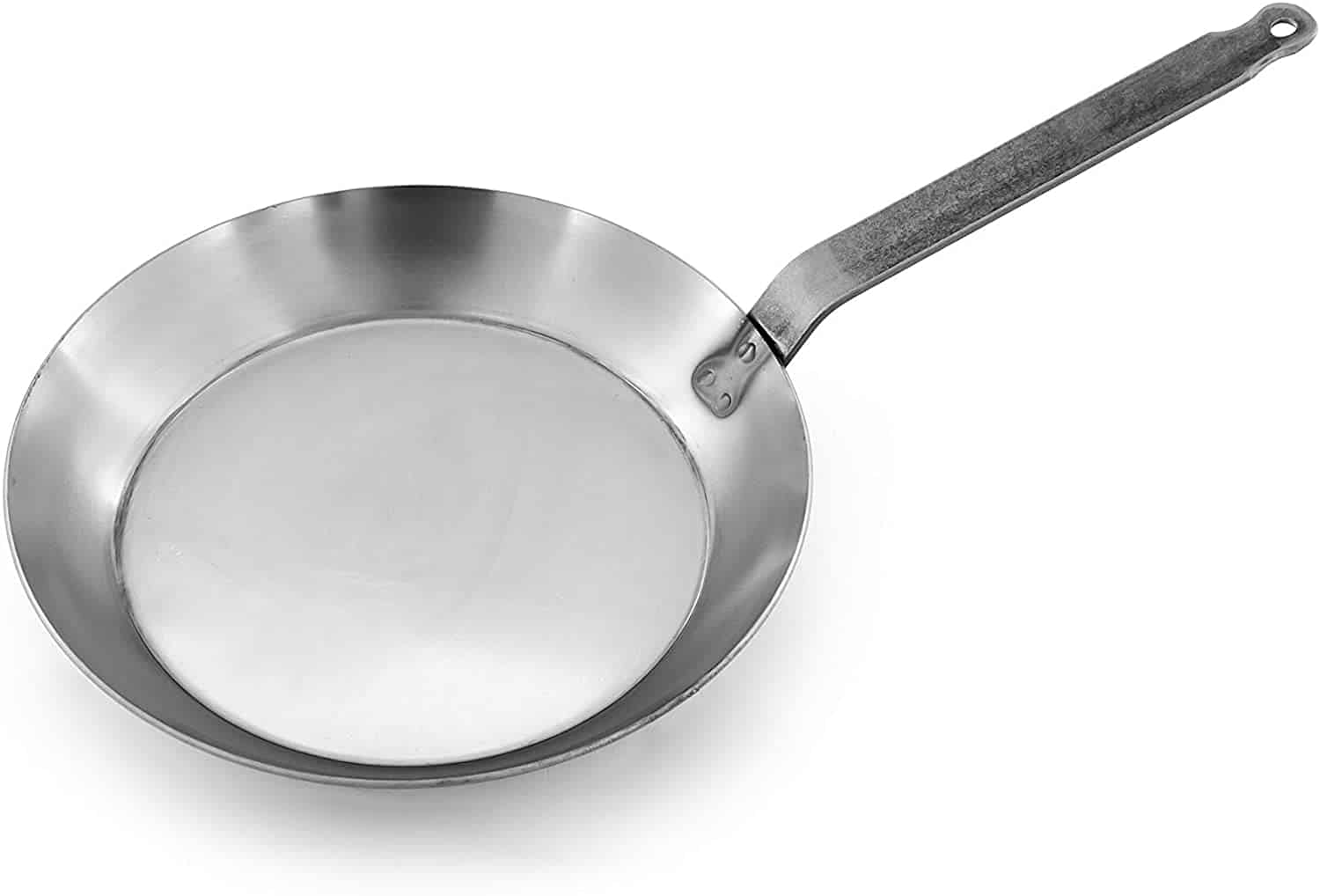 If you're on a tight budget, this Matfer Bourgeat is probably the cheapest quality pan you'll find out there. While it comes in a smaller size, it's perfect for crepes, eggs, and for getting a beautiful sear on any cut of meat.
What we love most about this carbon steel pan is how sturdy it is. The carbon steel alloy used is of the highest quality and can withstand all the impact that comes with cooking. Be it using very high heat or accidentally banging it on the counter, this carbon steel pan will hold up to use.
The handle is also sturdily built, which is a big plus. Since this pan is quite heavier than other pans you might have at home, it's a great reassurance knowing the handle won't break away from the body of the pan.
While it doesn't come pre-seasoned, you can easily do it yourself on the stovetop or in the oven with any oil that has a high smoke point. Once you season it at home, you'll be able to reap the benefits of having a great non-stick pan at home.
You can use this pan on all stovetops: gas, electric, and induction. You can also pop it in the oven for up to twenty minutes at 400ºF. This will give you more range in the kitchen, letting you try out even more recipes.
2. Runner Up: Lodge CRS8 8-Inch Pre-Seasoned Carbon Steel Skillet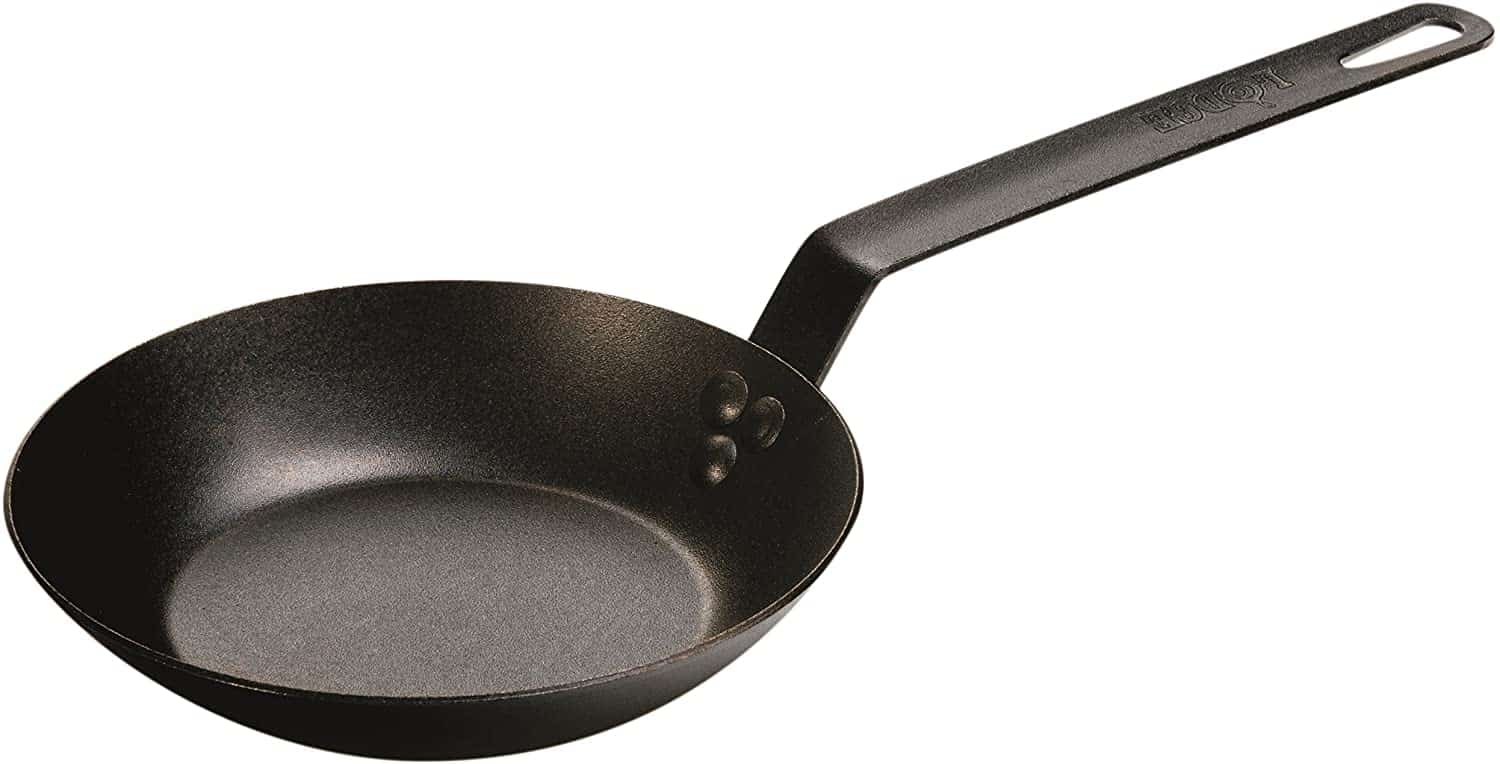 Another great budget-friendly option is this Lodge carbon steel skillet. Lodge is known for making high-quality cast iron skillets and their carbons teel line is no different.
This pan's greatest selling point is the fact that it can be used safely on high-heat sources. That's something all carbon steel pans do, but this one holds up especially well, even after years of use. It's perfect for oven cooking and even grill cooking, over an open flame. And yet it never warps, bends, or leeches a metallic taste into your food. You can't get more versatility than that.
The handle is also surprisingly sturdy. It's attached in a way so that it doesn't ever release from the body of the pan. This means you can comfortably hold it without worrying about a freak accident in the kitchen. Plus, its flat shape and elongated shape make it comfortable to hold.
Since this is a seasoned carbon steel skillet, you can start using it as soon as you take it out of the box. See for yourself the amazing non-stick properties this pan will boast for years and years to come. But, sadly, just because it comes pre-seasoned, it doesn't mean you won't have to learn how to do it yourself in the future.
All you need to do to keep it in such pristine shape is season it once in a while. On top of that, clean up isn't too hard; just make sure you're handwashing it and patting it dry with a paper towel or microfiber cloth afterward.
3. Top Premium Pick: De Buyer Mineral B 12.5-Inch Carbon Steel Frying Pan with Handles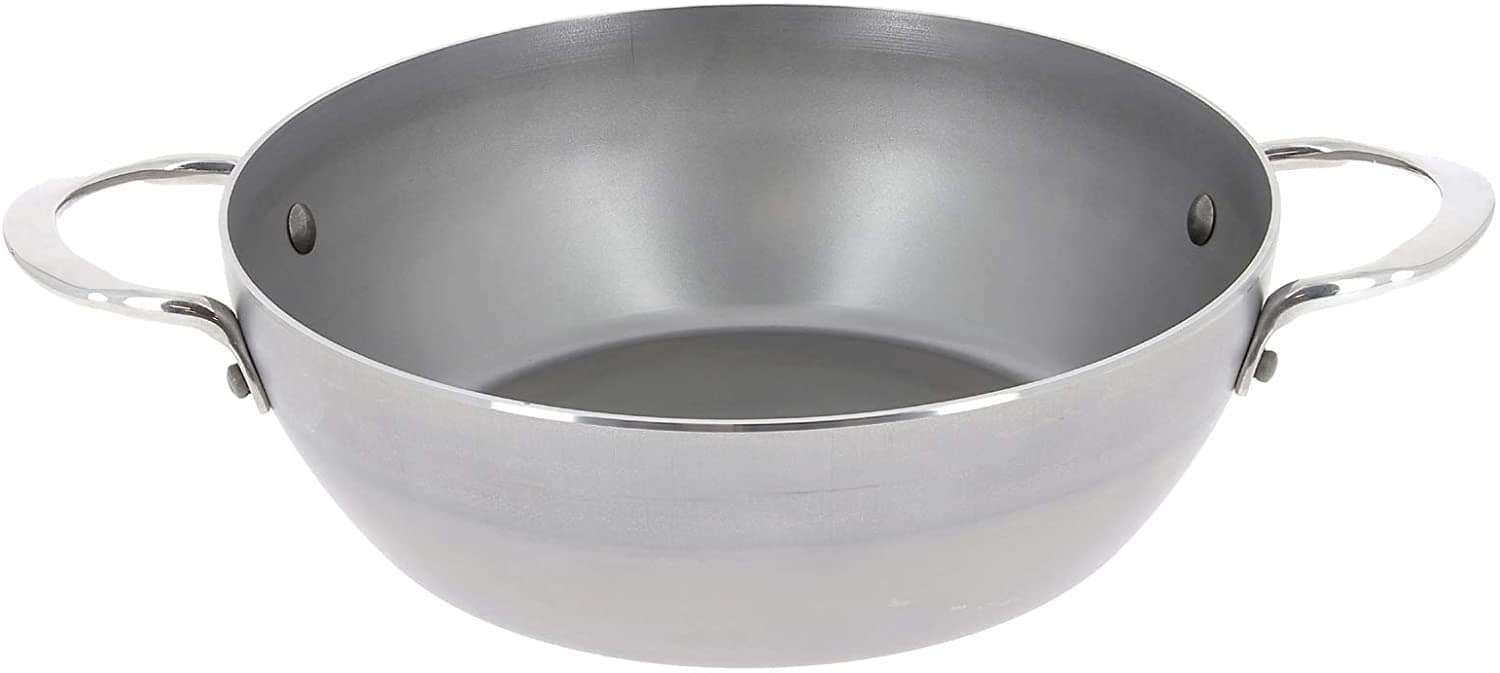 If you can afford to spend more, we recommend giving this De Buyer Mineral B Carbon Steel Frying Pan a shot. Its unique shape makes it the perfect carbon steel pan to have for stir-fries or to whip up a healthy and delicious Paella!
The main thing that sets the De Buyer pan apart from other models is its size and shape. It may look odd to you at first, but you'd be surprised at how handy this pan is. Since it has high edges, you stand less of a chance of making a mess in the kitchen—especially if you're making a stir-fry or anything with lots of sauce.
On top of that, the two handles make carrying it very easy and safe. You can easily carry it to the table where you're serving your dinner party guests without risking dropping it. Plus, it just makes the pan look very traditional, rustic, and classy.
When you unbox it, you'll have to oil it and put it on the stovetop. Because it doesn't come pre-seasoned, you'll have to do it yourself. But the good thing is that you'll learn right off the bat what you need to do to keep your carbon steel pan in tip-top shape.
Another great plus is how versatile the Mineral B pan is. Because the bottom of the pan is perfectly flat, you can use it on all types of stoves, including induction stovetops.
4. Top Carbon Steel Pan for Sautéing: Craft Wok Traditional Hand-Hammered Pow Wok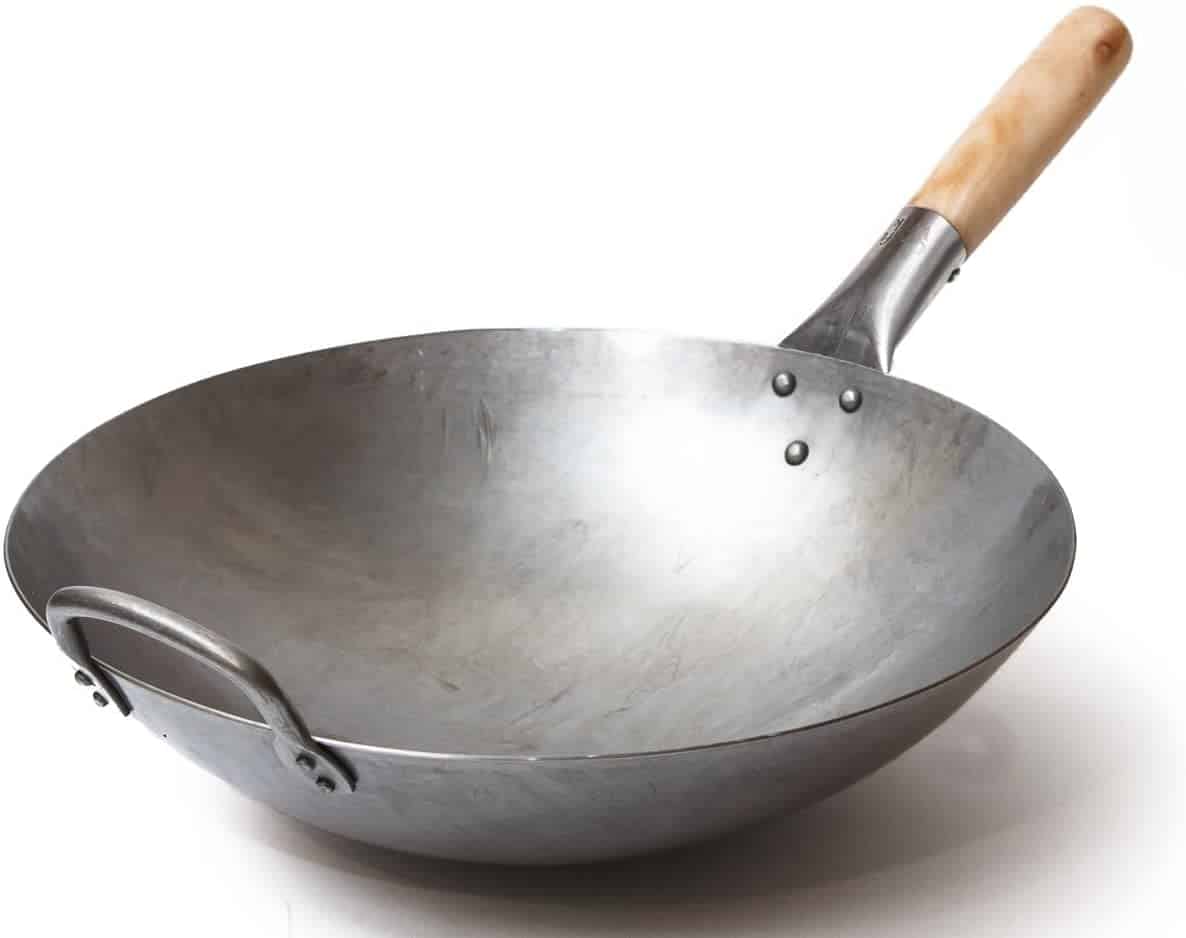 Now, this is what you'd find at an Asian street food-style restaurant. The Craft Wok Carbon Steel Pan makes frying up veggies and meat as simple as can be. Plus, since it's so versatile, it will make adventurous home cooks feel experienced enough to try out some new recipes!
Let's talk about the design of this pan. The deep, concave shape of the pan allows you to fit a lot of ingredients inside. Plus, the curved edges make it easy to move them around quickly and swiftly, allowing your veggies to be caramelized but still crispy on the outside.
The handle is perhaps the most ergonomic we've seen on carbon steel pans so far. The wood outside keeps the temperature of the handle low enough to be comfortable to the touch, even when cooking under extremely high temperatures. Plus, since it's shaped like a cylinder, it fits very nicely and comfortably in your palm. This is great if you're cooking a stir-fry, as it lets you easily and effortlessly keep the meat and veg moving.
Because this is a traditional-style wok, the bottom is curved, not flat. Therefore, you can only use this on a gas stove burner. It's incompatible with both electric and induction stovetops. The good news is that you can also cook with this wok over a high open flame without worrying about it losing its shape.
5. Best Non-Stick Carbon Steel Skillet: Mauvier M'Steel 11-Inch Frying Pan

Mauviel M'Steel has been around for a long time now, and with time they've consistently put out great-performing cookware. Their incursion into the world of carbon steel pans didn't surprise anyone; especially since this pan is of the highest quality.
We've picked this model as one of the best non-stick carbon steel pans for one simple reason: seasoning the Mauvier M'Steel fry pan is a breeze. For some reason, it soaks up oil easier than other pans and keeps its anti-adherent properties for longer. It's a great pick for those home cooks who have never seasoned a cast-iron skillet before.
Additionally, the completely flat bottom makes this a very versatile and adaptable pan. You can use it on gas, electric, and induction burners. Unlike the wok we just looked at, it won't shift or slip.
The quality of the material itself is also to be noted. Both the pan and handle hold up incredibly well with time and use. If you take care of it properly, it will be just as good years down the line as it was when you unboxed it.
Another great thing about this pan is that it's completely made in France. With so many kitchen tools being manufactured in China, it's refreshing to see a company stay true to its European roots. Moreover, it's one more sign that M'Steel is a brand to be trusted.
What Makes a Carbon Steel Skillet Different from Other Cookware?
Titanium, copper, cast iron, carbon steel—we get it. Why are there so many different types of cookware? Don't they all do the same?
Well, yes and no. As all experienced home cooks know, different cookware serves different purposes. And getting a carbon steel skillet is, in our opinion, a very fun and worthwhile investment. After all, carbon steel is different from all other cookware material you can think of.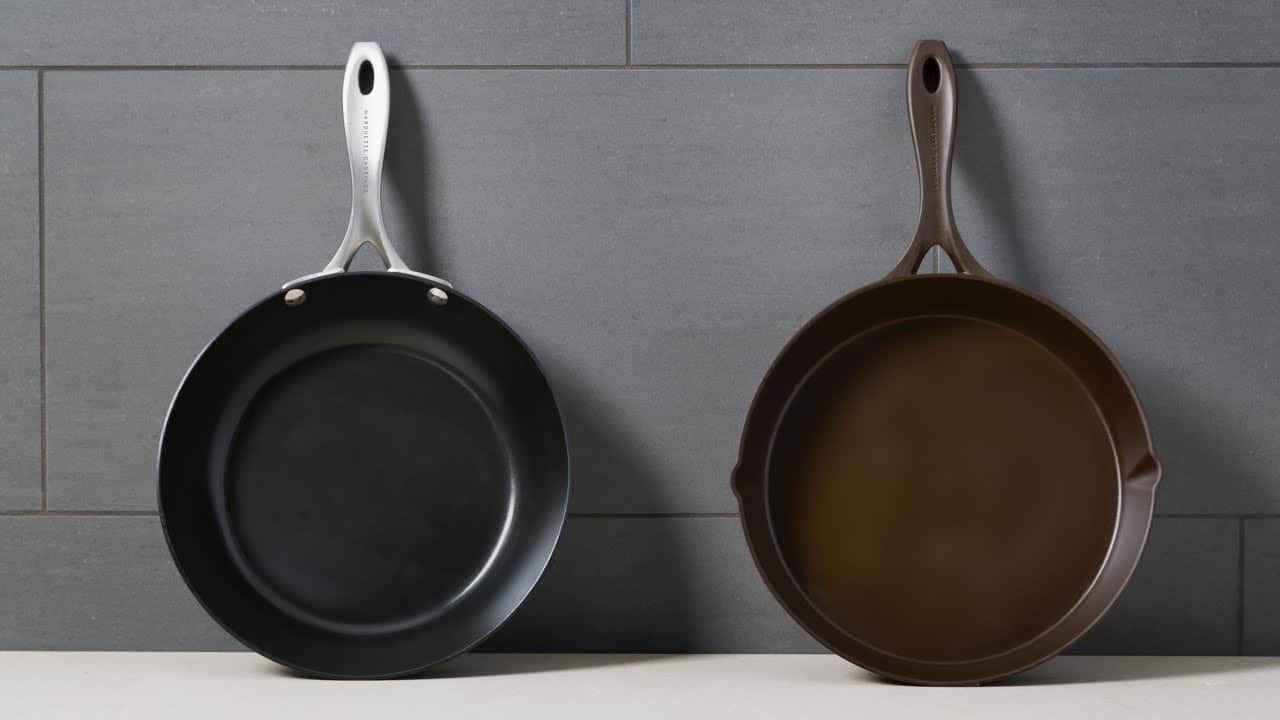 Carbon Steel vs Stainless Steel
Let's talk about the elephant in the room: are carbon steel and stainless steel the same thing? While both names sound similar, they're different types of cookware.
In a nutshell, stainless steel pans are more of a beginner's staple. They don't rust, they're easy to take care of, many come with anti-adherent coatings, and they're pretty easy to use. However, they do have their downsides.
Carbon steel cookware comes in to fill those gaps. It is also easy to use, pretty durable and can be non-stick if you season it properly. But unlike other cookware, it's great at retaining heat and it's designed to be exposed to extremely high temperatures without warping or leeching any components into your food.
You can see how black steel (or carbon steel) is a step-up from stainless steel, right? It's no wonder professional chefs use carbon steel in their kitchens.
Is a Carbon Steel Pan Safe?
Yes, carbon steel pans are safe for you, your loved ones, and the environment. They were created as a solution to unsafe cookware, such as aluminum and toxic non-stick pots and pans. You'll get the perks of cooking with all those materials without any of the harmful side effects.
Is a Carbon Steel Pan Non-Stick?
Here are some bad news: not even the best carbon steel pan will come with an added chemical non-stick coating. Not even cast iron pans will, and home chefs still love them!
But the good news is that you can create your own anti-adherent layer at home, for next to nothing. When you properly season your pan, you're ensuring no food gets stuck to it while you're cooking. All you need is a few things we're sure you already have in your kitchen. And as you do it more and more, you'll quickly become a pro at seasoning.
As a side note, we have to add that you'll sometimes find a carbon steel pan that already comes pre-seasoned by the manufacturer. This doesn't mean you don't have to ever season your skillet again. Rather, it means that you're off the hook for the first use.
What Is the Best Carbon Steel Pan?: Buying Guide
So you didn't find the perfect carbon steel skillet for you. No worries! There is plenty more to look into. Because we don't want you to get overwhelmed by the sheer amount of choices, we've put together this quick buying guide. It'll help you pick the best carbon steel skillet you could ever ask for. Look for these features when you start your search on your own; the best carbon steel pans will check off most of these boxes.
Size
First things first, you must decide how big you want your carbon steel skillet to be. They come in plenty of different sizes, so it's all up to how much room you have in your kitchen for storage and what use you'll have for your pan.
The most popular sizes are eight inches, perfect for crepes; twelve inches, great for searing cuts of meat or fish; and eighteen inches, great for large portions of delicious stir-fries.
Keep in mind that the larger the size of the pan, the steeper the price tag.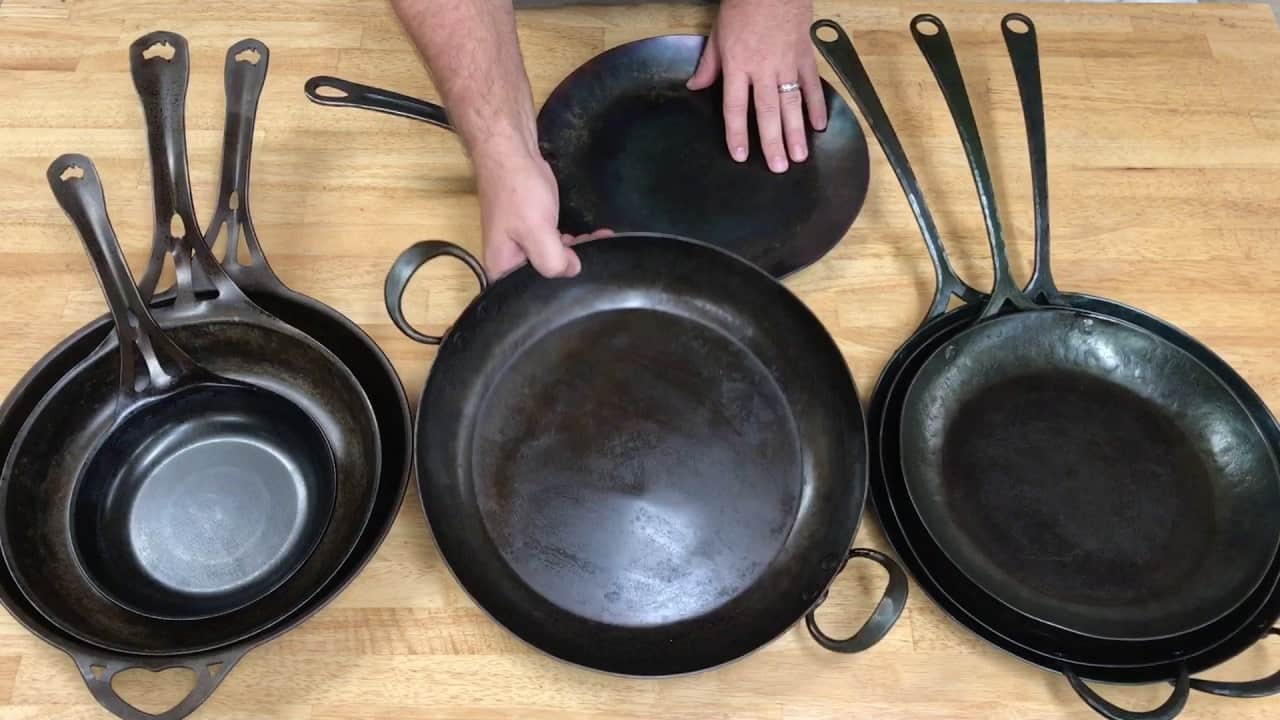 Durability
Carbon steel pans are incredibly sturdy and durable. A well-manufactured pan should last you decades. In most cases, it's an investment that will pay itself.
The issue is with untrustworthy manufacturers. If you see a really cheap pan available from a brand with no online reviews and no reputation, it might be better to pass up that deal. Stick to well-known and trusted makers, such as the ones we've listed in this article for a safer and wiser investment.
Best Carbon Steel Pan Materials
The great thing about carbon steel pans is that they're all made using the same materials. However, some brands will add unnecessary components to their pans that may be harmful to you in the long run. We recommend staying away from enamel pans. Carbon steel pans are already great without any coatings and keeping them well-seasoned isn't difficult—it pays off.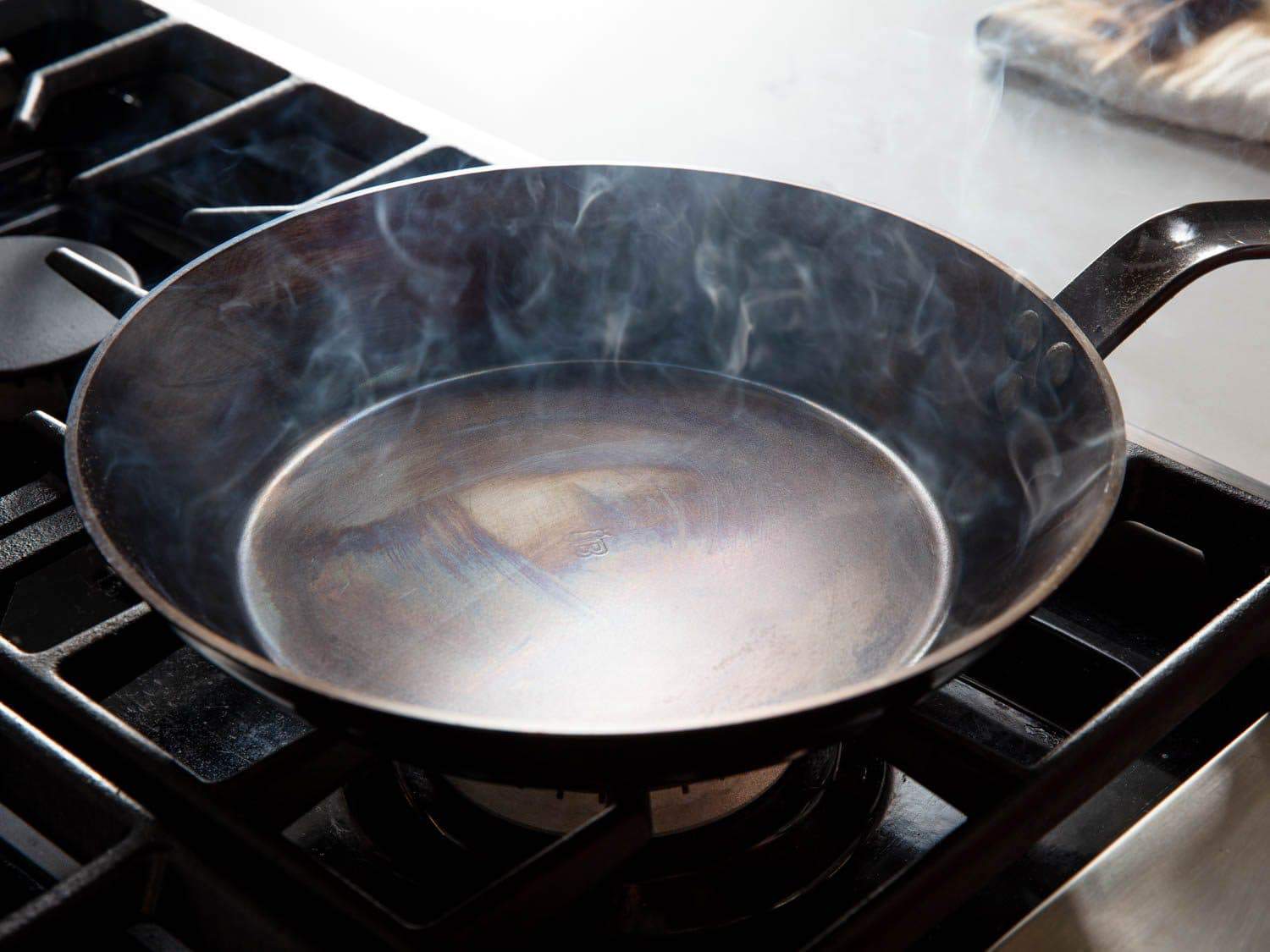 Quality Handle
If you're going to be using your carbon steel skillet often, you'll want sturdy and ergonomic handles. The handle should be thick enough to support the weight of your pan when you lift it and attached to the pan tightly, with strong bolts. Moreover, the handle should be comfortable to hold, given that these pans are heavier than other pans you may have at home.
Budget
As we've shown you in this article, there's no need to blow through your budget to get a great-performing carbon steel skillet. There are plenty of models out there up for a bargain. Usually, they're on the smaller side, but no less useful! If you do want to splurge, however, you can get larger models in more refined designs. A stretchier budget will give you more flexibility to choose the best pan for your needs.
Stovetop Compatibility
Most of these pans are compatible with just about any stovetop: gas, electric, induction, and even oven. However, not all of them are. Some models, for example, aren't suited for electric stoves because they don't have a perfectly flat base. Others can't be put into the oven because they have plastic-cast handles. You'll have to check whether the carbon steel skillet you're looking at will be compatible with your stove before purchasing it.