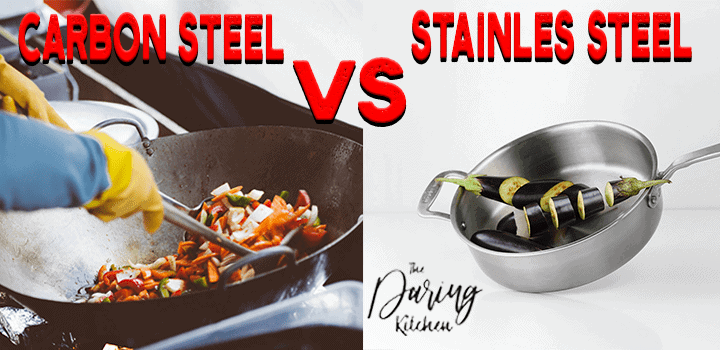 Steel versus steel or else carbon steel vs stainless steel pan. Both sound tough enough and they are well-famed, so can there be a winning choice? When it comes to fighting high-heat battles in a restaurant kitchen, nothing is better than carbon steel, many professional cooks would agree.
On the other hand, home foodies may find that stainless steel is a better choice when cooking on an electric stovetop due to the completely flat bottom surface of this pan.
Are things a little more clear now? Hang on, there are more differences and things to compare between these two, so let's dive right in.
What Is Carbon Steel Pan?
It's a pan made of a metal alloy, a combination of iron and carbon. Other elements such as manganese, silicon, or copper may also be present but, in such small quantities, that they don't affect its overall qualities.
Another variation of carbon steel is blue carbon steel. Pans made of blue carbon steel undergo a heat treatment, called 'blue ironing', that creates a layer of protection against rust. They have a blue hue, but since they are iron pans and therefore reactive, the color darkens over time.
What Is It Good For?
The French traditionally use it to make omelets and crepes while the Chinese stir fry just about anything in carbon steel woks. One of the biggest advantages of carbon steel fry pans is their ability to withstand high heats. Now think of the cooking methods and dishes that require high temperature and you can get an idea of what these pans are good at. Need a bit of help? Hmm..let's see:
Stir-Frying chicken, fish, noodles, vegetables
Searing steaks, pork chops and other cuts of meat
Cooktop Cooking anything from fish and meat to eggs and veggies
Braising stews, pot roast, soups, beef brisket, beef bourguignon
Oven Broiling roast potatoes, steaks, cheesy casseroles
Baking bread, pies, cakes and more
What Is Stainless Steel Pan?
Stainless steel takes its name from the fact that it doesn't tarnish, stain or oxidize like steel. It's made of a mixture of steel and Chromium, an element that makes the iron contained in stainless steel resistant to rust. Other possible elements present in this material are nickel, nitrogen, and molybdenum.
As stainless steel is a poor heat conductor itself, it is often cladded with copper or aluminum which do a better job at conducting heat. Combine the excellent heat conductivity of these two ingredients with the durability of stainless steel and you have an excellent quality material that will last a lifetime.
What Is It Good For?
Since stainless steel pan withstands high-temperature cooking, it is a great material to use for browning and searing or making poultry skin crispy perfect. Other uses include steaming, boiling, braising, poaching and frying non-delicate foods – no doubt that's a great workhorse in your kitchen.
Its non-reactive properties make it perfect for cooking soups, sauces, and stews that contain acidic ingredients such as wine, vinegar, tomato, or lemon.
Differences Of Carbon Steel And Stainless Steel Pans
Wondering which pan is heavier, healthier for cooking, or more expensive? These are some of the most common questions people have about these two types of steel pans. Here's a comparison of the two based on some important features.
Heat Conductivity
When it comes to conducting high heats fast and maintaining them, carbon steel is the number one choice for professional kitchens. These pans perform great under high-pressure conditions and they are super versatile. They can also be used to keep the food warm while performing other cooking tasks.
On the other hand, heat conduction is not one of those things stainless steel can brag about. As we have mentioned, it conducts heat poorly, however, stainless steel pans with aluminum or copper core are superior. They distribute heat faster and cook evenly.
Versatility
Both of these materials are super versatile, but each one has its enemy. For carbon steel, it is the fact that it's reactive to certain acidic ingredients leading to discoloration and giving a metallic taste to your food. However, this can be prevented when the pan is properly seasoned.
Stainless steel versatility is questioned when it comes to cooking delicate dishes because it is not non-stick although there are a few tricks you can do with this so you get a less sticky effect.
Reactivity With Certain Foods
Here the point goes to stainless steel. It doesn't react with certain ingredients so it is more suitable for cooking all different types of sauces, stews, and soups.
Health And Safety
Since carbon steel has natural non-stick properties if seasoned properly, you can use less oil or fat when cooking, which makes it a healthier option. Also, none of these two materials come with Teflon coating which can be potentially toxic.
Generally, both of these materials are considered safe to use for cooking. Some studies about stainless steel and the potential risk of leaching nickel or chromium into the food were not able to reach consistent results.
Suitability In Terms Of Heat Source
Carbon steel pans work well with liquid propane or natural gas stoves, but due to their tendency to warp slightly, they may be a bad choice for a flat electric stove. For this, the bottom of the pan has to be completely flat so that the heat distributes evenly.
Besides, they can be both used in the oven as long as the material of the handle is oven-safe. Finally, carbon steel can be used on induction whereas stainless steel can only be used if its base is magnetic.
Maintenance And Cleaning
The carbon steel pan is non-stick and generally easier to clean. One the other hand, it requires more maintenance time since it needs to be kept seasoned. Acidic ingredients and sticky foods will strip the seasoning.
Remember that it can also warp so avoid putting a hot pan under cold water and never throw it in the dishwasher. Some mild soapy water and a soft brush will do the job.
Stainless steel doesn't need seasoning but cleaning can be challenging especially if there are stains and discoloration. Plus, you may need an easy cleaning solution to maintain its shiny finish. It's also dishwasher safe although some people prefer to wash it by hand.
Appearance
The lustrous appearance of stainless steel is certainly very attractive but since beauty is in the eye of the beholder, we will let you decide.
Weight
Carbon steel is lighter than stainless which makes it easier to maneuver, lift, and clean.
Cost
Typically, a carbon steel skillet is a lot more affordable than a good quality stainless steel fry pan.
The Bottom Line
So, here we are to the point where we need to make a final decision, carbon steel or stainless steel pan? If you are looking for an all-rounder pan that looks pretty and is long-lasting, stainless steel is the name for you. But if you need a fighter in your kitchen that is fast and responsive at high heats as well as non-stick and lightweight, carbon steel should be a better choice.