This is the cauliflower pizza recipe that you've been looking for  - a crispy-chewy crust topped with all the veggies your body needs. With vegan pesto drizzle, no one will be able to stop at just one slice.
The Best Cauliflower Pizza
Pizza is delicious. But, traditionally it is packed with gluten. With many developing intolerances and/or allergies to gluten and even dairy, it feels like we can't enjoy the comfort of pizza anymore.
Fortunately, cauliflower pizza saves the day! I developed this recipe inspired by the versatility of cauliflower. And, let's face it, cauliflower pizza is everywhere! It's sold frozen at grocery stores and even at restaurants. But, those options tend to be full of sodium and oftentimes hidden processed ingredients.
This cauliflower pizza recipe is health driven. Not only is the base made of veggies, but it is topped with gorgeous greens too! It looks fantastic on any table. This pizza is maybe my favorite dish to serve to my family and friends who are gluten free and/or super health-conscious. It leaves everyone feeling fueled and satisfied.
Making cauliflower pizza at home is plenty easy. You will be surprised by how simple it is to make a totally vegetarian and gluten free pizza on your own! And, it will not give you that carb-coma regular pizza does. This pizza will leave you feeling light and refreshed.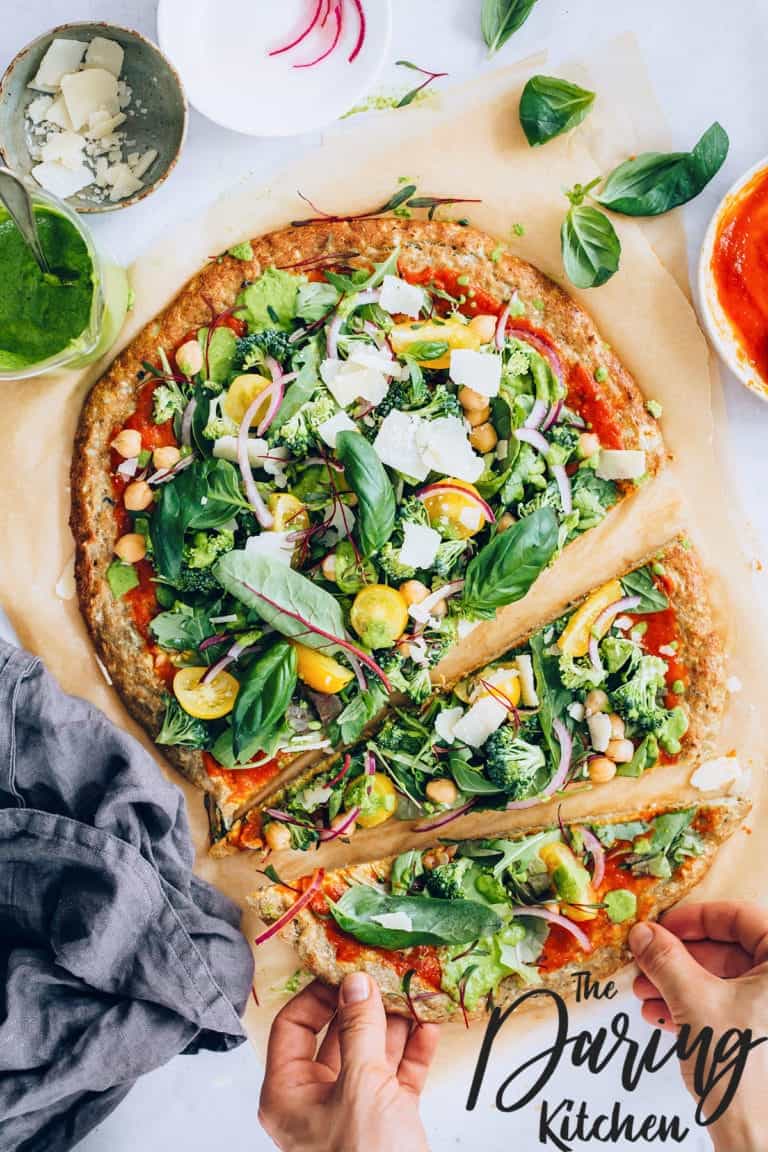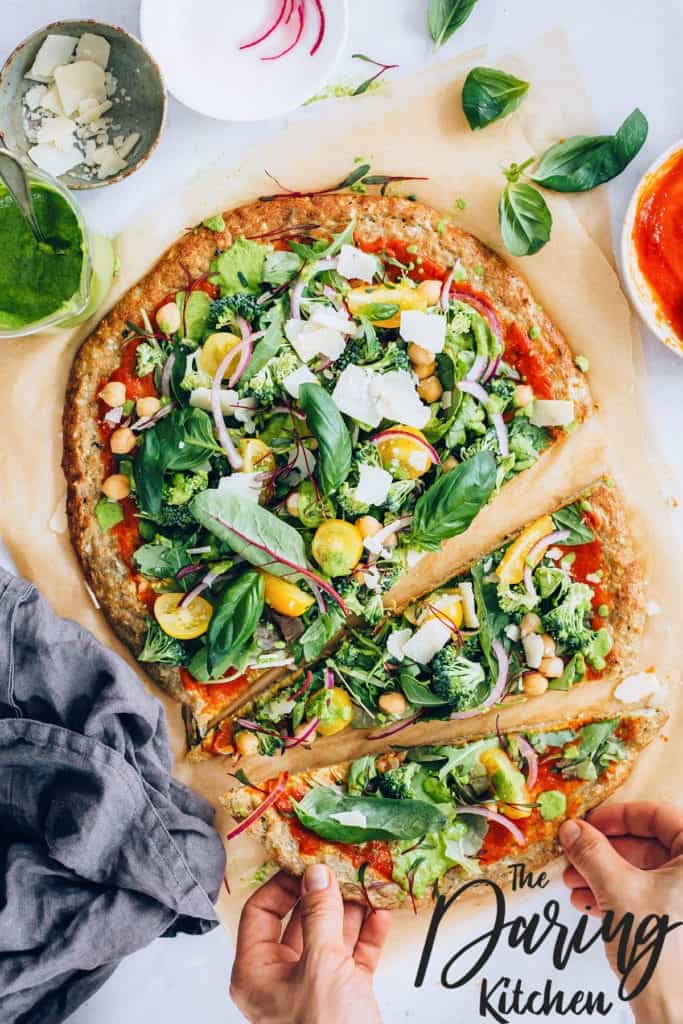 Easy Cauliflower Pizza 'Dough'
When it comes to making the dough, you must be wondering: how do you make it out of cauliflower?
Well, fortunately, this mighty veggie has developed some serious following recently. Its natural consistency makes it a low-calorie replacement for a ton of comfort foods. One cup of raw cauliflower contains only 25 calories, as compared to the 455 all-purpose flour contains. It is also packed with a tremendous amount of vitamins and fiber too. Whether it's rich sauces, wings, or even rice, cauliflower works great as a diet-friendly replacement.
But, the crust is not all cauliflower. You do need a few ingredients to add flavor and to bring everything together. Traditionally, dough receives flavor from the yeast. Since this is a yeast-free dough, I decided to include Italian herbs, like oregano and basil, and extra virgin olive oil. When it comes to keeping the dough together, almond flour and eggs do just the trick. And, they give a dose of vitamins and healthy omegas too.
In this recipe, a food processer helps you manage the cauliflower mess. By pulsing the florets, they quickly turn into a rice-sized shape. Then, you add the cauliflower 'rice' to a bowl with all the other ingredients. It is that simple.
The trick to this cauliflower pizza crust is to bake it for 20 minutes before adding any toppings.  This allows the crust to crisp up on the outside while staying nice and tender on the inside. Even if you plan on cooking your toppings, make sure you always cook the crust first. 
For this recipe, all the toppings are added post-baking. But, you can always include other toppings that melt easily in the oven. Vegan cheese and more veggies are excellent options! Whatever you choose, this cauliflower crust can be used for many recipes to come.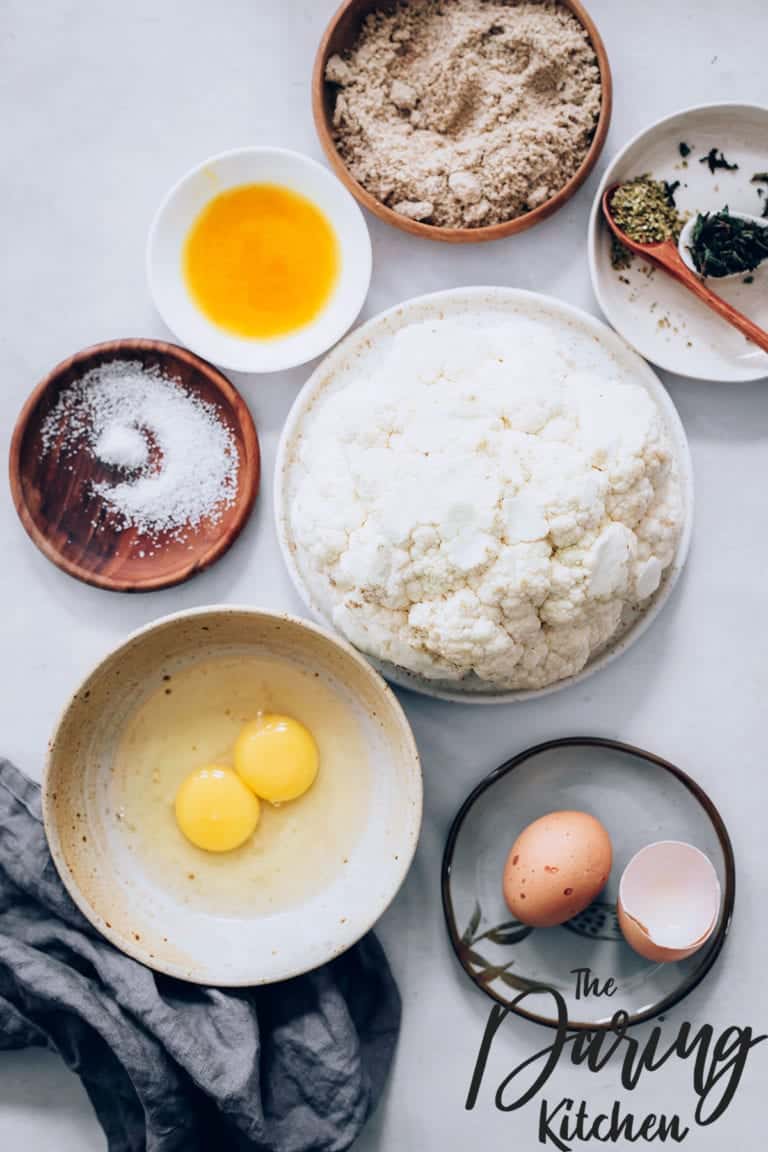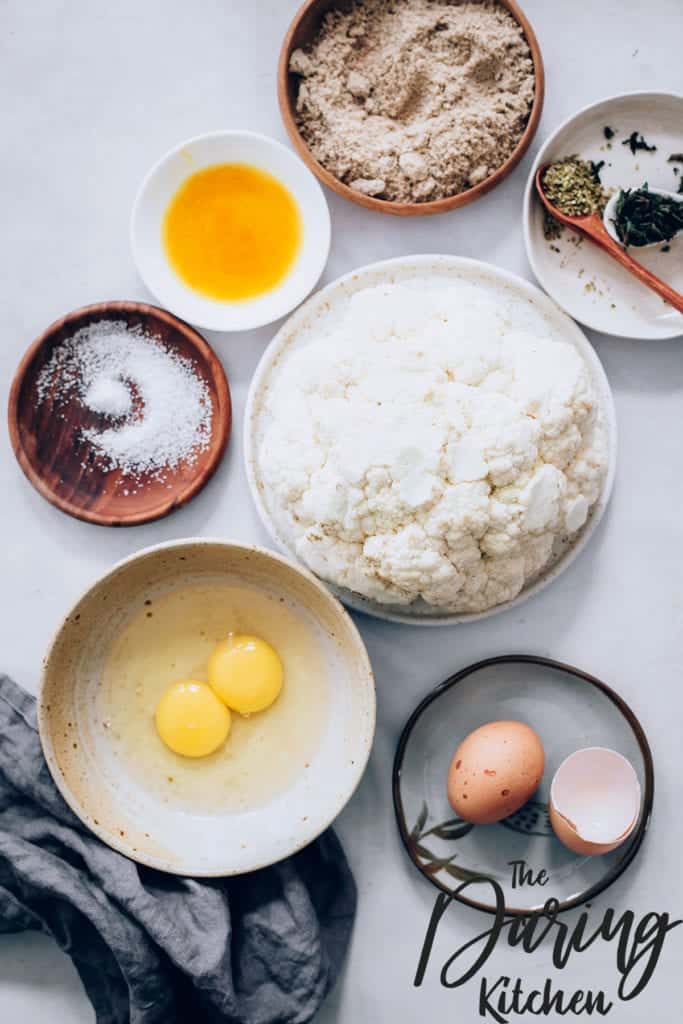 Delicious Vegan Pesto
Pesto is such a fantastic condiment. Not only does it taste delicious, but its bright green color makes a beautiful decoration.
This is not your average pesto. This pesto is completely vegan and full of more healthy ingredients. With both spinach and basil, you get extra vitamins and brighter green color to your pesto. Also, it contains walnuts, a toasty nut that is super healthy for your brain. Everything comes together with rich extra virgin olive oil and zesty lemon juice. 
The pesto can easily be made as you wait for your pizza cook. You will just need to drizzle as much as you want over your other toppings. Do not be afraid to double or triple the recipe. I love keeping this pesto in the fridge as a topping for other recipes. Or even as a sauce for a pasta dish!
Glorious Veggie Toppings
This showstopping cauliflower pizza is nothing without its bounty of toppings. Tons of green veggies and classic pizza ingredients create a dynamite pizza presentation.
The pizza starts with a classic layer of fresh and tangy tomato sauce. I use a homemade one, but your favorite store-bought brand works just fine. Just make sure there are no sneaky sugars in your sauce. 
Then, you can get creative with your toppings. I love chopped raw broccoli and whatever fresh greens I have on hand. You want greens that provide a nice crunchy bite. Arugula, chard, or kale are awesome choices. These greens pair perfectly with the delicious pesto drizzle. If you do use broccoli, make sure it is chopped into little pieces. This makes it much easier to digest.
Before serving, do not forget to decorate your pizza with basil. It's an essential part of the pizza, in my opinion! I also add freshly shaved parmesan as well - it's one of my favorite cheeses! You can always substitute it with a nice sprinkle of nutritional yeast or even a generous drizzle of olive oil.
No matter what you choose for your pizza, don't forget to share it with everyone. They will be surprised by how flavorful and guilt-free pizza can be! Or, you can make it just for yourself - I wouldn't blame you. Whatever you choose, I'd love to hear how your cauliflower pizza turned out!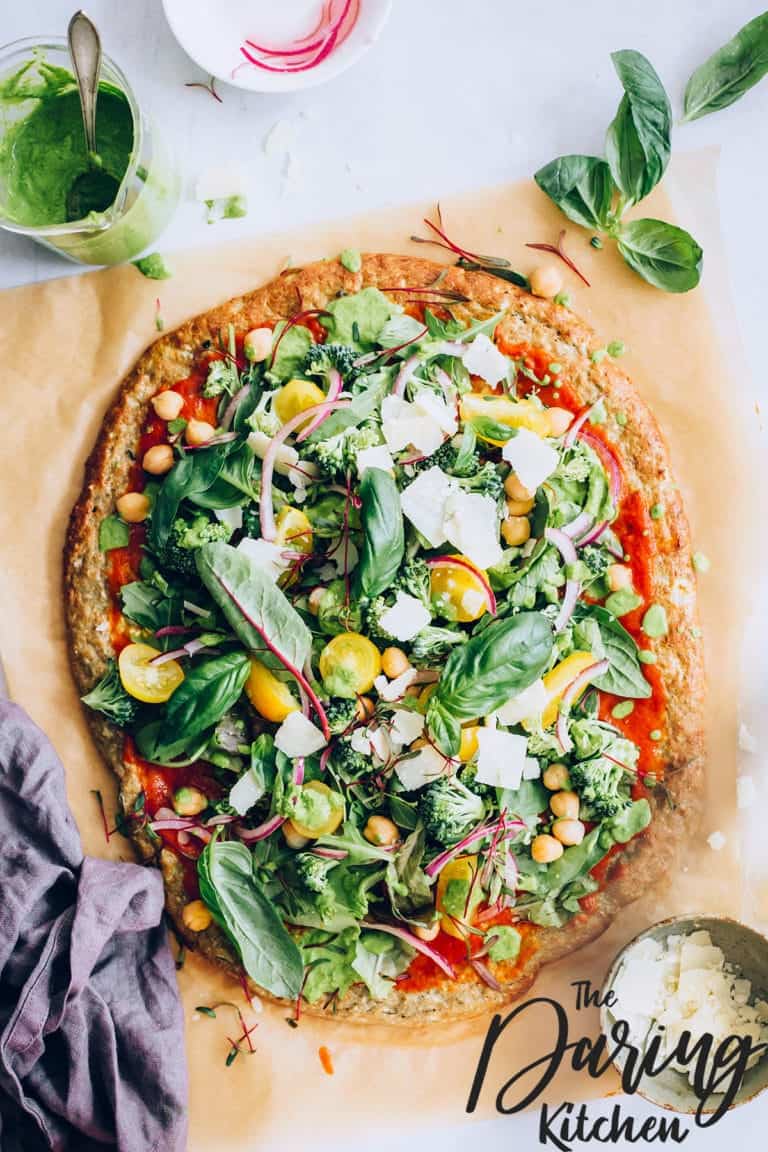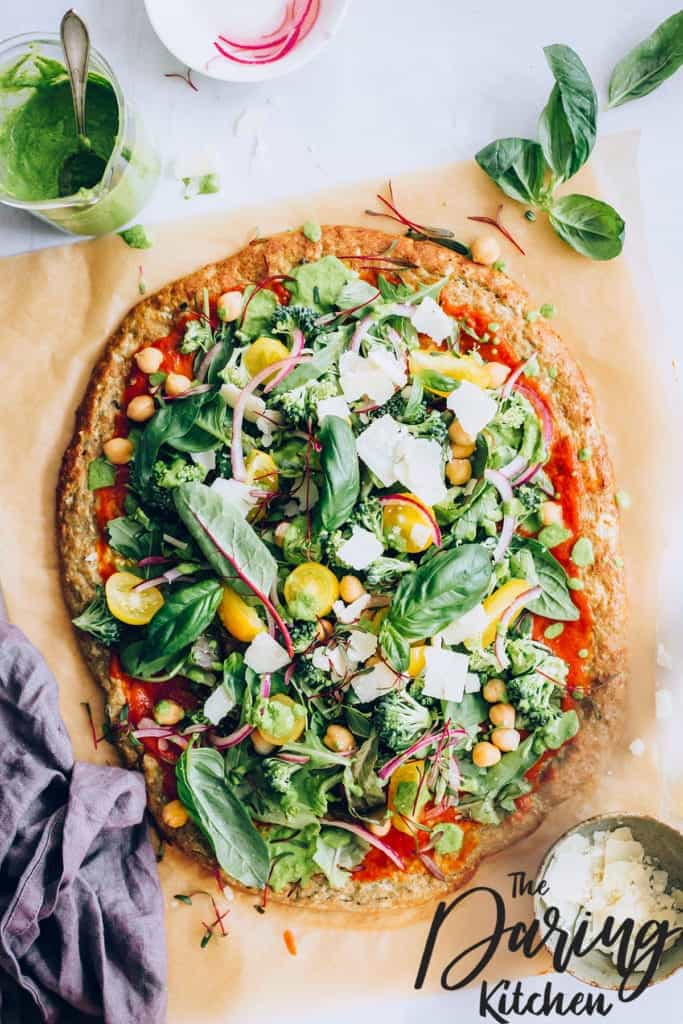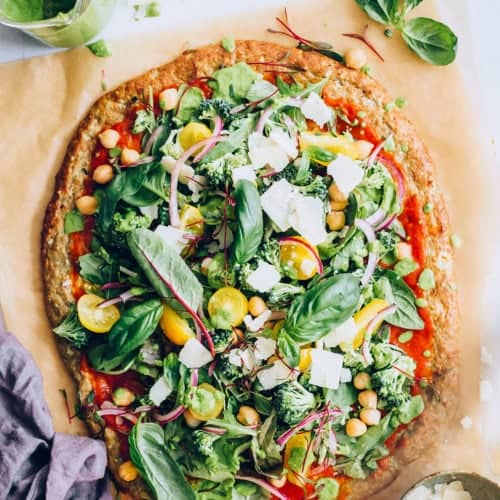 Gluten-Free Green Loaded Cauliflower Crust Pizza
Low-calorie and full of veggies, this cauliflower pizza recipe is incredibly simple and 100% guilt-free.
Print
Pin
Ingredients
For the Crust
1

Medium Cauliflower Head

rinsed

¾

cup

Almod Flour

2

tsp

Extra Virgin Olive Oil

3

Organic Eggs

beaten

½

tsp

Sea Salt

1

tsp

Dry Basil

1

tsp

Dry Oregano
For the Toppings
3

tbsp

Tomato Sauce

1

cup

Fresh Greens

mixed (spinach, chard or any other available) 

1

small

Broccoli Head

finely diced

10

Cherry Tomatoes

quartered

1

cup

Cooked Chickpeas

2

tbsp

Pesto

Shaved Parmesan

Basil Leaves

fresh
For the Pesto
1

cup

Basil Leaves

fresh

1

cup

Spinach

fresh

1

tbsp

Lemon Juice

freshly squeezed

½

cup

Lightly Toasted Walnuts

1

tbsp

Extra Virgin Olive Oil

¼

tsp

Salt

¼

cup

Water
Instructions
Preheat the oven to 200C/400F and line a baking sheet with parchment paper.

Cut the cauliflower into florets and add them into the food processor.

Pulse to obtain a rice-like texture, paying attention not to over-process.

Transfer the cauliflower rice into a large bowl, and add the rest of the crust ingredients.

Mix to obtain a sticky batter, then place it on the baking sheet and flatten it with a large spoon, to obtain a pizza shape (the texture is wetter than a normal flour one, but this will be solved in the oven).

Bake for 20 minutes, until golden.

Meanwhile, add the pesto ingredients into the food processor and process to obtain a smooth liquid.

Remove the dough from the oven, add the toppings, drizzle with pesto and serve warm.
Nutrition
Calories:
961
kcal
|
Carbohydrates:
68
g
|
Protein:
43
g
|
Fat:
67
g
|
Saturated Fat:
8
g
|
Cholesterol:
247
mg
|
Sodium:
1668
mg
|
Potassium:
2572
mg
|
Fiber:
26
g
|
Sugar:
17
g
|
Vitamin A:
5333
IU
|
Vitamin C:
445
mg
|
Calcium:
485
mg
|
Iron:
11
mg