This cauliflower mac and cheese recipe combines the rich flavor of creamy cheese sauce with the nutrient-packed goodness of fresh cauliflower to create a truly flavorful meal.
Why You'll Love This Baked Cauliflower Mac And Cheese Recipe
Kid-Friendly- This recipe is a great way to get your little ones to eat their veggies! The cheese sauce mixed with the cauliflower gives it the right flavor to entice even the pickiest eaters.
Minimal Ingredients- With just a few ingredients and simple steps, you can have the perfect side dish meal in no time.
Cheesy and Delicious- Cheese and cauliflower are a match made in heaven! Combining the two will give you a flavorful, creamy, and cheesy side that's sure to be a hit with everyone.
What Is Cauliflower Mac And Cheese?
Cauliflower mac and cheese is a creamy and delicious side everyone will love. It's typically made with roasted cauliflower, garlic powder, onion powder, thyme, salt, and pepper, then mixed with creamy cheese sauce for a comforting side perfect for any occasion. It's a delicious and healthier alternative to traditional mac and cheese made with pasta.
Equipment
Oven
Sharp Knife
Cutting Board
Baking Sheet
Large Saucepan
Whisk
Stirring Spoon
Baking Dish or Oven Safe Skillet
Measuring Cups and Spoons
Ingredients
Cauliflower Florets- The base of this recipe. Roasted cauliflower florets give the mac and cheese a nice flavor and texture.
Butter- Used to create a creamy texture in the cheese sauce.
Olive Oil- For roasting the cauliflower.
Onions- For taste.
Flour- To thicken the cheese sauce.
Whole Milk- Helps to create a creamy texture.
Sharp Cheddar Cheese- Shredded cheese gives the cream sauce that amazing cheesy flavor everyone loves!
Parmesan Cheese- Add a contrasting cheese flavor.
Salt- Enhances all the other ingredients.
Black Pepper- Freshly ground black pepper adds a hint of spice while providing the cauliflower mac and cheese a great flavor.
Nutmeg- Gives a unique flavor to the cheese sauce.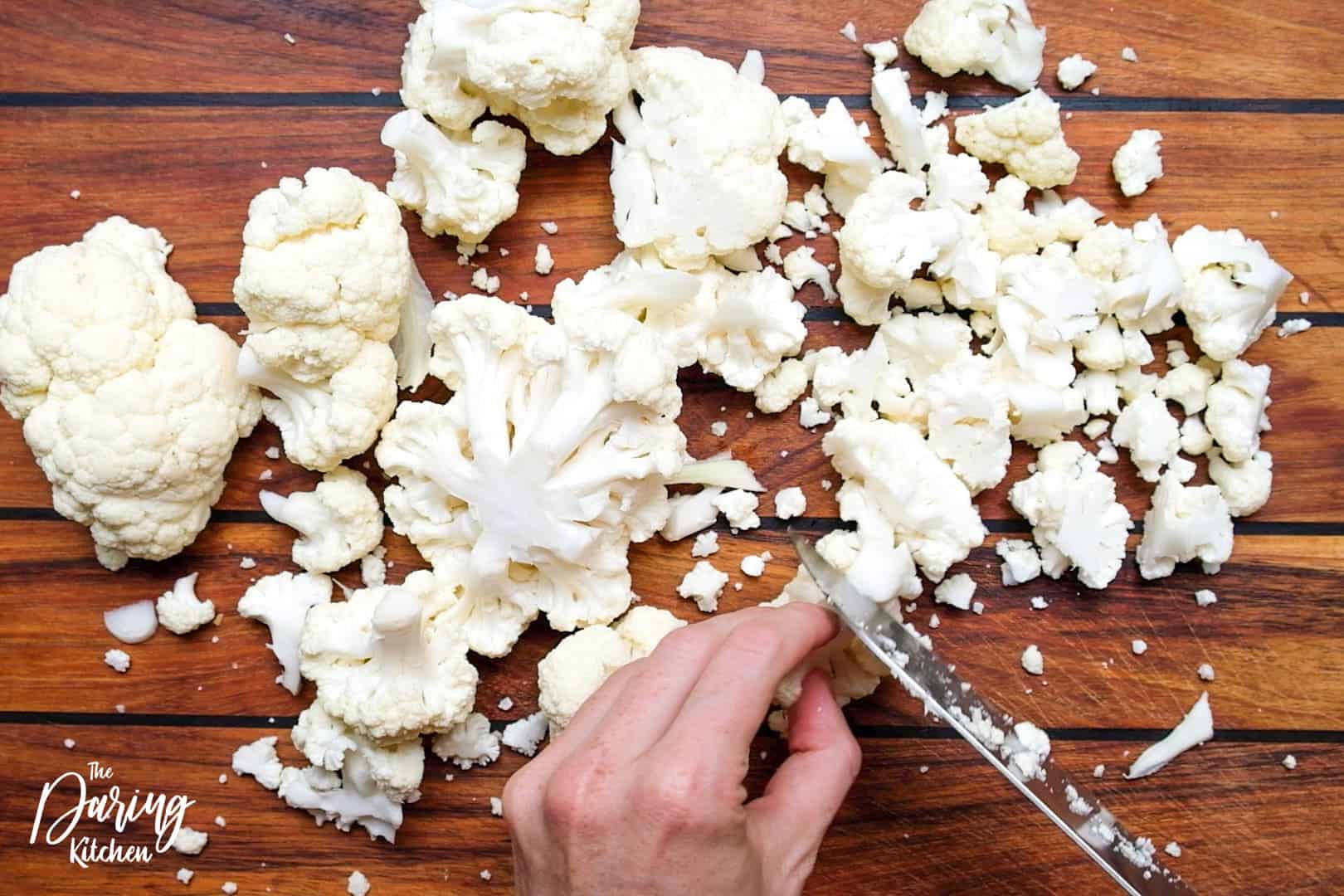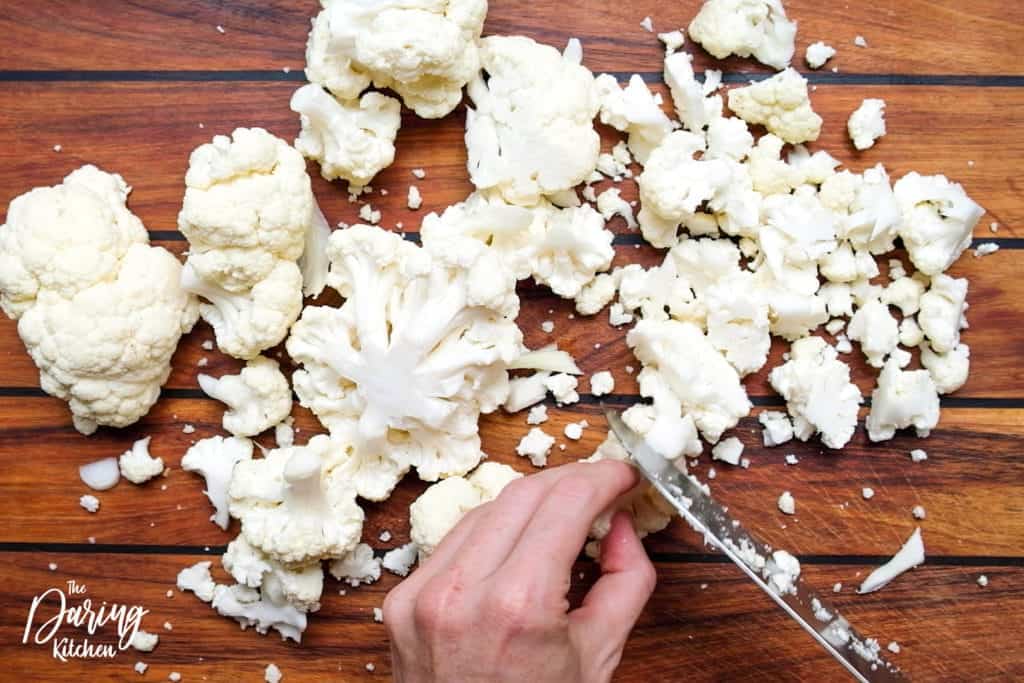 How To Make Cauliflower Mac And Cheese
This recipe starts with roasting your cauliflower. Preheat your oven to 400 degrees. While your oven preheats, chop your cauliflower into small florets. Scatter them evenly on a baking sheet and drizzle them with olive oil. Then, place the baking sheet in the oven for 15 minutes or until the cauliflower is tender and slightly charred. Do not turn off the oven when your cauliflower is finished. You will need a preheated oven to bake the mac and cheese.
These 15 minutes will give you enough time to make your cheesy sauce. This will start with your roux. Over medium heat, melt butter in your skillet. As the melted butter begins to bubble, add in your onions. You want the onions to soften and become translucent. Once they reach that point, you can season both with salt, nutmeg, and black pepper. As you mix in the spices, start to incorporate your flour. Turn down the heat to low, mixing everything as it thickens.
Slowly pour in your milk as you mix. Do not pour the milk too fast; you do not want it splashing on you or your counters. Using a whisk, continue to mix until you create a consistent and thick mixture. When you reach this point, it's time to get cheesy!
Move your pan away from the heat and turn off your burner. Carefully add in the shredded cheese. I suggest adding it in fourths. Do not stop stirring - you do not want a lumpy cheese sauce. When the cheese is completely melted, it's time to add cauliflower.
If you use an oven-safe skillet, mix your cooked cauliflower florets into your cheese sauce. You want all the florets to be evenly coated. Generously sprinkle parmesan on top of your mixture. If you like, you can add cracked pepper too. Throw it in the oven for 15 minutes and wait until your mac and cheese turn golden brown.
If you are using a baking dish, it is a nearly identical process. Simply pour your roasted cauliflower into a baking dish and then cover with the cheese sauce. Mix it all together, then dress it with parmesan and pepper.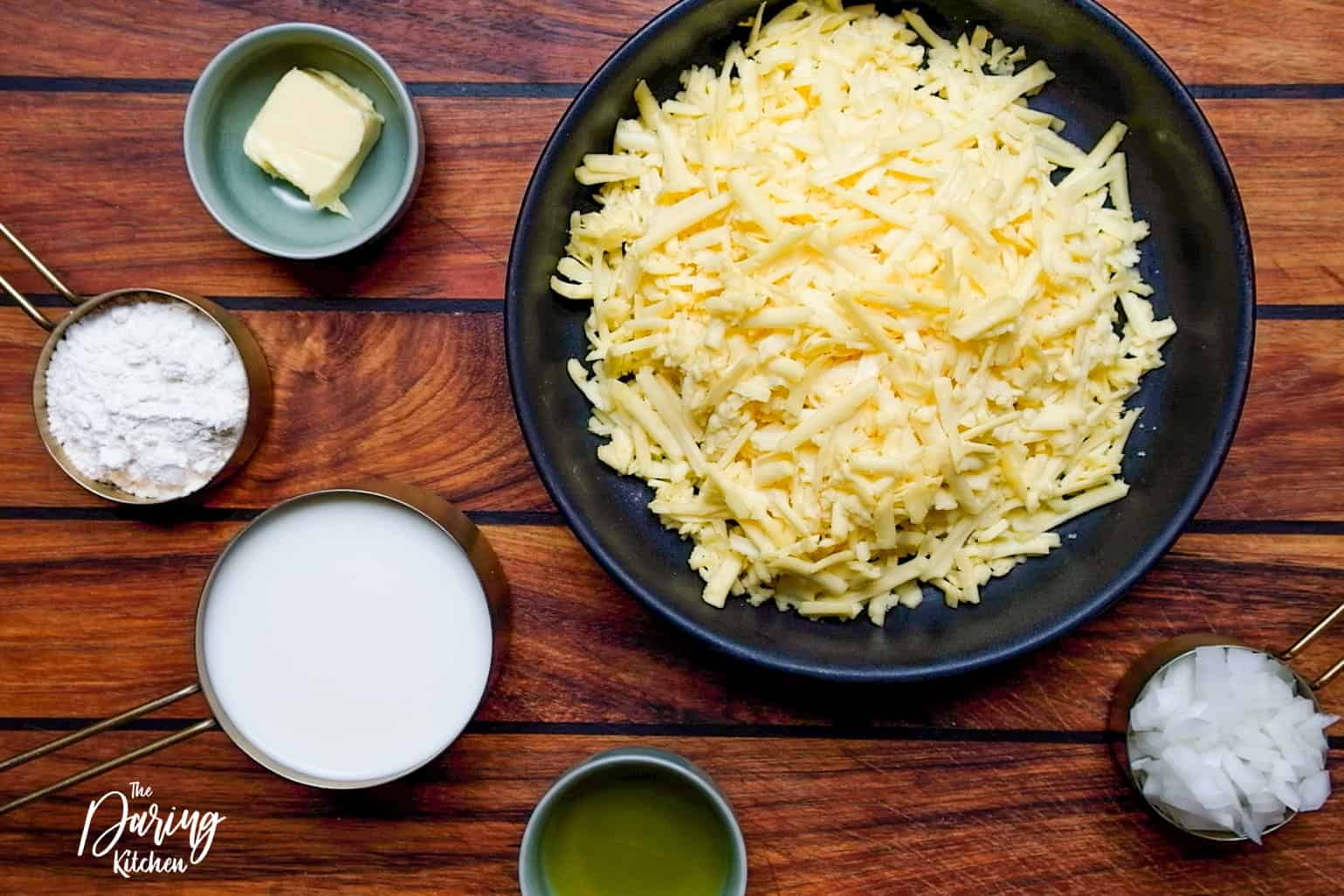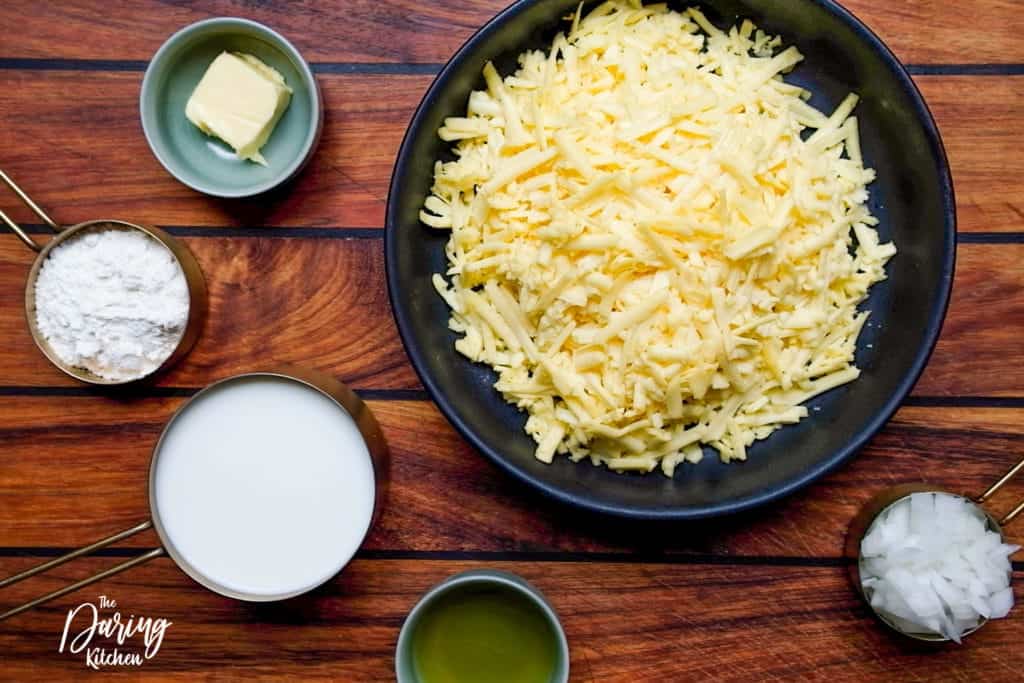 Popular Substitutions And Additions
Add grilled chicken, cooked quinoa, or brown rice to the cauliflower mac and cheese recipe to make it a complete meal.
For a vegan-friendly version, substitute butter and dairy for plant-based alternatives. Heavy cream can be used instead of milk to make keto cauliflower mac and cheese.
Top the cauliflower mac and cheese with chopped green onions, crispy breadcrumbs, crumbled bacon, or crushed pork rinds for an extra layer of flavor.
Enhance the taste of this cauliflower mac and cheese recipe by adding cream cheese, garlic powder, or smoked paprika,
For a pop of color, add other roasted veggies like peppers, onions, mushrooms, and broccoli.
Can I Freeze Cauliflower Mac And Cheese?
Yes! This dish freezes very well. To freeze, allow the cauliflower mac and cheese to cool completely before transferring it into an airtight container or freezer bag. When ready to enjoy, thaw the frozen cauliflower mac and cheese in the refrigerator overnight. Reheat in an oven or microwave until warm.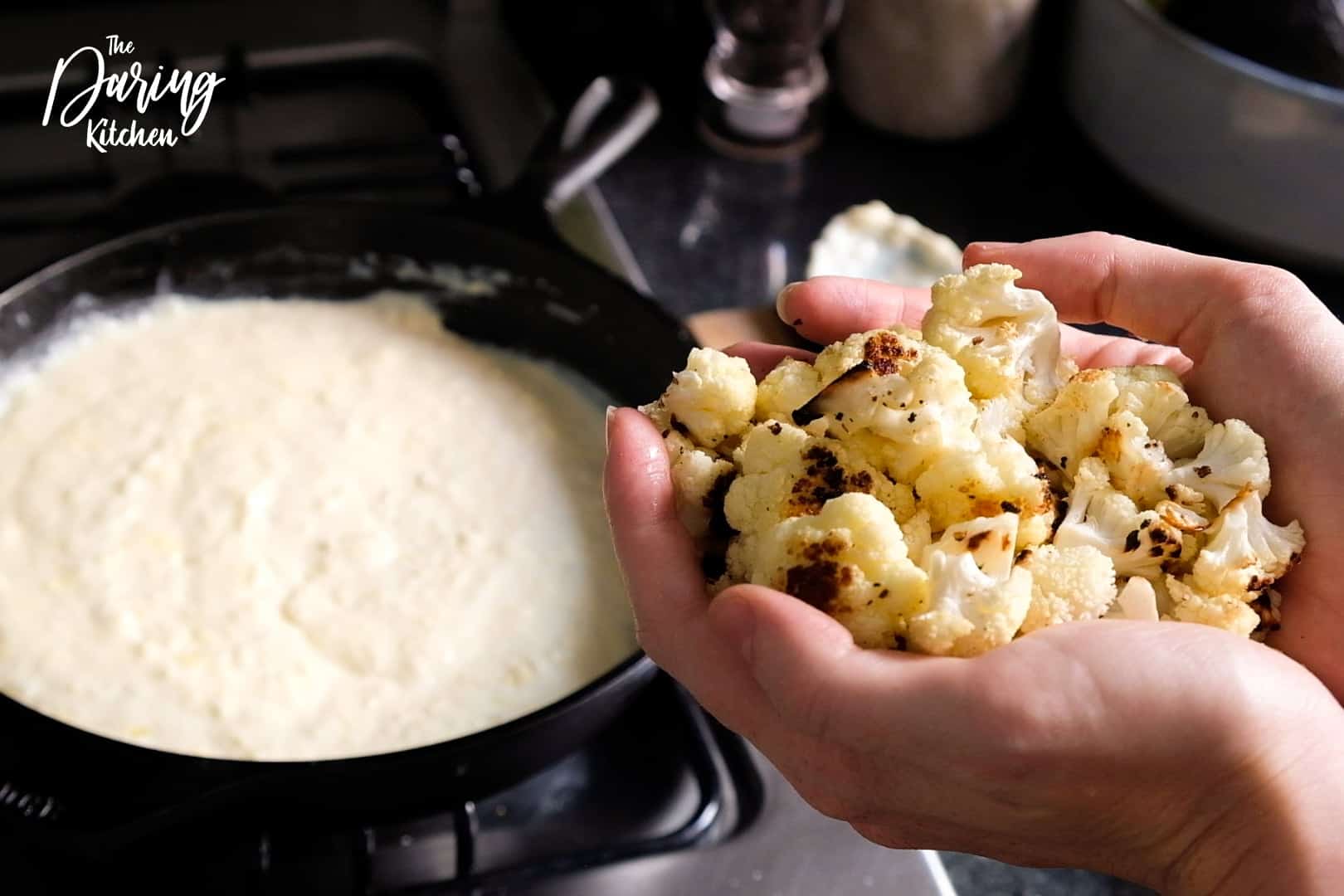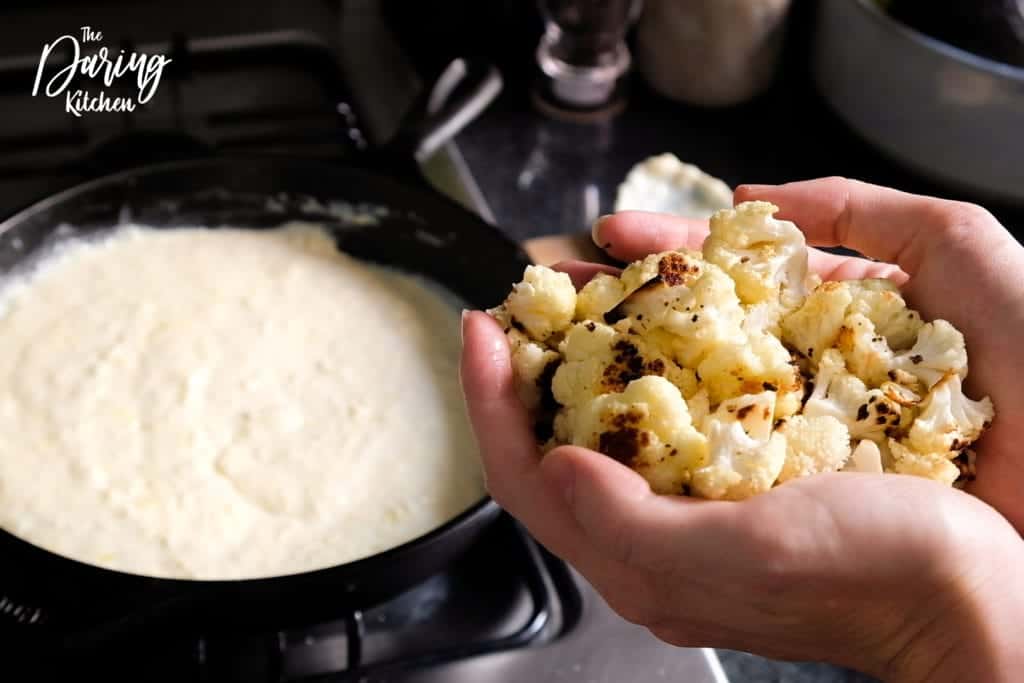 Cauliflower Mac And Cheese FAQs
Can I make cauliflower mac and cheese ahead of time?
Yes! You can make the dish up to two days in advance. Simply prepare the dish, cover it, and store it in the refrigerator until you're ready to bake.
How do I know when the cauliflower mac and cheese is done cooking?
The cauliflower mac is done cooking when it's golden and bubbling. You can also check the internal temperature of the dish with a thermometer; it should read 165°F.
Can I use other kinds of cheese in this cauliflower mac and cheese recipe?
Absolutely! Feel free to experiment with different types of cheeses, such as sharp cheddar, white cheddar, Monterey jack, gruyere cheese, or even cream cheese, to make your own cheese blend. Be sure to use shredded cheese for best results.
How do I store leftover cauliflower mac and cheese?
Store leftovers in an airtight container in the fridge for up to 4 days. Reheat before serving.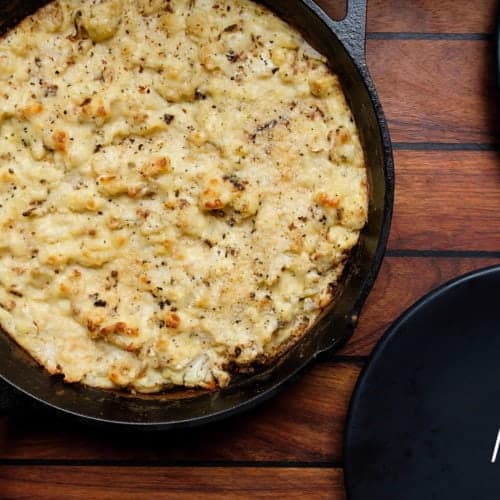 Delicious Cauliflower Mac And Cheese Recipe
Get ready to dig into everyone's favorite side dish! This tantalizing mac and cheese is packed with fresh veggies and is creamy, cheesy, and totally delicious.
Print
Pin
Ingredients
8

cup

Cauliflower Florets

chopped. ½-inch pieces (26oz)

1

tbsp

Butter

2

tbsp

Olive Oil

¼

cup

Onions

minced

3

tbsp

flour

use an all-purpose GF flour if you'd like

2

cups

Whole Milk

8

ounces

Cheddar

Freshly grated. you can use gruyere or blend (about 1 cup)

¼

cup

Parmesan Cheese

grated

½

tsp

Salt

¼

tsp

nutmeg
Instructions
Preheat the oven to 400ºF

Place chopped cauliflower on a baking sheet, drizzle with olive oil and salt.Roast for about 15 minutes, until golden

Heat butter and oil in a large saucepan over medium heat. Add onions and cook about 5 minutes, until translucent

Season with ½ tsp salt, black pepper and nutmeg

Stir in flour. Reduce heat to low and cook, stirring continually 3-4 minutes, then slowly add the milk and continue whisking. Bring this mixture to a low boil and whisk until it becomes thick and smooth.

Remove from heat and add the cheese, ¼ cup at a time mixing well until cheese is all melted.

Stir in cooked cauliflower and cover with parmesan and cracked pepper. The mac n cheese is ready to serve like this, or pour into a baking dish and bake until bubbly and golden, about 15 to 20 minutes. Then broil 2 minutes, or until the top is slightly browned
Nutrition
Calories:
1950
kcal
|
Carbohydrates:
92
g
|
Protein:
102
g
|
Fat:
136
g
|
Saturated Fat:
66
g
|
Cholesterol:
304
mg
|
Sodium:
3425
mg
|
Potassium:
3317
mg
|
Fiber:
17
g
|
Sugar:
43
g
|
Vitamin A:
3258
IU
|
Vitamin C:
389
mg
|
Calcium:
2678
mg
|
Iron:
7
mg