This mac and cheese is secretly low carb and full of veggies. With its classic creamy cheese sauce, you won't even know the difference.
Just Like Classic Mac and Cheese
This mac and cheese recipe will fool you. It has all the elements we love in mac and cheese. It has a super creamy cheese sauce. It is finished in the oven to get that perfectly crispy bite. Little do you know that this recipe is actually low carb and chock full of veggies.
Yes, there is no pasta in this dish at all. I substituted it with something I love: roasted cauliflower. This mighty veggie is incredible light in calories and plentiful in nutrition. With cauliflower instead of pasta, you can enjoy more mac and cheese without feeling all sluggish. And, you still get all that rich mac and cheese flavor.
This recipe can easily be made gluten free too. Although the cheese sauce calls for a traditional roux, a binding mixture of flour and butter, this can be easily modified. Simply substitute the flour of a gluten free alternative. Rice flour works really well, or even a gluten free all-purpose flour. The latter does make things simpler, as it usually has a 1:1 ratio with regular flour.
I would not suggest omitting the roux, as it is essential in creating a consistent cheese sauce. However, corn starch does work as a great alternative too.
The Magic of Cauliflower
Cauliflower is such an awesome vegetable. It is full of nutrients. Most importantly, it doesn't take a lot for it to taste great.
There are tons of vitamins and antioxidants in cauliflower. These help to boost your immune system and prevent disease. Also, cauliflower is exceptionally low in calories. Just one cup has only 25 calories. This makes an epic difference in this dish.
What I love most about cauliflower is its adaptability. It is pretty neutral in flavor, making it easy to flavor it with whatever you like. It also has a structure to hold sauces. What I love is how buttery cauliflower gets when it is cooked. By roasting cauliflower in the oven with just a little olive oil, it becomes tender super quickly. Also, it retains a nice char. This adds a ton of texture and flavor to the cauliflower. This tastes even better when coated in yummy cheddar cheese sauce.
How to Make Cauliflower Mac and Cheese
This cauliflower mac and cheese is unbelievably simple to make. It requires little prep time and clean-up. Admittedly, the only messy thing in this recipe is chopping your cauliflower. Those little florets just seem to get everywhere.
You only need two pans for this recipe. First, your baking sheet for your cauliflower. Then, you need any oven-safe skillet. A cast-iron works great. But, if you do not have an oven-safe skillet, you use a separate baking dish to bake the mac and cheese. Or, you can serve it without baking it. Either way, it will taste delicious.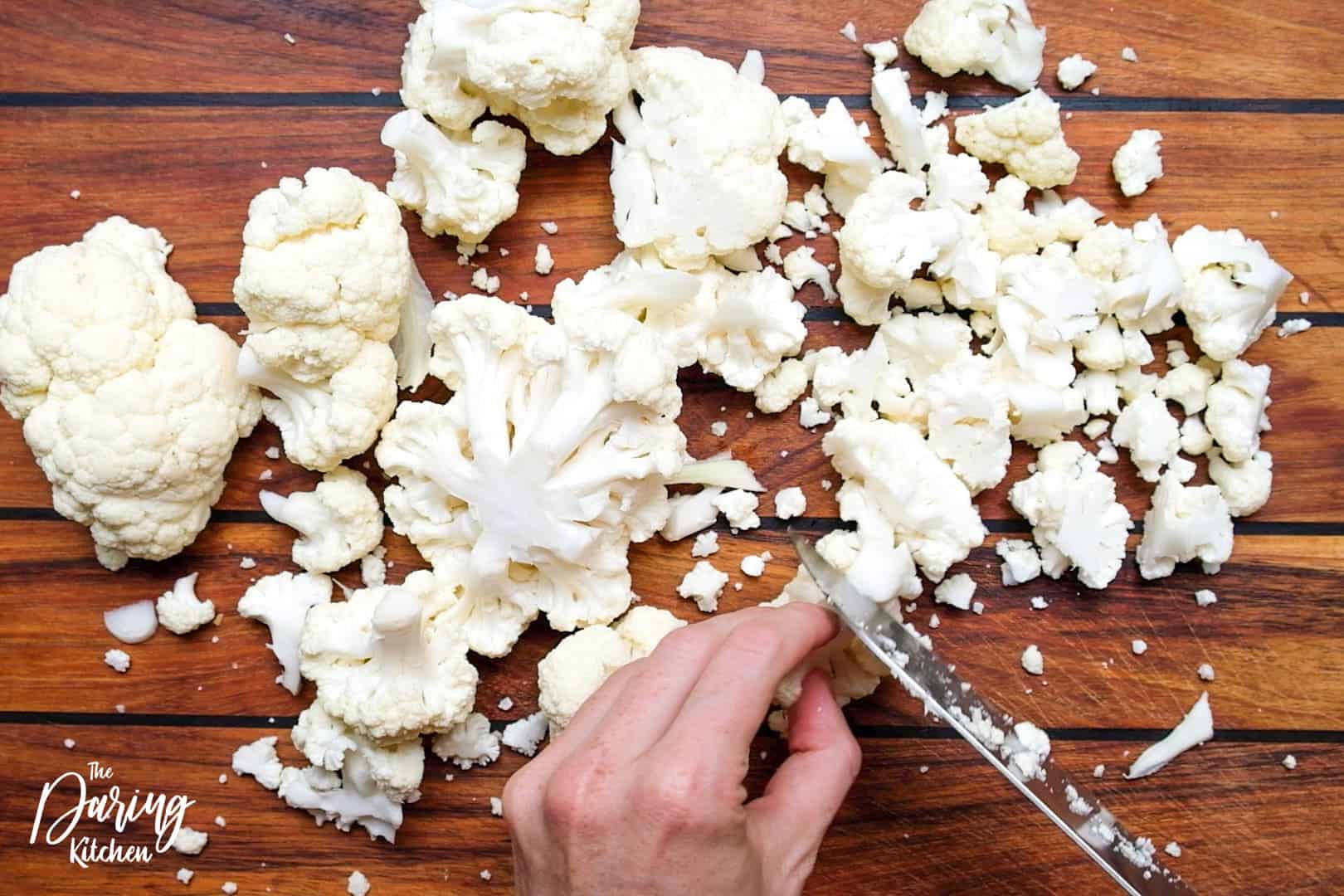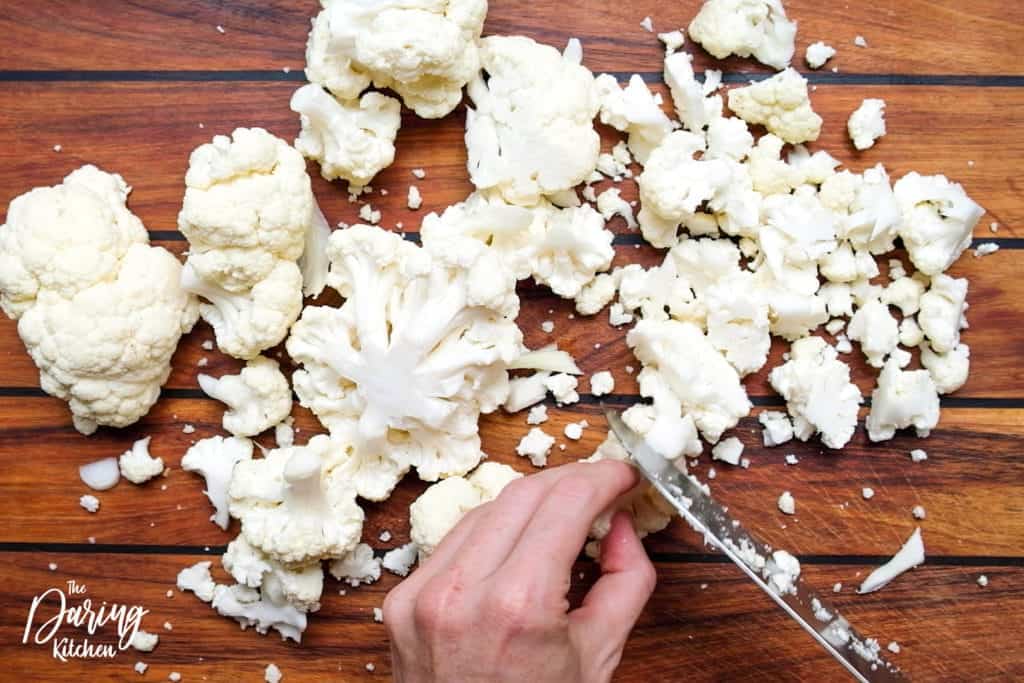 This recipe starts with roasting your cauliflower. Preheat your oven to 400 degrees. While your oven preheats, chop your cauliflower into small florets. Scatter them evenly on a baking sheet and drizzle them with olive oil. Then, place the baking sheet in the oven for 15 minutes or until the cauliflower is tender and a little charred. Do not turn off the oven when your cauliflower is finished. You will need a preheated oven to finish your mac and cheese.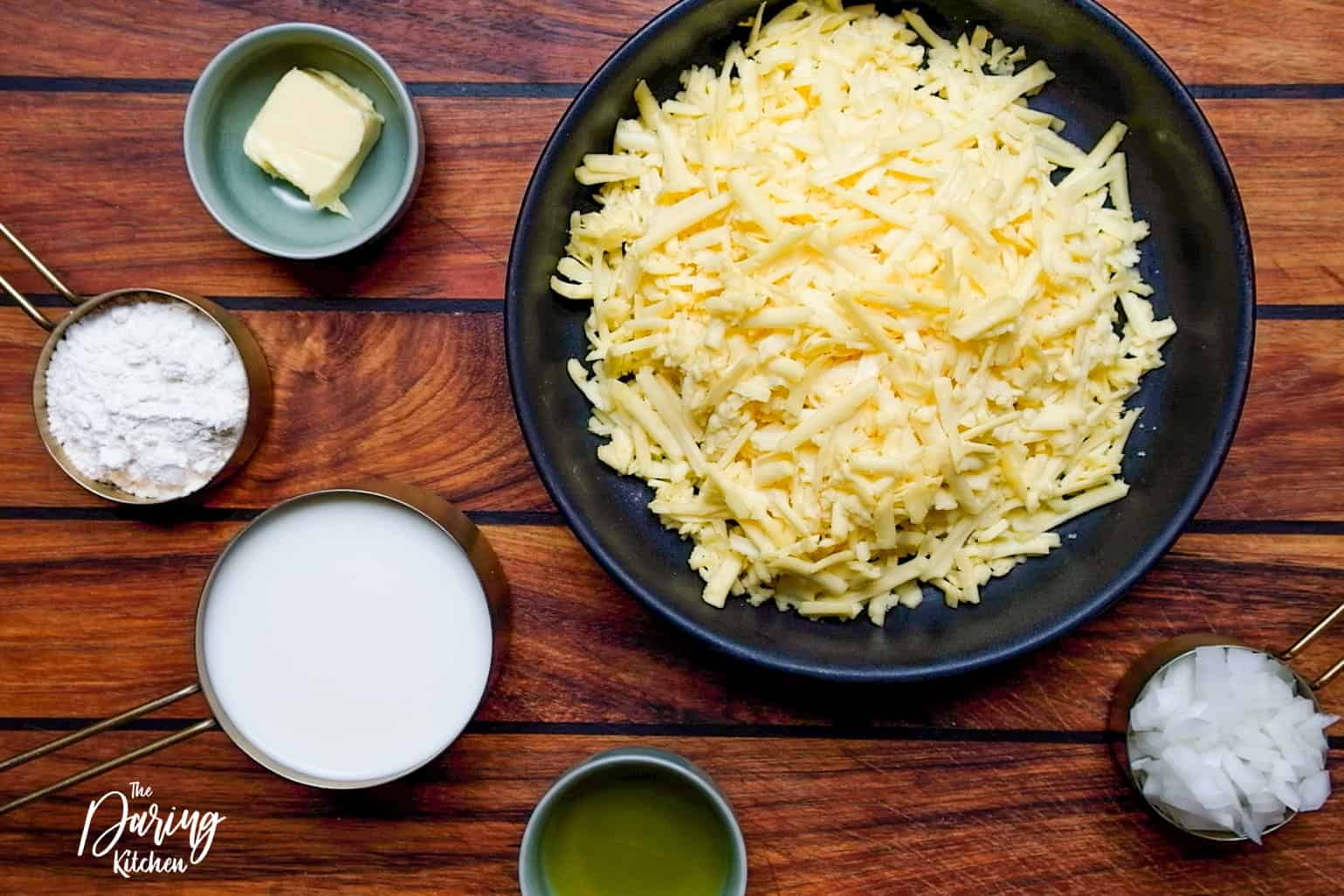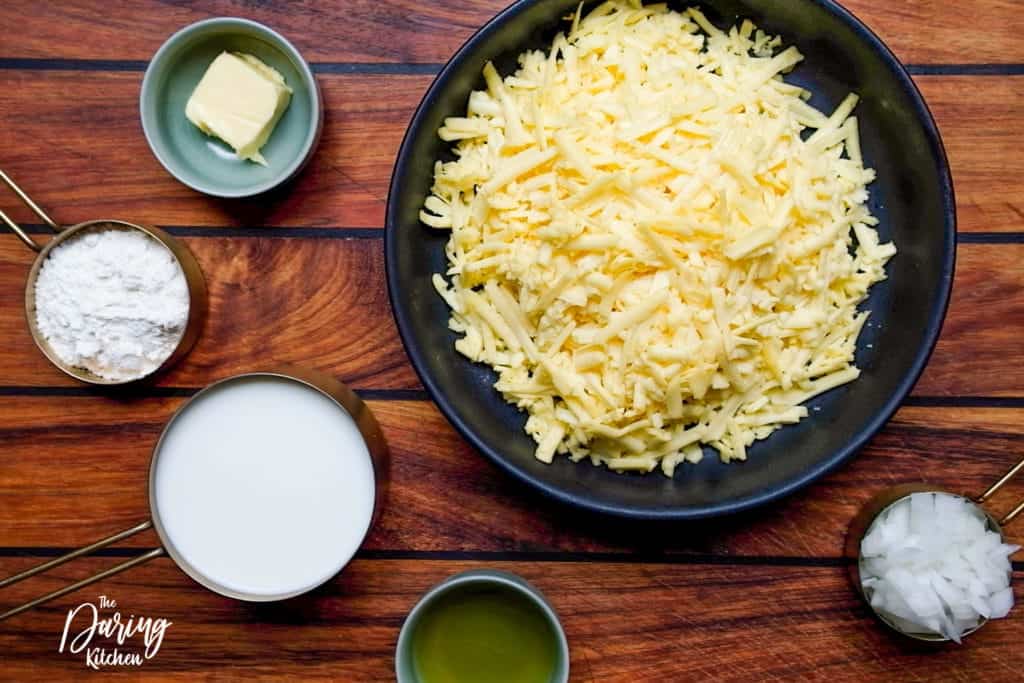 These 15 minutes will give you just enough time to make your cheese sauce. This will start with your roux. Over medium heat, melt your butter in your skillet. As it begins to bubble, add in your onions. You want the onions to soften and become translucent. Once they reach that point, you can season both with salt, nutmeg, and black pepper. As you mix in the spices, start to incorporate your flour. Turn down the heat to low, continuing to mix everything as it thickens.
Slowly, pour in your milk as you mix. Do not pour this too fast, as you do not want it splashing on you or your counters. Using a whisk, continue to mix until you create a consistent and thick mixture. When you reach this point, it's time to get cheesy!
Move your pan away from the heat and turn off your burner. Carefully, add in the shredded cheddar cheese. I suggest adding it in fourths. Do not stop stirring - you do not want a lumpy cheese sauce. When the cheese is thoroughly melted, it's time to bring the cauliflower.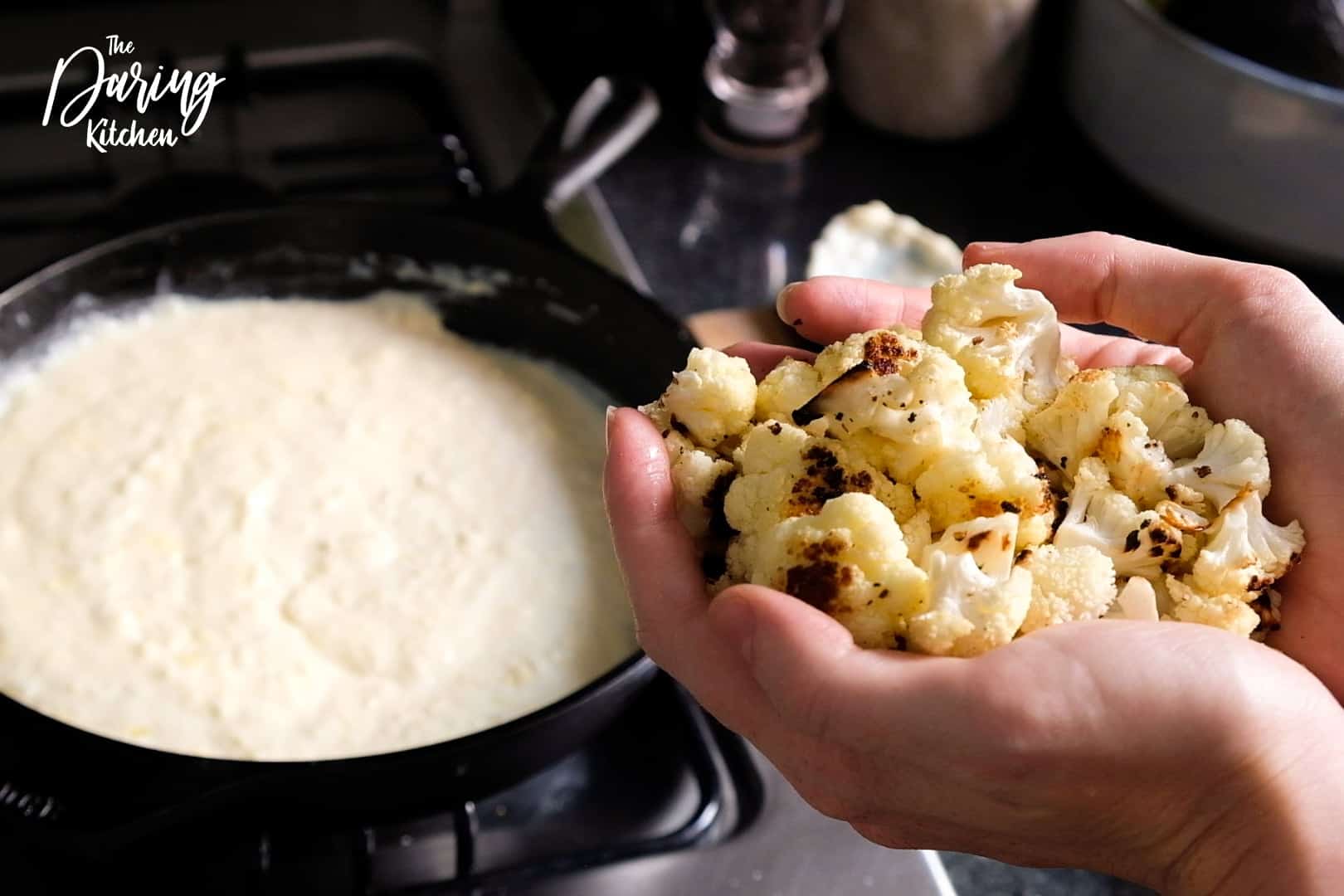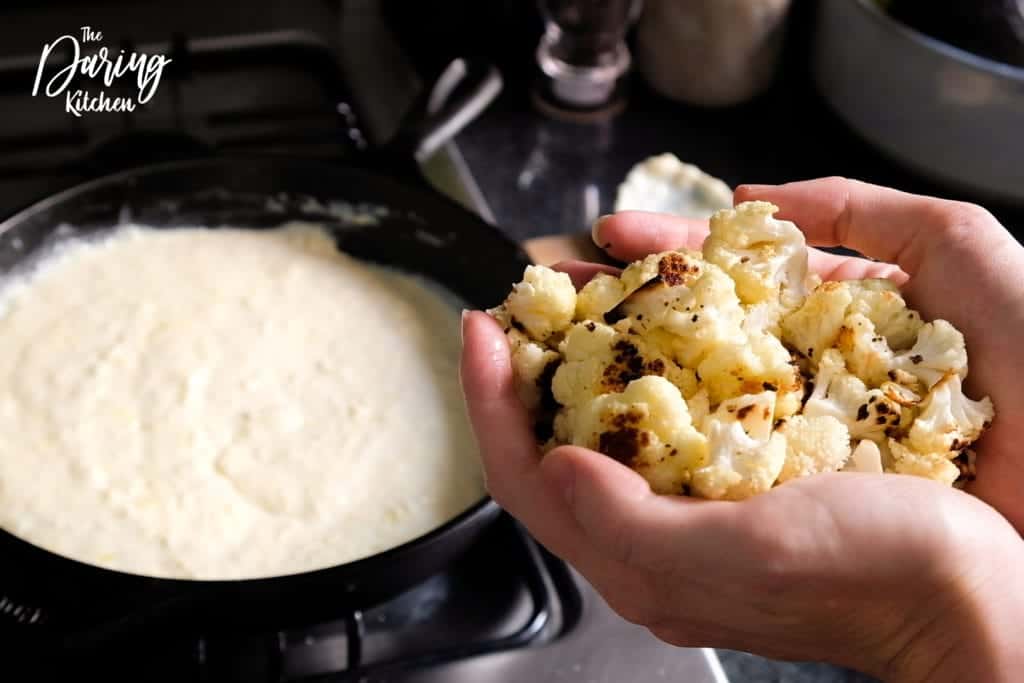 If you are using an oven-safe skillet, mix in your cauliflower right into your cheese sauce. You want all the florets to be evenly coated. Generously sprinkle parmesan on top of your mixture. If you like, you can add cracked pepper too. Throw it in the oven for 15 minutes and wait until your mac and cheese turn golden brown.
If you are using a baking dish, it is a nearly identical process. Simply pour your roasted cauliflower into a baking dish and then cover with the cheese sauce. Mix it all together then dress it with parmesan and pepper.
Whatever way you do it, you will still be thrilled to scoop this mac and cheese on your plate, steaming hot. I love mine with a little splash of hot sauce. How do you enjoy your mac and cheese? Let me know in the comments below!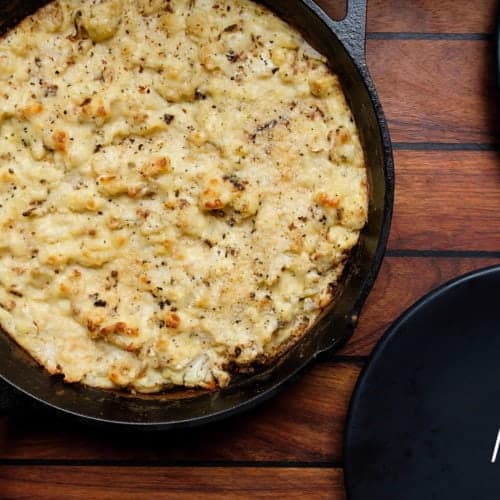 Ingredients
8

cup

Cauliflower Florets

chopped. ½-inch pieces (26oz)

1

tbsp

Butter

2

tbsp

Olive Oil

¼

cup

Onions

minced

3

tbsp

flour

use an all-purpose GF flour if you'd like

2

cups

Whole Milk

8

ounces

Cheddar

Freshly grated. you can use gruyere or blend (about 1 cup)

¼

cup

Parmesan Cheese

grated

½

tsp

Salt

¼

tsp

nutmeg
Instructions
Preheat the oven to 400ºF

Place chopped cauliflower on a baking sheet, drizzle with olive oil and salt.Roast for about 15 minutes, until golden

Heat butter and oil in a large saucepan over medium heat. Add onions and cook about 5 minutes, until translucent

Season with ½ tsp salt, black pepper and nutmeg

Stir in flour. Reduce heat to low and cook, stirring continually 3-4 minutes, then slowly add the milk and continue whisking. Bring this mixture to a low boil and whisk until it becomes thick and smooth.

Remove from heat and add the cheese, ¼ cup at a time mixing well until cheese is all melted.

Stir in cooked cauliflower and cover with parmesan and cracked pepper. The mac n cheese is ready to serve like this, or pour into a baking dish and bake until bubbly and golden, about 15 to 20 minutes. Then broil 2 minutes, or until the top is slightly browned
Nutrition
Calories:
1950
kcal
|
Carbohydrates:
92
g
|
Protein:
102
g
|
Fat:
136
g
|
Saturated Fat:
66
g
|
Cholesterol:
304
mg
|
Sodium:
3425
mg
|
Potassium:
3317
mg
|
Fiber:
17
g
|
Sugar:
43
g
|
Vitamin A:
3258
IU
|
Vitamin C:
389
mg
|
Calcium:
2678
mg
|
Iron:
7
mg