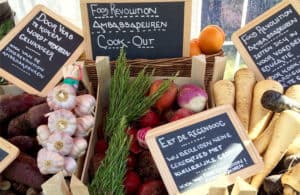 Cooking from scratch was never a question mark in my mother's kitchen.  Passing on tradition at the family table shaped the natural rhythm of daily life during my childhood. It wasn't until years later that I realized not everyone grows up with freshly made broth and homemade tomato sauce at dinner. The sharing of food made by those you love is deeply meaningful.  This is what inspired me to become a teacher.
I believe that leading a good and healthy life starts with good food.  I am also an idealist. I imagine that good food should be available to all. It is to my mind a basic human right. When Jamie gave his powerfully brilliant TED talk in 2010 about the importance of teaching every child about food, I was inspired. This is the reason I applied in 2012 to become a Food Revolution ambassador.
I love being a revolutionary because I am convinced that changing the world for the better truly starts at the kitchen table. Inspiring others by sharing cooking skills is my goal and being a part of this global movement is the perfect channel to communicating shared ideals.
Food Revolution Day 2016 at Hutten
This year is very exciting indeed!  I am organizing a Food Revolution Line-Up with a "Focus on Food in the Workplace" at more than one hundred corporate restaurant locations throughout the Netherlands with Hutten Europe. During the week of May 16th through May 20th six of Jamie's "Cook for your Life" recipes will be shared with restaurant guests.
Furthermore, six Hutten chefs will be sharing a recipe of their own that complements Jamie's recipes. This activity is part of a campaign I initiated for #FoodRevolutionDay2015 with Hutten called "Every Chef Tells a Story" .Our goal is to inspire. Our mission is to inspire others to get into the kitchen by cooking from the heart and getting involved!
Fifteen Amsterdam Food Revolution Pop-up Cookery School
On May 20th I will be gathering a team of  food influentials together at Fifteen Amsterdam during a day-long Pop-up Cookery School.  This plan fell into place as I was reading Jamie's series of recipes for the new on-going global Food Revolution campaign. I  realized that sharing the techniques utilized in these dishes would make a wonderful cookery school event. And this is how I came upon the plan to create a twelve station on-going cookery school throughout the Amsterdam Fifteen location.
The idea is simple. The more we share our skills and the more we cook, the more we have a grip on our health and happiness. Parents and their children  — food professionals — culinary students — human resource and management experts — educators at all levels and local and national city officials will be invited to learn from the master classes organized on this day.
Sharing knowledge t is the theme of the one-day cookery school event at Fifteen Amsterdam especially organized to inspire all to cook, to share and to live a good and happy life. Fifteen chefs and apprentices will take active part in an event that will most surely not end on May 20th!