The best charcoal grill lets you have control over the entire cooking process so you can make the best recipes the way that you like them. You can use as many coals as your heart desires to get the perfect temperature and put them whenever you want in the grill to make different cooking zones. You can cook directly over the coals to create food with a charred exterior or move your food to a spot that's no so hot for a gentle cooking and smoky taste.
You have to keep a close eye on the hot coals, however, because they might need to be replenished before you're finished cooking. But don't forget to put them out when you're done cooking and ready to store your charcoal grill.
Sure, you could use any grill for cooking meat; however, some significant differences make charcoal grills stand out amongst the rest. Plus, charcoal grilling is completely different from the other kinds of grills, such as gas grilling and smoking. You grill will play a vital role in how you cook your vegetables and meat.
You need the ideal grill to grill your steaks and other expensive meat perfectly; otherwise, they'll end up burnt and tasteless.
Weber's Original Kettle Grill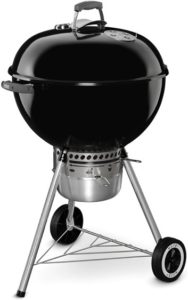 The round design of this kettle charcoal grill is what makes this the best charcoal grill overall. The round design that a kettle grill boasts has been used for decades without any major changes done to it. So, when you imagine a charcoal grill, you're probably thinking about the design of Weber's Original Kettle Grill.
The round shape of this charcoal grill works great because it produces a heating system based on conduction. It can grill using direct heat, but can also smoke meat or vegetables, although there are larger grills that tend to be better for smoking than the Orignal Kettle Grill.
This model is 22-inches, which gives you 363 square inches of space to grill, which is perfect for large family cookouts. Weber's Original Kettle charcoal grill is extremely portable because it has a peg leg and two wheels. However, this model is too big and isn't considered a portable grill.
Additionally, this charcoal grill is incredibly simple to clean because of a three-blade ash sweeper and removable ash catcher. This is considered to be the best charcoal grill overall because of the low price point.
Pros:
Features a round design
Great distribution of heat
Easy to get rid of ashes
Works great for all grilling types
Large grilling space
Cons:
Not a portable grill
Other charcoal grills are better at smoking meat
Char-Griller Akorn Kamado Kooker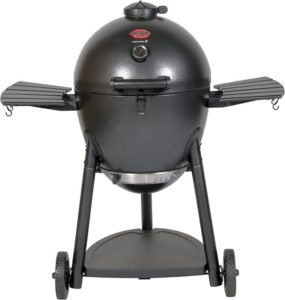 This is the best charcoal grill with a smoker because of its teardrop design. This charcoal grill is a head-turner because it looks like an upside-down teardrop or a beer keg if you think back to those college days you had.
The design of this charcoal grill is based on the cooking technique called Kamado, originating in Japan around 3,000 years ago. The design of this grill lets it work equally as well cooking as a direct heat grill and a smoker. It offers great value for the high-performance level, but it has a narrow bottom that doesn't let you use indirect grilling techniques.
This grill features 314 square inches of space to cook, with 133 square inches that you can use as a warming rack. That's a total of 447 square inches of space to cook on, which makes this grill ideal for anyone who needs to grill lots of meat for a large party. The tripod design features two wheels and a peg leg to provide stability.
A great feature with this grill is that it's able to keep its heat over a long period of time. However, it's not designed to be durable, so it won't last forever.
Pros:
Great for grilling and smoking
Neat design
Extremely large cooking area
Retains heat for a long time
Great price point
Cons:
Not designed to last for years
Doesn't do indirect grilling
Broil King Keg 5000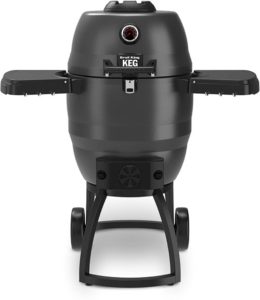 If you're searching for a high-end charcoal grill, this is the best charcoal grill for you because it has a high price point but will last you for several years. As mentioned earlier, with the Akron Kamado Kooker charcoal grill, the teardrop-shaped design of the grill is a popular shape because it allows you to smoke meat or cook it with direct heat.
The construction of this charcoal grill is impressive because it offers double-walled steel that has an insulation layer in between. This helps keep heat in the grill efficiently while the outside of the grill stays cool when you touch it.
Even though this charcoal grill has a high price point, this is a great investment if you're wanting a grill that can do just about everything while being incredibly durable.
There is a total of 480 square inches of cooking space with this grill. Around 280 square inches are on the main cooking grate while the other 200 square inches are in the other cooking grate. The base of this grill is incredibly sturdy with a two-legged based on one side and two wheels on the other.
You can even do a little reconfiguring, so you can mount this grill to your vehicle's trailer hitch and take with you anywhere.
Pros:
Efficiently holds heat
Insulation layer keeps the outside of the grill cool to touch
Can be mounted to a trailer hitch
Huge grilling surface
Doesn't use as much charcoal as other grills
Cons:
Very expensive
Maintaining a constant smoking temperature can be difficult to do
Weber's 14-Inch Smokey Joe Charcoal Grill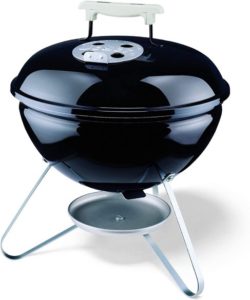 This 14-inch charcoal grill made by Weber's is very similar to the Weber's Original Kettle Grill, just scaled down to be the best charcoal grill based on portability. Just remember that portable charcoal grills can be extremely messy, So, you need to make sure that you have a storage bin or large, sealed bag to keep all of the residual ash, grease, and grit inside the grill.
If you're after a basic portable charcoal grill that will work as well as your charcoal grill at home, you don't have to stray much further than this charcoal grill. This is a scaled-down version of the original Smokey Joe charcoal grill made by Weber.
It can take on five burger patties on the grilling grate – the dimensions with a closed lid are 17" high, 14.5" deep, and 14.2" wide. While you won't take this grill when you go backpacking, and it will take up some space in your car, it's still a great charcoal grill to have if you have room to pack it. Plus, you can't complain about the price.
Overall, something is comforting about this scaled-down version of the Smokey Joe. If you have the original Smokey Joe grill, then you're probably already aware of how to pile the charcoal briquettes to get the right-sized fire and the correct temperature, and you know that this grill is designed to last for years. For the price, you can't beat this 14-inch Smokey Joe Charcoal Grill by Weber.
Pros:
Lightweight
Scaled-down version of the original Smokey Joe charcoal grill
Cons:
Bulky, so it can be a pain to pack
Super Pro Black Barrel 30-Inch Charcoal Grill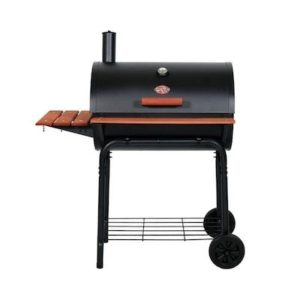 This is a solid charcoal grill that has storage shelves and is lightweight enough to move around. The barrel design is equipped with a warming rack, which gives you enough room for cooking. The cooking grates are made using cast iron, and there's a side vent and smokestack to provide you with the most control over the temperature.
This grill is easy to put together because the instructions are very clear and have useful illustrations. Plus, all the parts are easy to identify.
Pros:
Has a warming rack for extra space
Lightweight
Easy to control the temperature
Cons:
Can be difficult to put together
PK Grills Original PK Grill & Smoker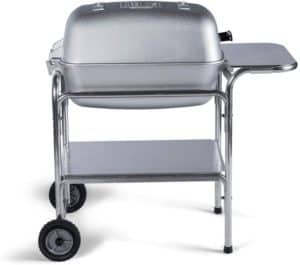 Grilling is a great way to cook food fast using high heat, while smoking utilizes indirect heat and lower temperatures to slowly cook food. If you want to be able to switch up your cooking style once in a while, this is the best charcoal grill for you. This unit gives you the best of grilling and smoking, and it's perfect for professional chefs and casual grillers.
The grill itself is made from cast aluminum for superior heat conduction, and the unique shape of this grill and four-point venting system makes it ideal for both smoking and grilling foods. It features 300 square inches of cooking surface, which is large enough for a whole turkey, and even has two work shelves so you can prep food.
Additionally, the coals get hot quickly, and the shape of the charcoal grill makes it easy to cook multiple types of food.
Pros:
Easy to assemble
Excellent heat control and retention
Portable
Built-in prep tables
Cons:
Lid doesn't securely attach
Nexgrill Cart-Style Charcoal Grill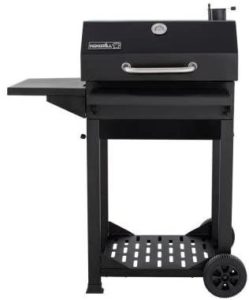 Cart-style charcoal grills have wheels on one side so you can tilt the grill and easily move it from one place to another. The best charcoal grill in this category is the Nexgrill Cart-Style Charcoal Grill, which has high marks from reviewers who love the reasonable price and solid construction.
This grill can handle 19 hamburgers at a single time on the primary cooking area, which has porcelain-coated cast-iron grates, and it also has a top-shelf warming rack for side dishes and buns.
It even has a foldable front shelf to give you more workspace, and you can easily use the built-in thermometer and adjustable ventilation brackets to control the heat. There is a removable ash catcher that makes cleaning up easy.
Pros:
Inexpensive
Large size
Great temperature control
Durable and sturdy
Cons:
No removable ash container
Weber Performance Deluxe Charcoal Grill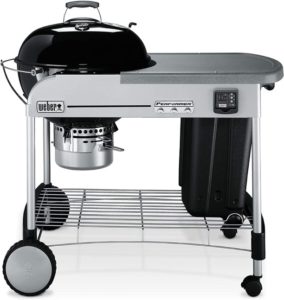 If you can't tell by now, Weber is one of the top brands for charcoal grills. This splurge-worthy charcoal grill offers a wide range of useful features that any grill master will love, including features such as a Touch-N-Go gas ignition system and a food prep surface.
This grill can accommodate 13 burgers at a single time, and you can even monitor the temperature inside the grill using the built-in thermometer on the lid.
Pros:
Durable
Large area for prepping and storing food
Easy gas ignition system
Great customer service
Cons:
Two of the interior screws can get in the way when inserting or removing the cooking grate
Expensive
How Does a Charcoal Grill Work?  
The best charcoal grill is typically a ceramic/metal container that holds burning coals at the bottom. You place your uncooked food on the metal grate located in the middle of the container, right above the charcoal. The metal grate is the cooking area. When you close the container's lid, the cooker will keep in the heat to cook your food.
The direct heat coming out of the burning charcoals will sear the bottom of the meat being cooked, while indirect heat that's circulating in the grill cooks your food. If you take the lid off from the grill, then you'll only be using direct heat for cooking.
Charcoal is great for grilling because it can burn hot for searing food, and it burns for a long time, which creates lots of indirect heat for slow cooking. You can also add smoking flavors with a charcoal grill.
Charcoal grills are very different than gas or propane grills because charcoal doesn't produce a continual flame. When cooking on a gas or propane grill, there's an actual continuous flame. However, charcoal grills leave behind gray ash after the flames have consumed it. Gas and propane grills don't leave behind ash.
Biggest Differences Between Charcoal Grills
Below you'll find some of the most significant differences that you should think about when you're looking at purchasing a charcoal grill.
Smoking versus Grilling
Some charcoal grills can double as smokers, which means that they can slowly cook meat using indirect heat. You'll require a charcoal grill with a large interior if you want to be able to smoke meat.
Small versus Large
A large charcoal grill offers you a large cooking space, making it great for anyone who wants to be able to cook for more than a couple of people at a time. If you're searching for a more portable grill to take camping, then you'll want to sacrifice some of that cooking space for portability.
Indirect Grilling
If you want to cook your meat slowly and without searing it, but you don't have time to smoke the meat, indirect grilling is the preferred cooking technique. What you'll do is place the lit charcoal on one side of the grill and the meat on the other side. You need to make sure that you have a large enough charcoal grill to use this method.
Cooking Temperature Control
Getting the correct temperature with a charcoal grill is hard to do. If you want to have some control over the internal temperature, then you should invest in a grill that has air vents on both the bottom and the op. Finally, there should be a way to adjust the grate height over the burning charcoal.
Head Room
Do you want to cook beef roasts and poultry on your grill? Then you need to make sure that your charcoal grill has a tall enough lid where you can shut it with the food inside.
Configuration of Your Charcoal Grill
When figuring out what configuration you should get for your charcoal grill, you need to think about the location and mobility of your grill. Let's take a look at what each configuration offers:
Freestanding Grills
This type of charcoal grill comes as either a grill head on a cart or a grill on legs. The mobility of these units is an obvious benefit, and the ability to clean a freestanding grill is much easier than cleaning a built-in model. This is crucial when you have a charcoal grill because it leaves ash behind in the grill.
To make the cleanup process easier, most freestanding charcoal grills have an ash-removal mechanism, like an ash basket. This type of configuration for charcoal grills include portable charcoal pits for camping, fishing, or hunting trips where you need a portable and light grill that will still provide you with big flavor.
Built-In Grills
This type of grill has come a long way over the years. To install these grills, you simply slide the grill head into the BBQ island cutout. These grills are a natural outdoor kitchen centerpiece for charcoal purists and can add versatility with a gas grill on the side. This isn't even mentioning that they're built from commercial-grade stainless-steel that also gives it a beautiful look.
Charcoal Grills vs. Kamado Smokers
Kamado, which are ceramic charcoal grills and smokers, are a notable sub-category of charcoal grills. They're distinct in both cooking properties and shape (these are egg-shaped charcoal pits), the first being a result of the ceramic construction and airflow. Charcoal grills usually exchange a lot of air during the grilling session, but kamados don't let in much airflow.
Charcoal Grills
Airflow is by far the biggest difference between these types of grills. For a normal charcoal pit, the fast rate of airflow means that they'll use more fuel per cooking session. The construction of the grill is also another key difference because these models are typically made from steel ranging from inexpensive painted metal to commercial-grade stainless-steel. Steel is the best conductor of heat, making it easy for charcoal grills to get searing-hot for steaks and burgers.
Kamado Grills
There is less airflow with these types of grills. The lower airflow means that there is a greater efficiency when it comes to fuel – without the dry air passing over the food, the food will retain more moisture for tender and juicy results. This is one of the biggest draws for getting a kamado grill, which also has the excellent insulation properties of ceramic. Unlike steel, ceramic takes a longer time to get hot, but it can also hold and radiate heat to the food for a longer time.
What Size Charcoal Grill Is Best for Me?
This might seem like a simple question to answer, but to answer it, three additional questions need to be asked:
What's the maximum number of people you would be grilling for at one time?
How often will you grill for the maximum number of people?
How many people do you grill for on a normal basis?
Once you've come up with good answers to these questions, you'll have a better idea of just how large your charcoal grill will need to be. You have to remember that size is more than just figuring out how many burgers you can fit on the grill at a single time – with charcoal grills, having a larger grilling surface means that you can make a dual-zone grilling setup and enjoy the versatility of indirect cooking.
If you plan on trying a two-zone grilling technique, then you're going to need to have a charcoal grill that's large enough for you to put charcoal on one side of the basin.
Small Grills
Small grills are less than 26 inches wide and are perfect for smaller families and couples that love the occasional BBQ. They're also portable and are great grills for camping trips and tailgates with a few friends. You won't have any problem grilling a pack of hot dogs, some burgers, and a side or tow. However, these grills limit you to the use of direct heat cooking only.
Medium Grills
If you're consistently feeding a big family, then a medium grill is a good choice to go with. These have cooking grates that measure between 27 and 33 inches wide. This gives you enough room for the main dishes and side dishes, and they're typically reliable workhorses that can cook a few batches of food during a party. Though the grills that are this size don't provide you with much mobility, they can give you enough space to do dual cooking.
Large Grills
If your backyard is the place to be for parties with extended families or on game days, then you need to go with a large charcoal grill. The cooking surfaces of large charcoal grills measure out to be at least 34 inches in width. With this cooking width, you can use virtually any cooking technique. You can easily sear 20 steaks using direct heat at one time and use indirect heat to smoke 6 Boston butts simultaneously.
Best Charcoal Grill Class
If you already have a model in mind, then before you go ahead and purchase it, you should see if it belongs to the right grill class for your lifestyle. A charcoal grill can fall into one of four classifications: luxury, premium, practical, and economy. These classifications are based on the grill's features, performance, and quality. Here's a brief rundown of what each classification offers:
Luxury
These are built entirely from 304, commercial-grade stainless steel or cast aluminum to promote longevity. They also come with lifetime warranties from the best brands on the market and can handle even the harshest of settings. It's the only class with a split-tier, which are adjustable charcoal trays for versatile cooking. Luxury charcoal grills also come with highly convenient features, such as digital controls and an electric charcoal starter.
Premium
Most of these models are made with all cast aluminum or stainless steel. They offer lifetime warranties from brands that are trustworthy and reflect longevity when they live outdoors. They often have adjustable-height charcoal trays to provide you with controlled cooking. Finally, some of the features they offer include push-button ignitions, hidden rotisseries, and charcoal chamber doors.
Practical
These grills use mixed materials to construct them and are backed by decent warranties that last up to 10 years. They won't last as long as a premium or luxury model, but they can survive for about a decade if you take proper care of them. They feature unique cooking systems such as Argentinian gaucho grills that are incredibly fun to use. Finally, some grills have fun features such as electric ignitions, adjustable charcoal trays, and charcoal access doors.
Economy
The materials that are used to build these models include ceramic and cast iron to painted and porcelain-coated steel. The materials are typically lower quality and need to be replaced quicker than the higher-class charcoal barbecue. The warranties can be slim, but some brands will offer 10-year warranties (i.e., Weber). Most of the grills in this class are kettle grills that have small capacities and little cooking versatility.